Well….my apologies. I said I was going to tackle my front and side porches this weekend. Time got away from me…Sunday was one of those days where anything that could go wrong …DID go wrong!!
In keeping with what I have been preaching so far this Christmas season…I will not stress about it. As mad as I was getting…this little mantra kept chirping in the back of my mind and got me through all of my first world problems.
So….given that I did not get my own porch done, I thought I'd share some porches I found on the internet. If you have a porch to decorate I am sure you will get some inspiration from the following pictures. If you don't have one to decorate…then just sit back and look at these beautiful photos!!
These over-sized balls would actually be a super easy DIY. Place a large wreath on top of your urn, spraypaint a ball such as an exercise ball and add a ribbon. I guarantee it will be a fraction of the cost of these beauties.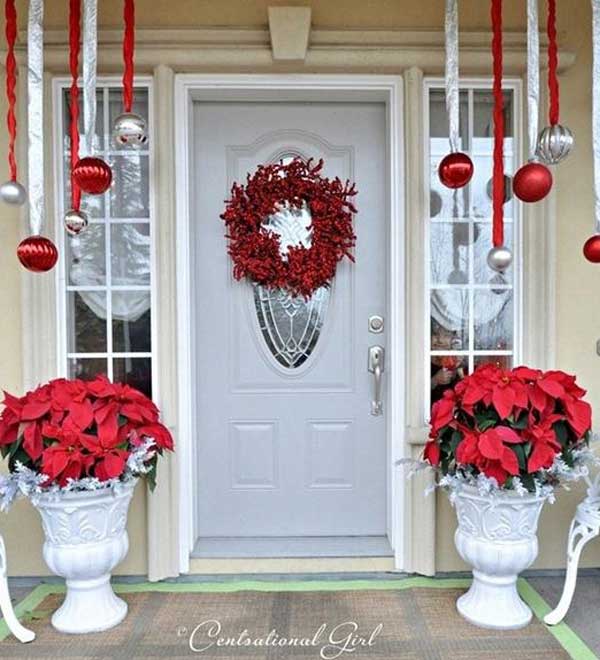 Another DIY. These hanging balls are a cinch. If you don't want to add nail holes to your porch ceiling you can hang them from a piece of garland. In an apartment, these would be cute hanging around the perimeter of your balcony! (Thinking of you ML)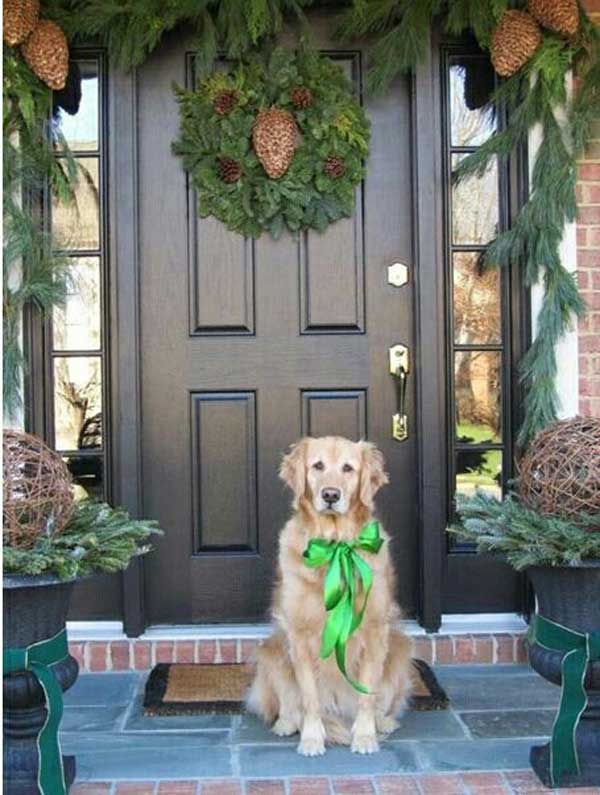 I also love how simple and classic this front porch is. How easy are these urns? A wreath with a twine ball sitting on top…you could fill the ball with white lights too. Would look super elegant at night.
And besides…isn't this dog perfect? What a sweet little face!! He would be a perfect Christmas present:)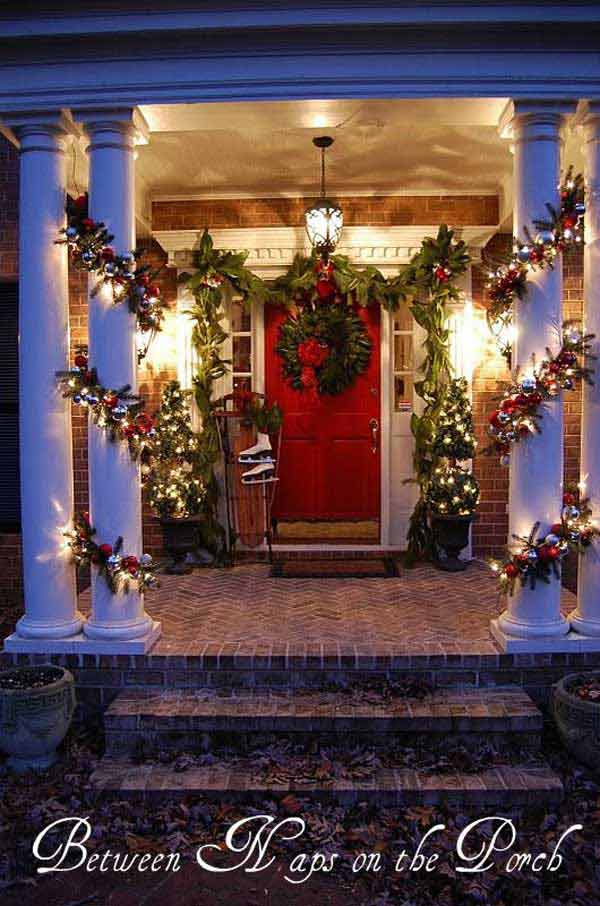 Is this too busy for you? Not for me! I am in love with this look. I wonder who I could get to come over here and do this for me! LOL…my husband is now following my blog…so maybe HE will do it? (hint/hint)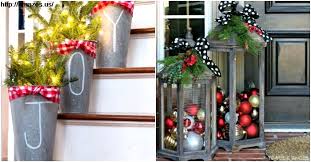 These buckets remind me of the flower pots I made this past summer with our house numbers on them. The buckets might be hard to come by…but you could easily do this with large flower pots.
Plaids and natural elements are so popular this Christmas. This is a great way to incorporate them into your decor. Who has a hand washing basin available?…lol…you could use a stainless steel bucket or a basket to get the same effect.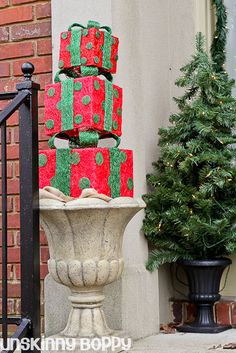 I know for a fact these boxes are pretty expensive. One year I purchased various sizes of packing boxes and wrapped them in foiled Christmas wrap. Remember to put something heavy like a small rock in each…otherwise, they do blow over. Extra large ribbons can be purchased ready-made at your local dollar store. I didn't use an urn. I just made placed them right onto the front porch. I did wrap each box with ribbon but I only put the large bow on the top box.
You need to try this…I took some photos of my neighbours homes and then I used an app called Waterlogue to play around with them. It changes your photos into a watercolour painting. This is the before…….wait for it….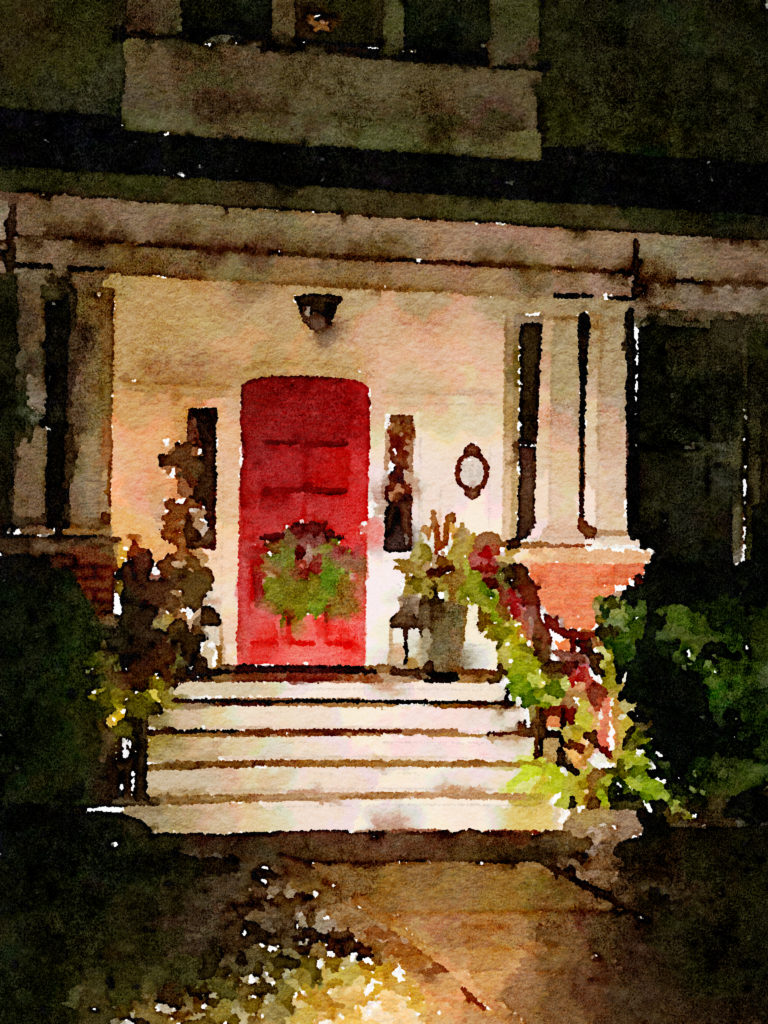 Isn't it beautiful?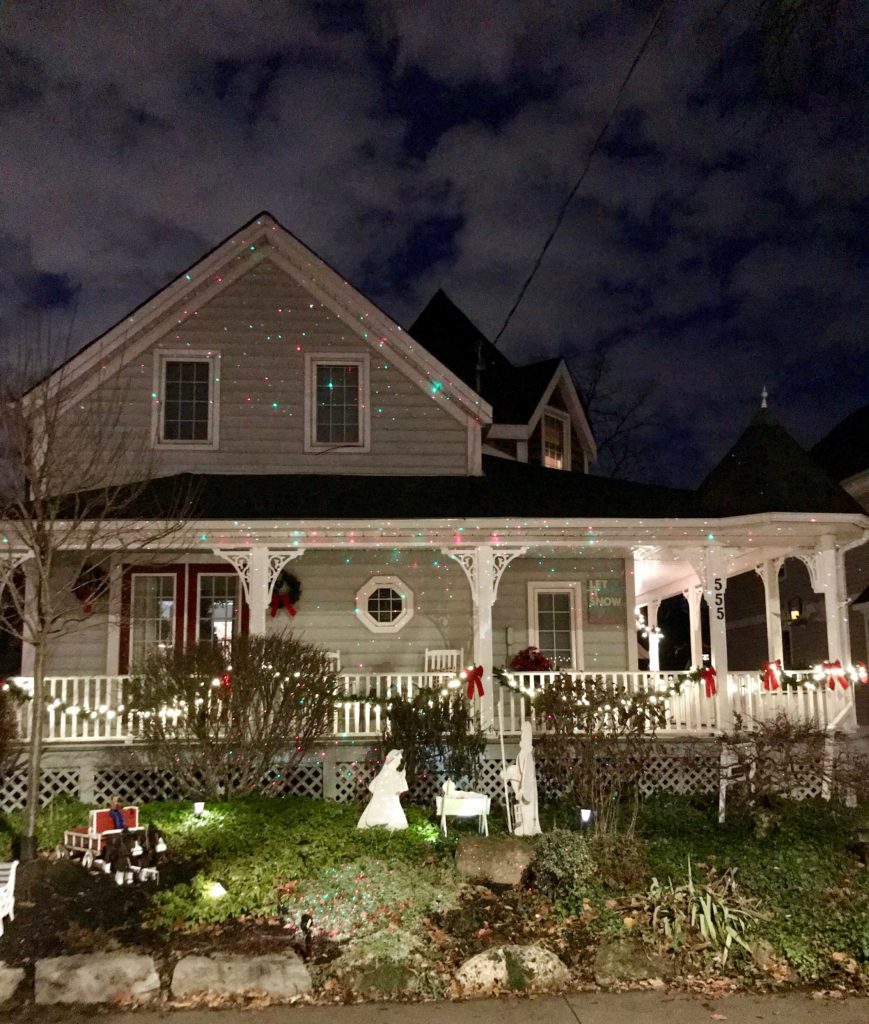 Before…
After
This one is my favourite transformation…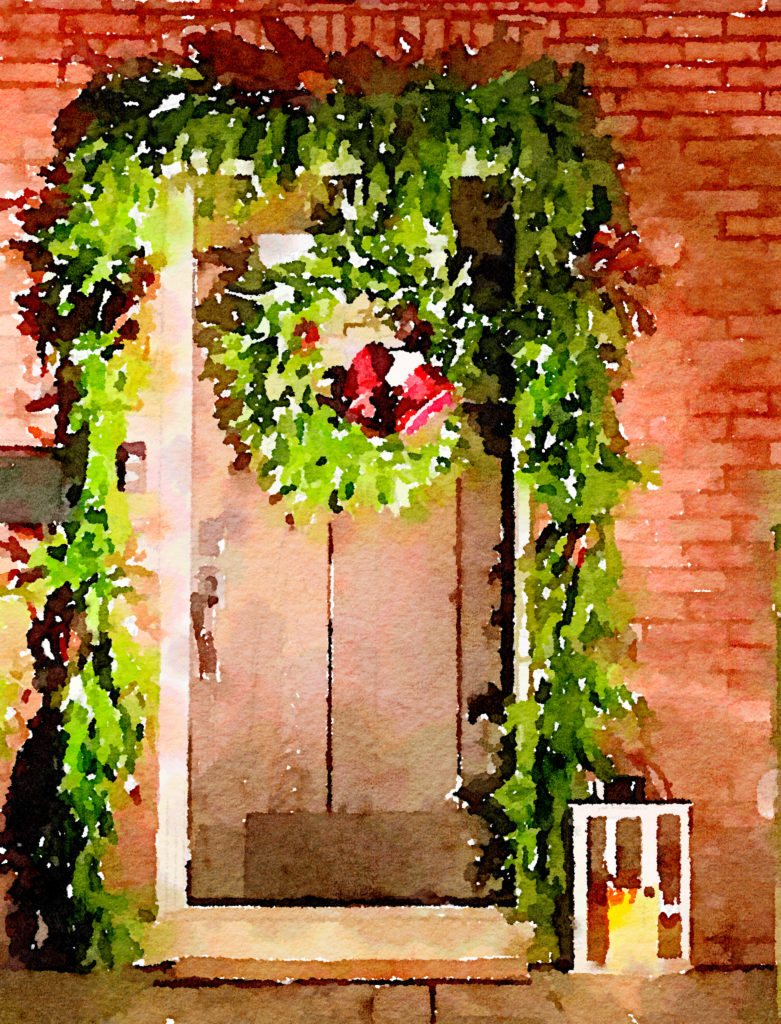 It was a gong show of a day.
Most of what was on today's to-do list has been moved to tomorrow.
Tomorrow is a new day…lots going on. We are picking up the girls and going to the Toronto Raptors. Already today's mess is a thing of the past.
As my friend Marion suggested…I am going to flip on those Christmas tree lights and sit back and enjoy them.
Well…that's it, ladies. Leave a comment below and let me know which porch was your favourite? Or if you've had a bad day and need to vent…go right ahead! LOL…we are all here for you!