A day in the life of Tank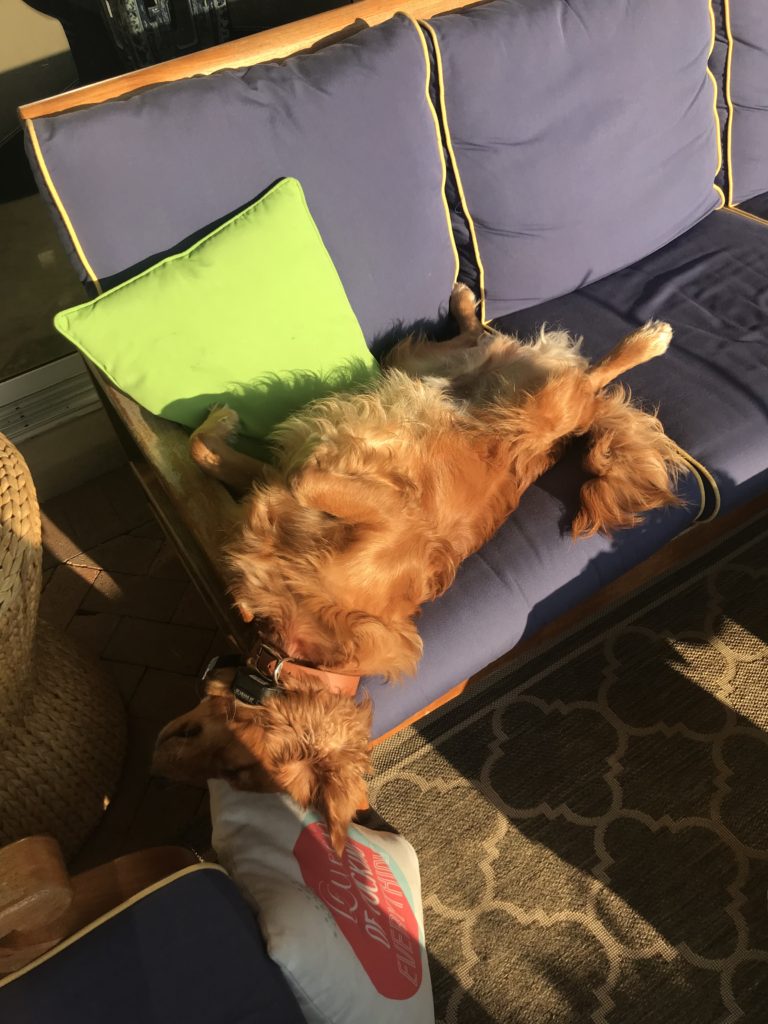 My routine always starts off the same way…. wake up, (thankfully),  take the dog out to pee, feed said dog and drink coffee. Take the dog out to pee again and drink another coffee. Play with the dog until he is tired and naps. At this point, I make breakfast, eat standing up while emptying the dishwasher and restacking the dishwasher as quietly as possible so as not to wake up the dog.
Dog wakes up, we go for a walk and play fetch and pee ( the dog pees not me). When I get home, I sweep the kitchen floor while fending the dog off of the broom that he clearly believes is some vicious monster that I need to be saved from… I give up and play tug-o-war instead. I head to the bedroom to get the laundry and play another game of tug o war. This time it's with Steve's sock. I win! I then drag the dog hanging from a towel all the way to the laundry room.
He comes with me to do some quick errands and a quick tour of Home Goods. Sometimes I just sense that it is better to keep him contained especially in the china department! We return home with a few great finds and usually a new toy for him.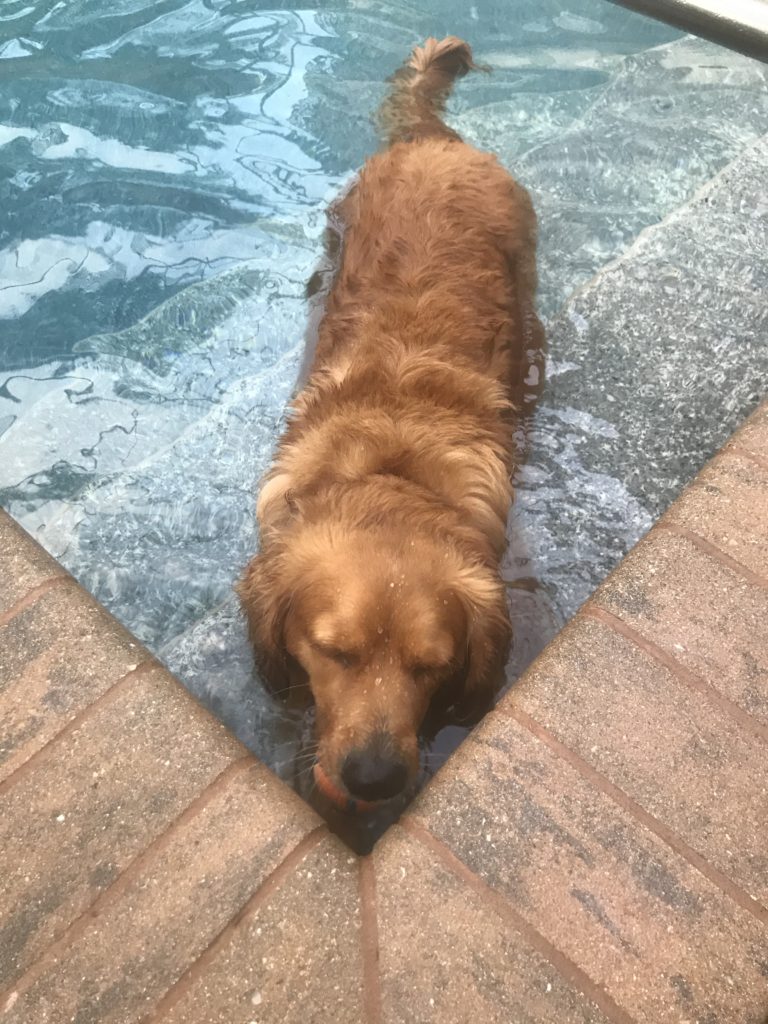 I tag out…over to Steve – at which point I sneak in a real quick vacuum in the family room while they are both outside. Steve takes him down the street to say hello to whoever's out. Steve returns and the dog is so hot he goes into the pool to cool off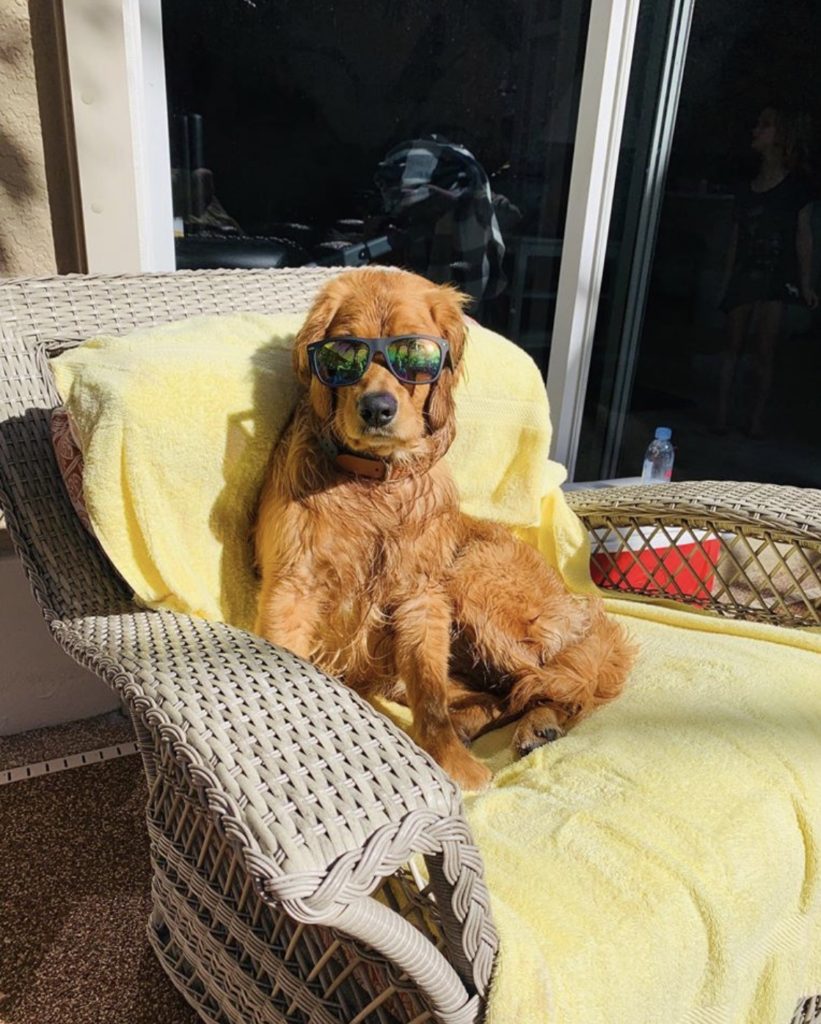 They spend some time lounging in the sunshine. I then fight with him to get dried off before he enters the house. This battle I lose. The dog comes into the house and does a  shimmy-shimmy shakedown. I then clean the puddles from the floor.  I consider this a superb demonstration of multi-tasking – washing the floors while drying the dog.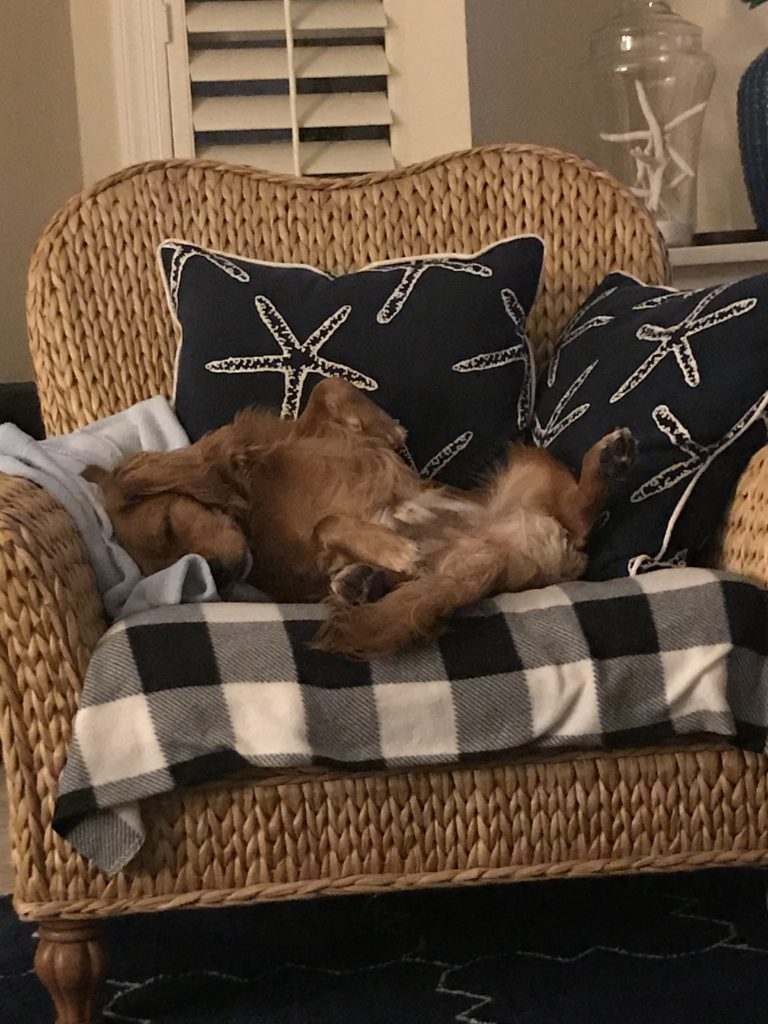 Thankfully the dog decides he has had quite a morning and snuggles up on the chair while still wet for a nap. Steve and I slip out to the club to have a bite to eat. We don't talk to each other…we are exhausted from our morning and have no energy for idle chit-chat. We take a deep breath and head home to feed the dog. If you are thinking we get a break while he is eating you are entirely wrong. The dog can finish his entire bowl of food in 2. 5 seconds. He then comes over to where ever I am for a little snuggle which I happily give to him only to have him quietly burp in my face. This 2.5 seconds has been exhausting for him and he usually retires for another nap… BUT… not before having a pee. Steve goes to get some errands done and I try to get my swim in.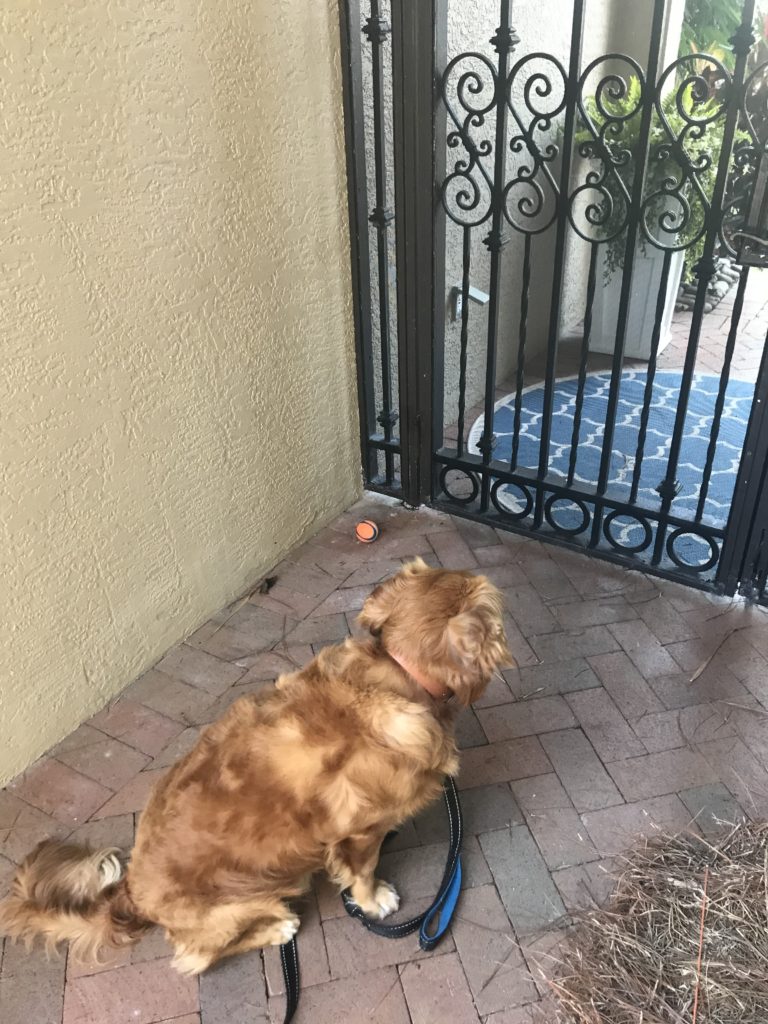 When I get home, he is so happy to see me and typically has to pee AGAIN! When I say he has to pee that means bringing a ball and playing a game of fetch. This whole 'I gotta pee' thing is nothing more than a charade!
I get him back into the house and hit the shower. As I am rinsing the suds out of my hair I feel something licking my leg and I know it's not Steve!! I finish my shower and dry myself off and also my newly washed floor thanks to the newly showered dog. Again…multi-tasking.
I am finally dried, dressed and primped! …and there he is, sitting at the gate with his ball in his mouth cause he has to 'pee'. At this point, I am looking up at the heavens crossing myself and wondering why I didn't go with a Teacup Poodle!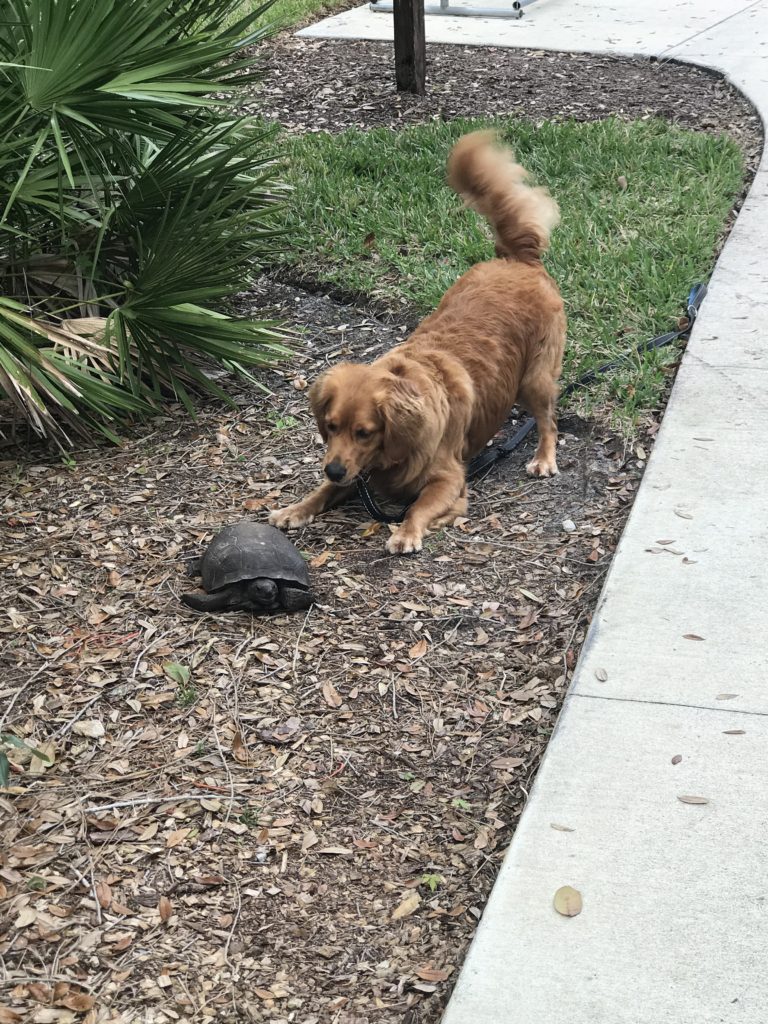 I know I am not going to get another second of rest if I don't completely tire this dog out. I gather up a poop bag, his treats, leash, ball, water bottles and my car keys. We head over to the park where he can run his little heart out! The first thing he does is bark at the spot where the tortoise was the very first time he saw it as opposed to where it was yesterday. Then he goes over to the grassy area and gets all the other dogs pee-mail addresses.(sniffs their butts)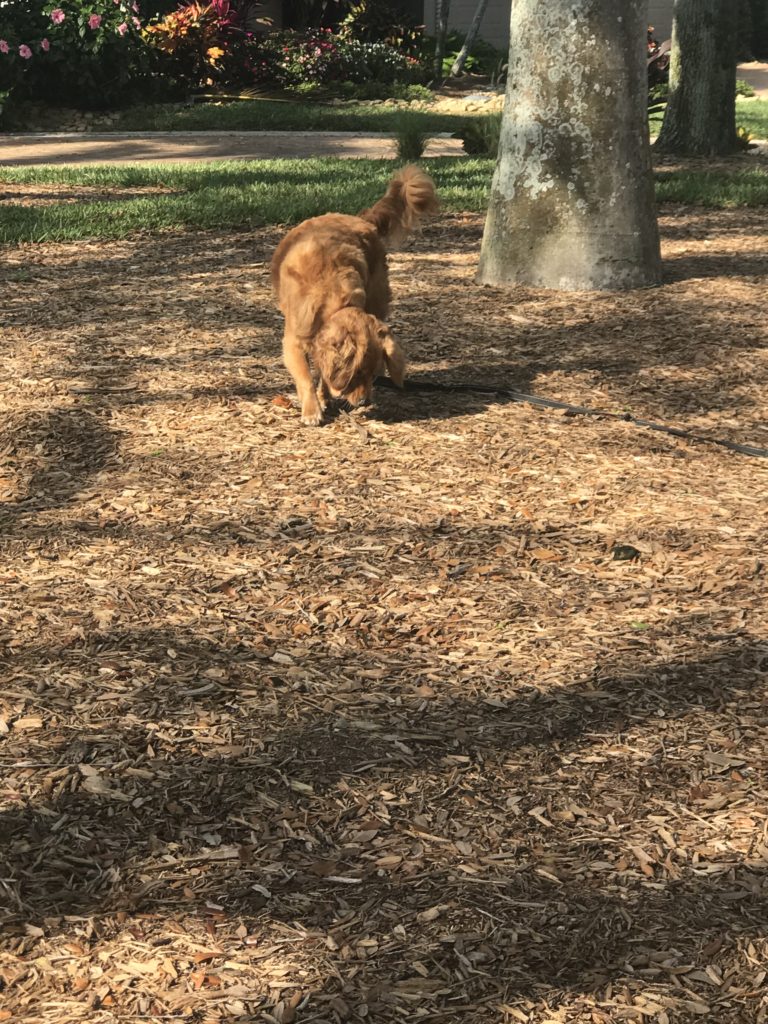 We play fetch for a while. Fetch is different at the park compared to at the end of our street. At the park I toss the ball, he runs over to it and gets sidetracked by bunny poop! Apparently, it is quite a delicacy in the dog world.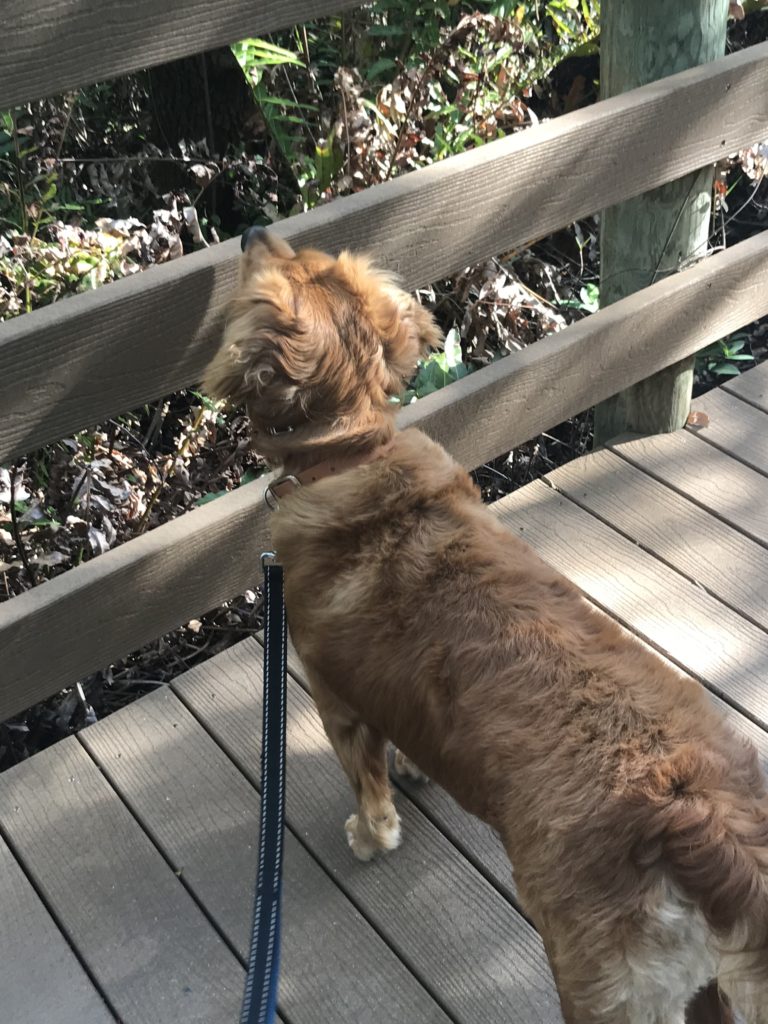 Once I get his nose out of it, we go for a walk down our beautiful boardwalk. When walking the boardwalk I let go of his leash. He really thinks he is the cat's meow or the dog's bark not sure what is correct when referring to a dog. He gets to the end of the walk and sits up on the bench and waits for me. Often by the time I get there he has made a friend with someone and has mooched a snack. He has realized that older people often carry snacks in their pockets and he immediately makes friends with them.
We look for dolphins and then head back. He likes to stop and look at the birds…for some excitement he will crouch down and sleuth along the walkway so that he can sneak up on the birds and bark. They go crazy, fly away and the dog looks at me like he is the funniest guy on the planet. I actually think I hear him snicker.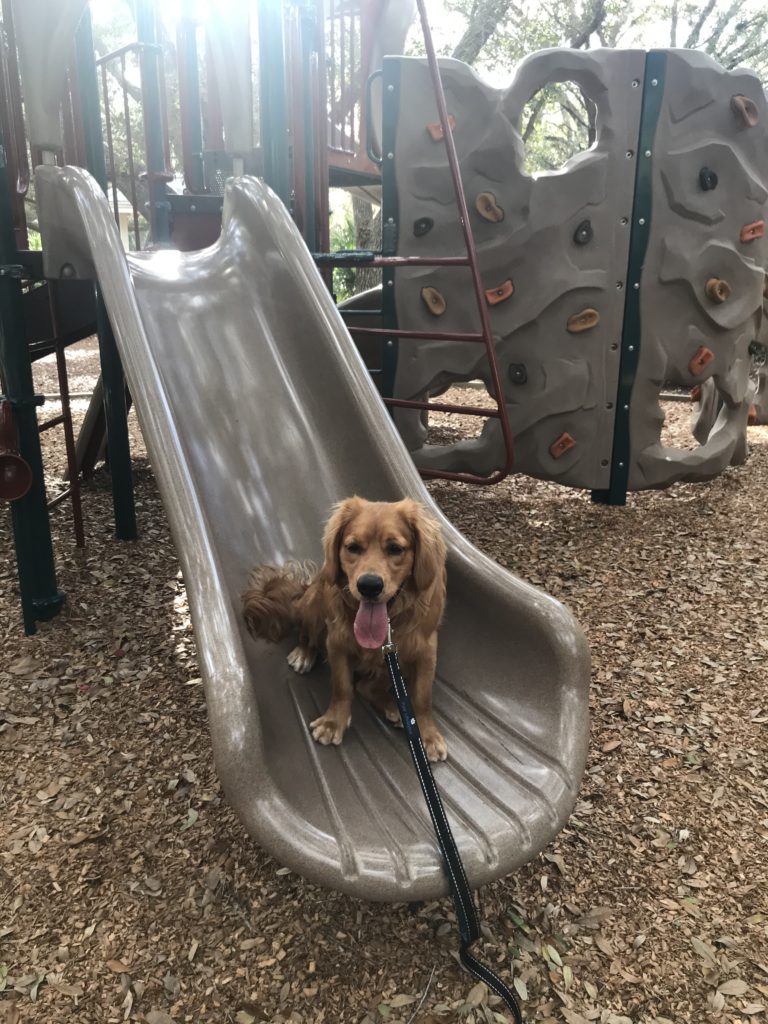 We head to the park area where the kid's climbing equipment is. He goes up the steps and flies down the slide. He thinks he's quite smart.
He jumps up on me begging for me to throw the ball…which I do…he finds it…and finds more bunny poop too. I give him a drink from his water bottle and we head home.
Once home, I take his leash off and he heads right into the pool for a quick dip before a much-needed nap. I get him all dried off again after rewashing the floors only to have him grab his ball and pounce to the gate because while we were out, he forgot to poop. I put my hands together and pray for him… or me… or both…and off we go with the darn ball AGAIN to the end of the road. I beg him to 'do good boyz' (code for poop/pee) but he doesn't. He just wants to play fetch and of course, he wins, we play fetch.
Finally, he is getting tired and we head home and thankfully he stops on the neighbour's property and does good boyz. I get him back into the courtyard and he has ANOTHER swim. He must think the floors are still dirty as he comes in to do the shimmy-shimmy shake one more time before jumping onto 'his' chair for an afternoon catnap…..errrr, dog nap!
Steve and I slip out for a bike ride…he hasn't stirred…we high-five each other.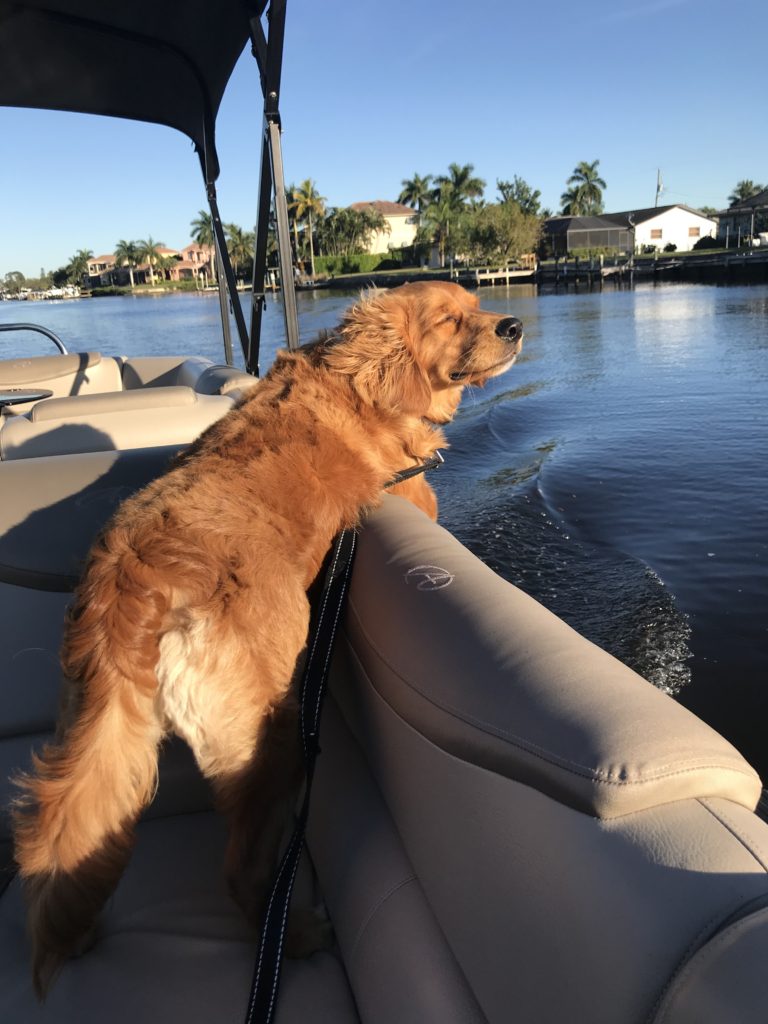 It's getting on and we are thinking about a sunset cruise. We pack a bag that includes everything the dog might need…water, dogs ball, dog towel, dog blanket,  poop bags, scooby snacks, life jacket and the leash. We get onto the boat and he thinks he has died and gone to dog heaven. Every time we pass another boat he hangs over the side and grins…seriously he grins!
He is so proud to be with his mom and dad heading out to the Gulf of Mexico. His ears flap in the wind and you can feel his happiness. Steve and I are oddly proud.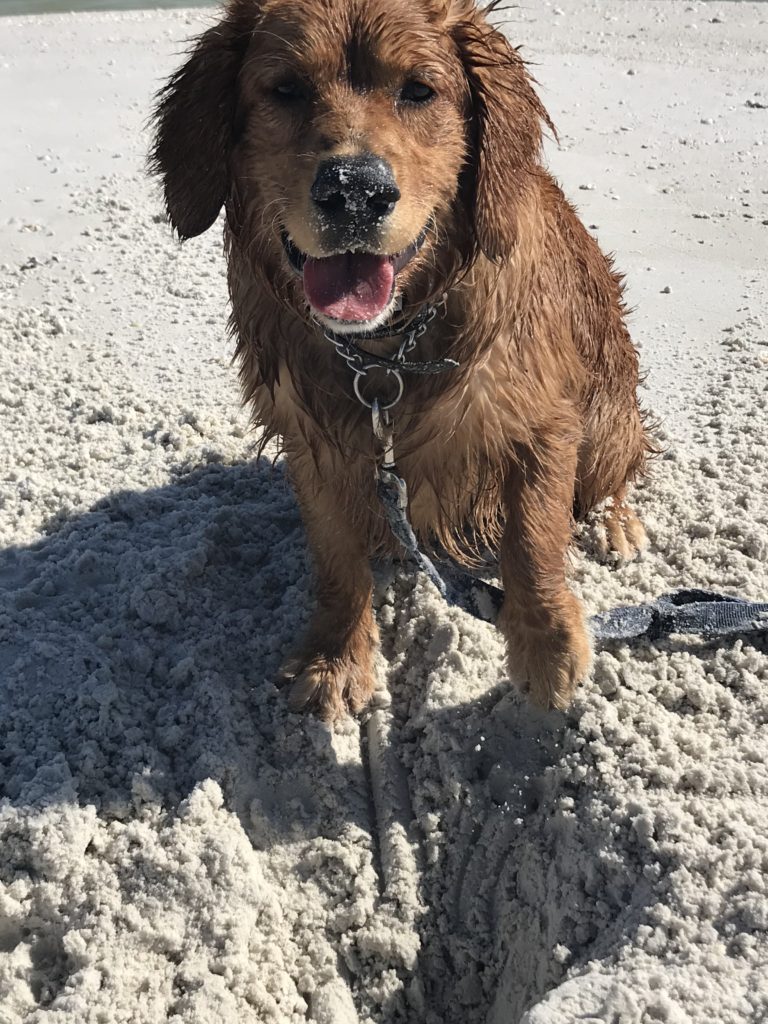 We get to our favourite spot to watch the sun go down which happens to be very close to his favourite beach. He starts pacing back and forth anxious to get off the boat. He puts his head on Steve's lap and looks up with those puppy dog eyes and we are done…we beach the boat, pull out the anchor and all disembark. He gets right to work digging in the sand. He is very proud of himself as you can tell by this big smile!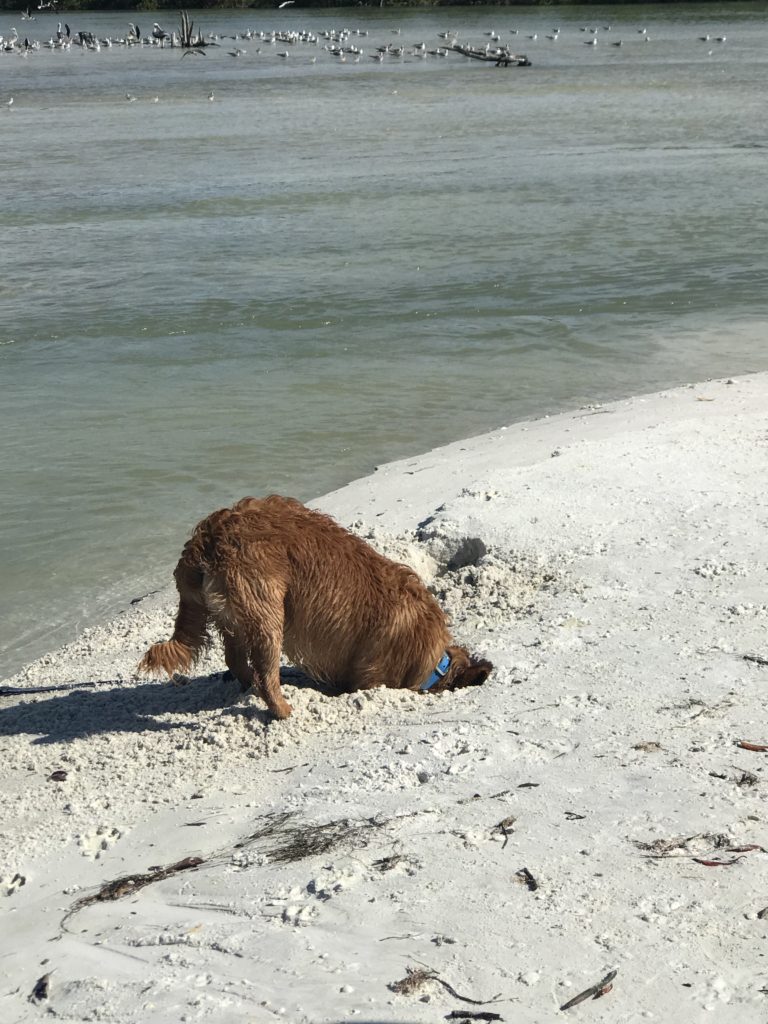 The dog couldn't be happier. He runs through the water, rolls in the sand chases the birds and digs a hole that we could bury him in…I contemplate it…but then he bounds over to me and does a big puppy pounce at my feet and I change my mind.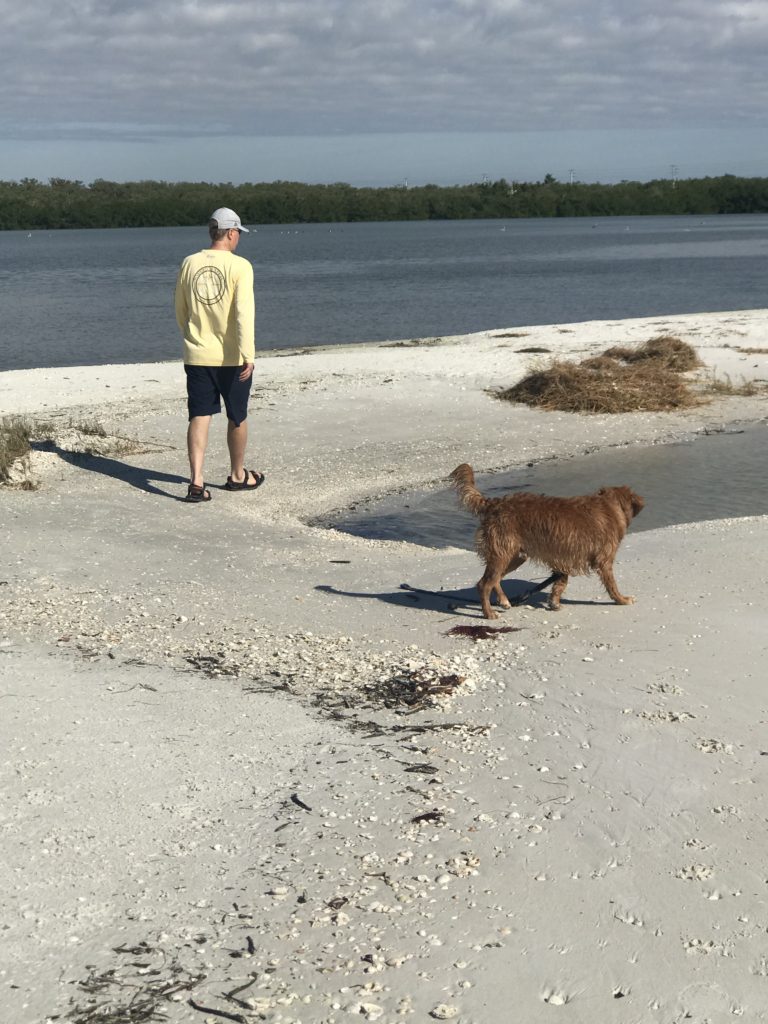 As he runs circles around us we laugh and play with him while the sun sets. Once the sun goes down we pack everything up, dry him off and head home.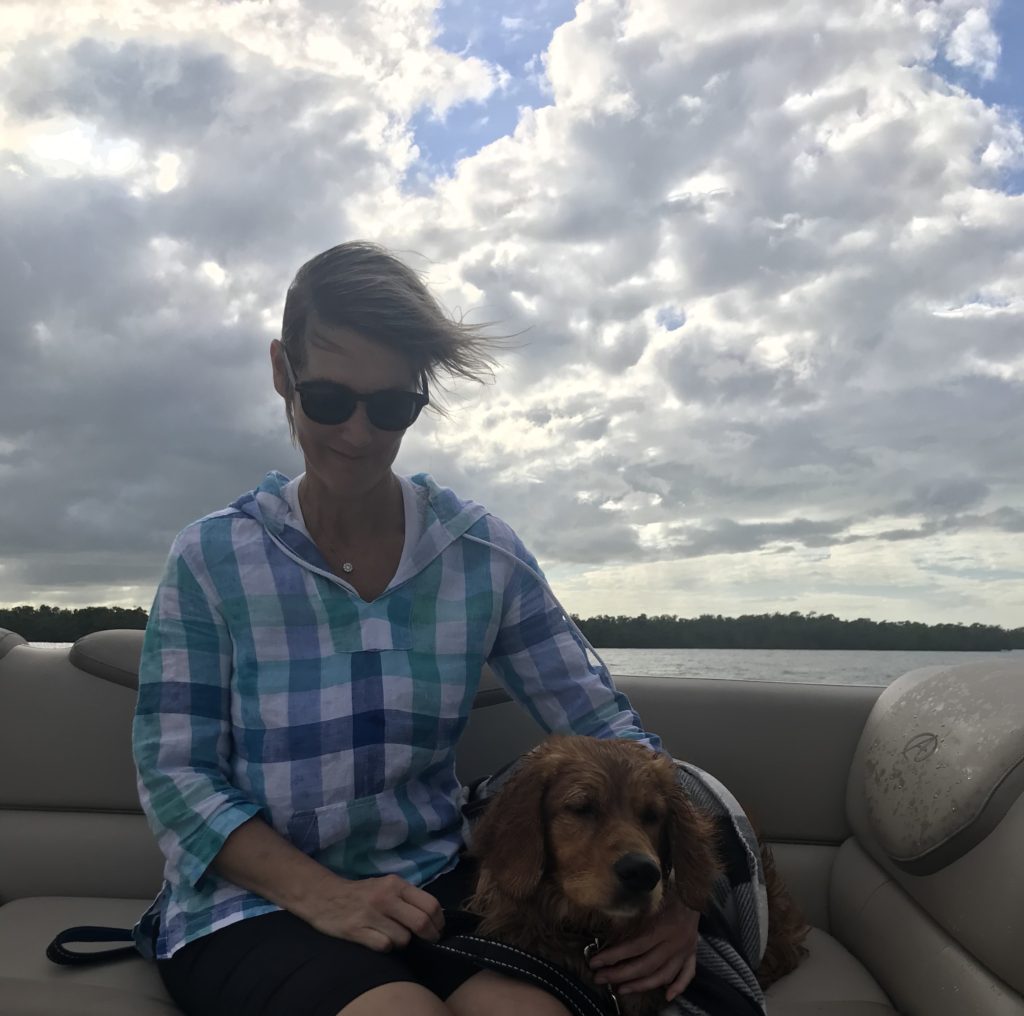 He sleeps most of the way home under a blanket to ward off the chill.
We get him home and he …..yup…you guessed….has a quick dip. We wash the floors one more time and feed him his dinner.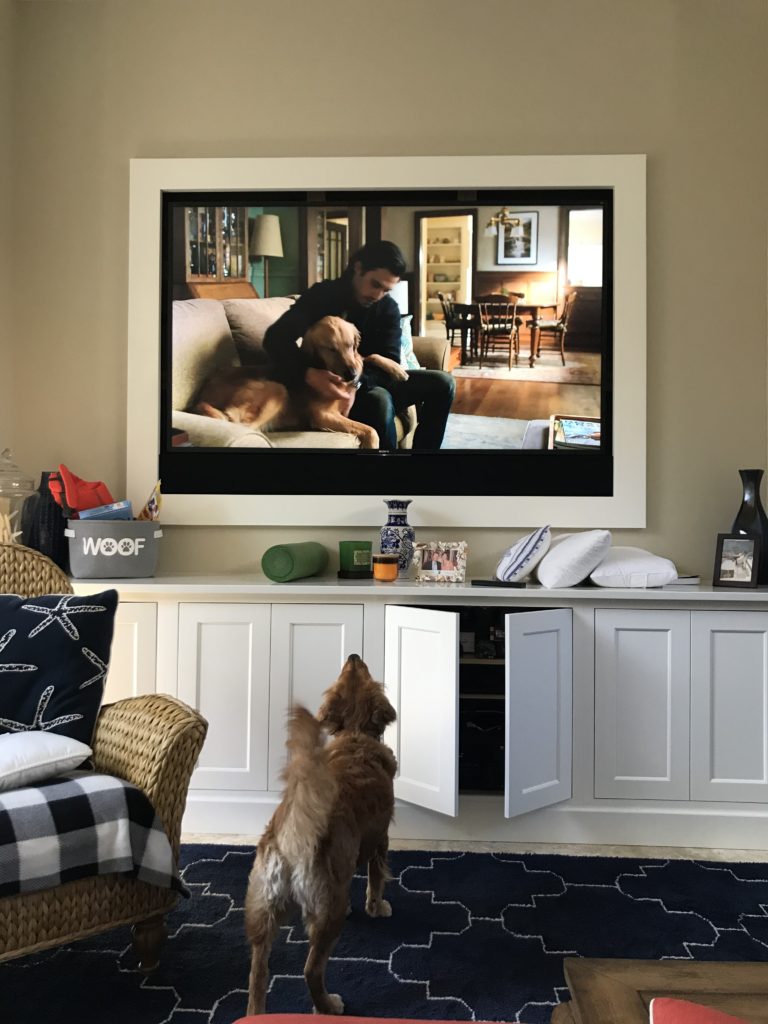 Steve and I take turns at this point playing with him while the other showers. We take him out for his five hundredth and sixty-eighth pee of the day and DO NOT let him jump in the pool. Instead, we feed him his dinner and once he is done we give him a cuddle and then Steve and I head out for our dinner. We get to the car only to realize that we forgot to put on The Art of Racing in the Rain…we firmly believe this is Tanks' favourite movie. We quickly go back into the house, find the movie and leave him to it. Not even kidding!
During dinner, we talk about all of the dog's shenanigans of the day and start to miss him. We actually make excuses as to why we should really be heading home…' an email to do' ' a blog to finish' 'need to phone my mom' there is no end to the number of excuses we can come up with to get home to our crazy little pup. We pay our bill jump in the car and head home.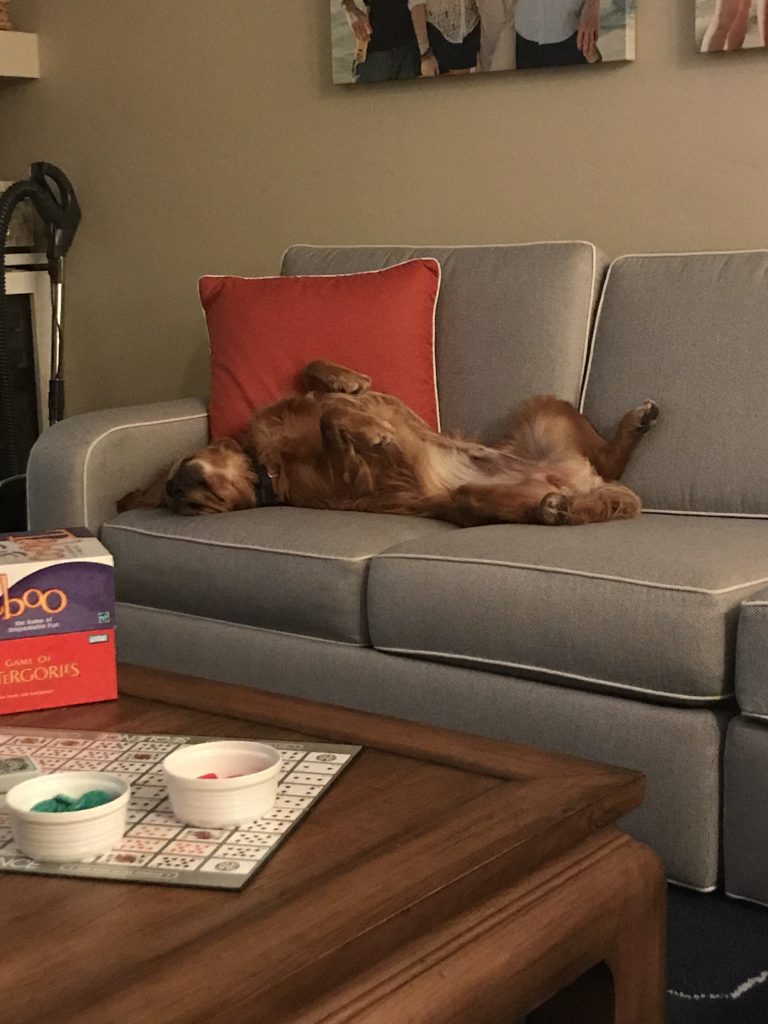 Once we are in our driveway we become Starsky and Hutch. We close in on the bad guy that is surely up to no good. We close our car doors as quietly as we can, we open and close our gate so gently and tiptoe up to the window to find him sound asleep on the couch with not a care in the world!
When we come in the door he wakes up and happily greets us. We all watch the end of The Art of Racing in the Rain while we enjoy a cup of tea. The dog sleeps beside one of us on the couch…he's not fussy…when it's time for us to go to bed the dog wakes up and goes to the door and enjoys a really big downward dog stretch! We take him out for his very last pee of the night. He knows the routine. At this time of the night WE are 'dog tired' and don't put up with any nonsense…get it done and get home.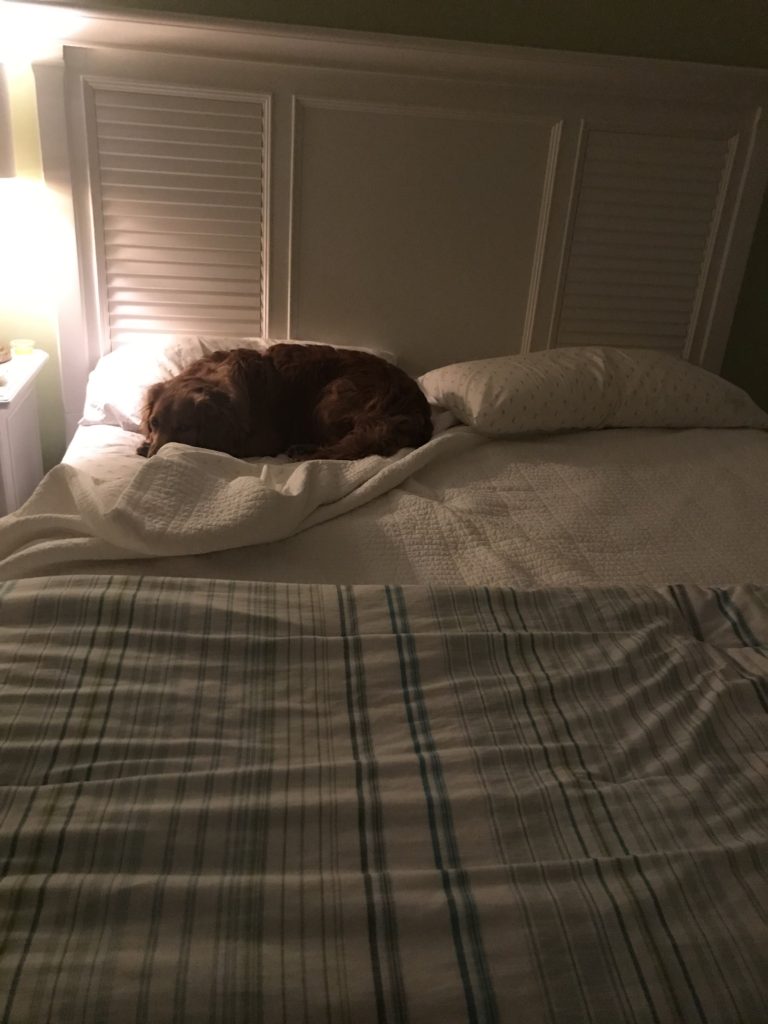 Tank lazily crawls into bed. Steve always gives him a great big belly rub that he has come to expect and love. He then curls himself up onto my pillow. He takes up 2/3 of it I get the rest.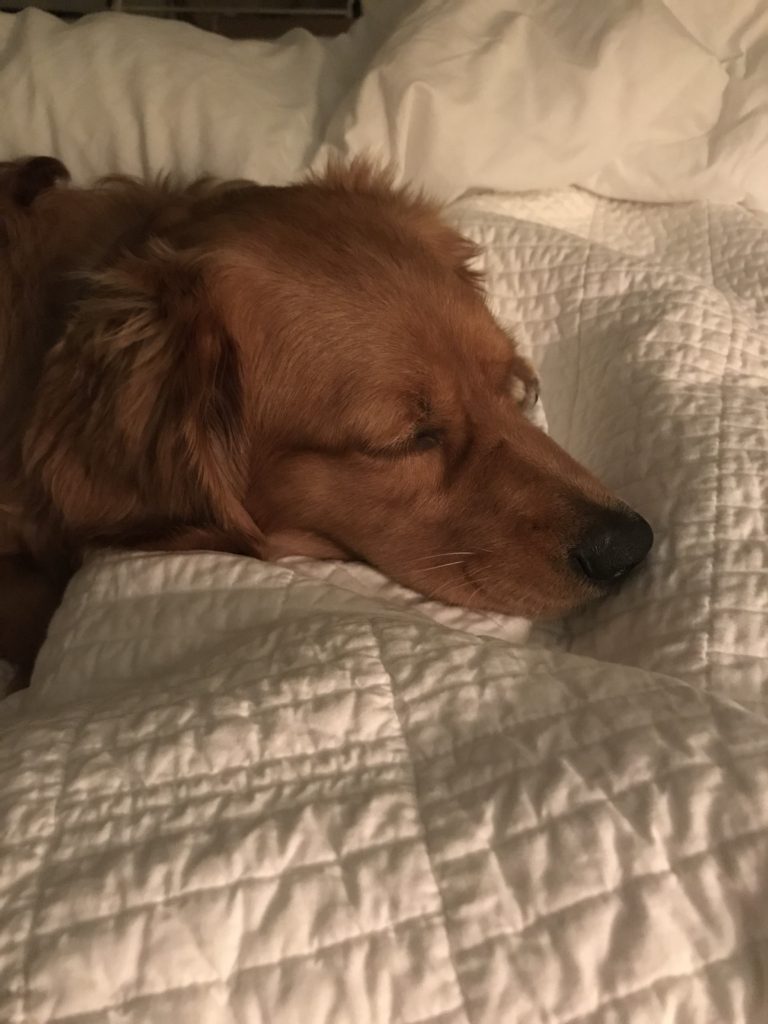 He lets out a heavy sigh as he closes his eyes for the night.
It is at this point that I remember why I love this little guy so much…there aren't any amounts of shimmy-shimmy shakes that could make me love him any less.
Tomorrow is another day… I'll wake up,(thankfully)  take the dog out to pee, feed said dog and drink coffee. Take the dog out to pee again and drink another coffee.