I had the pleasure of my young friend's company for the past few days. She is actually a friend of my sons. We have known her for so many years she has become a part of our family. She is a breath of fresh air with no shortage of conversation. LOL. She asked me if Steve and I were going to be celebrating Valentine's Day.
I gave some thought to it. With Valentine's Day falling on a Friday this year we will be going to POETS night at our club. POETS = Phooey On Everything Tomorrow's Saturday! LOL. When we first came to Bonita Bay, we thought it might be a poetry reading and probably something we would never attend. Well…were we every wrong! There is usually a buffet included and always a band. Our members get dressed up and dance the night away. Some of these ol' dolls can bust a move…let me tell ya!!! The young ones are hard-pressed to keep up.
Anyways….back to the original question. Will we do anything special on Valentines Day? What do you think? Is it Valentine's day or a Hallmark day? What do you think?
According to lifestyle and relationship coach Fila Antwine "V-day is more important now than ever to celebrate since we've replaced human relationships with technology." I personally don't think we humans are THAT bad that we have completely replaced our loved ones with technology…although, admittedly there are some dinners that I would love to throw a certain someone's phone out the window! :):):)
Holidays do serve as a reminder to take time to acknowledge or celebrate something. Valentines reminds us to make an effort to get out of our day to day routine and make some special accommodation to let our loved ones know they are a priority if even just a sticky note on a bathroom mirror to say I love you.
When I was little, we would spend an art class making our valentines mailboxes out of a shoebox to sit on our desk in the hopes of getting a card from that special someone in our grade 3 class…It was a BIG deal. My mom would buy me a box of Valentine's cards. They came in pages of 6 or 8 and were perforated. I would be so careful not to rip them and make them messy. I took great care to print as neatly as I possibly could.  There was always one page of 4 extra-large cards. One for my mom and dad, one for my best friend and one for that special boy. 'Dear David (he was always my crush) do you think you would you want to be my boyfriend? Circle YES or NO. PS. Write your answer on a piece of paper and give to Anglea at recess and don't tell anyone. Lucky for me David always pulled though with a yes and usually gave me a candy bar. Oh, the pressure of such an important day!!!
I don't think there is any hard-set rule. If it feels good for you both…do it.   Anything or nothing is alright as long as you both agree to it.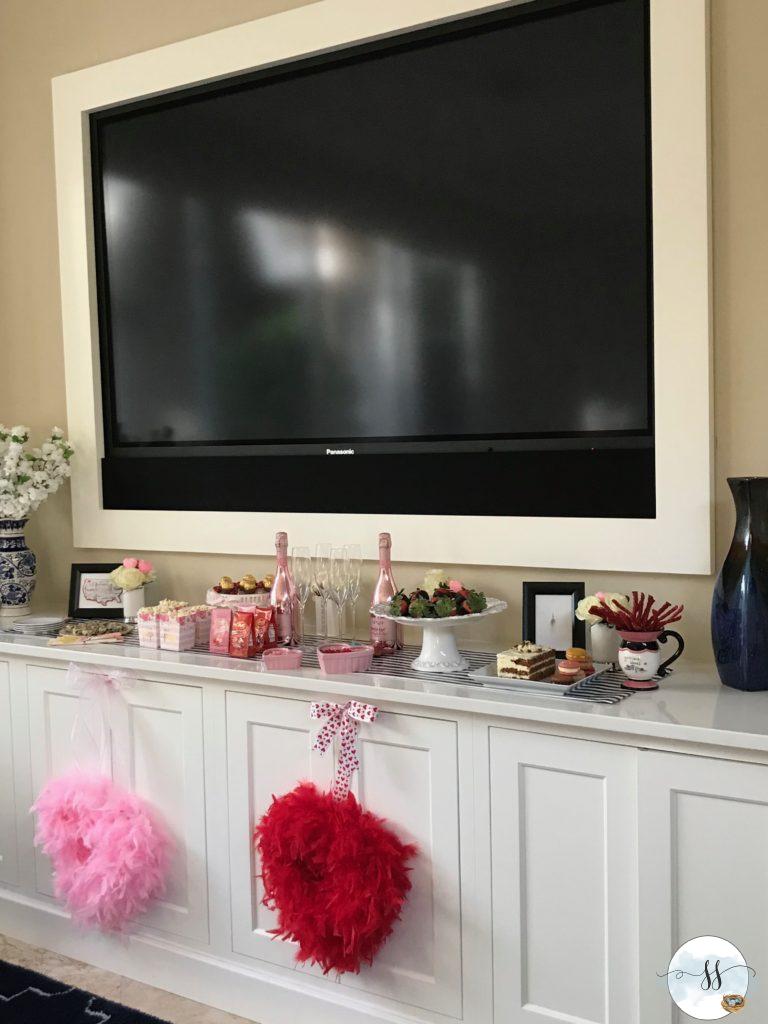 Two years ago I hosted a really fun Galentines party for a few friends that ended up going a bit sideways if ya know what I mean….too much wine. I can't share all the silliness but you can get all the party decor details HERE
Last year I was lucky enough to join my friends in Palm Springs. I obviously wasn't able to host any type of party but I did order these beautiful Valentines boxes from someone on Instagram. I did it all on the sly and ordered one for each of the girls from their secret admirer. It was fun watching the girls try to figure out exactly who sent them!!!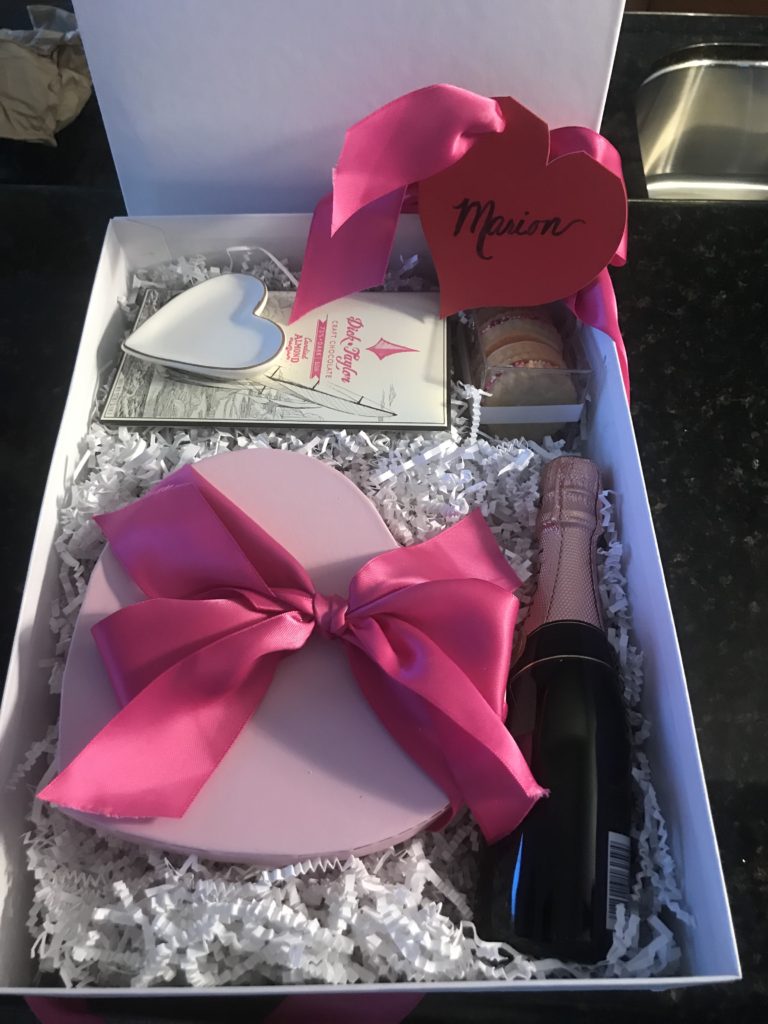 This year I want to show you how I put all my decor ideas together.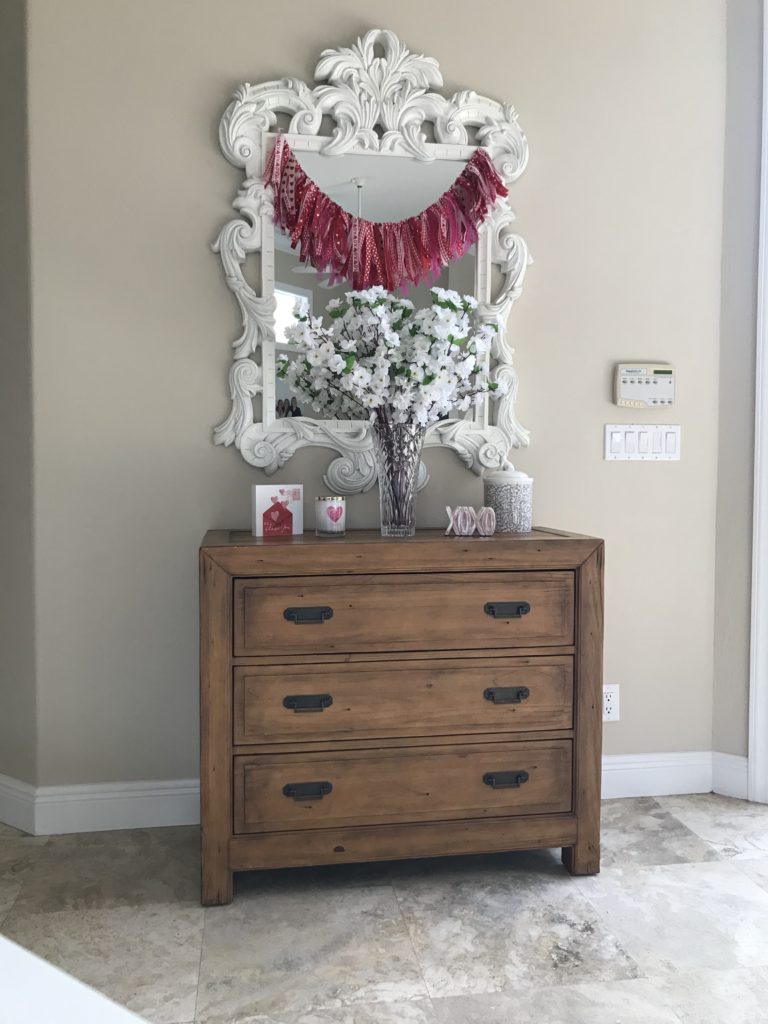 The DIY banner from my last post with a few items I had on hand fills this little vignette with a whole lotta love!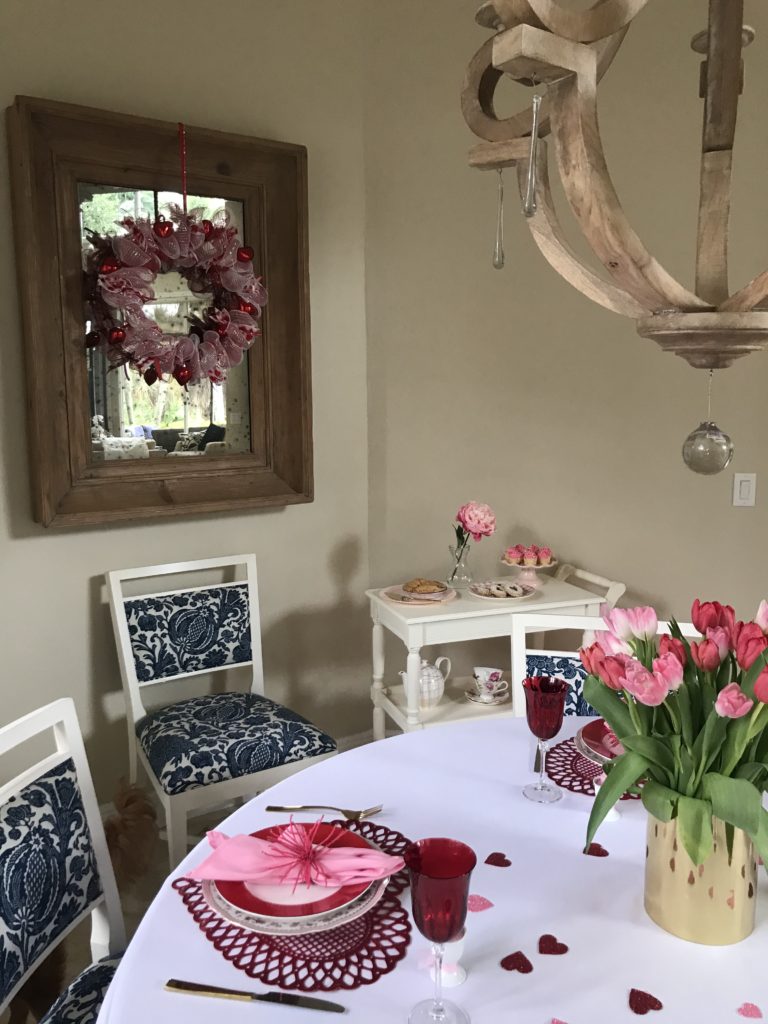 The Valentines wreath also from my last post hangs on this large mirror in my dining room.
We were having some friends over for dinner. I didn't purchase a thing on this table. I shopped my cupboards and was able to pull this simple setting together. The red really pops against the crisp white table cloth.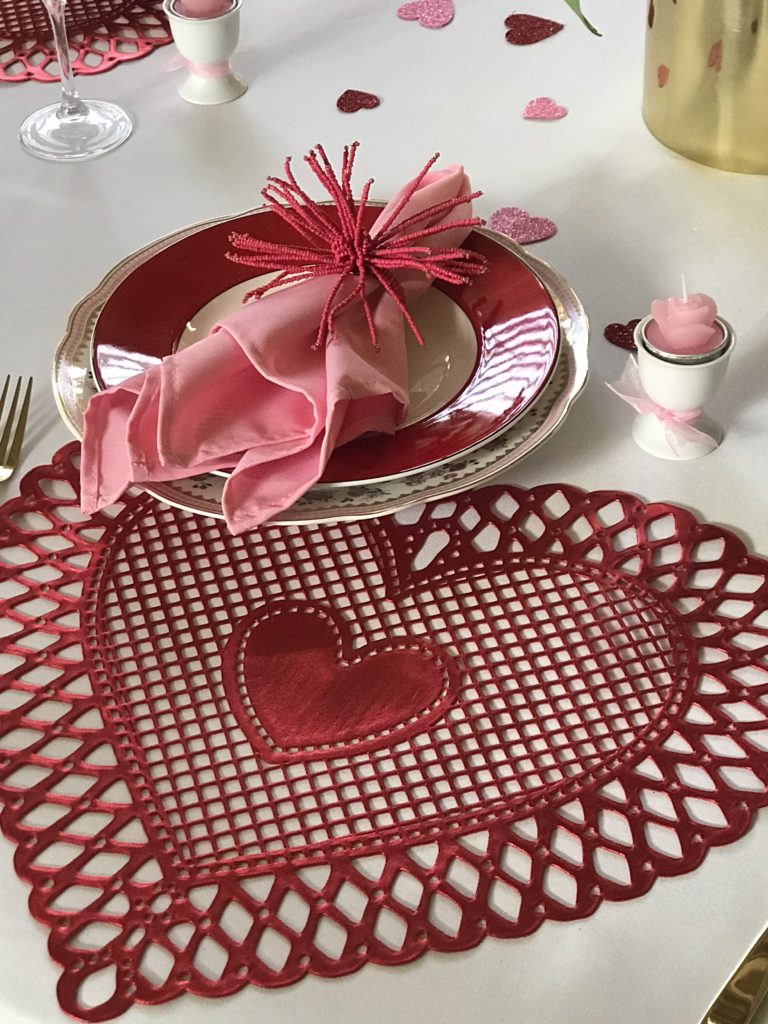 I bought these placemats last year AFTER Valentine's day at Home Goods for a couple of dollars on clearance. I always find great steals a few days following any holiday. It's a great time to stock up!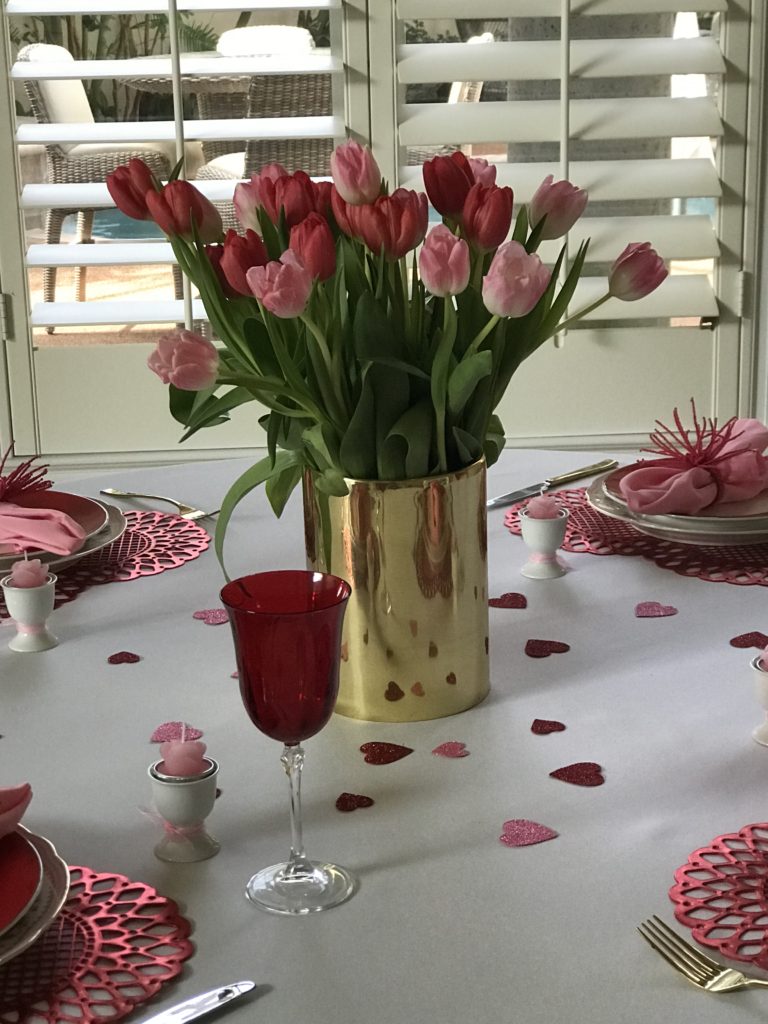 A table isn't complete without flowers. I love the pink and red theme. It is such a simple table but there is no question it is a Valentine's setting.
Of course, we don't all have a significant other or maybe your's just won't be around…there is no reason that you cannot celebrate Valentine's day as well!!!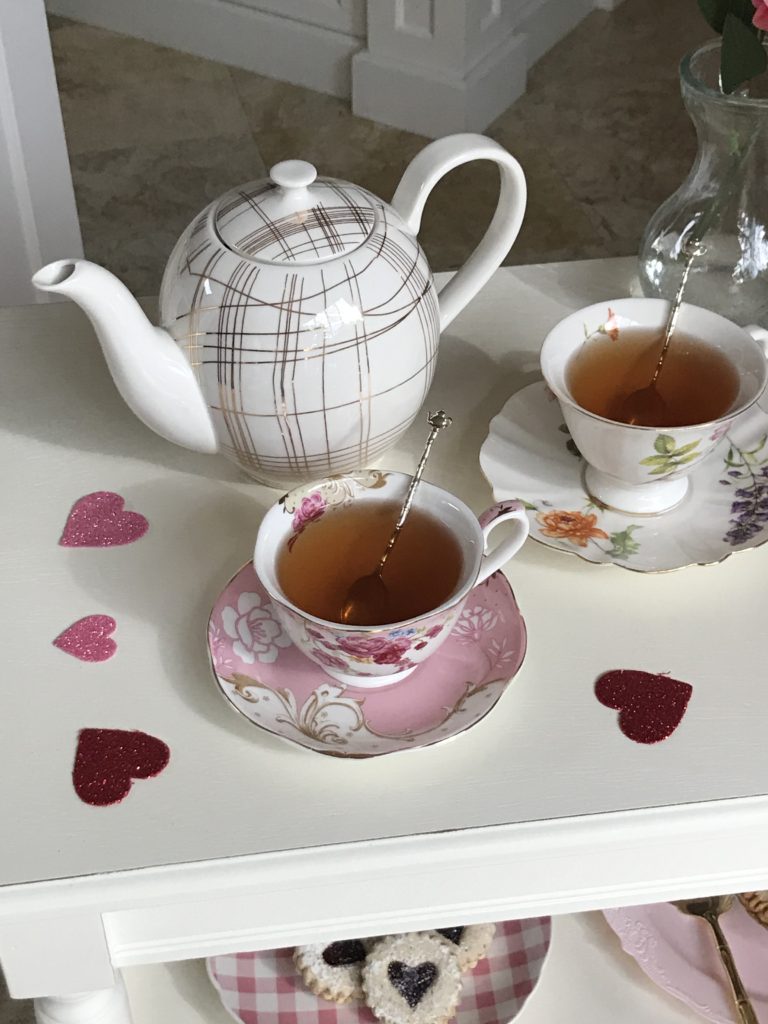 Invite a friend over for an afternoon tea…
…or coffee!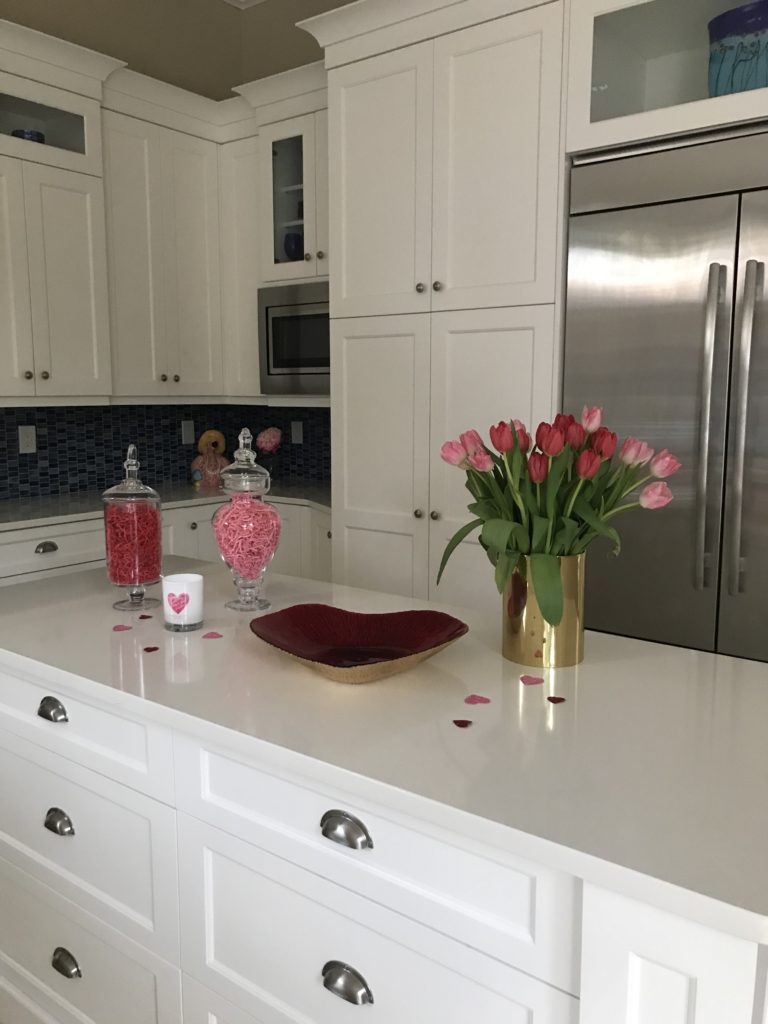 I wanted to add a bit of Valentines colour to my kitchen. It was really simple with these multi-purpose glass containers. I borrowed them from my bathroom.:) I emptied the Q-tips and cotton balls and swapped them for red and pink gift bag stuffing. How simple is that!?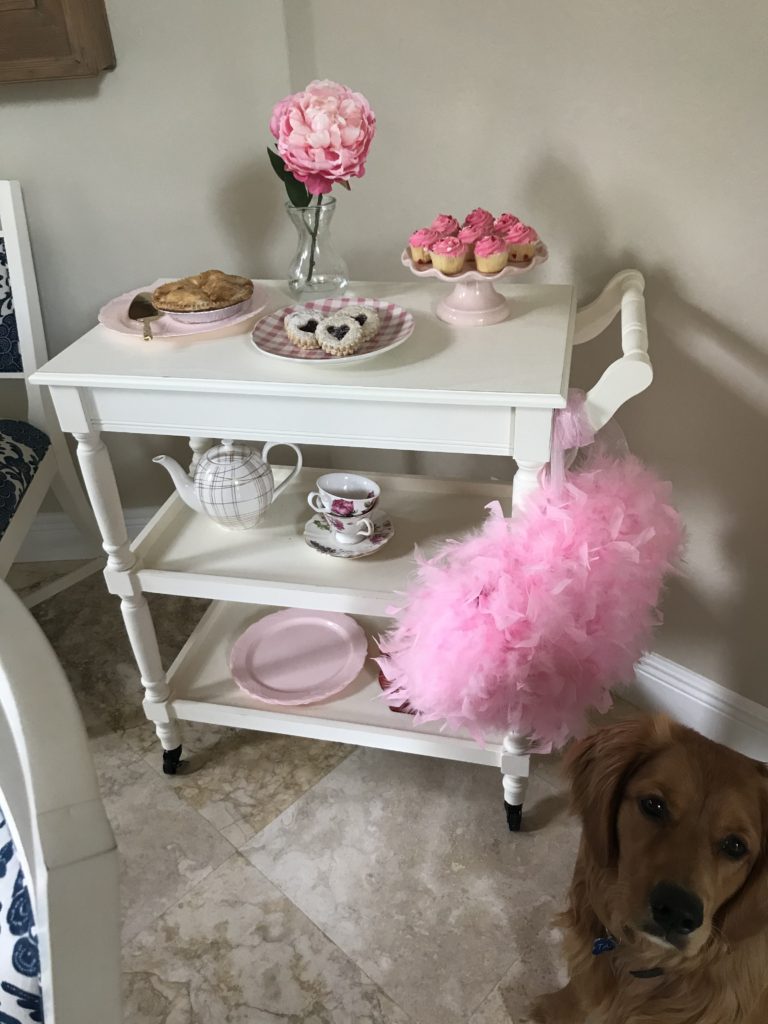 My photo bomber!! LOL… I think my little Tankster did really well sitting here without attacking the desserts! Such a good boy. xoxoxoxo I couldn't love this little pup any more than I do.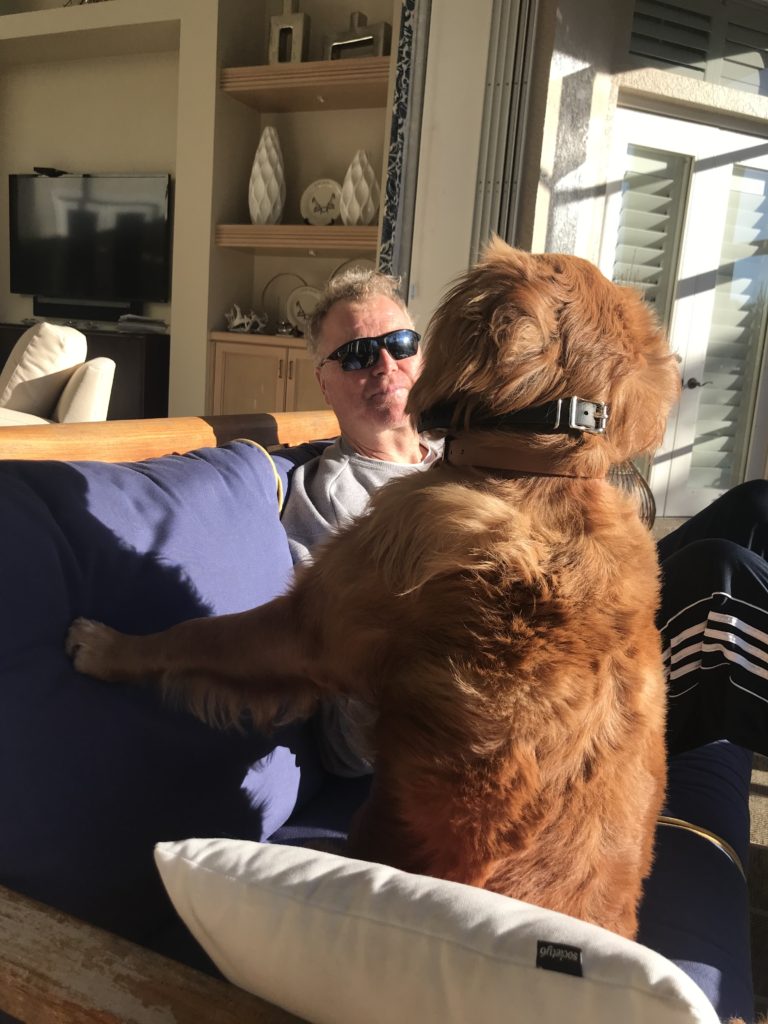 Of course, I am not alone in this love…papa and Tank have a good chat every morning and solve all of the world's problems together.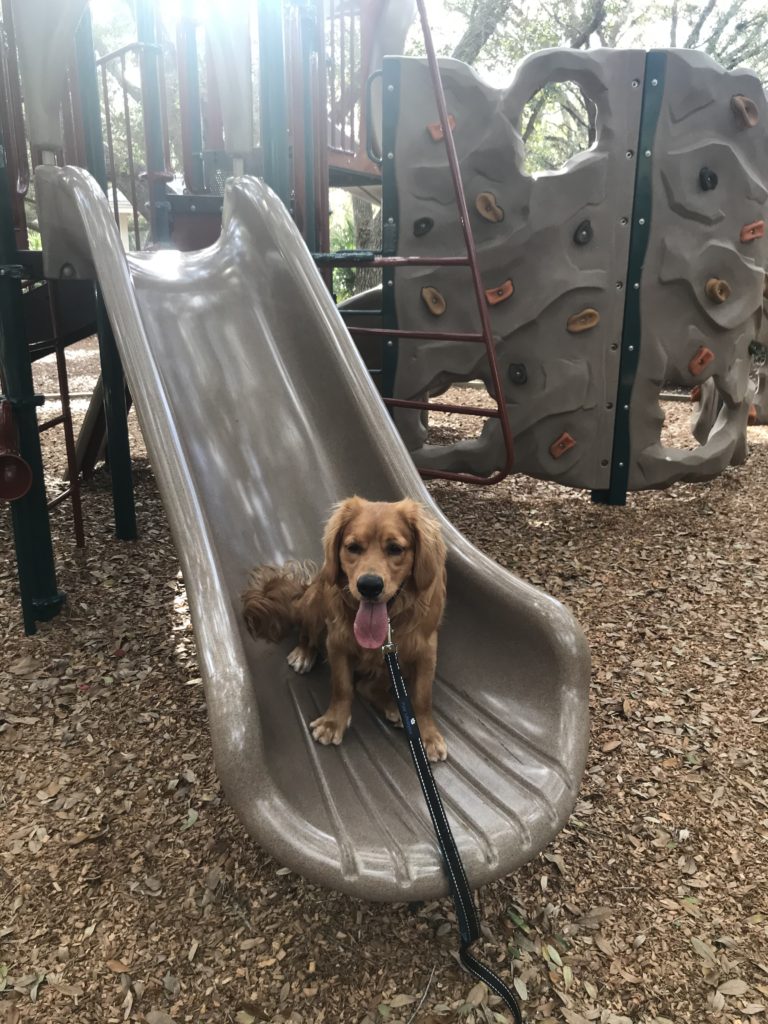 Tank loves to play at the park and shows off his sliding skills to the children playing….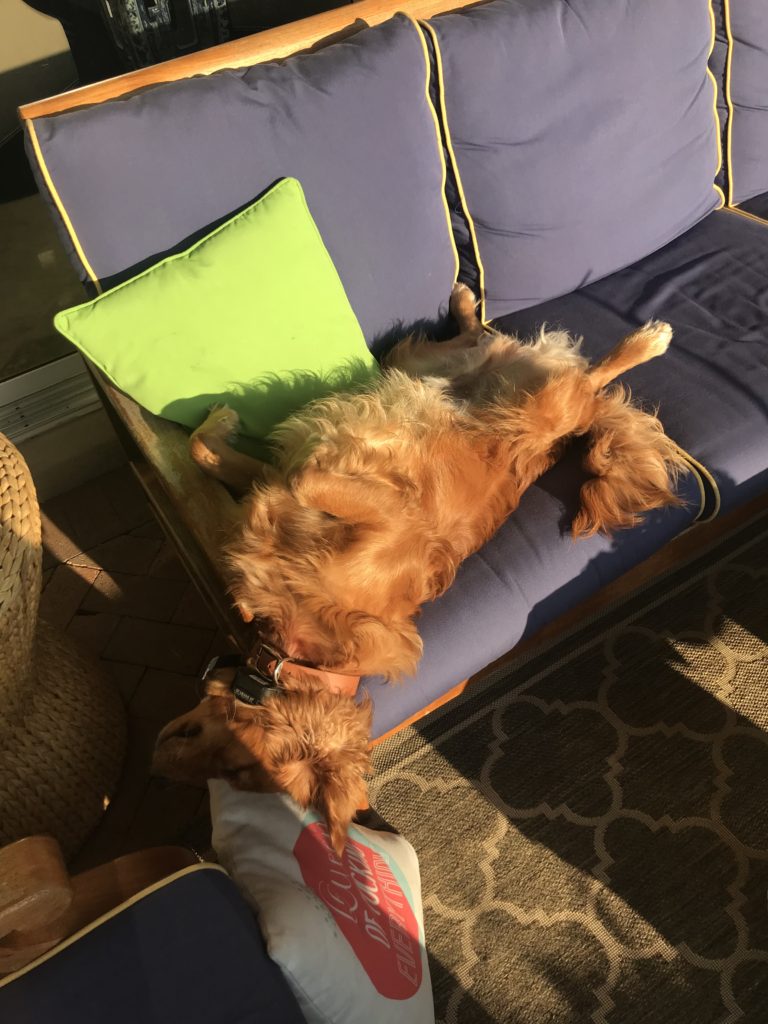 …and he loves a good nap!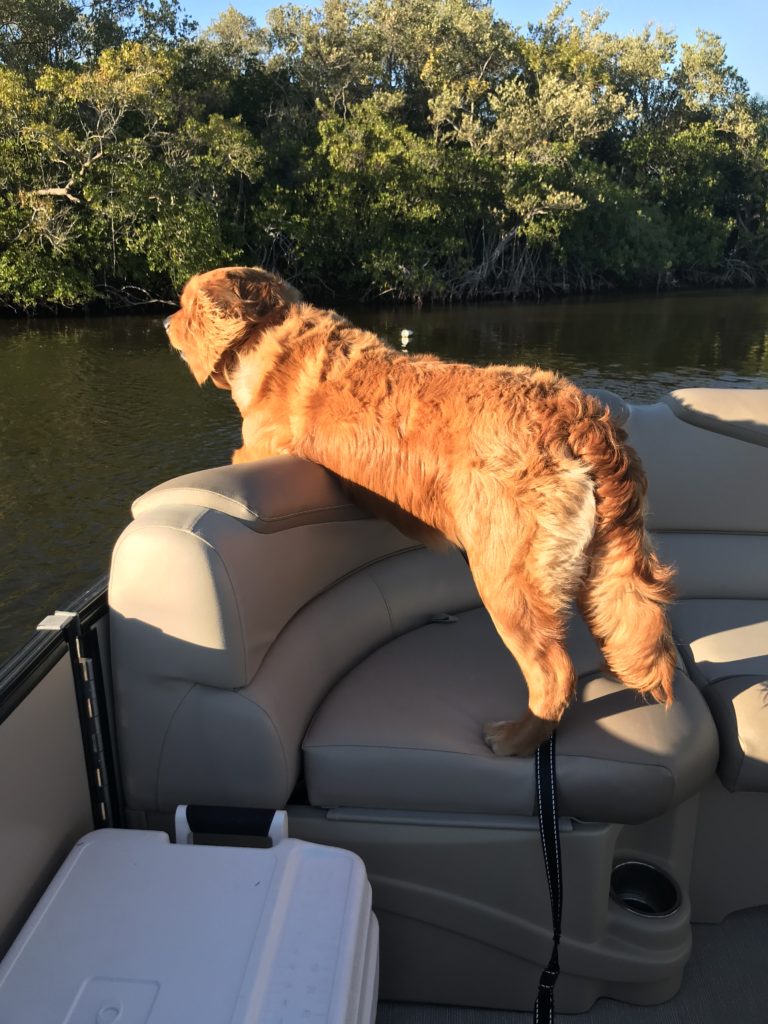 Does this boat make my bum look big?
OK…so I got completely off track…but it doesn't really matter 'cause it's all about love!!
Happy Valentine's Day