I love having an herb garden. There is nothing better than fresh herbs in your recipes.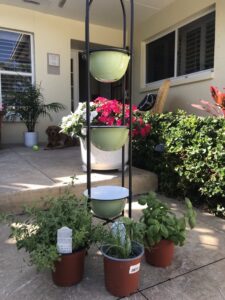 If you are in Canada don't let the weather stop you from growing your favourite fresh herbs! You can easily grow them indoors. Keep a potted herb garden close to your kitchen near a sunny window and pinch off what you need. 
Use your imagination when it comes to what you will plant your herbs in.  Assorted sizes of terra cotta flower pots, baskets, teacups/teapots, or a fun wine bucket. Pretty much anything will work!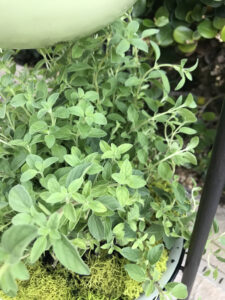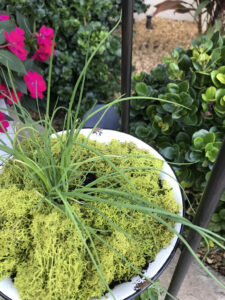 I used this three-tier stand to plant my herbs. I poked some holes into the bottom of the metal bowls and added some small stones for proper drainage. I planted basil, chives and Italian Oregano…I am on the hunt for some fresh rosemary. 🙁 so good on roasted potatoes. I added some moss to the top of the potting mix to save the plants from drying out.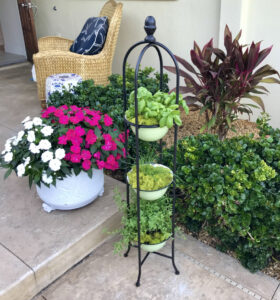 Regular pruning will promote a healthy plant life and will save them from getting spindly and unattractive. Here are some tips for keeping your herbs looking great!!
To prevent damaging your plant be sure to use sharp scissors when snipping.

Harvest your plants in the morning or later in the afternoon.

Some herbs flower such as basil, sage and thyme and should be clipped before they bloom otherwise the herb will lose its flavour.

Basal should be cut cleanly approximately 1/4″ above a node – a node is a tiny new growth

Dill should be cut back two leaf sets.

Parsley and chive stems should be cut about an inch from the soil.

Herbs like sage, tarragon and rosemary need to be pruned weekly. Pinch the top two inches off all new shoots to promote new growth.

If you have an abundance of herbs you can always make herb butter or flavoured oil. (recipes to follow)
I'm sharing a few of my own recipes that I love to make…really simple and you can add lots of fresh herbs!! In the summer I plant cherry tomato plants…I can't use them fast enough! They are so, so easy to grow!
This basic recipe – Roasted Garlic & Herb, Cherry Tomatoes takes about 30 minutes and with five simple fresh ingredients. You will love these yummies. There is no end to what you can use this recipe for.
RECIPE – Preheat oven to 375
I use two containers of cherry tomatoes and I cut them in half. Sometimes I take the time to squeeze out some of the seeds in the middle. I don't actually like the squishiness of cherry tomatoes so you can remove the insides or leave them as is.
Extra Virgin Olive Oile such as Envy EVOO
Garlic
Fresh herbs, whatever you have available will work
S&P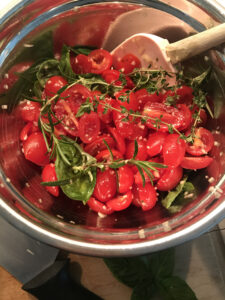 Place the tomatoes in a bowl and drizzle with EVOO
Finely chop fresh garlic (don't use the stuff from the jar…it just doesn't have the same flavour as fresh). The amount of garlic is a personal preference.
Add some S&P and give it a good stir and that's it! Easy peasy! 
DIRECTIONS – bake for 20-25 minutes
Transfer tomato mixture to a cookie sheet.
This is where the fresh herbs come in…I go to my garden and snip off whatever is available. Basil, Rosemary and Thyme. Give them a good rinse. I don't use any type of spray on my plants so I am only ridding them of a bit of dirt. Pat them dry and lay them on top of the tomatoes.
Pop them in the oven ….you will know when they are ready because your house will smell amazing!!!
Remove the sprigs of herbs you placed on top and toss them in the garbage. Let the tomatoes cool until you are ready to use them.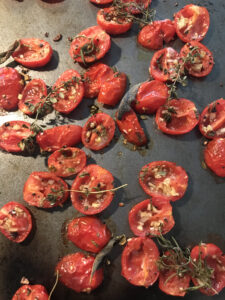 I add them to pasta. Pasta with lemon & white wine sauce  (recipe follows) is Steve's favourite dish!
---
Pasta with lemon & white wine sauce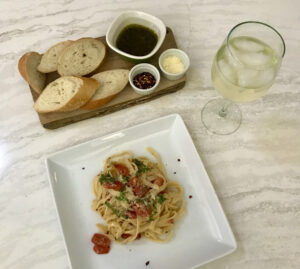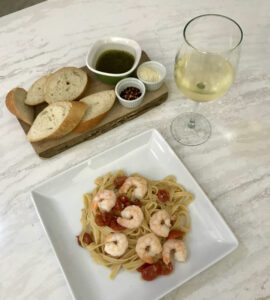 So light and delicious.
RECIPE – Preheat oven to 375
2/3 cup EVOO
2/3 cup parmesan cheese finely grated
1/2 fresh lemon juice
1 tsp lemon rind finely grated
1/3 cup fresh basil
 1 cup white wine – you can substitute the wine for pasta water
(when it's just Steve and me for dinner I half this recipe)
DIRECTIONS –  approx 20-25 mins
Mix all the ingredients together and stir. Cook pasta according to package directions. Once pasta is cooked and drained return to the pot and pour the lemon sauce over it and heat thoroughly. You can add cooked shrimp and or roasted garlic & herb cherry tomatoes to this dish.
Serve with a side salad and some crusty bread to soak up the sauce.
S & P to taste
---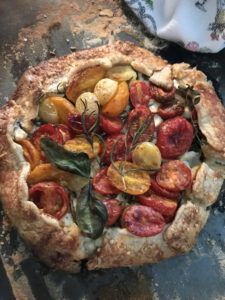 Make a galette using frozen pastry….so delicious! Serve with a side of fruit as a delicious breakfast or with a side salad and a glass of wine for a light dinner.  Yummers!
RECIPE- Preheat oven to 400
1 large pastry pie crust defrosted
I like to use 2-3 different types of cheese. One soft and either one or two hard kinds of cheese such as Gruyere and parm mixed with goat cheese. You can play with the amounts to suit your own taste. 
cornmeal, flour or parchment paper
cherry tomatoes 
fresh herbs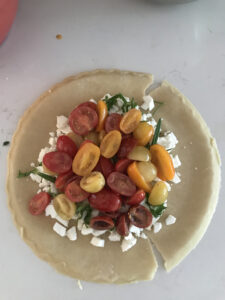 DIRECTIONS – bake for approx 40 mins
Sprinkle some cornmeal (or flour) on the cookie sheet or line with parchment paper
Remove crust from aluminum pan and place onto the cookie sheet
Spread cheese mixture onto the center of the crust leaving 1-1 1/2″ around the edge
Top with tomatoes and herbs
Fold the edge of the crust towards the middles
Brush edges with egg wash (1 egg + 1 tbsp water) and sprinkle with sea salt.
Pop it in the oven for approximately 40 minutes. 
---
Great pizza topping with some fresh basil and fresh mozzarella cheese or use to top off grilled steak or chicken.
---
A delicious breakfast idea -toast sourdough bread, spread on some avocado and add tomatoes on top!
There is no end to what you can do with baked garlic & herb cherry tomatoes.  When you try this recipe drop me a line and let me know how you used it. 
---
Recipe for herb butter HERE
Recipe for herb-infused oil HERE  Store in cute bottles and give as a hostess gift.
Lots of ideas no matter where you spend your winters. Enjoy.
---
On a completely different subject while 'Spotlighting' strong women….if you missed my last Spotlight  on the 'Merry Widows' and my friend Ellen, you can check it all out HERE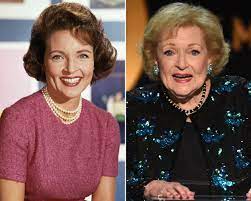 I can't end my blog without a special mention of the legendary Betty Marion White…. you may remember  her as the sex-crazed Sue Ann Nivens, Rose from St Olaf, as one of the first women to work in front of a camera as well as behind the camera, or as an animal activist…She was an amazing lady we have all grown up with and loved. 
It's ironic that she passed away on the last day of 2021, the same year that we lost Ed Asner, Gavin McLeod and Cloris Leachman. Somewhere they are all back together again with Ted Knight too who passed away in 1986 When she's done partying with all of them she will no doubt join her Golden Girls and follow up with the love of her life Allen Ludden. 
 "He would call me from wherever he was working and say, 'You wanna go out to dinner? You wanna have a date?' " White recalled to PEOPLE. "And I'd say, 'Sure!' Well, going out to dinner meant he'd stop on the way home and pick up a chicken and put it on the barbecue. We'd put on a stack of records, have our barbecue and dance. We enjoyed each other." (from People magazine)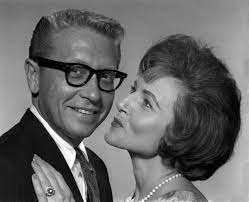 RIP Betty Marion White Ludden
Jan 17th, 1922 – Dec 31st, 2021