As promised, here is the 2nd table setting that the girls helped me to create.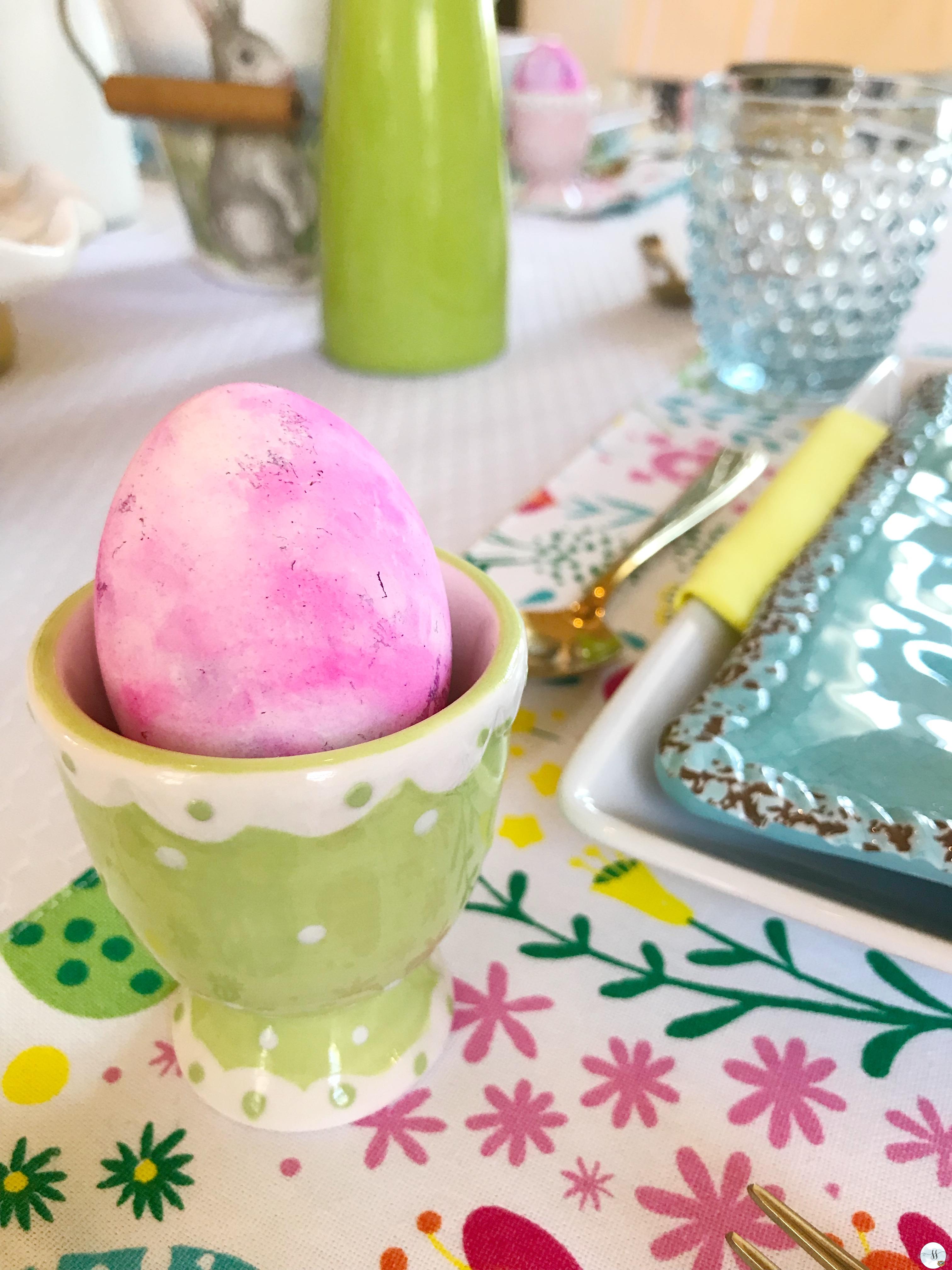 First things first….colour the eggs.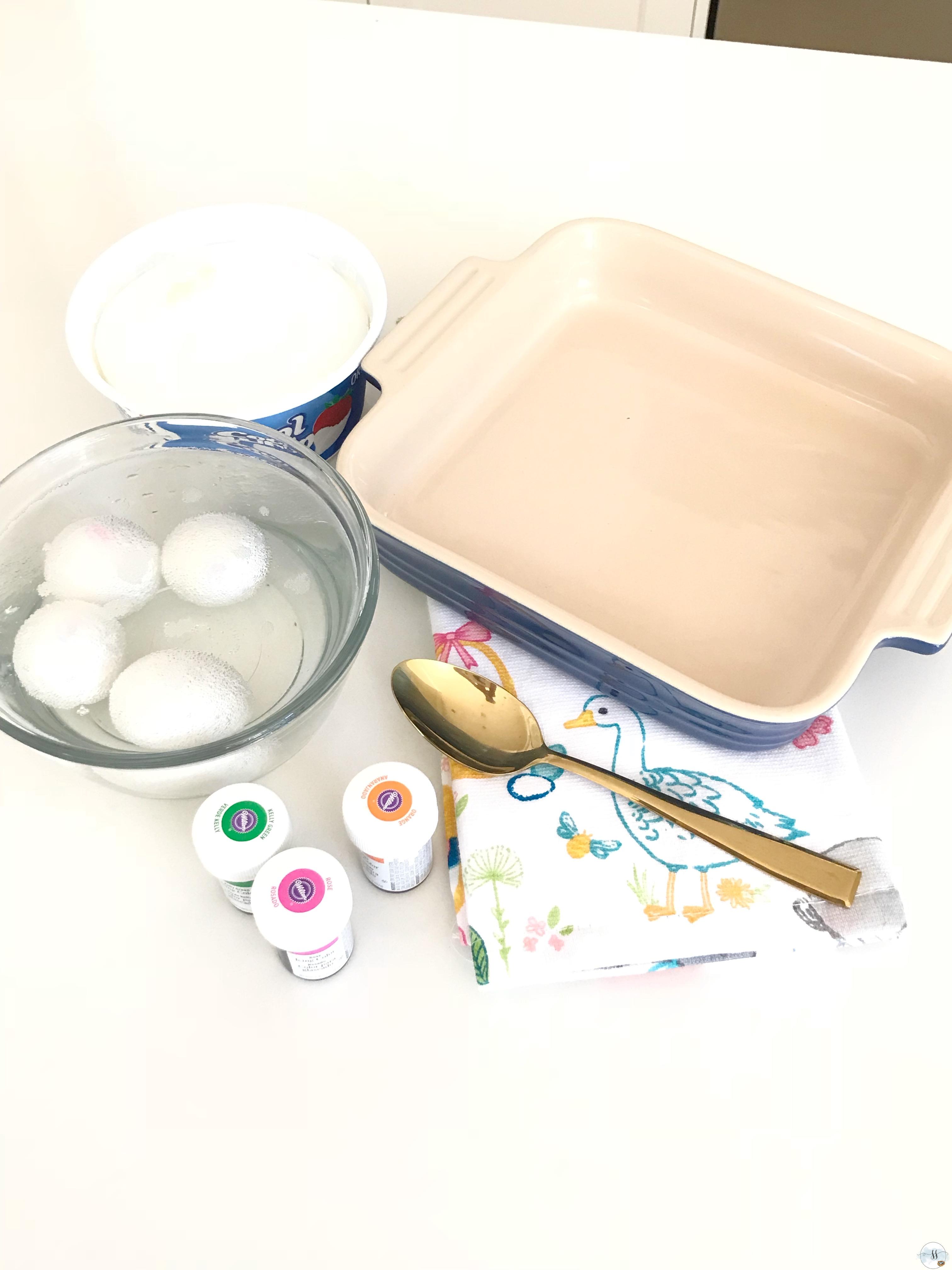 We did it a bit different than the usual way this year. I got this 'recipe' from Pinterest. Boil the eggs as you usually would. Once cooled soak them in vinegar for about 15 mins. This makes the eggs more porous.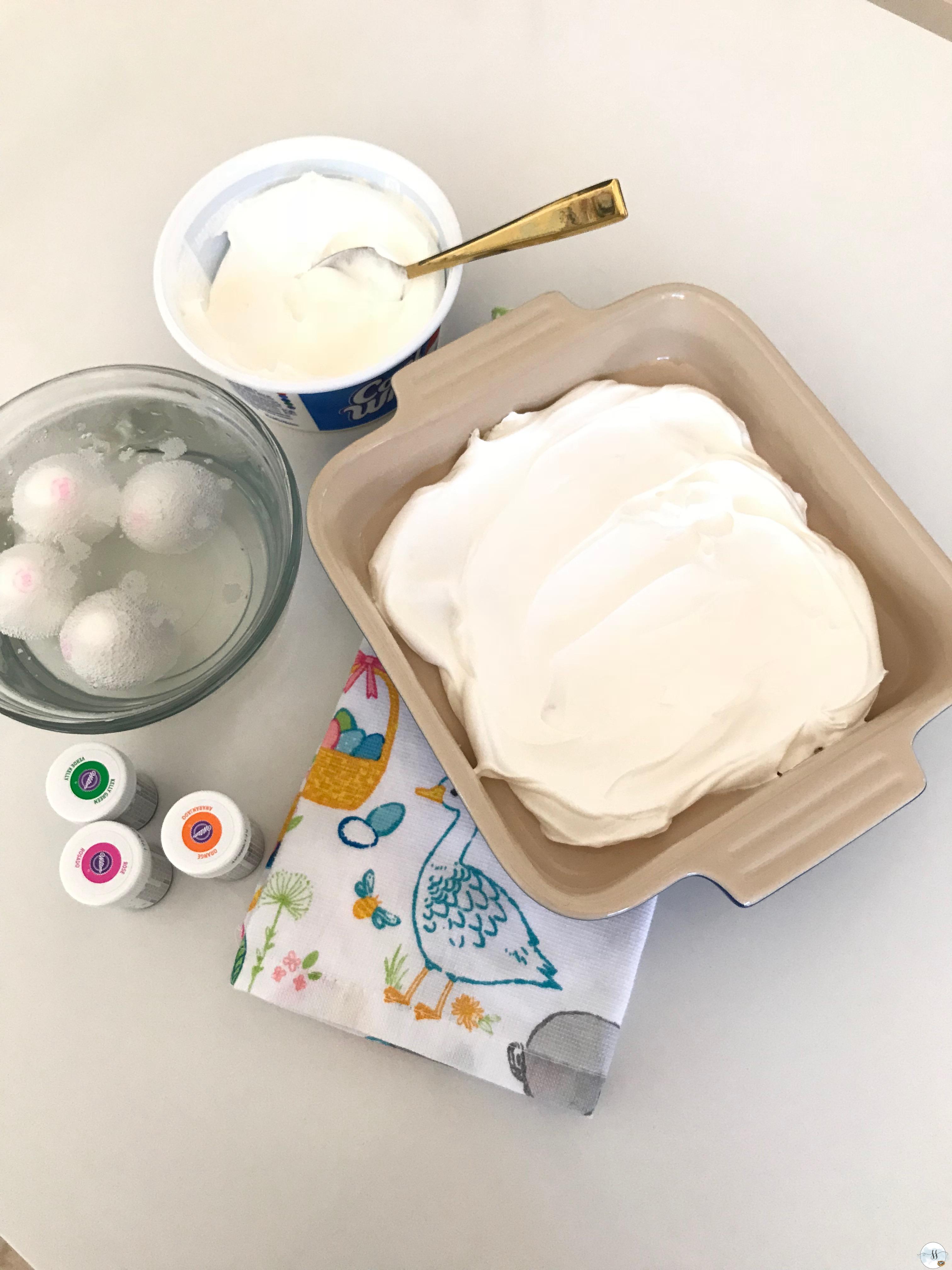 Add a few tablespoons of Coolwhip into a shallow dish.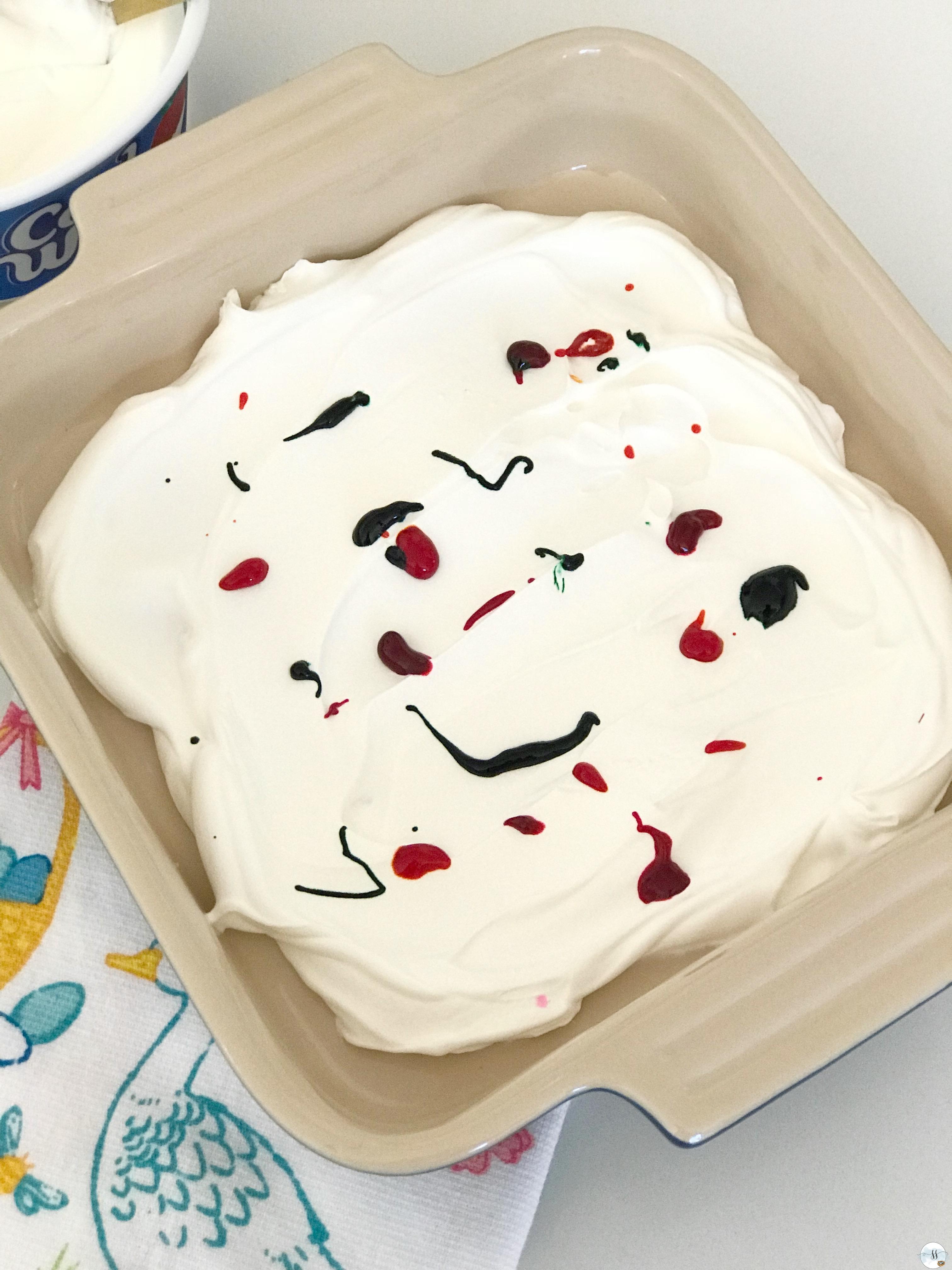 Add your chosen colours of food dye. Mix it all around using a spoon. I suggest colour tones that are the same..ie red, orange and yellow in one and blue and green in another. We did orange, red and green and the green looked too dark against the other colours. Roll the eggs around in the coloured cool whip and then rinse under water. The colours will be pretty light. You can dip as many times as you'd like until you get the desired effect.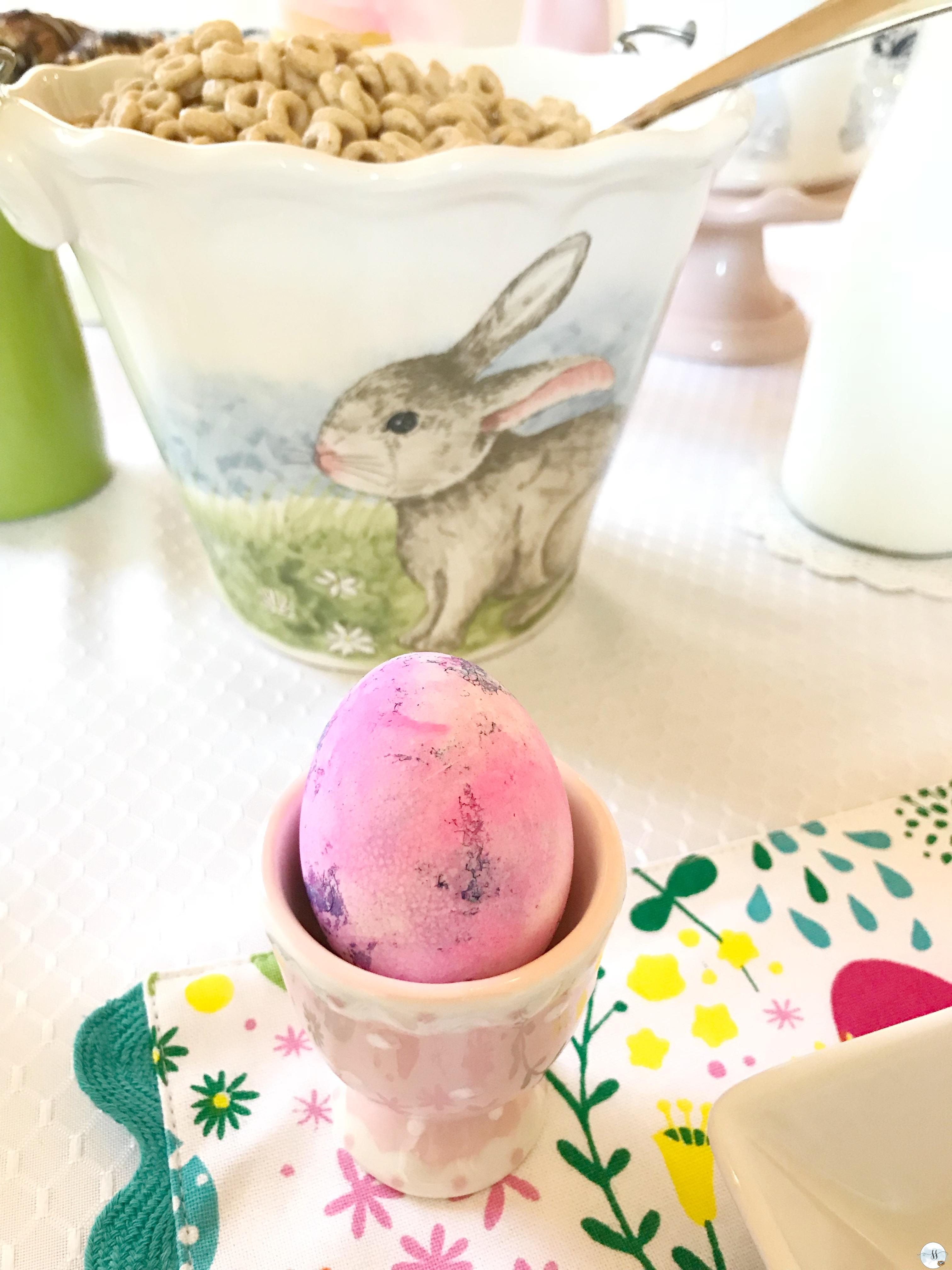 You can see how the green looks like a bit of a blob and the girls were happy with the light colour of pink. I would have liked a deeper colour…but who am I to say…the girls are the boss AND impatient! LOL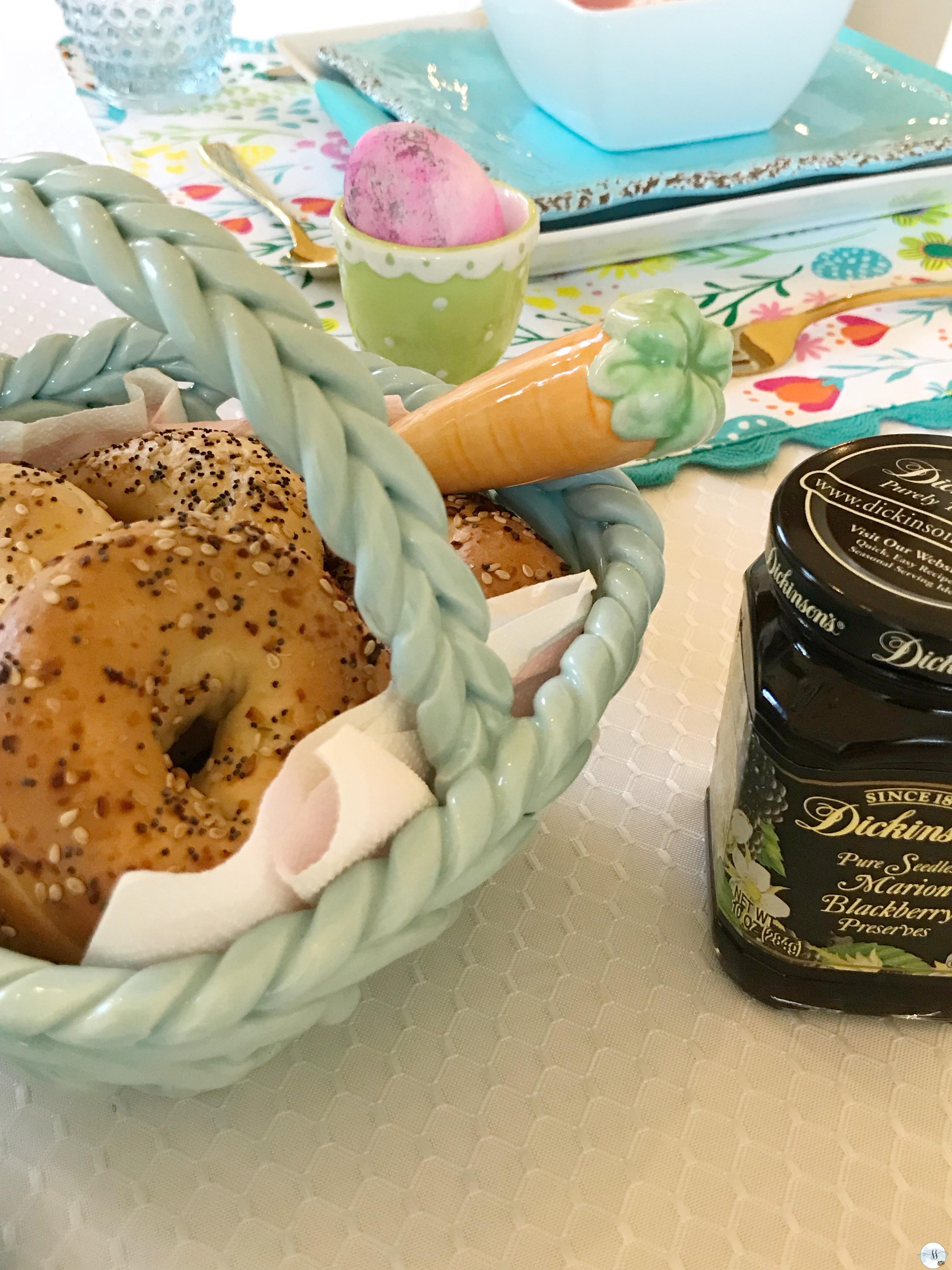 We used the ceramic baskets again on this table setting to hold our mini bagels.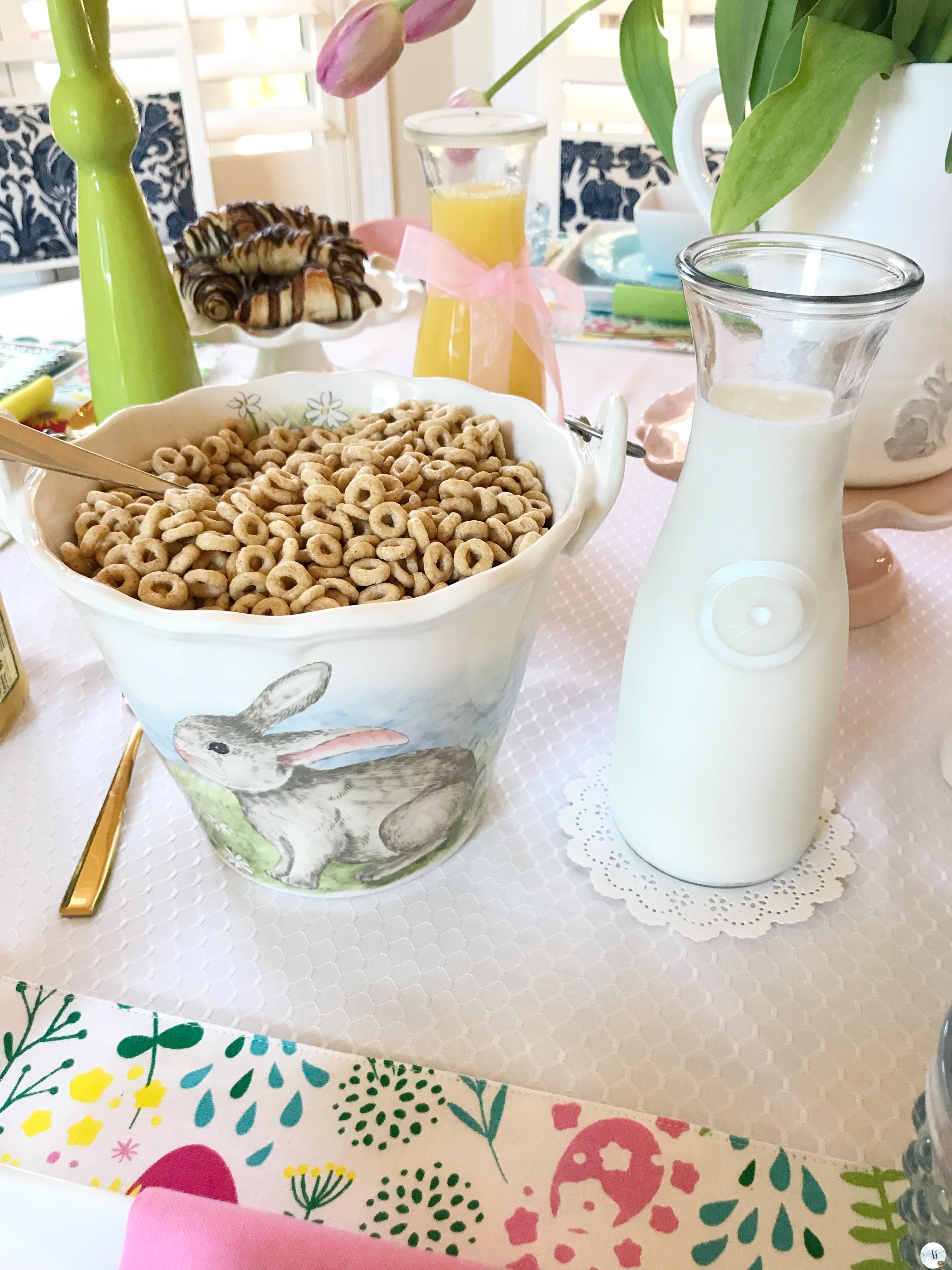 I love this idea of pouring the cereal into this sweet little flower pot. We poured the milk into a glass container….looks so much nicer than the milk carton.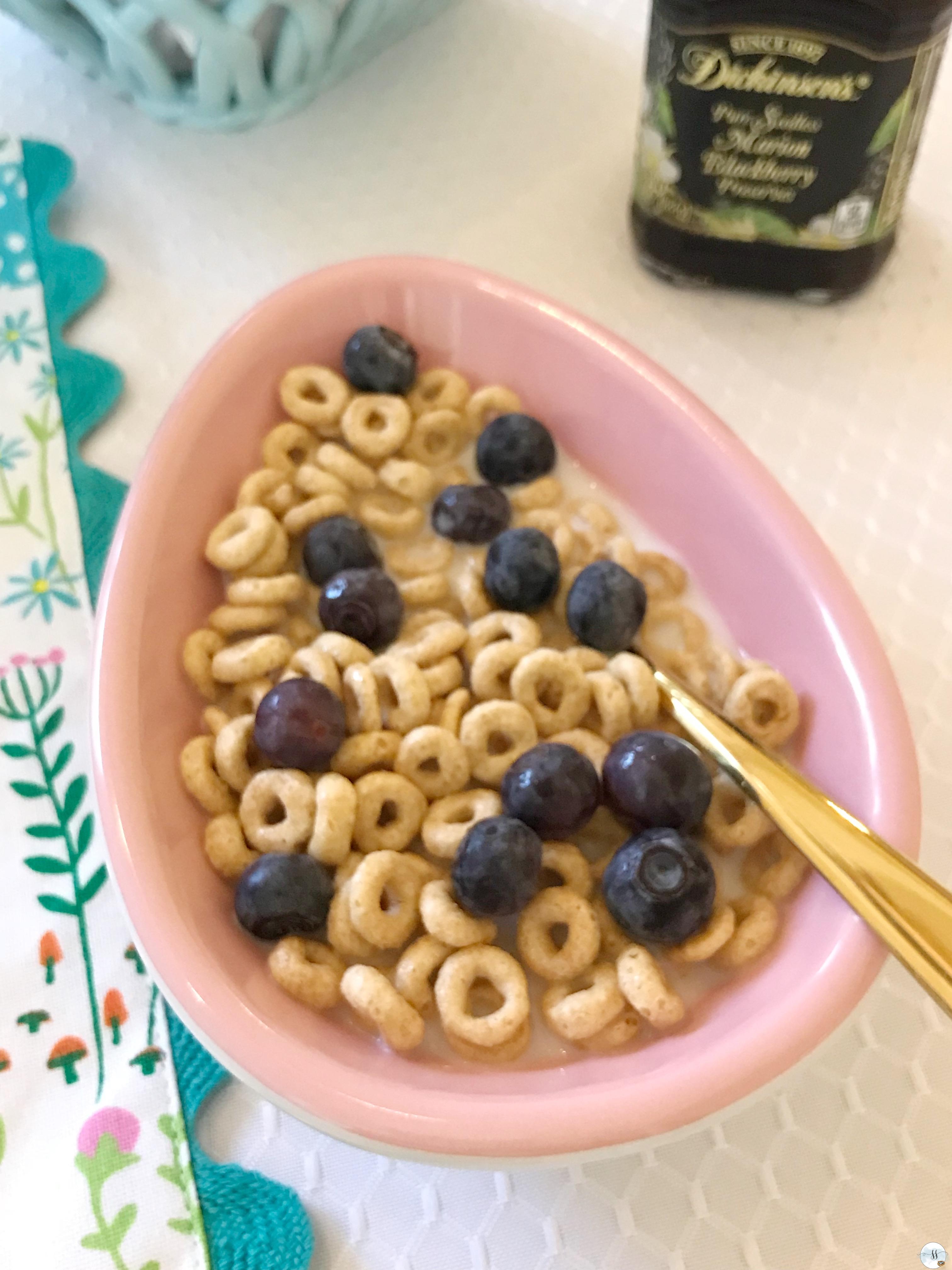 The egg-shaped bowls worked perfectly as cereal bowls.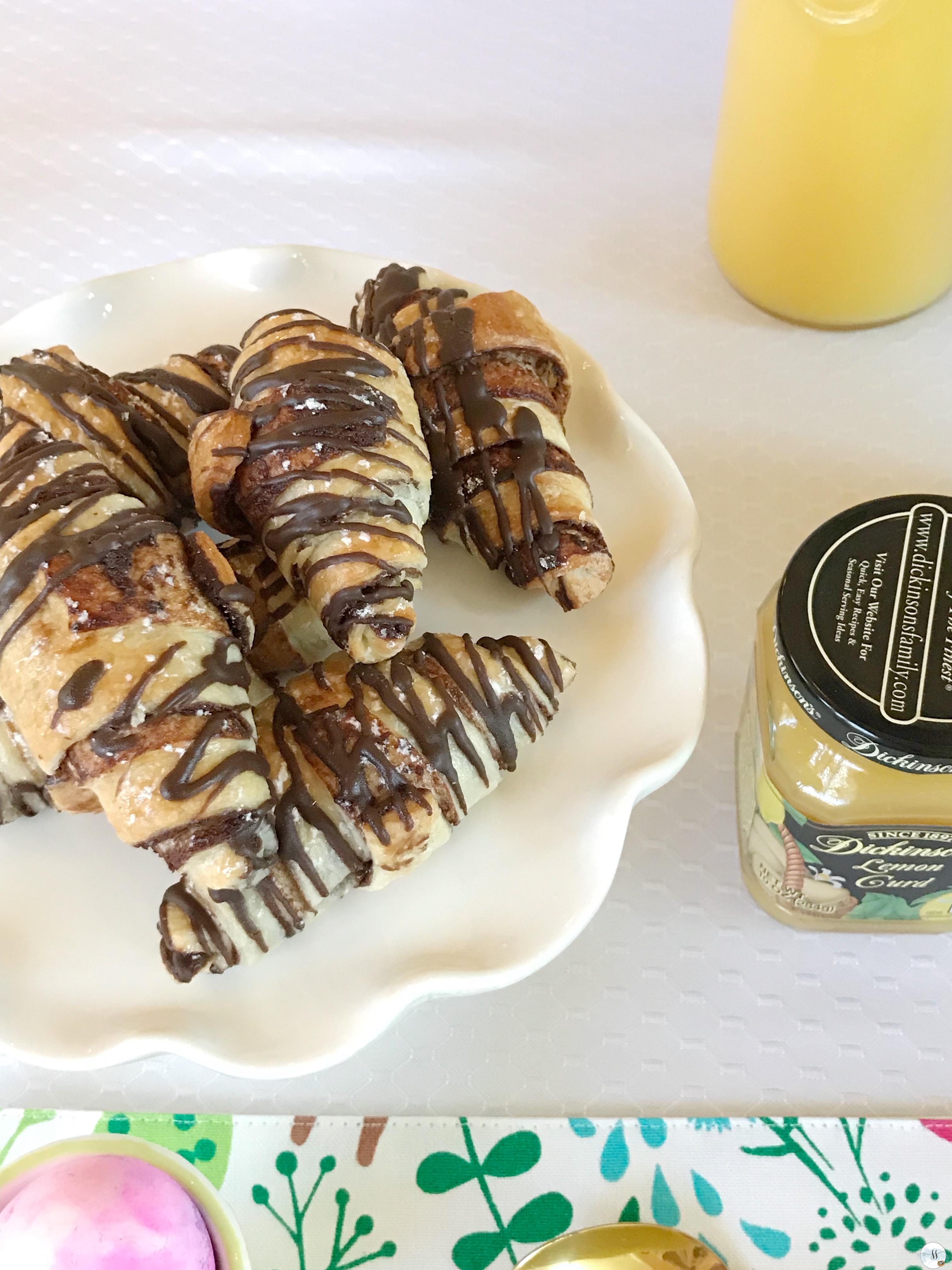 mmmmm…mini chocolate covered croissants, the perfect size for little hands. These were placed on a small pedestal plate to add some extra height to the table.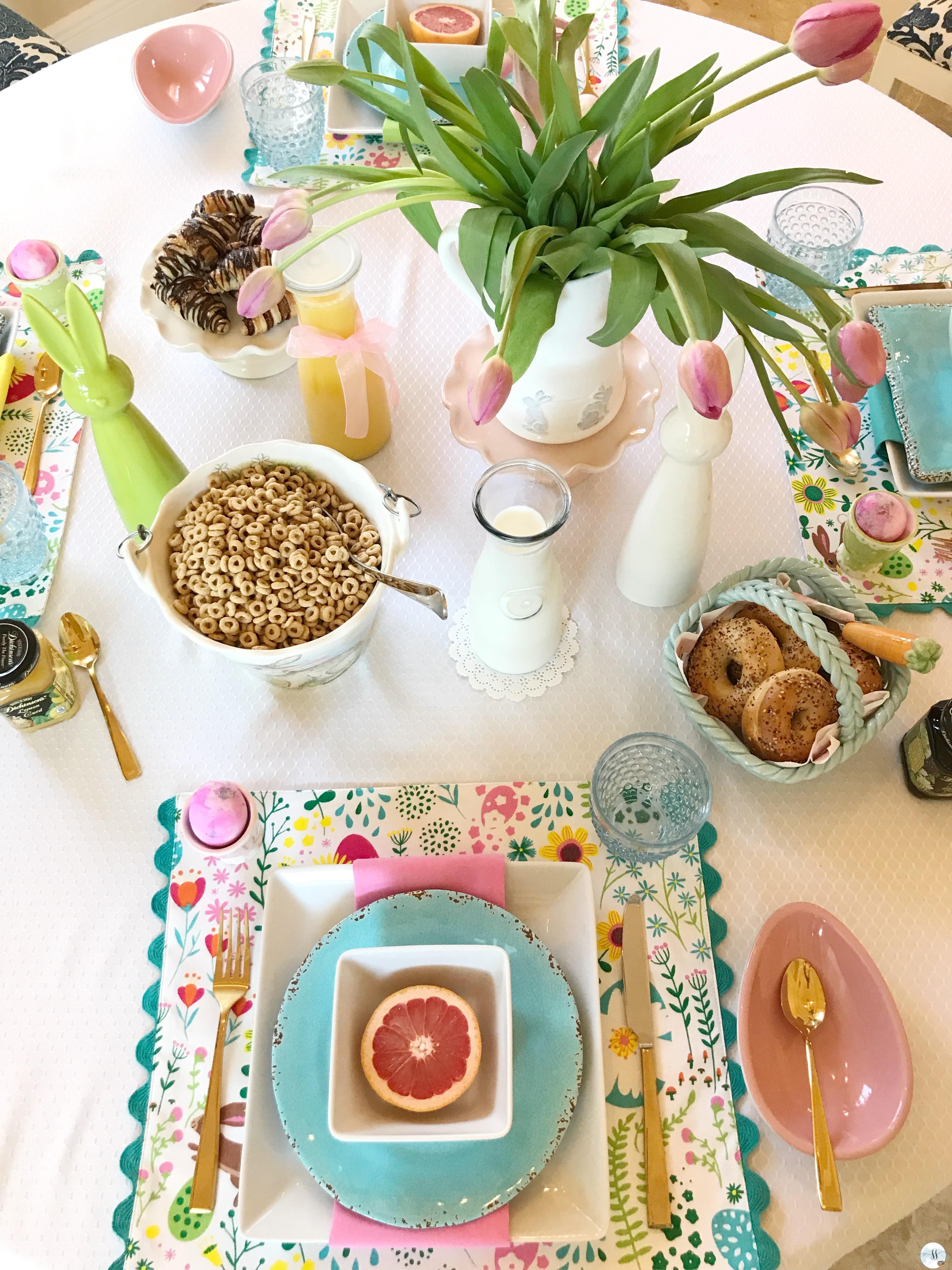 I love the colours of these placemats. I 'think' I bought these at Target about 2 years ago. They came with matching napkins…teal, pink, yellow and green. I bought the teal plates at Home Goods. I purchased them for our boat show last month. I was in charge of staging the Sweetwater boats. All of our boats are a light teal and these were perfect.  I will be returning them 🙂

————————————————————-
For the last table setting, I wanted something a little bit more grown up.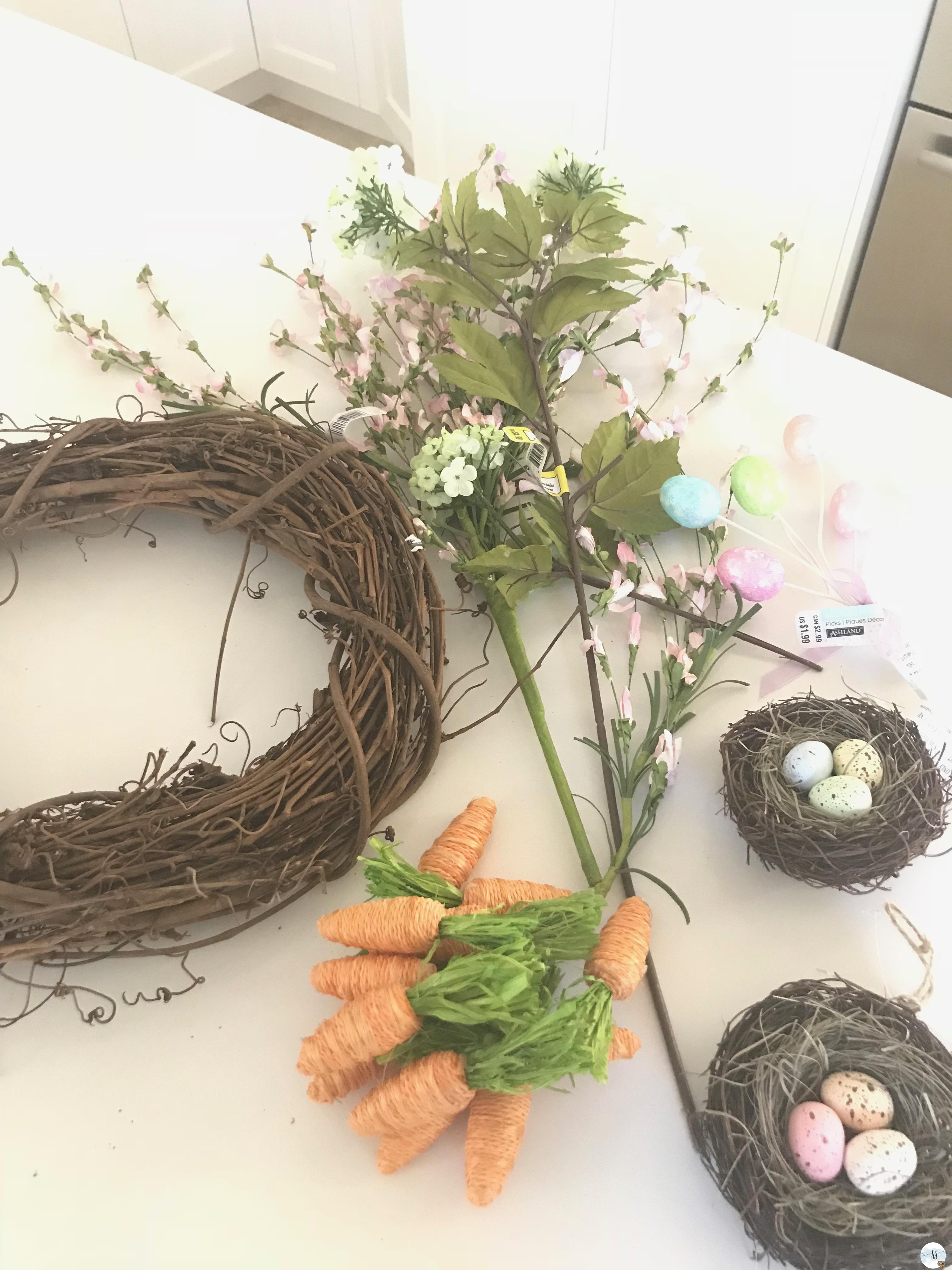 I collected some materials for a small DIY project that I saw on Pinterest. This is so simple. I attached some flowers, carrots and eggs to the wreath to make a charger.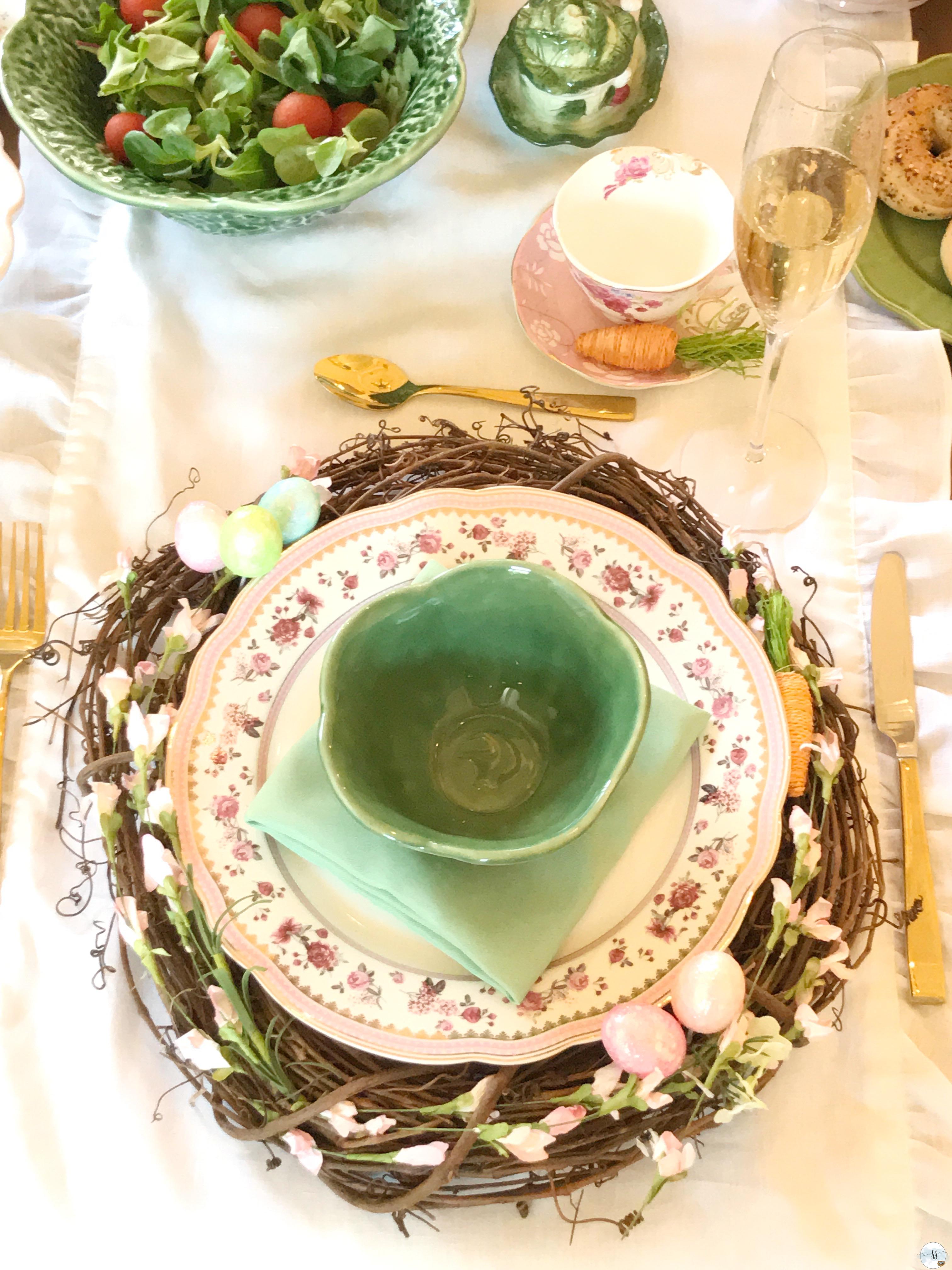 So much impact!!! I wouldn't use these if I was serving a steak dinner just because the plate would move too much when cutting the meat. The plate isn't completely secure….secure enough for a light meal though. I only made one. I will make 1 more for our table on Easter morning as it will just be Stevie boy and me.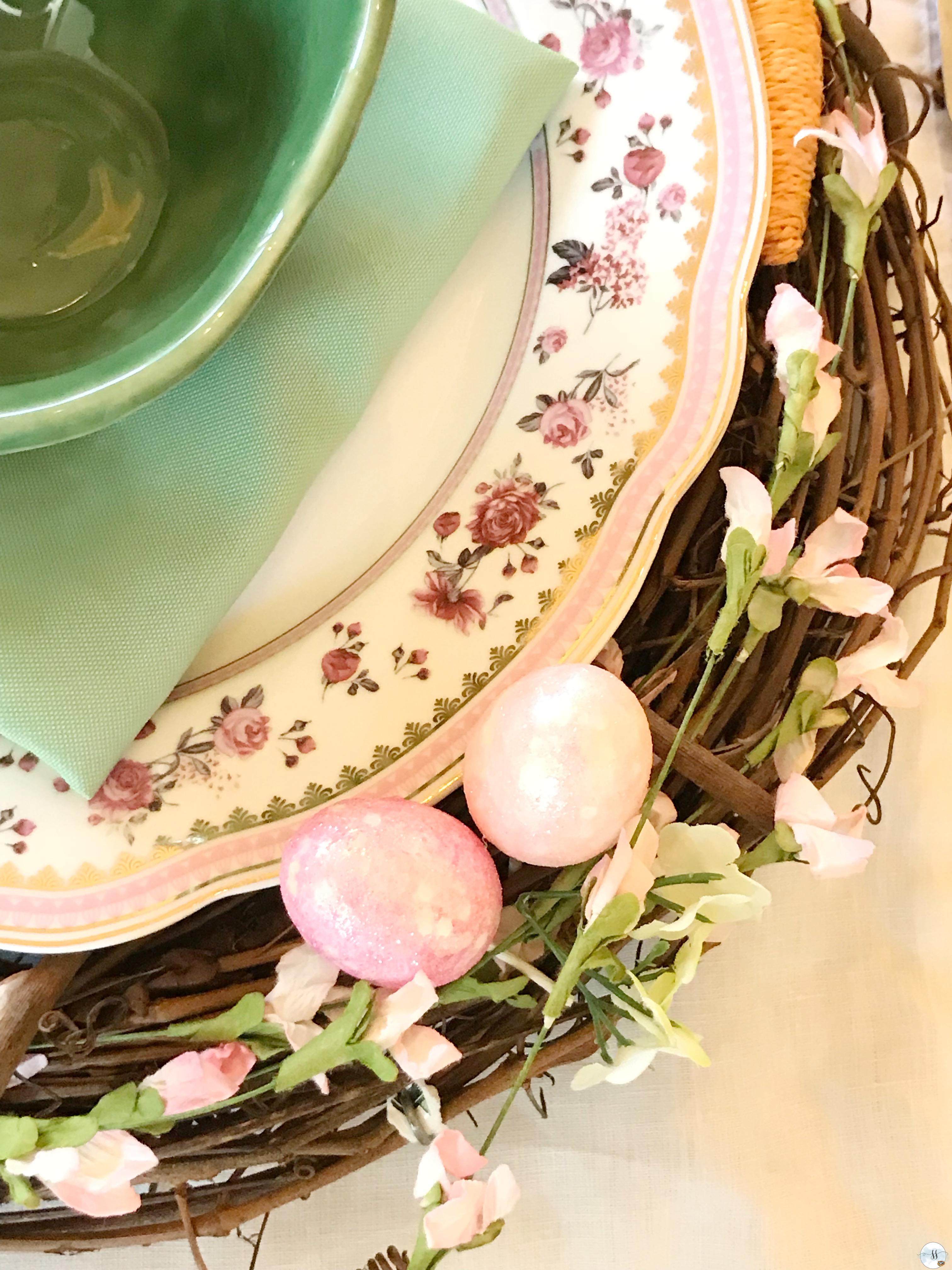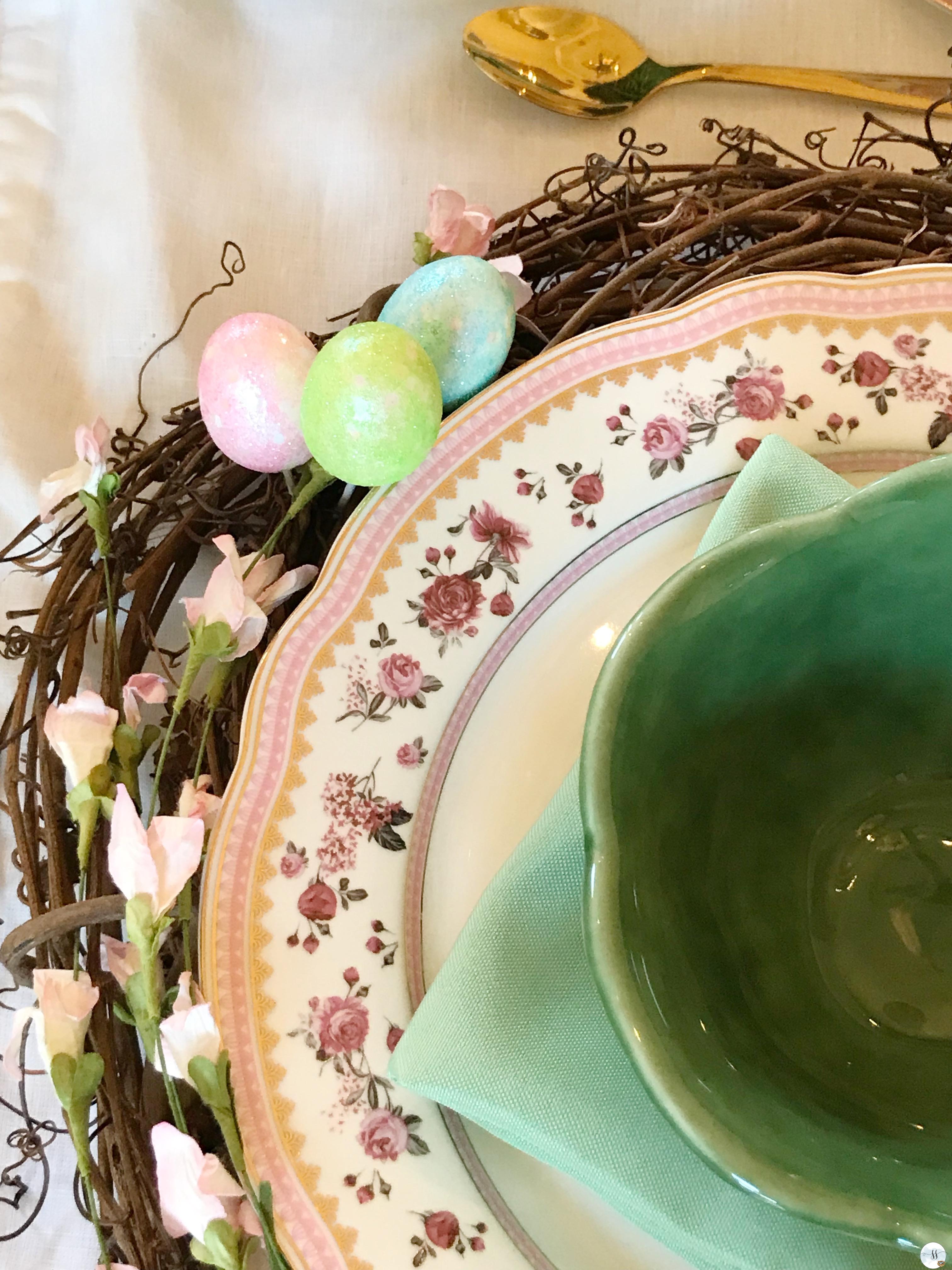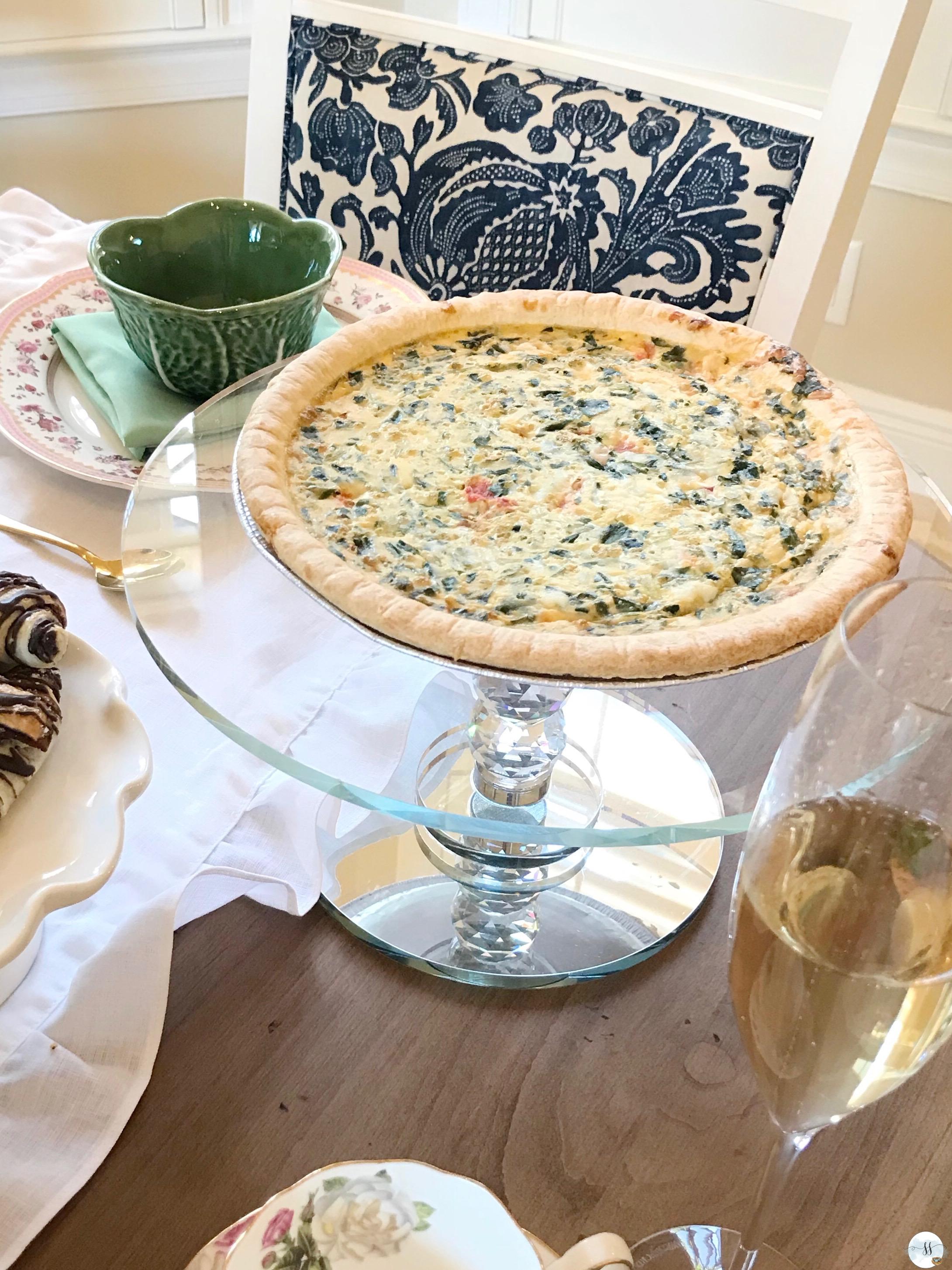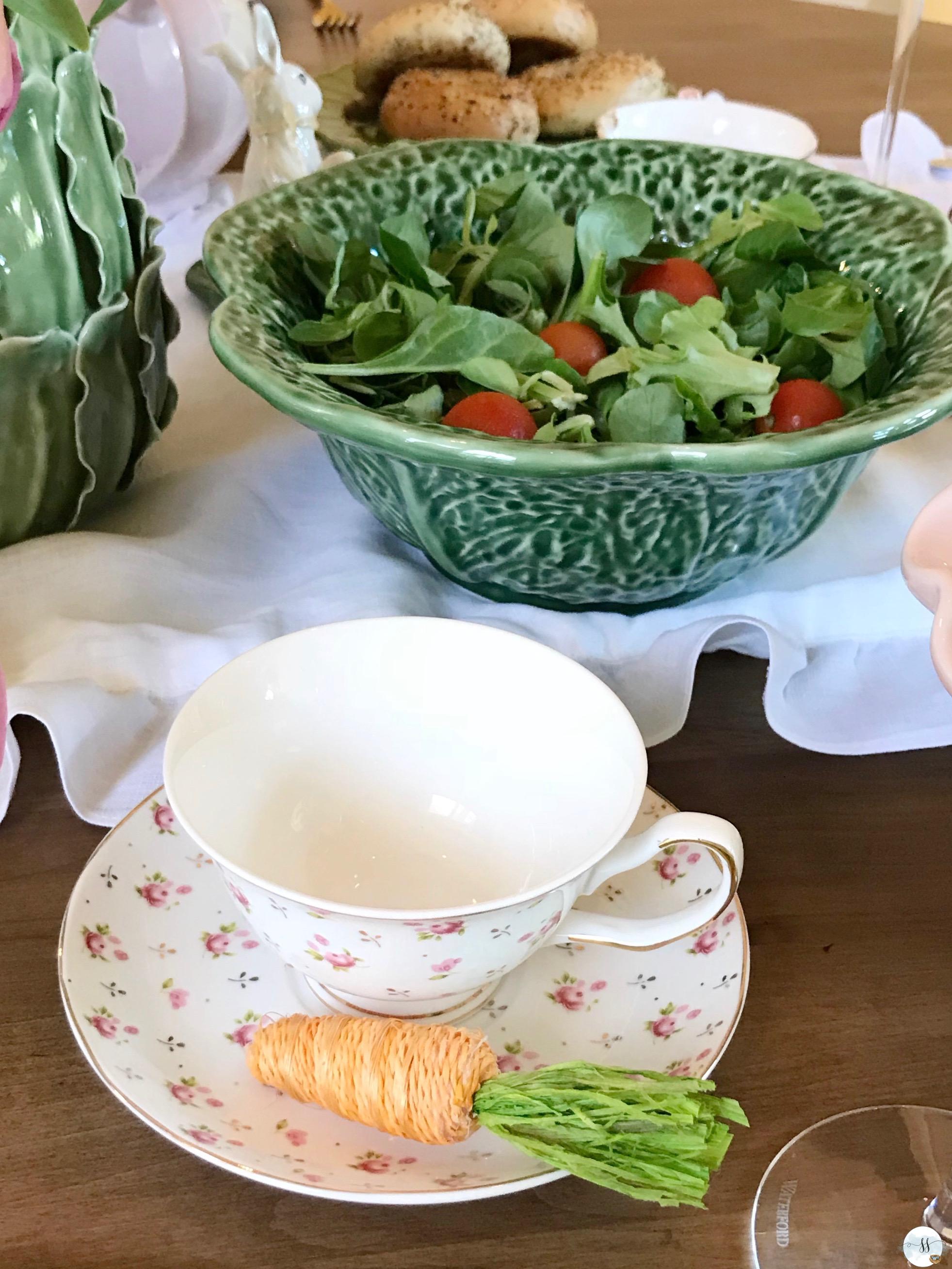 I made a simple salad to go with the quiche that I served. I got the green salad bowl and 2 side salad bowls at Home Goods…where else!! I went back every single day for over a week hoping they would get more of the side salad bowls. No luck!!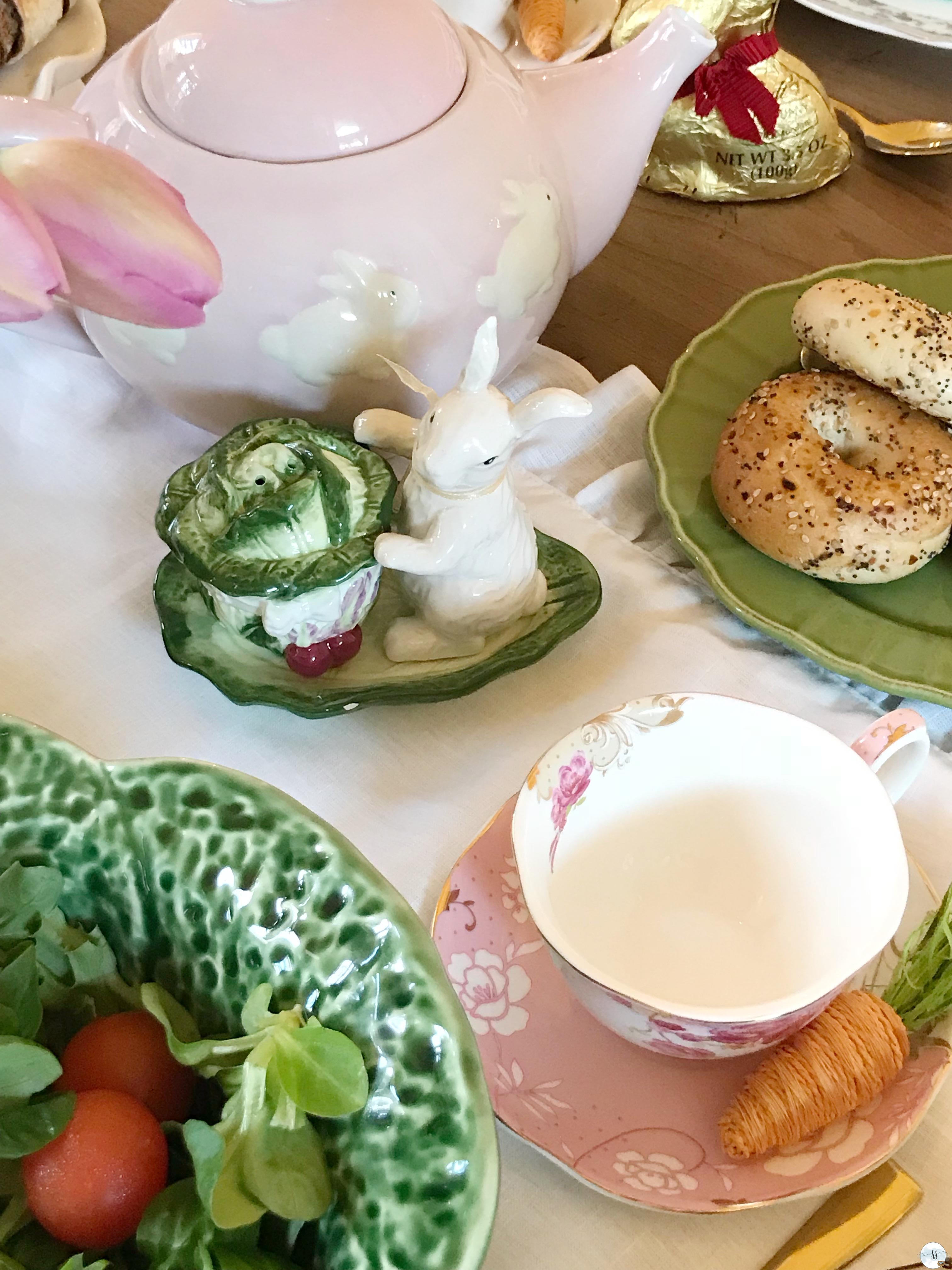 They did end up getting the small salt & pepper shaker. I am going to keep looking in the hopes that I can add a few more pieces to this collection. There is 2 more Home Goods store not TOO far away…I may have to go check them out.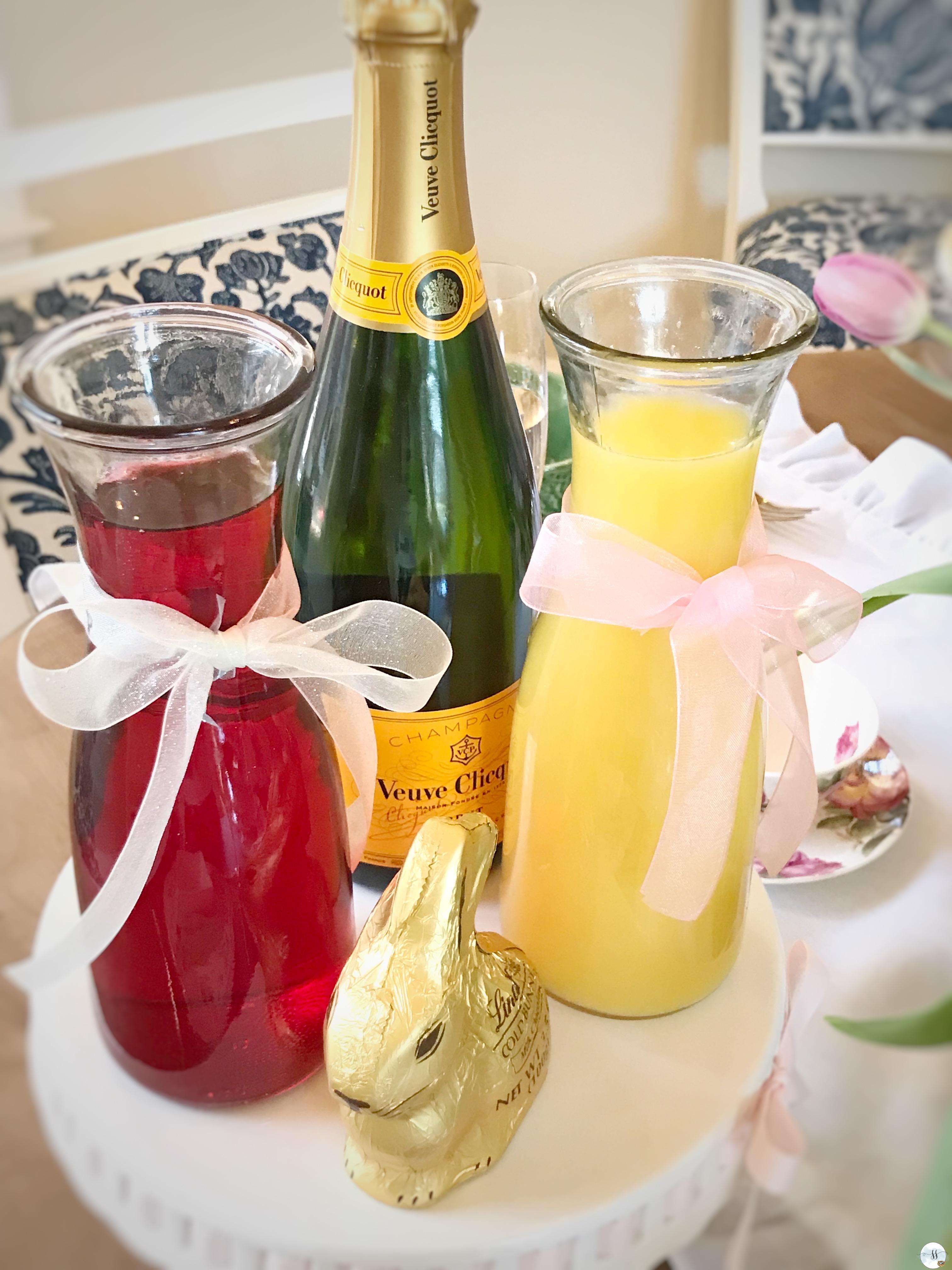 It wouldn't be a grown-up lunch without Mimosa's! I like to offer more than one type of juice to add to the champagne.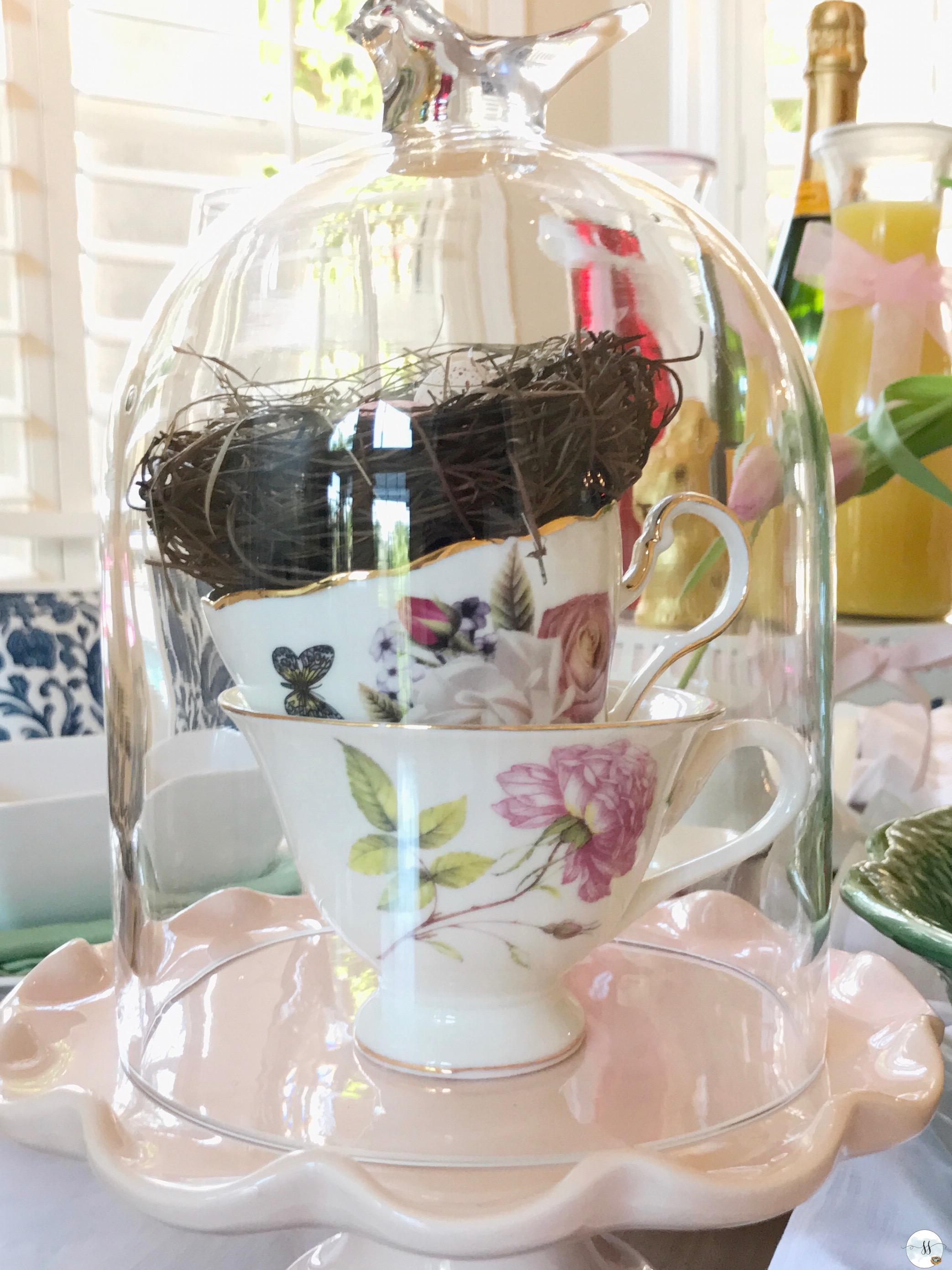 Another way to add a natural element to the table. I simply placed one of the small bird's nests from Michaels on top of some teacups and covered it with a cloche.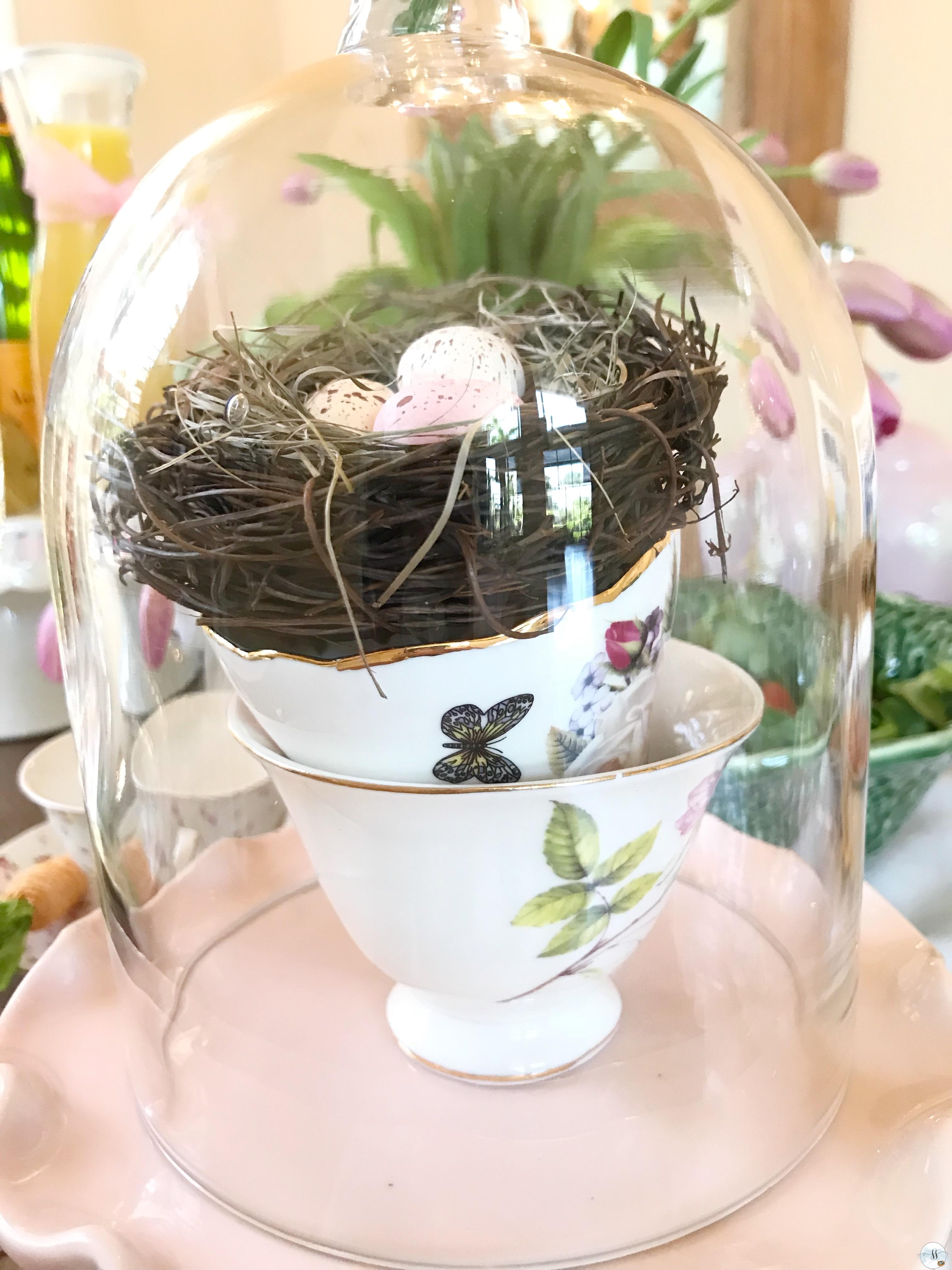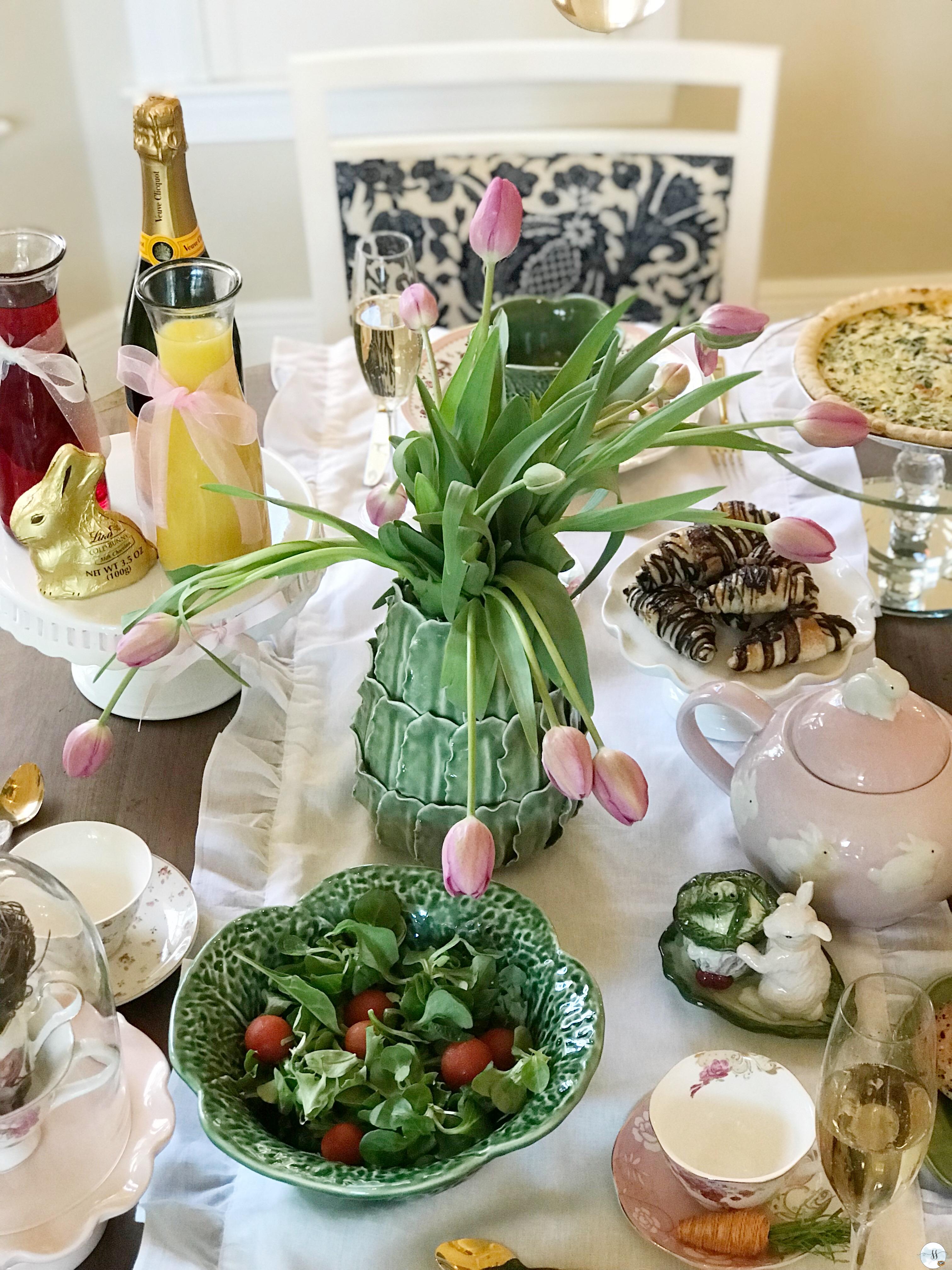 I have one last setup that I will be creating. I received the sweetest email from a young girl that follows Savvy Snowbirds. She said that she loves the tablescapes but given that she has young children she would not be able to afford to buy new dishes and decor for every tablescape. She said it all in the nicest way…I promised her I would put one more tablescape together that would be completely affordable.
I hope you were inspired by today's post and I hope you check back to see what I put together for Tara.
If there is anything that you want to see on Savvy Snowbirds please leave a message below.