Well….Yesterday (Monday) I attended the second day of my photography course. It's a quick 4-week course offered right here in Bonita Bay. All of my photography for my blog thus far including these pictures has been done with my iPhone 7 Plus.  I don't mind my photos too much…but for sure there is room for improvement. I do have a big girl camera, it's a Canon Rebel (if that means anything to you)……..but until last week I didn't even know how to turn it on. Seriously!
Today's lesson was all about composition. I sure wish I had the class BEFORE all my Easter shoots. I learned so much today and now I look at all these pictures and see so much room for improvement. Oh well…as the french say…c'est la vie! There isn't a chance that I am re-doing the photographs. I am chalking it all up to learning and moving on…but it is killing me a little bit!
Last year we had the girls here for Easter weekend. It was a lot of fun. Bonita Bay does the very best Easter egg hunt that I have ever seen!!!! It took place on the Saturday and on Easter morning we took the girls to the Hyatt Hotel for their Easter celebration….I'll tell you what…it didn't hold a candle to what we had here in Bonita Bay.
This year it just didn't work out for us to have them here for Easter, but it didn't stop us from doing some fun table decorations.
We decided that a breakfast table would be the most fun to do.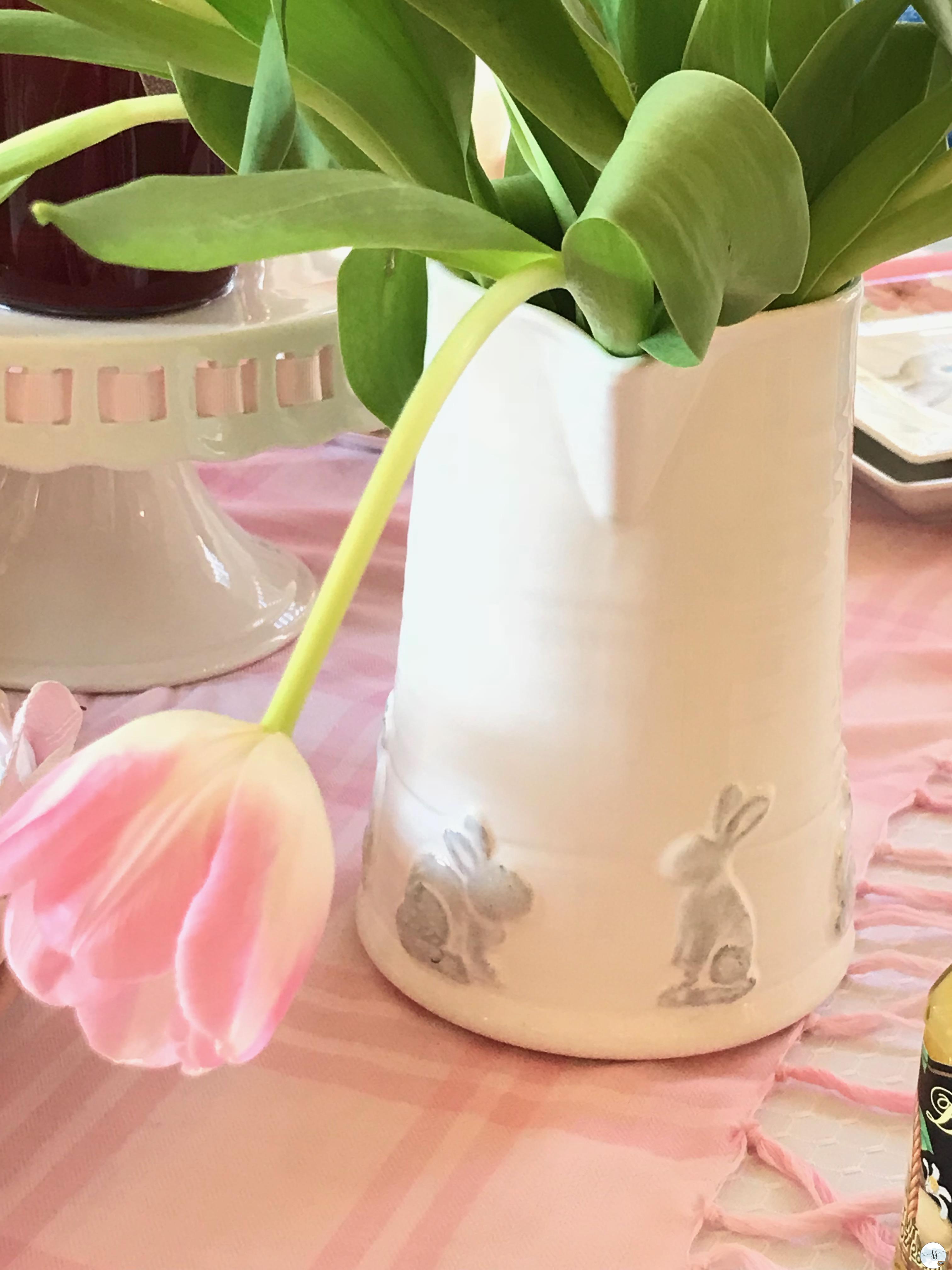 The best thing about having granddaughters is PINK! I love pink and so do they. The middle table topper is actually a scarf right out of my closet. We layered it on top of a white tablecloth that has a rather obvious burn mark in the middle of it. That was our starting point. From there we went to Fresh Market to pick up some pink Tulips. The water jug is from Home Goods and so is the cake plate in the top left corner. I love this cake plate as you can change out the ribbon to suit your table decor. I actually won $500 worth of cake plates from a draw on Instagram from Opulent Treasures.  www.opulenttreasures.com
I am so excited to get them. I went to their website today and got to pick $500 worth of treasures. I will be sure to post photos when they arrive.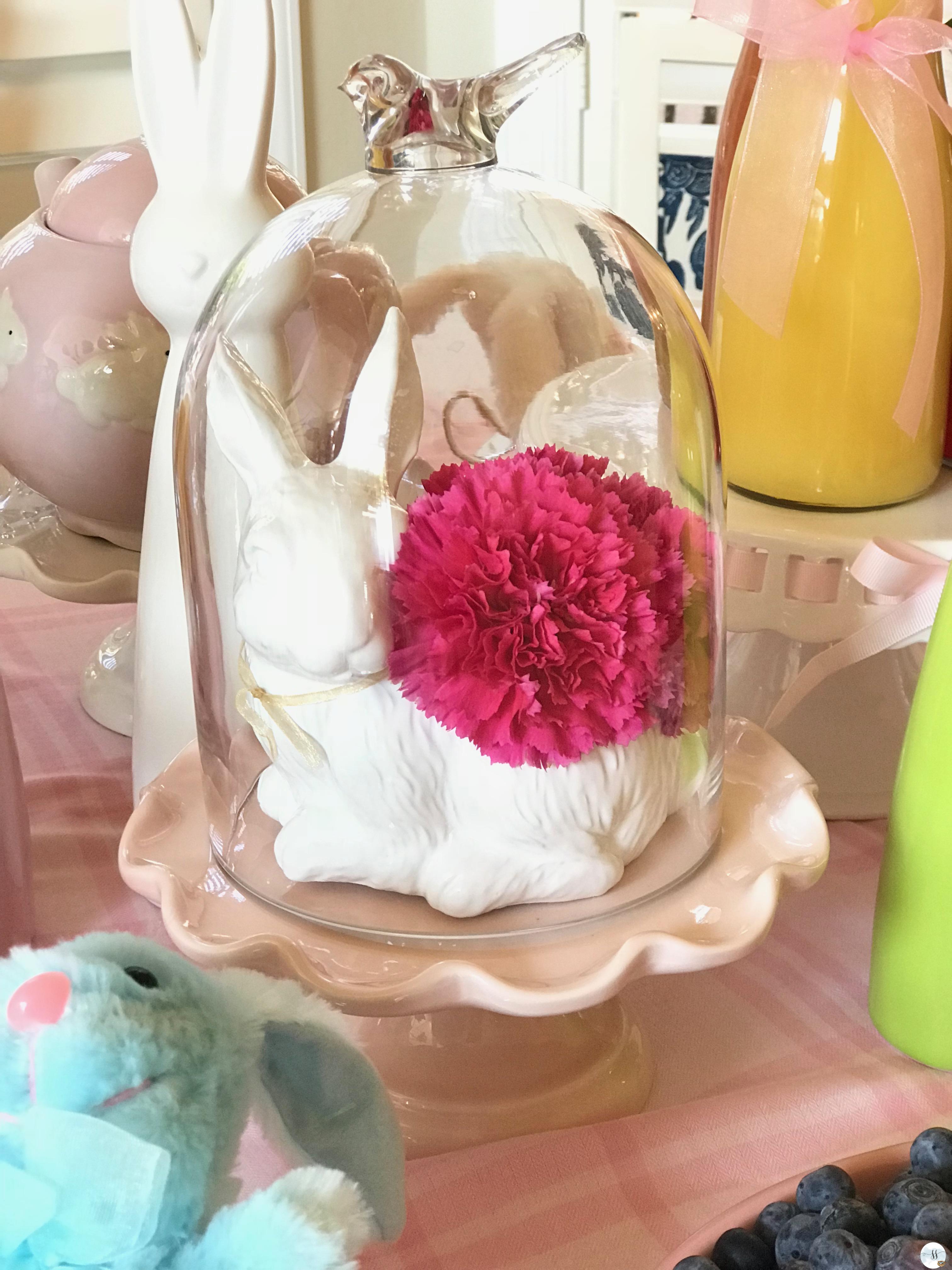 You can never have too many flowers in my opinion. I love how we lucked into this small display. We simply pulled a couple of Carnations from another bouquet I had in the house and put them in the rabbit. Originally the rabbit was going to sit directly on the table…but as we were setting up and shuffling things around I placed it on top of the cake plate out of the way. We thought it looked cuter sitting up a bit higher on the table. We then covered it with a cloche and it worked out beautifully!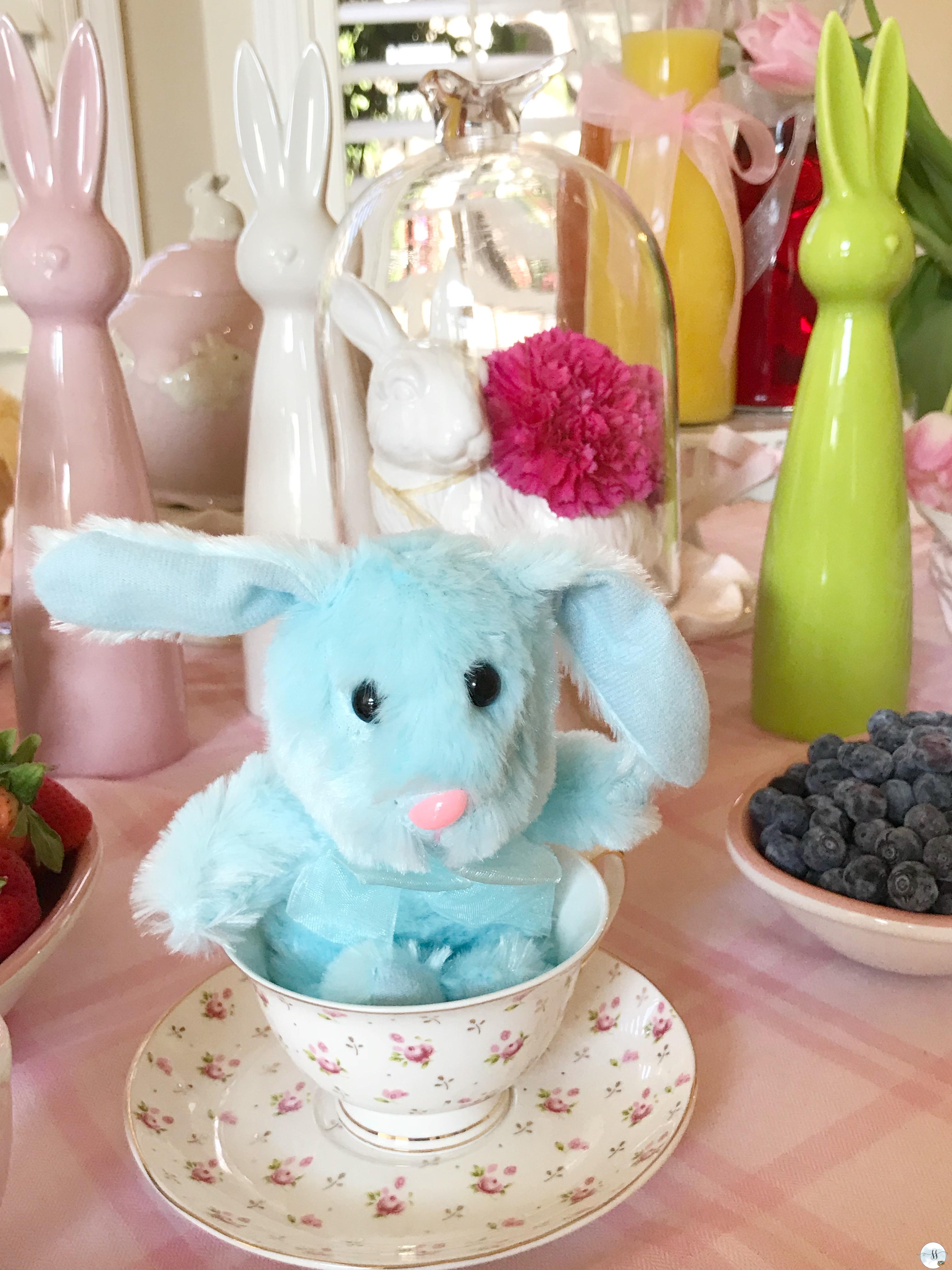 Ever since the marTEAni party, I hosted in December at the Corner House (the girls helped me set up for it) they have fallen in love with drinking out of teacups. They don't actually like tea though…so we use hot chocolate or juice. Whatever makes them happy. These little rabbits were purchased at the dollar store. We put one in each of the four teacups. Super cute, inexpensive and a big hit with the little ones.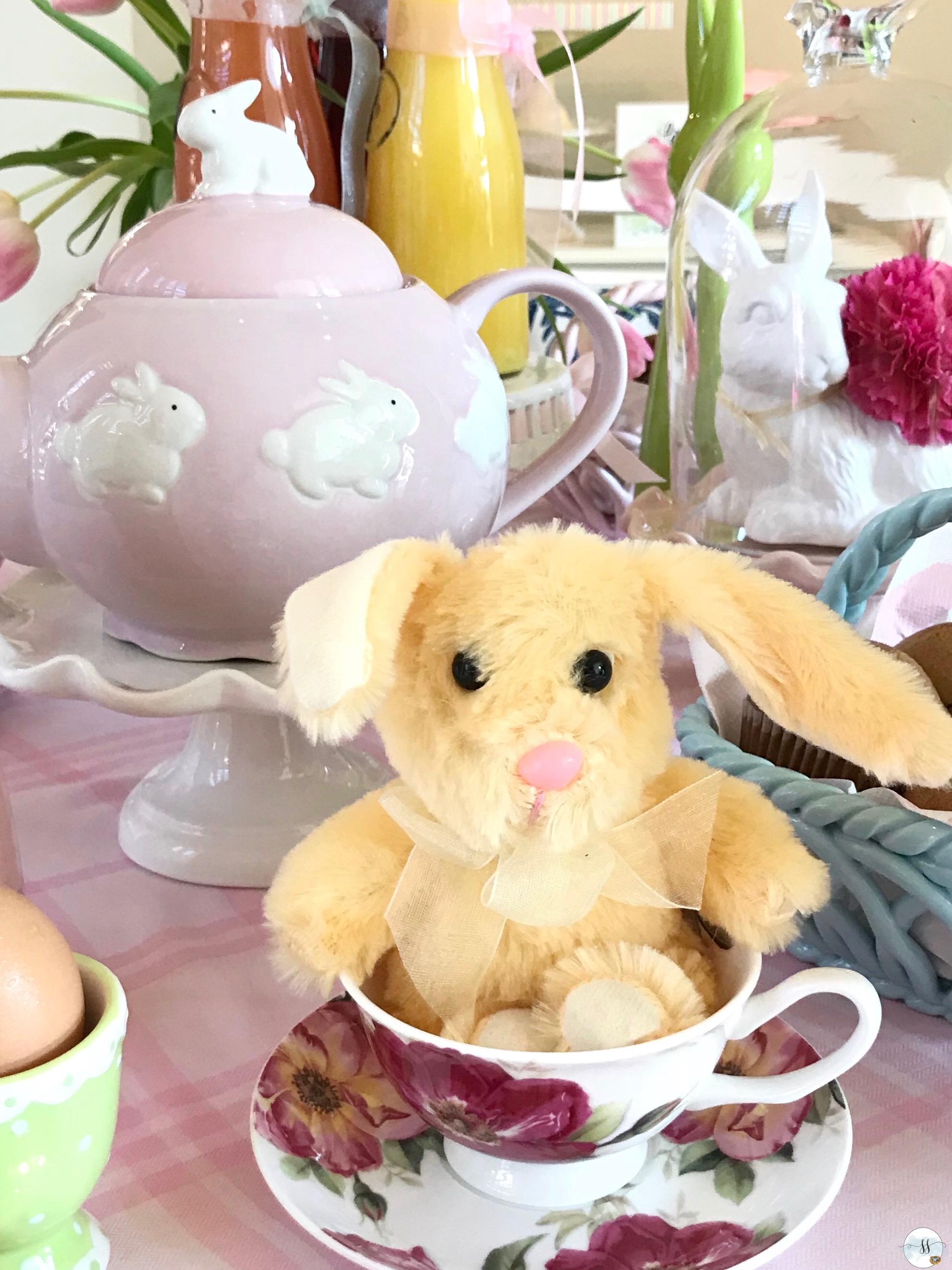 I bought this teapot when I did the Flamingle just because it was pink and I knew it would be used again at Easter.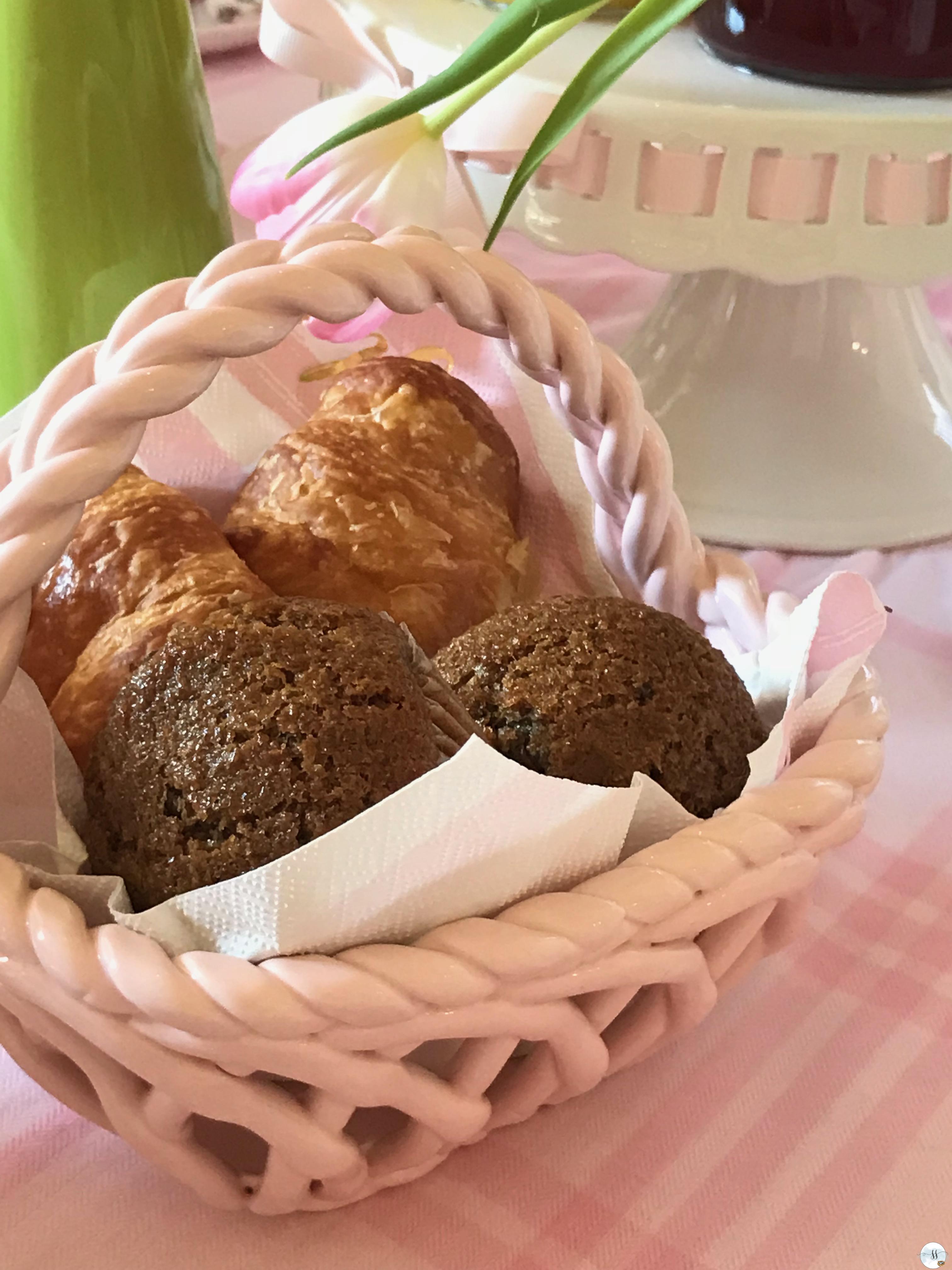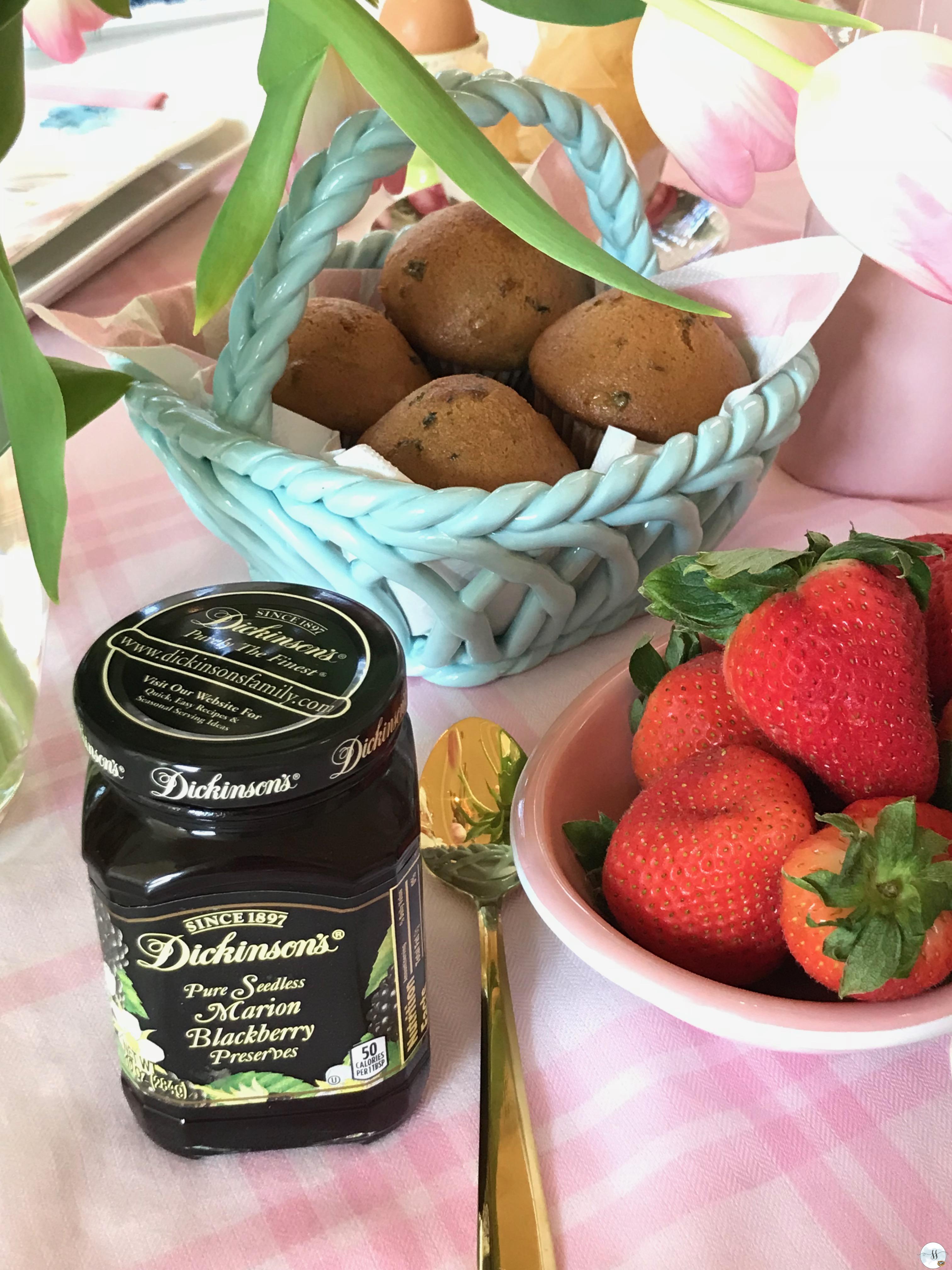 Last year I bought the ceramic baskets and filled them with edible straw and chocolate eggs. They worked perfectly to hold our muffins and croissants…and note the jam…'Marion Blackberry'. I honestly didn't even notice that it had my name on it until I was looking at the photograph.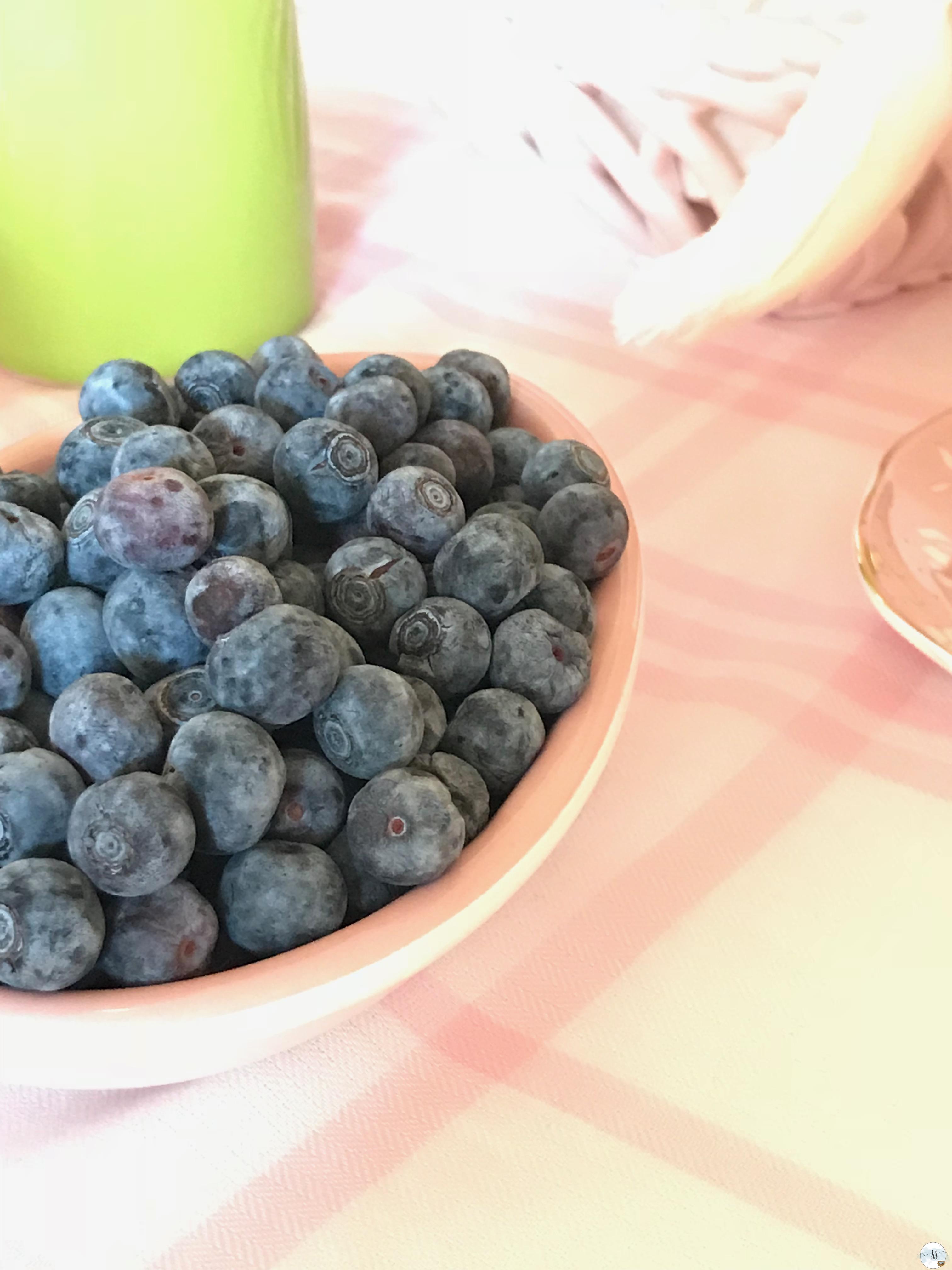 These egg-shaped bowls are from a couple of years ago. I was looking for 4 bowls for a table setting but I was only able to get my hands on two of them…I bought them anyways and use them for various things. Here we filled them with blueberries and strawberries.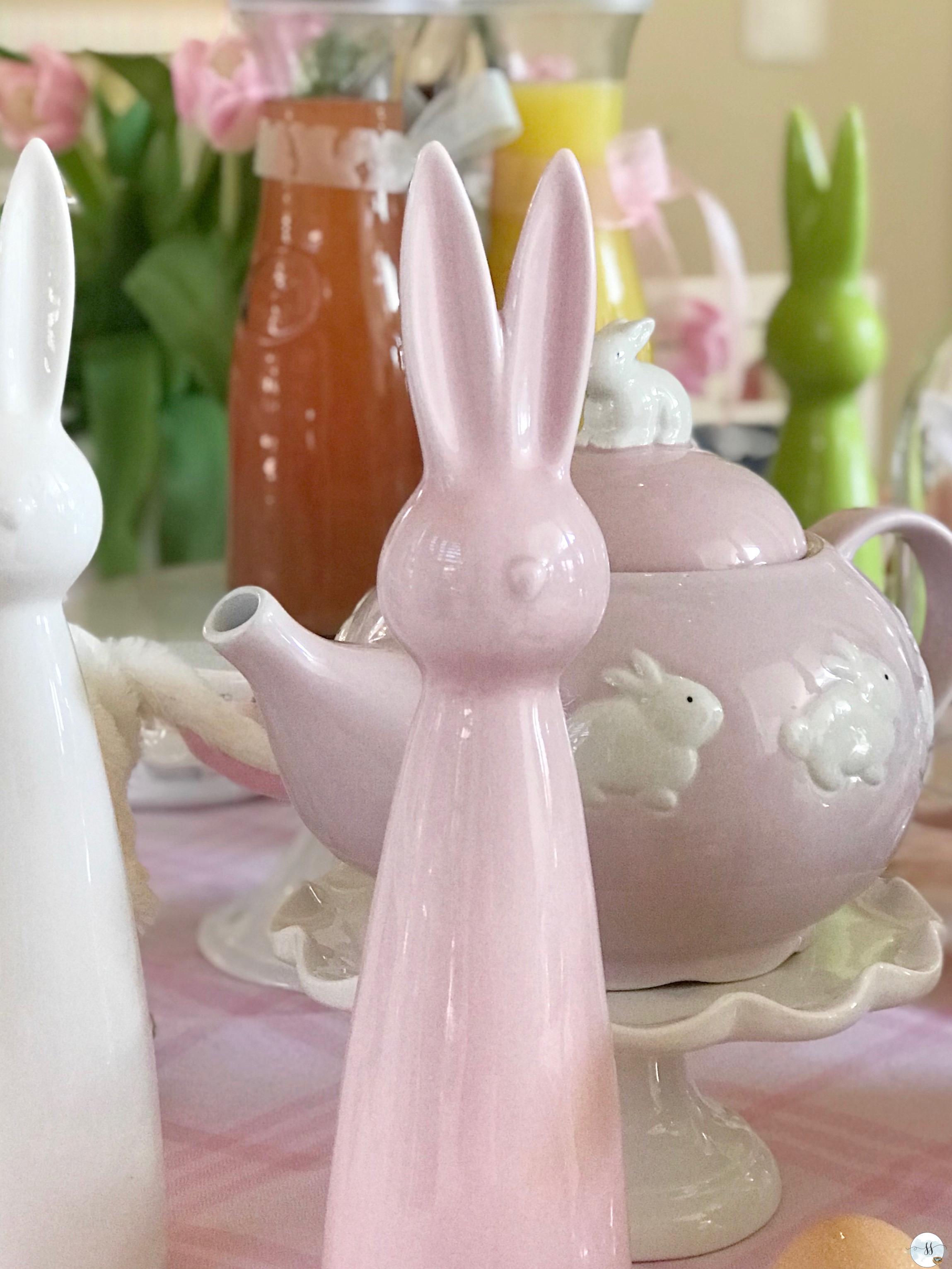 I am in love with Home Goods. These 3 rabbits were in the impulse purchase area at the checkout…I bought the last 3 that they had. I think I paid $3.99 for each of them!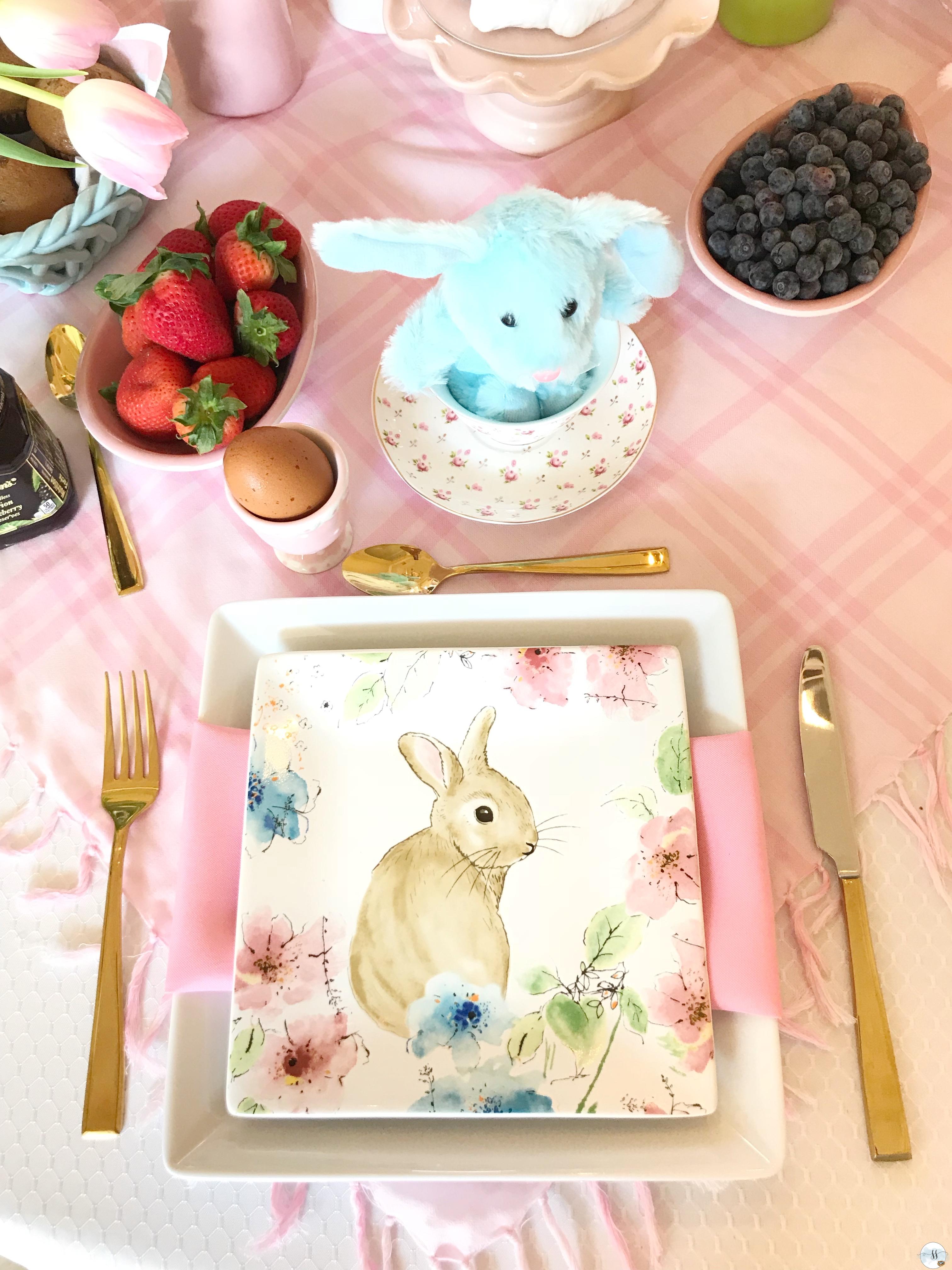 These sweet little plates were purchased last year. Home Goods actually had them again this year as well as the dinner size plates. I didn't bother buying the dinner plates. I prefer to mix and match when I can and I love how they look on the square white plates. I did end up buying a couple more of the smaller ones. I now have a place setting for 6 in case we have extra visitors or one gets broken.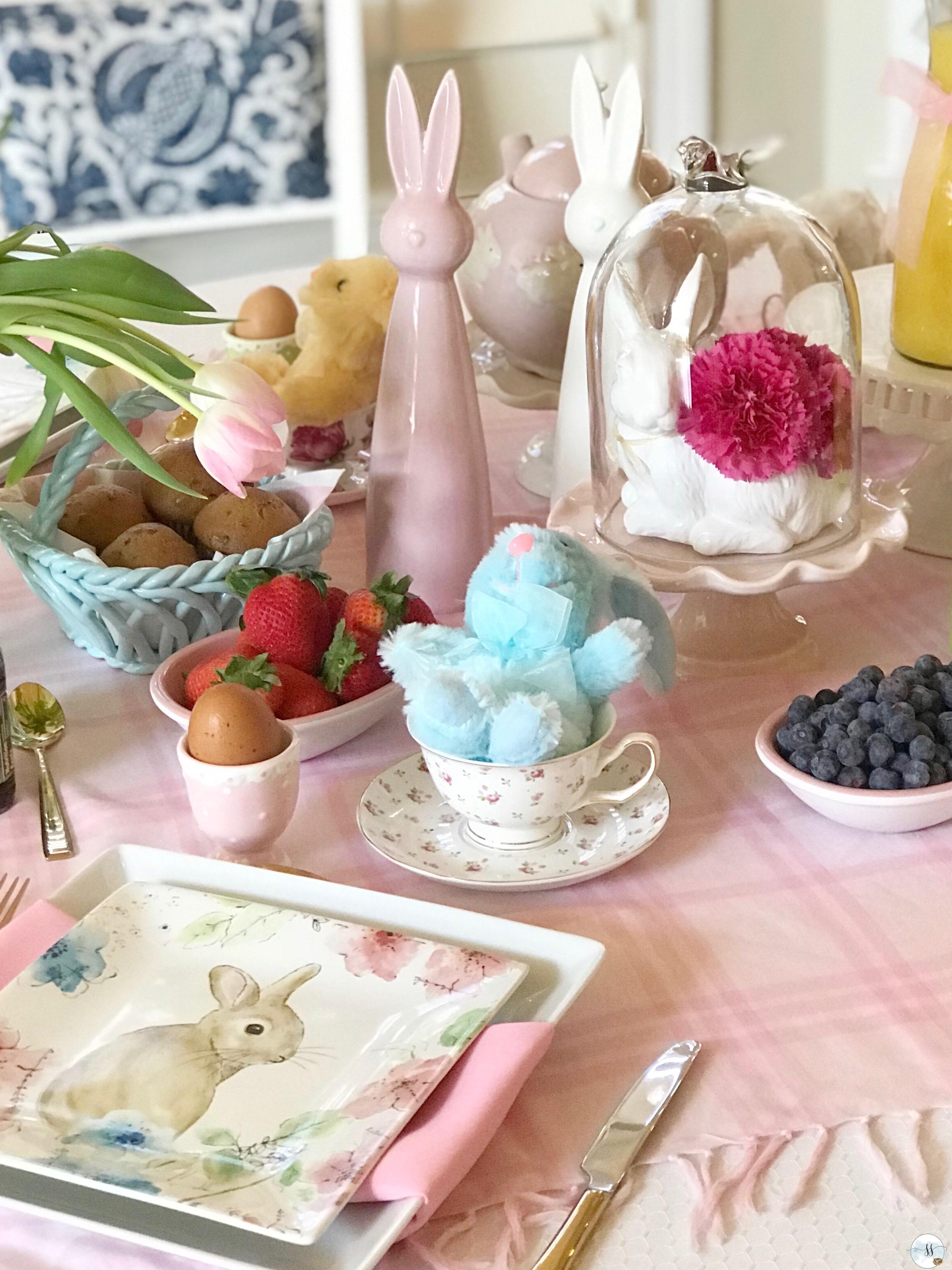 Well….like I said…lots to learn about the whole photography thing…I cut off the orange juice in the middle of the jug, empty space around the knife and too much overlapping around the muffins not to mention all the overexposures…apparently, these are all no-nos!!!! It's a journey! LOL
We have two more Easter tablescapes to share with you…so check back tomorrow for some more inspiration.