I am in love with Orchids!! For someone that has no clue about Orchids, I seem to have quite a bit of luck with them!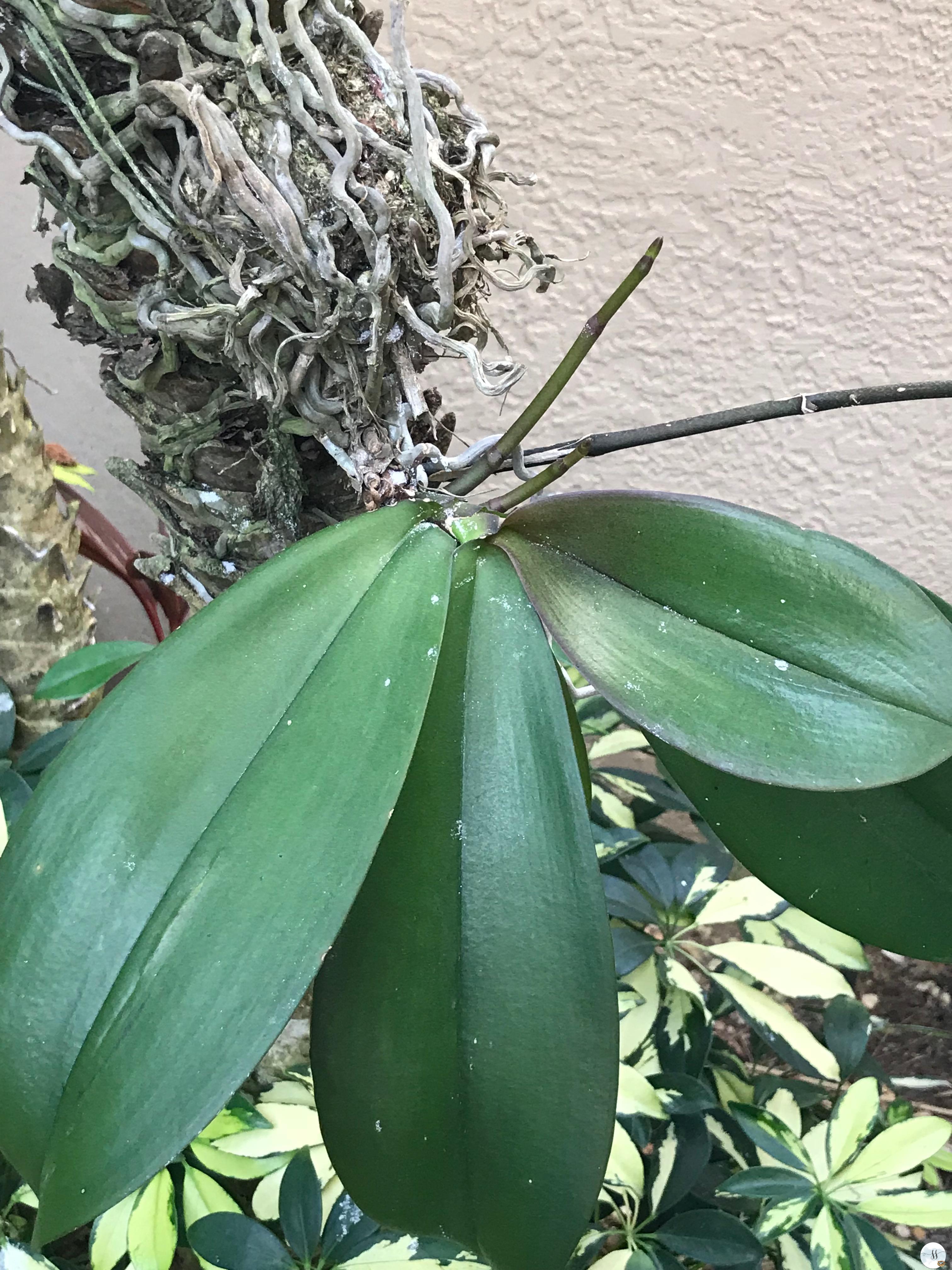 I tried my hand at growing Orchids from the side of my tree and …Voila!! It worked. On the top photo, I only planted one Orchid but it has branched off a few times. I now have 3 on that one tree. These were planted a few years ago. Once they were planted and established I have basically ignored them. I know right? These are show stoppers when they are blooming! I didn't follow any of the rules when I did this….a wing and a prayer.
I was looking for some Orchid arrangements….maybe 3 or 4 in one container. Holy s***!! SO expensive!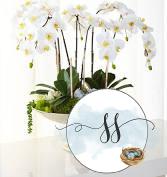 This one here is from Nieman Marcus or as I like to refer to it as Needless Markups!! This little baby retails for $950. Nope…not even kidding!!!
This got me to thinking. This could seriously be a fun DIY project for a fraction of a fraction of the price!!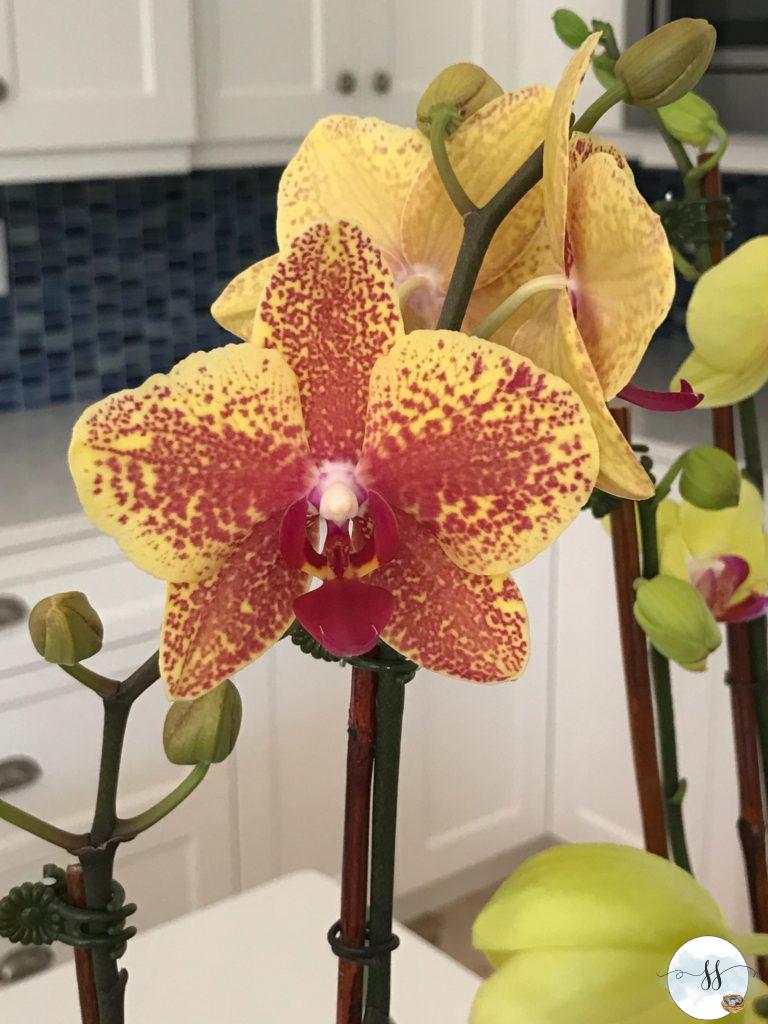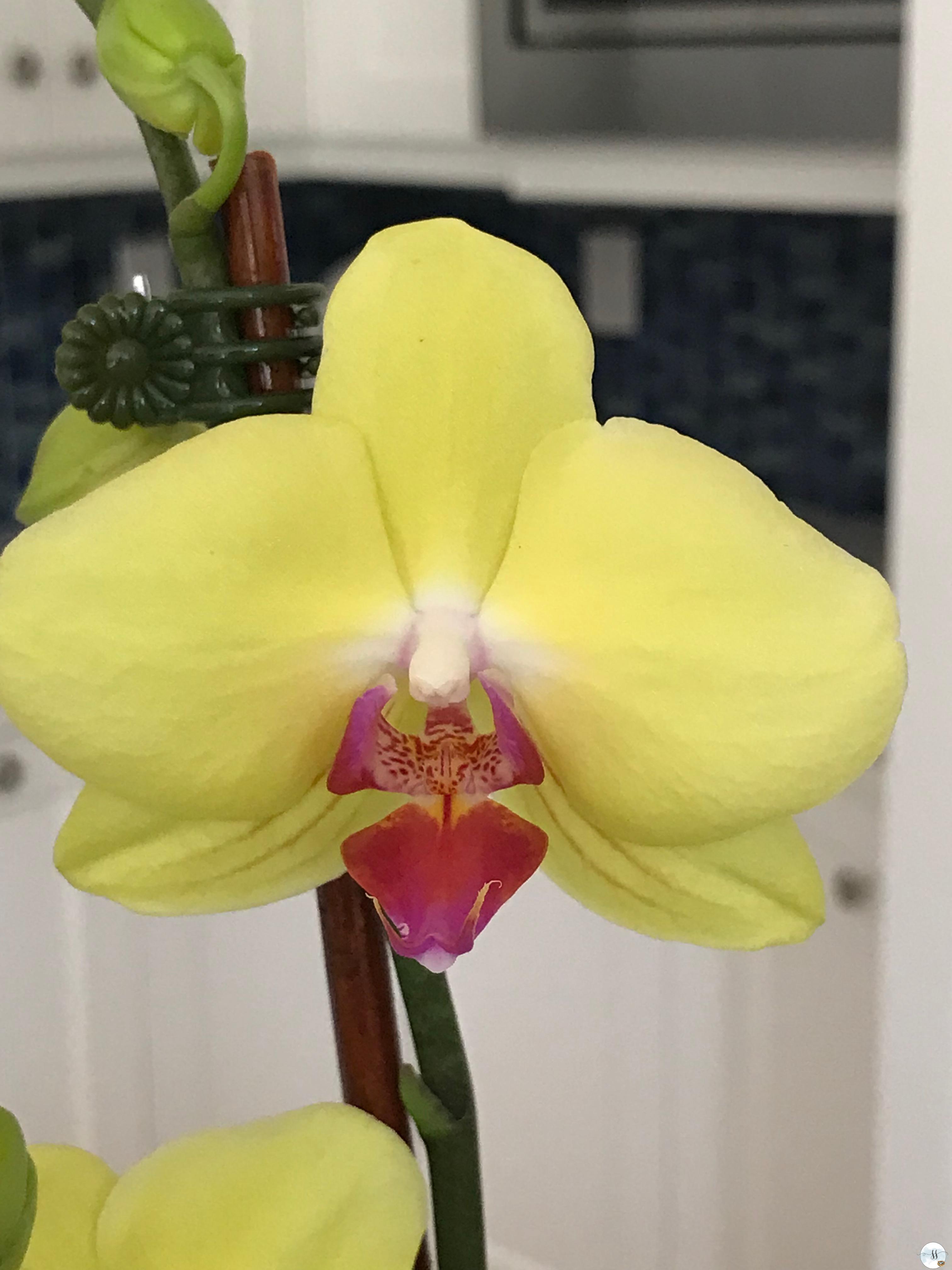 I had visions of the white Orchids as in the photo. I went to 4 stores today and couldn't find white ones. So I settled for shades of yellow and a colour that I am not even sure how to explain it….pinky, organgish, burgundy? LOL
For my orchid display, I gathered up the supplies that I thought I might need:
Large container
3-5 Orchids
Moss
Large paper clips
Twine or floral tape
Tin foil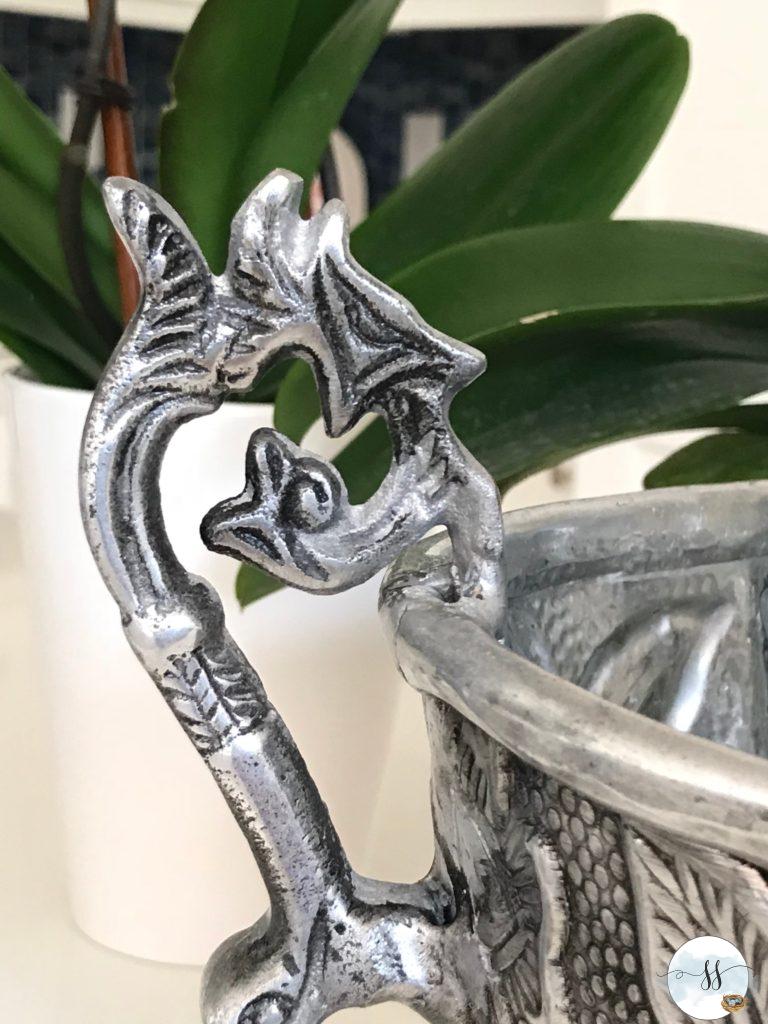 Before going out and purchasing a container, shop your home. Maybe you have an ice bucket you haven't been using or a champagne bucket! That would make a beautiful planting container. You could easily use a basket too. Just be sure whatever you choose is deep enough to hold the plants. I chose this bucket (I'm actually not sure what it was originally used for), It is deep enough and large enough to hold 4 Orchids.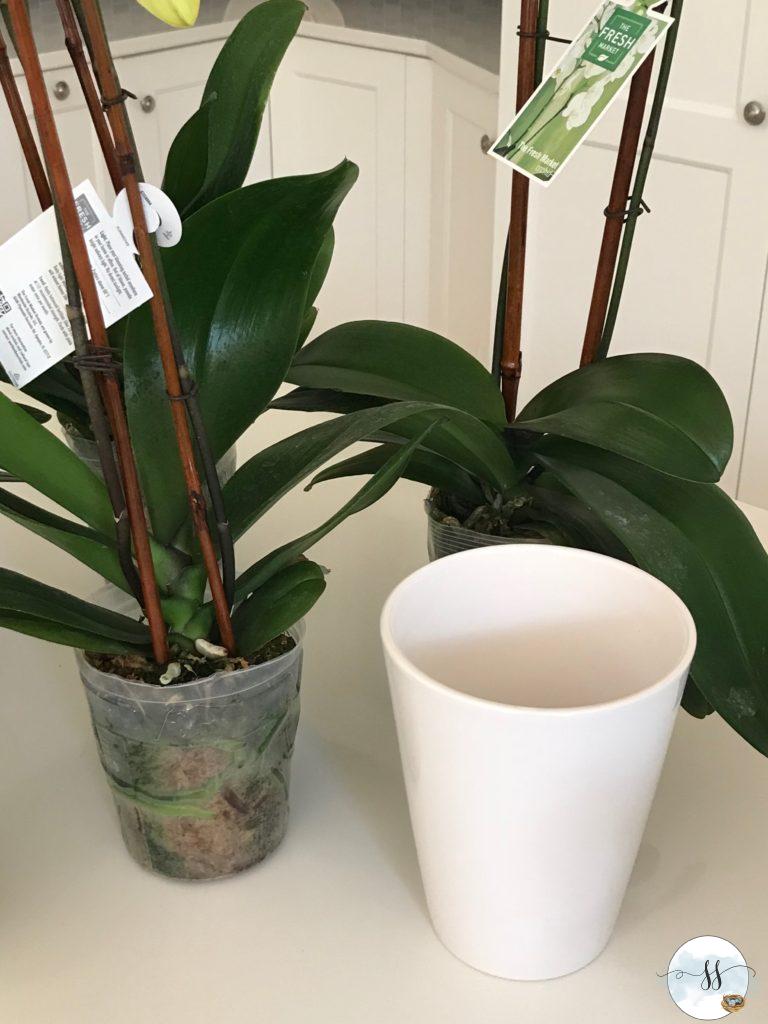 If your orchids came with a pot, simply remove the outside container leaving the plant in the clear plastic one.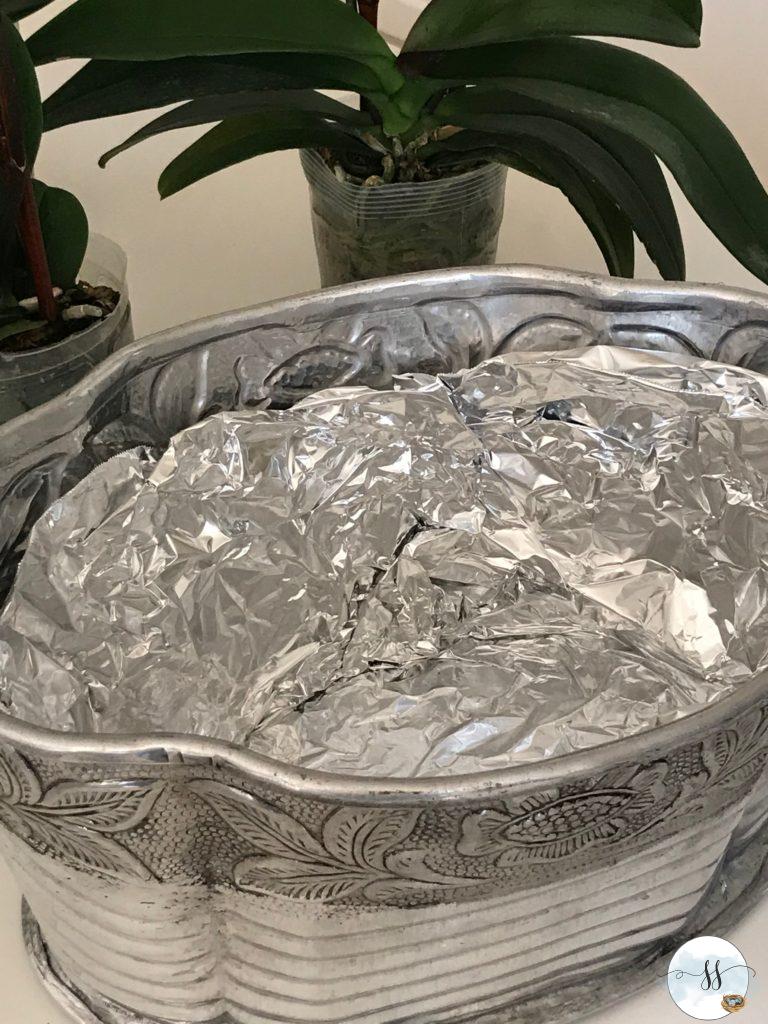 I did a test on my container to ensure that it is waterproof. It wasn't even close.  The simplest solution was to line my container with tin foil.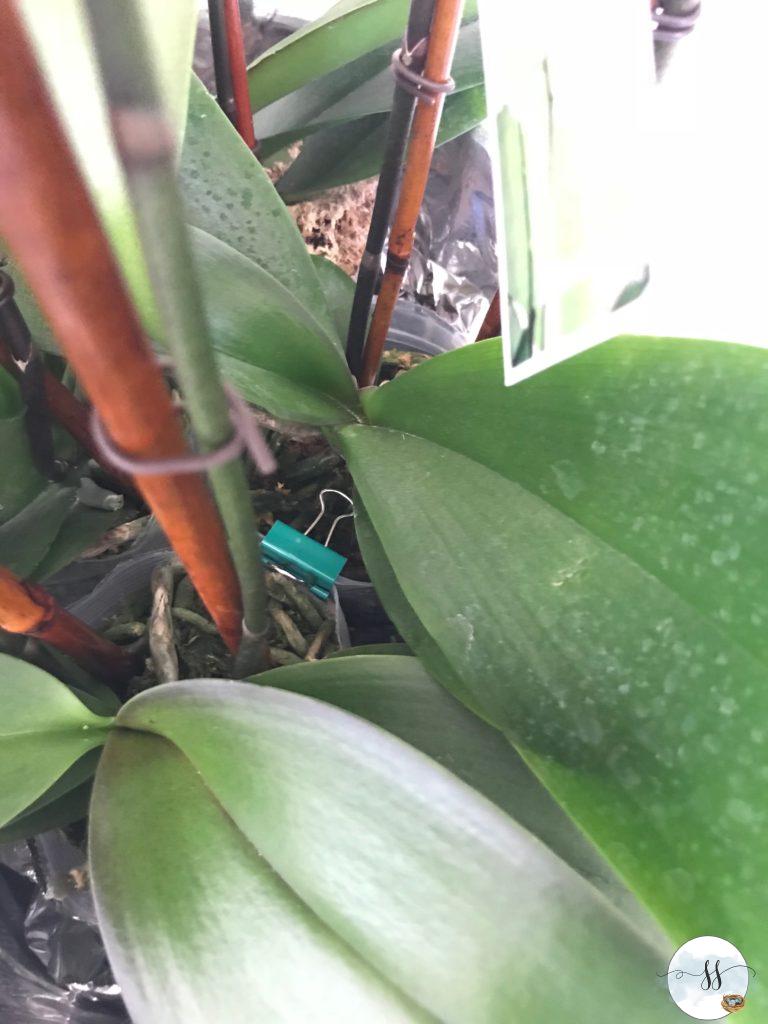 Do a trial fitting. Place all of the Orchids in your large container. If they fit snug; lucky you. If not use some of the floral foam to wedge between plants and if needed you can boost them up by putting some foam in the bottom of the container. I didn't need to do this step at all. My plants fit rather nicely…I just love it when things work out! I did have to use a paper clip to hold one pot against another as it sat at an angle. Don't worry, you won't even see them when we are done.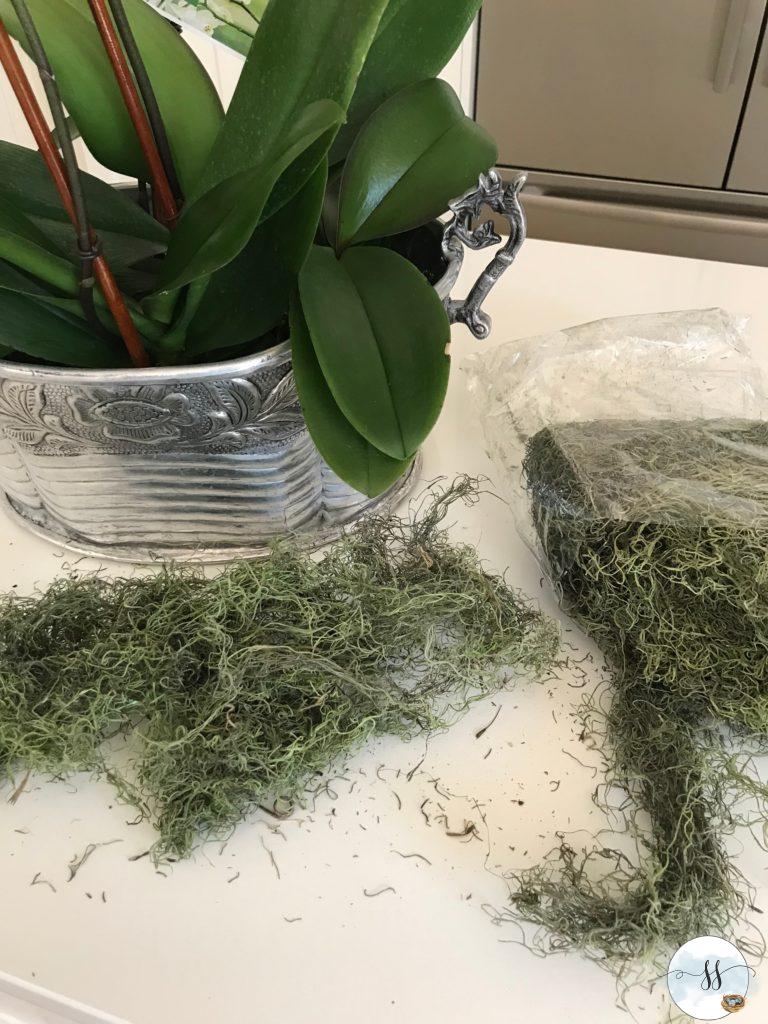 Once the plants are sitting snug and you are happy with how they look you can take some of the moss and start to lay it on top of the plants so that the pots and clips are hidden away. It's a messy job. I should have done it outside.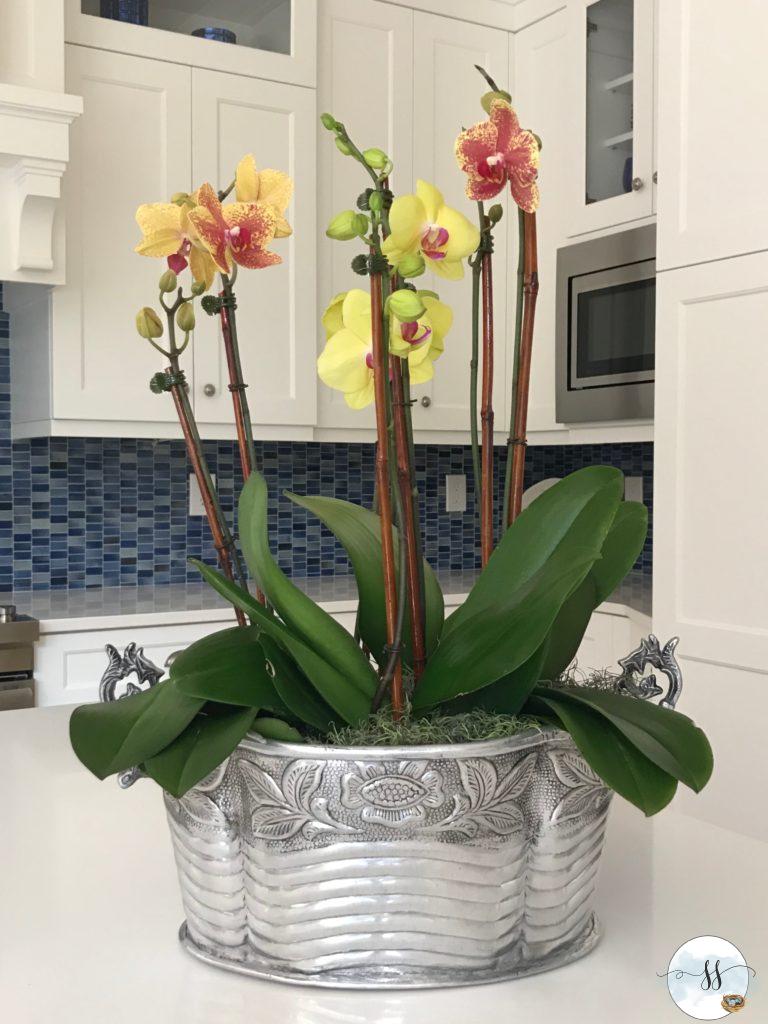 What do you think? Pretty sweet right? I had the container. I purchased the Orchids at $15 each. Typically you can get them cheaper than that but honestly, I was fed up driving around looking for them. I finally found these at Fresh Market, which is almost as expensive as Whole Foods! The moss was from Loews $3.99 I had everything else…do the math! $950 compared to $64  Success!!! Yay me!!!
I am going to do another planter the same way but I am going to use some spring flowers. I noticed today at Fresh Market they are just starting to become available. It is maybe a tiny bit early as the plants didn't look that great…really small. I'll wait a couple of weeks and update this post with a spring planter.
Anyways…I hope this inspires you to hit a nursery close to you and create your own planter. It is a super easy DIY and takes no time at all…but the end result is beautiful.
GROWING INFORMATION
Indoor Orchids need ample water but should be allowed to dry out some between waterings. One way to check for watering is by poking your finger about an inch into the growing media. If it's dry, give it some water; otherwise, let it be. Indoor orchid plants also need adequate humidity, about fifty to seventy percent. There are various ways to increase the humidity in your home. Place a water-filled saucer or tray of pebbles beneath plants, mist plants daily, or use a humidifier.
Read more at Gardening Know How: Orchid Growing Tips: How To Take Care Of Orchid Plants Indoors https://www.gardeningknowhow.com/ornamental/flowers/orchids/indoor-orchid-care.htm