We have all heard about Galentines or Glamentines! I decided I would do a very small movie night in honour of cherished friendships. I invited 4 friends over to watch Sleepless in Seattle. What better movie to watch for a Valentine's celebration?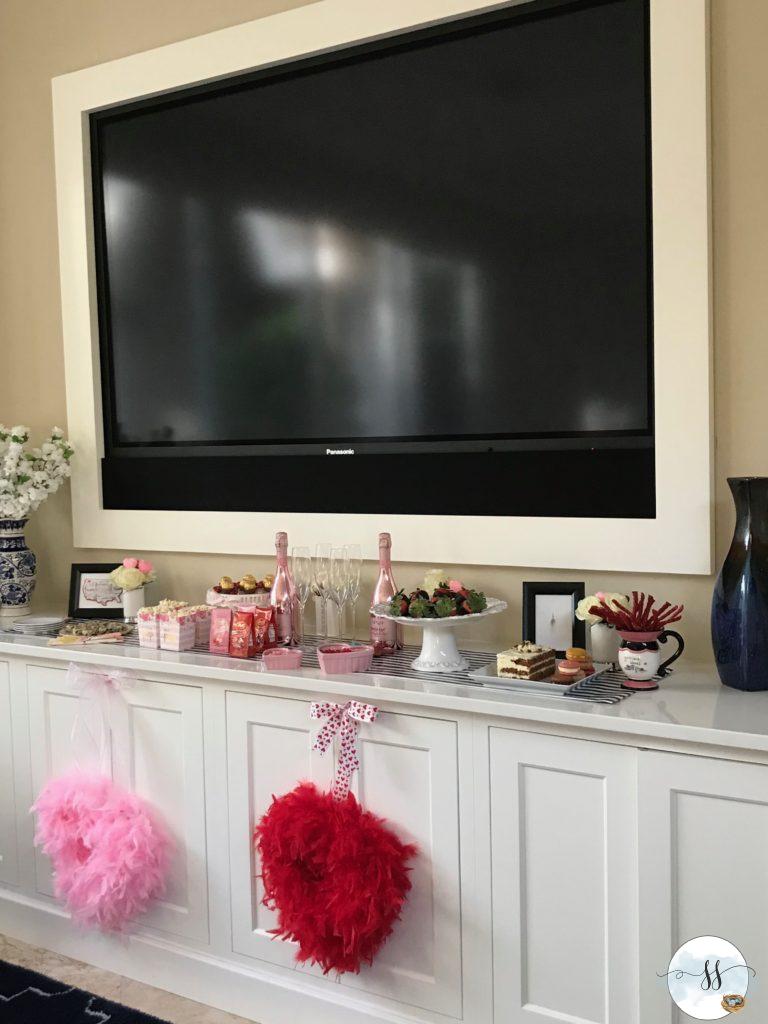 I did the setup right under the TV. I wanted us to all remain in one room throughout the entire movie. I noticed after taking the photo that the pink heart was hanging lower than the red one. I did fix that before the girls came over. I love these little DIY hearts. If you didn't check out the blog yet for directions maybe have a peek after this. Super easy.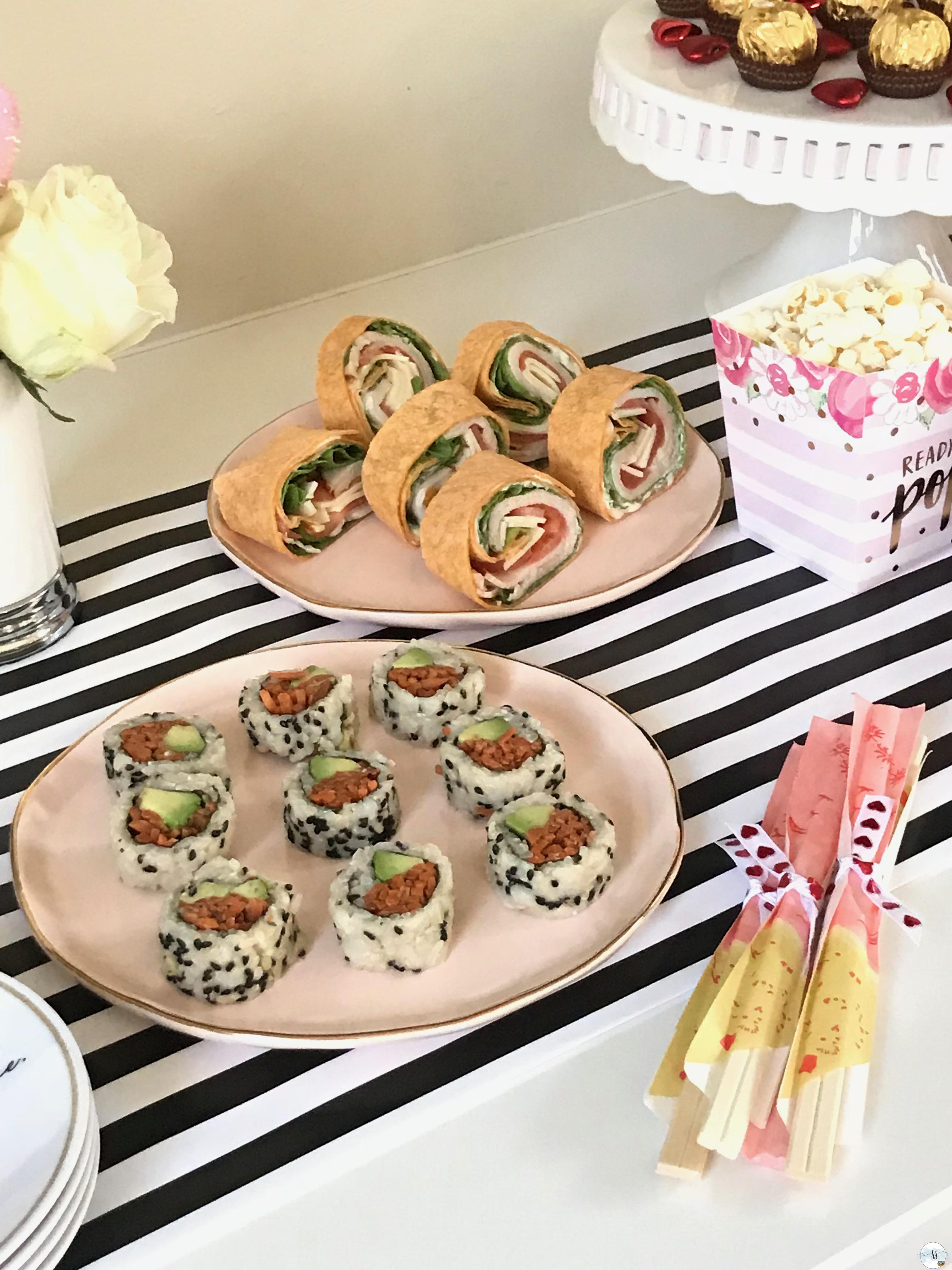 First thing I want to point out is the black and white runner. Nice right? It is wrapping paper. Remember what I keep saying…..shop your home before you go out and purchase items you don't actually need. I  was on a hunt for a black and white runner. I couldn't find one anywhere. I went into a closet the other day and found a roll of wrapping paper that worked absolutely perfectly! Other than the pizza that was in the oven, these two dishes are the only healthy choices being served. The rest is sinful deliciousness! I tied a bit of leftover ribbon around the chopstix to give it a little more of a festive feel. If you were serving foods where forks were required you could do the same thing. It's a simple and very cute detail.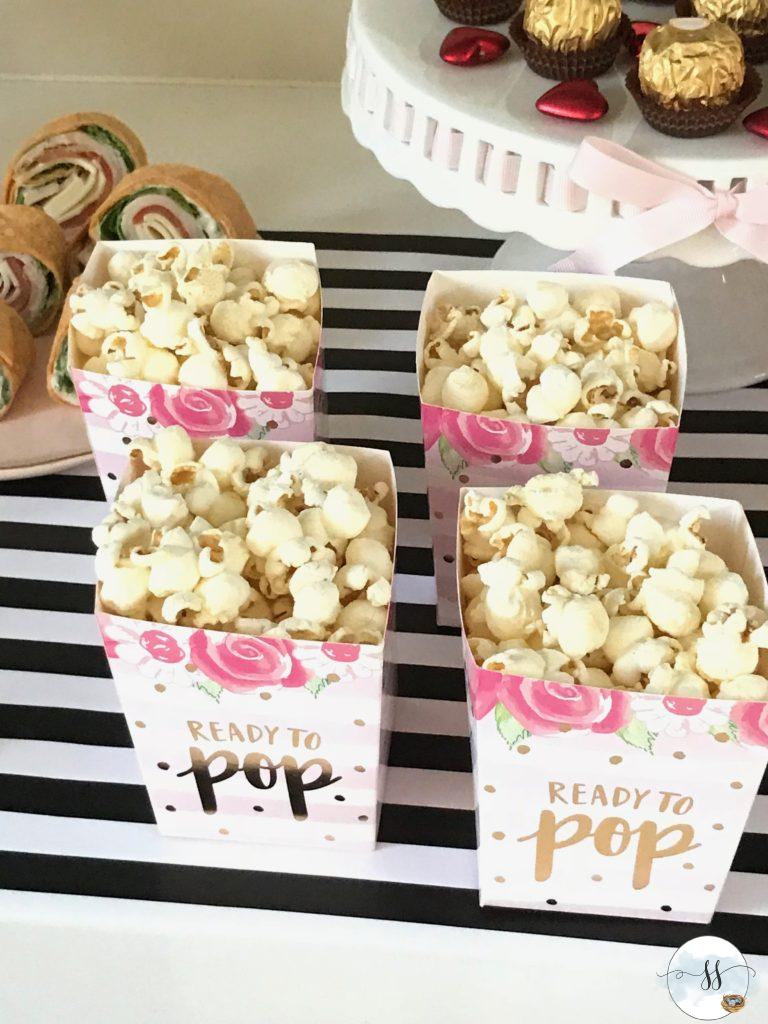 I love these boxes! They are actually from the baby shower section at Hobby Lobby. I gave a whole new meaning to these boxes. They are the perfect size given that we will be filling up with all sorts of other goodies. Although there will be a large bowl of popcorn on the coffee table ready to refill these boxes if need be.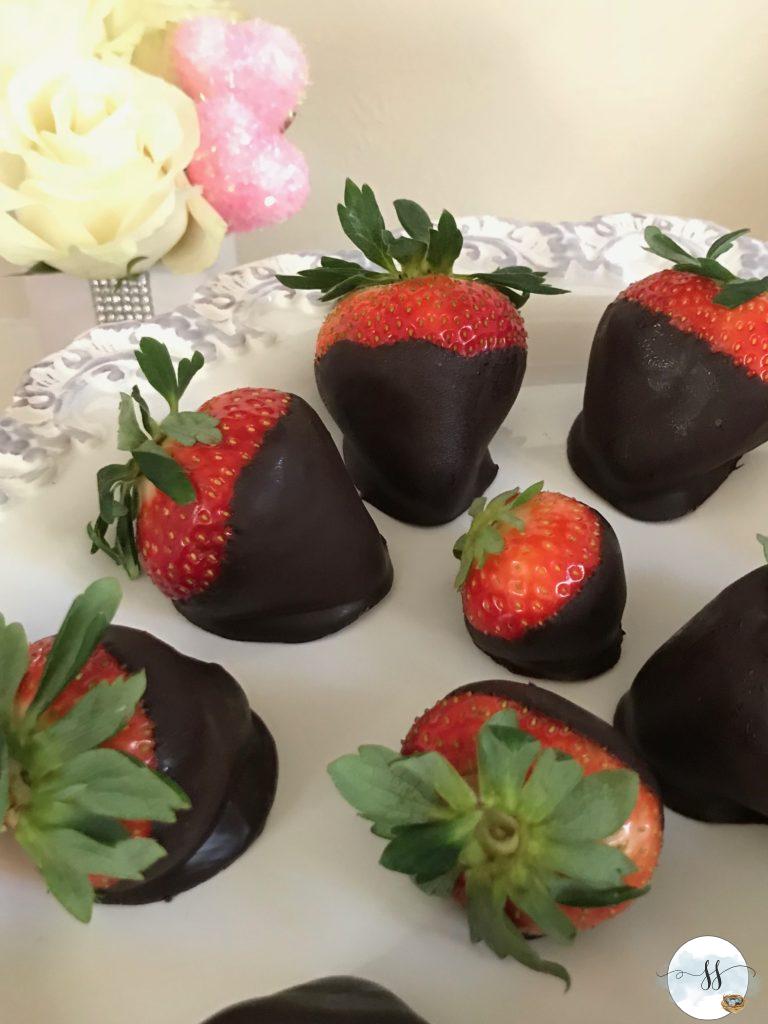 It wouldn't be Valentines without chocolate dipped strawberries.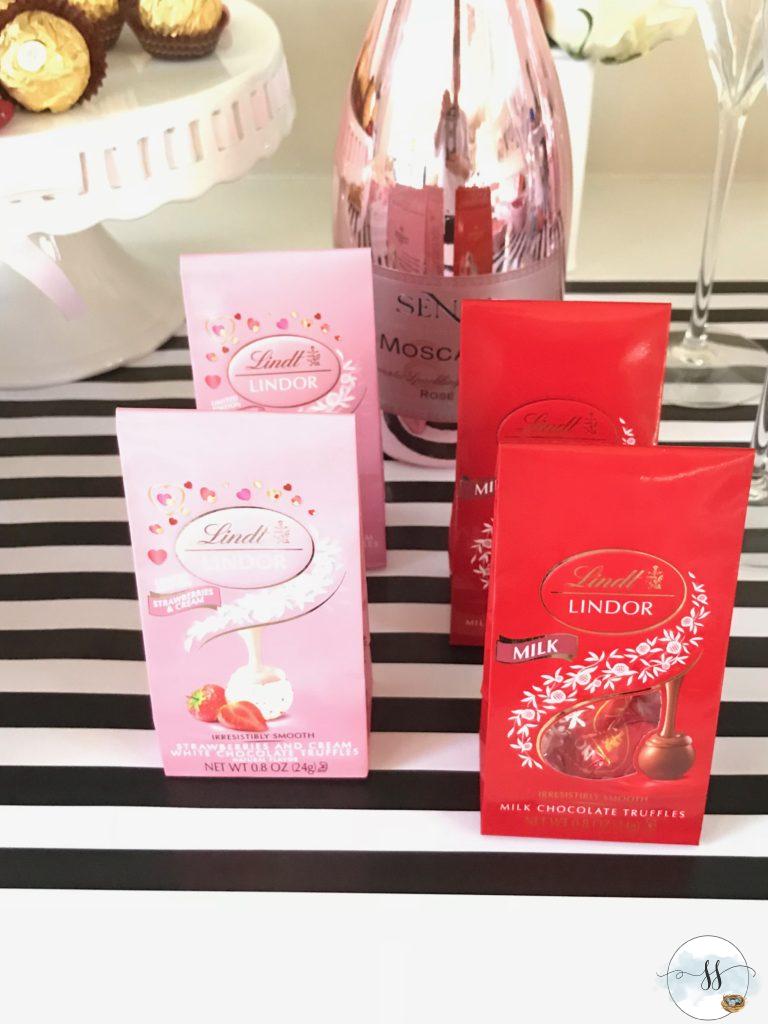 I love the size of these little Lindt bags of chocolates. A perfect single serving.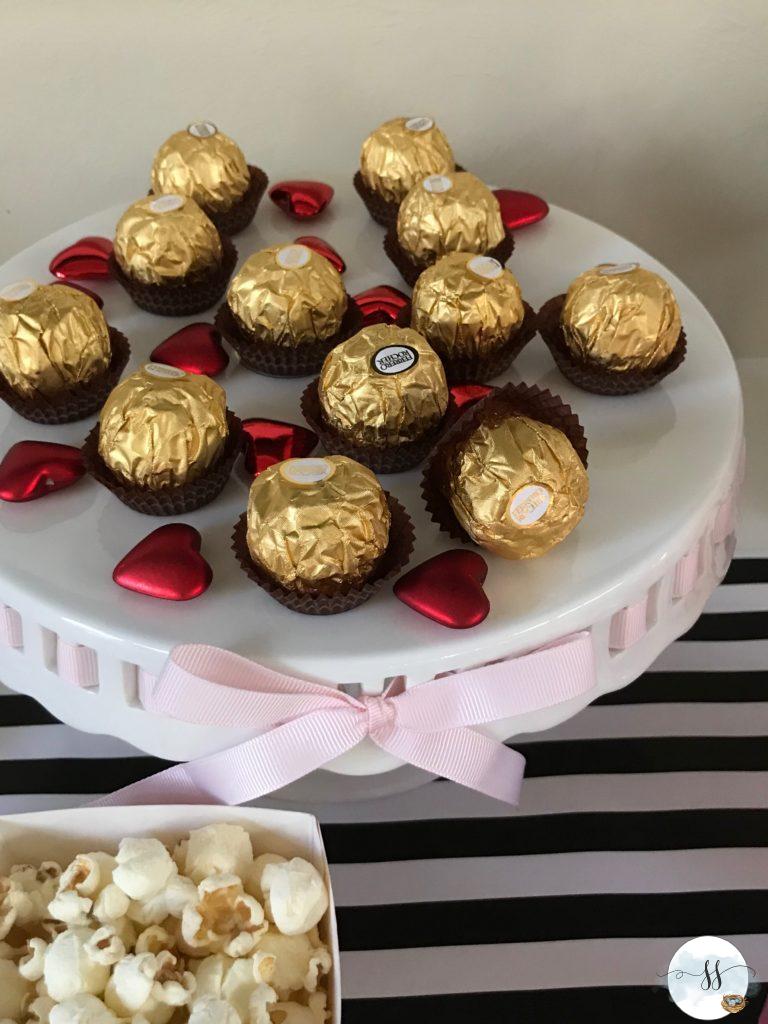 I had to keep Steve away from these! I caught him red-handed scooping a couple of these chocolates before the girls arrived.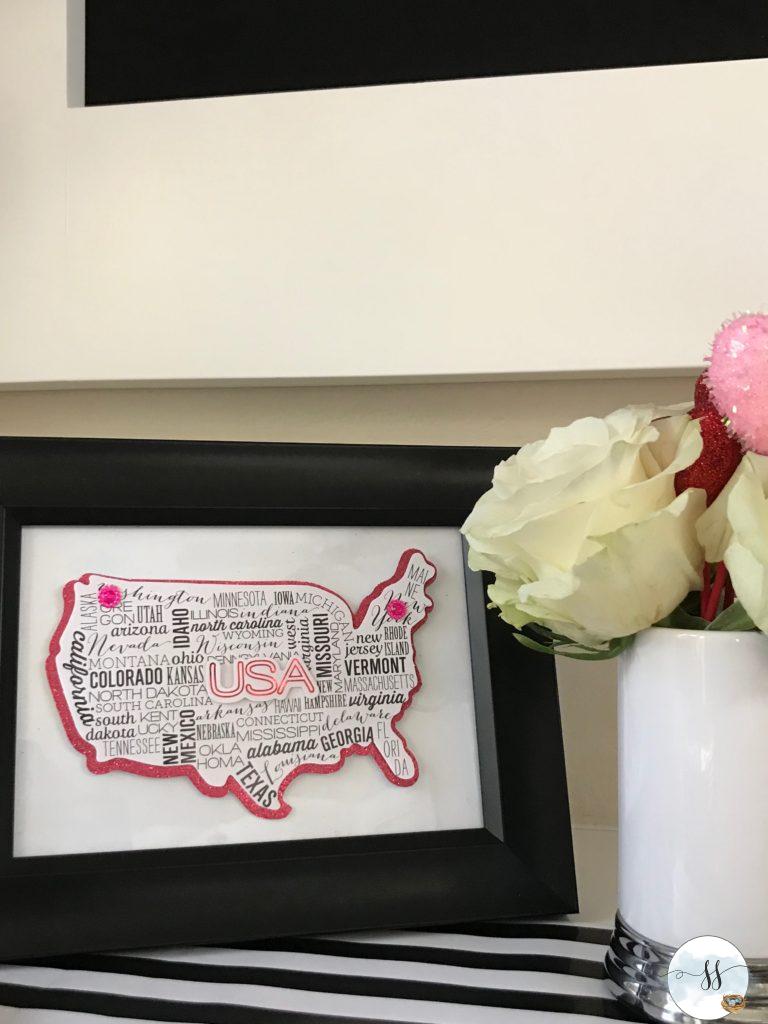 This sticker was on sale for $1.99 and couldn't be a more perfect detail. I put two red crystals on the map. One for Seattle and one for New York. You might remember they showed the map a lot in the movie. I already owned the frame. I took the photo that was in it and turned it around so that it was just a white background. I put the sticker right on the glass. It comes off very easily, when I am done it's a simple case of flipping the photo back around.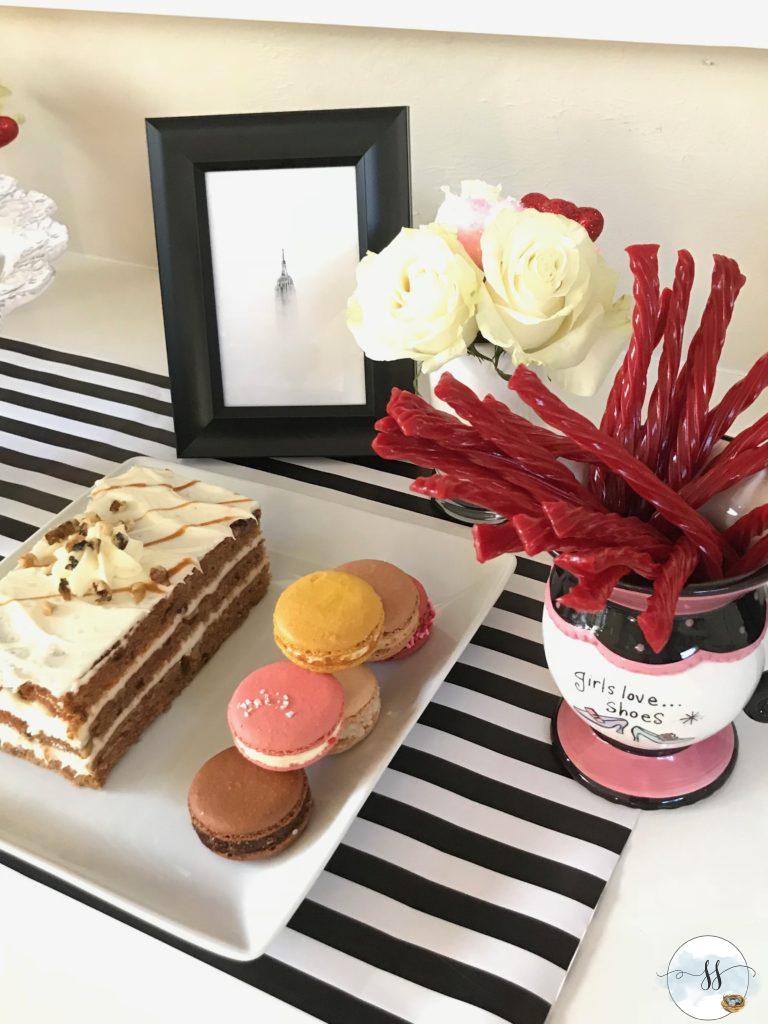 I printed this small photo of the Empire State Building off and slipped it into another frame. Carrot cake, macaroons and liquorice. I love the way the spread turned out. You might recognise the small flower bouquets that I used on my dinner table Friday night. I was happy to be able to reuse them.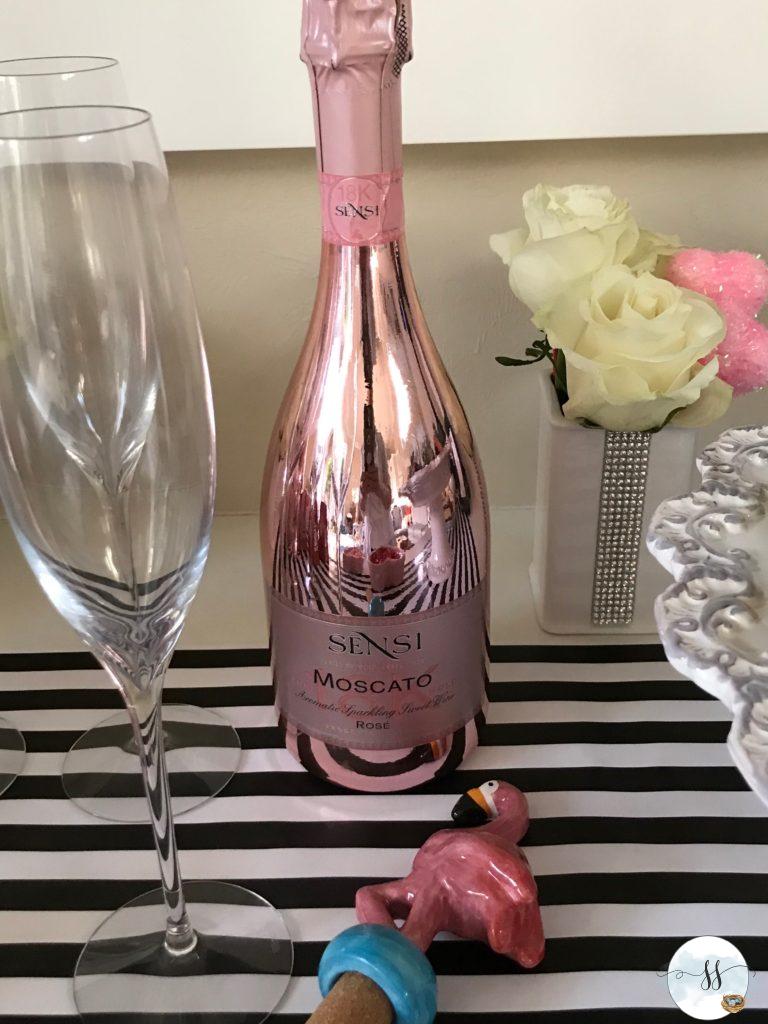 Of course, the party wouldn't be complete without these beautiful bottles of sparkling rose wine. I put a few more bottles in the fridge for backup…who knows how long we will be hanging out for tonight.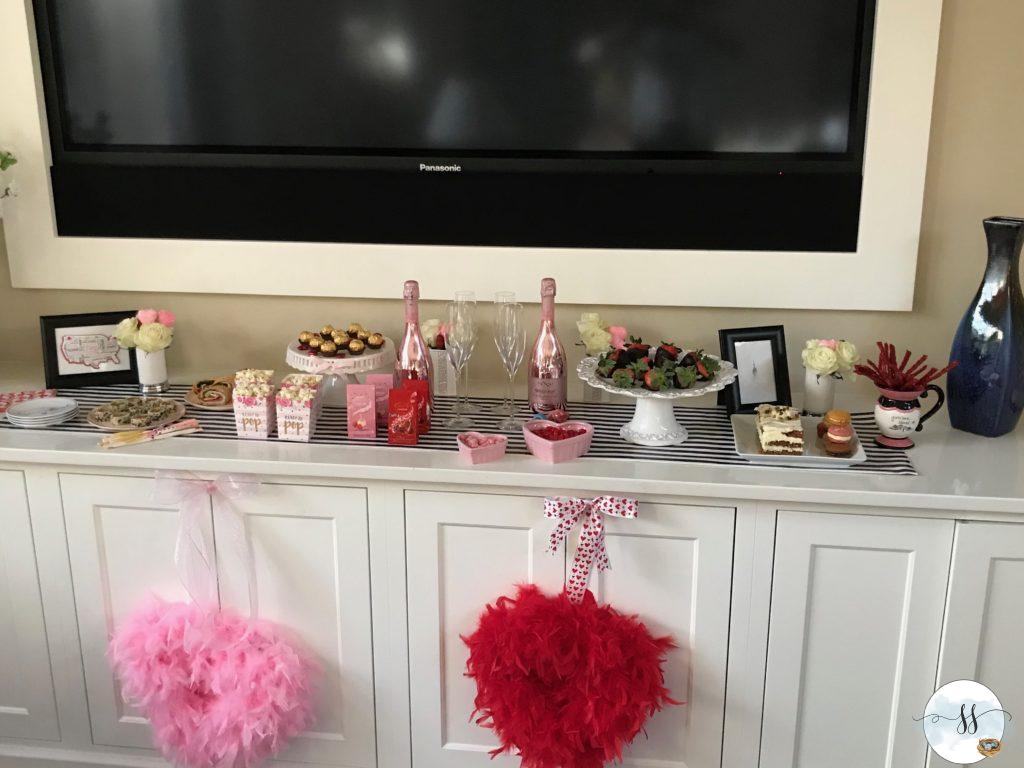 I cannot wait for the girls to see this. I hope they love it as much as I loved creating it. It was a fun theme to work with.
I hope you get to spend some time with your girlfriends this week and celebrate how much you appreciate your friendships.
Much love to all….and Happy Valentine's day.