Most years I host some sort of Christmas party for my friends. I try to be creative. I have done fundraisers, jewellery parties and dinner parties. Nothing brings friends together like some really good food and a few cocktails.  Well, this year, I cannot tell you how much fun it was to throw a 'high tea party' for my girlfriends to kick off the Christmas party season!! Nothing says high tea like serving marTEAnis out of teacups!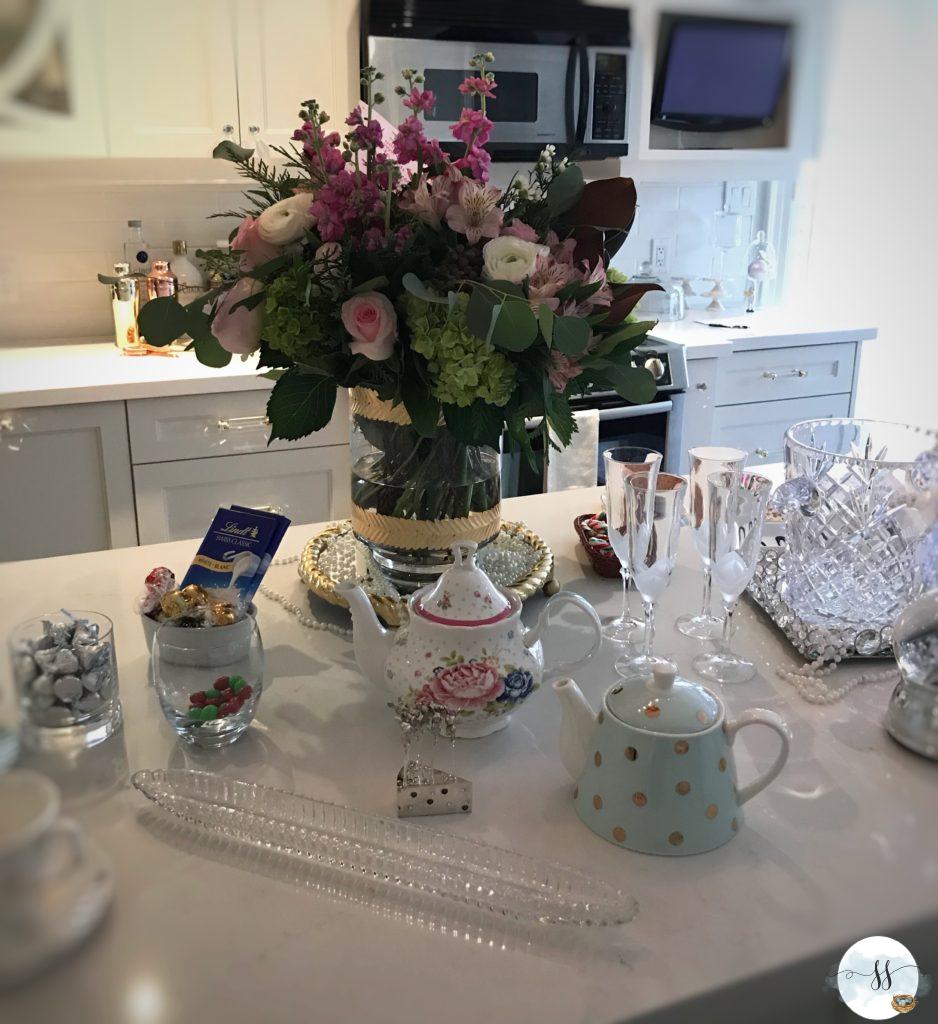 First thing was the setup. I needed teapots to pre-make the marTEAnis in and teacups to serve them in. I had these on hand from a tea party I hosted for my daughter in law's bridal shower last summer. I was going to donate them. I am SO glad that I didn't.  The beautiful flower arrangement was from a friend as a thank you for a previous event. They were perfect for this setup. She actually purchased the gorgeous vase when I was shopping with her a few weeks ago!! Sneaky lady:)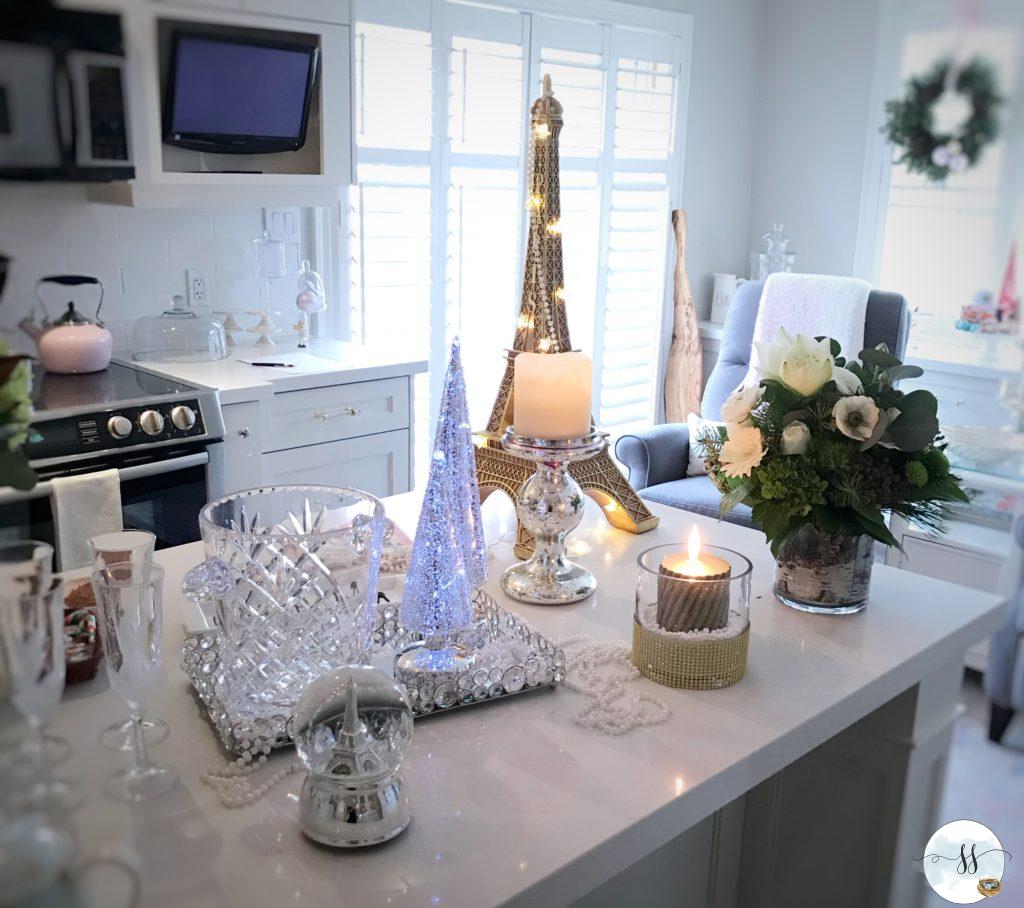 I love my new Eiffel Tower from Home Sense. I adorned it with some battery operated lights and a strand of pearls for some extra Christmas bling. A girl can never have too much bling!
The gold candle I made by simply filling a vase 1/3 with faux snow. I glued a piece of gold sparkly bling around the base and put the candle inside. It is a super easy DIY. You could easily do a group of these in various sized vases and put them all together on a table. The impact would be beautiful!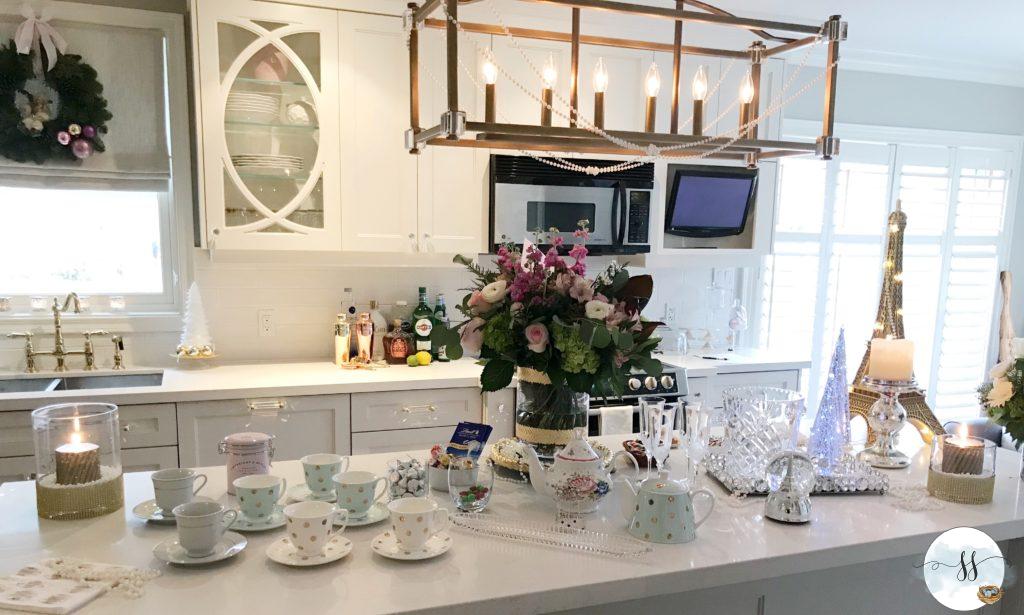 This is the entire island all ready to go. Savannah helped me put this together. She suggested I hang pearls from the light fixture. She really got into the spirit of the whole tea party to the point of having me stop what I was doing and throwing an impromptu tea party for her and Lilah. The only problem she said was "Nana, I don't really like tea". That wasn't a problem as we substituted tea with hot chocolate. They were thrilled. OK…so back to MY party!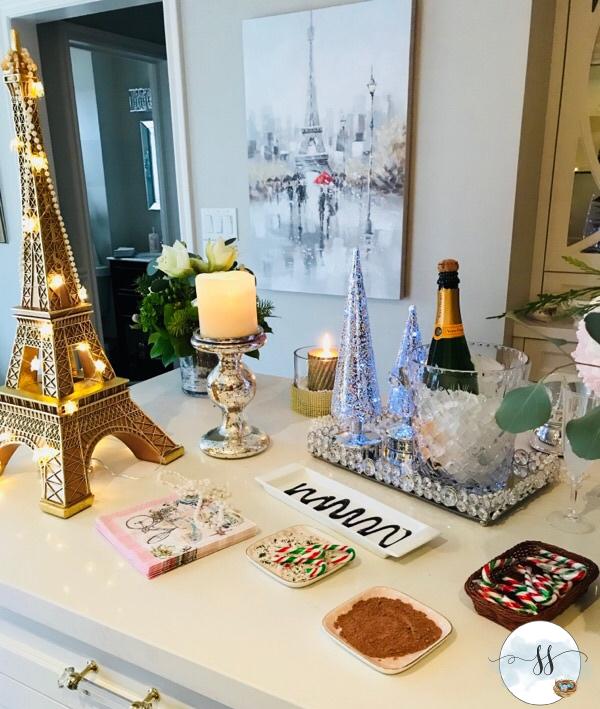 This is the area where we garnished our teacups. The chocolate swirl was for rimming your teacup by running your cup through the chocolate drizzle. Then you can finish it off by either dipping it in the chocolate powder or crushed candy canes and then hang a candy cane from the side of the cup! Of course, champagne was readily available and it was a good thing. It didn't go to waste!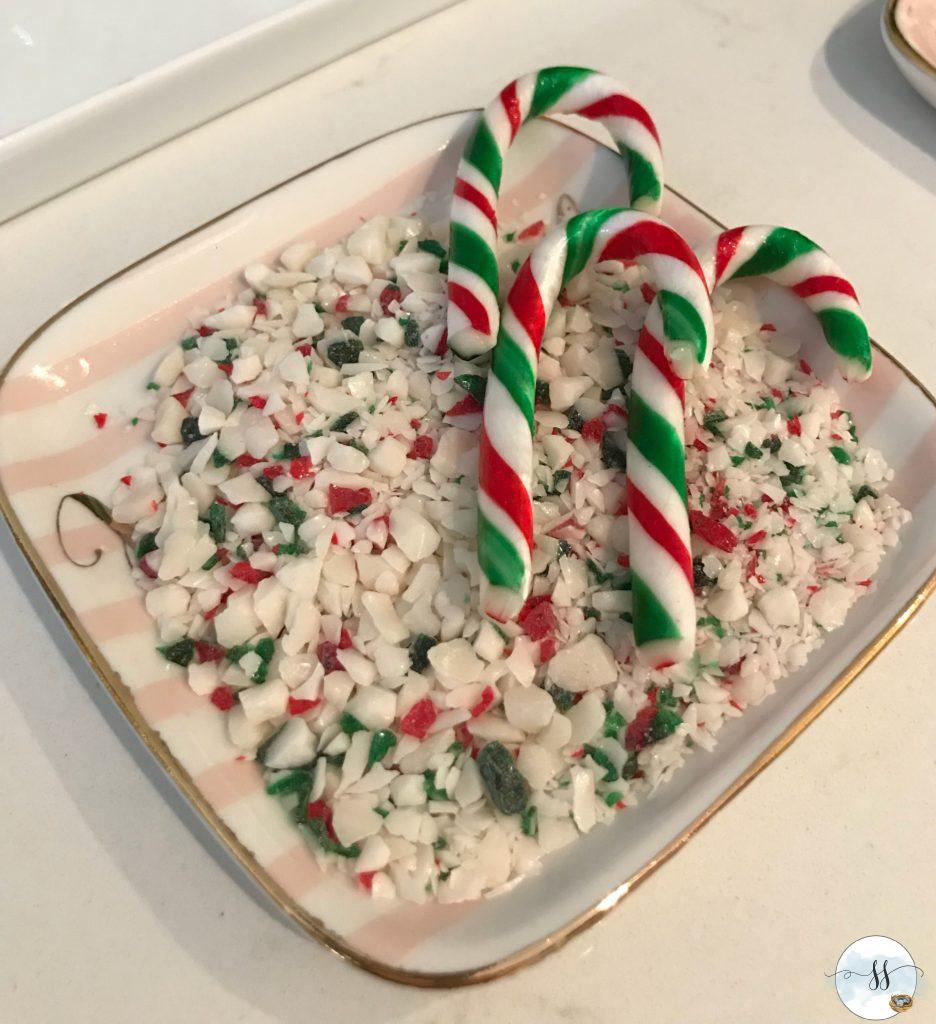 The leftover crushed candy canes won't go to waste. I will be using them on the hot chocolate cart at our Christmas dinner.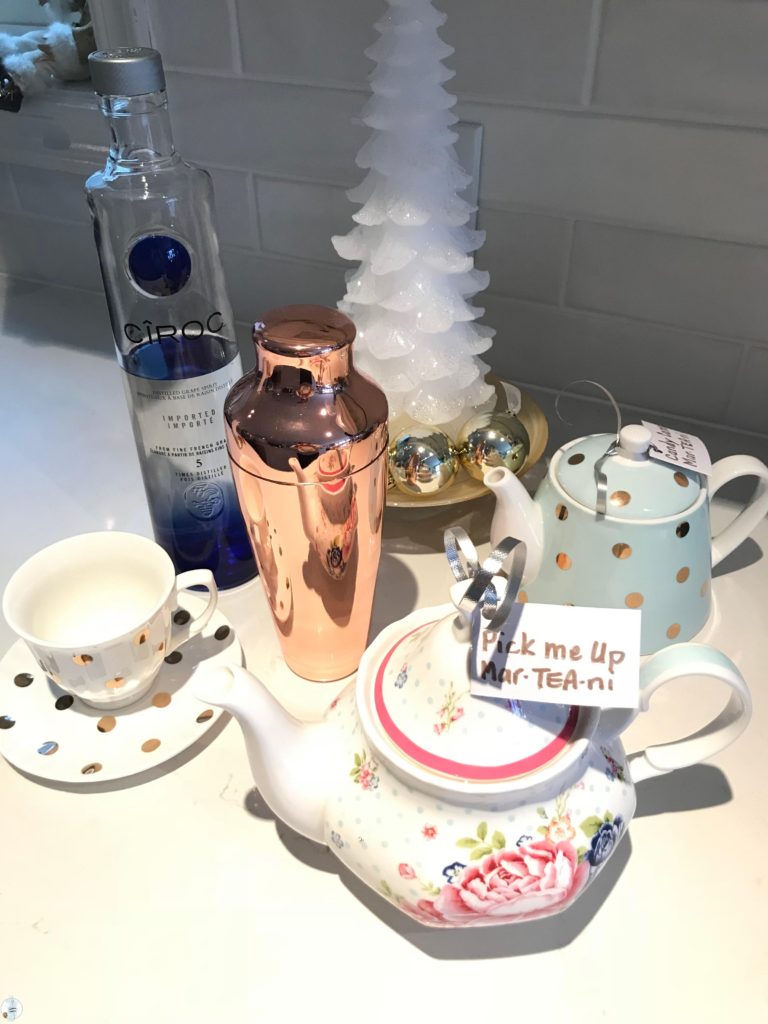 The 'Pick me up' marTEAni was a favourite. I will share the simple recipe that I used at the bottom of the post. I ordered this rose gold martini shaker from Amazon. I got one in silver and gold as well.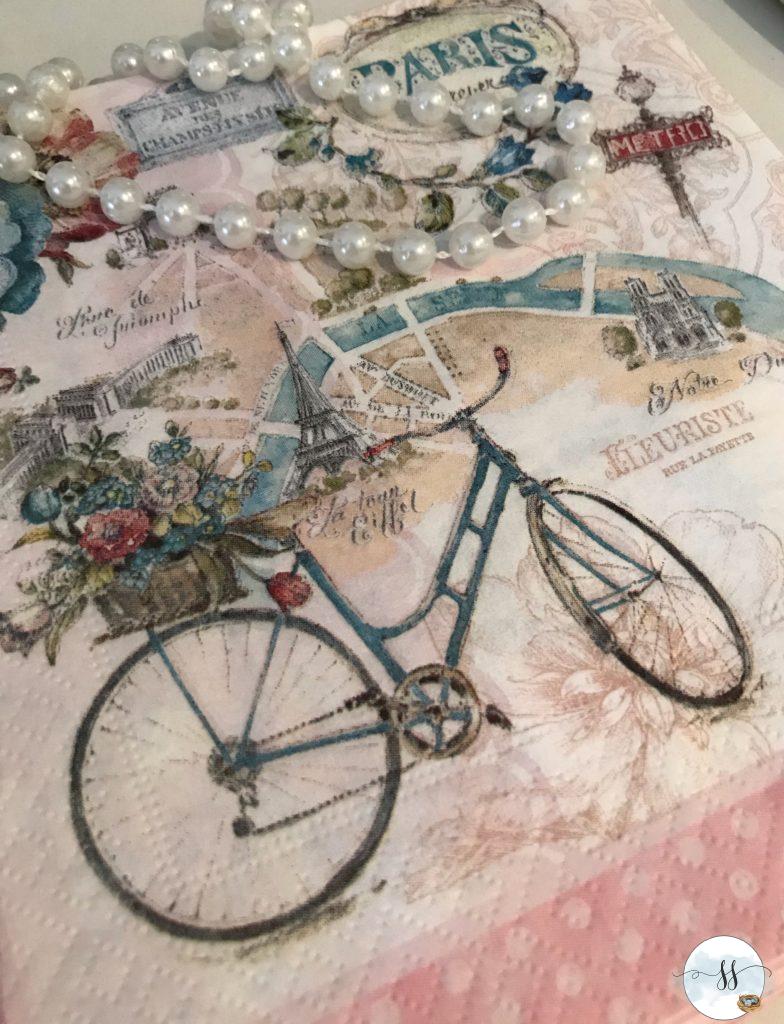 I love trying to find ways to put that little extra into the ordinary. Going with the whole Paris theme these napkins were a perfect fit. I added strands of cheap pearls from the craft store to give it all a little more impact.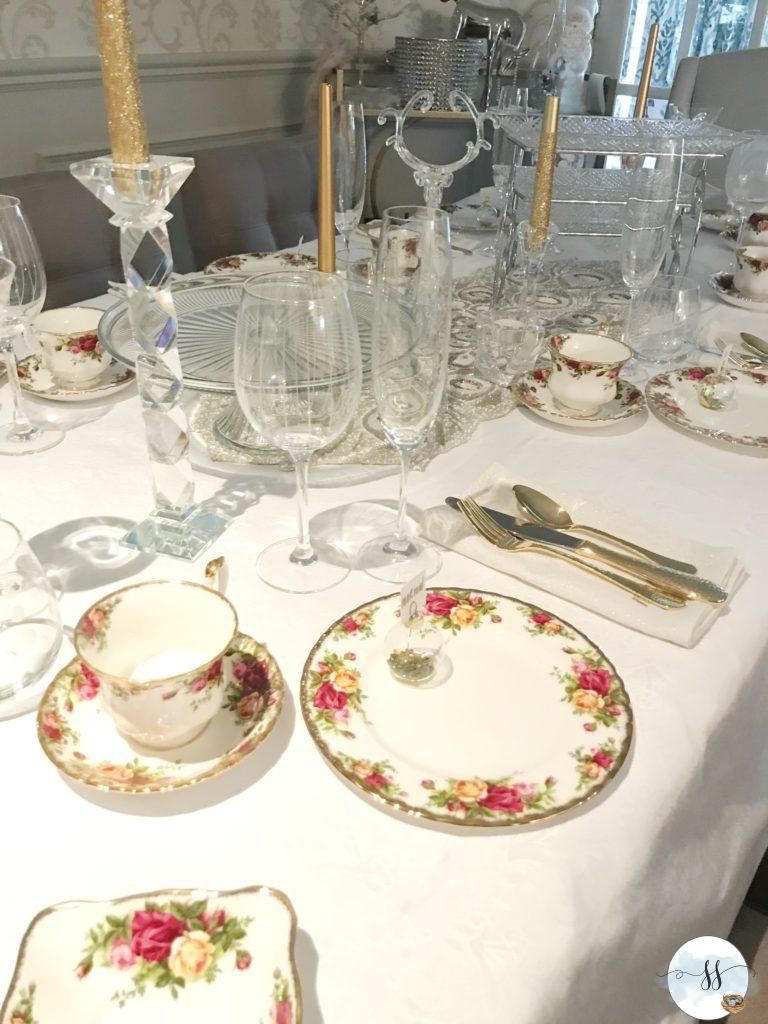 Next up – the table was set and ready to go. I used my Old Country Roses china. I use it a lot. I don't wait for special occasions. What is the point of having pretty things if you cannot use them? I've been known to order Swiss Chalet and use the china to serve it on. Who cares? A full table setting was not needed as it was high tea and not a dinner setting. So no chargers, no dinner plate and only one fork was called for. I purchased the Christmas napkins last time I was in the states. Although the photo doesn't really show it, they had beautiful gold threading through them and they were all embroidered with the words Peace or Merry on them. A pretty touch.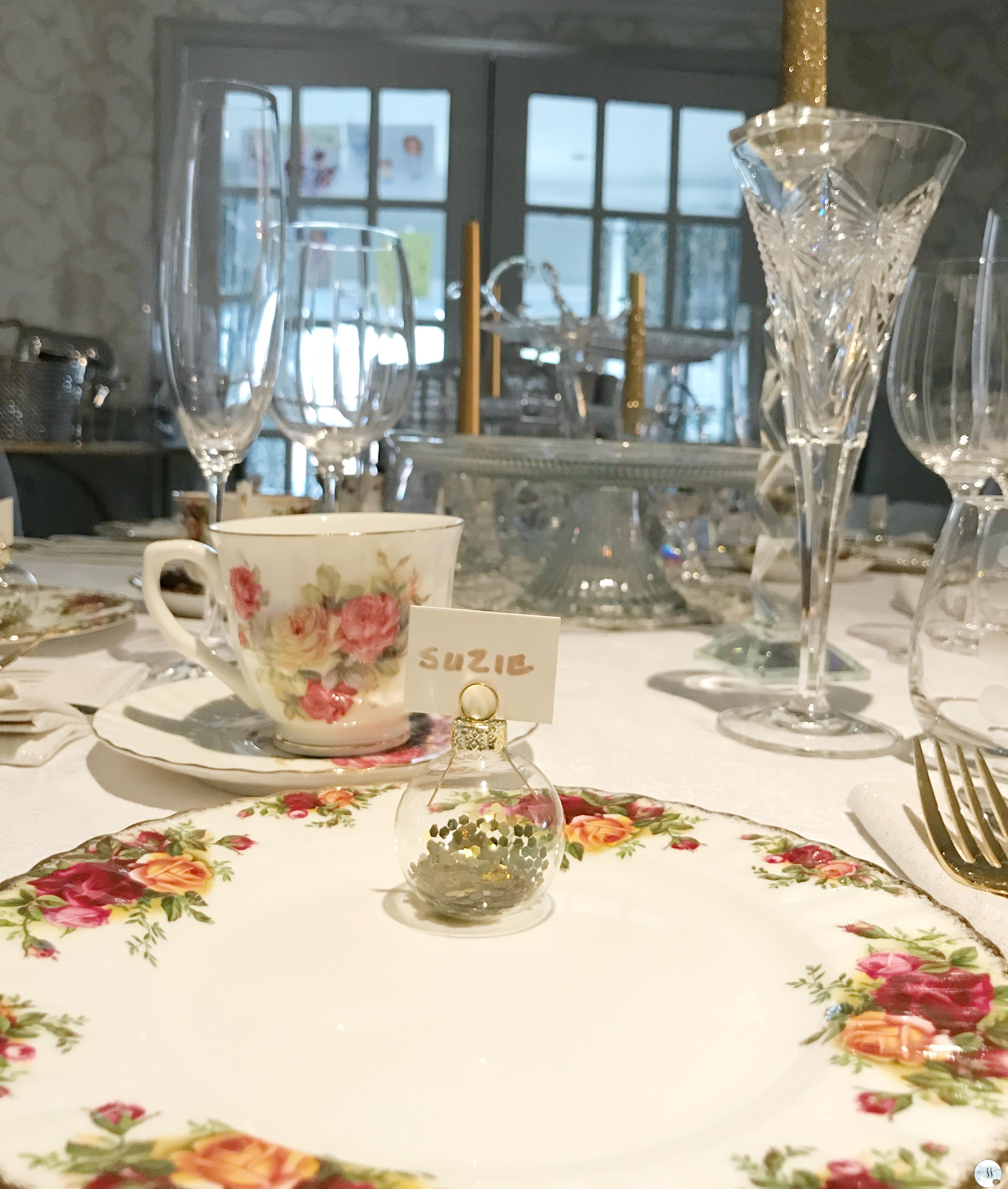 I used these little gold balls for the name tags. You will notice the cup and saucer do not match at the setting. I broke it in the dishwasher! Apparently, that is supposed to be taboo as well…putting china in the dishwasher will eventually ruin the gold rim around the edges, but again, who cares. I don't think my kids want my china handed down to them anyway.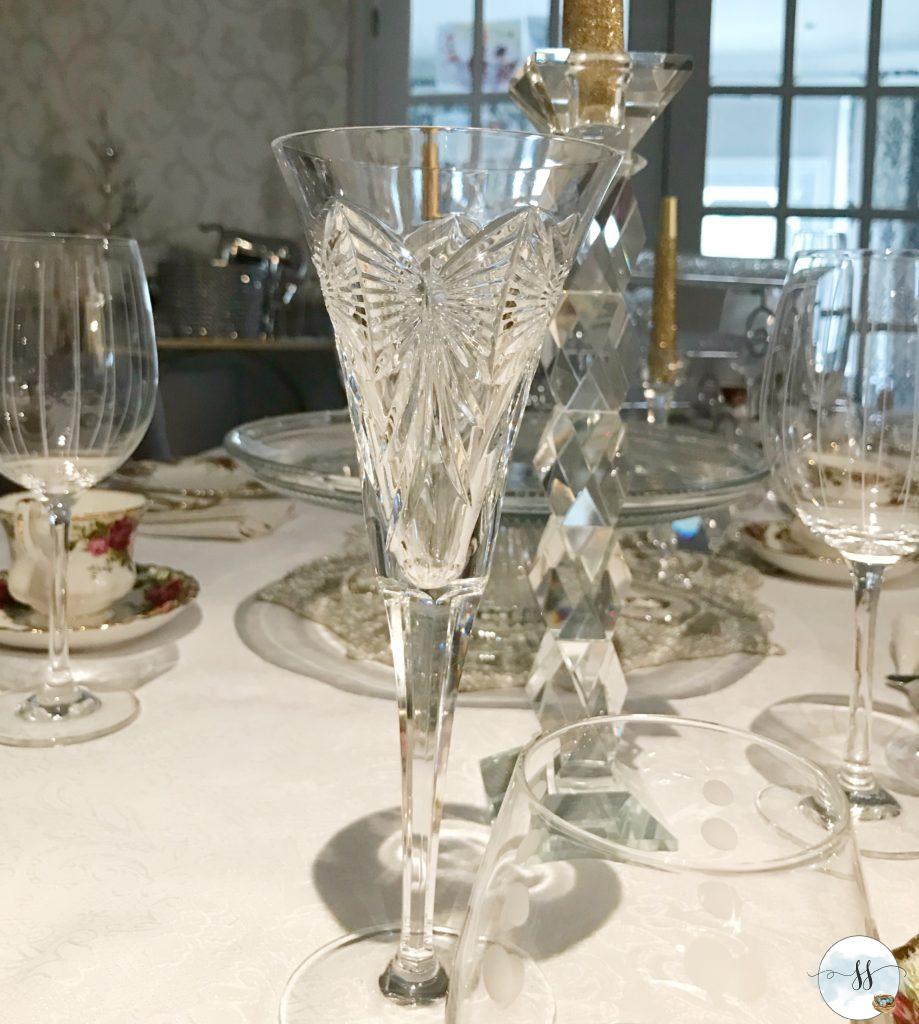 These Waterford champagne flutes were given to us as a wedding gift. They are really beautiful. I love using them.

I had the food catered. It was a classic high tea menu. Finger sandwiches, scones with clotted cream and jam, tarts, eclairs and trifle. It was all so delicious.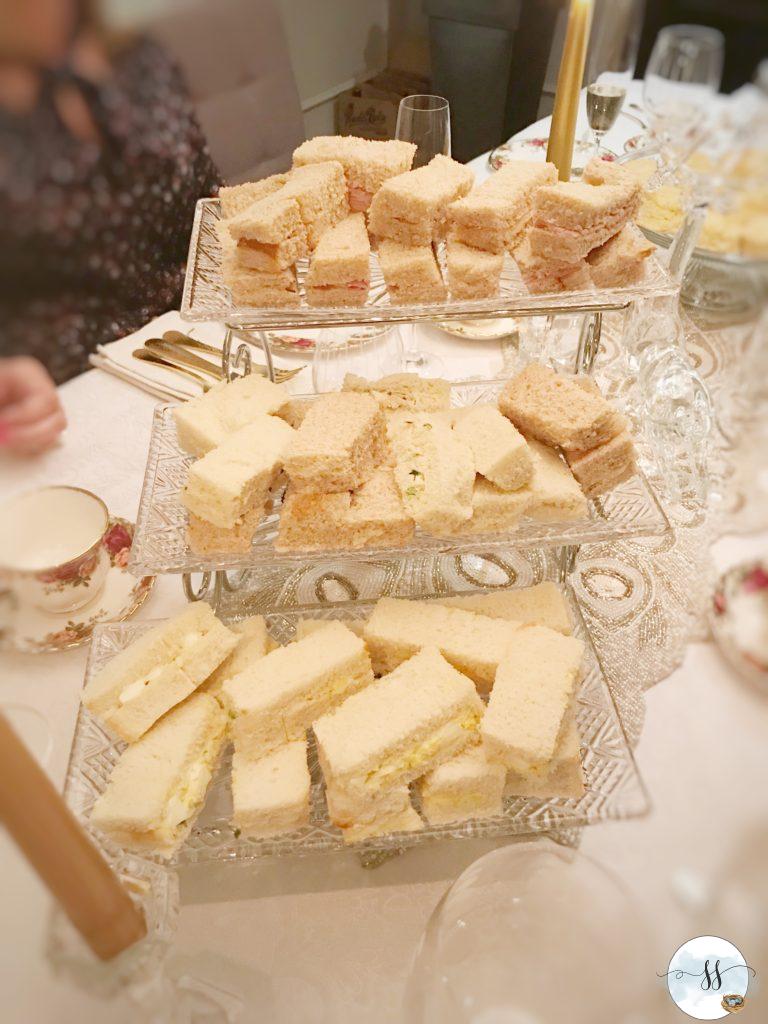 Your food doesn't have to be over the top extravagant. These were really simple sandwiches but they were served on a really pretty group of plates. The presentation is everything and I think as simple as the food was I made my guests feel special. I read once that you can serve chips at a party as long as you don't serve them from the bag.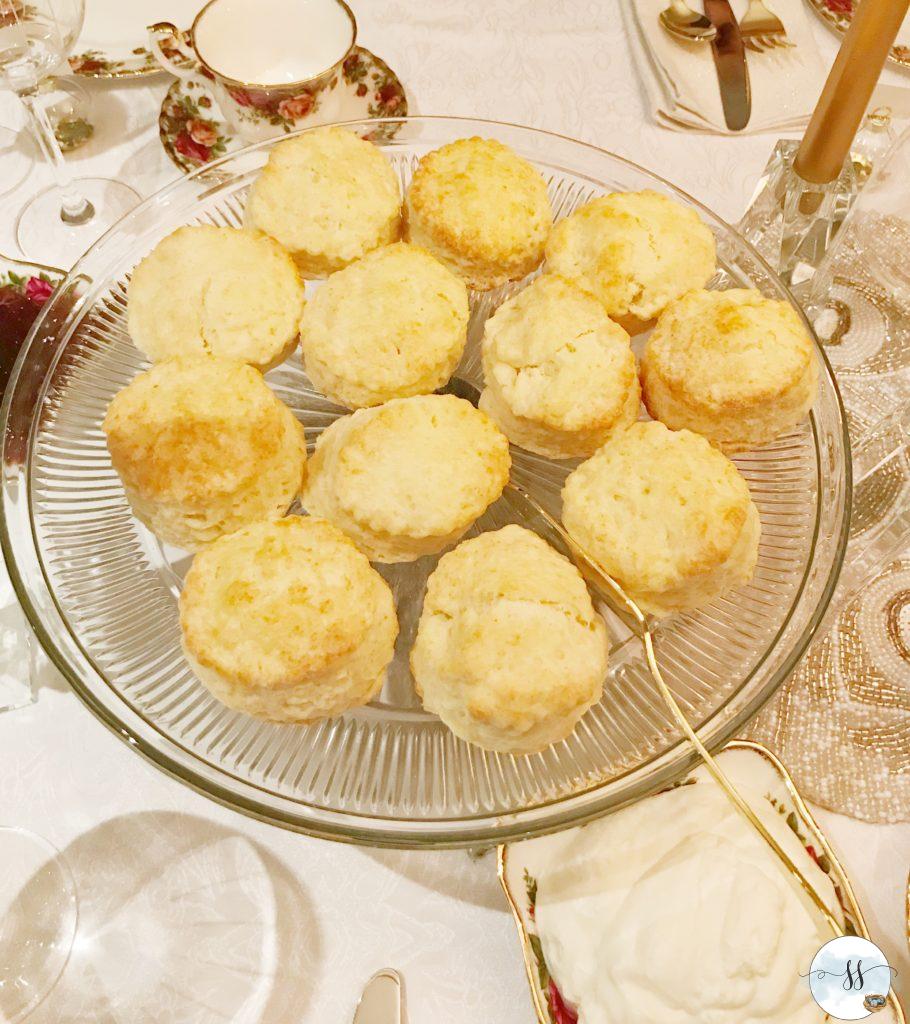 These scones showed up still warm from the oven…so fresh! It was unanimous that all of the food was excellent. I wish I had a photo of the trifle. It was such a huge hit!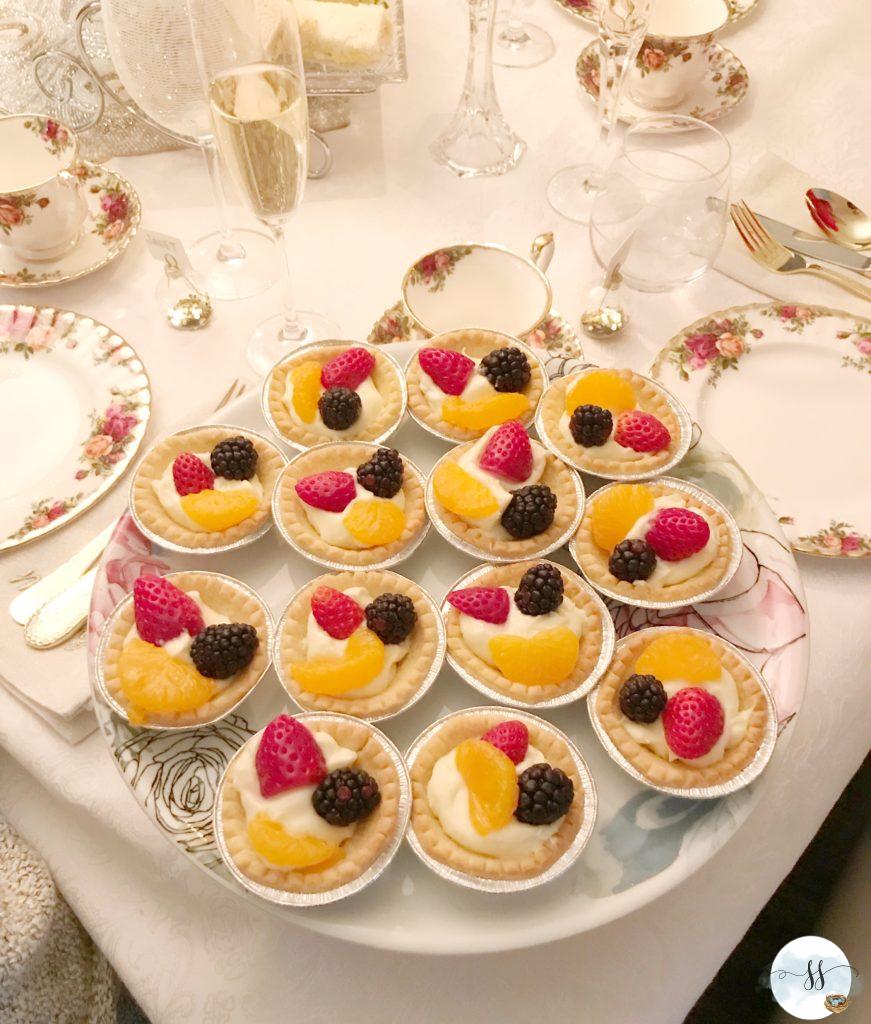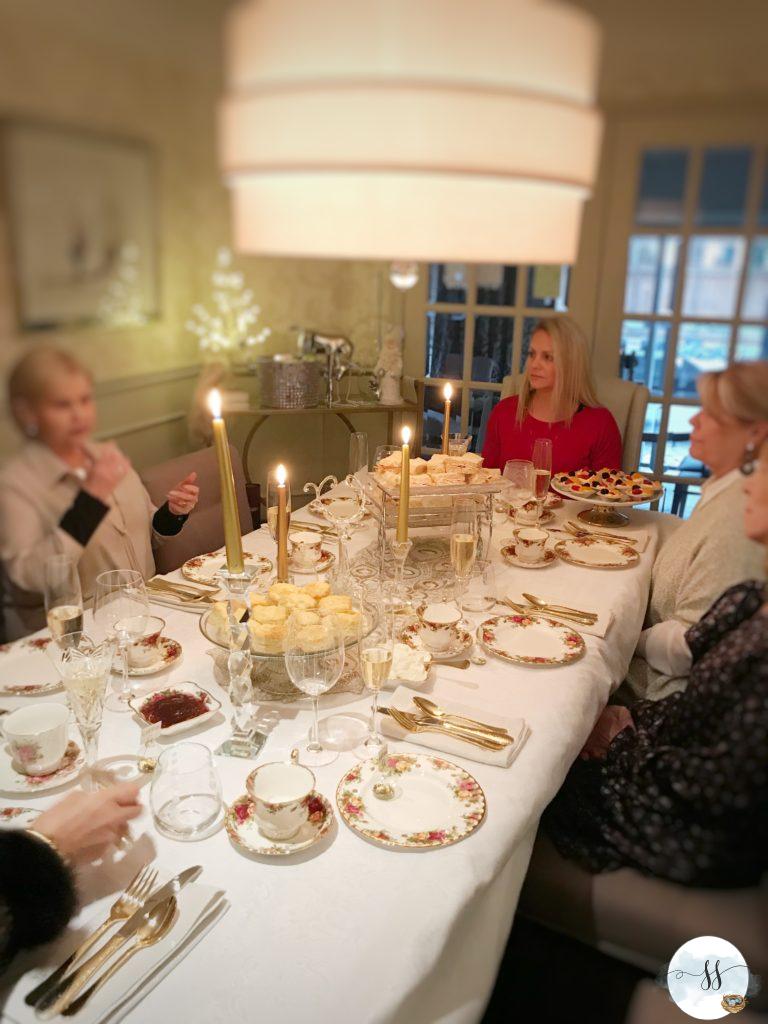 It was a perfect way to spend a Sunday afternoon in December. I highly recommend doing something fun during the holiday season for you and your friends. We all work so hard trying to make sure that everyone in the family and extended families have a beautiful Christmas. A little time for yourself is well deserved in my opinion!
Here is my very simple recipe for a Pick me up Martini.
In a martini shaker add the following
1 oz quality vodka
1 oz espresso coffee
1 oz Bailey's Irish Cream
Add some ice to a martini shaker and give it a good shake.
I like to use a quality chocolate sauce and squeeze some around the inside of your favourite martini glass. Strain the martini into the glass and garnish with a few coffee beans.