Friendships and Tea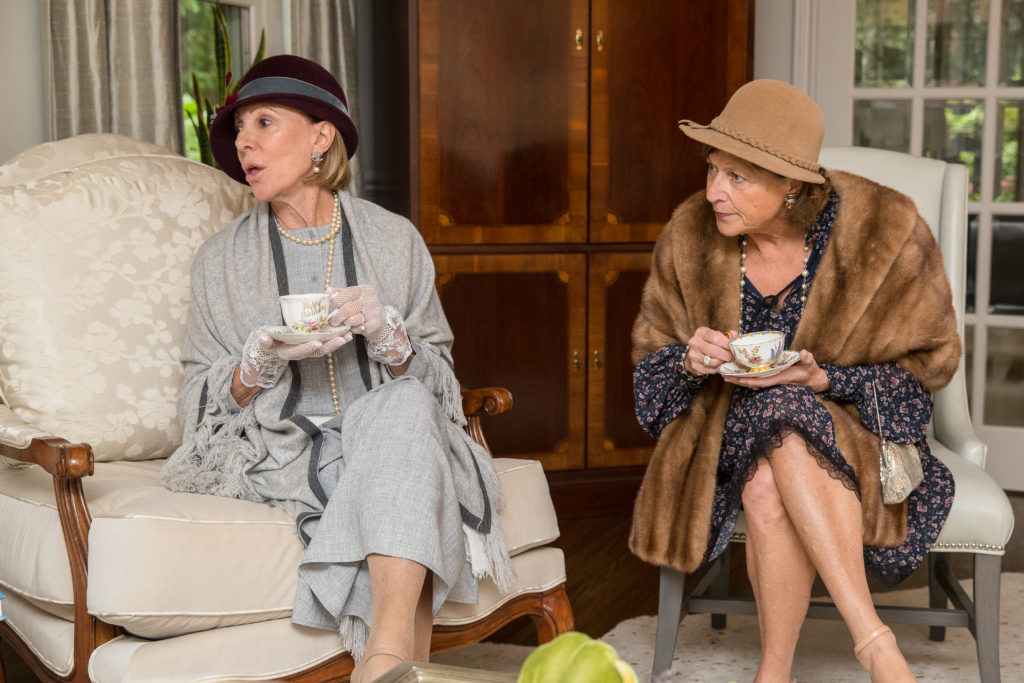 Is there anything nicer than the thought of the girls getting together for a Tea? I know…some of you are thinking…Geez!! Another tea party? But what if it was a cocktail disguised as a tea?  After all, tea was originally used as a medicine. It was the Chinese that learned the use of medicinal tea from the aboriginal tribesman living in the hills southwest of the Chinese border which is now Southeast Asia.
Some of you might remember the mar-TEA-ni party we did last year…if not you can get all the 'dets' HERE  (dets – short for details, apparently the 'in' thing to say… just trying to keep you Savvy ladies savvy)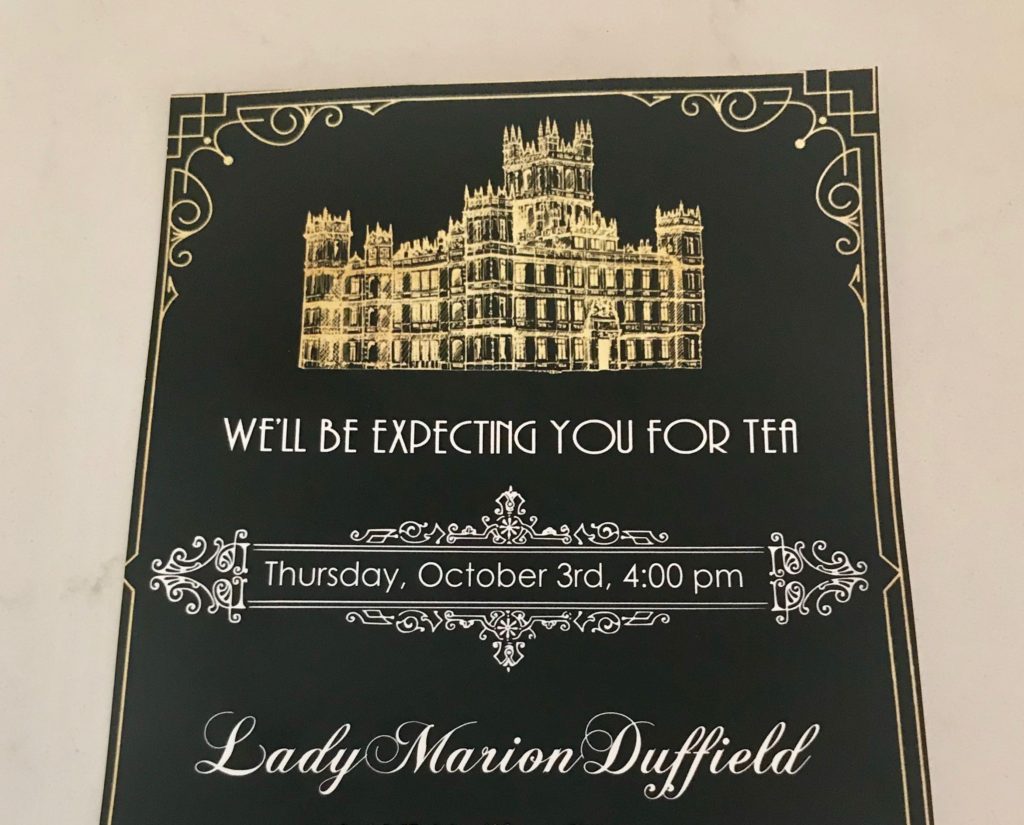 This year we did another tea based on the movie/series Downton Abbey. I had the invitations made by Adrienne of Wrapped to Perfection you can find her on Etsy. (I deleted some personal info off the bottom.) It is a great way to do printables. They do all the work and email you the PDF. I attached it to a work order at Staples and…easy peasy…picked them up at my convenience.
Downton Abbey/Highclere Castly
Nothing says Downton Abbey more than the Victorian Castle in Newbury. It was built around a medieval palace in Newbury England. The castle's actual name is Highclere Castle. Like Downton Abbey Highclere Castle was turned into a hospital during WWI.  Renting the castle out to film the series has helped the present-day keepers of the estate; Lord Geordie and Lady Fiona Carnarvon pay some of the Highclere's annual overhead of $1.5 -million.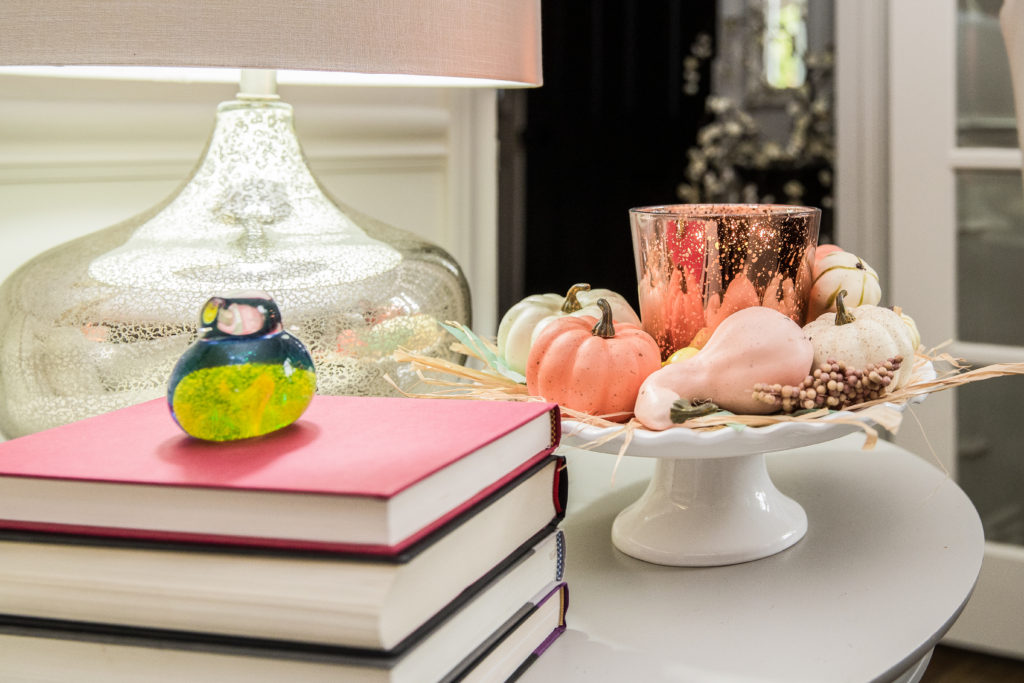 We started off by enjoying some 'tea' in the library just as they would have done at the Abbey. The 'library' decor was very simple. I left all of my fall decor out and added piles of books here and there. Most of our books are biographies and sports. I removed the jackets of the books and flipped them around so that the titles wouldn't show.
High Tea/Afternoon Tea
Afternoon tea became fashionable in England thanks to Anna the Duchess of Bedford in the early 19th century. It was served to fill the gap between lunch and dinner when meals were not served until much later in the evening. An extra meal referred to as a luncheon had been created to fill the midday gap between breakfast and dinner, but as this new meal was very light, the long afternoon with no food or refreshment at all left people feeling hungry. The Duchess of Bedford found a light meal of tea and cakes or small sandwiches was a perfect balance. The Duchess started inviting friends over to join her and afternoon tea quickly became established in upper-class households.
High tea is much heartier and is also referred to as 'meat tea'. In the early 19th century for the workers of the newly industrialized Britain; afternoon tea had to wait until after work. Workers needed sustenance after a hard day's work. The tea was often hot and filling followed by a nice strong 'cuppa'. Today dinner in Britain is still referred to as tea but more often than not it is just called supper time.
Afternoon tea or low tea as it is sometimes referred to is served usually in a library or maybe relaxing in the gardens while sitting on low parlour chairs while the high tea is served at the dinner table while sitting on high back chairs.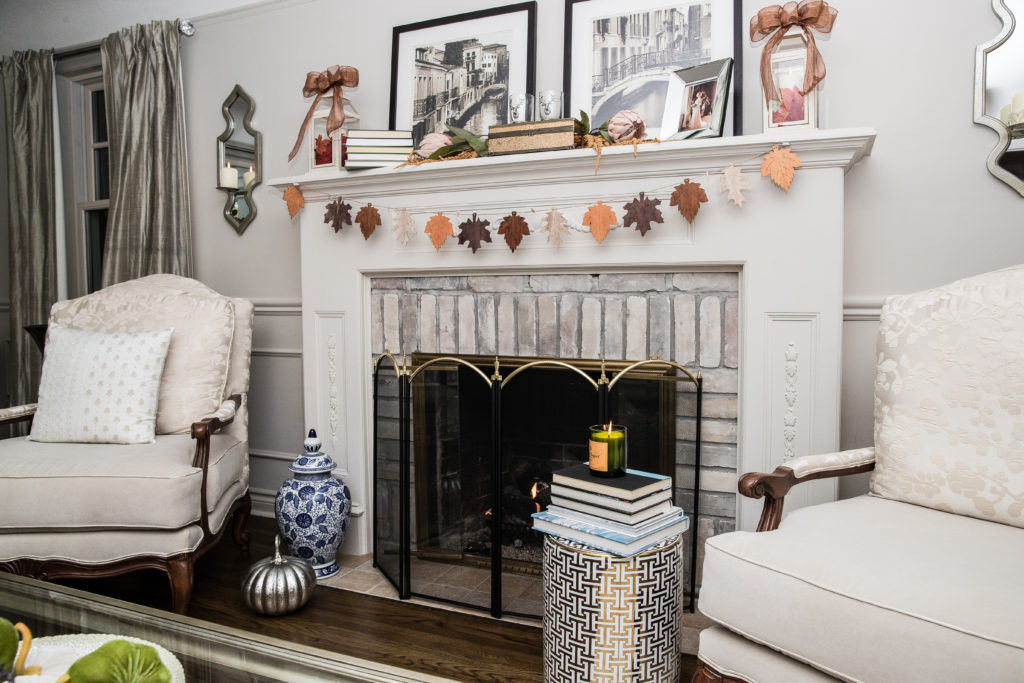 I cut some pictures of the Downton characters out of a magazine and put them in photo frames. Here on the fireplace is the rebel Lady Rose.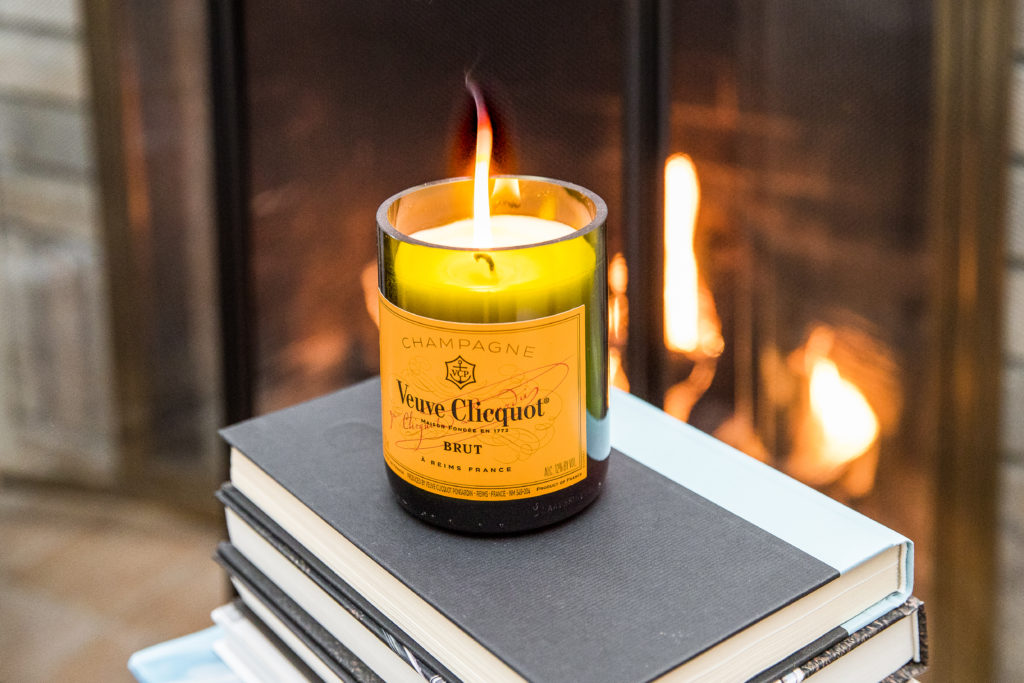 The fireplace and lots of candles added to the ambience of the library.
Veuve Clicquot was founded over 200 years ago.
The Champagne house was founded by Phillippe Clicquot-Muiron in 1772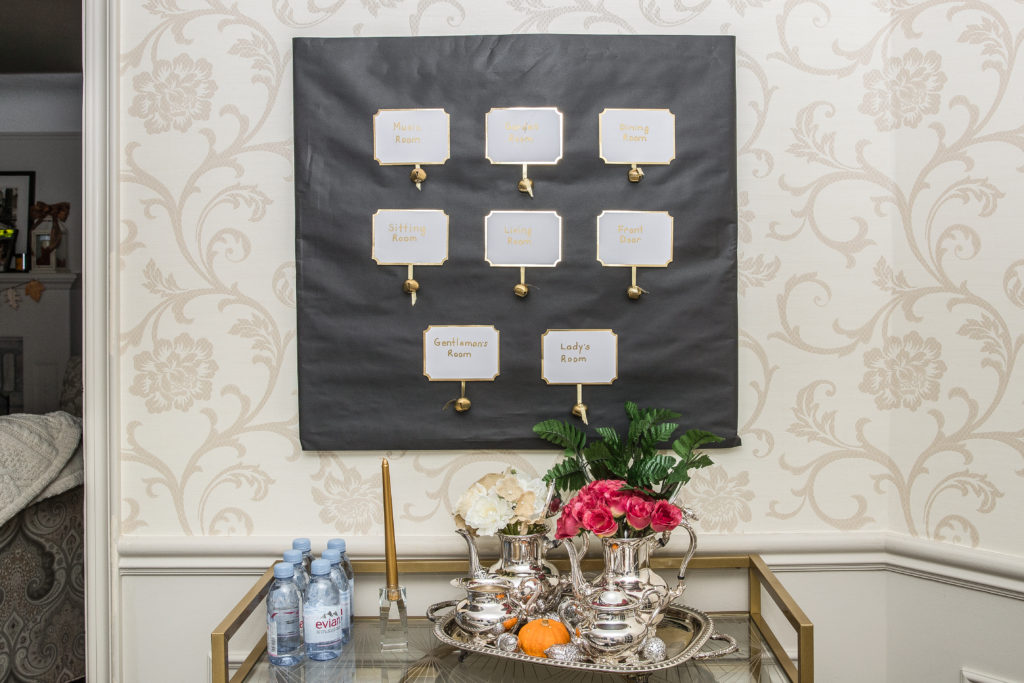 If you've seen the show or the movie you will definitely recognize the bell board. I wrapped a piece of wall art in black paper and glued on some signs with bells attached. I always have my silver tea set on display so it worked out perfect as part of the decor. I just noticed the water bottles are in this photo. LOL. I removed them before my guests arrived.
Tea sets can vary in size from the basics – the teapot, milk jug and the sugar bowl – to grand sets that can be 12 plus pieces for serving very large crowds. Typically a tea set reflects the taste of the individual that is serving. Simple is usually a 'refind class' while something more ornate would indicate 'grandeur and spectacle'. Tea sets are often not only functional but are designed to be a showpiece as well.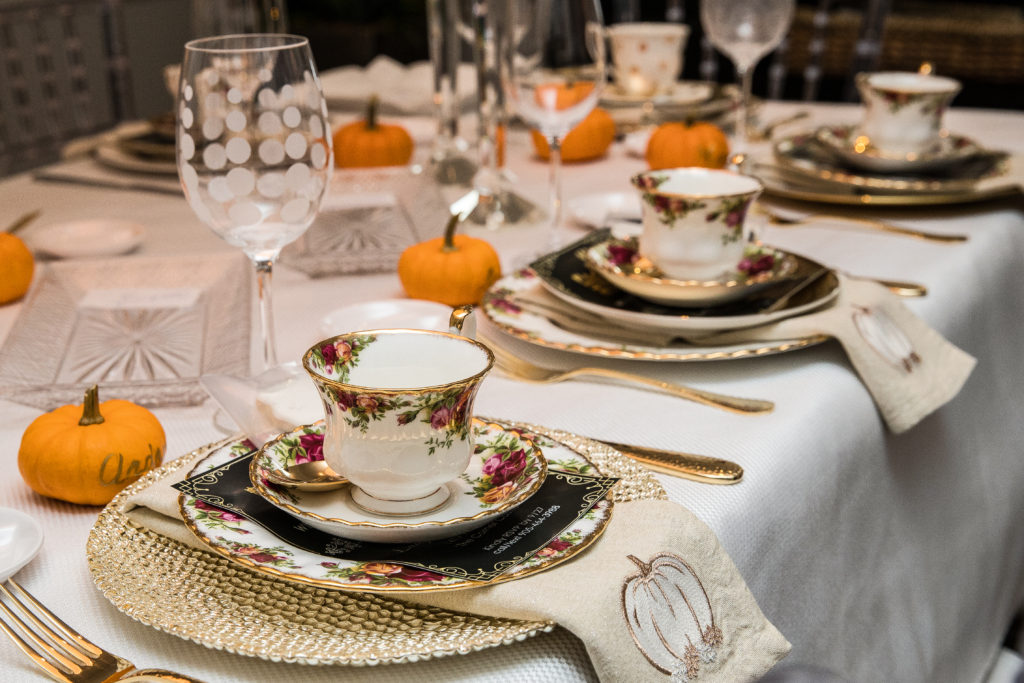 For the dining room decor, I let the table be the main source of decor. Because it was tea and there were going to be so many dishes, I didn't even need to worry about adding flowers to the table. A few tapered candles and that was it. I love to have the place settings labelled with your guest's name. I hand wrote their names on these little pumpkins.  For another party, I had everyone's names scrolled into wood. You can see them HERE  I love how it adds such a personal touch and makes your guests feel special.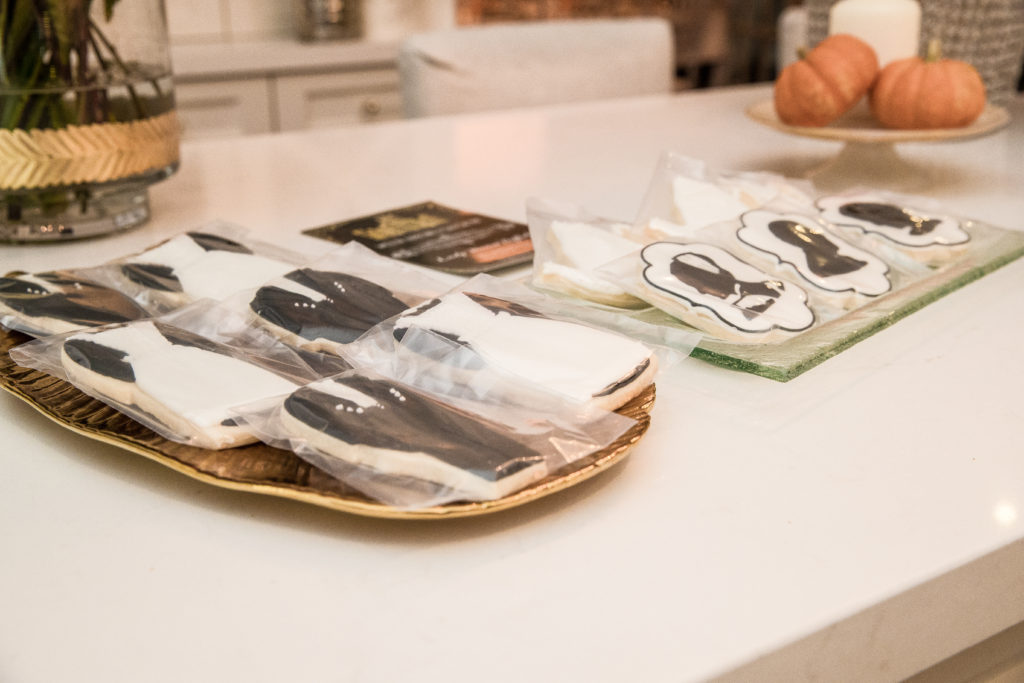 I also added a Downton cookie to each place setting.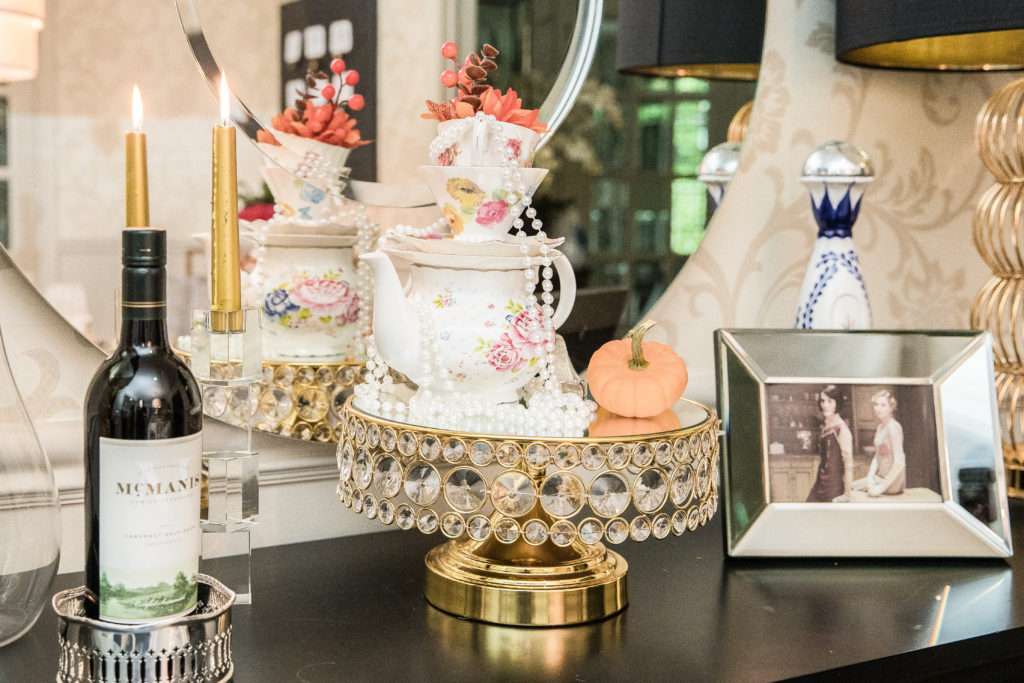 DIY Center Piece
For the buffet, I draped some pearls around a teapot and teacups on top of a cake plate. I added some faux flowers and miniature pumpkins and it made the cutest display. Originally I had made it for the table but there was just no room for it. You can see another photo frame here with Lady Mary & Lady Edith.
This little Lady of the Corner Castle has become our mascot of sorts. She seems to like to show up at our events. She looks like she might have lost a few pounds this past year…perhaps she is stressed. She doesn't say much so we never really know.
I used the same wonderful catering company as I have used in the past. The High Tea Trolley.  You can check out Jackie's website HERE We started with some lovely hot soup (served in teacups of course) followed by homemade meat pies and an assortment of sandwiches, dessert tarts and of course trifle. Some of the ladies actually had tea…like seriously….REAL tea!!! I wasn't one of them.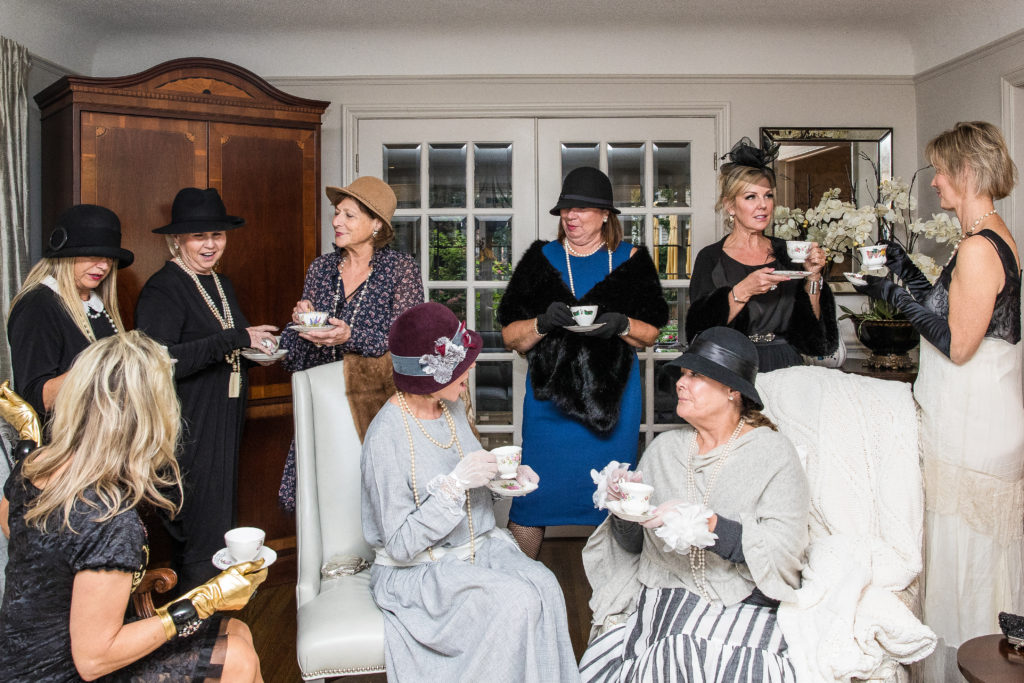 So much to talk about during tea time. LOL…can you just imagine the chatter?!! I am blessed to have this group of ladies in my life.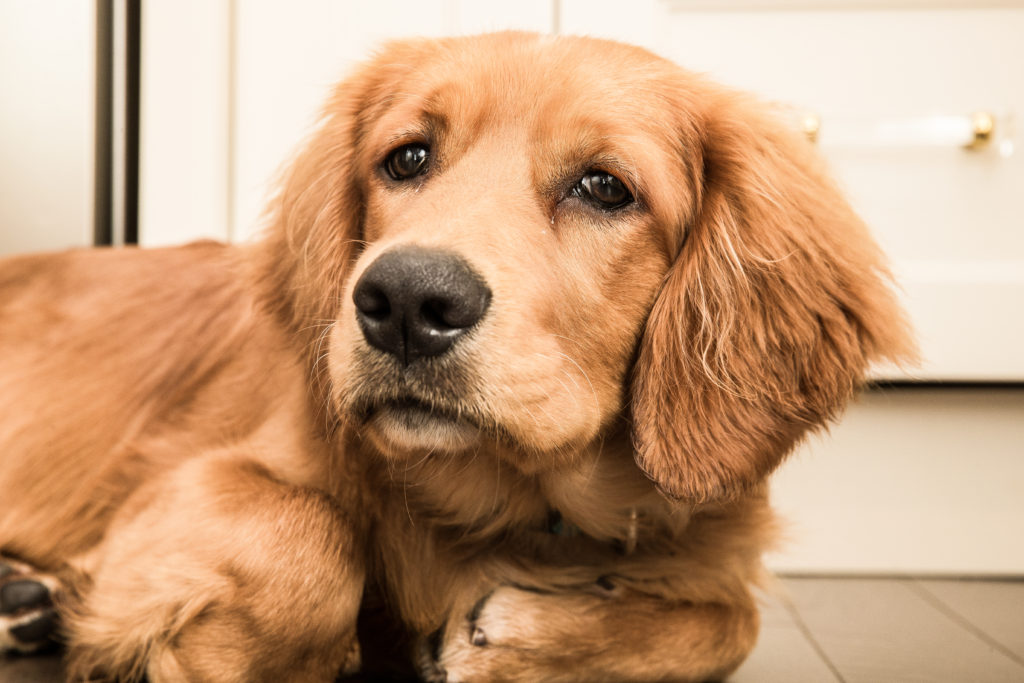 Even Tank enjoyed the party. During dinner, he sat under the table on Jan's feet and kept her toasty warm.
Friends…
There is just something magical about having friends. You can have one very best friend or you can have many. It doesn't really matter. I grew up with six brothers and no sisters. My sisters were always whoever my friends were.  There have been studies on how friendships affect our life – in particular how we age. Harvard did a study showing that strong social ties could promote brain health as we age. You can read it HERE
Our friends are as important to our health as what we eat and how often we exercise. Our friendships help us get through all of our stages of life.
Think back (waaaaay back) to when you were a kid. It was our friends that taught us simple things like how to be patient and take turns while playing games. It was the beginning of empathy when our friends hurt so did we. Playing outside all day into the evenings…"be in this house when the street lights come on". Such a carefree time and all of our friends were taken for granted. They just showed up at your door in the morning.."wanna come out and play?"
I think in high school for the first time, we really recognize the importance of friendships. You make that vow to stay friends forever. Slumber parties baring your soul…or playing the inevitable…Truth or Dare!! lol…all these simple little things started building our trust. I received a message a few weeks backs from a young lady on FB. She said her mom and I used to be friends in high school. She gave me her mom's contact information and asked me to reach out to her. I did and we got together for lunch. Going in, I must say, I was a bit nervous. What if it was awkward and we didn't really know what to say to each other? lololol…what a joke… It was like no time had ever elapsed between then and the last time we saw each other. We sat and chatted for three hours. If it hadn't have been for Tank at home alone I am sure our lunch could easily have turned into dinner too. Forty years seemed like yesterday.
From high school, as we became young adults and our friends became way more than a confident or someone to go to a movie with, they provided us with a sounding board, a place for us to grow, to help us succeed in careers and relationships. They become part of our purpose in life.  They give us space to be our authentic selves. We become sisters.
                                                 Just a bunch of shenanigans.
"Many people will walk in and out of your life, but only true friends leave footprints in your heart."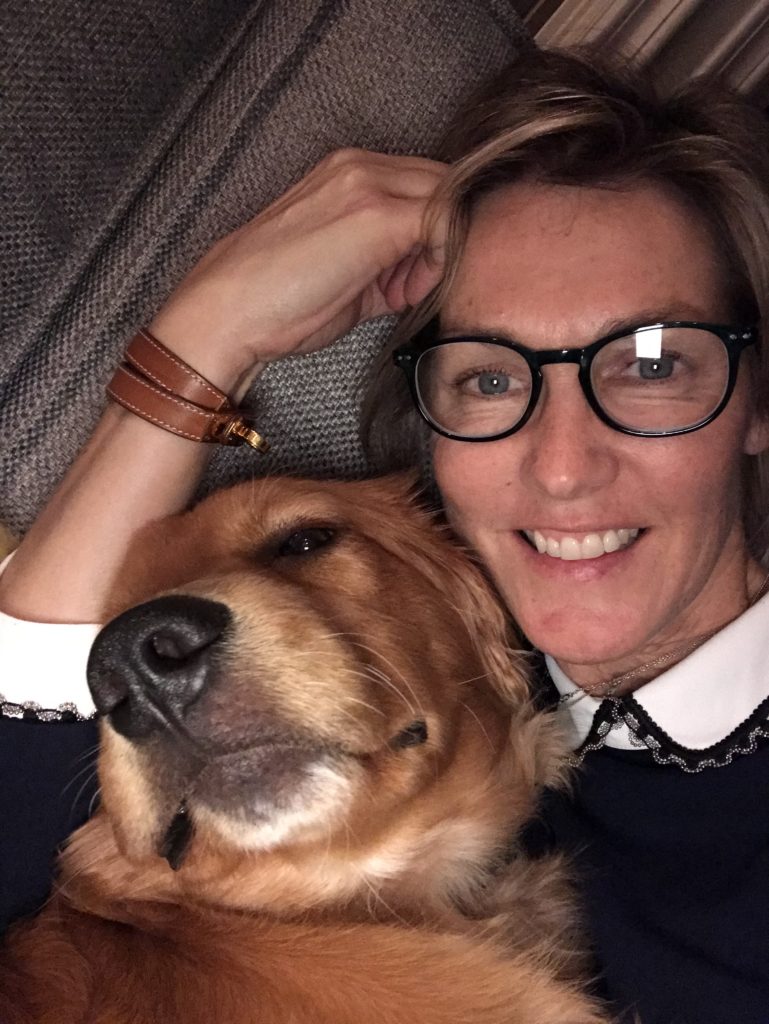 My newest little friend…melts my heart daily.