Sometimes it helps to have an inside scoop…"psst..hey Lilah bet on the grey horse in the second".
How to pick the winners!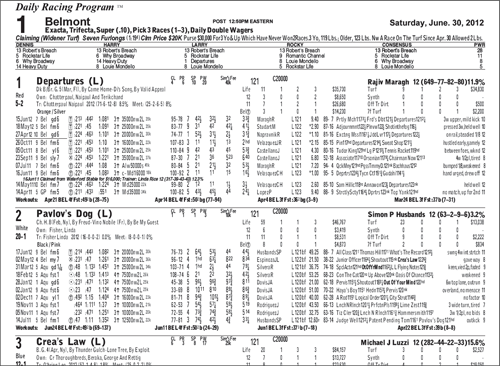 Have you ever looked at a racing form and wondered to yourself….good heavens that is a LOT of numbers? Well, let me tell ya….you're not alone. I hate numbers. The first time Steve handed me a racing form my eyes sort of glazed over and all I could think was…There is no way I can learn what all these numbers mean and more importantly…I don't actually care…Can I buy a hat?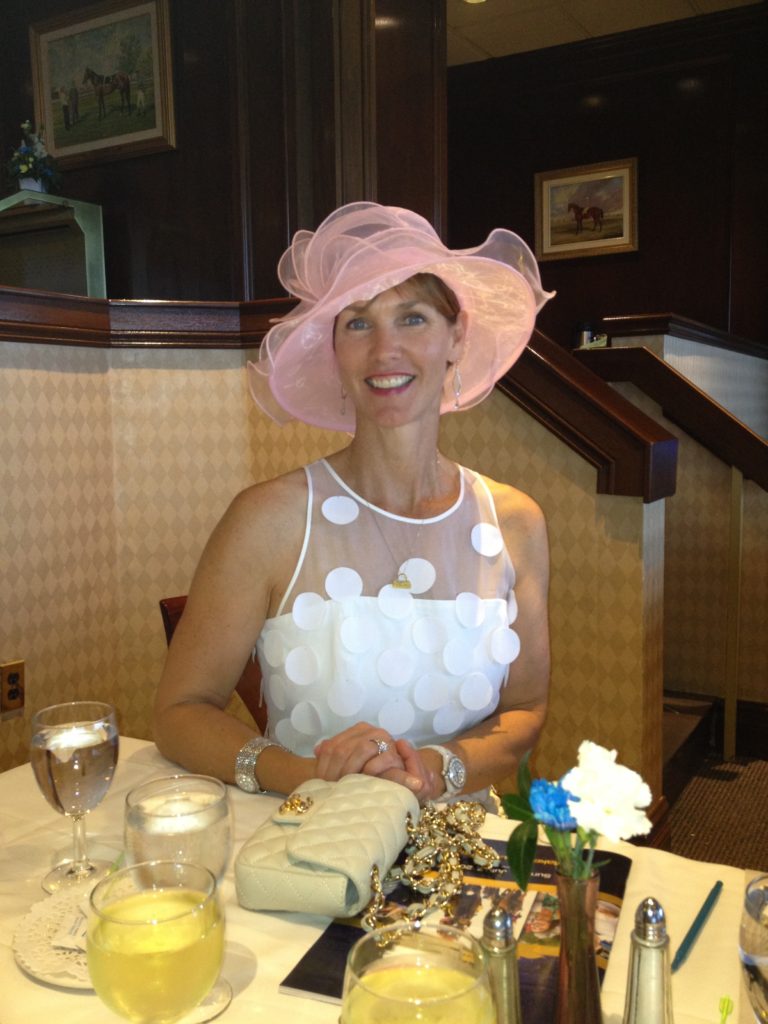 Once you do figure out the racing form you have to place your bet. Talk about confusing…you have the 3 easy ones that we are all familiar with…win, place and show. Simple right? First, second and third. If only it stopped there….nope that would be too easy….you can bet an exacta or a trifecta, you can box a bet or you can wheel a bet. It can be a full wheel or a part wheel bet. Then there are the daily doubles and the Pick 3, 4 or 6….and it goes on and on.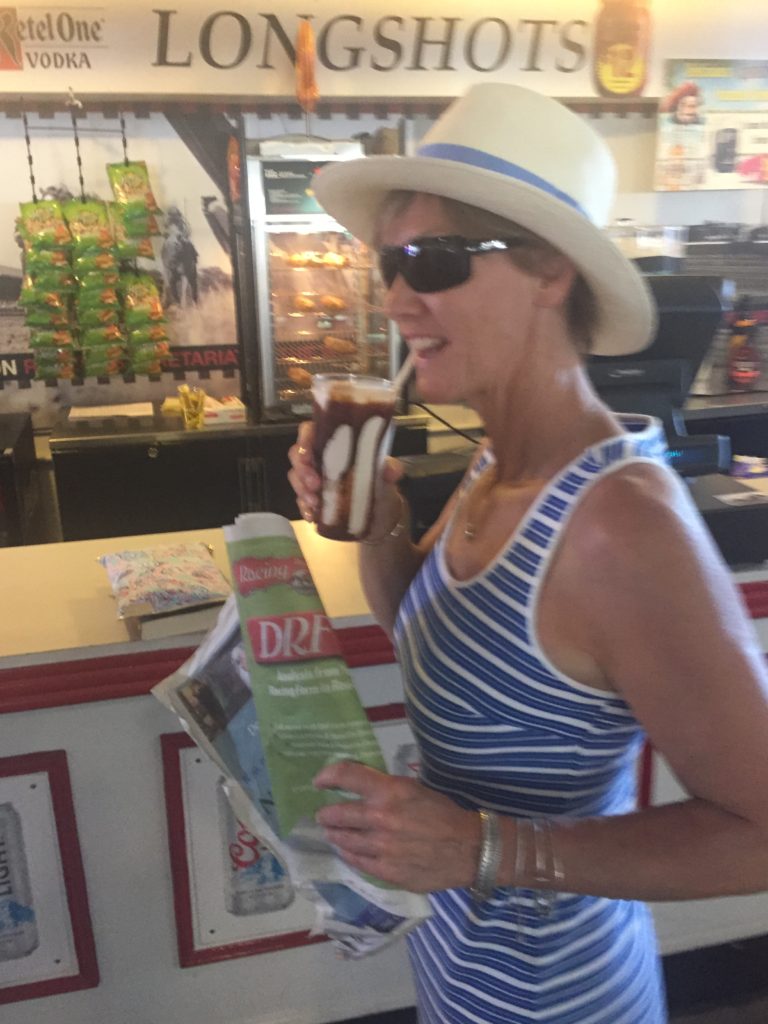 At the front of your form, there is an entire page dedicated to what each and every number means on this form if you feel so inclined (eye roll here)…and while these numbers might be important to Steve…there are only a few things that I look at. 1) Who is the trainer? 2) Who is riding the horse? 3) What are the odds? If Bob Baffert is the trainer I always give that horse consideration. Baffert trained the 2015 Triple Crown winner American Pharoah and 2018 Triple Crown winner Justify. His horses have won five Kentucky Derbies, seven Preakness Stakes, three Belmont Stakes and three Kentucky Oaks.
Steve looks at every number on the form and has a formula for extrapolating numbers which I couldn't explain to you if I tried. I asked him if he could only look at 3 things on the form what would they be? He said 1) Beyer numbers. This is a numerical value given to each horse's previous races. The higher the number the better the race. 2) Pace numbers this shows how fast a horse is at different parts of the race – 1/4 of the way around, 1/2, 3/4 and the last number is the horse's final time in that race. That final number gets right down to the nitty-gritty. On the race below Roulette It Roll's final time in his first race shown is 1:03 3 which means he ran the distance in 1 minute, 3 seconds and 3/5s of a second. 3) Distance. The distance is shown in the info right under the park name and also shows a visual of the distance of the race in the top right corner. Some horses are better at different distances.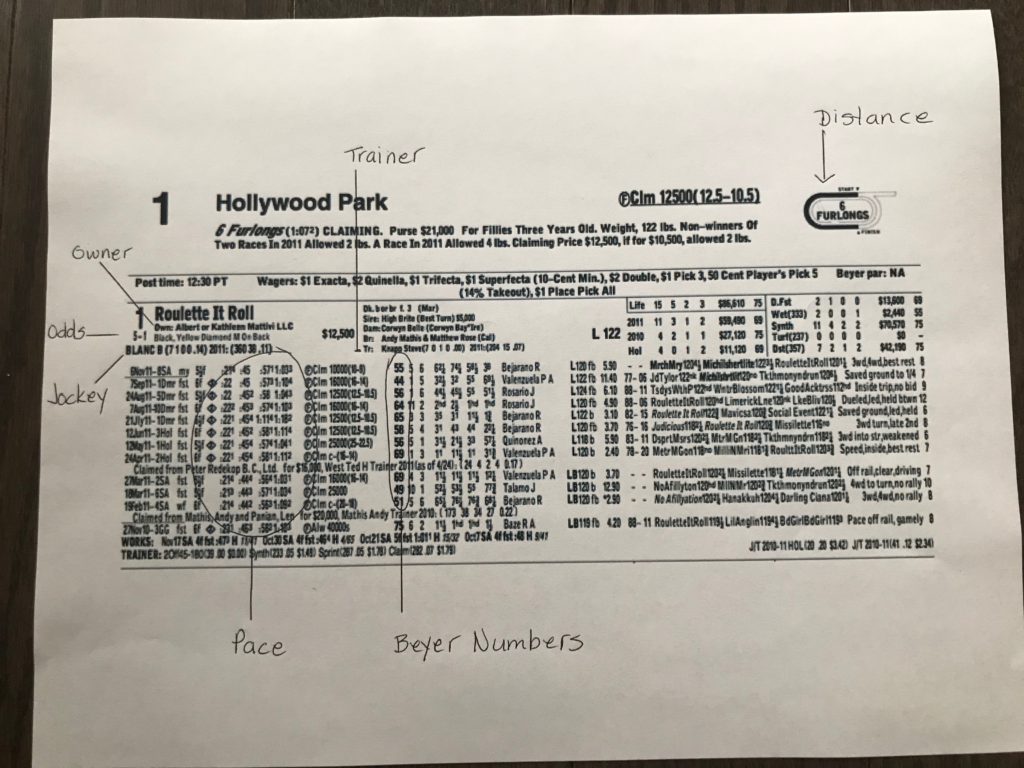 I love grey horses and horses that have run on names too….take Bigasmar for instance. Great horse. Grey and a run on name!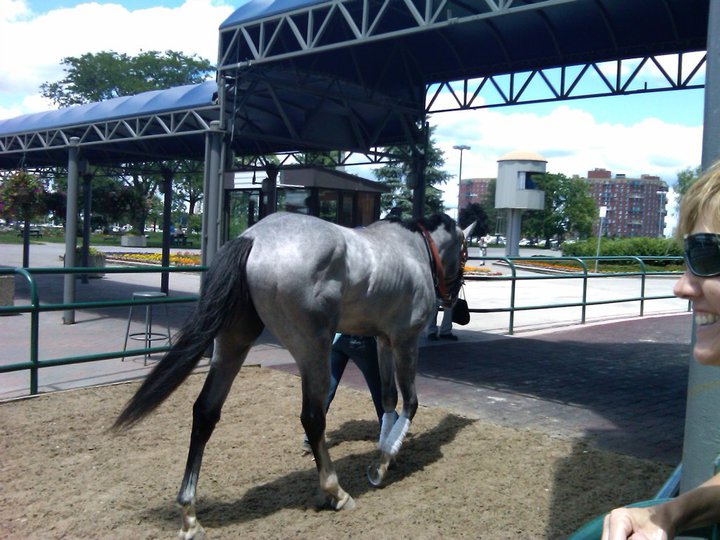 My sweet hubby thought it would be fun to name this horse after me. He called it Big Ass Mare… I know right… and we are still married!! In horse racing, you cannot use the names ass or Mare in your horse's name. He then shortened it to Bigasmar. When questioned what Bigasmar meant he said it was an unerupted volcano in South America. The name passed! Bigasmar actually went on to win a lot of races for us and we did well financially with her. We then got an offer for Bigass and the offer was really good. When Steve told me he was going to sell her I said "no way". Now I do understand that horse racing is a business and you cannot become emotionally attached to the horses…but there was no way I was letting him sell my namesake. So we now have a pet horse in Ocala Florida living the dream!! lol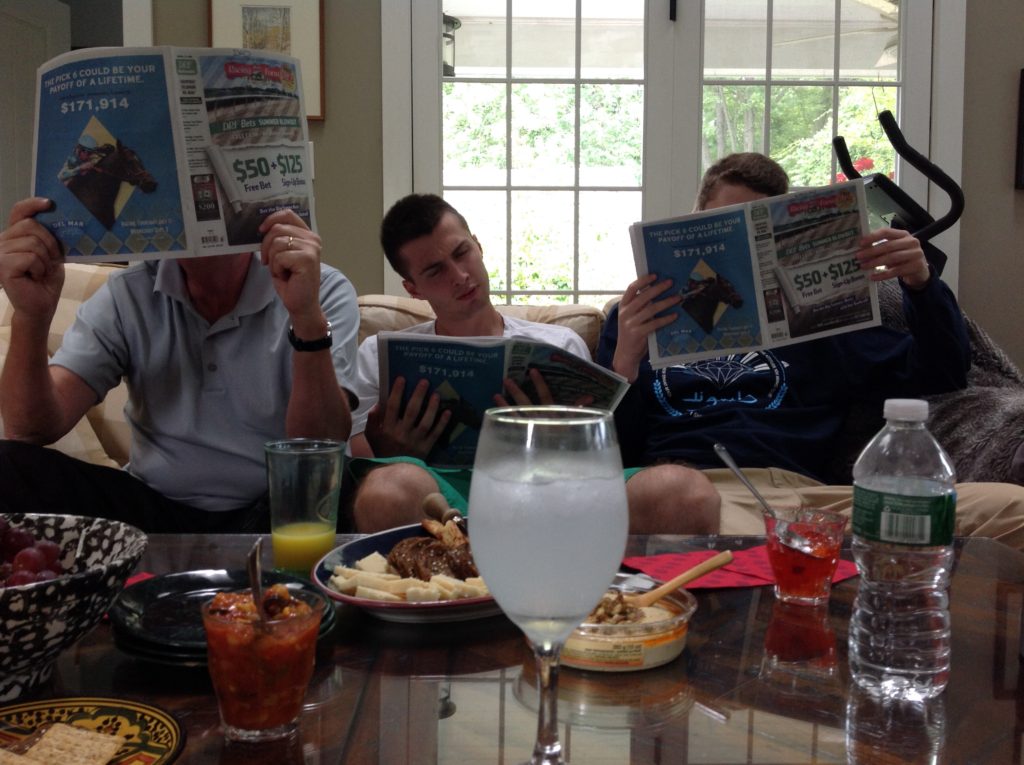 We typically meet up with our Cooper cousins in Saratoga NY every summer for the races. Doesn't he look confused? LOL…see? It's not just me!!!
Races go off approximately every half an hour, so you do get enough time to look at each horse individually and determine if it has merit. I have been known to bring magazines to the races and put the race form on the outside of it so that it looks like I am handicapping when I get bored. HAHA Steve says it is just like doing a brain teaser…there is a winner in every race….you just have to find it. Thanks, Stevie Boy….but I think I'll stick to buying new hats and bet on the grey horse.
You don't actually have to know a single thing about the races, or who is running, who the jockey is, who the trainer is or even how to bet to have fun at the races!
If you are with a group of friends have everyone chip in $$ amount and set aside. Then write down all the horse names in that race. Have everyone pull the name of a horse out of a hat and if that horse comes in first…you win the pool collected. It can get fun and very loud when you are all cheering for different horses.
Show pools are a lot of fun!!! We play these a lot with the kids or if first timer -friends come to the races with us. For a horse to show it has to come in first, second or third. Determine an amount to start with…you can collect a couple of dollars from each person.  Choose a person to start. That person has to pick a horse to show. If that horse shows the next person now takes all of the money that was won and has to put it all on another show horse…this goes on and on until the day is over or you lose everything. It gets pretty intense when the pot gets up there and you are responsible for picking the next horse. I like to go first in this game…the least amount of money is on the line! LOL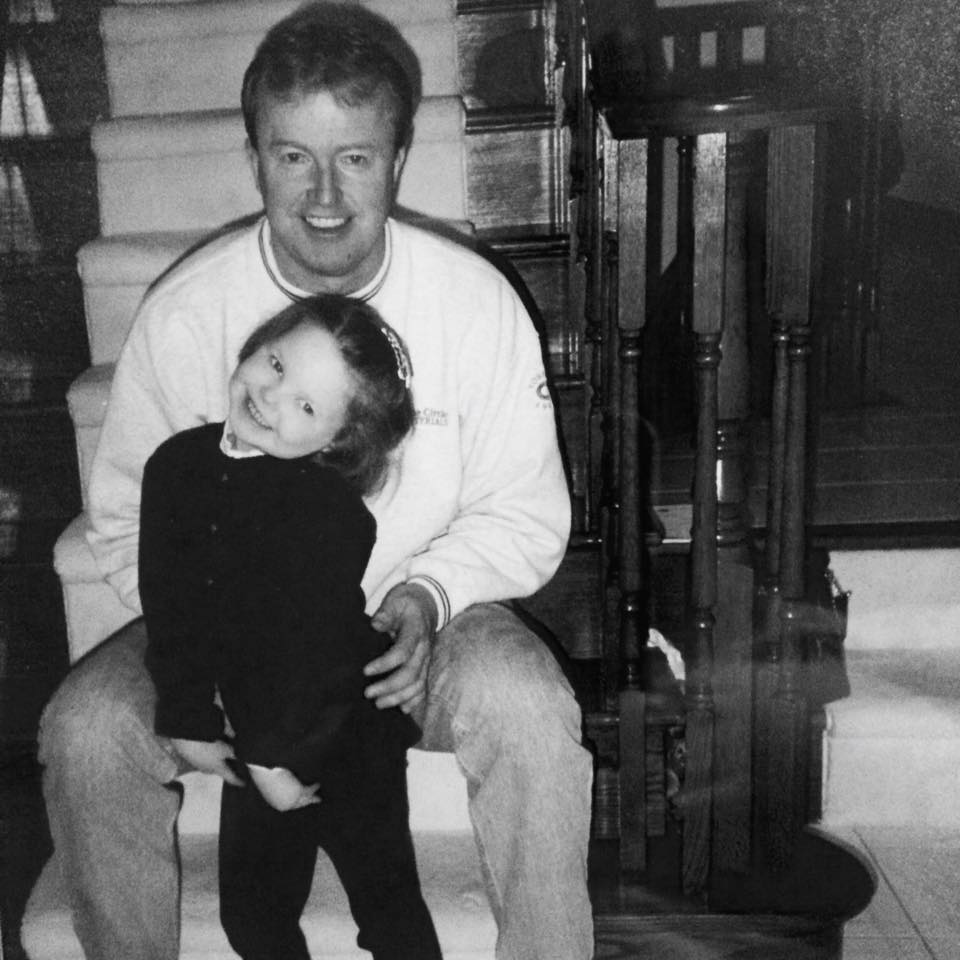 Steve loves to get the kids involved in the races and always starts a show pool for them. He started one for his niece Alex. Alex and her mom had just been shopping at a Coach store. Alex had her eye on a beautiful purse but at $800 ish there was no way she could afford it. Uncle Steve gave Alex $20 to start a show pool on her own. She won the first race, the second race, the third race and kept on winning race after race until she had enough to buy the purse!!! The problem was she still had about 2 more races to go. Steve told her she could take out the money for the purse if she wanted to…which she did…but I actually think she won on the next two races as well. If you ask Alex how she got so good at math (99% average in school) she will tell you she learned her numbers sitting on her dad's knee looking at a race form. PS…Alex got her purse from Coach and bought me a cute yellow change purse out of her winnings. She is a gem! Love and miss ya Alex! xo
PS. On my last post, I told you our horse Point of Honour was on the list of entries for the Kentucky Oaks and we needed 3 scratches for her to get in. Well…we are down to 2 scratches. The weather is NOT looking very promising for the Derby. There could be more scratches. I'll keep you 'posted'.
Have a great day…and don't forget to pick up your form!!