While I talk a lot about women's fashion at the derby women actually play a much bigger role! It's not always about the hat don't cha know?!
1904 was a banner year for women and the derby. The winner of the derby that year was Elwood a horse owned by a lady name Laska Durnell. This horse was also bred by Mrs J. B. Prather. This was the first year any female owned or bred horse had participated in the derby never mind won the derby!!!!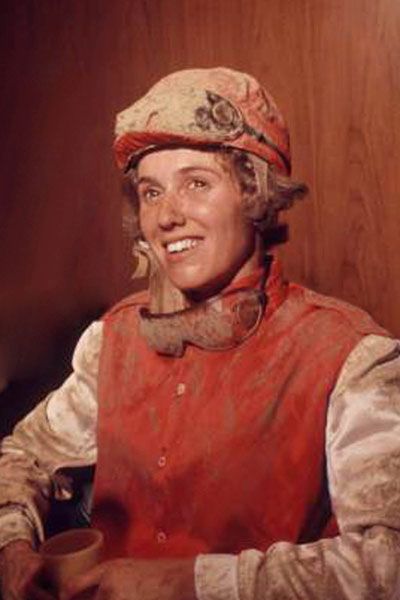 Diane Crump was the first woman to ride in a pari-mutuel (betting) race in 1969. There was so much controversy that she required a full police escort through the crowds. When Diane Crump rode she came out to hecklers yelling "go back to the kitchen and cook dinner" and "go home and have a baby".  The following year in 1970 Crump was also the first lady to ever ride in the Kentucky Derby. In 1998 she retired for a brief time to become a trainer but returned to riding in 1999.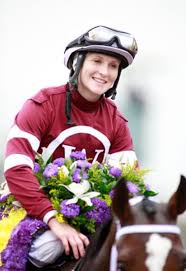 As of last year, there has never been a female jockey that has won the Kentucky Derby.  In the 2013 Derby, Rosy Napravnik came in 5th  which was the highest place of any female jockey. Rosy has won the Kentucky Oaks twice. When Rosy started her career she only used her initials to hide her gender it improved her chances of getting mounts from trainers who were hesitant to ride a 'girl.'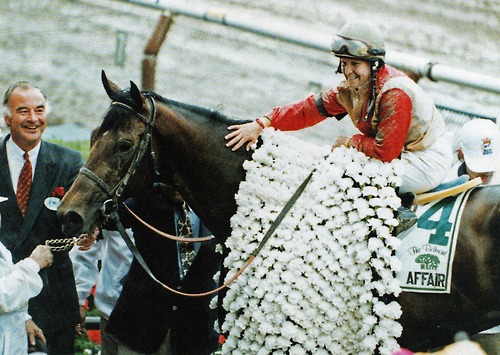 Julie Krone,  a retired jockey became the first female jockey to win a Triple Crown race when she captured the Belmont Stakes aboard Colonial Affair. Julie also entered races using her initials. Krone claims she put up with so much physical intimidation and abuse from male jockeys that she ended a 1986 fight by hitting one of them with a lawn chair. Just to clarify what the Triple Crown is….a victory by one horse in the Kentucky Derby, the Preakness, and the Belmont Stakes.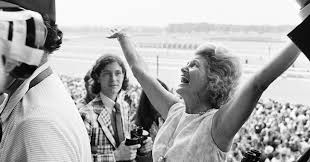 Penny Chenery when she won the Kentucky Derby with Secretariat.
Any time a Triple Crown was on the line 3 women met at Belmont Park. These women formed an exclusive club of Triple Crown Horse owners. They wore corsages in the colours of their jockey's silks. One blue/white, one yellow/black and on pink/black…and the members? Penny Chenery owner of Secretariat. Sally Hill owner of Seattle Slew and Patrice Wolfson owner of Affirmed.
This is my very favourite horse owner….watch this with sound…have some tissues handy. Even Steve gets teary-eyed when he watches this. It was the 1990 Kentucky Derby Her name was Frances Genter and she was the owner of Unbridled. Watch as her trainer Carl Nafzger calls the race for Mrs Genter because her eyesight was failing & she could not see the race. In 1990 Mrs Genter was awarded the Eclipse Award for Outstanding Owner and the following year received the Mr Fitz Award that is given to an individual who most exemplifies the spirit of horse racing.
you cried, didn't you?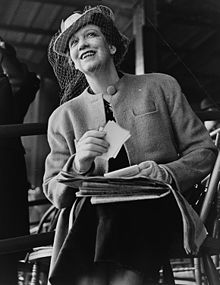 …and we cannot forget about Florence Nightingale Graham born in Woodbridge Ontario. You probably recognize her by her professional name Elizabeth Arden. Elizabeth bought her first thoroughbred in 1931 at an auction in Saratoga NY. She pampered her horses using one of her highly expensive beauty creams. She insisted that her trainers apply her 8-hour facial cream to the horses' legs every night. It must have worked…In 1947 her horse Jet Pilot won the Kentucky Derby. In 1954 her horse Fascinator won Kentucky Oaks.
Horse racing is no longer just a mans sport. As you can see it is not so uncommon these days to find women at the forefront of a horse's breeding or racing career. There is now an all-female buying group called Star Light Racing. 11 members strong, a partnership made up of only women racehorse owners, who purchase only fillies (about five per year). I took this from their website…"
StarLadies Racing is a relatively new partnership opportunity for female racing enthusiasts only, and consists of a small but diverse group of fillies. Launched in 2013, StarLadies was formed out of the passion and fondness that Laurie Wolf and some supporting partners have for Thoroughbred racing. Laurie is also a founding partner in Starlight Racing and thought it would be fun (and hopefully, rewarding!) to have a small partnership comprised of a few fillies and a few great women so that they could enjoy their enthusiasm for racing with other like-minded women.
hmmmmm…..maybe I should start one here….meet you at Woodbine?