I am not sure what the movie A Star is Born and a Hallowe'en celebration have in common…but who cares we are going with it.
My friends and I went to the movies on Sunday, late afternoon. We ordered our VIP seats and settled in with our popcorn and wine. We were excited to see A Star is Born with Lady Gaga and Bradly Cooper I highly recommend it. All I can say is O-M-G!!
Fact-it took 3 years to make this movie.
Fact-Bradley Cooper does all his own singing.
Fact-Bradley Cooper is SO hot!
Fact – tissue required…..Lots and lots!!!
After the movie we headed over to my house which happened to be decorated for Hallowe'en for the kids. I didn't want to go to all the work of removing the décor just because my gf's were coming for dinner…so I just rolled with it. Hence a girls night out at the movies meets Hallowe'en!
Boo Ya!, I love Halloween! I hate to be scared and refuse to watch scarey movies…but admittedly I love the memories of being a kid and going trick or treating. My brothers all played football when I was young…so their uniform was always my go-to Halloween costume. so I feel like my association with this holiday is purely based on that! Regardless of why you like it, it's always fun to play around with a little Halloween decor and enjoy it!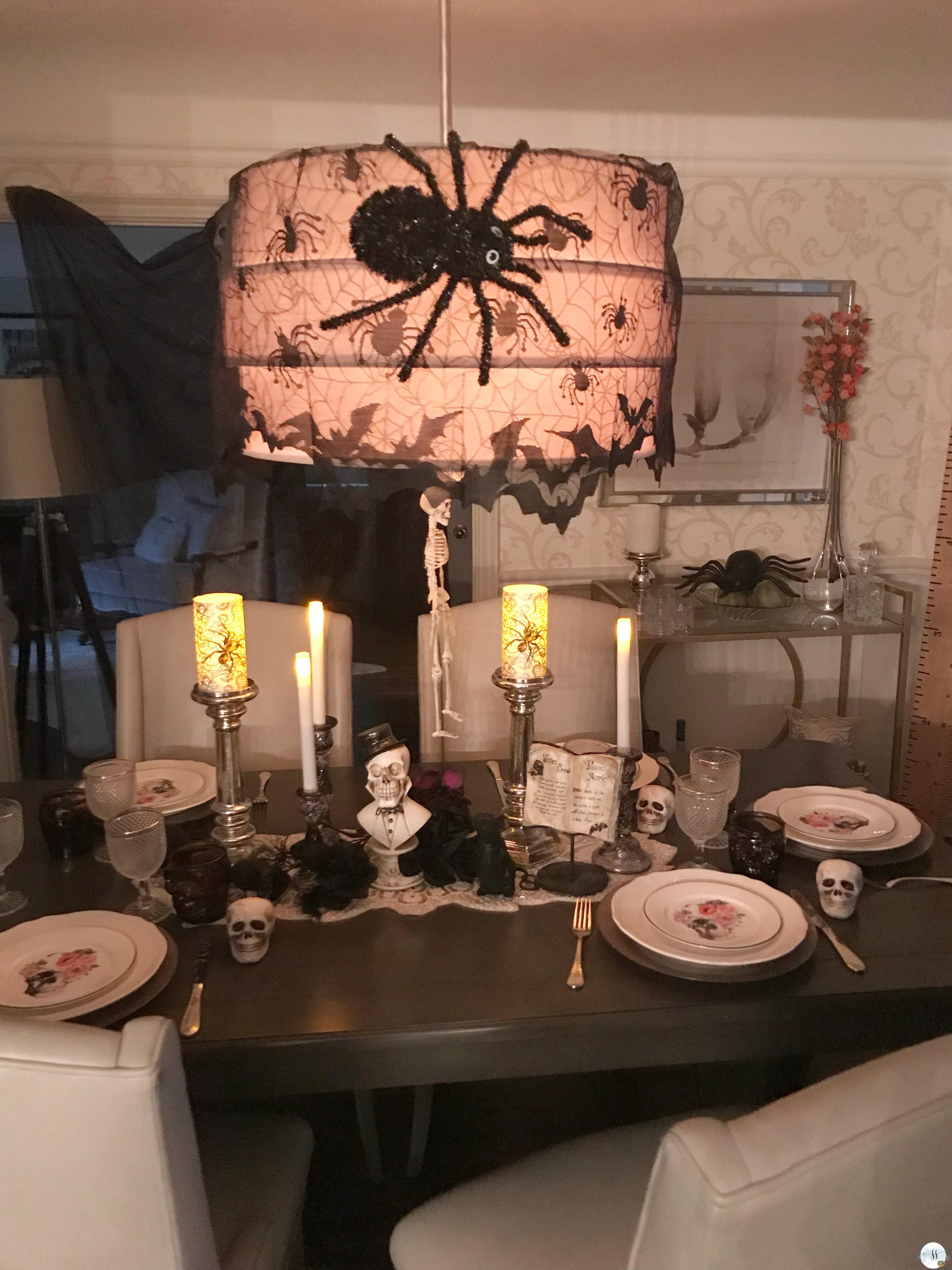 Last year's table décor was all spiders and skulls…I do have a lot of Hallowe'en decor. So this year even though I wanted to utilize what I already had, I did want to change up the theme a bit.  You can see last years decor HERE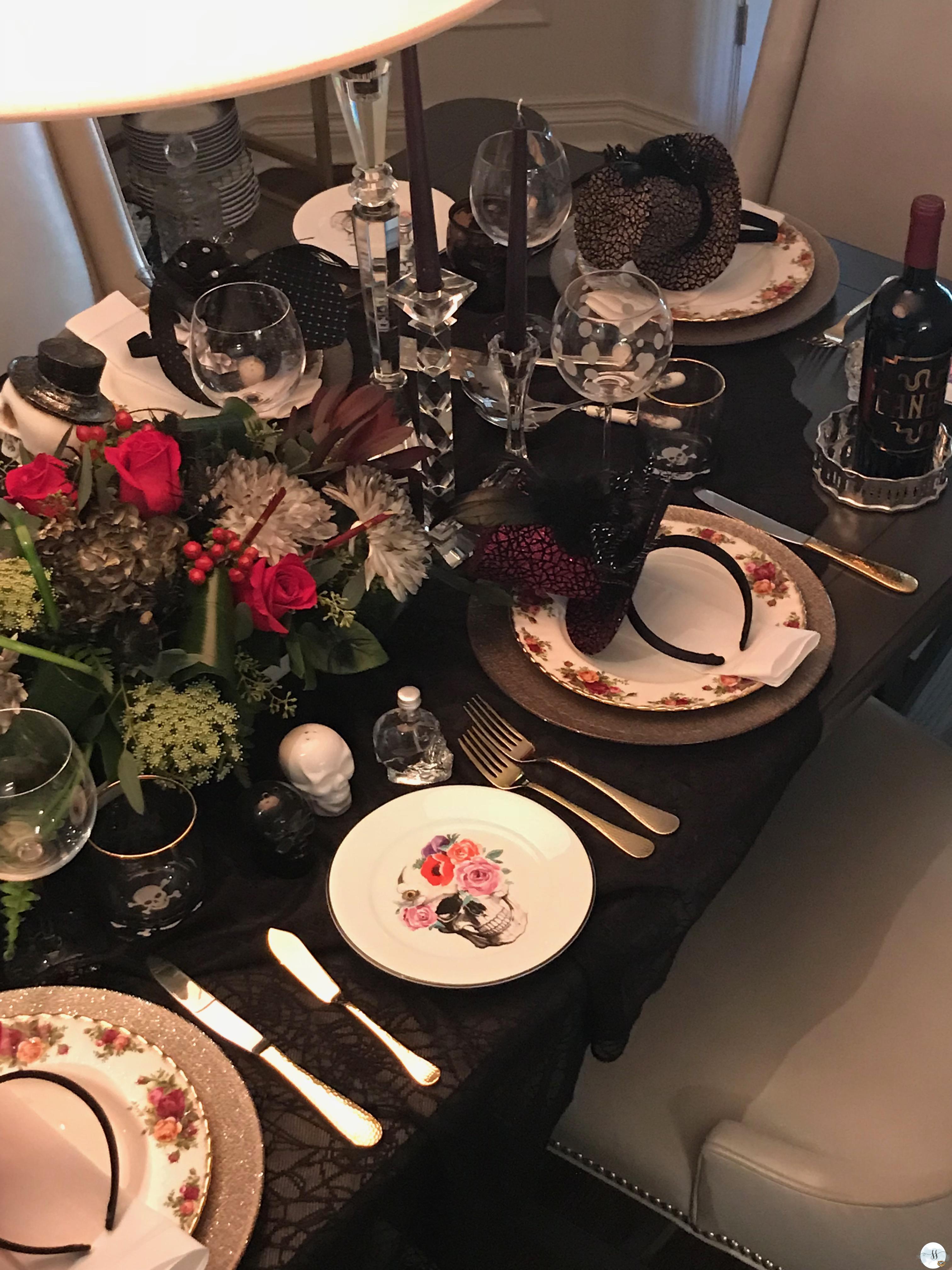 I thought a  'gothic' theme would be perfect. I was able to 'shop my own home' and came up with lots of stuff to re-use.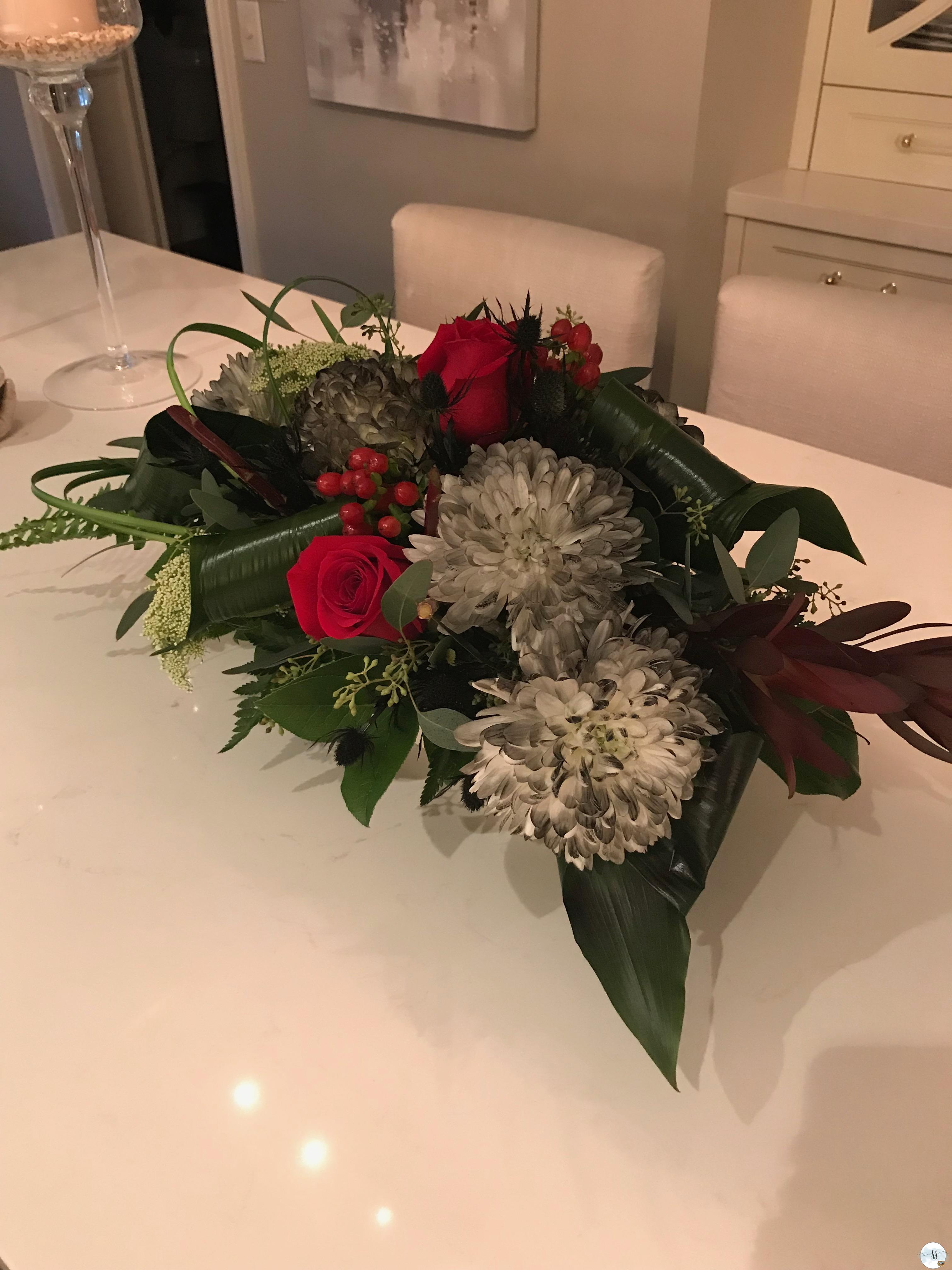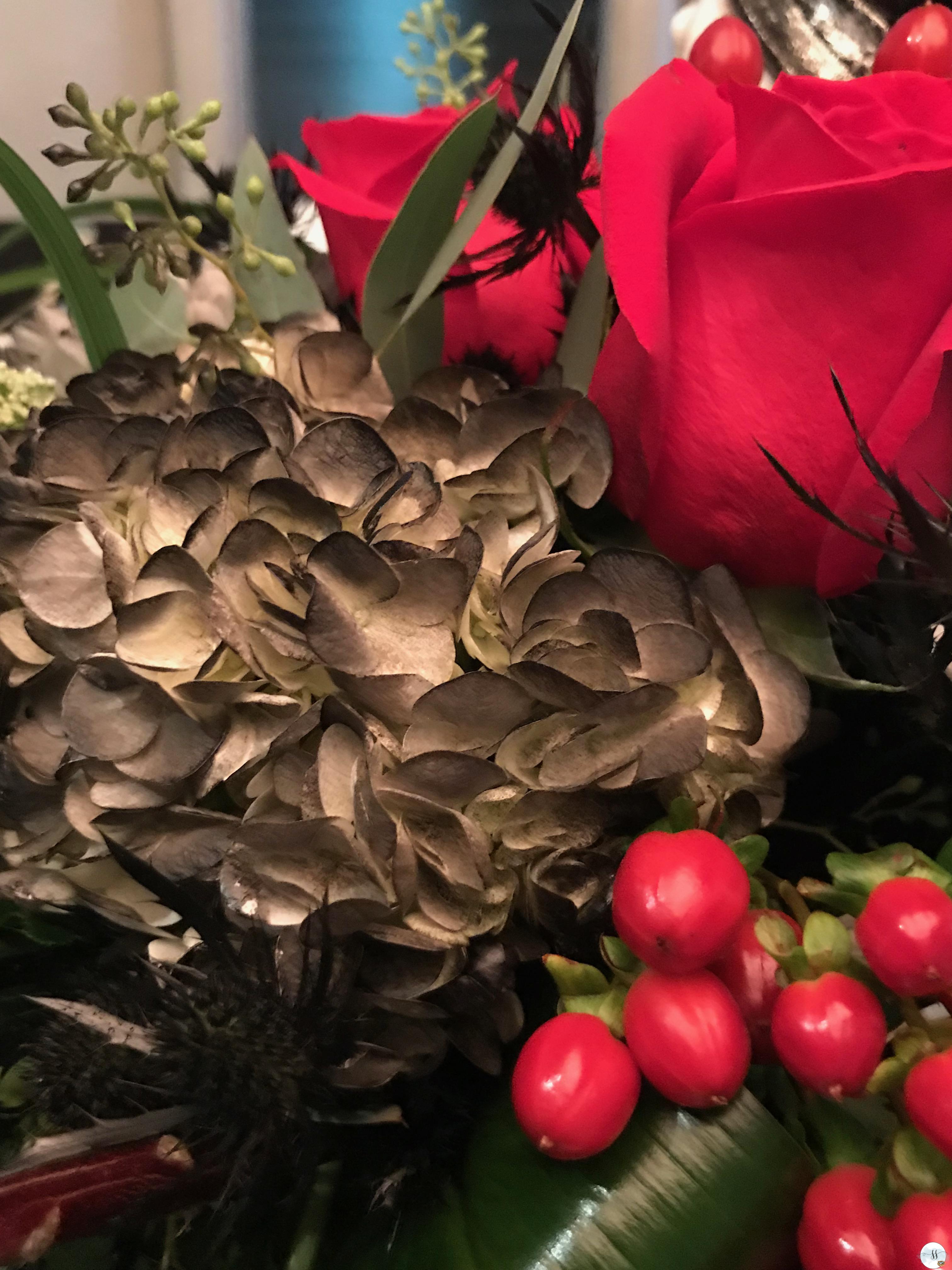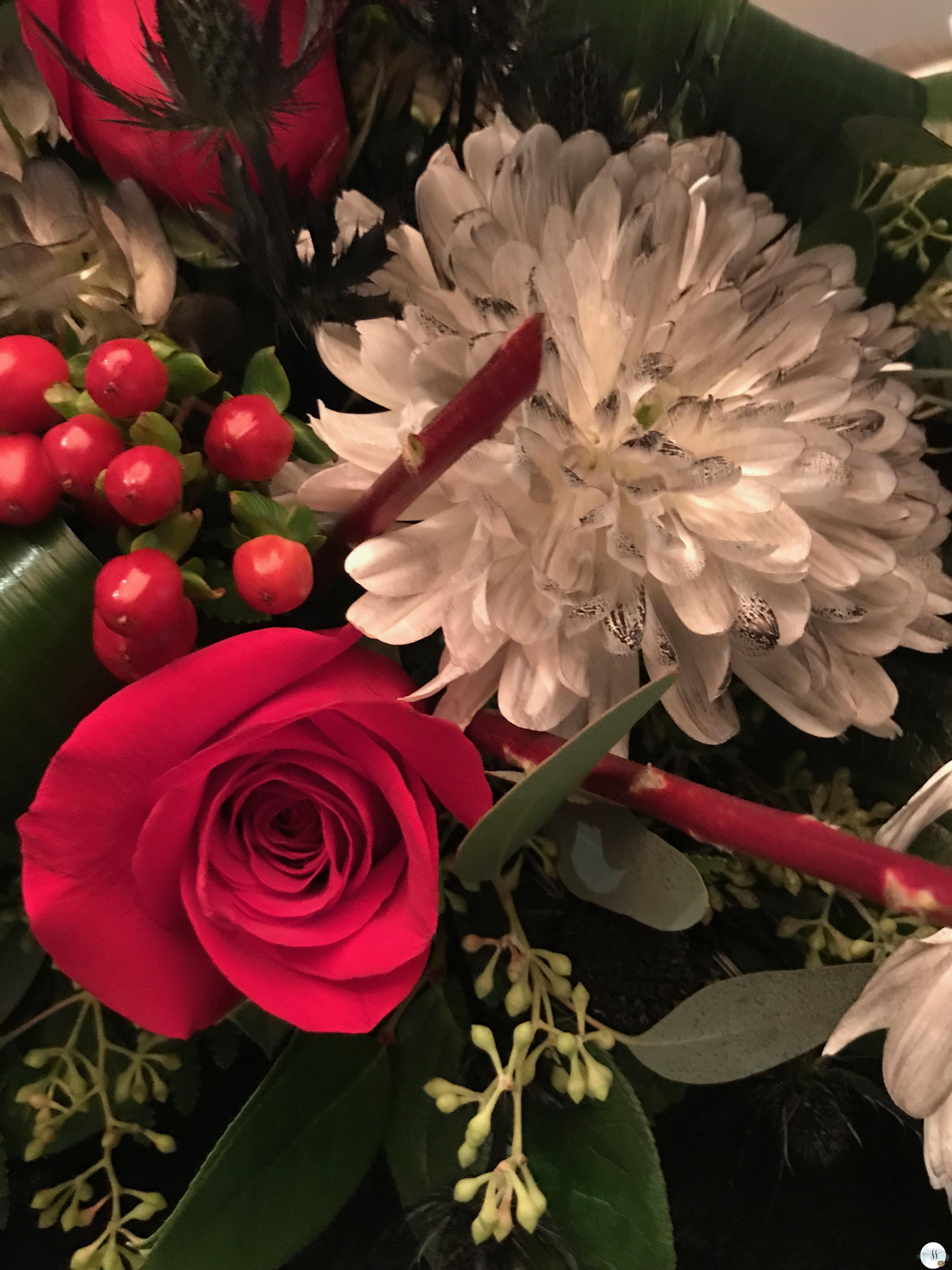 A stunning floral centrepiece created by Brant Florist was the first thing to be ordered. I specifically requested black, red and some purple to go with the dishes I had on hand. I think they did an excellent job. They never let me down…they are very creative over there 🙂 Brant Florist also did these beautiful arrangements for a past Asian themed shower I did. If you missed it you can read about it HERE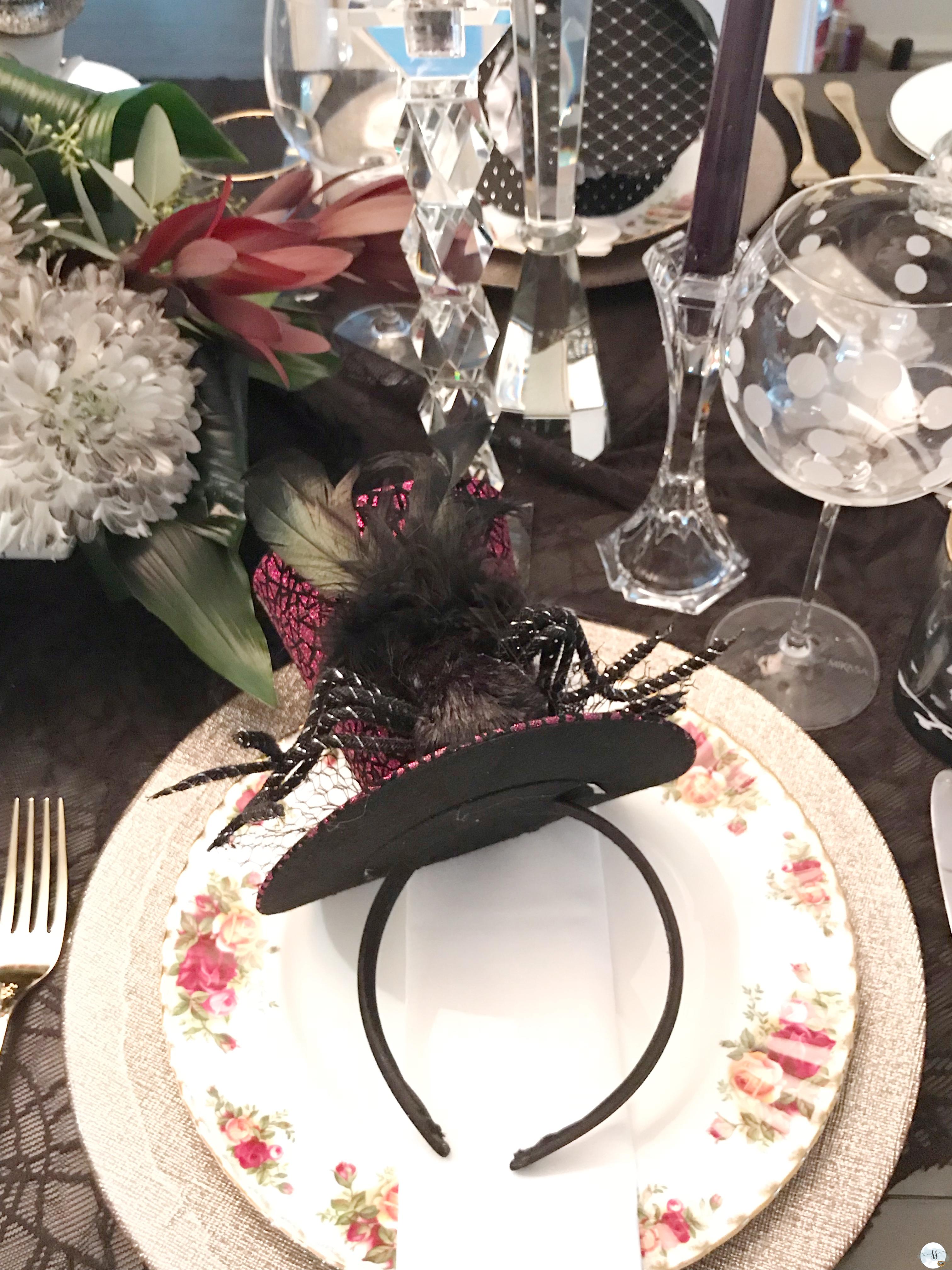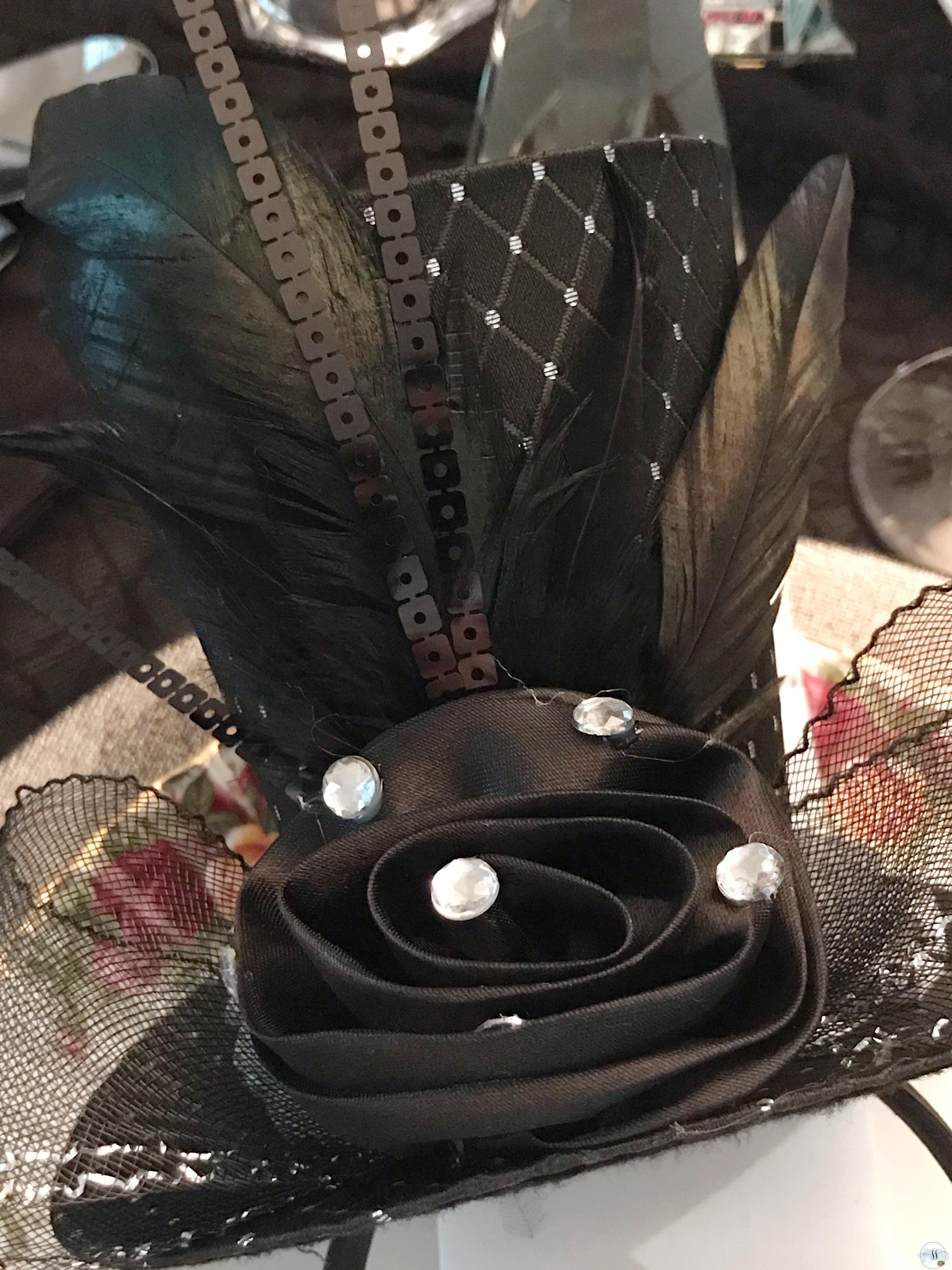 To help everyone get into the spirit I purchased headbands for everyone. These were on sale for half price at Michaels. You can see all of us wearing our hats at the bottom of the post.
Gothic or not….I like to incorporate a bit of bling in most of what I do…ya know? So I started each place setting with my sparkly chargers.  I kept the meal very simple since we were coming right from the movies. Lasagna that could be popped into the oven to be heated and a Ceaser salad that only needed to be dressed. Only one large plate was needed for the meal and I used these small side plates from last year for bread. *Note the miniature Crystal Head Vodkas. Impulse purchase at LCBO. I thought it would be cute to have one at every setting.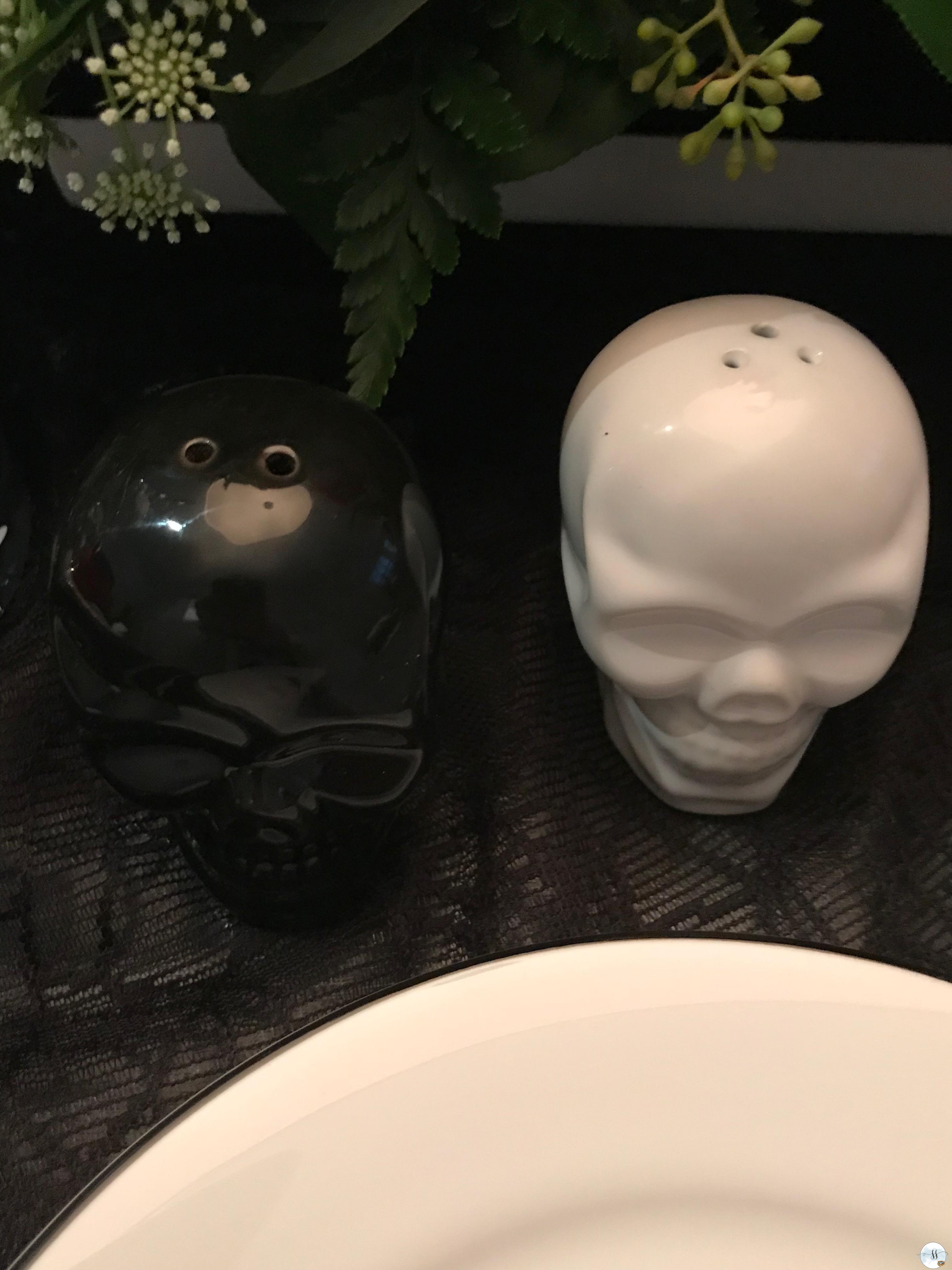 I bought these S&P shakers last year in Florida on a clearance rack at Home Goods. Great little steal.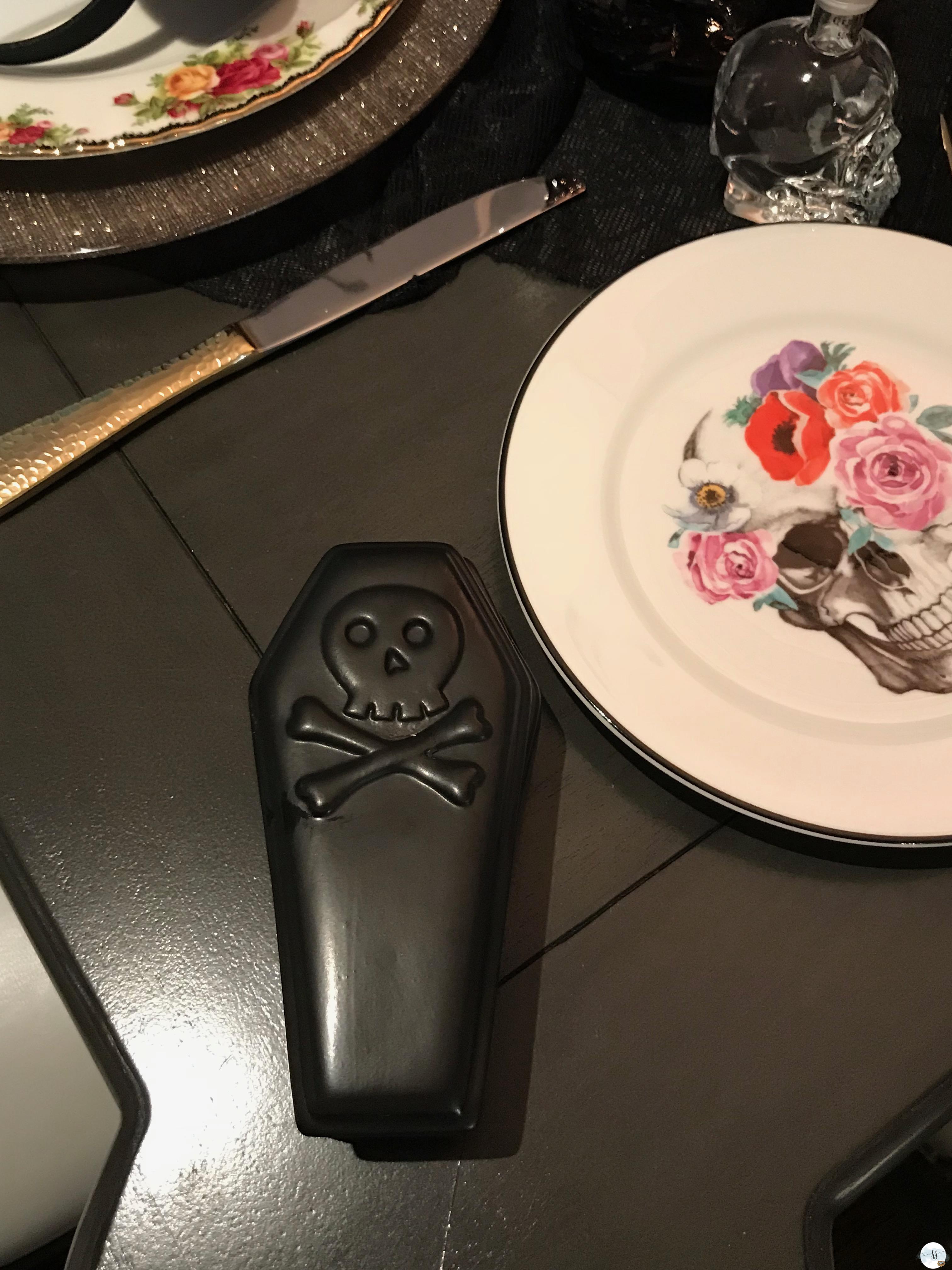 This little coffin came from Michaels Craft Store.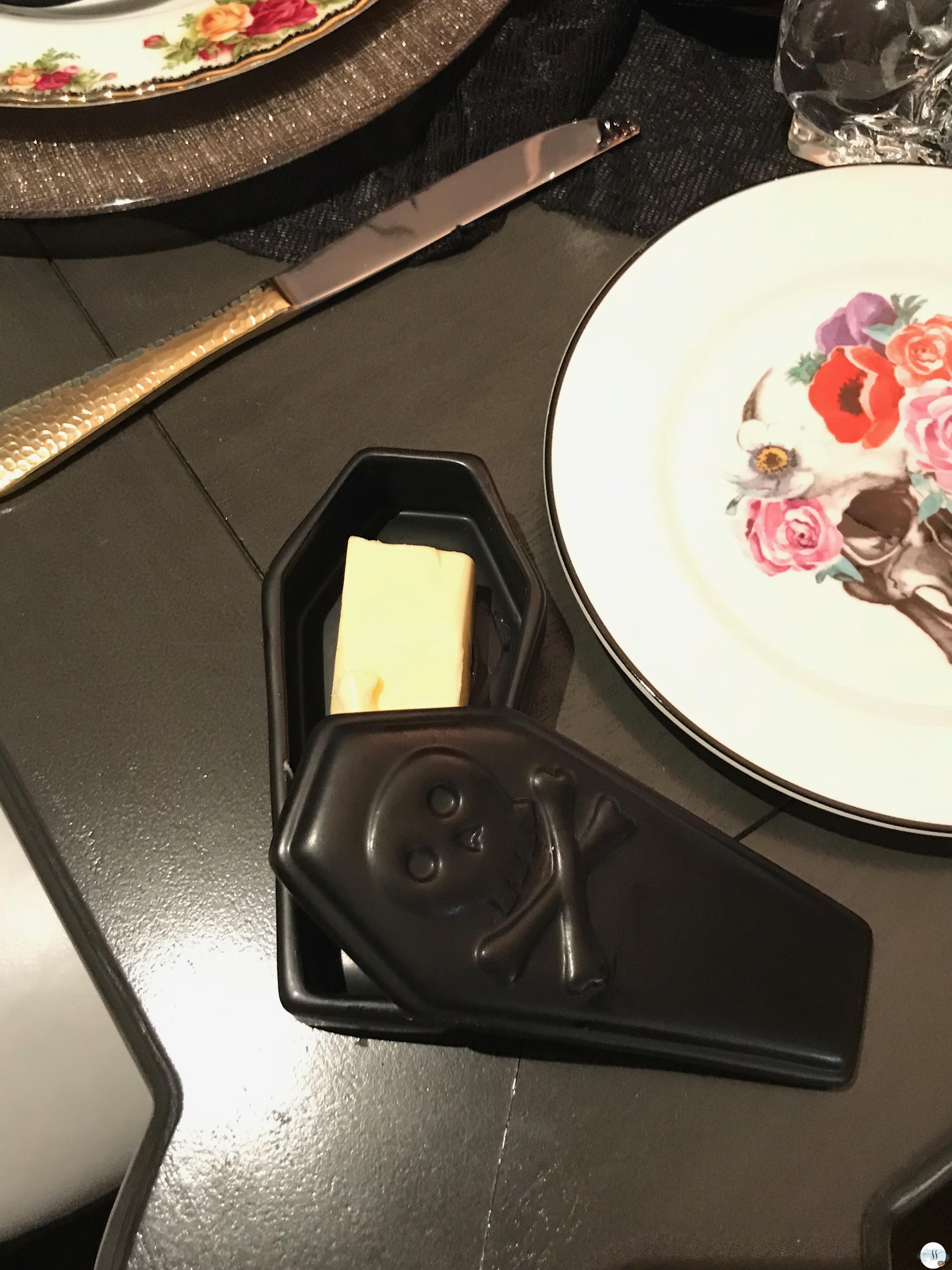 …and I turned it into a butter dish. 🙂 Watch for another mini post soon to see what else I do with this little dish.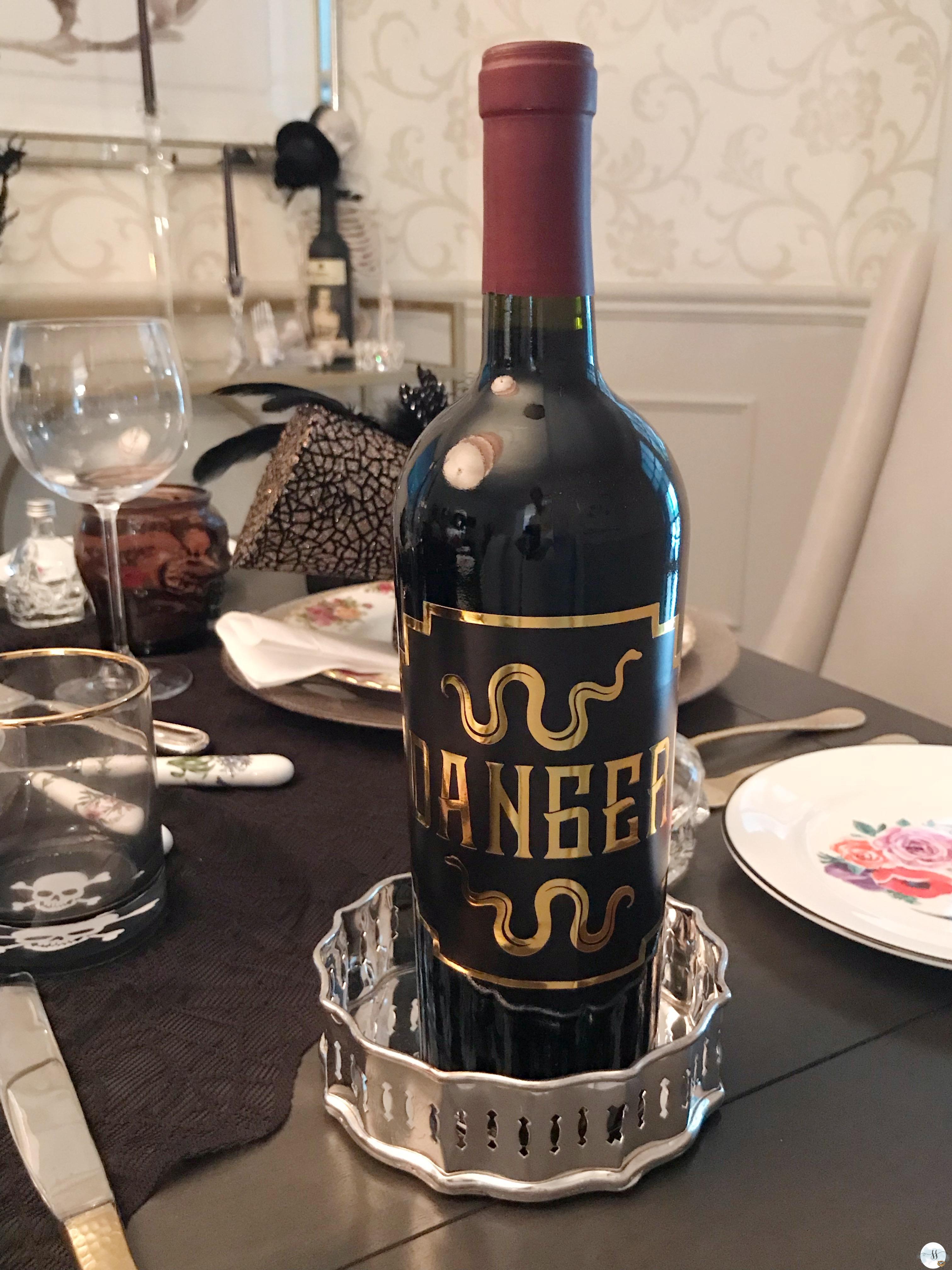 This is a bottle of J Lohr…incognito. I bought these stickers from Michaels. They had some great stuff this year!! This is from Martha Stewarts line. It's all these little things…that don't cost a ton of money that makes for a fun table.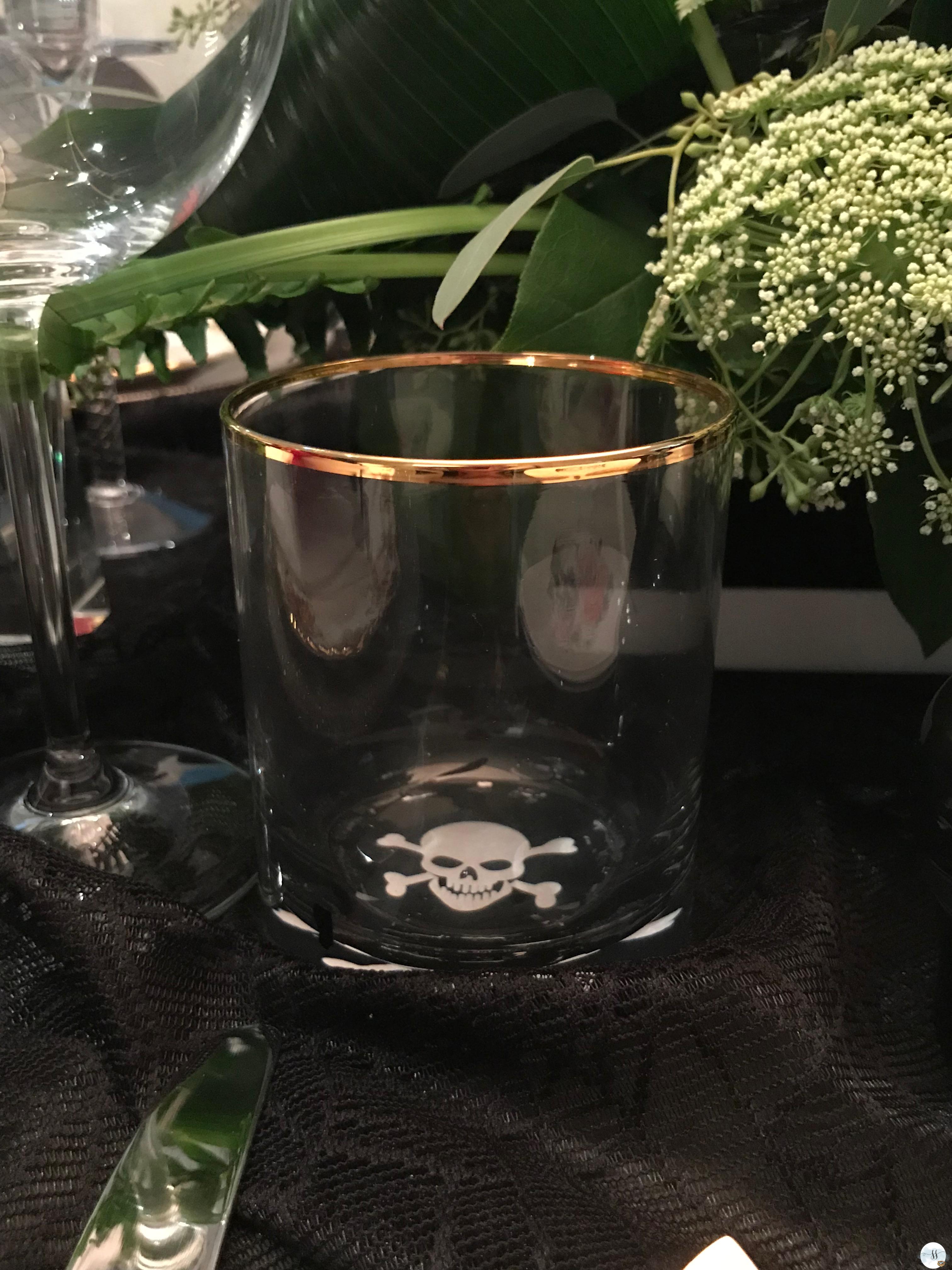 These skeleton glasses are from last year as well. This will likely be the last time they get used as the bottom is peeling off even with being hand-washed. I hope I didn't pay a ton for these…I hate that!!!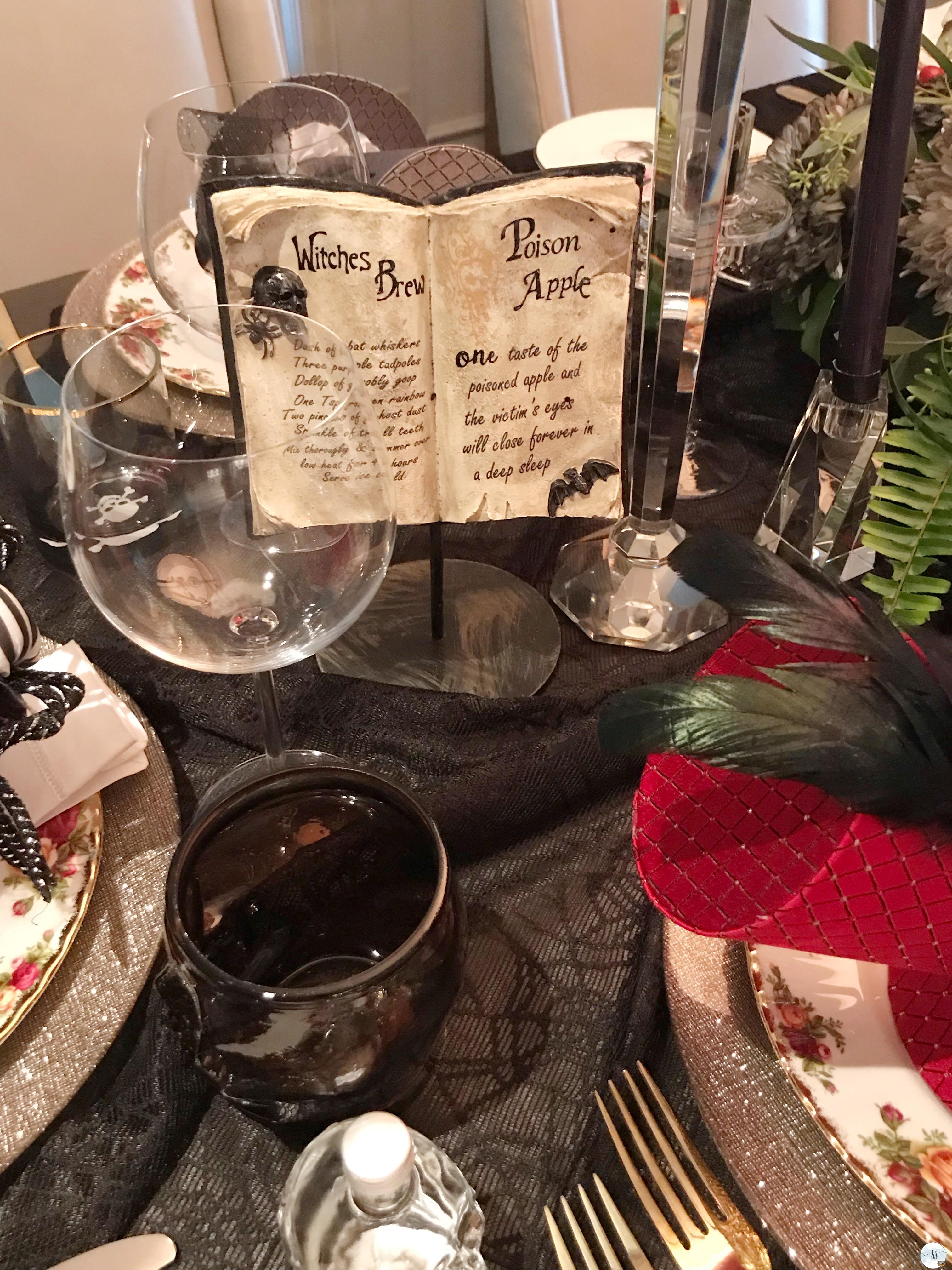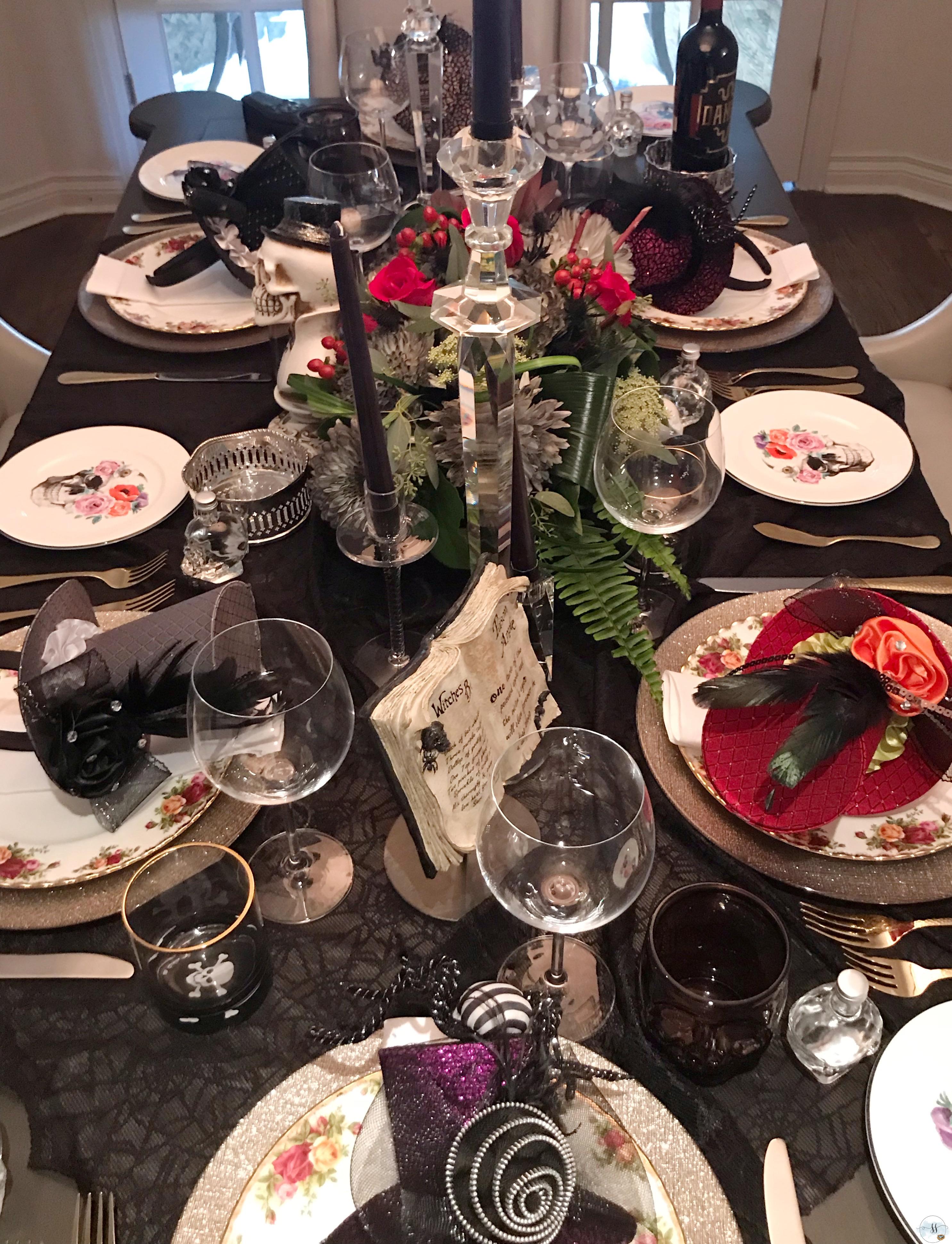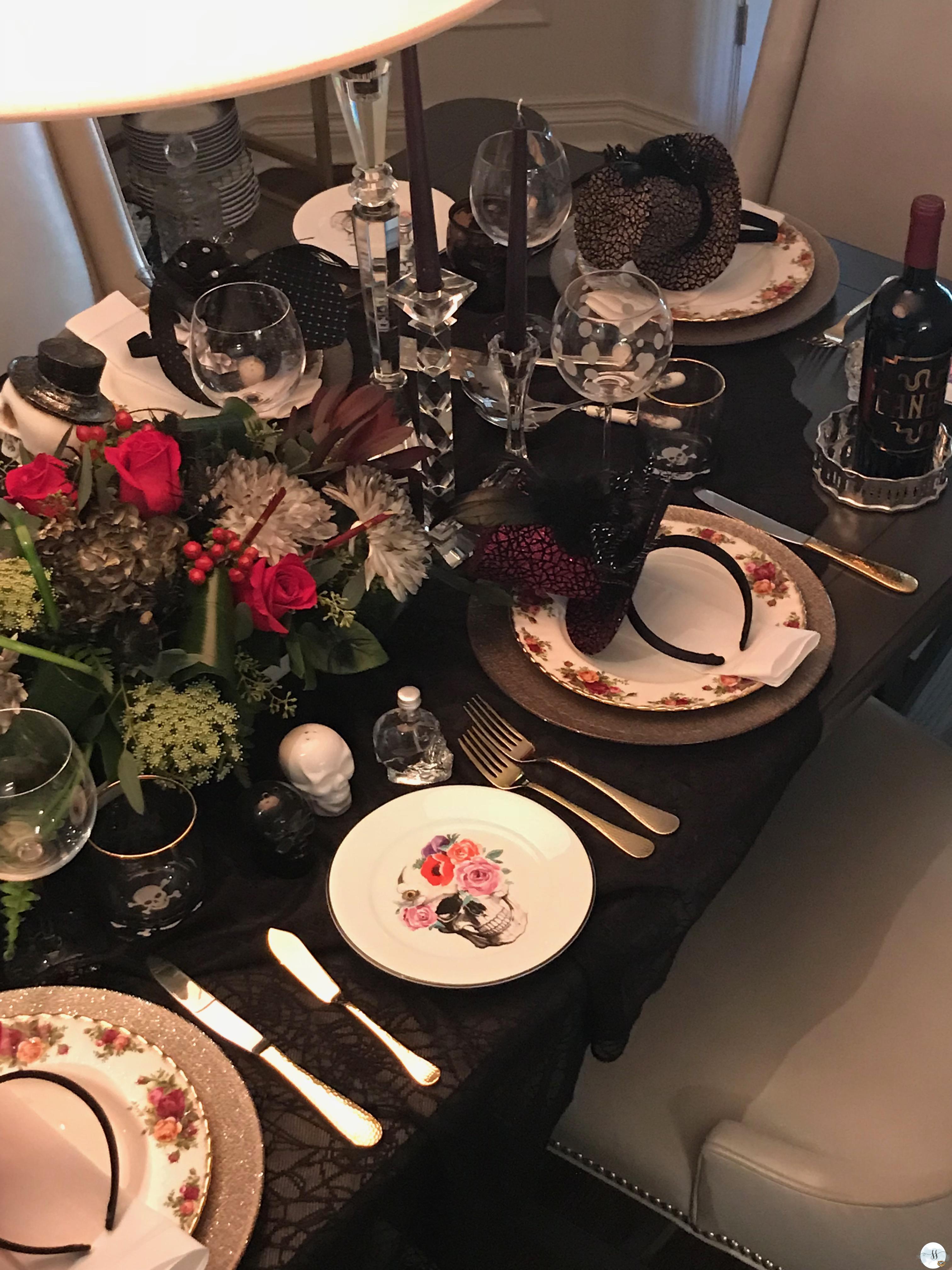 Ok…enough table shots…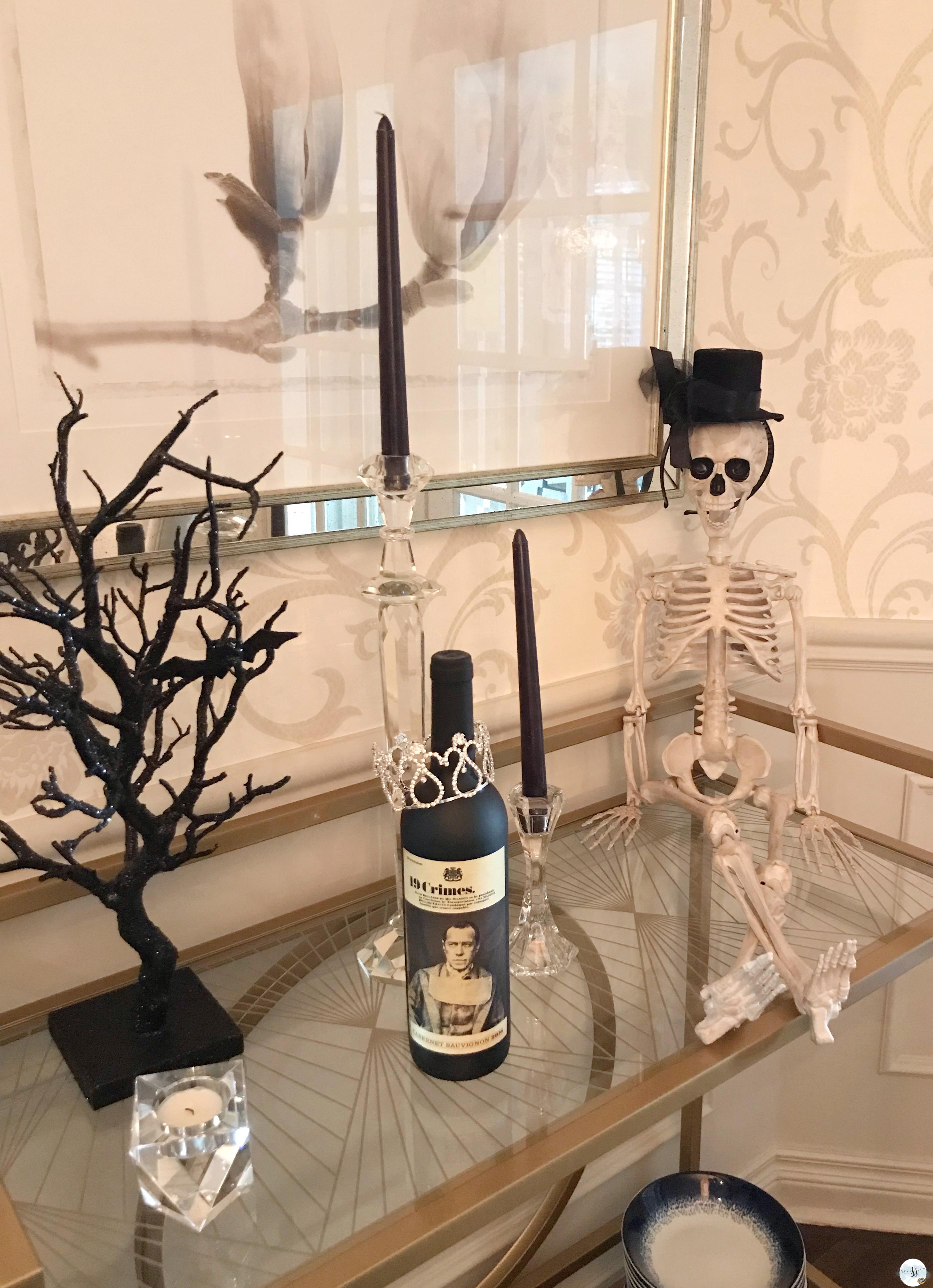 Here is the keeper of the wine. He was here last year as well. Have you seen this wine…19 Crimes? Talking wine bottles bring the dead back to life! Check it out…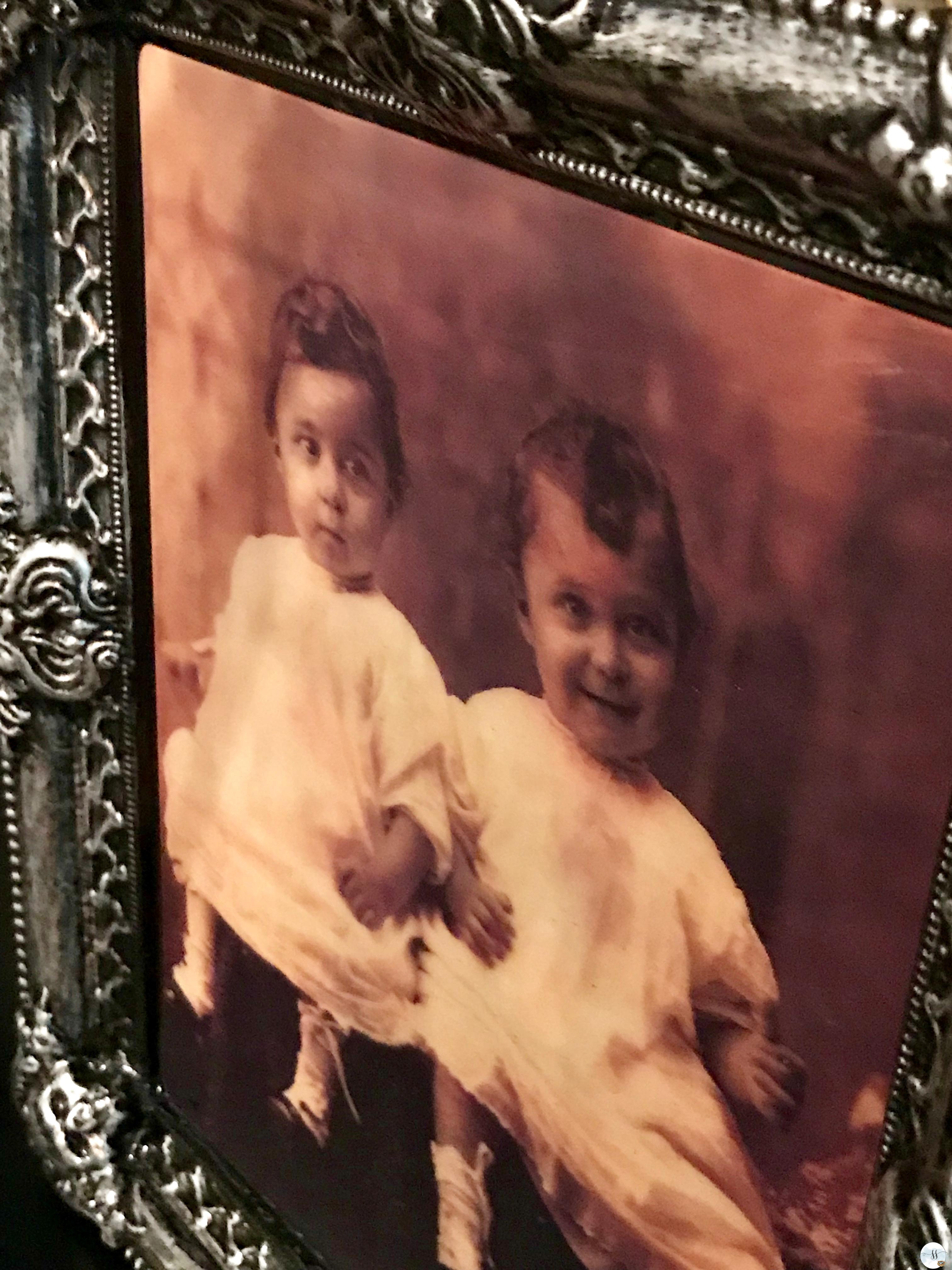 Janet, one of my guests asked me who these children were.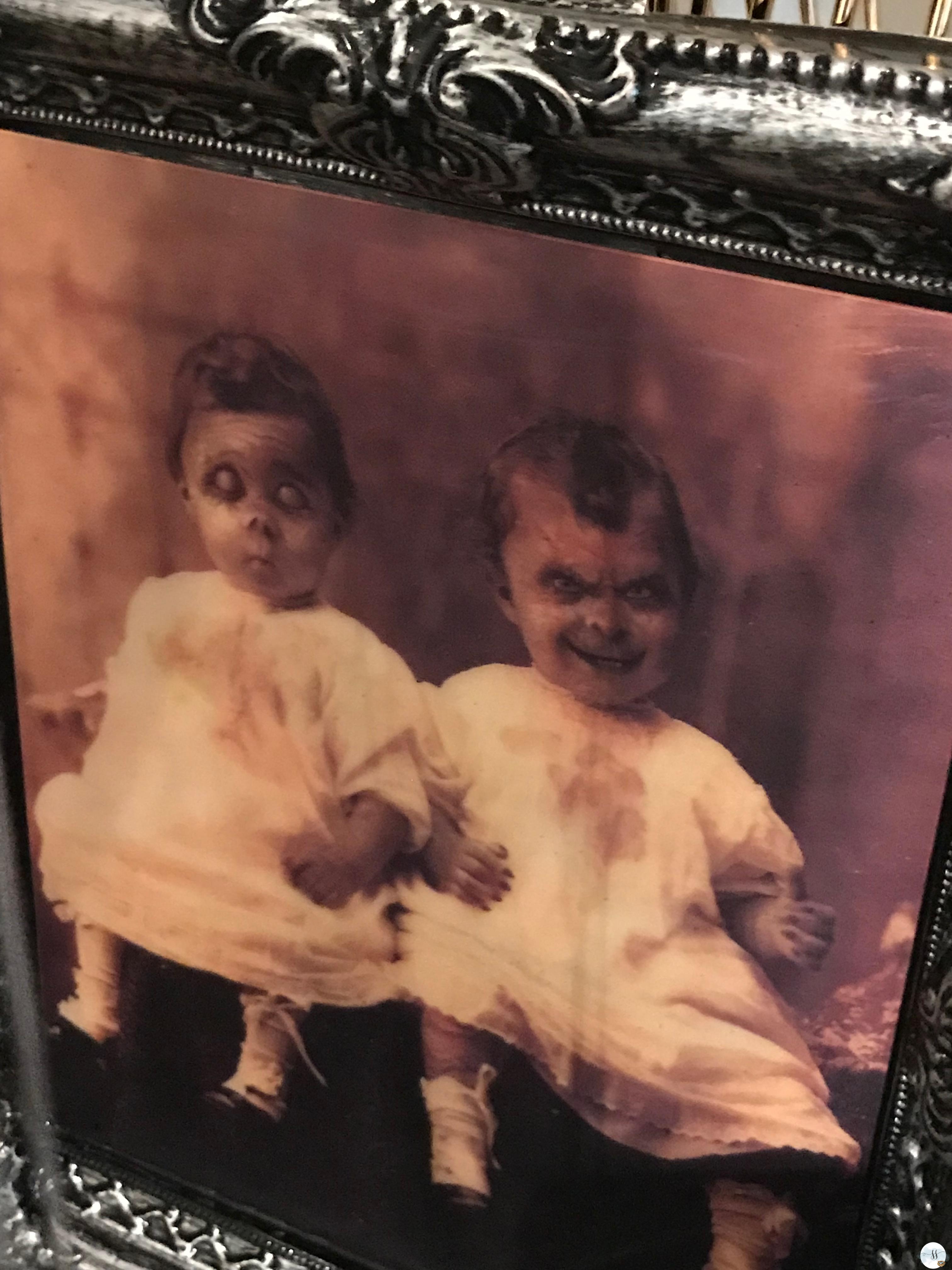 Savannah and Lilah having a bad day!! LOL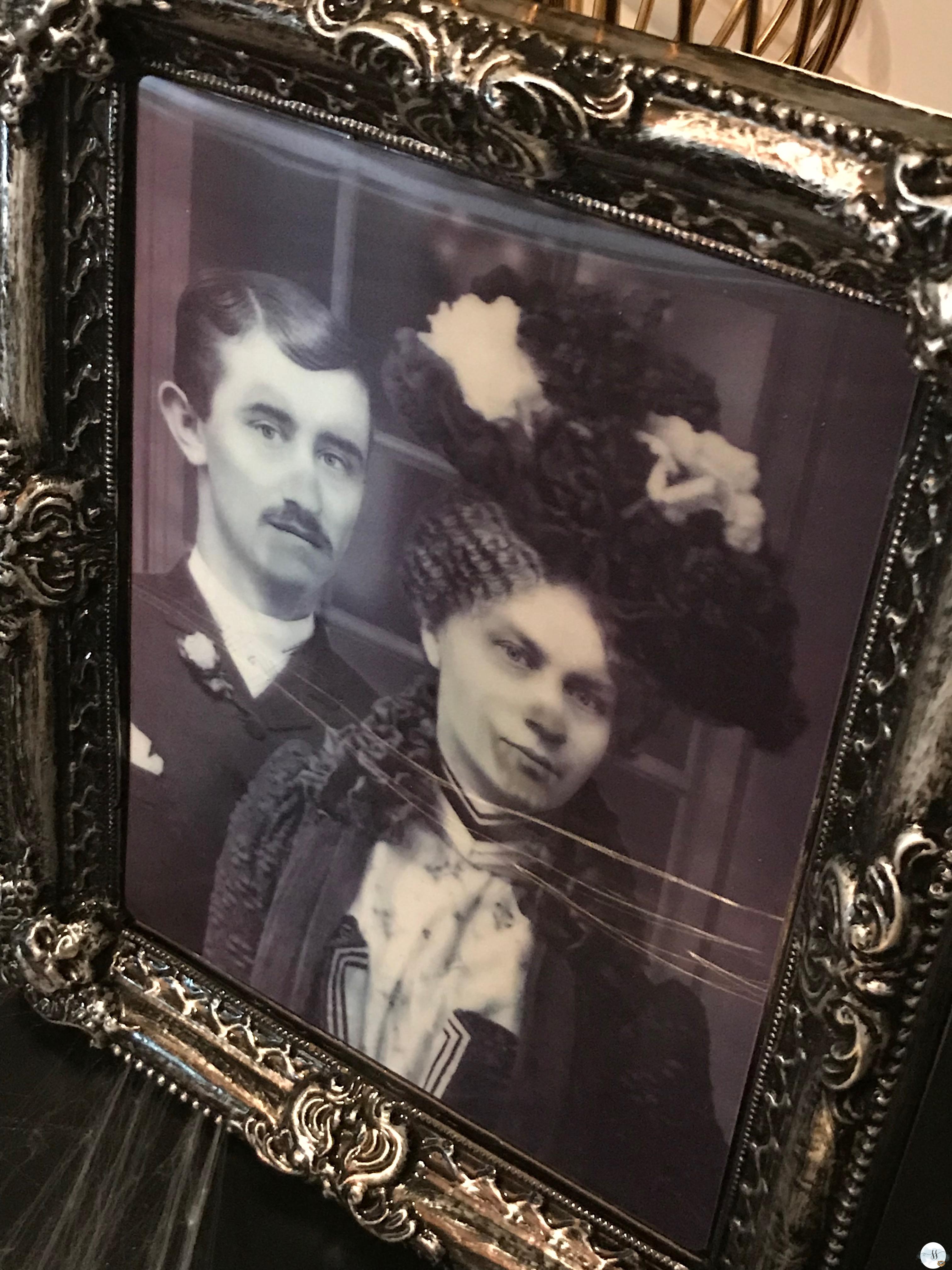 Meet my folks!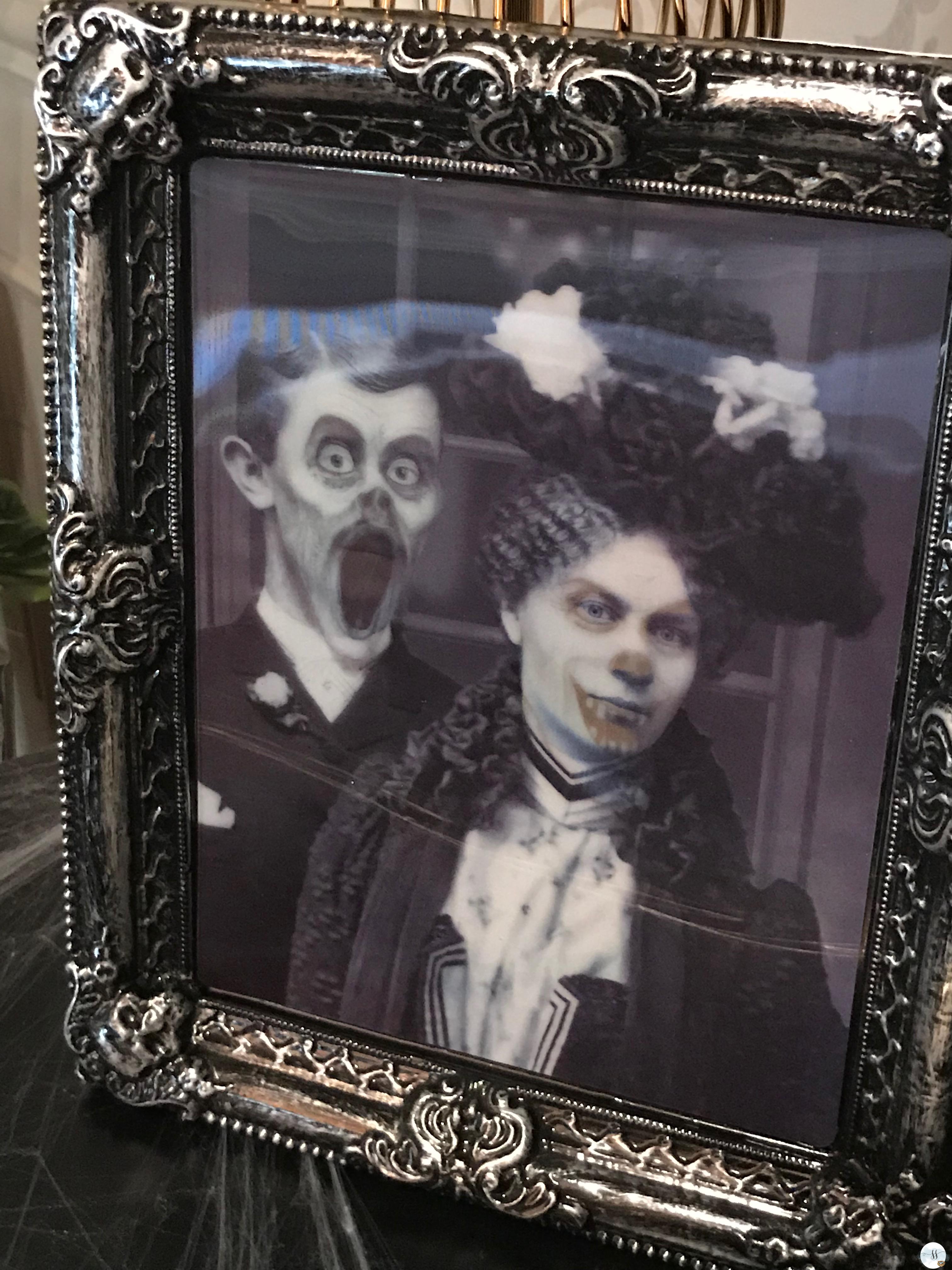 A typical reaction when I stayed out too late as a teenager!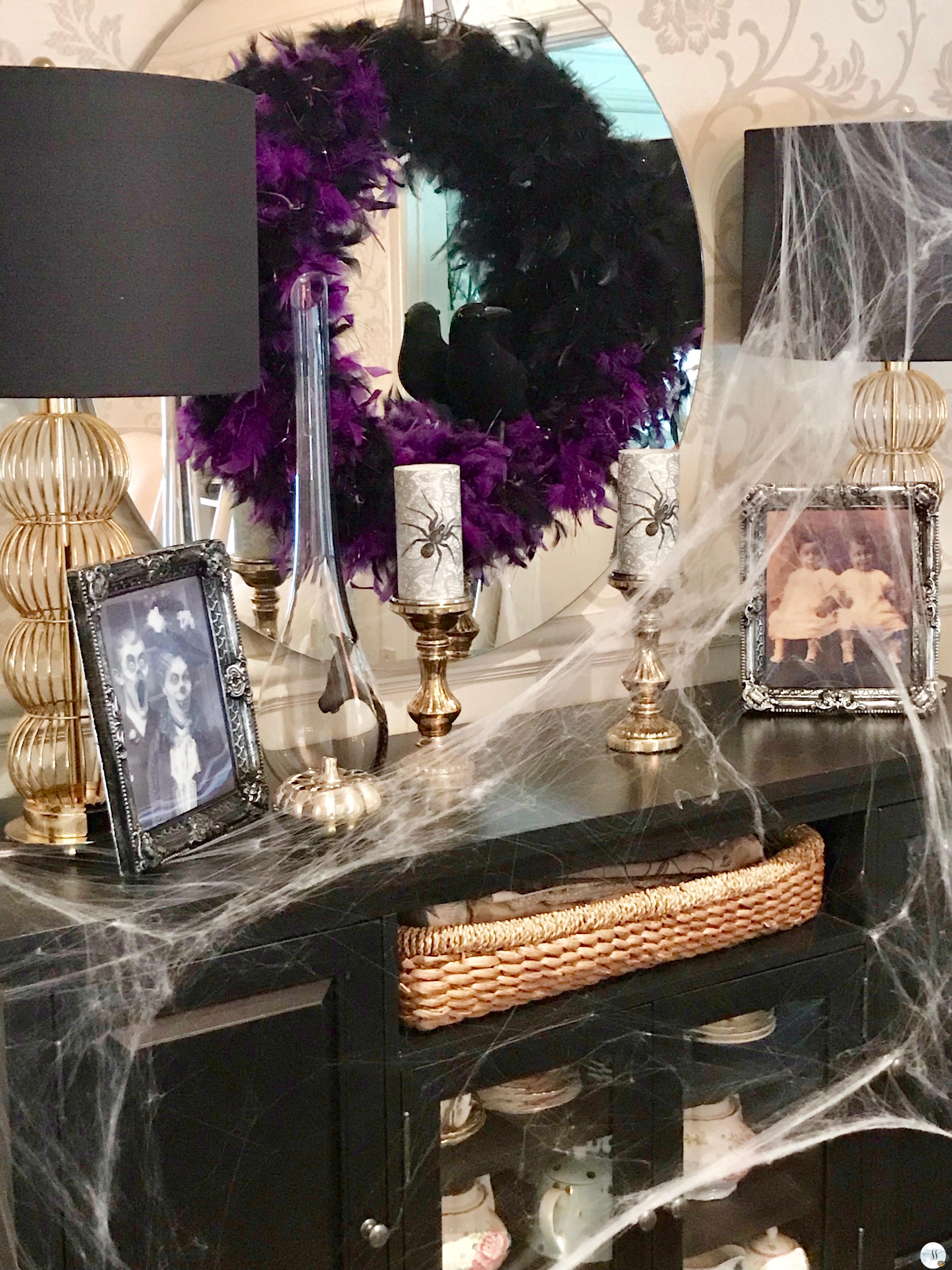 Webs make everything creepier. Last year I had huge spiders tangled up in all the webs….this year I toned it all down a notch. The wreath is an old vine wreath I had in the basement. I bought a few feathered boas and wrapped them around it. I got the idea from my Valentines DIY project (HERE).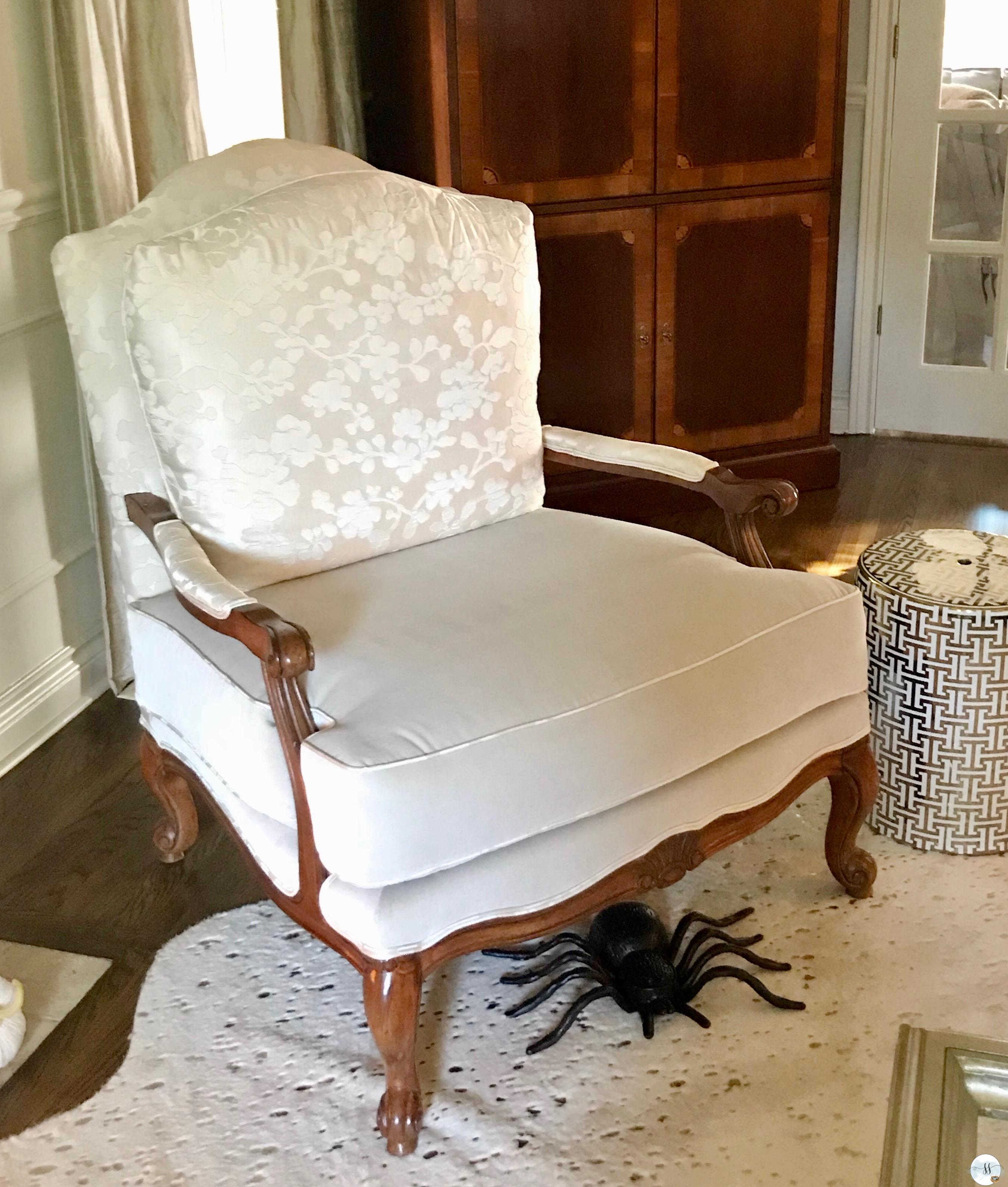 It wasn't until later in the evening that one of the ladies noticed this little guy under the chair. What is Hallowe'en without a scary little critter crawling around? I am thinking of painting out the wood on these chairs. I know, I know…some people think it is crazy to paint wood…I am not one of them. I'll paint anything.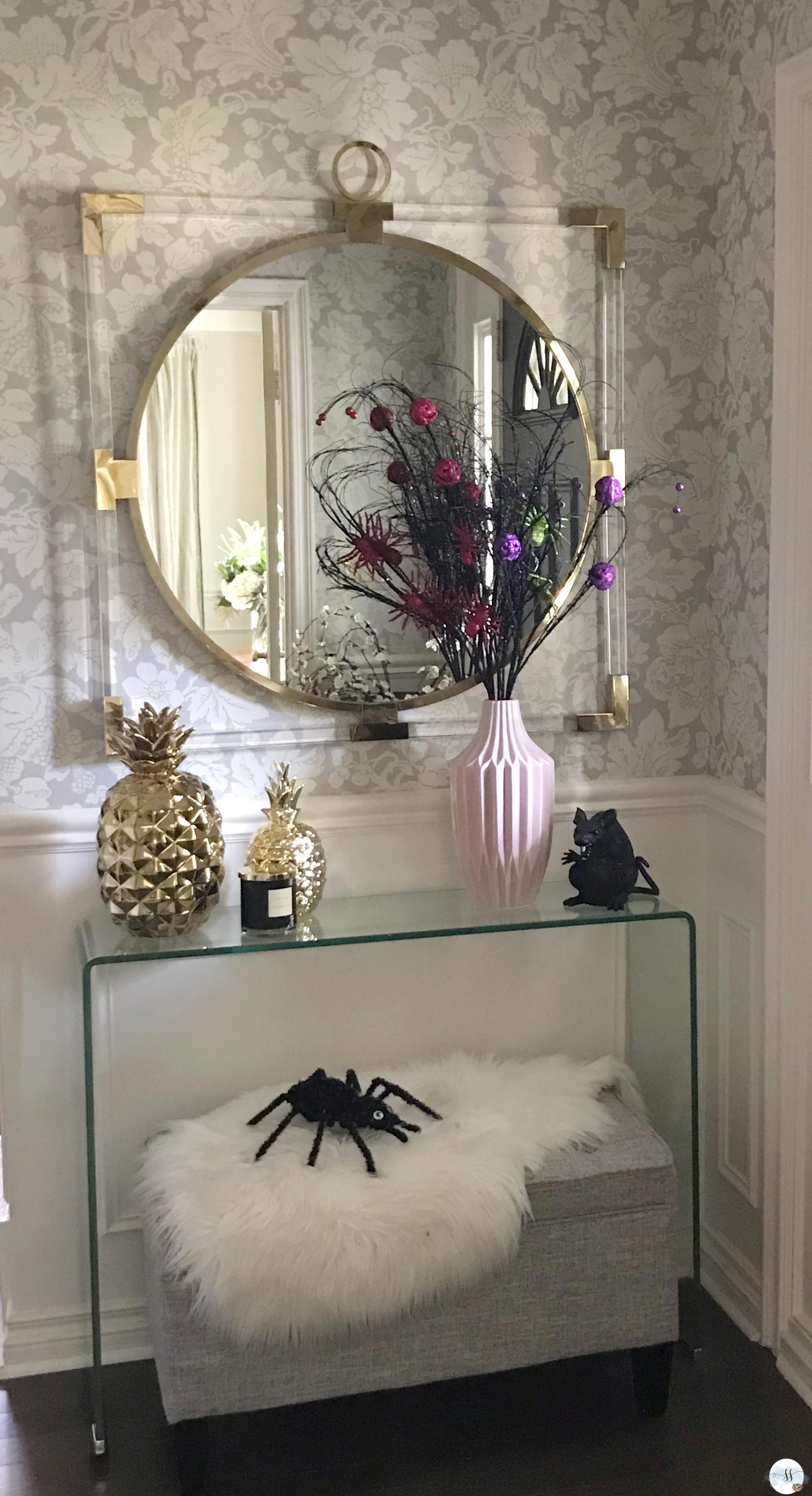 I didn't go too crazy with the decor around the house this year. Last year I went a bit bigger because it was Savannah's request to have a Hallowe'en/birthday party.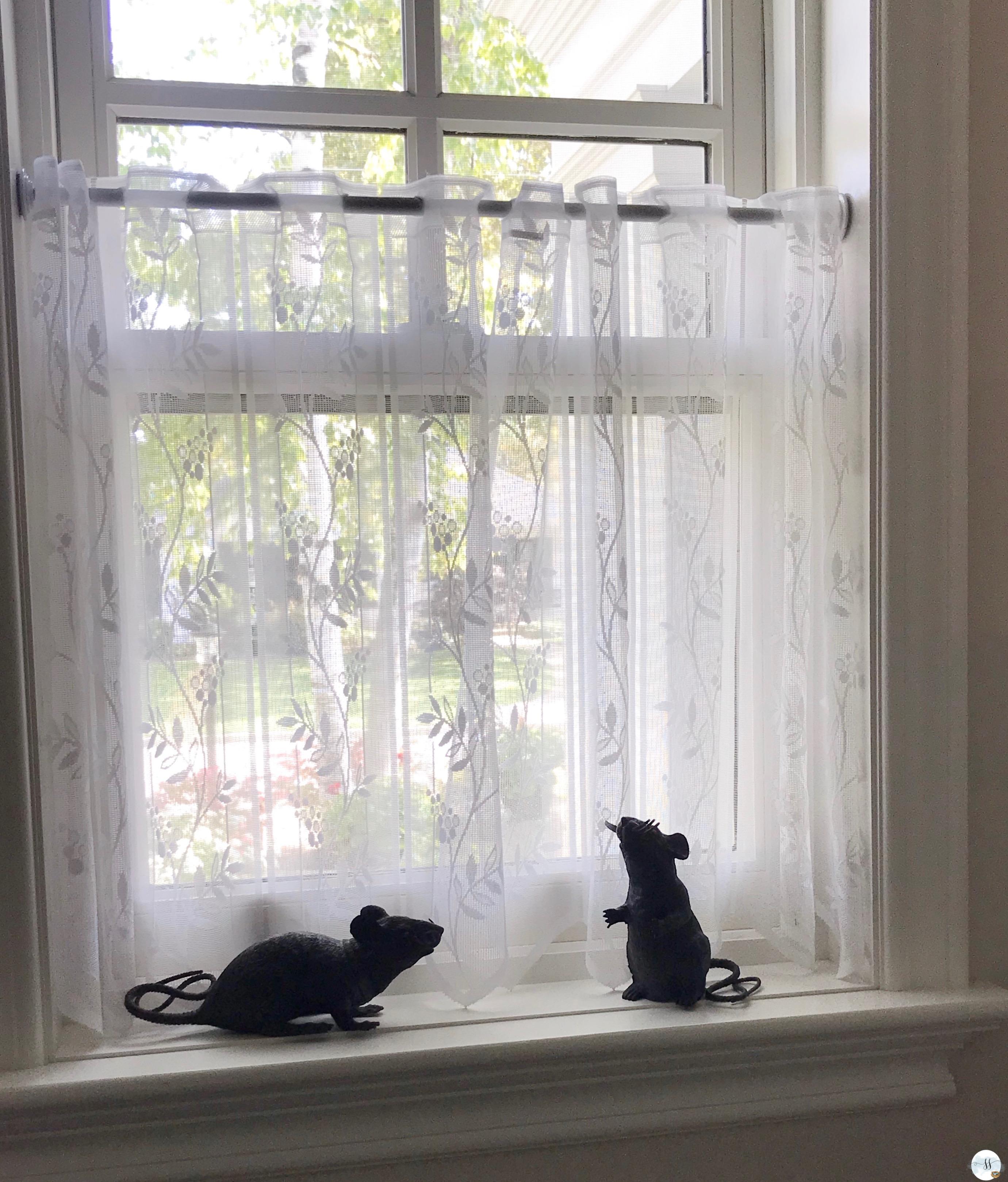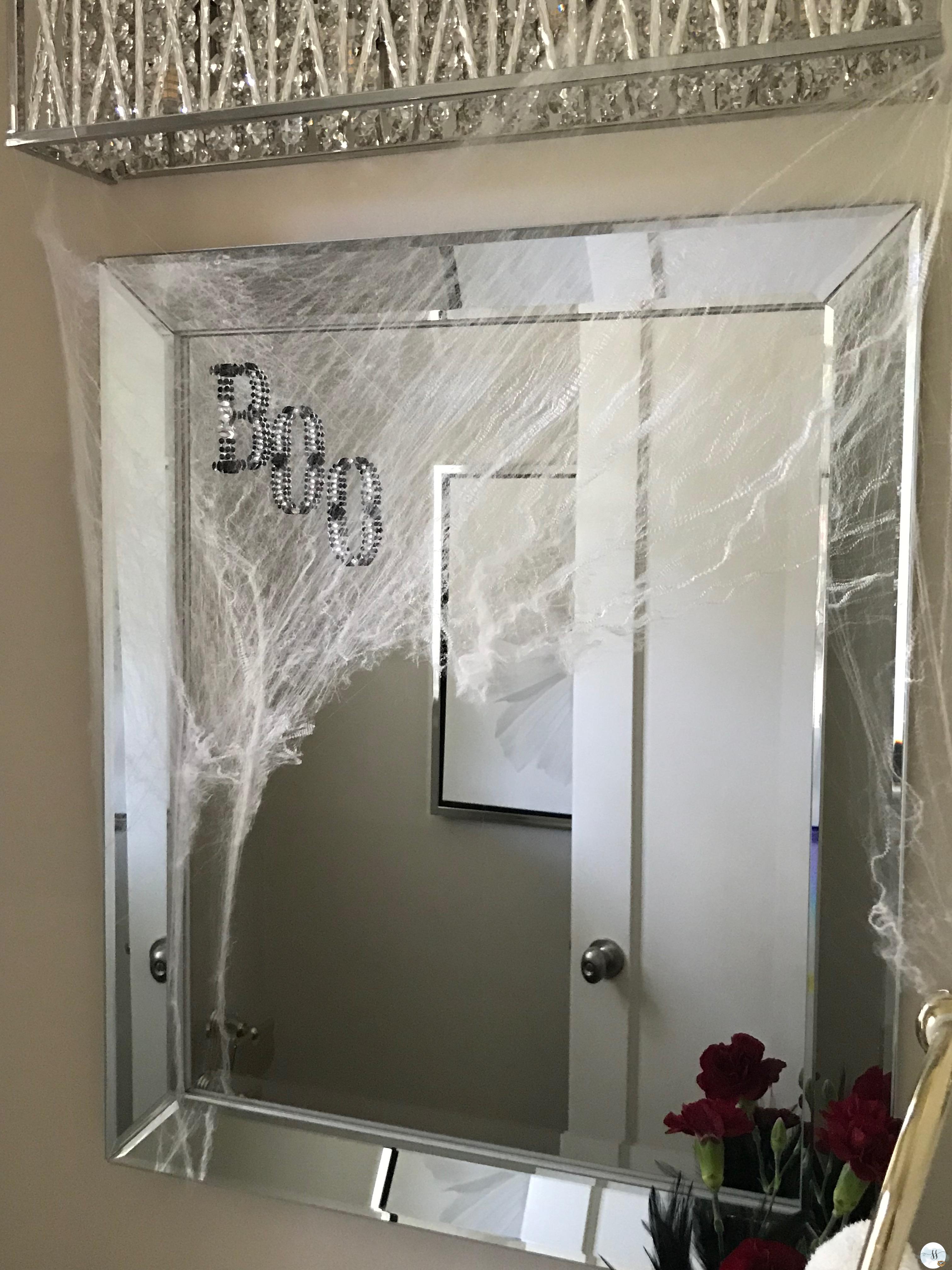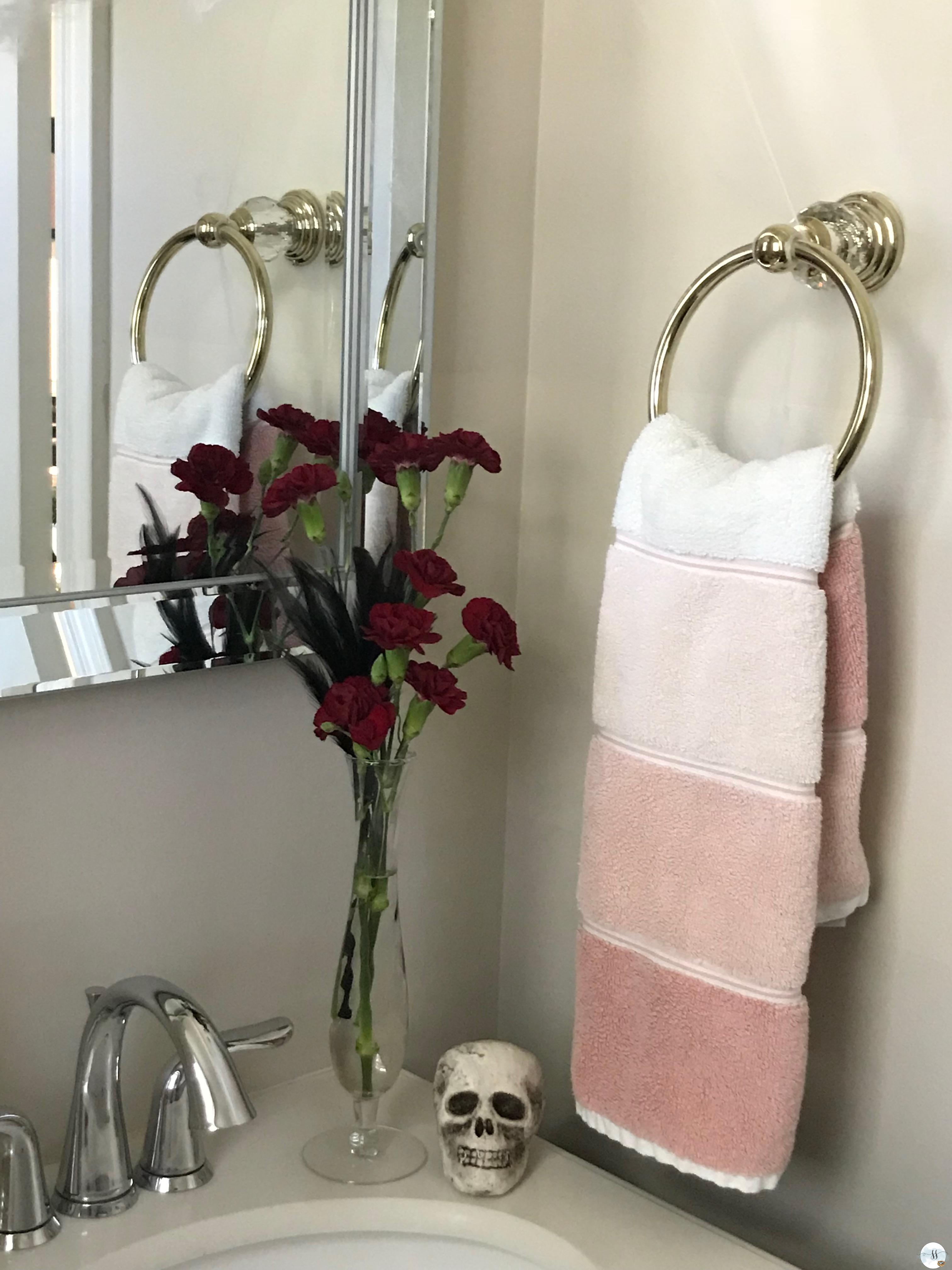 A spooktacular bathroom. (sorry, couldn't resist) I bought some red carnations and added black feathers to give them a bit of a gothic look.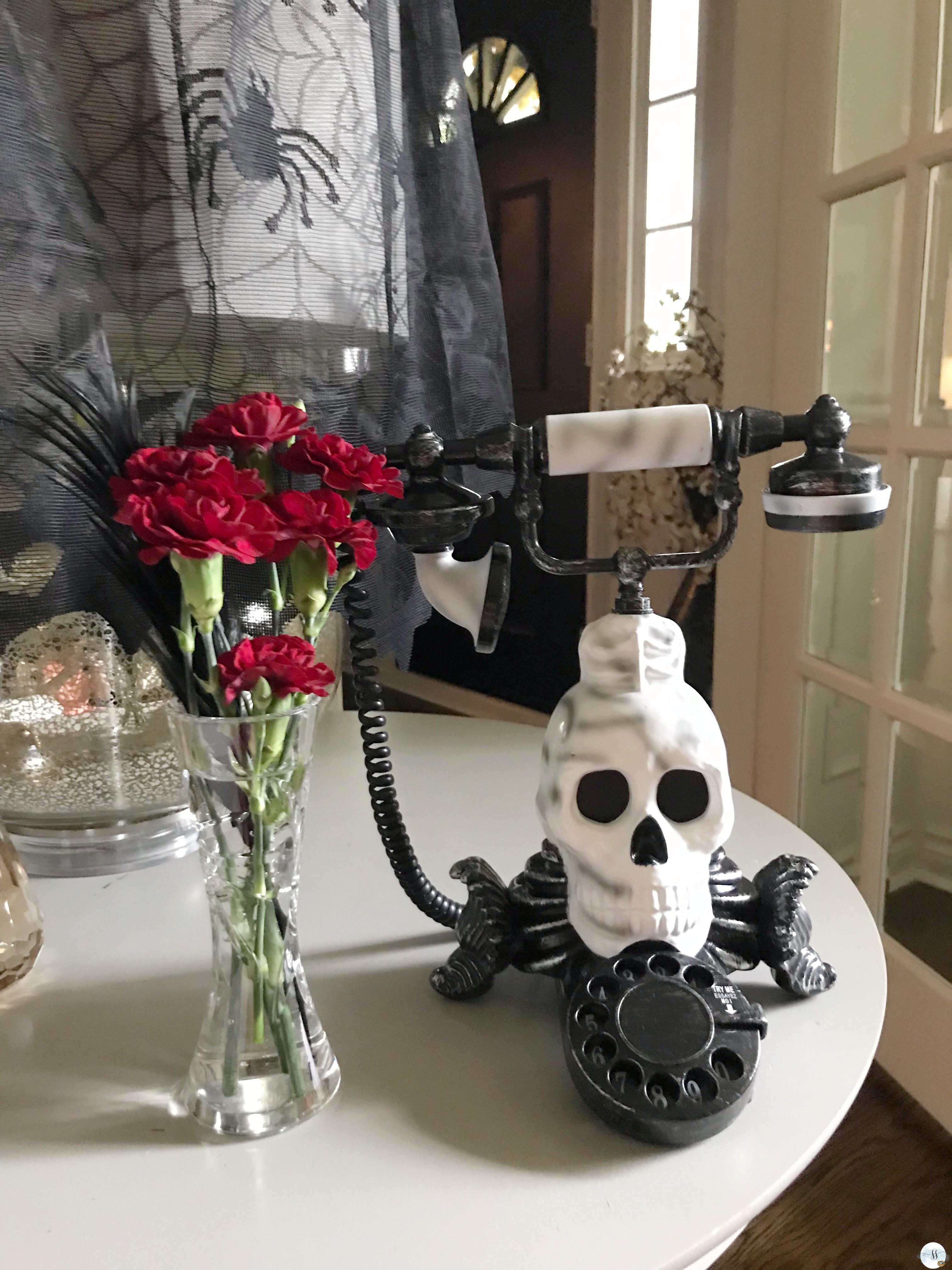 Hahaha…this phone!! It gave us plenty of laughs on Sunday.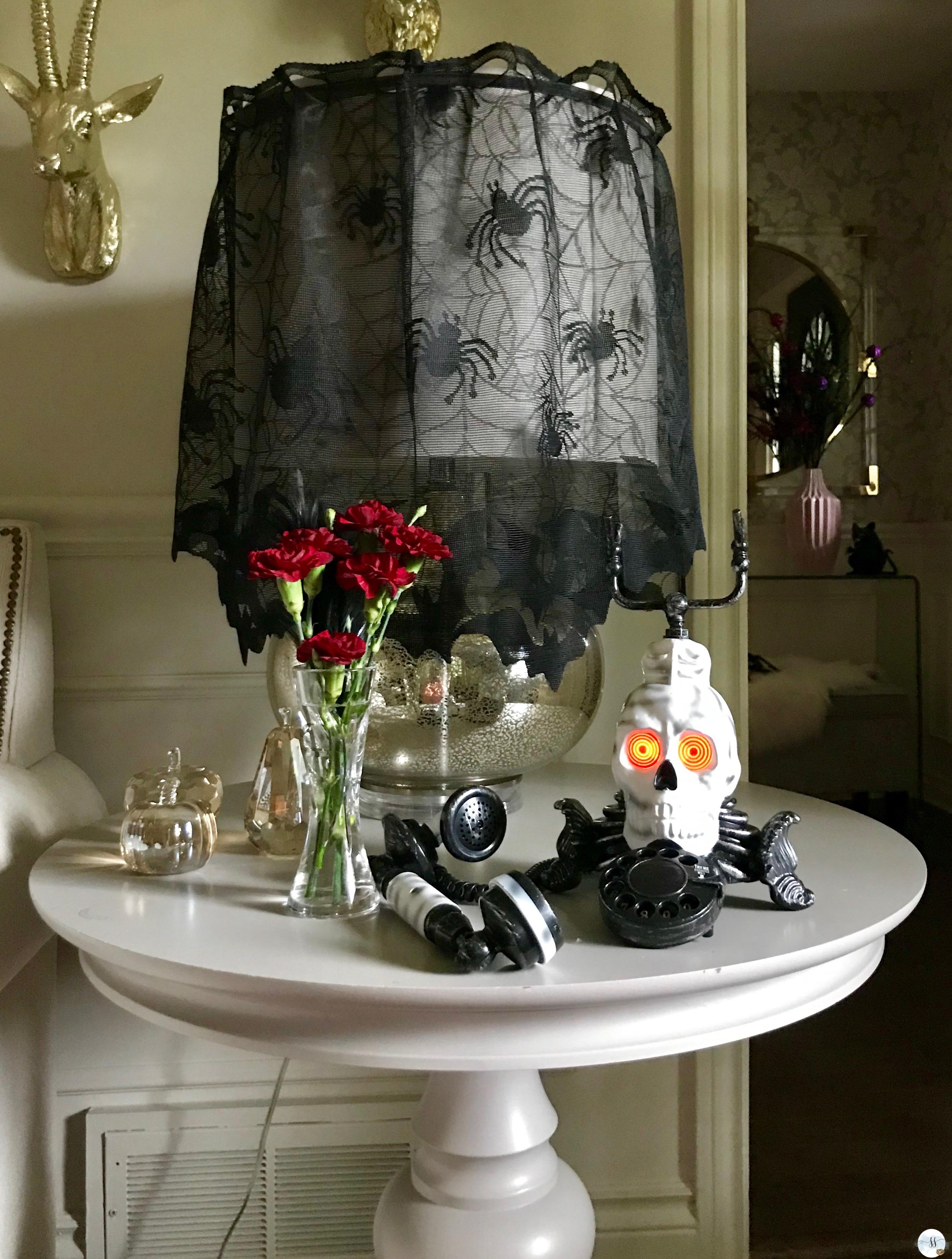 When you lift the receiver it gives the spookiest messages….we had plenty of calls….but who was on the other end? Jane Doe?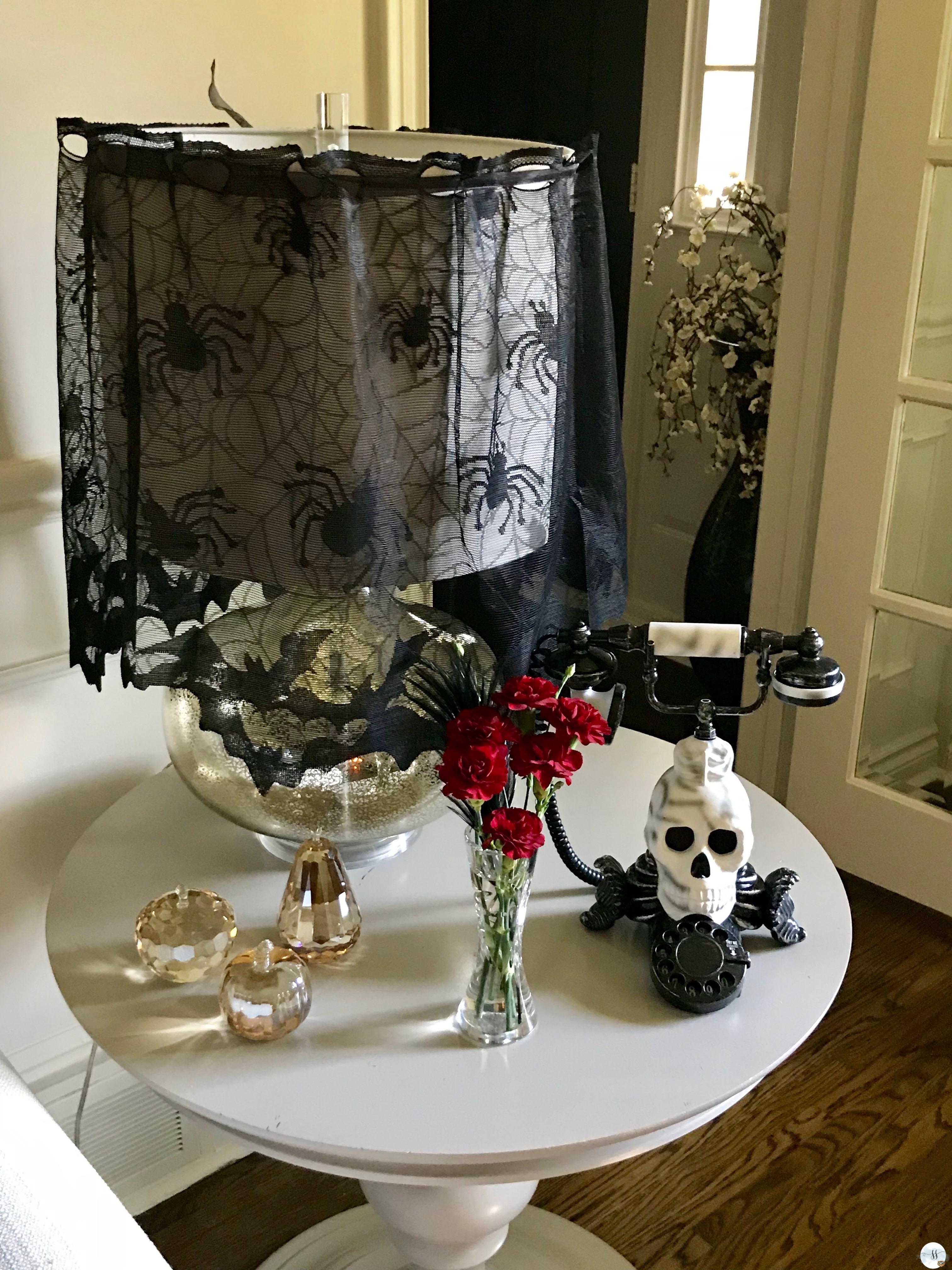 The entire table came together with the addition of a piece of black lace and more carnations with black feathers.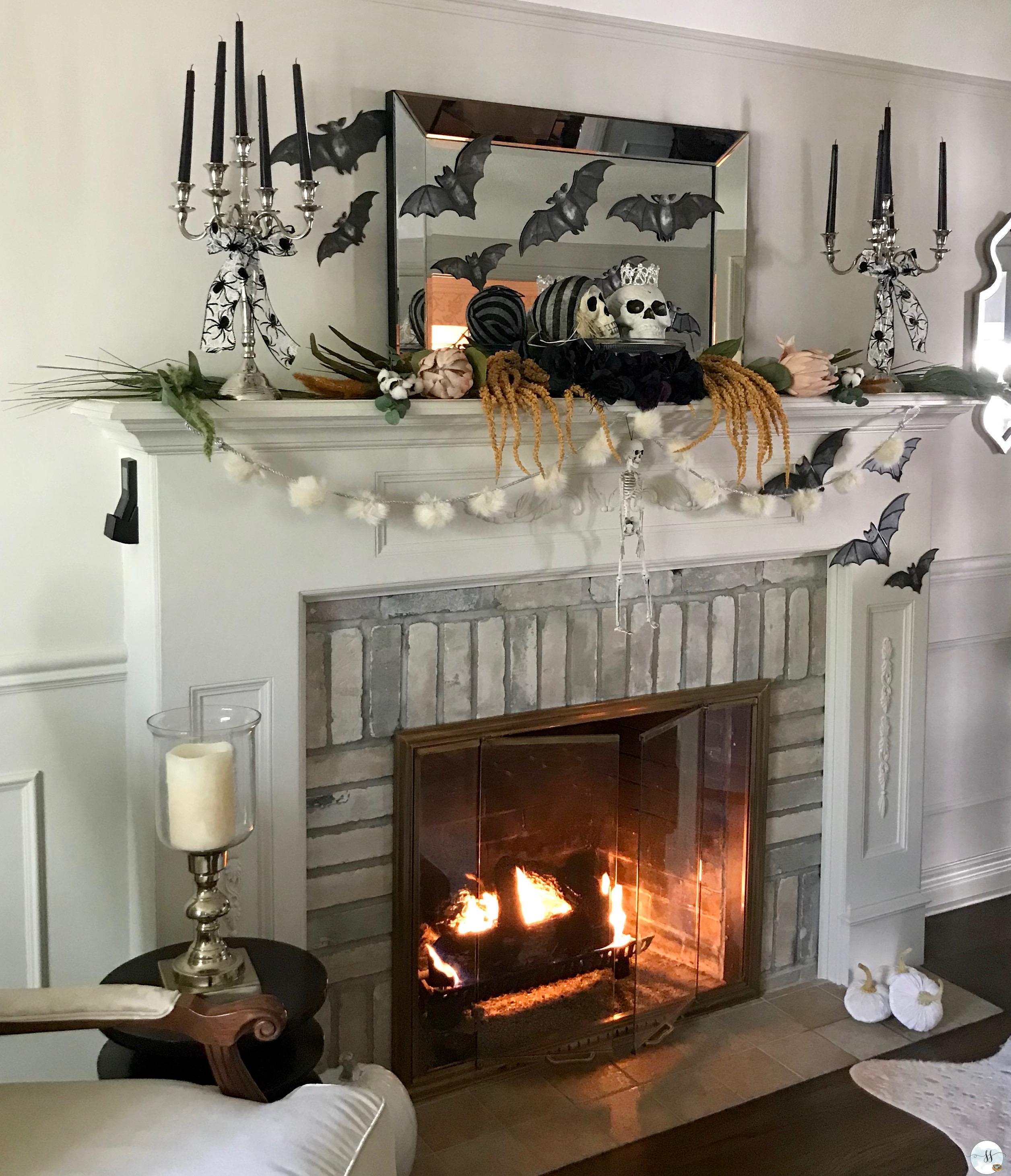 With the fireplace being the focal point of the living room, it is a natural for some added Hallowe'en decor. I left all of the faux and dried flowers from my fall decor. (see it here if you missed the post) I simply swapped out a few items.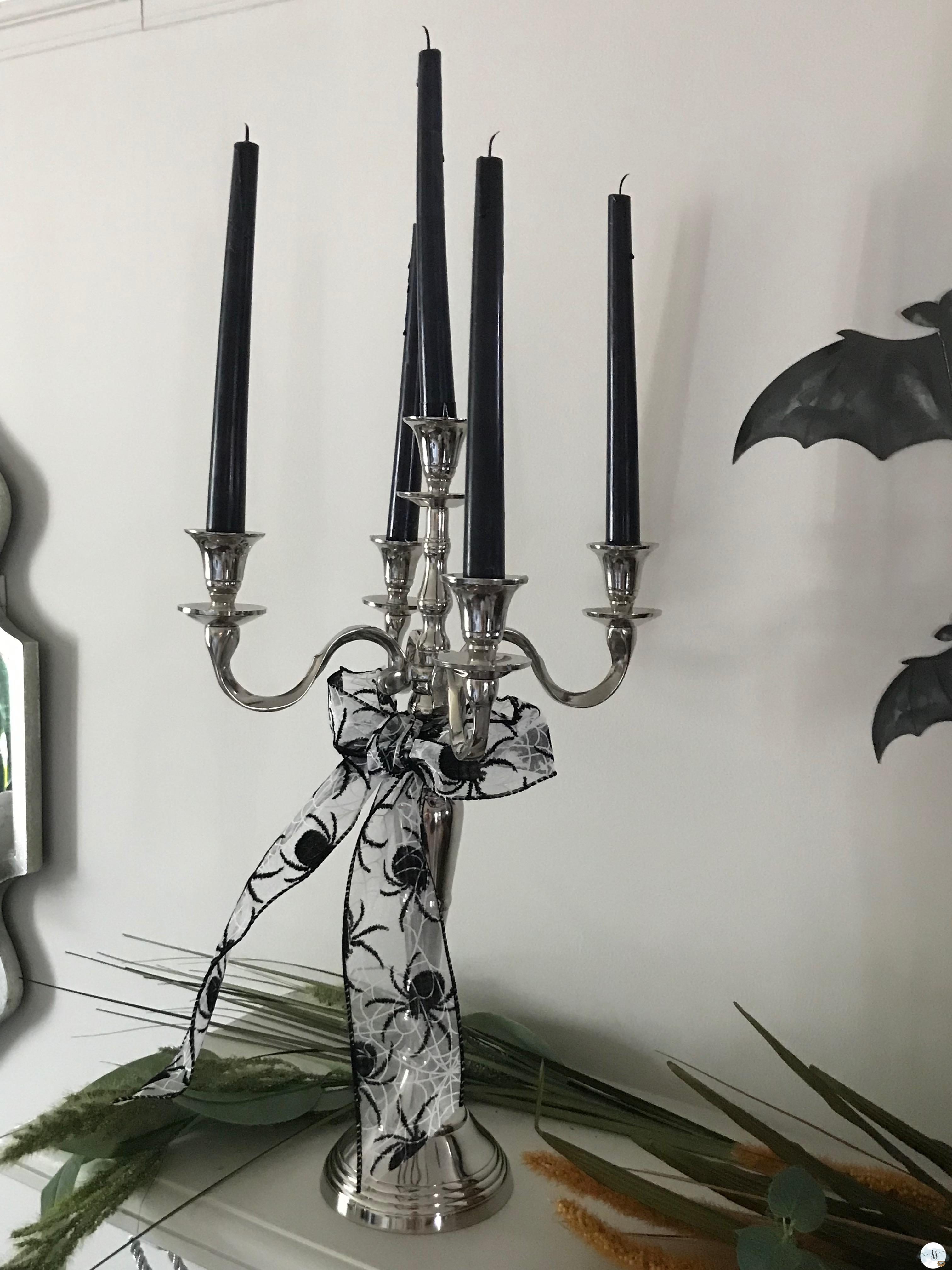 Originally, I wanted to use these candelabras on the dining table but A) they would have had to go on either side of the chandelier which means they would have blocked the view of the person across the table, and B) the table would have been too crowded.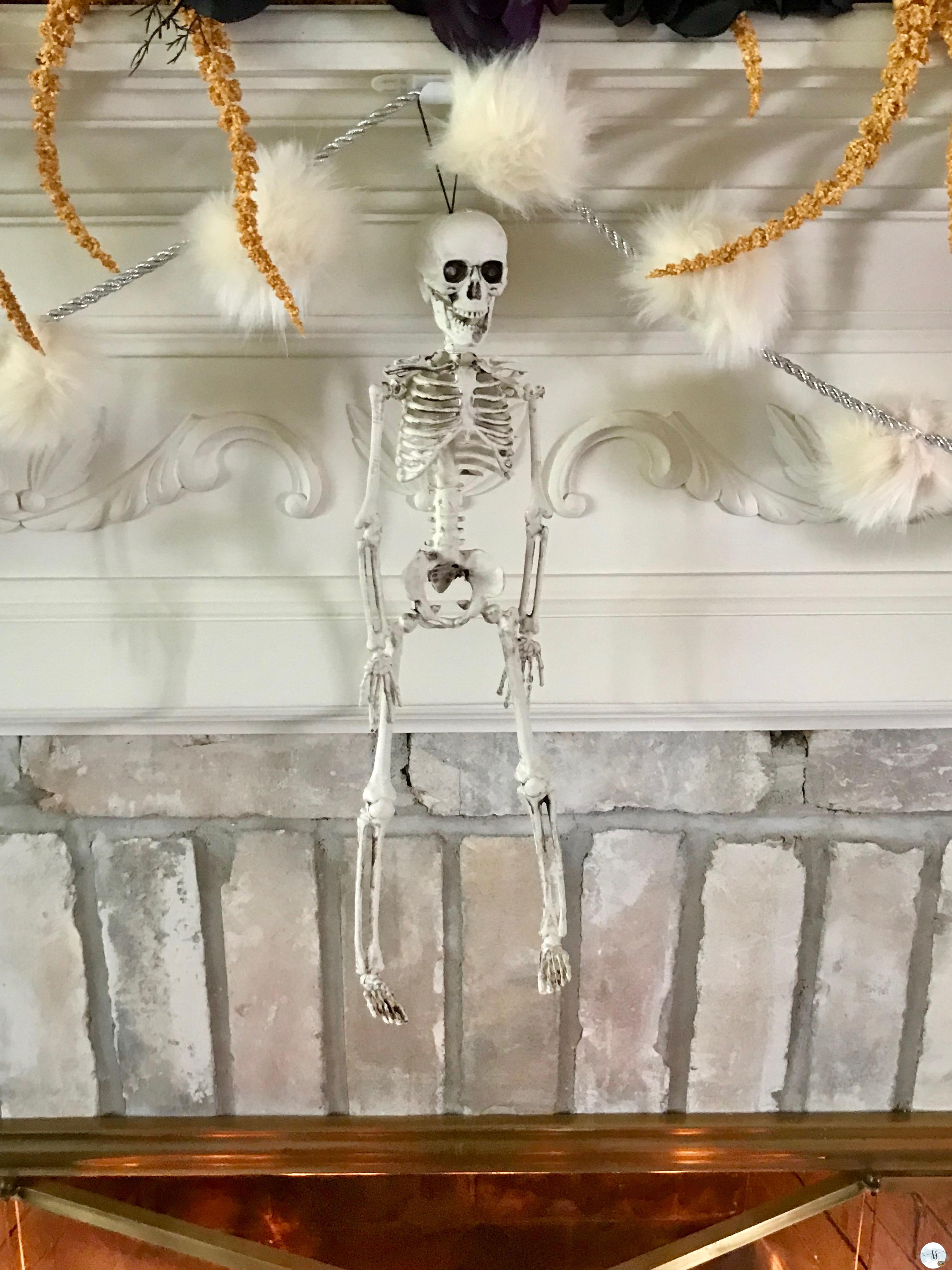 I feel this little guy is hanging in front of the fireplace because he is 'bone-chilling'…I know right? LOL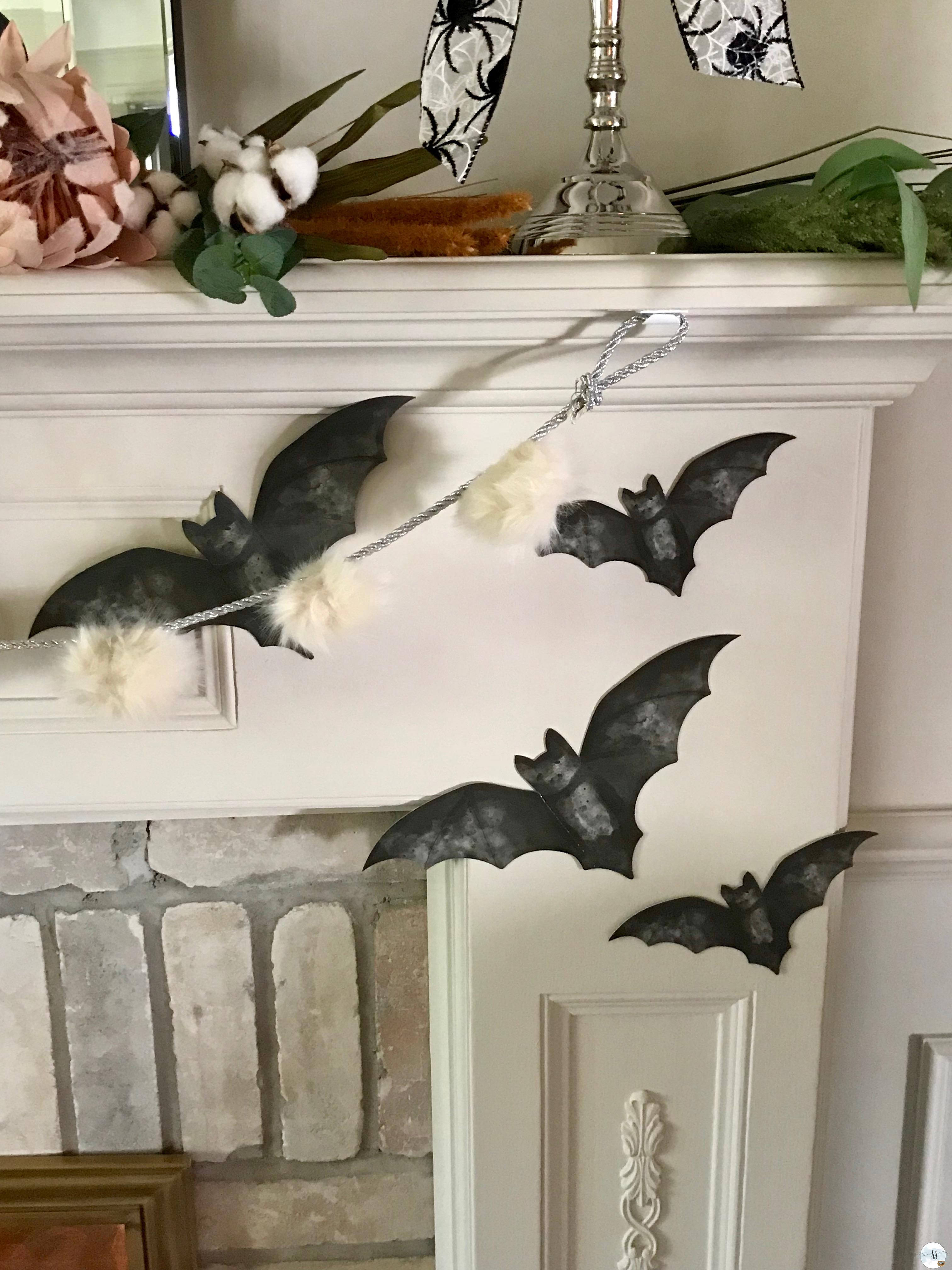 I am batty for these bats…I love these guys. These are the only ones I have used so far. I have another package of them and I will likely use them at the side entrance where the girls come in.  They are a part of the Martha Stewart collection at Michaels Craft store.  If you get a chance to go there you should and stock up for next year. Everything is on sale right now.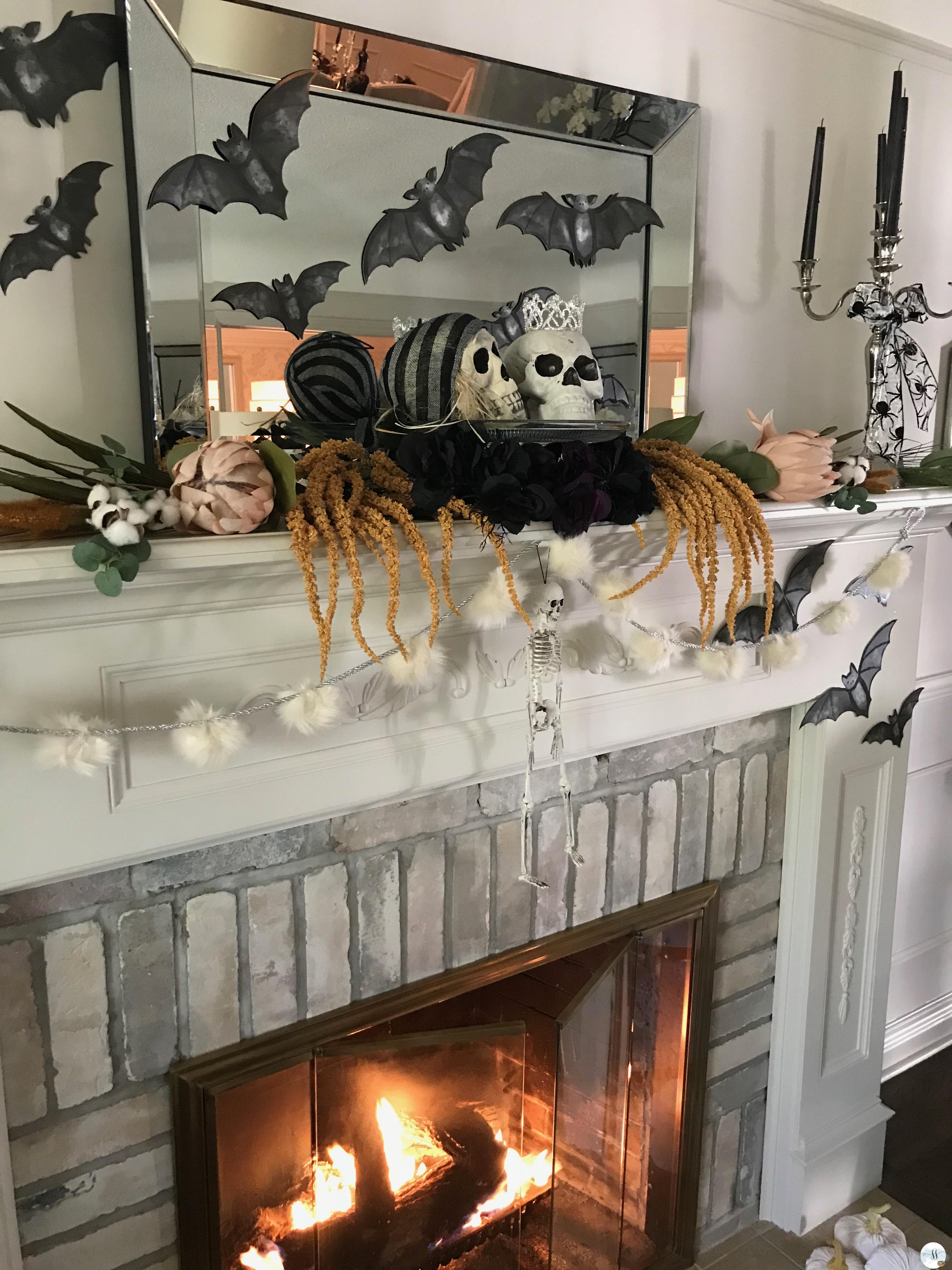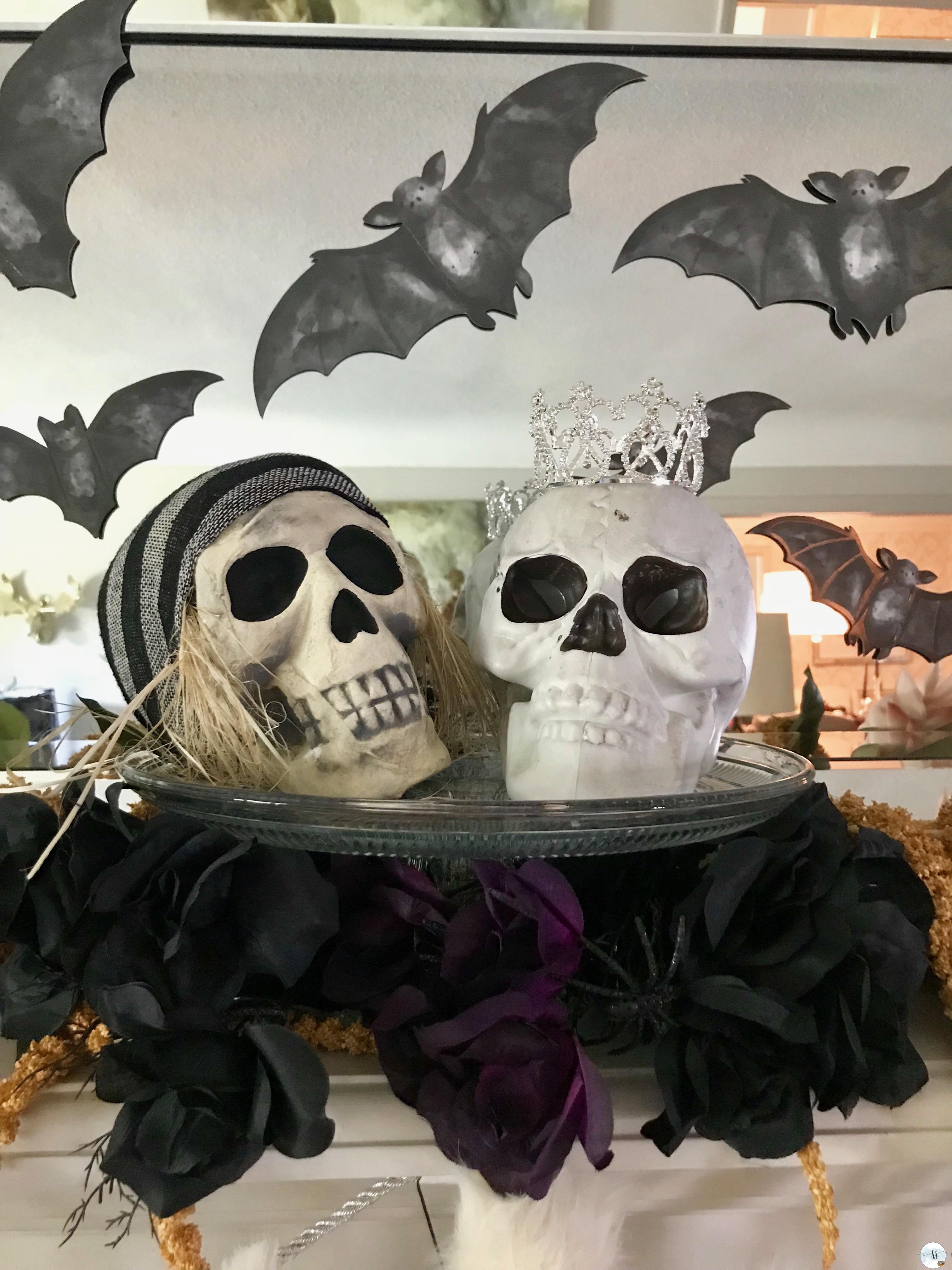 A happy couple.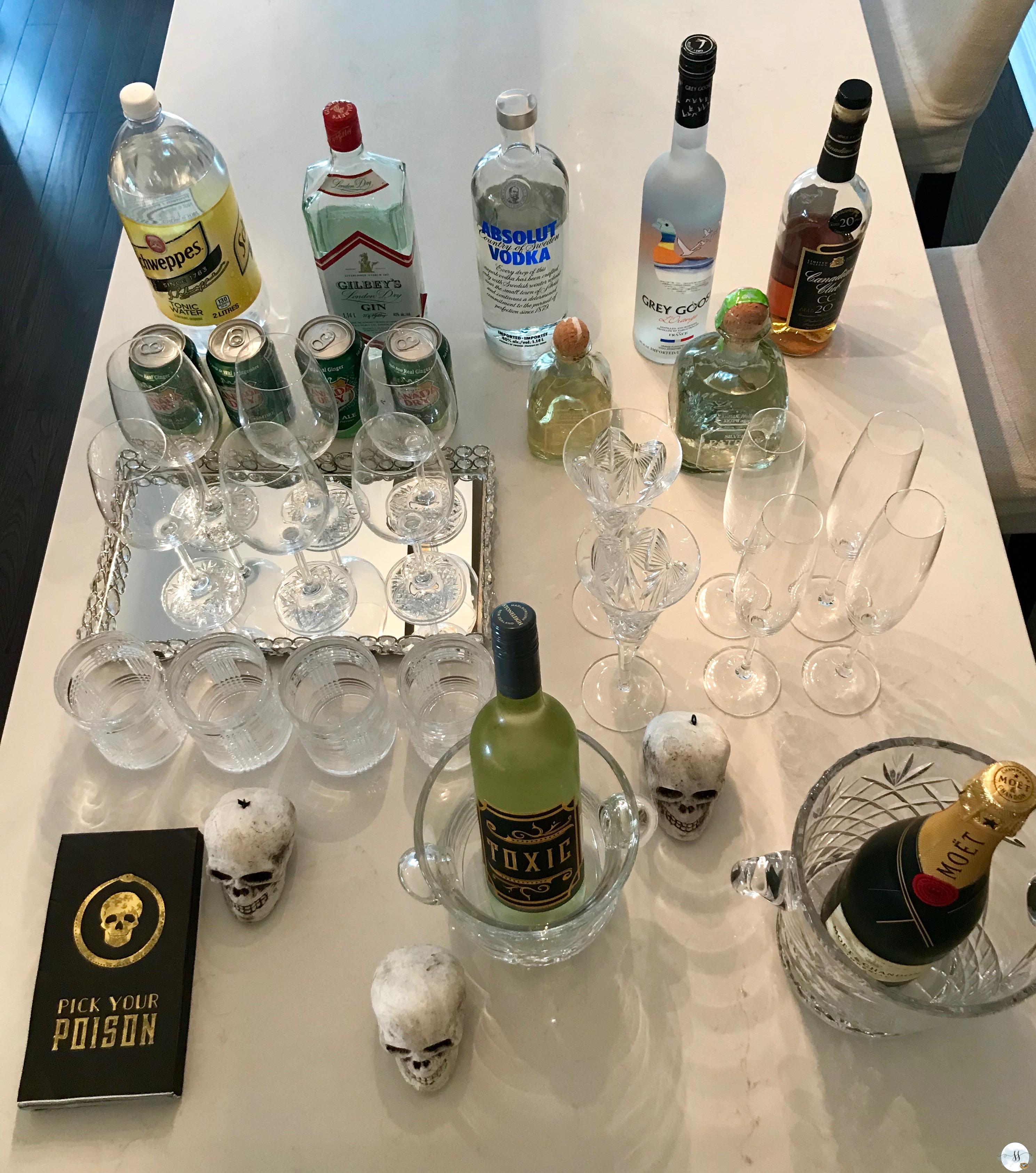 ahhhhh….the important stuff!!  LOL. I set up a small bar on my kitchen counter for my girlfriends to help themselves. Pick your poison indeed!!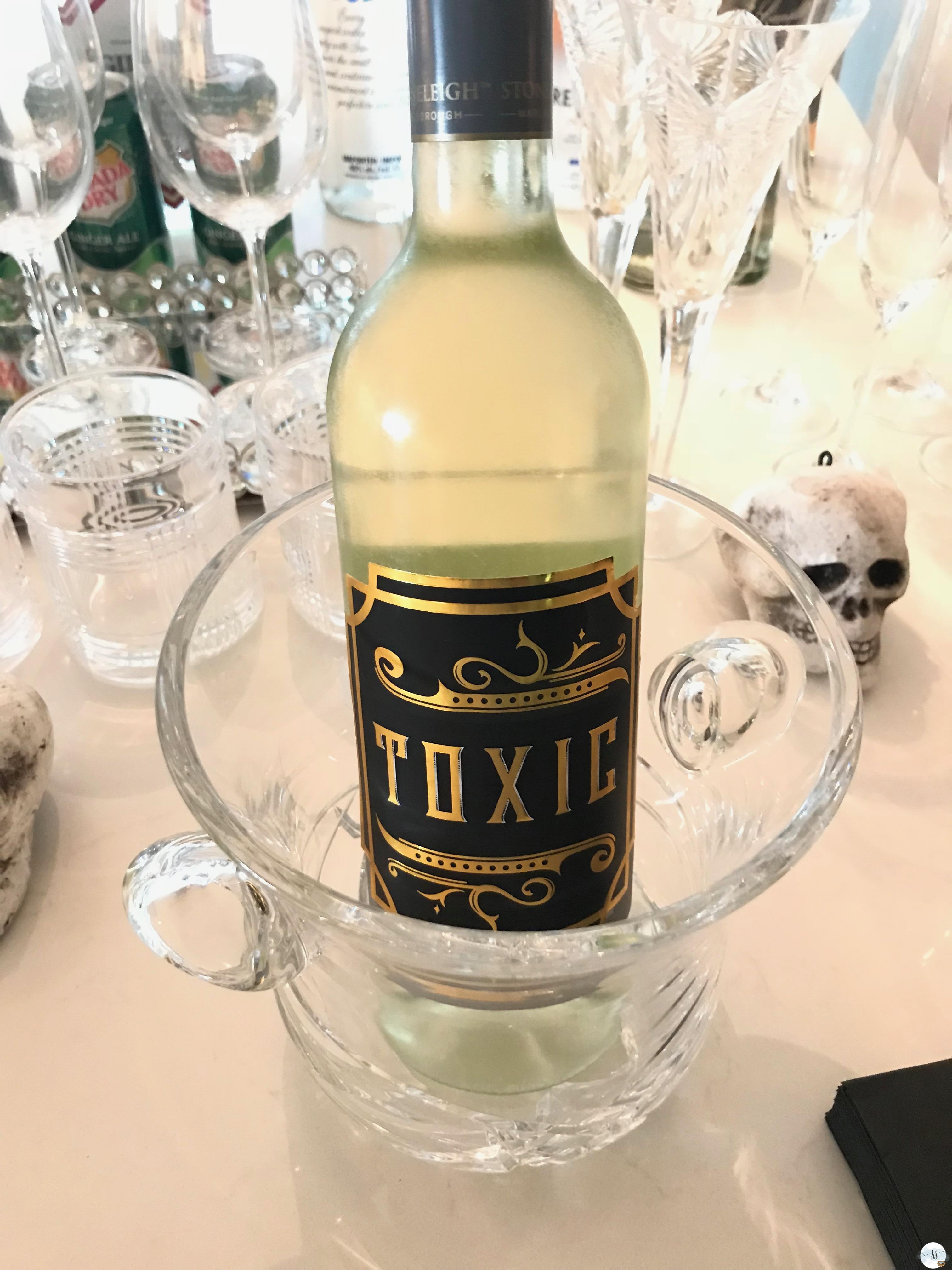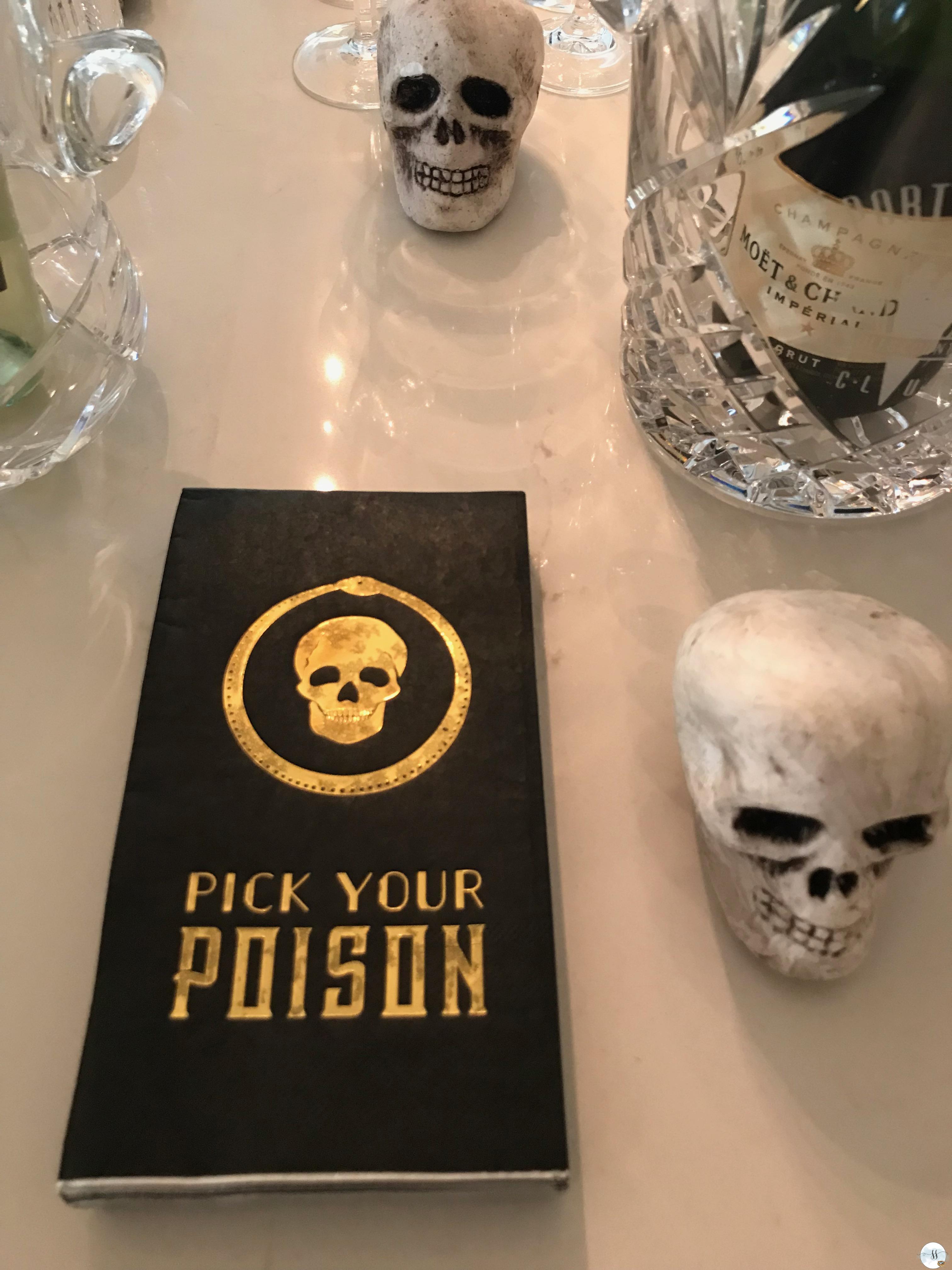 These napkins are from the Martha Stewart line…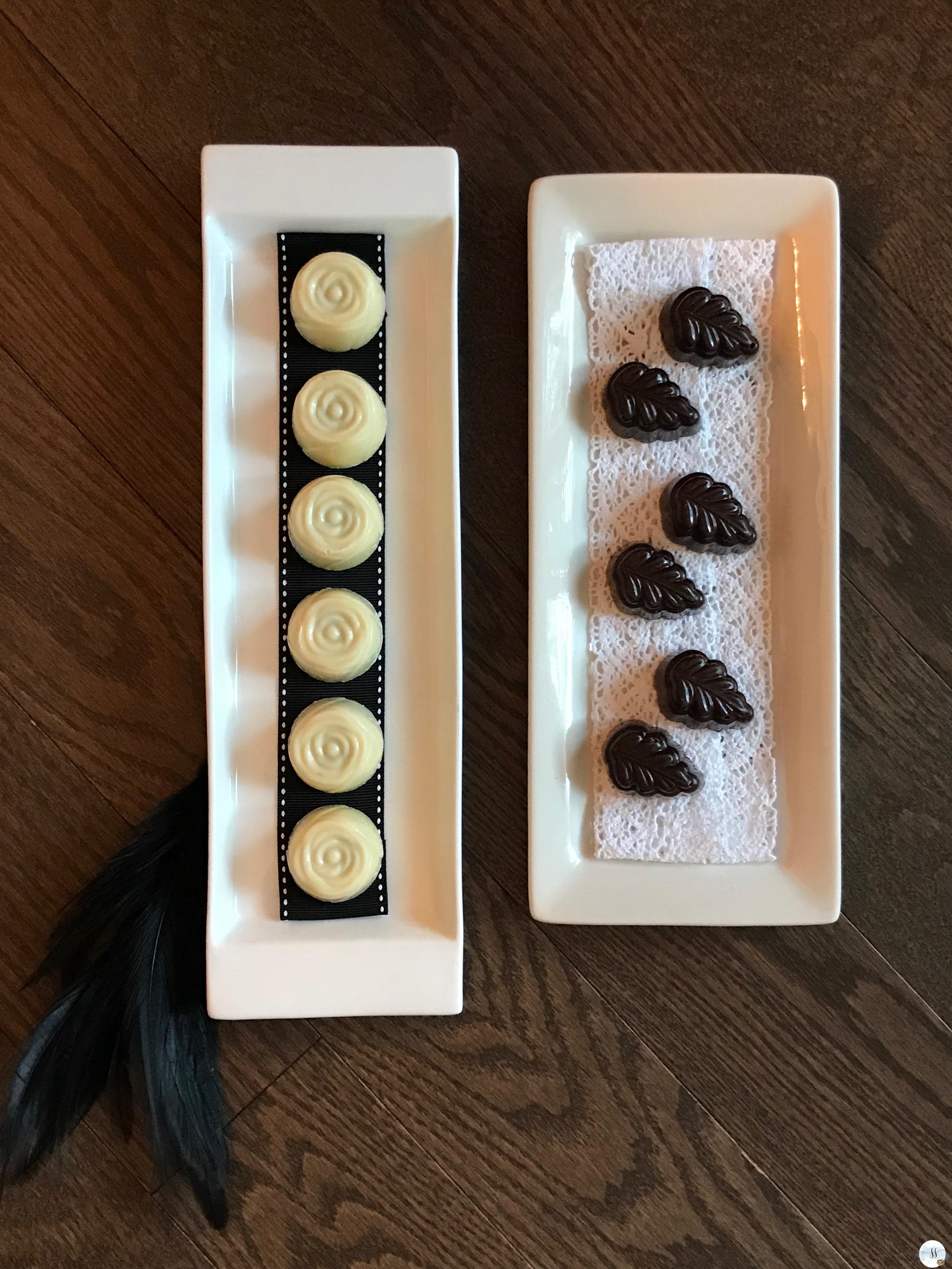 Desserts were kept really simple. A couple of chocolate nibblies and some macarons.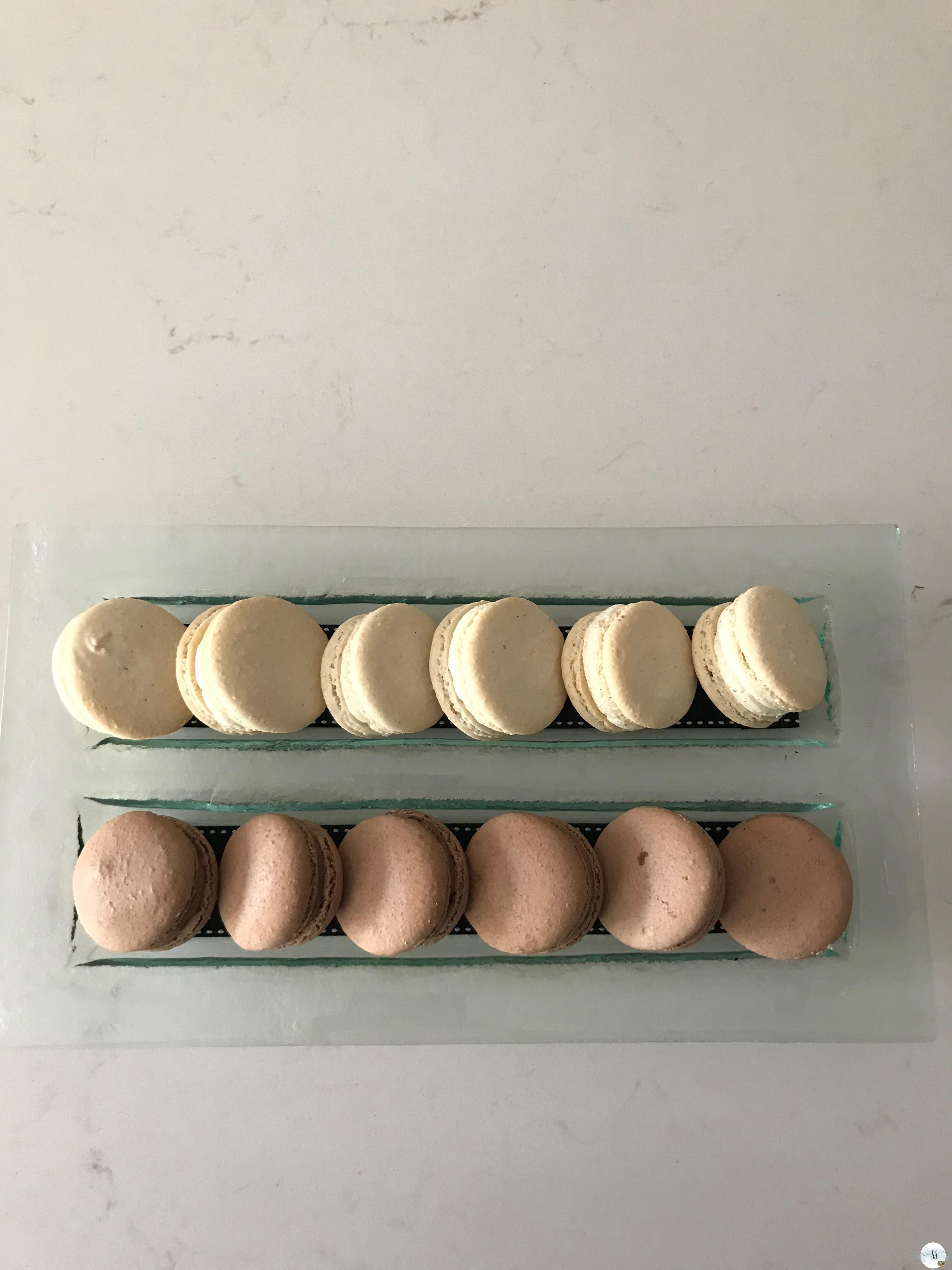 I cut some ribbon and laid it across the plates and put the chocolates and cookies on top of them. I love the presentation. Too bad the cookie plate wasn't white…It would have stood out more. I had a fruit tray as well….but true to form I forgot to serve it. LOL…My kids will tell you, I always forget something!
Some randoms…..enjoy!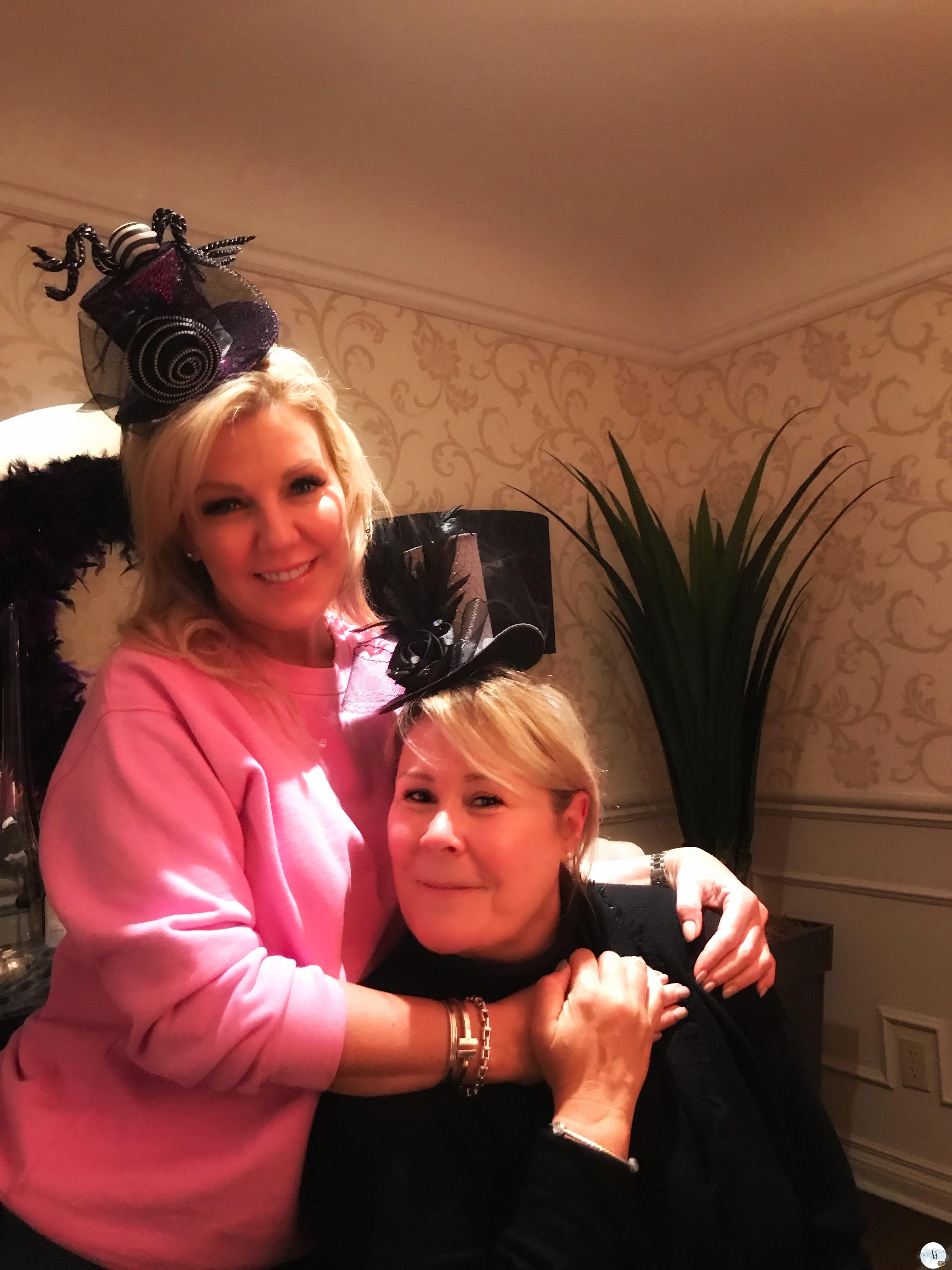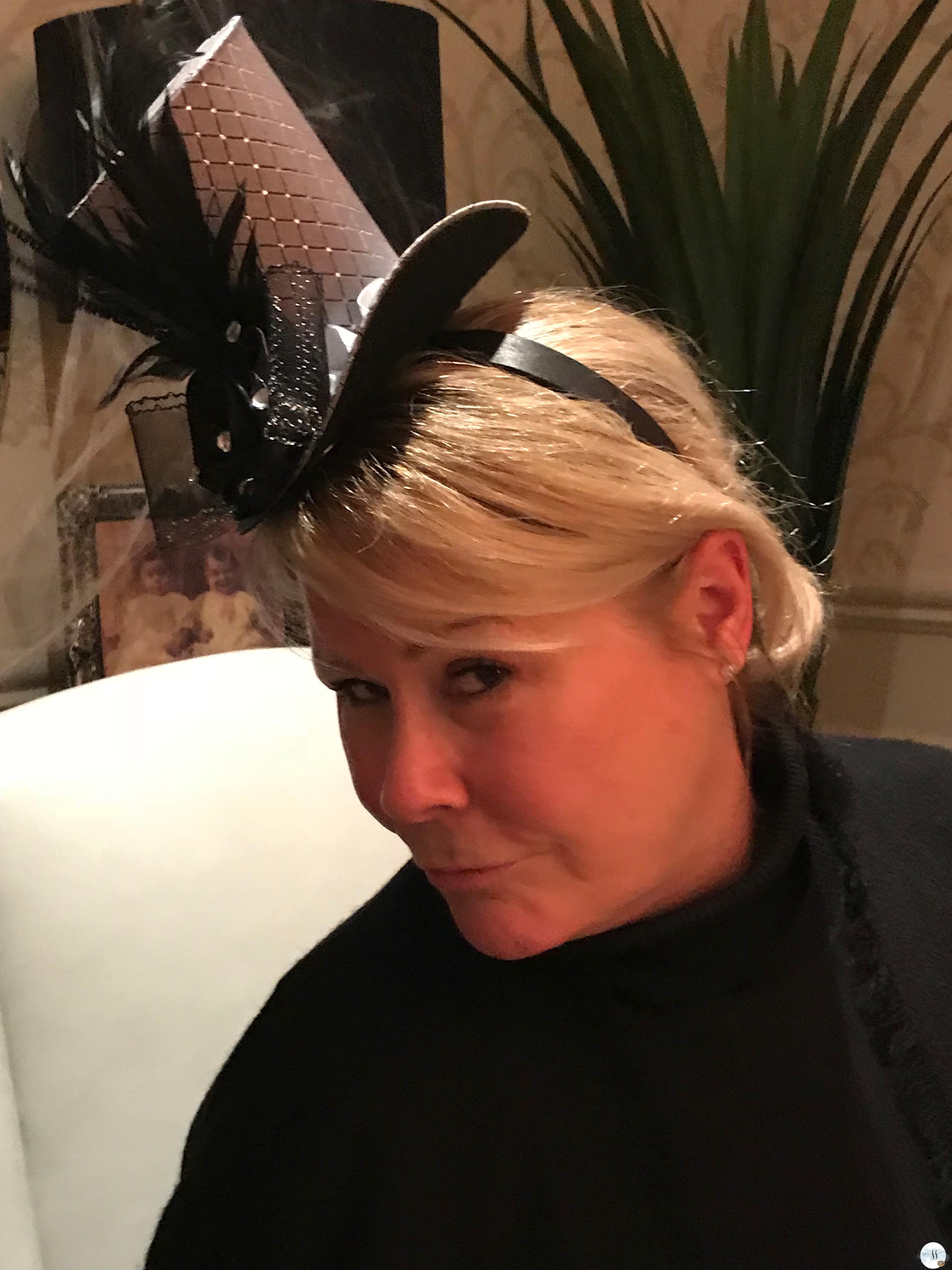 Janet being goofy!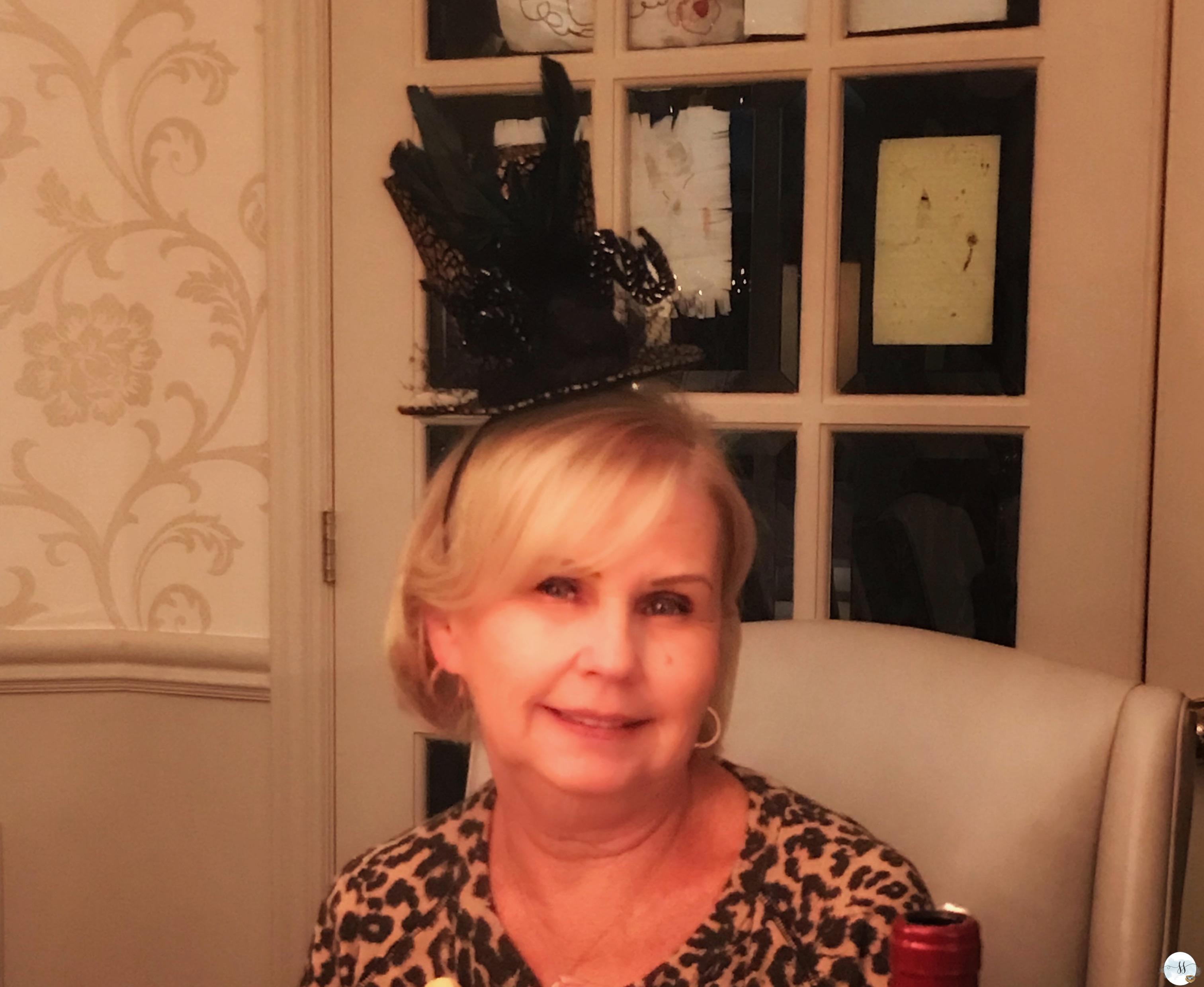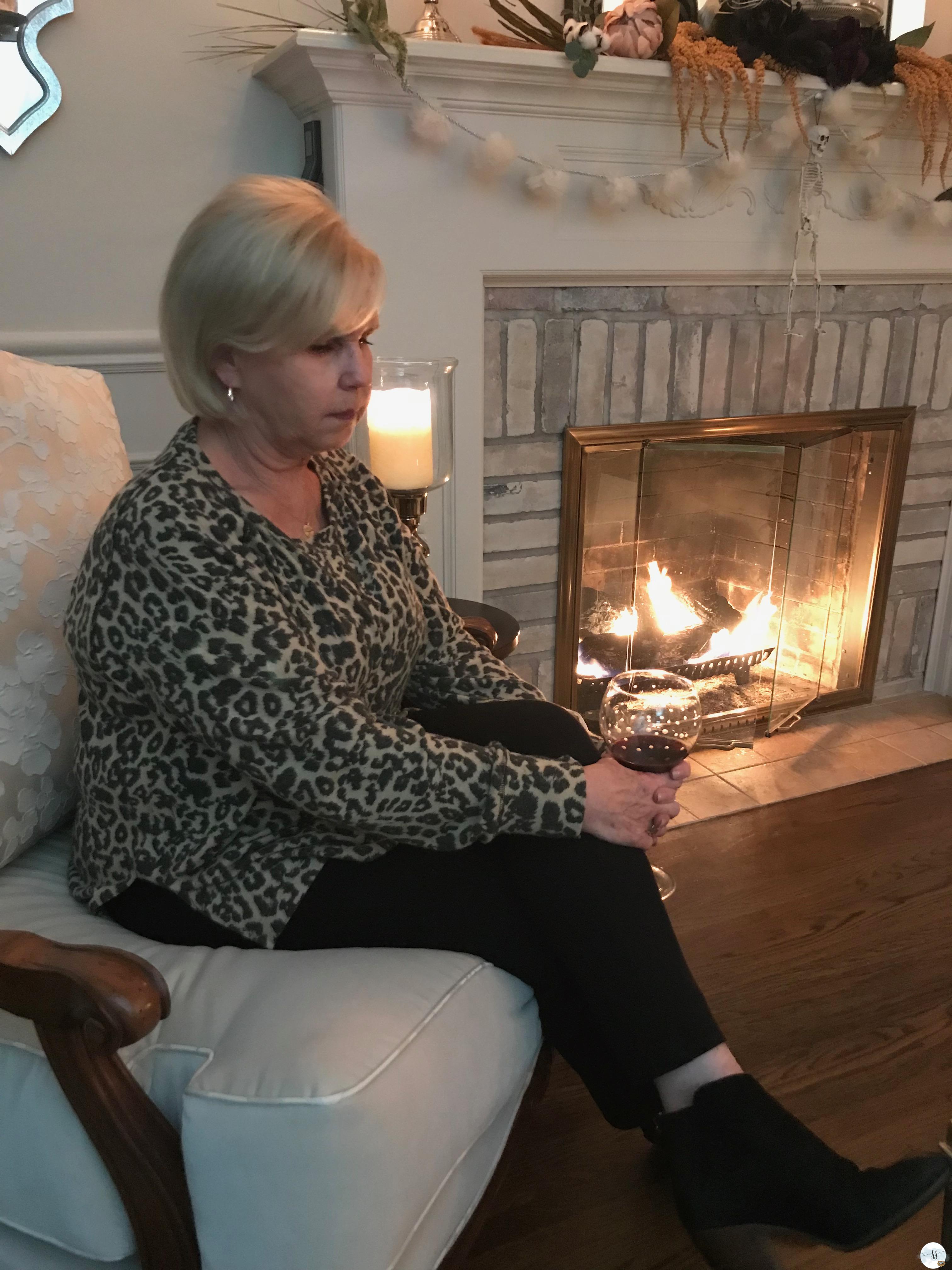 She is small…but don't mess with her!! She is mighty!!! xo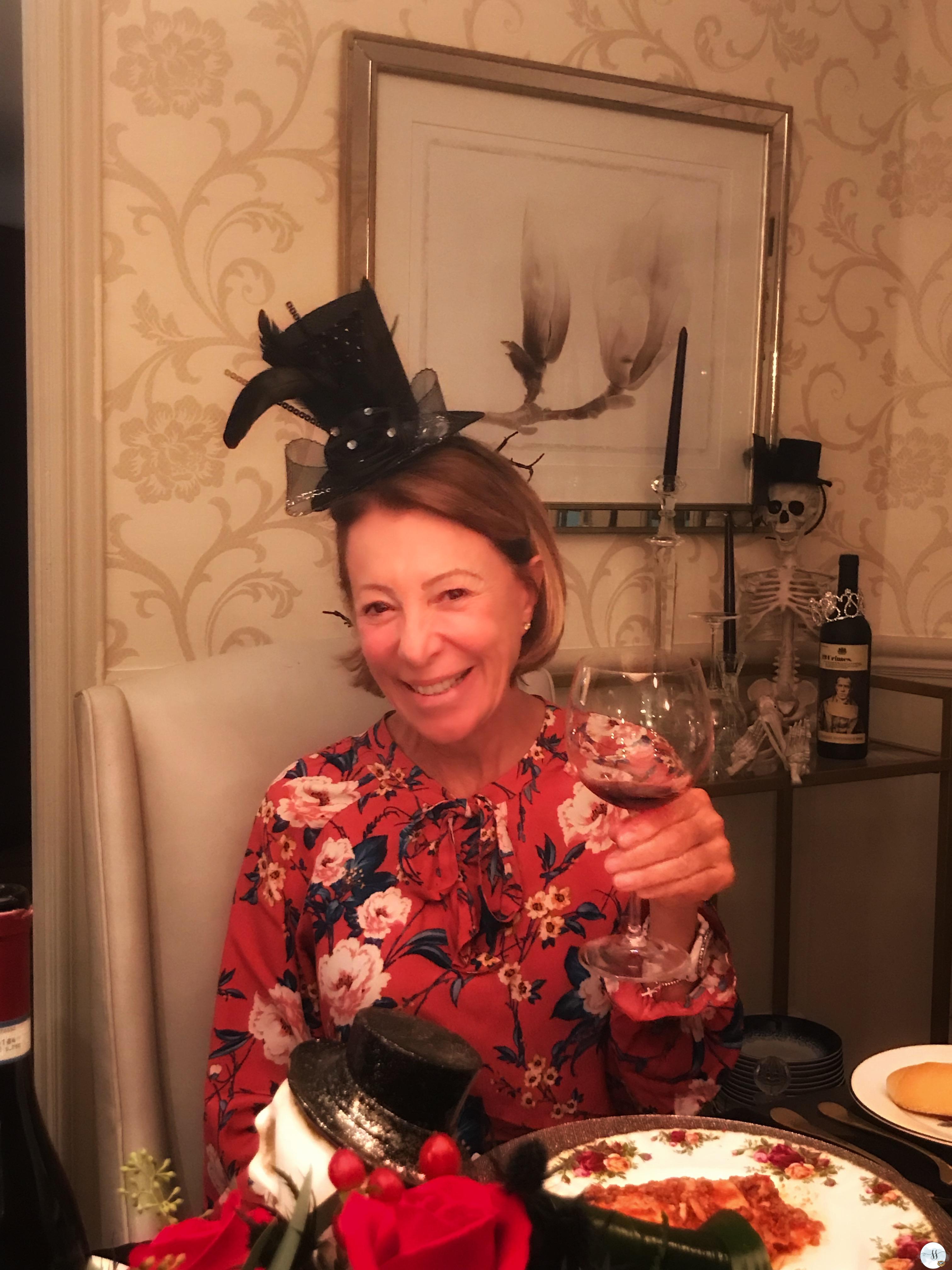 I see this sweet lady almost every single day.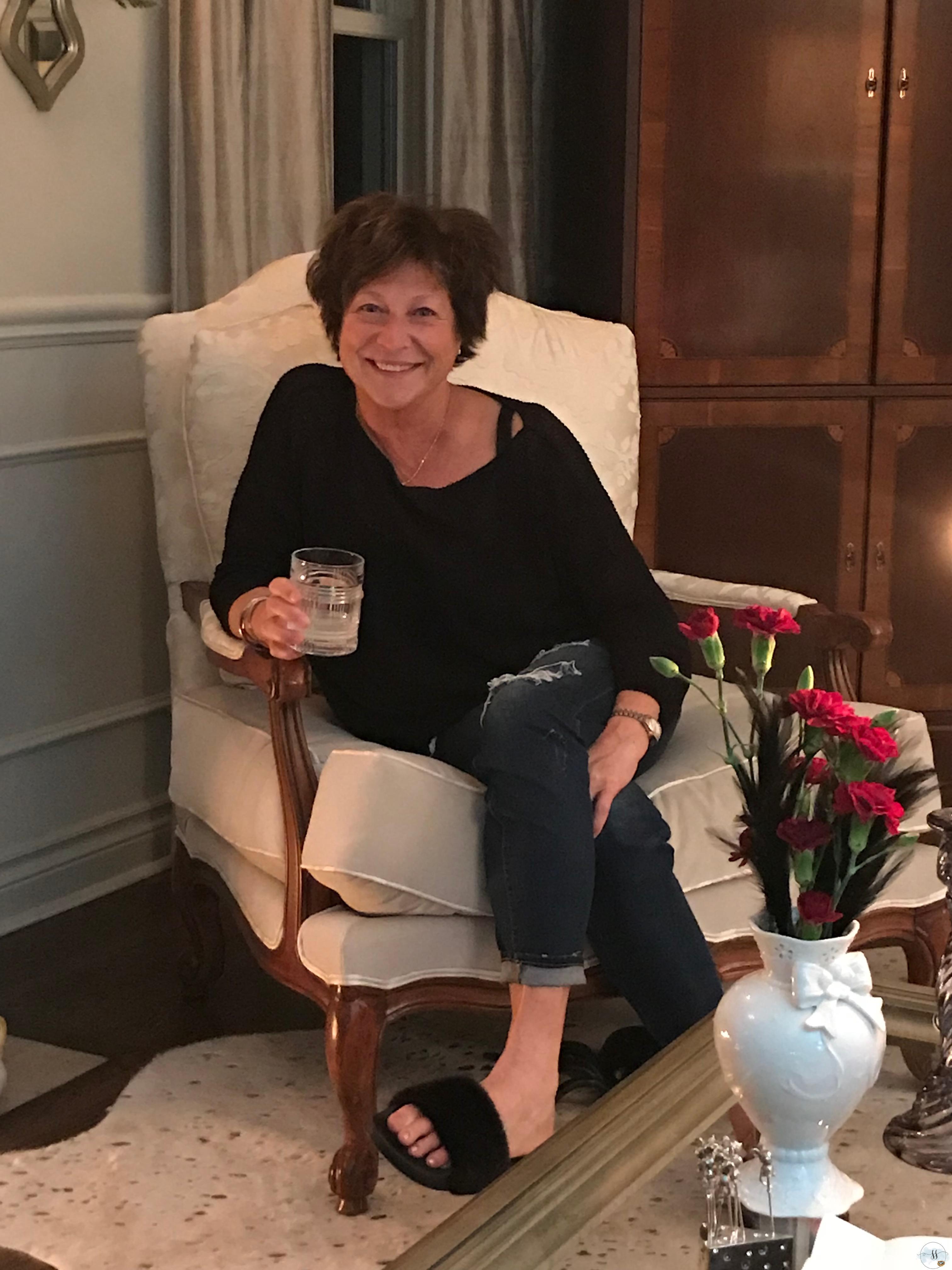 Hmmm Brenda… I think this photo is 'save worthy'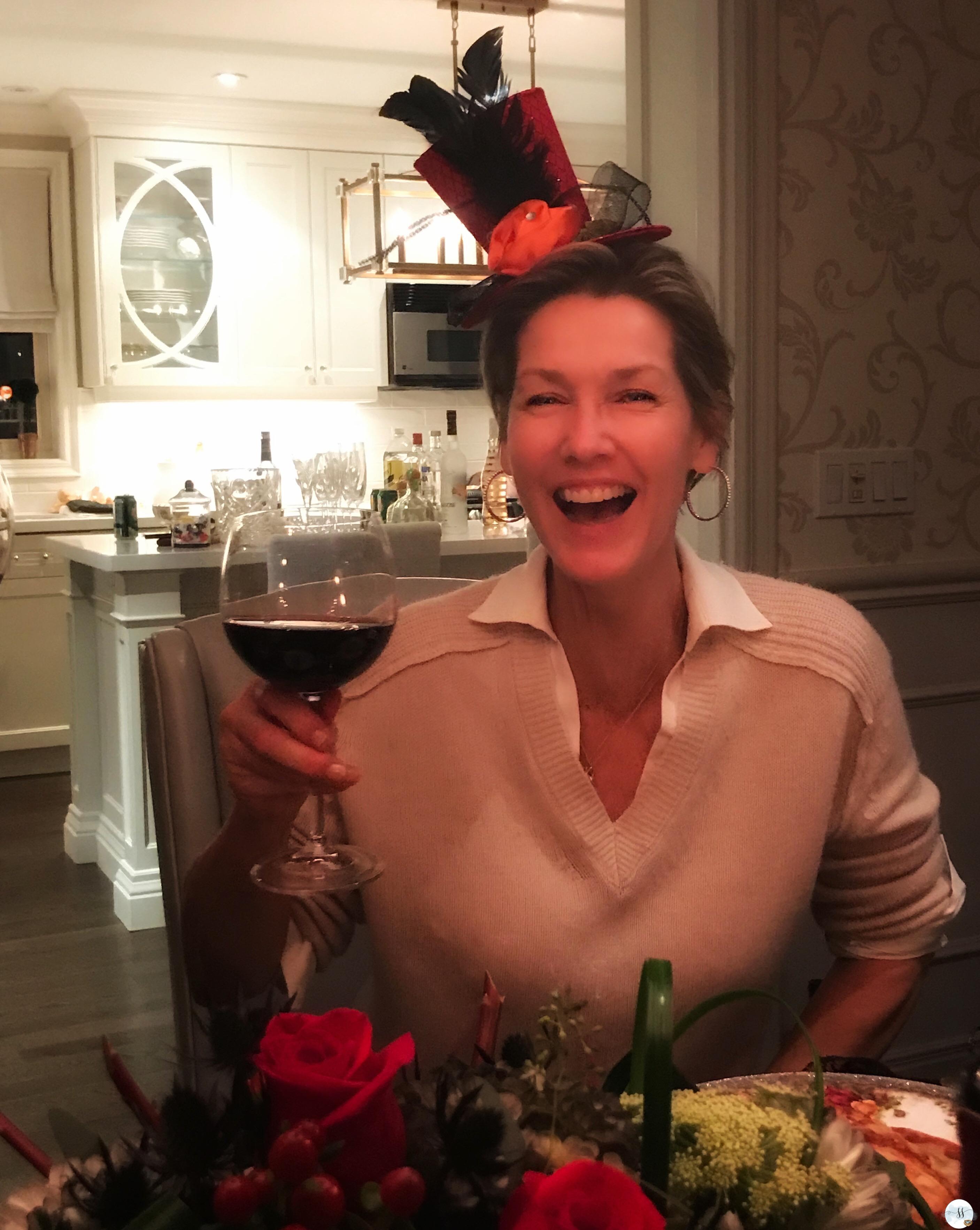 Shenanigans!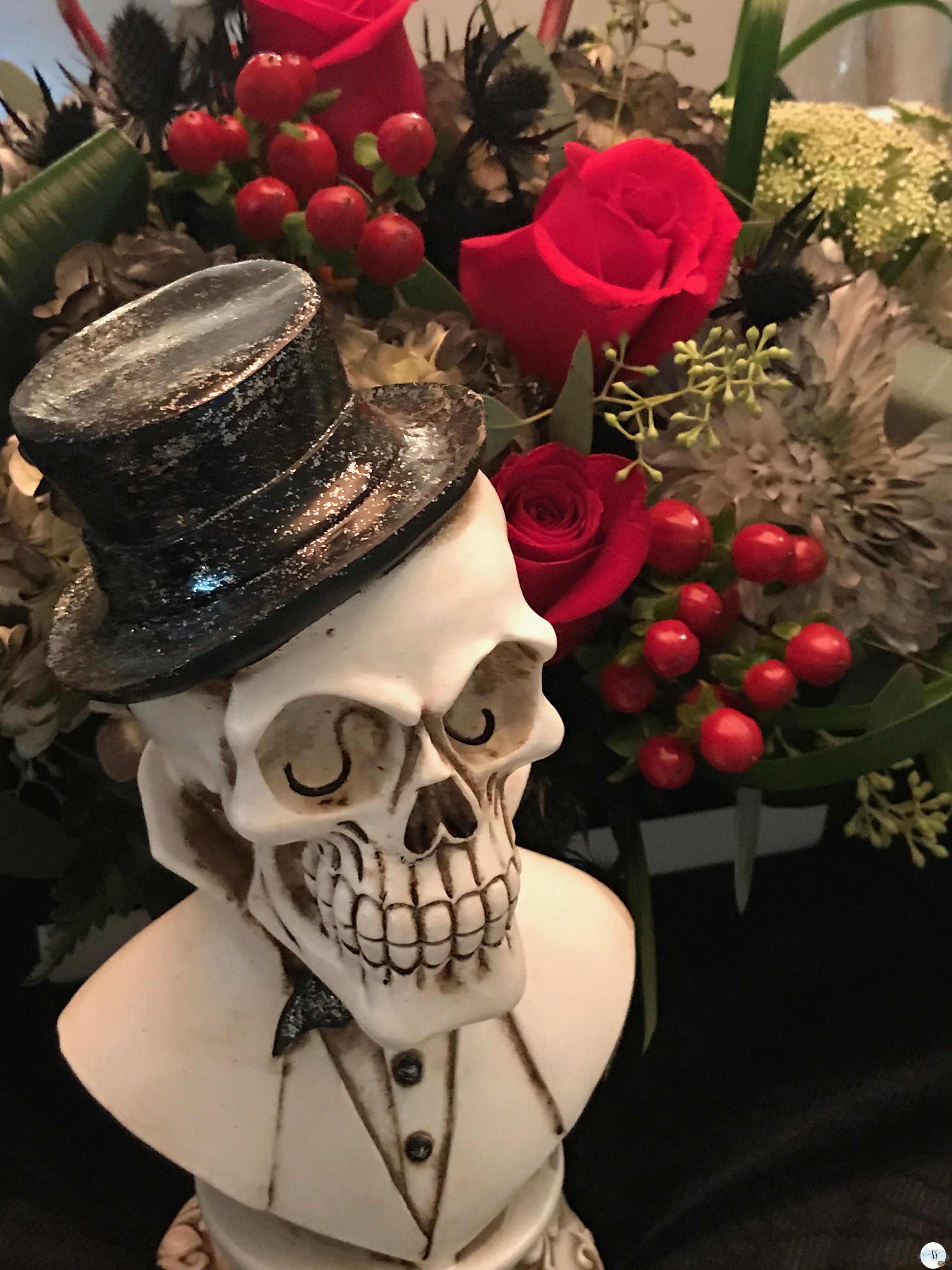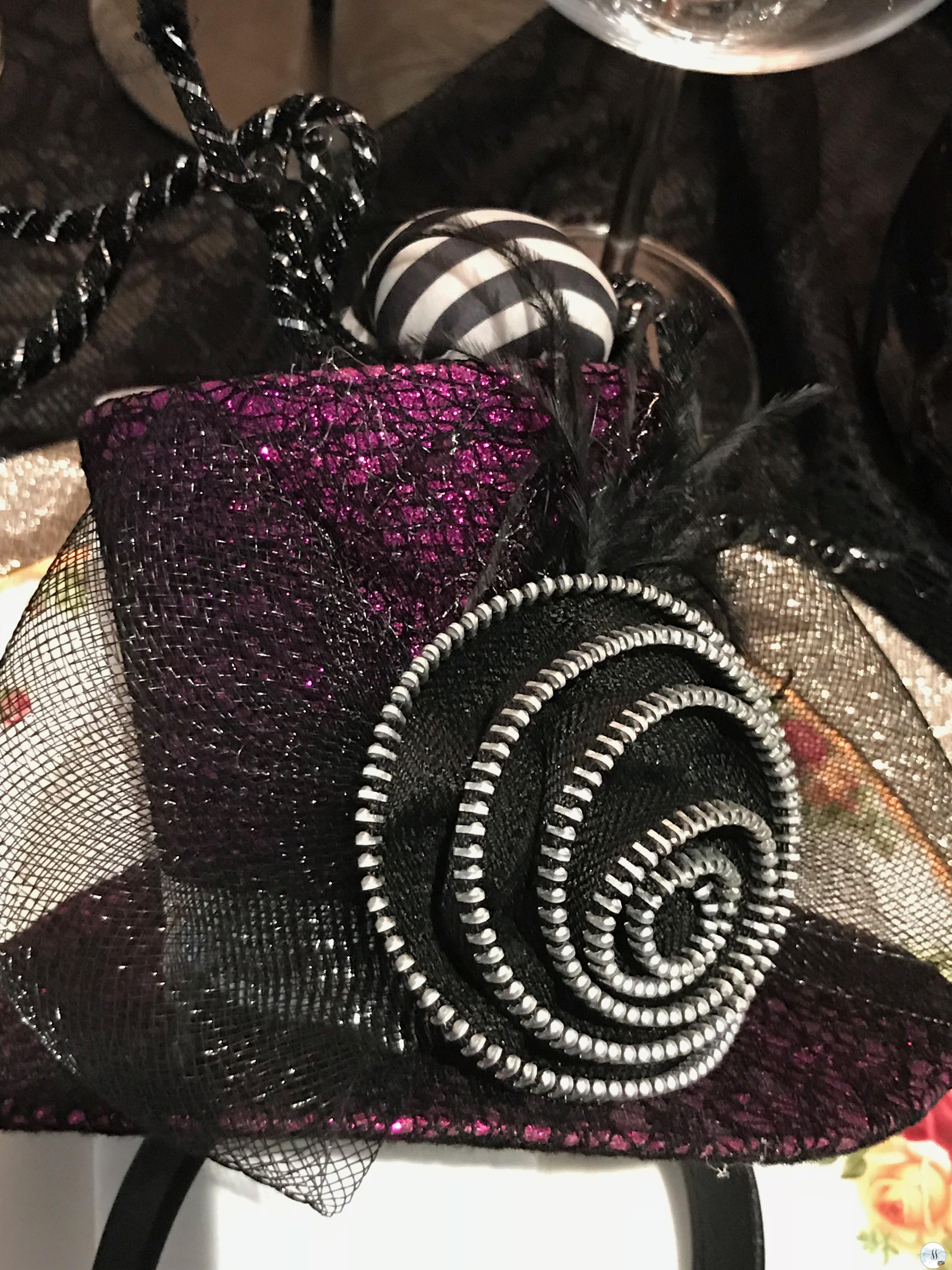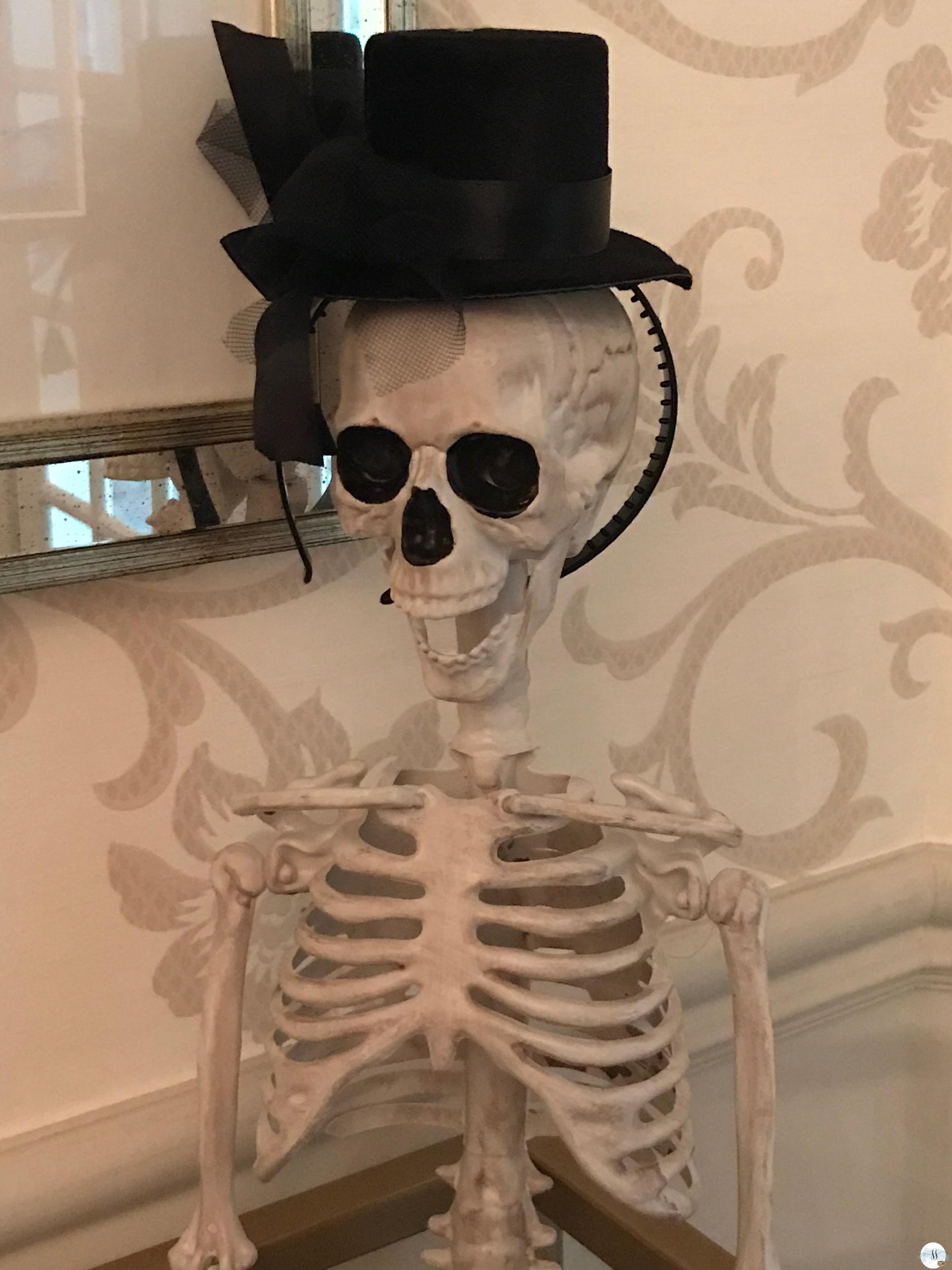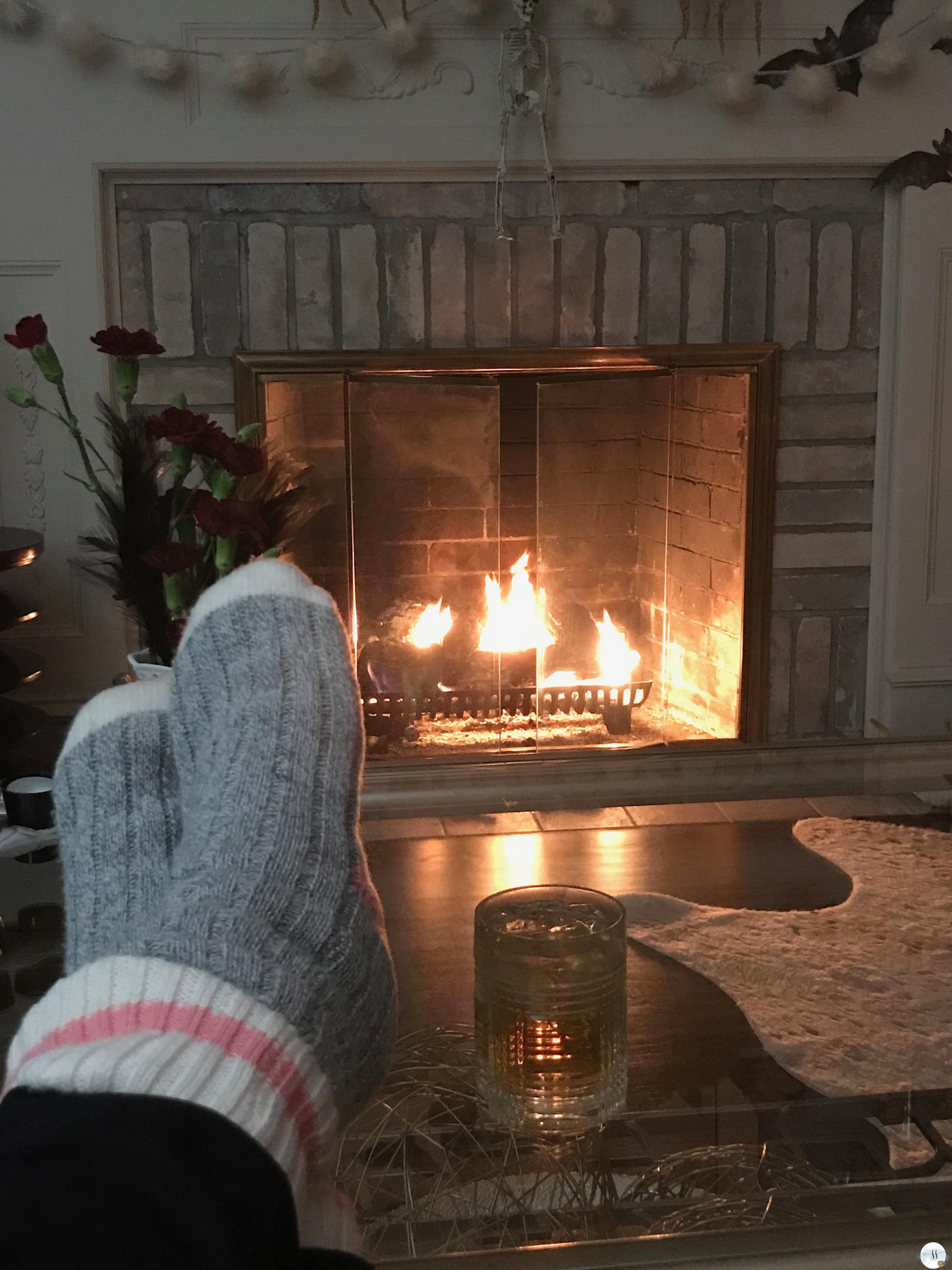 Well, that's that. Lights out…the party is over. The ladies were great and helped me clean up before they left. I had a few last things to do and then I poured a little nightcap and reflected fireside on what these special ladies all mean to me.
Cheers to…
The shit we talk
The way we shop
The laughs we can't stop
The gossip we spill
To the looks that could kill
To having each other's back
To the morning gettin' facts
To chillin' our fears
and spillin' some tears
I love my girlfriends.