One of my best friend's daughter is getting married this summer and I hosted an intimate luncheon with some friends.
The weather situation was a bit sketchy so I decided not to mess around with Mother Nature (cause you know how she can be) and I had the lunch in the house as opposed to the backyard…and thank goodness that I did because she sure 'showered' our shower!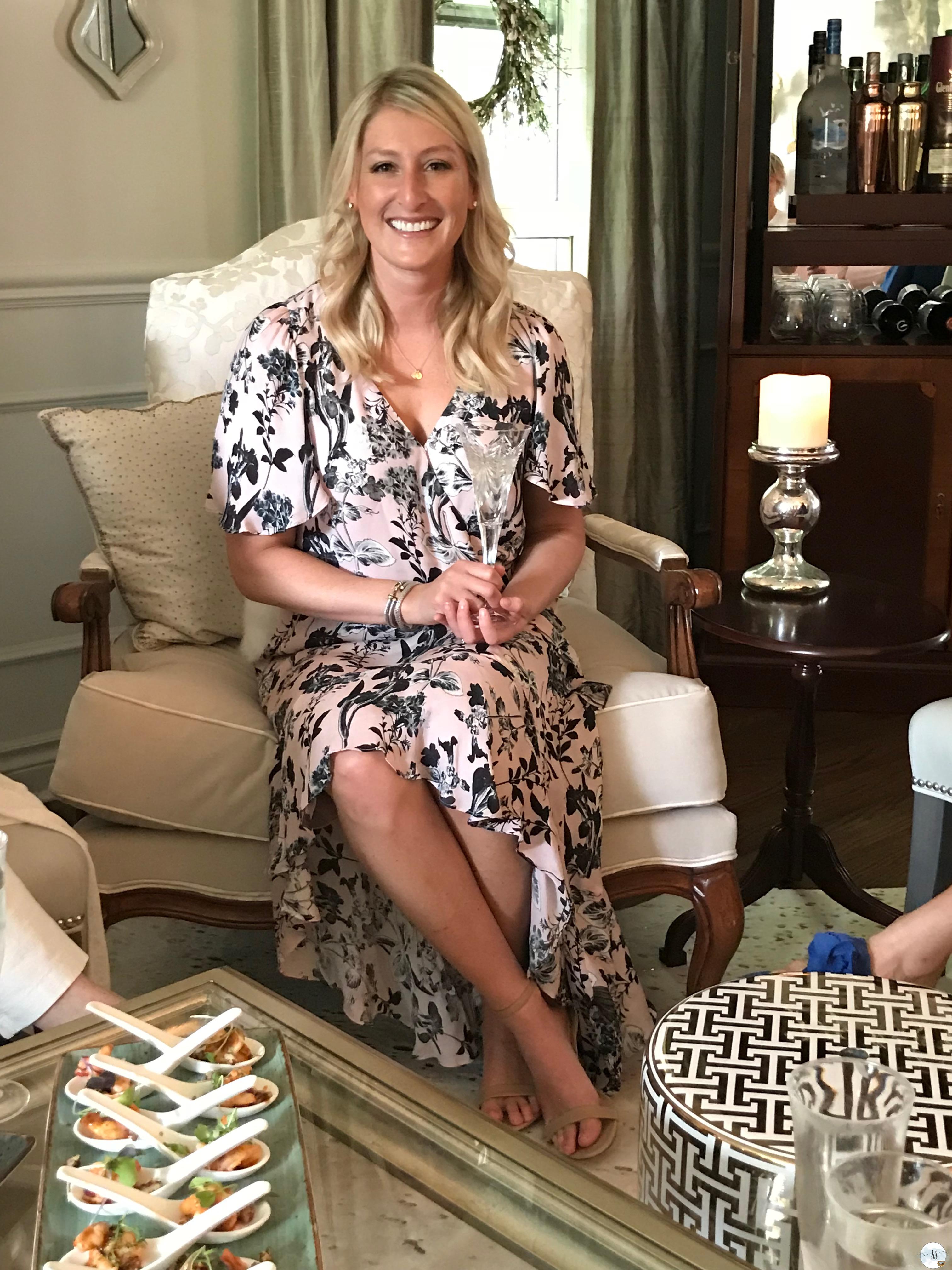 Cassandra is the beautiful young bride…she is a beauty inside and out. I asked her mom Brenda, where Cassandra and her fiancé were planning on going for their honeymoon. I was hoping she would say something like Paris. I had visions of how I was going to decorate. LOL…When Brenda told me they are planning a trip to Asia my heart sank a bit. I wondered how on earth I would ever decorate in an Asian theme!! Paris was SO much easier.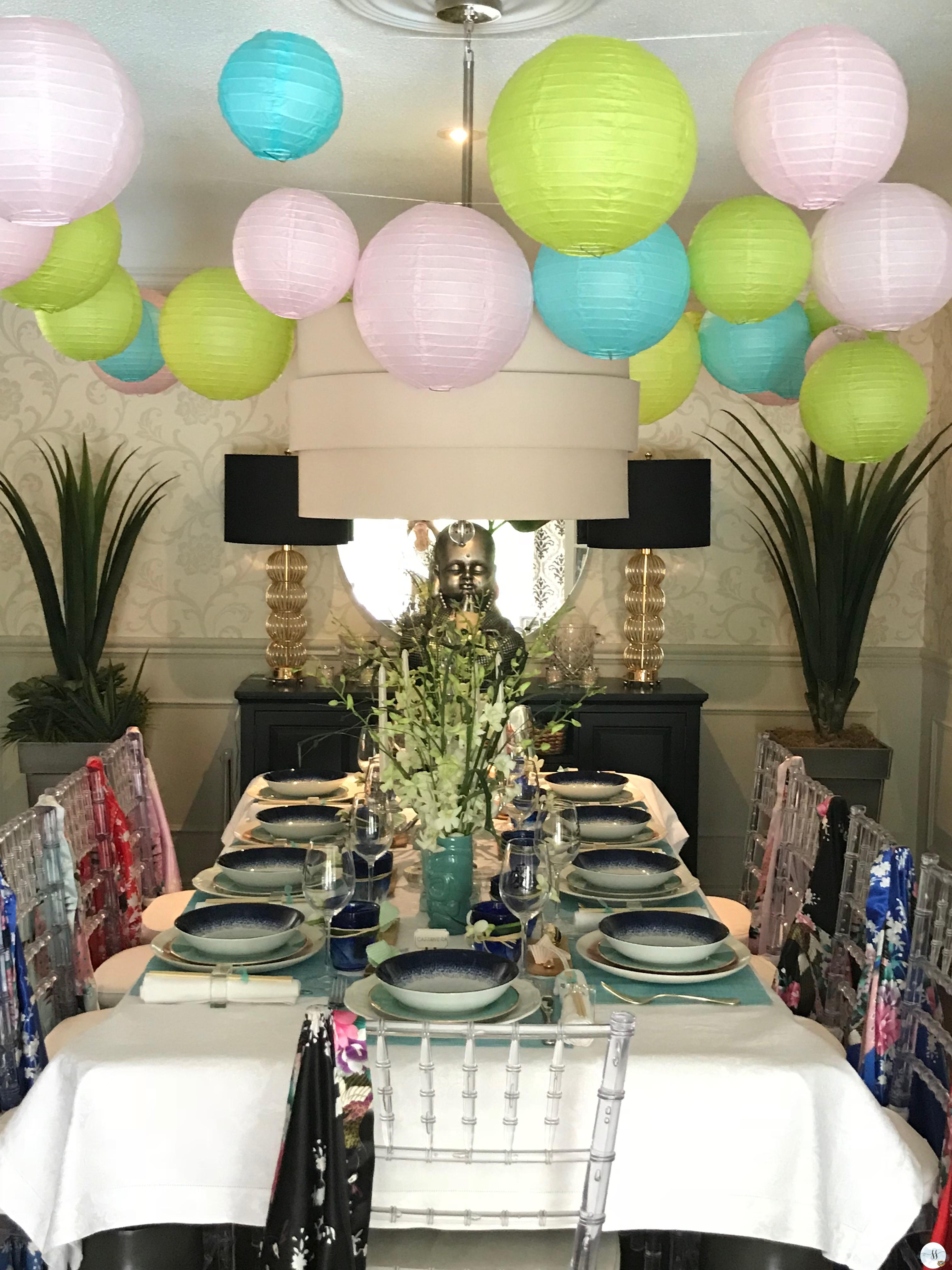 I hit Pinterest with a vengeance!! There were a lot of décor ideas that were black and red. I knew I didn't want that colour scheme at all. Not that there is anything wrong with those colours, it's just that I have the total sum of zero décor items in my house that are black and red… and ya know how I like to shop my house before I run out to Home Sense! A couple of years ago I did a shower for my daughter in law and it was a Breakfast at Tiffany theme. So I still have a lot of Tiffany blue items that I use over and over again.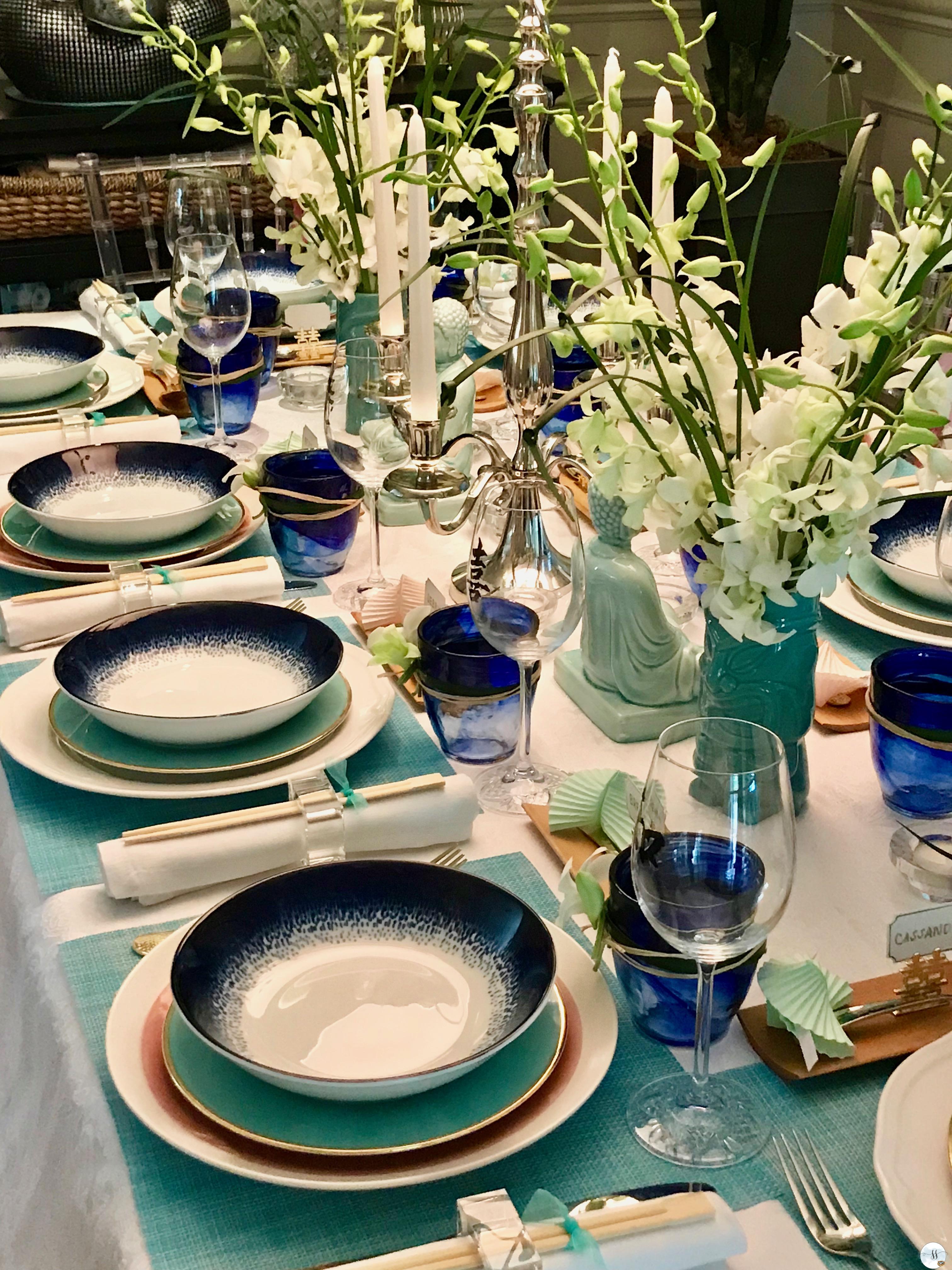 Invitations were sent via Evite. It's simple, environmentally friendly and RSVP's are usually pretty quick.
I used this poem for the invite….
They do not have a gifting list
Their house is set with nothing missed
They'd like to go on a honeymoon
A place for them as bride and groom
Please consider a cash donation
To send them to their dream location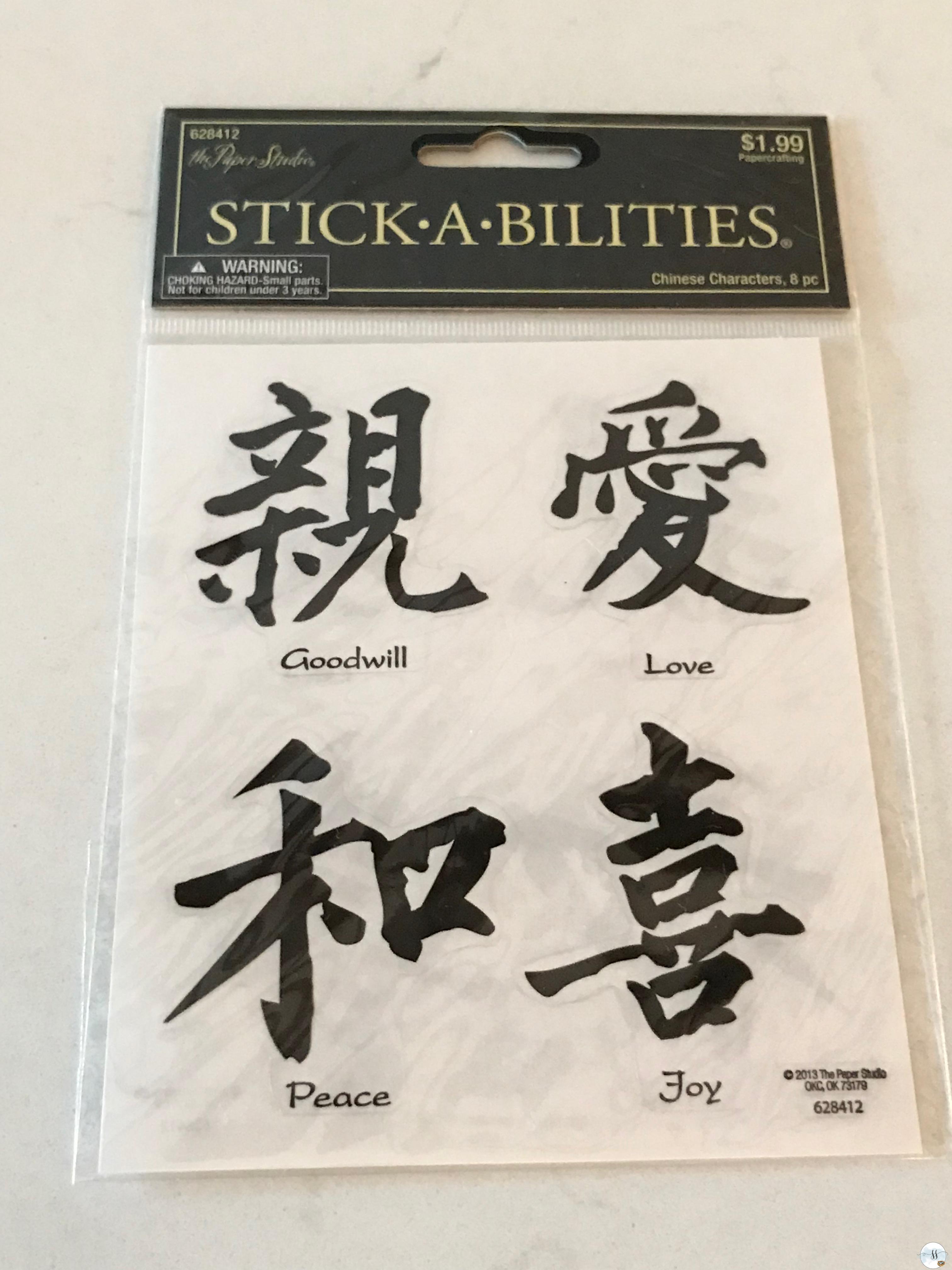 NOW I was ready to hit up Home Sense. I probably went there every 2-3 days to look at what they had. They continually have new stock and if you see something that you like you better buy it in a hurry or it will be gone. For my American friends, HomeSense is the same as Home Goods in the USA. Of course, I found some fun items and was well on my way towards an Asian theme.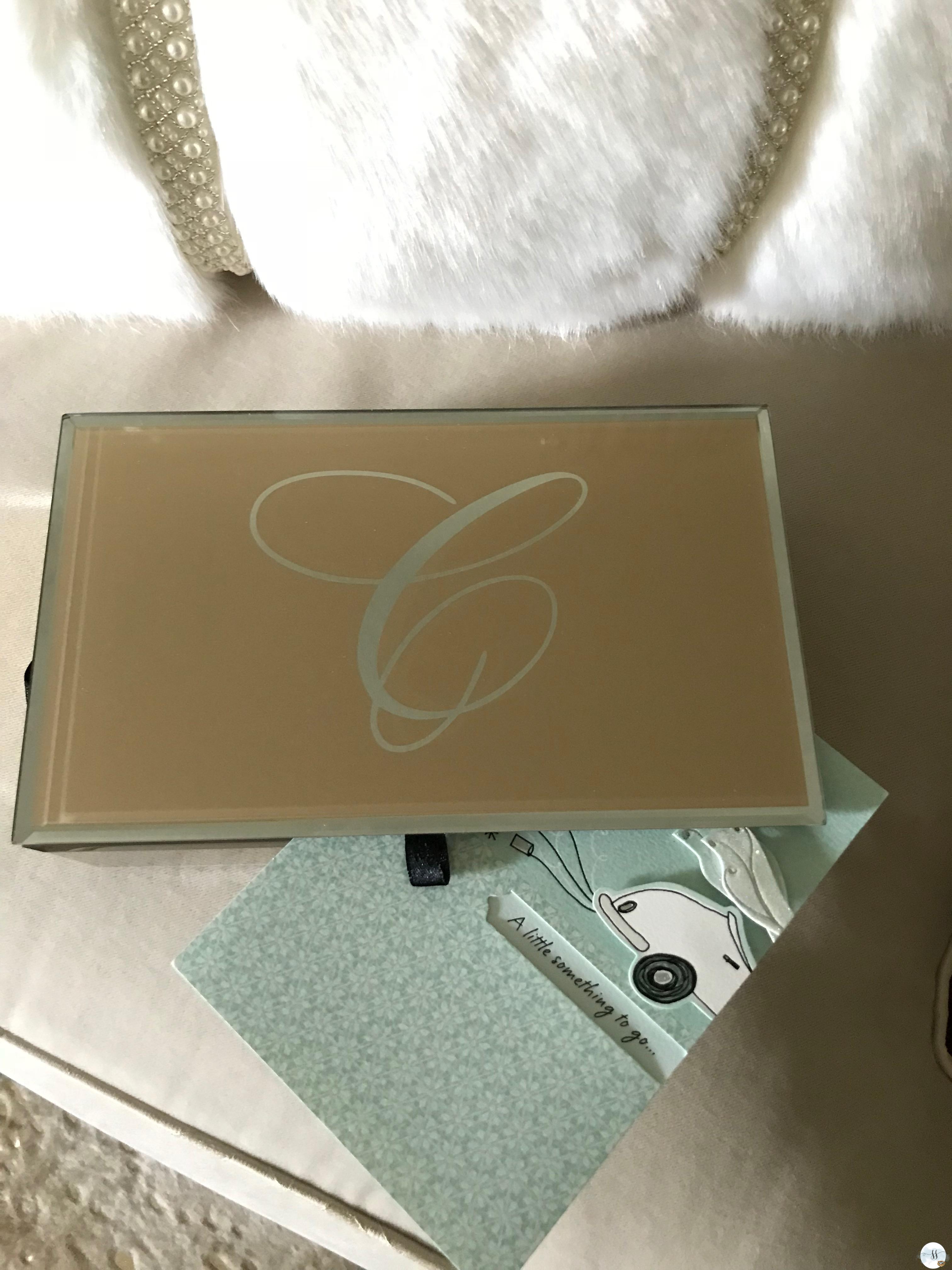 Check out this cute little keepsake box. There was only 3 in the store and one happened to have a C on it….it was perfect and meant to be. I used it to put all Cassandra's cards in and gave it to her to take home.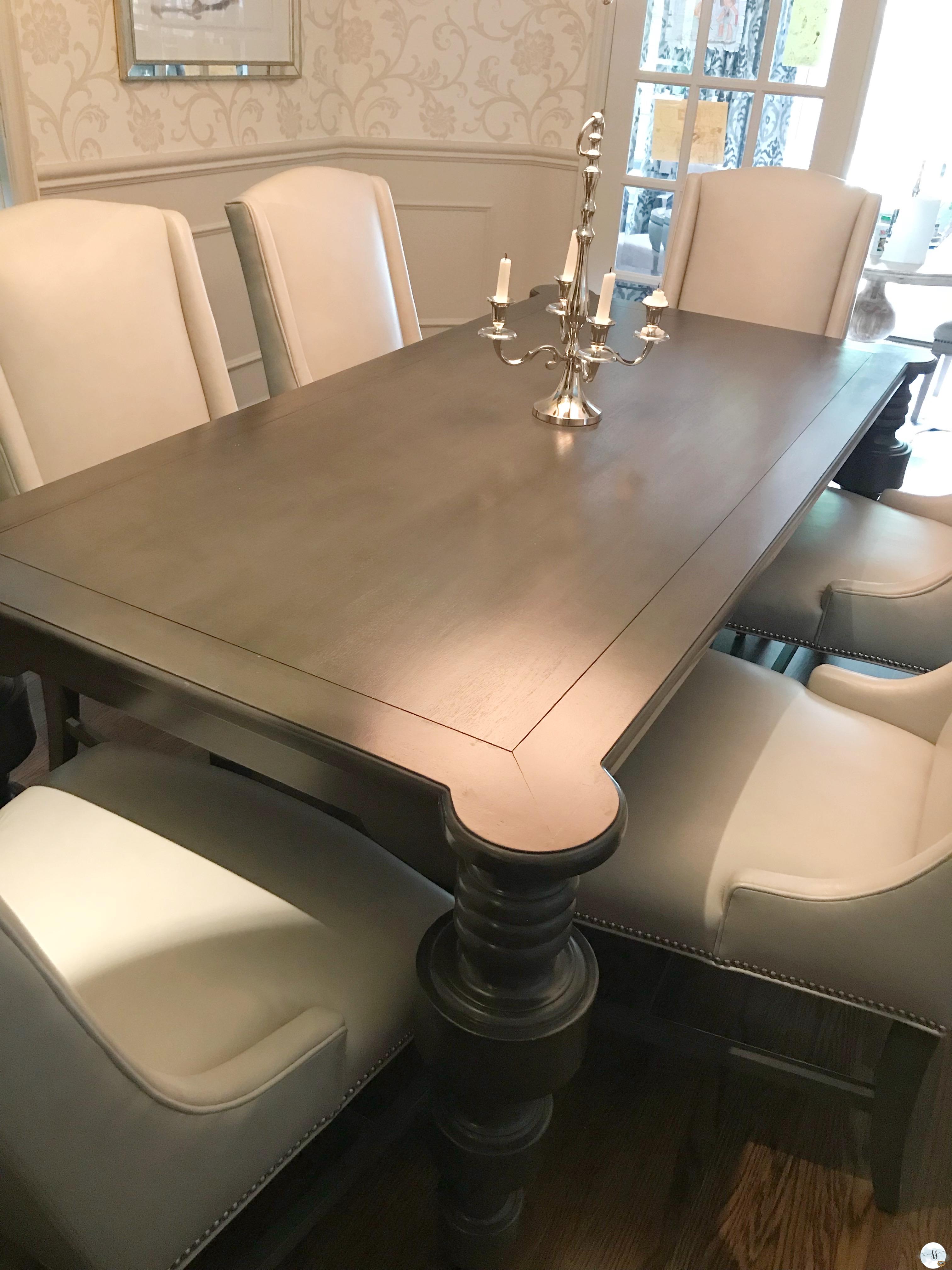 My dining room chairs are quite large. Anytime I have more than six people I have to remove these large chairs and rent smaller ones to accommodate more guests.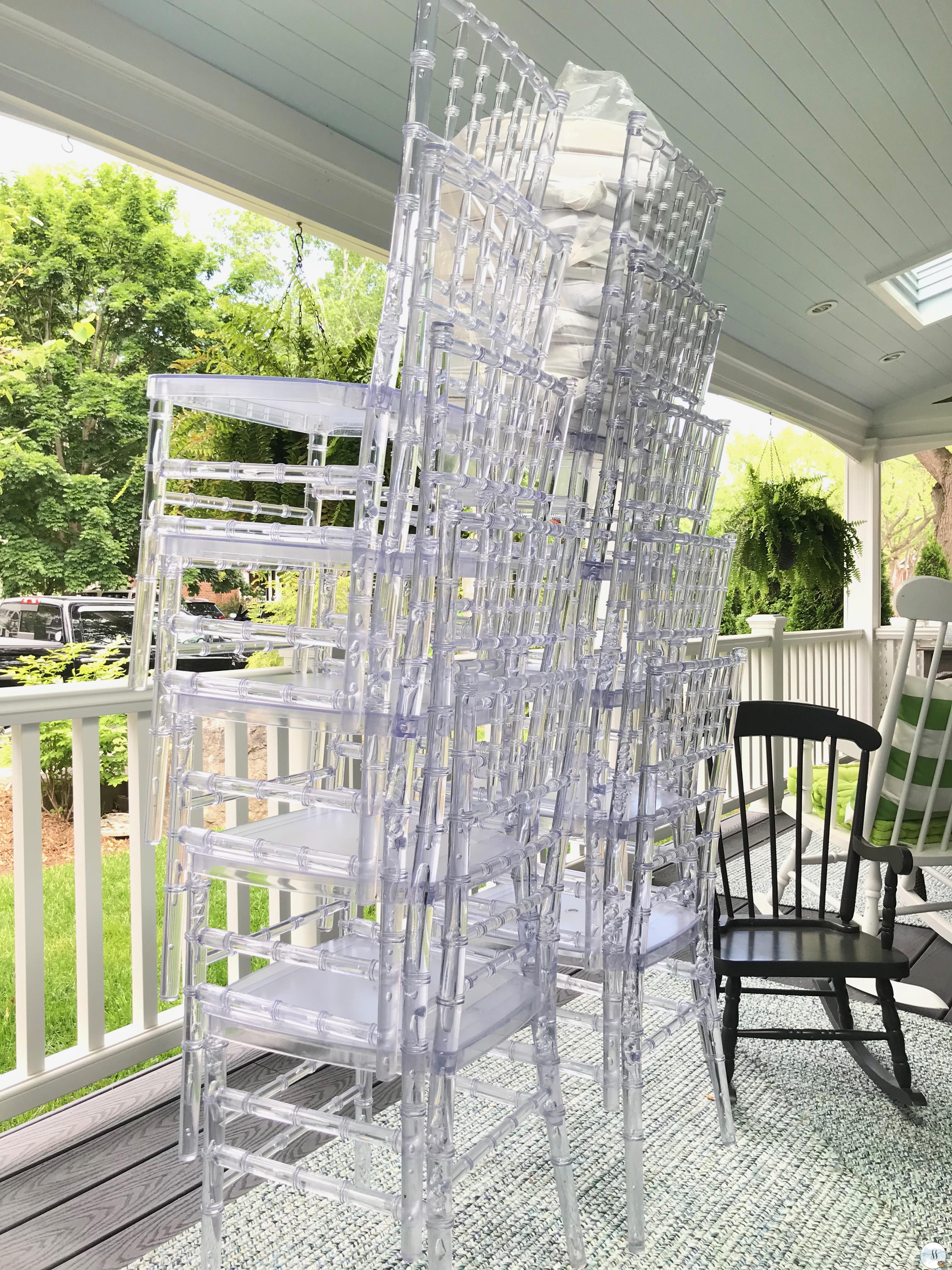 I love using Chevalier chairs. Typically you can find them in gold, silver or clear. I can fit 10 around my table…a bit snug but it works.
I always buy felt stickies for the legs of the chairs. It saves my hardwood floor. I buy these at the dollar store and they do the trick perfectly. (OH!!! There's my gum)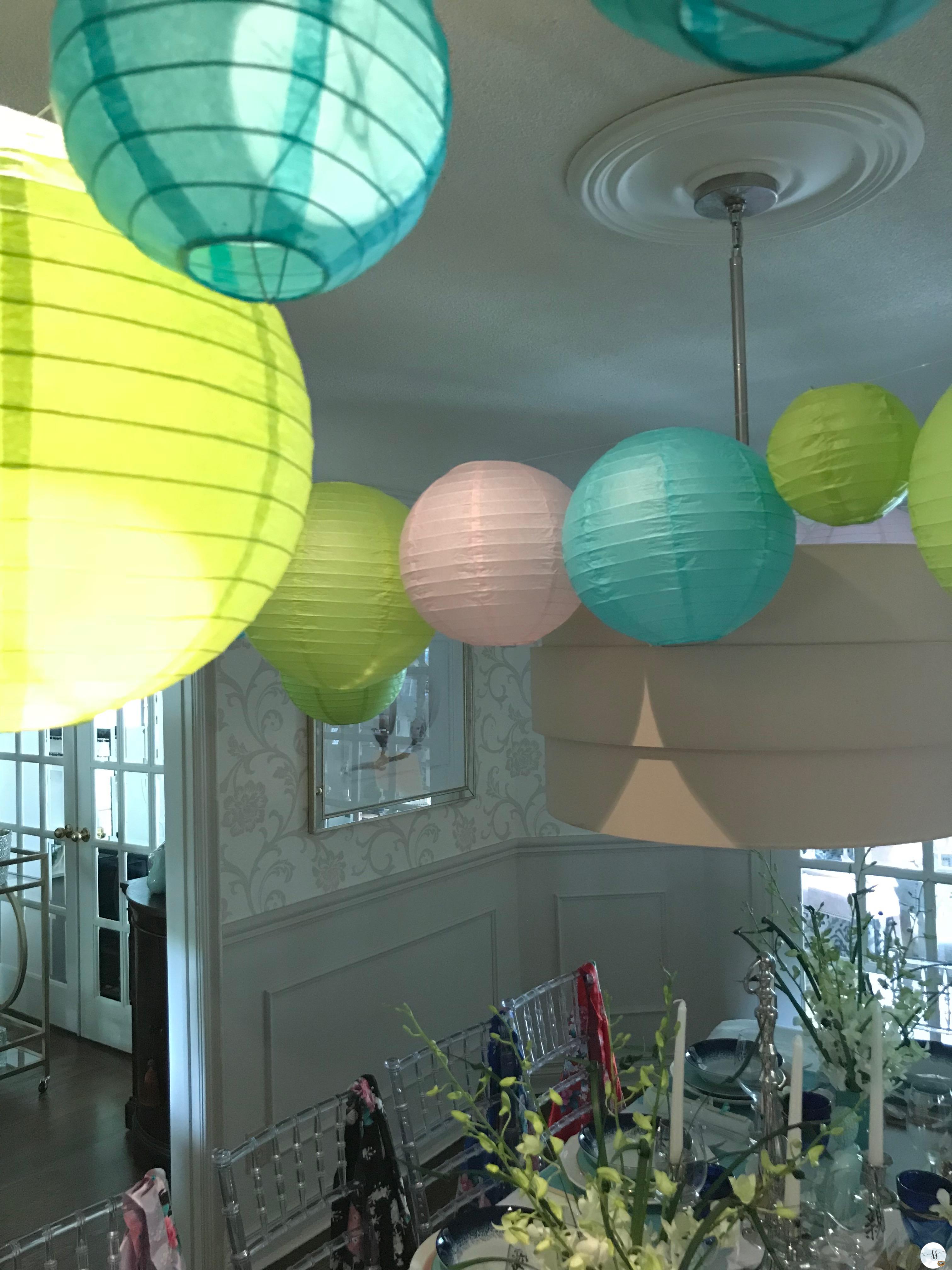 I had these paper lanterns in my basement storage. I had purchased them for other showers and was happy to reuse them. I strung some fishing line across the ceiling and hung the lanterns high enough that they wouldn't be in the way.  One was a bit droopy and Janet might have bonked her head on it. Sorry, Jan!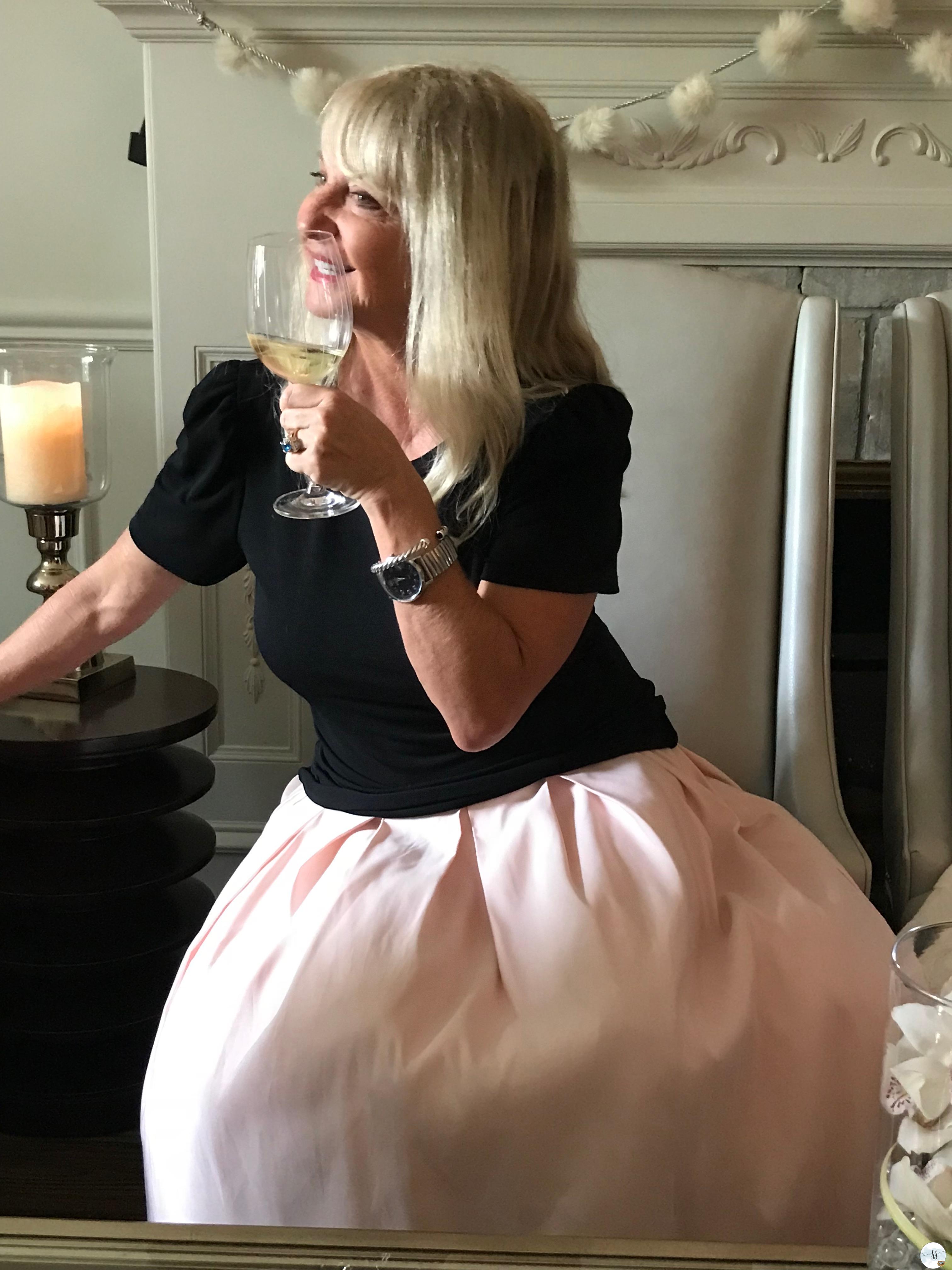 I hate worrying about the meal, so my sweet friend Nikki (photo) suggested I use her amazing chefs from her restaurant chain Turtle Jacks. Ruben and Mike were off the chart!  They came up with an incredible menu in keeping with the Asian theme
Sushi
~
Mango and Vermicelli Salad, Steak, Asian Pears
~
Roasted Chicken Breast, Coconut Rice, Green Beans and lime and Kumquat Dressing
~
Coconut Pannacotta with Exotic Fruit Salad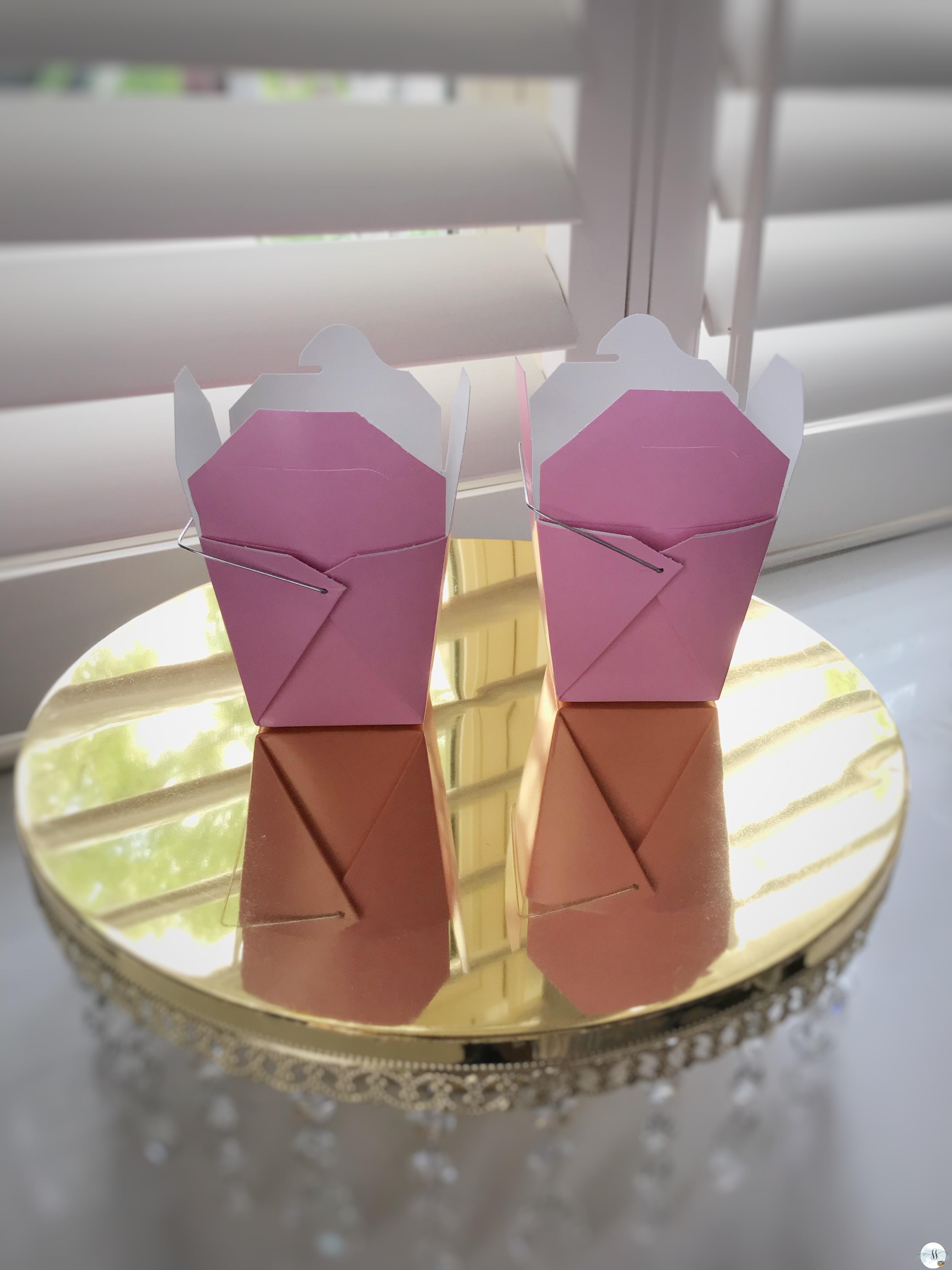 Their attention to detail did not go unnoticed by anyone. They happily incorporated my ideas of serving in Chinese food takeout containers, using chopsticks and using some of my serving trays as well.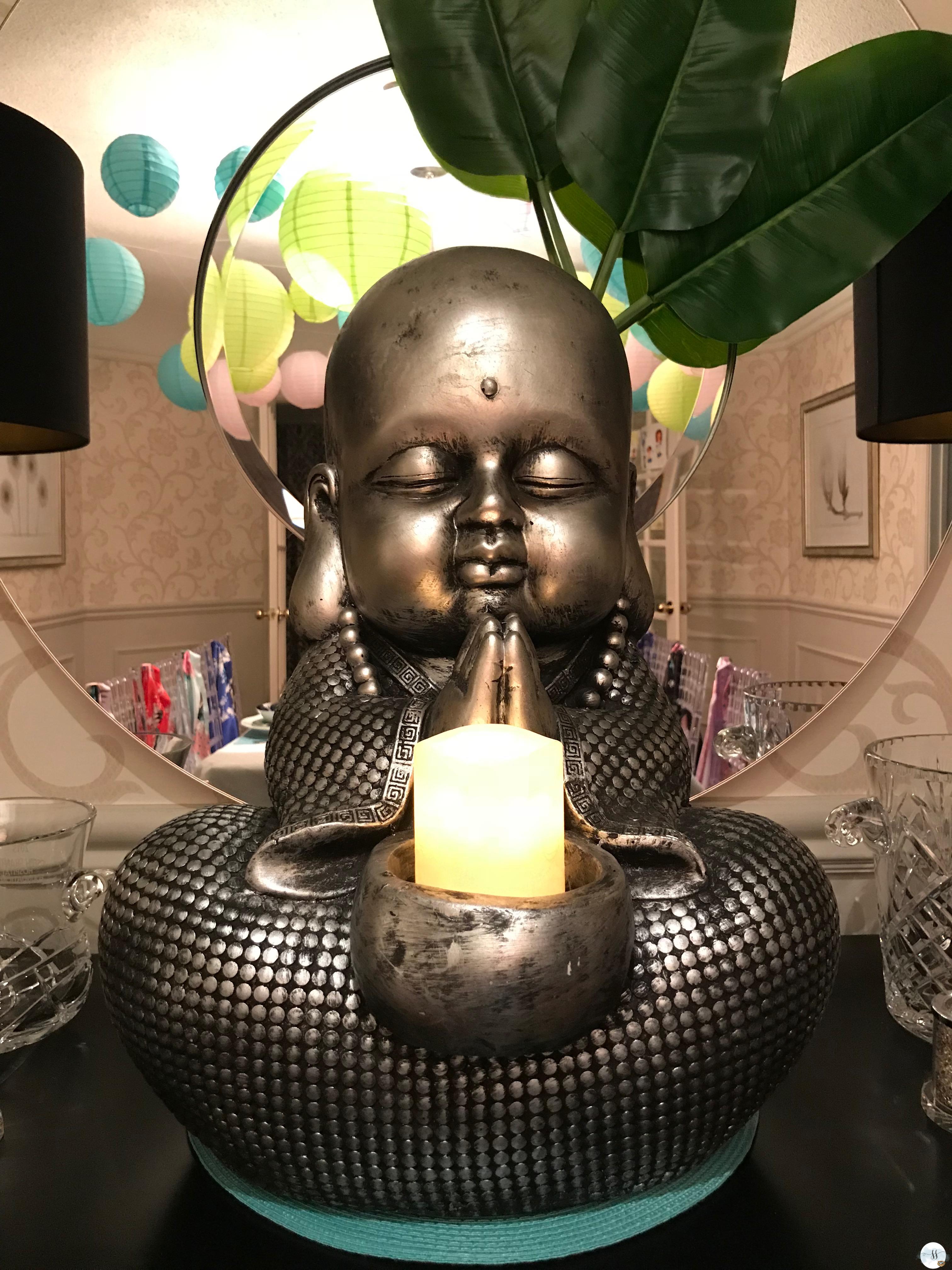 I found this Big Budha at Homesense. When I brought it home Steve gasped! LOL…he thought it was the ugliest thing he had ever seen. I kept the receipt and will return it to the store. I have no further use for him, the Budha not Steve…lol…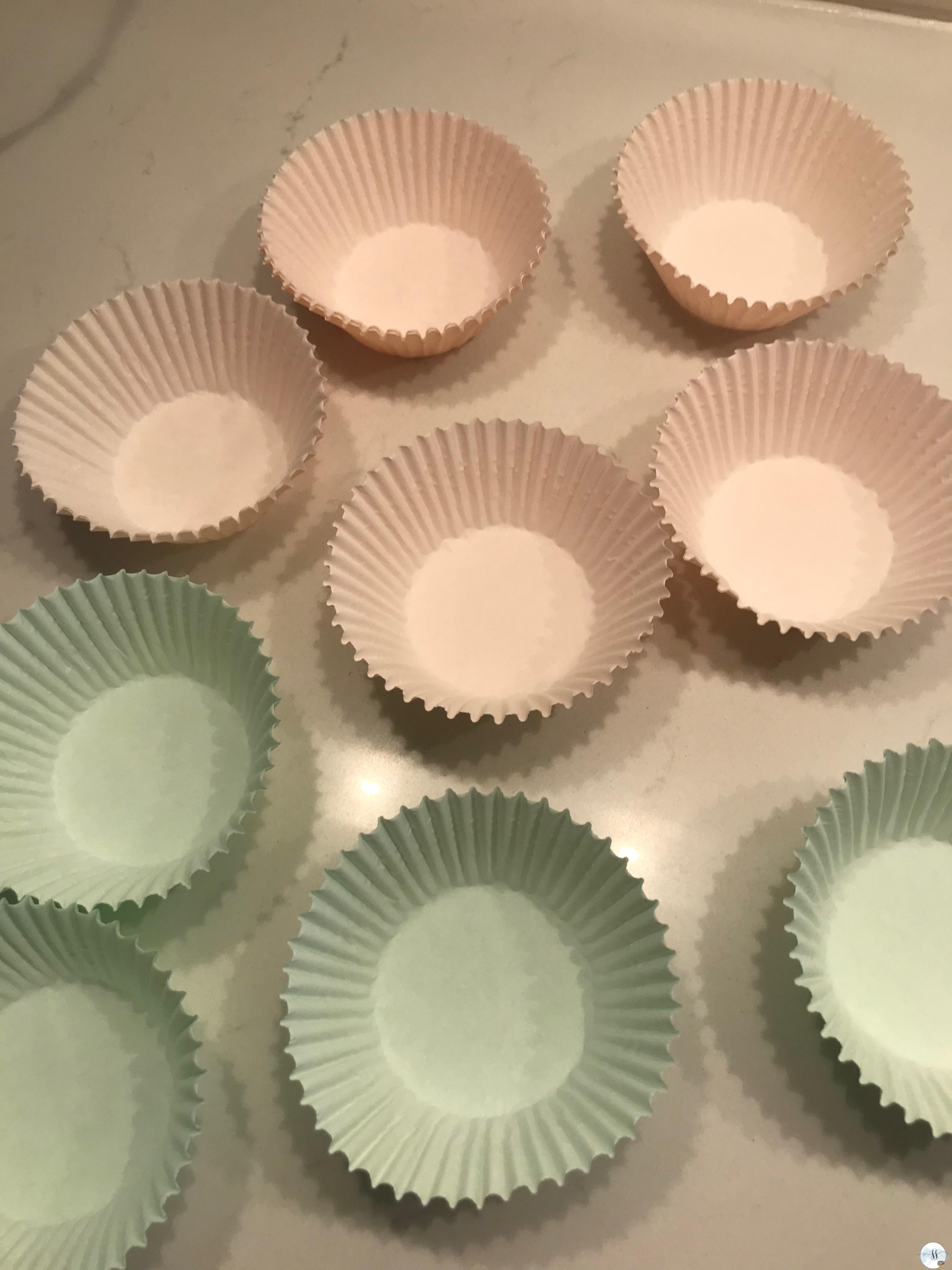 I had fun with some DIY projects. My granddaughters and I were baking some cupcakes and I was playing with the cupcake liners.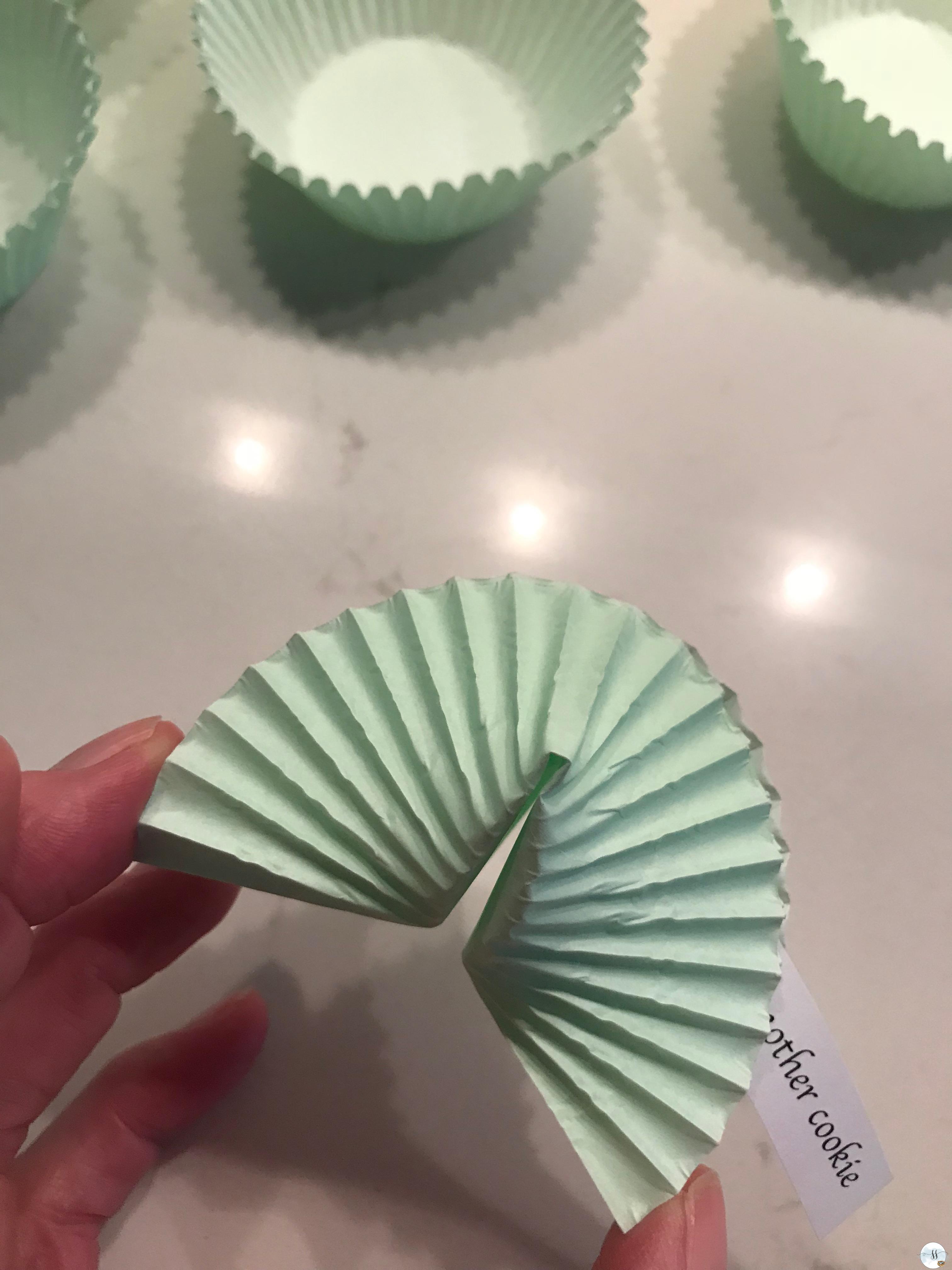 I turned one into a fortune cookie without realizing it. I decided to try and glue it into this shape to see if it would hold. Voila…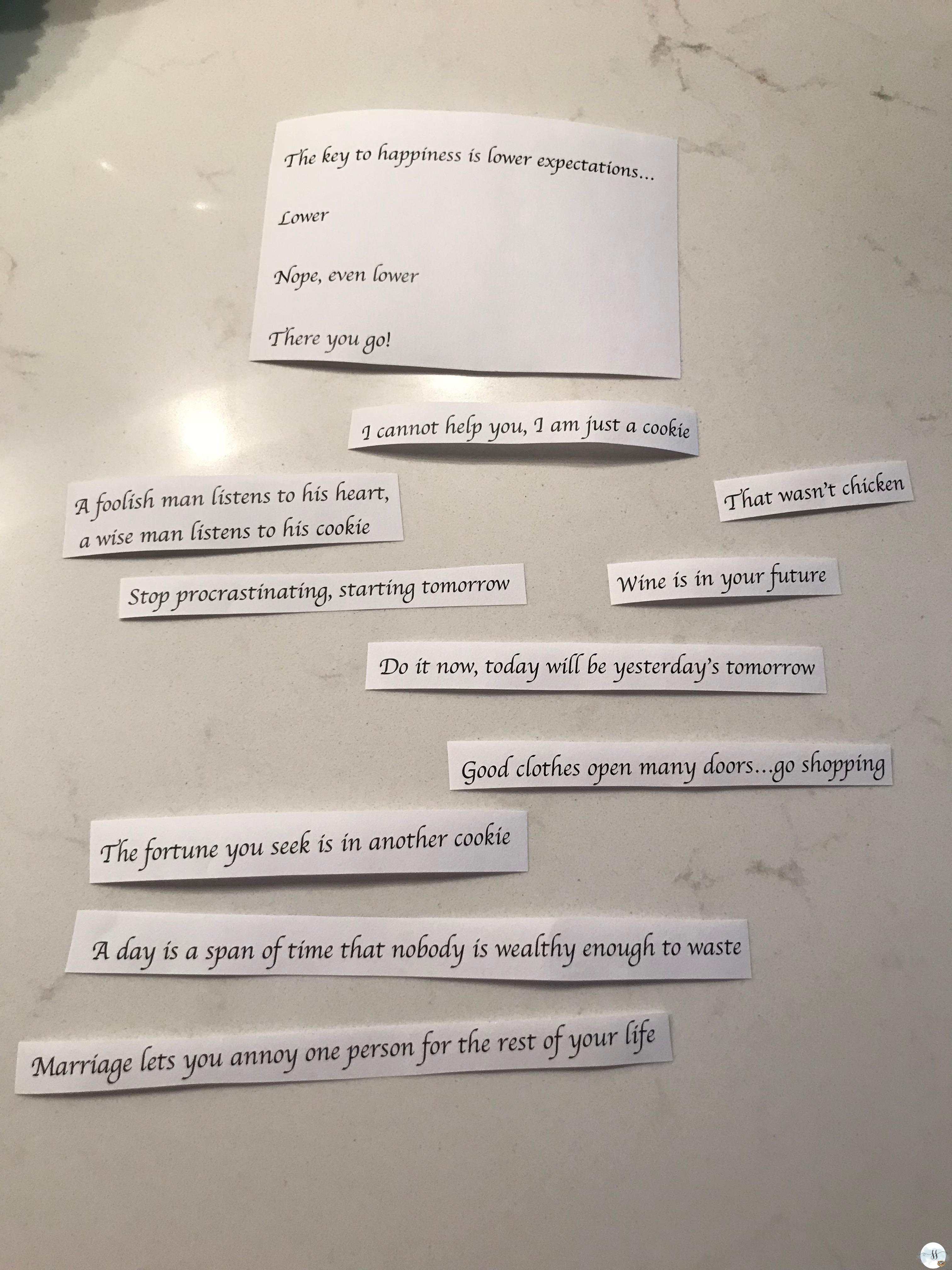 I wrote some fun fortunes and I put one 'cookie' at each place setting. So cute and so easy. I used liners that I already had because they matched my decor perfectly. You could do some super fancy ones in gold or silver.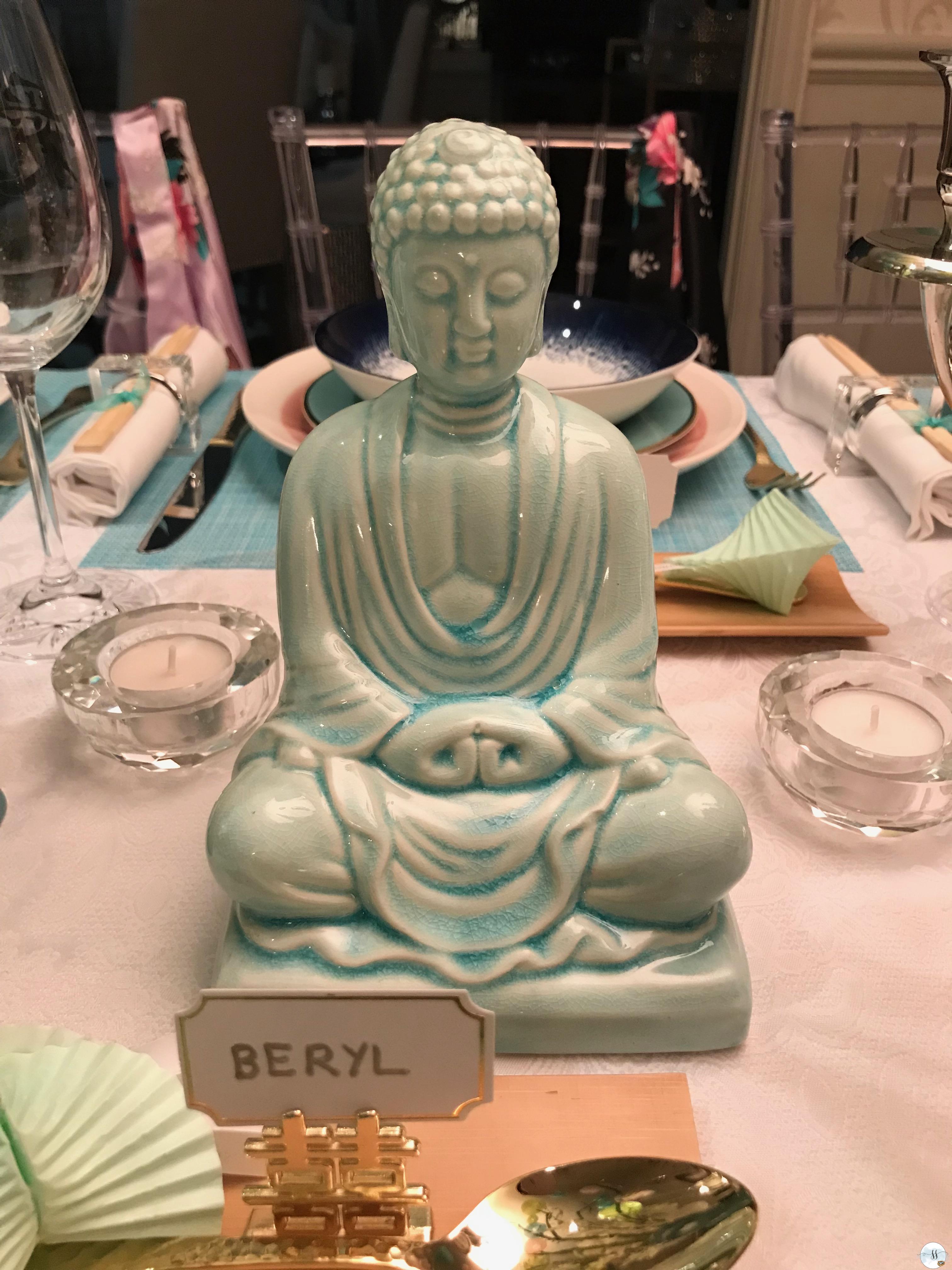 I found these little statues at Homesense (Where else?). I have no idea what or where I will use these again, but I am keeping them. They are kinda cute.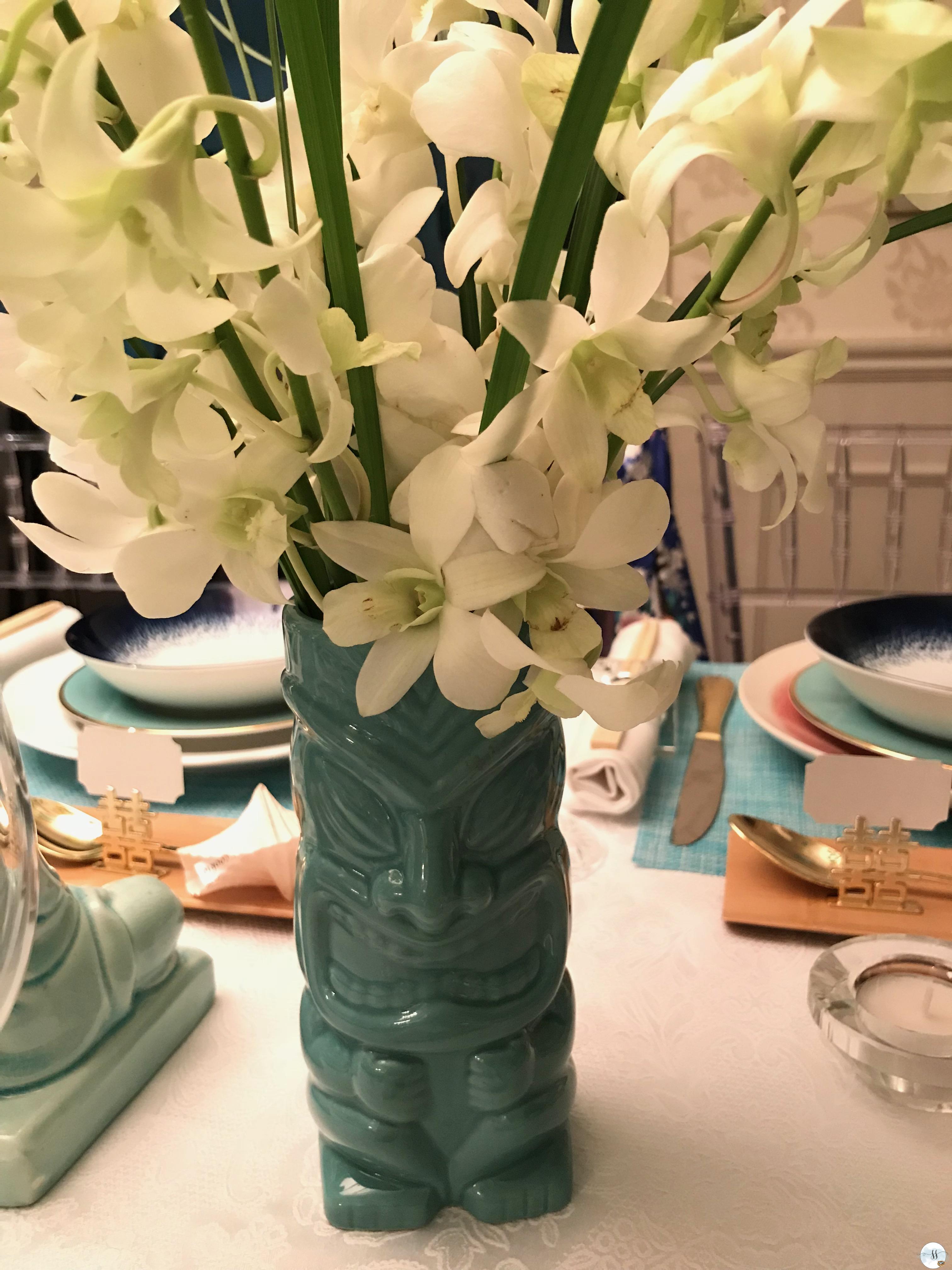 I paid a visit to Debbie at a very local flower store called Brant Florist. I brought these little vases over to Debbie and she made two incredible flower arrangements for me. They made a stunning impact on the table.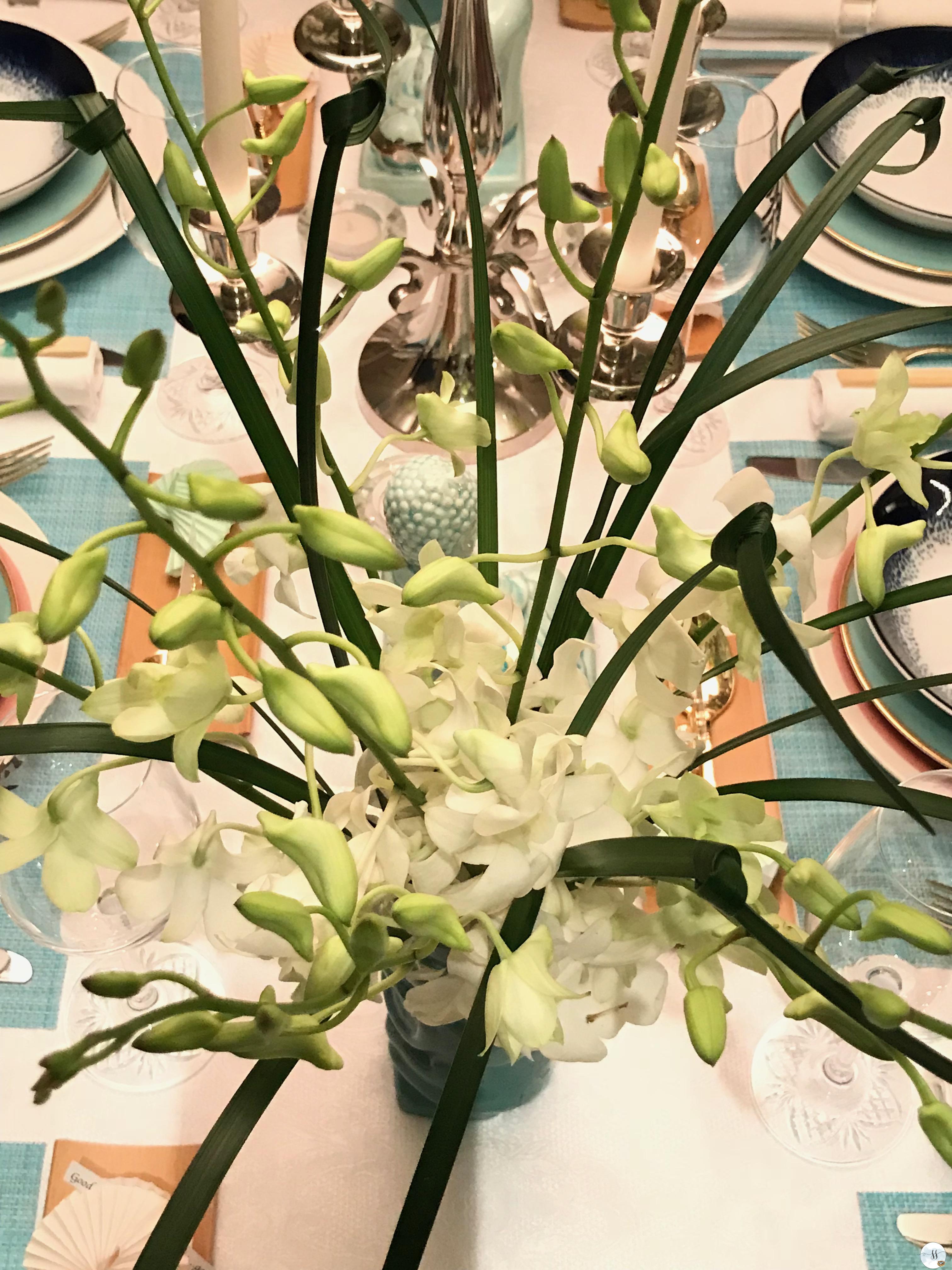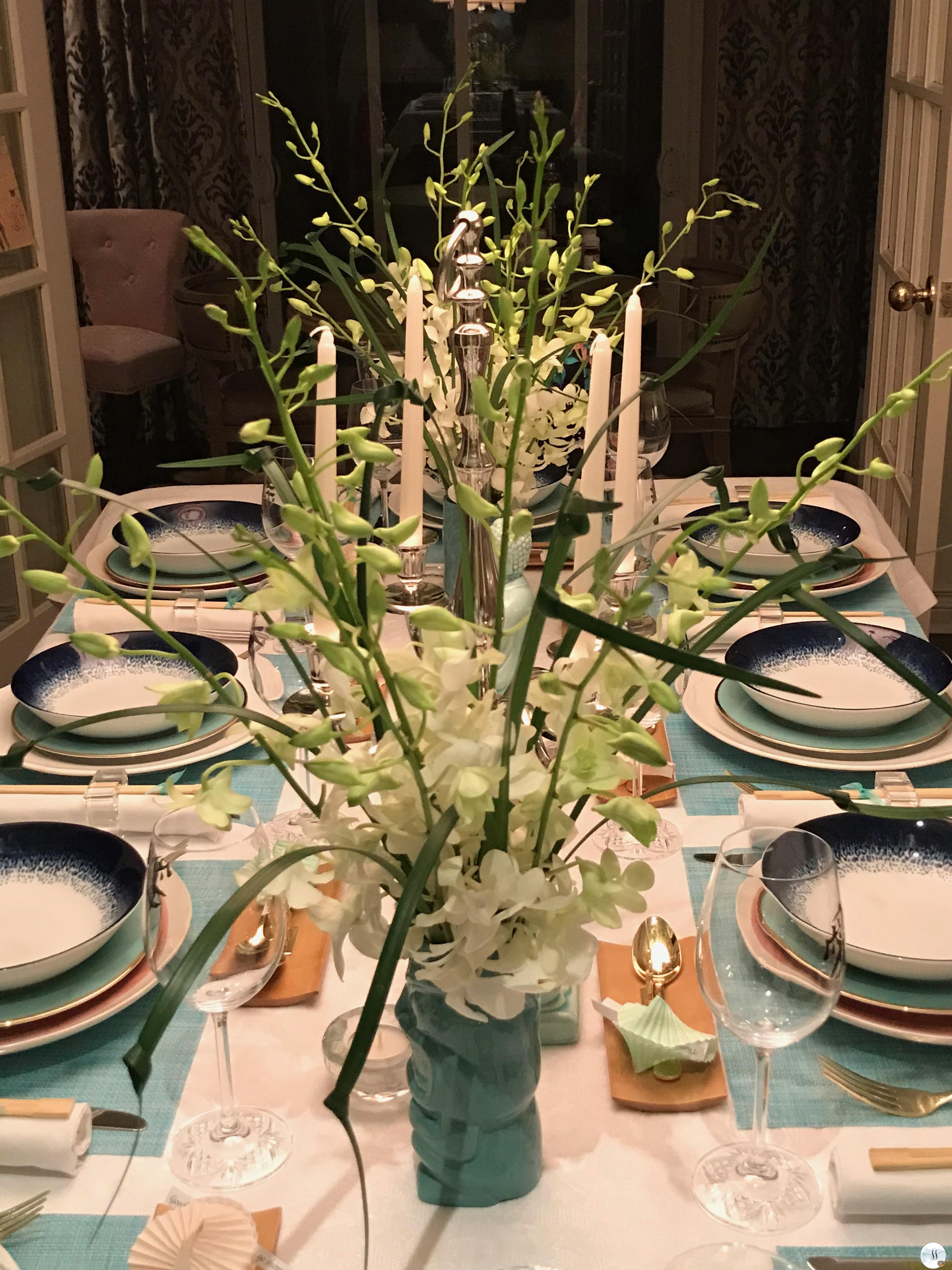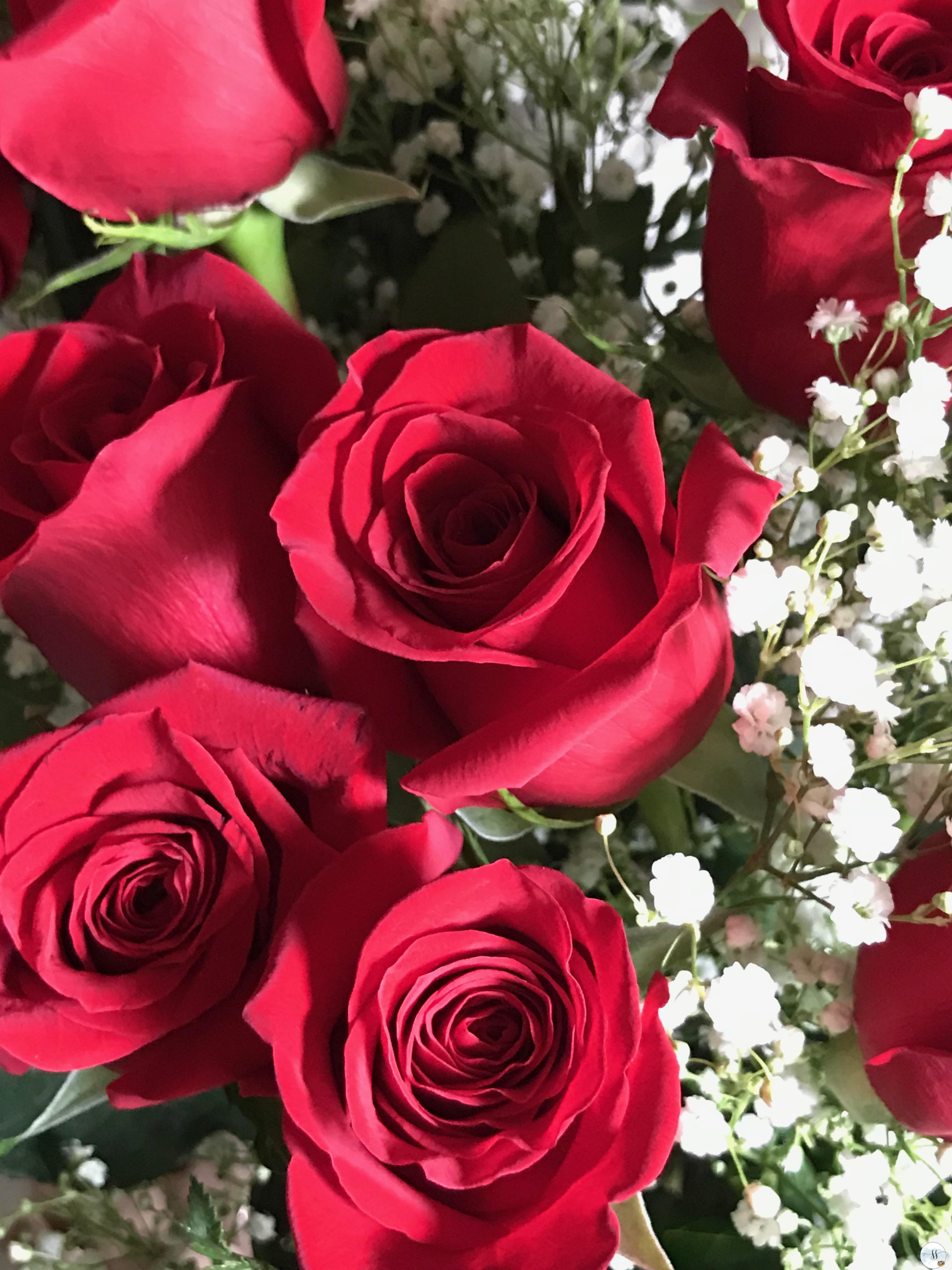 The morning of the shower Steve walked over to Brant Florist and surprised me with 24 long stem red roses….this man of mine never stops spoiling me. Xoxo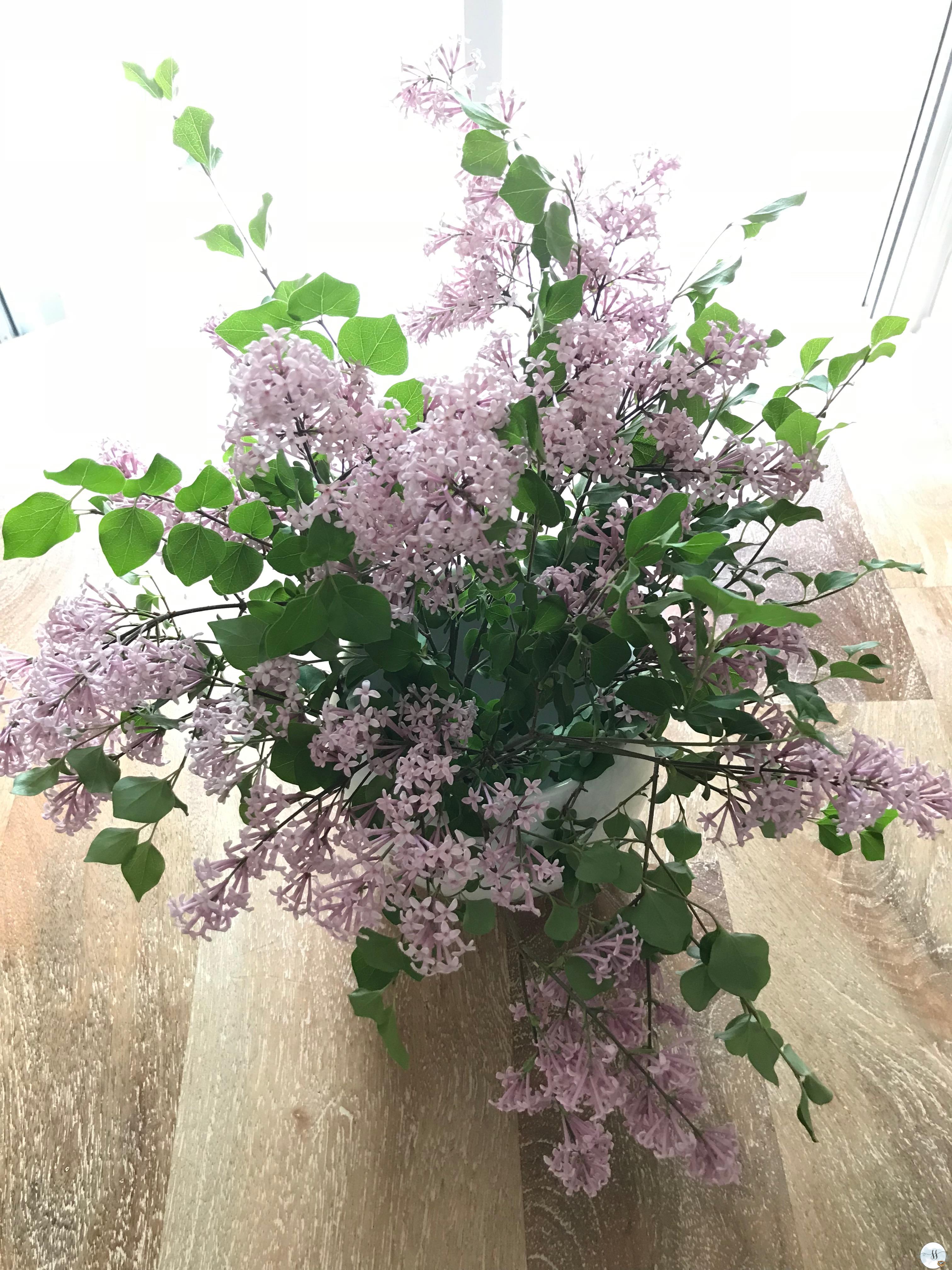 My Lilac bushes are just starting to bloom. I was able to get enough blooms to make a small bouquet. I wish you could smell this picture…lol…SO pretty!!! By the end of this week, they will be in full bloom! My family room and living room will smell amazing! Mother Nature's very own Febreeze!!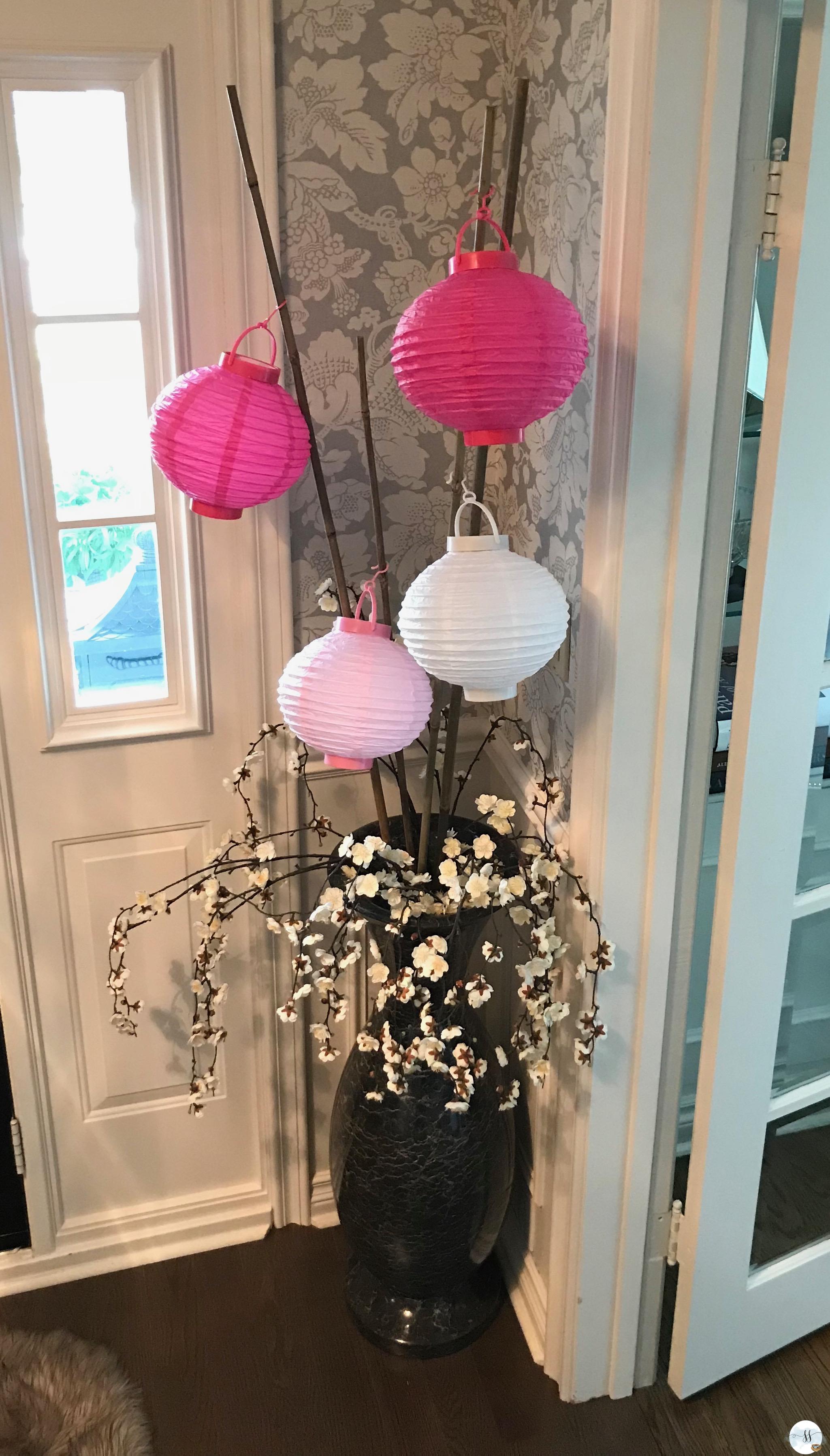 Most of the Asian theme was kept to the dining room. I did add a few pieces to the powder room and at the front door too. I bought the bamboo rods at our local garden center for a couple of dollars and these lanterns were purchased at Dollarama.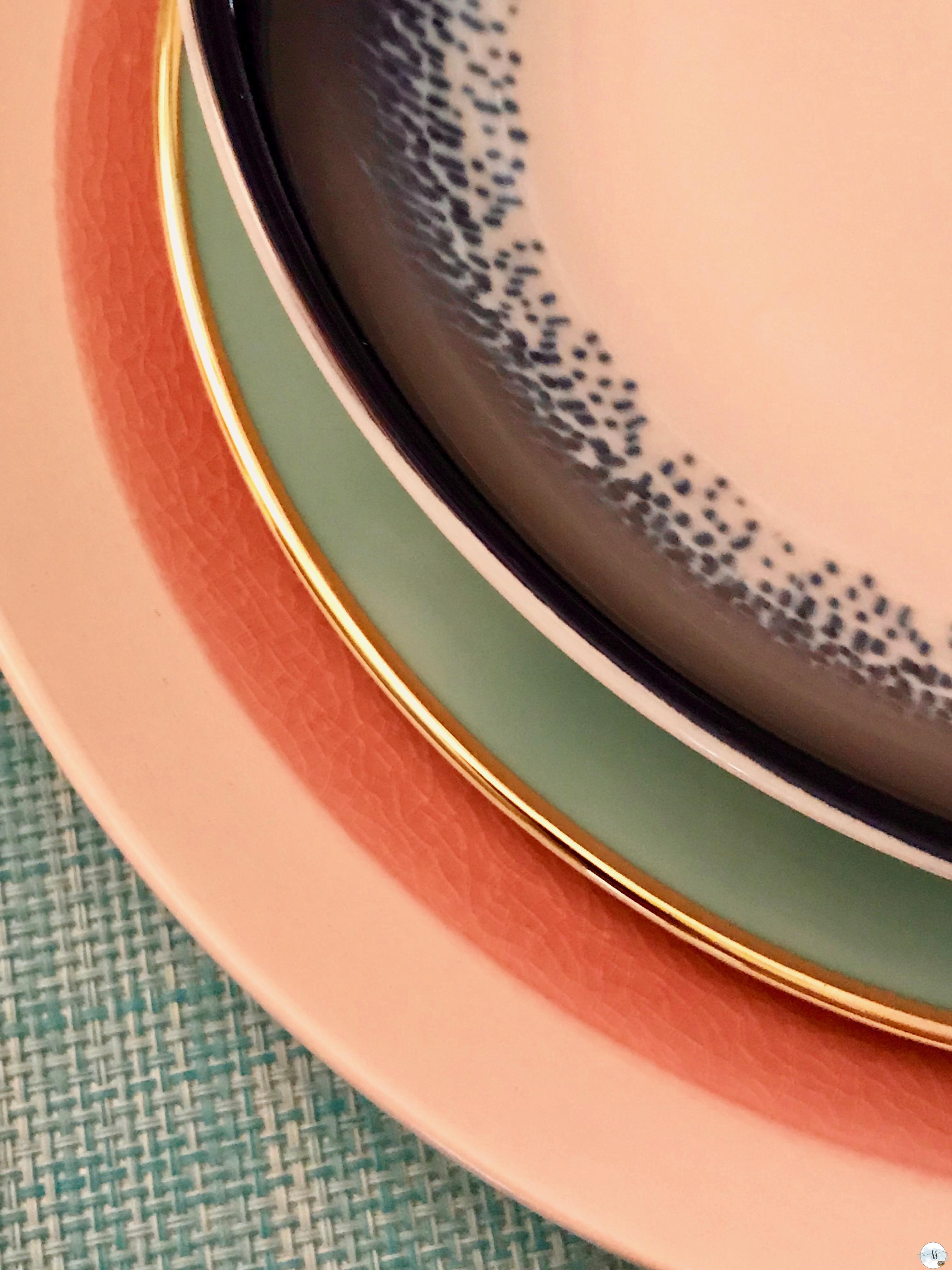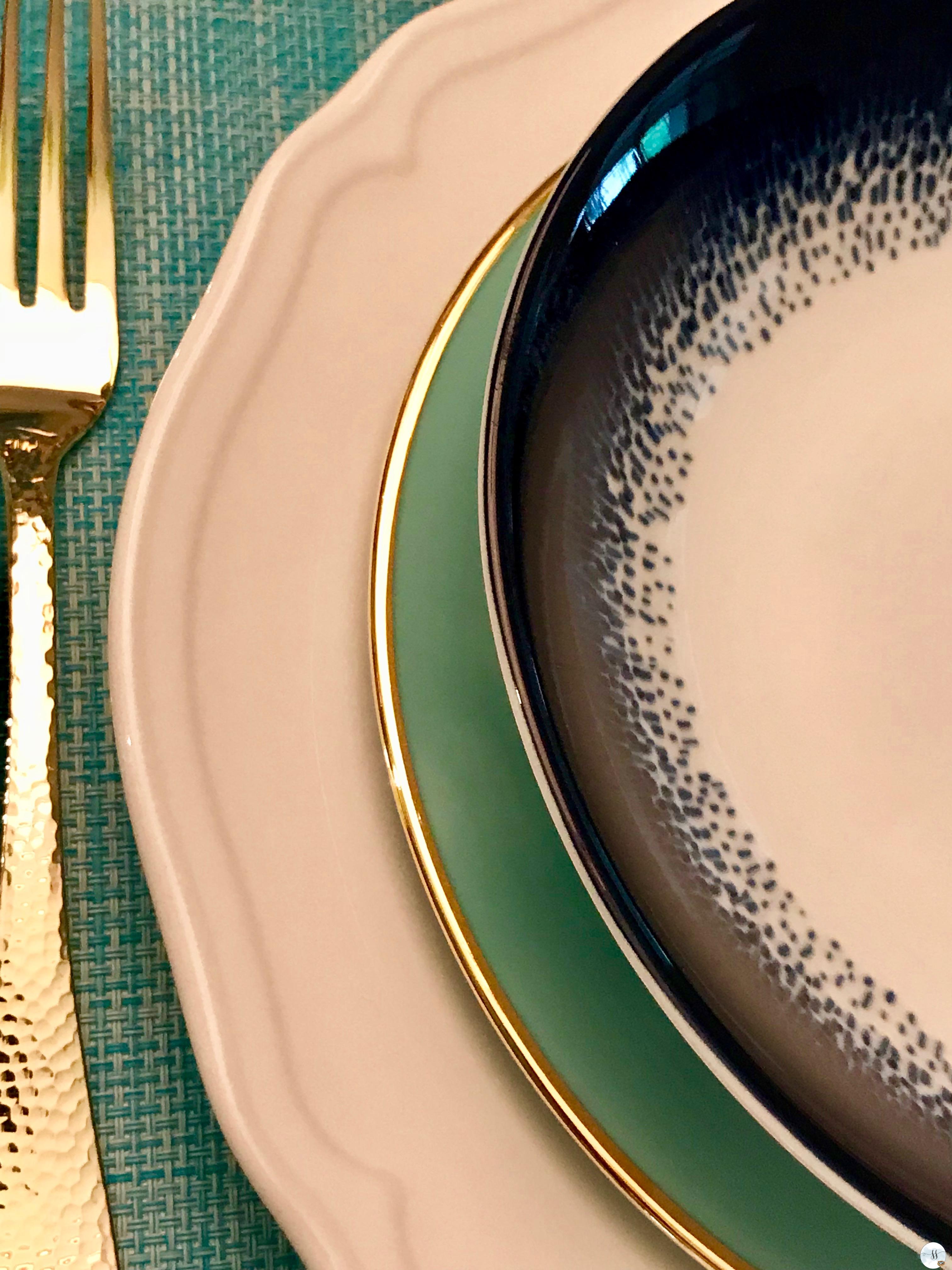 I used dishes that I already had except the blue bowls. I got them at Homesense. They were not expensive. I love the shade of blue and they work with the pink, white and turquoise plates.
I had an idea for my water glasses that I wanted to pass by Debbie at Brant Florist to get her opinion on. I hopped on my bike and headed over. (One of the perks of living downtown – everything is a bike ride away) I wanted to wrap the glasses in a piece of grass and raffia. Debbie showed me the best way to do this DIY project and suggested I add a flower. She chose a flower that she used in my floral displays. She ordered the supplies for me to pick up the day before the shower.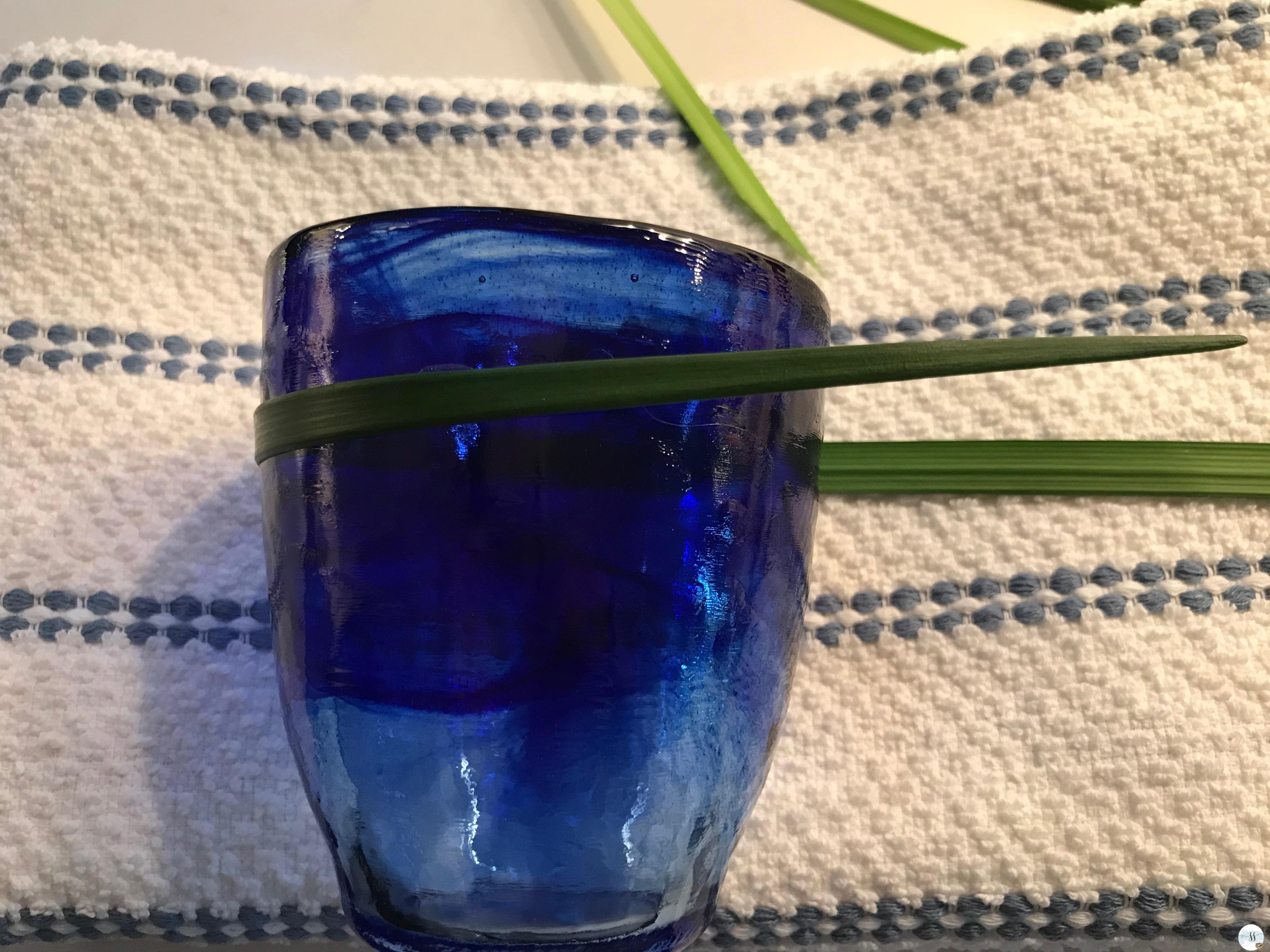 Using a hot glue gun I dabbed some glue onto the back to hold the grass in place.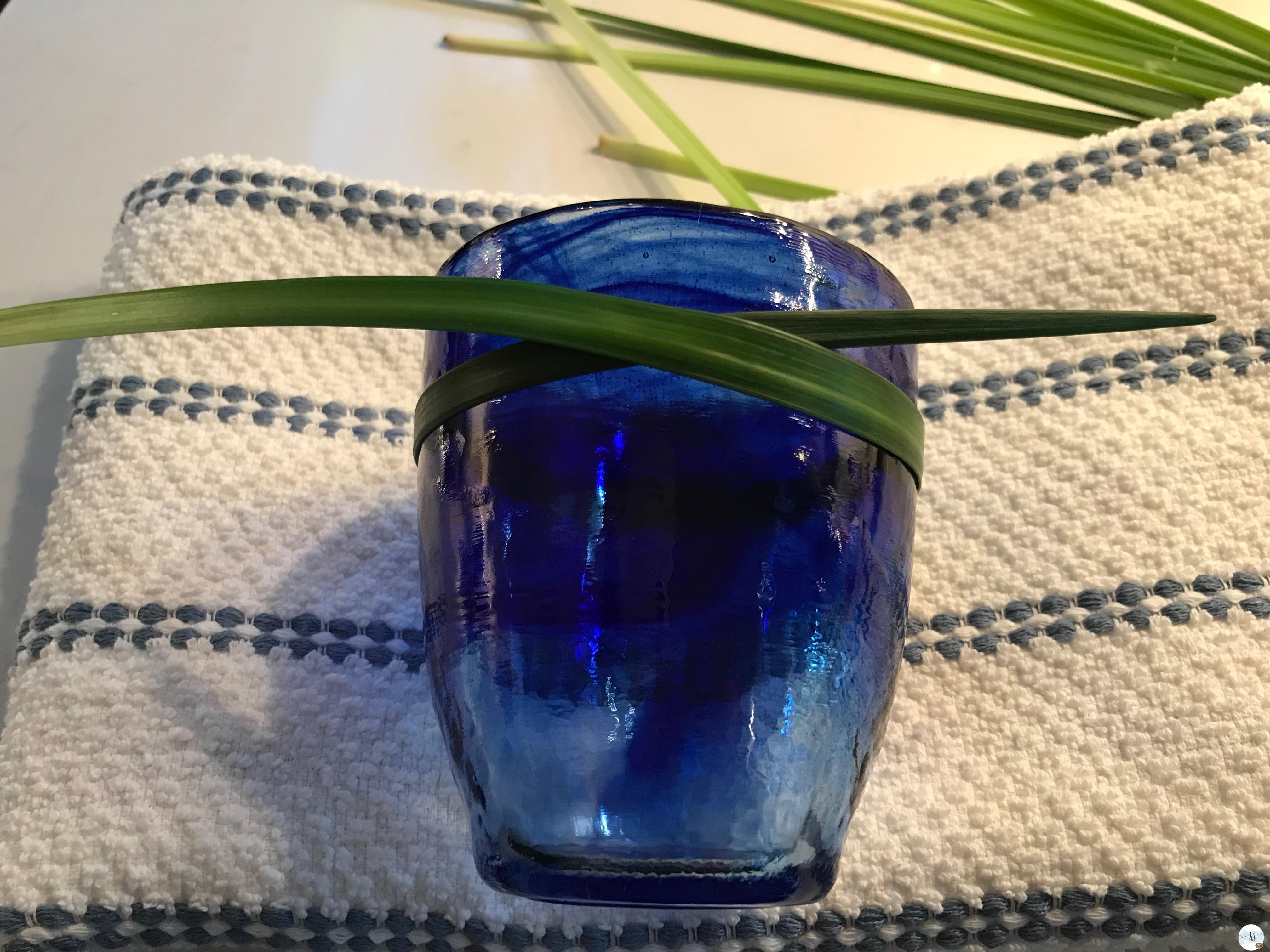 I added another dab in the front of the glass for the first end of the grass and then dabbed glue right onto the leaf to secure the other end of the leaf.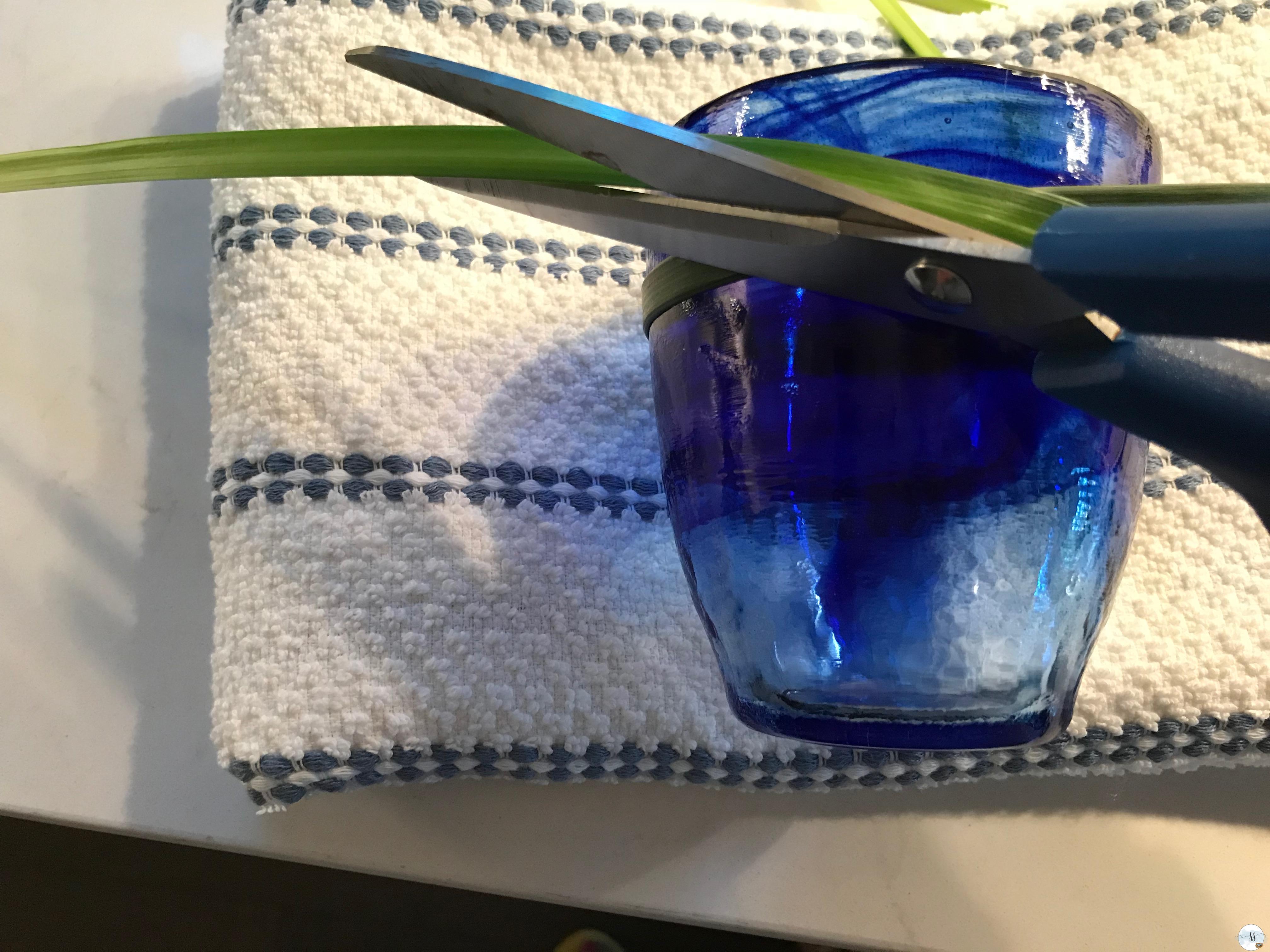 I snipped off the end on an angle.
Another little bit of glue for the flower and the bud.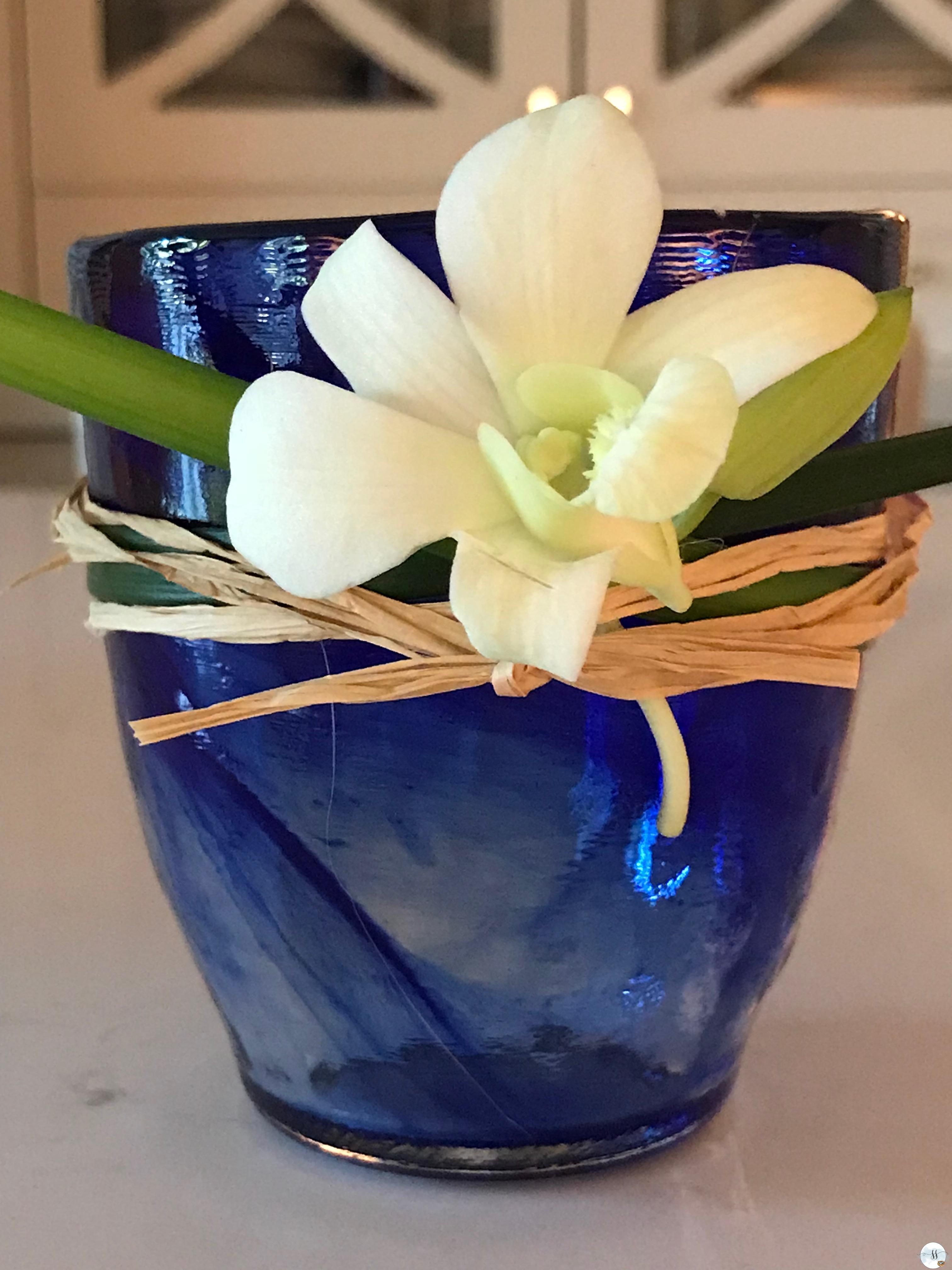 Wrapped it tight with raffia and we're done!!
The water glasses made a stunning presentation. I don't suggest putting the flower on till the day of your event. I wrapped all the glasses in the grass and only did one with the flower. I wanted to have an idea as to how long it would take and if, in fact, it was all going to hold in place overnight. It didn't take long at all, 5 mins per glass but by morning the flower was wilted.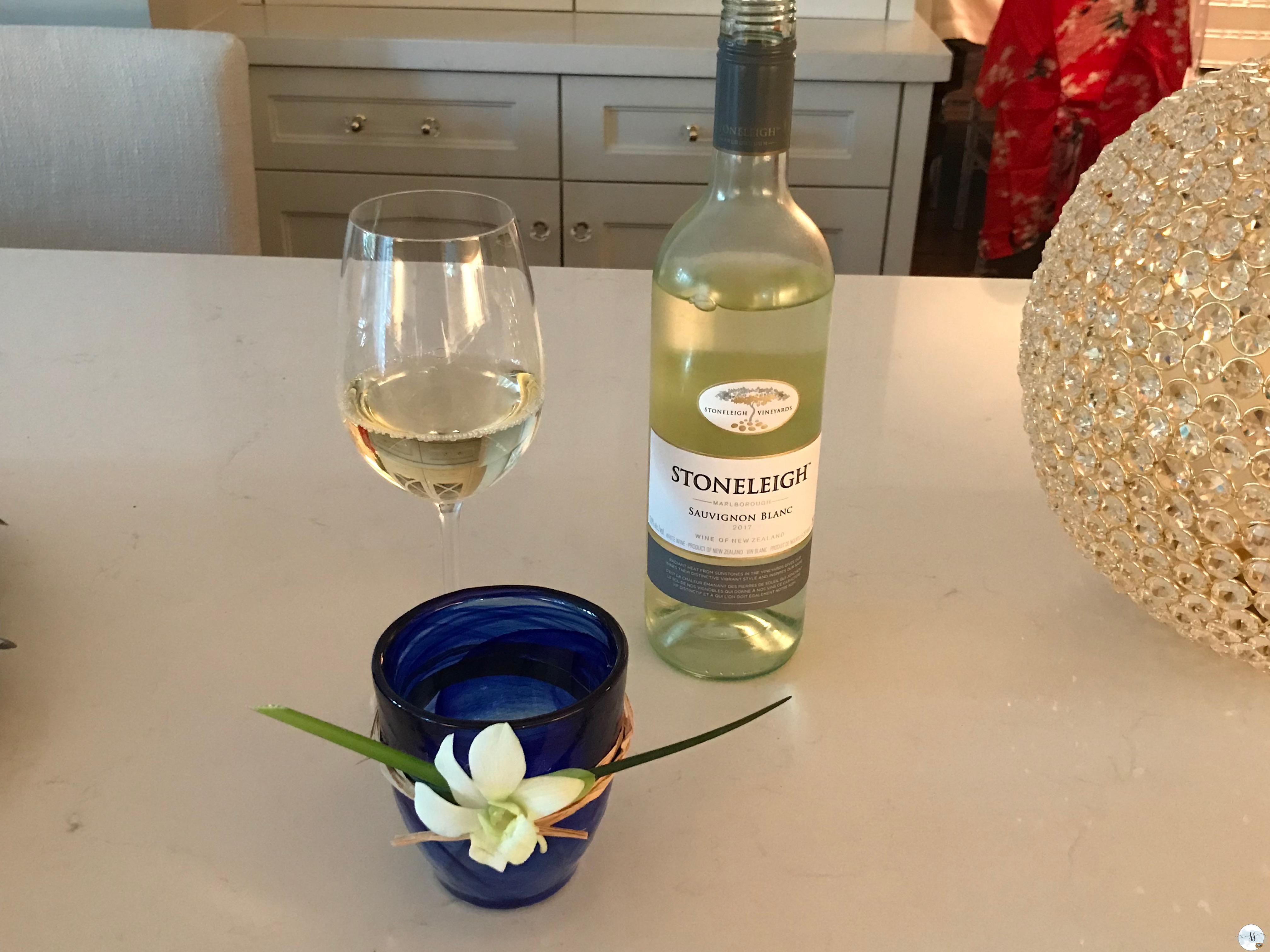 About an hour before the guests arrived I had my supplies ready to go and attached the flowers so that they would be fresh and tied it all together with a piece of raffia.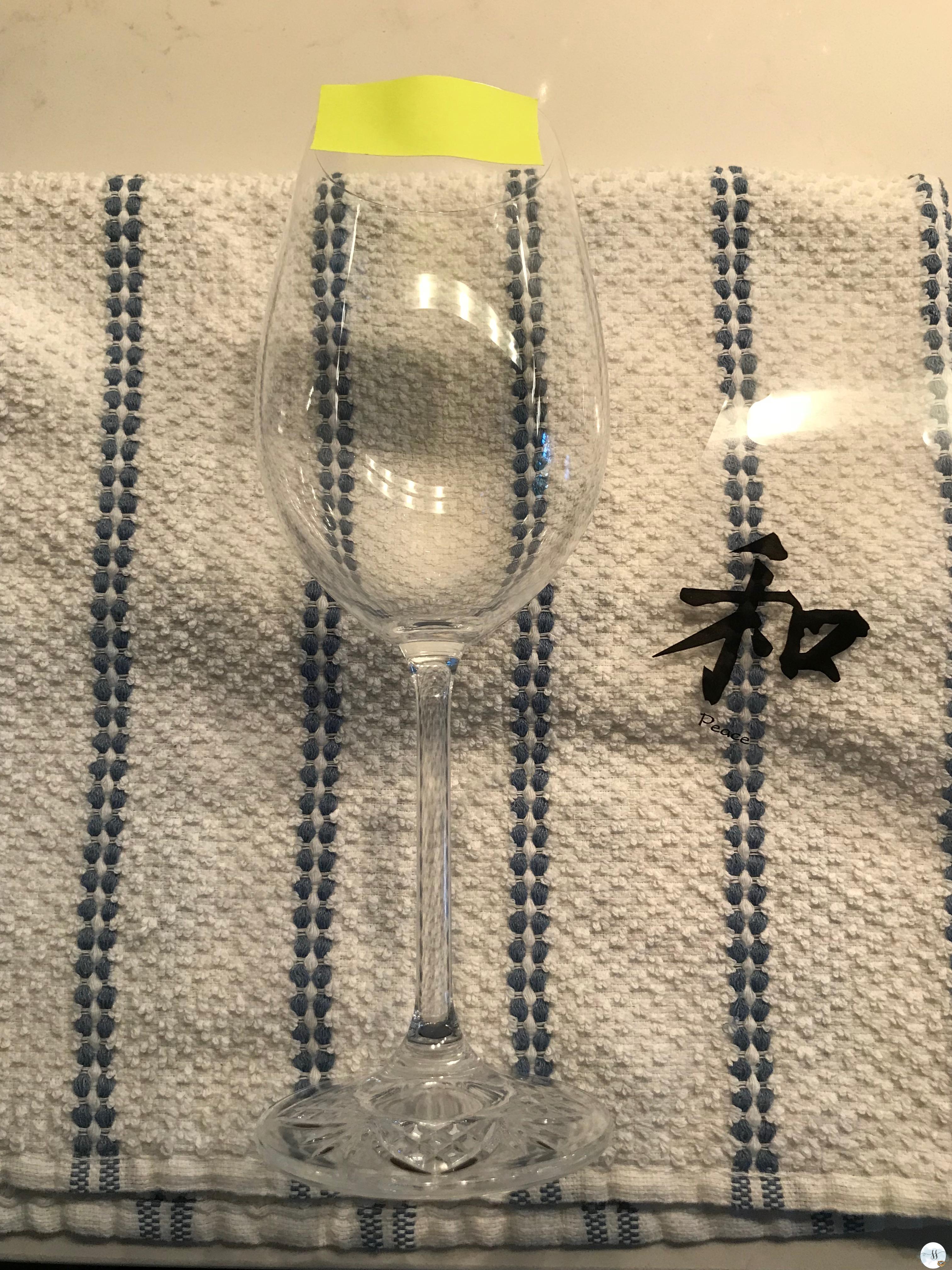 I looked everywhere for cups or glasses with some sort of Asian symbol on them. I went to a do it yourself ceramic store where you can paint whatever you like on a cup…but it was going to be quite pricey. I found these stickers at Michaels craft store. I decided on another DIY project that cost next to nothing.  A few bucks for the stickers.
I placed the glass on a towel so that it wouldn't slide around. To be sure all the stickers were at the same level on the all of the wine glasses I used a small piece of sticky paper as a guide and placed the sticker directly below it.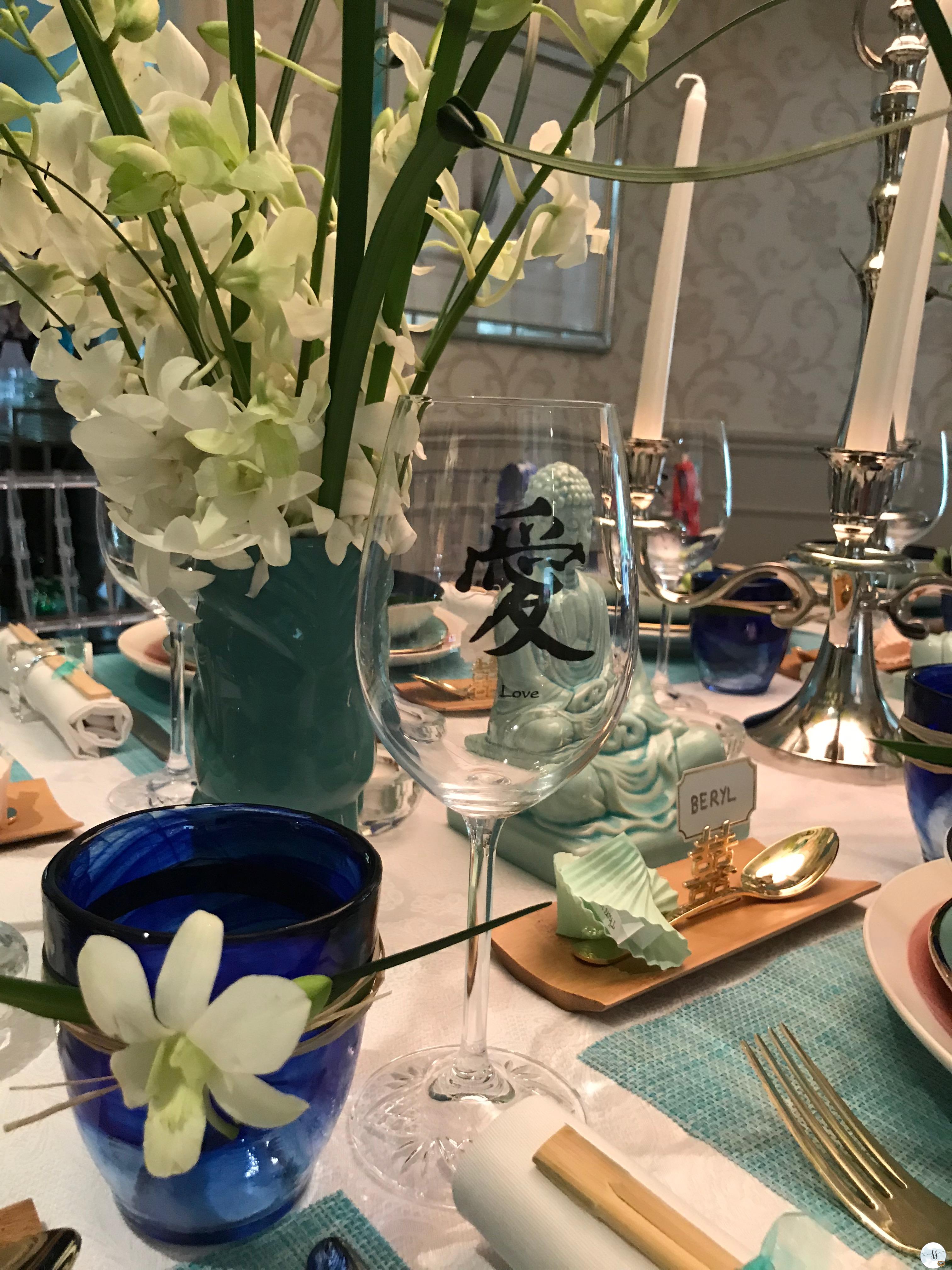 I love that this photo shows all three of my DIY projects. The water glass, wine glass and fortune cookie:)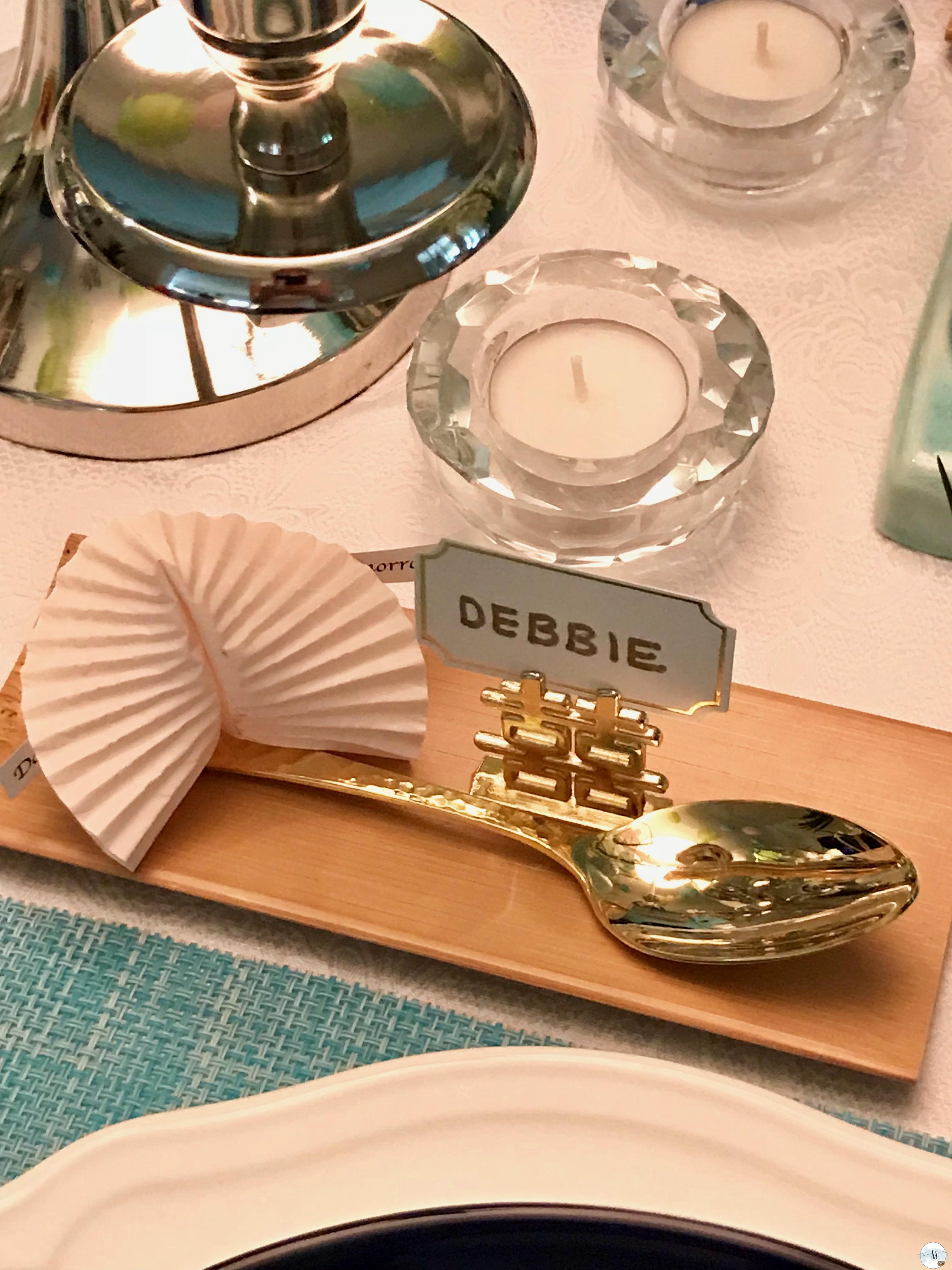 Each place setting had one of these small wooden plates (Amazon) that were perfect for the dessert spoon, fortune cookie and name tag.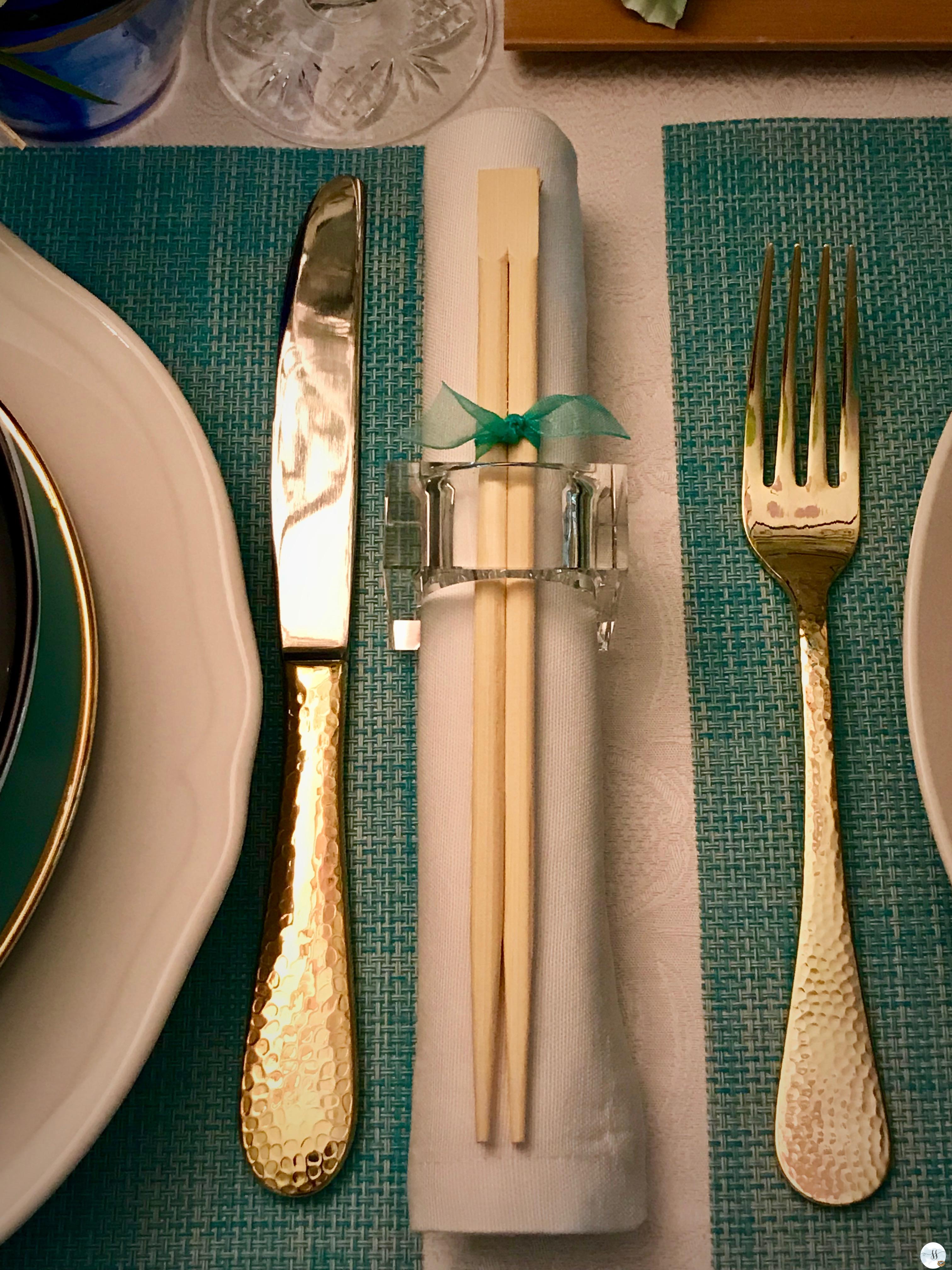 I slipped a set of chopsticks into each napkin ring for décor use only.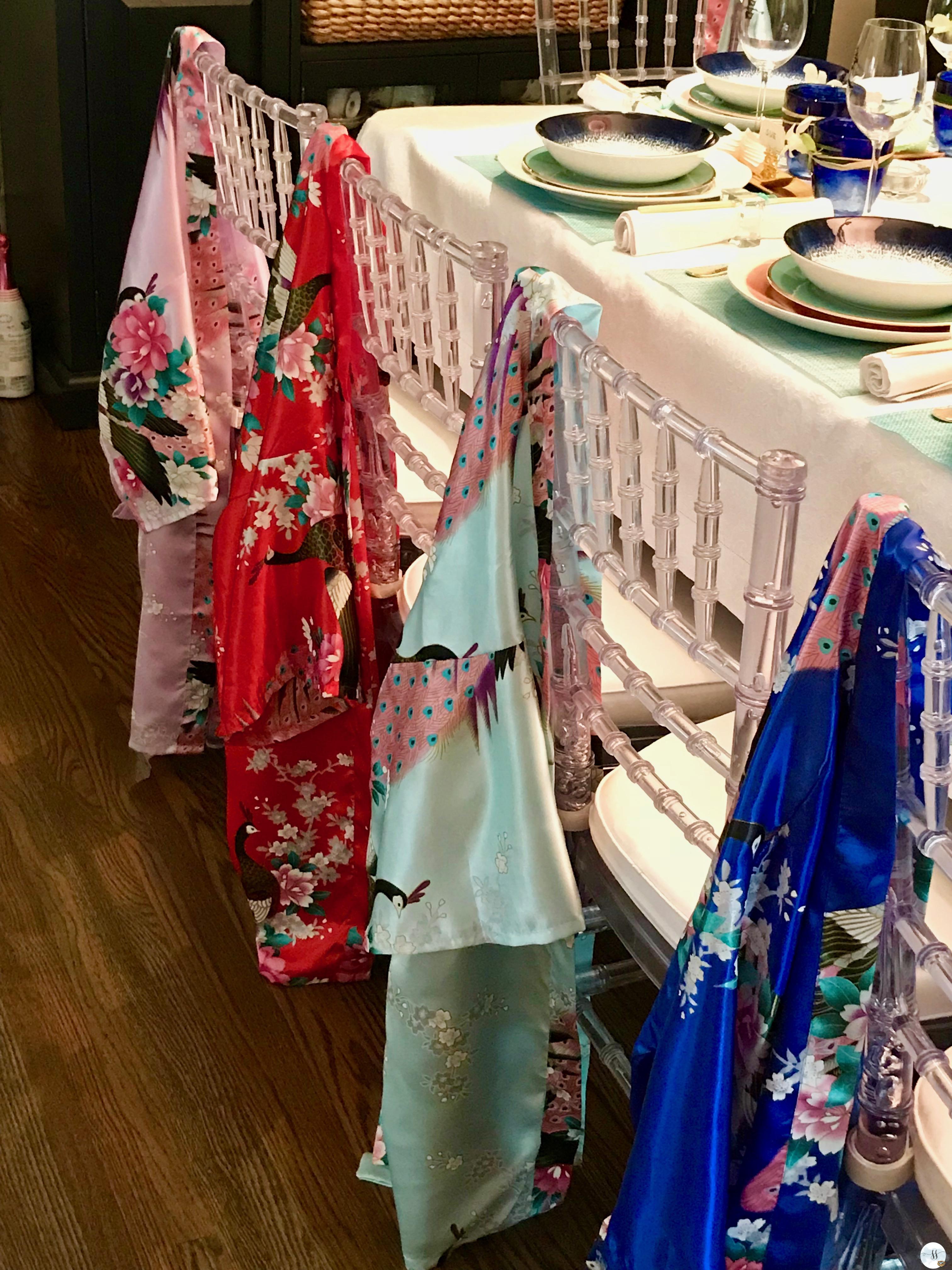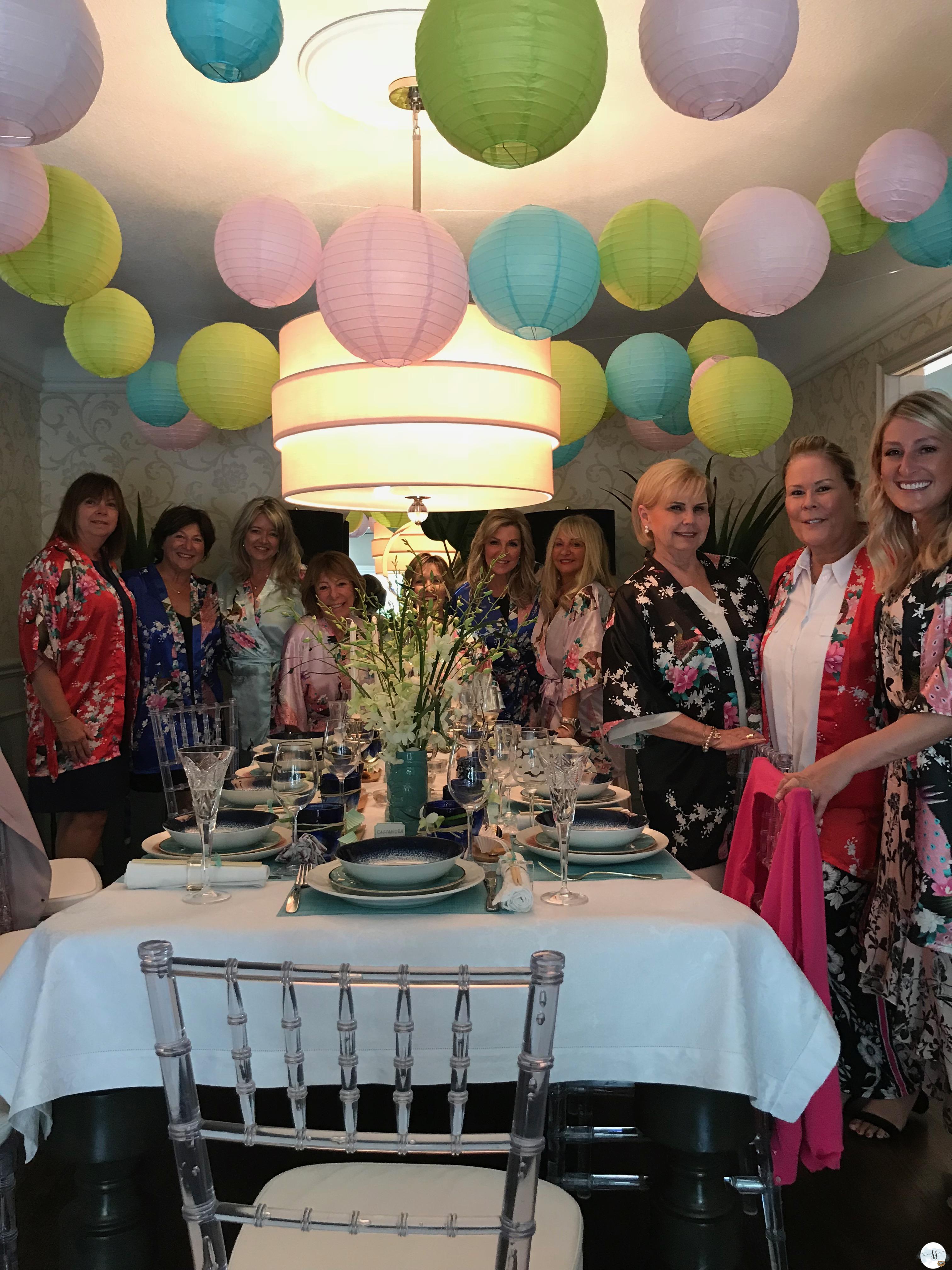 I love giving my guests something to take home with them. I found these Asian inspired robes on Amazon. I bought each guest one. They were $13.99 each. They will probably fall apart after one wash LOL…but who cares. I am going to use mine as a bathing suit coverup. It was a fun way to further enhance the Asian theme.
THE FOOD!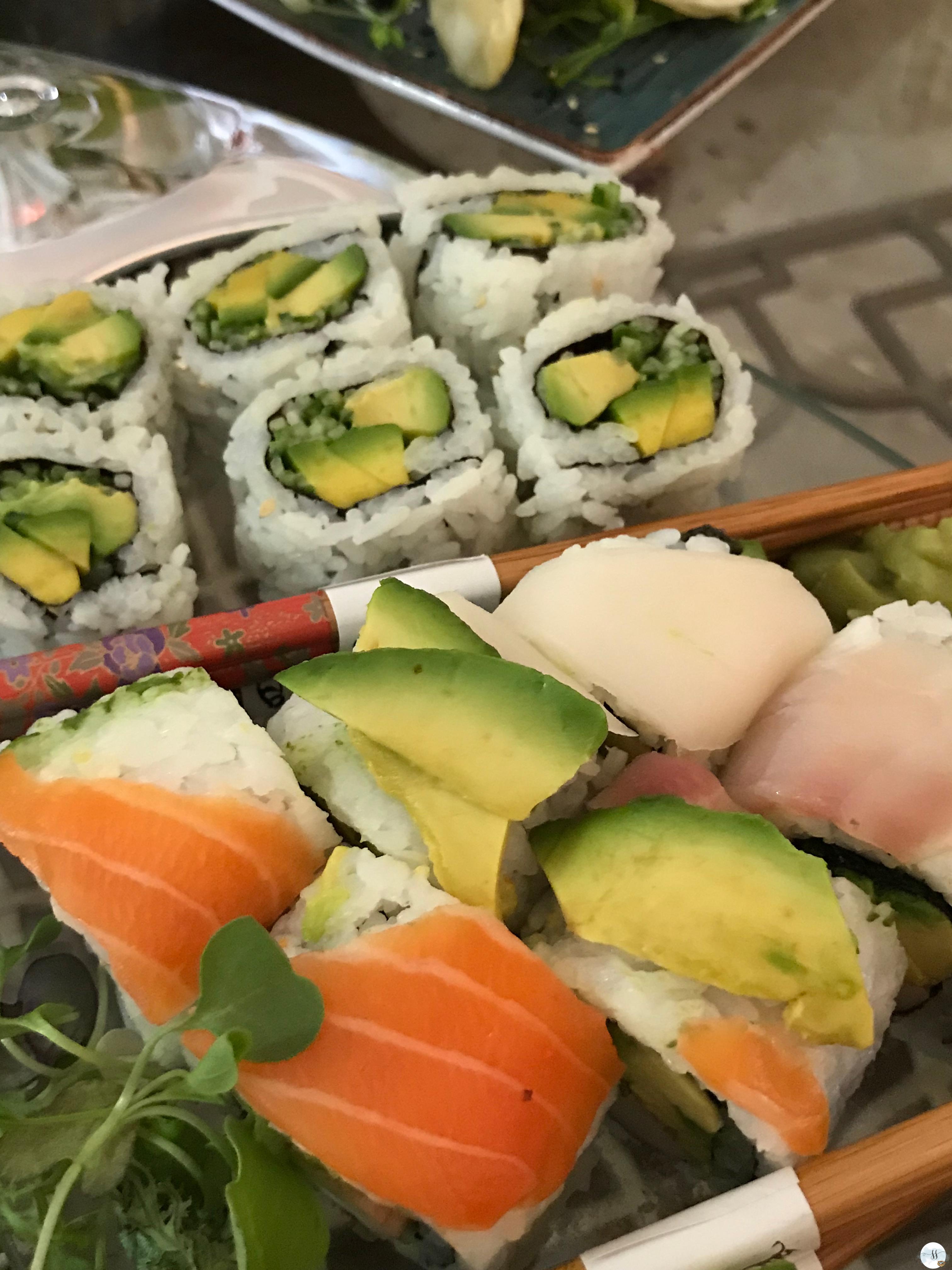 So onto the food! Even though Ruben wasn't able to work the shower he made sure everything was perfect and ready to go.  He pre-ordered Sushi and had it delivered to my home where Mike plated it on some plates that he brought with him and some that I had. Let me just say this – Mike was the bomb! He did an outstanding job on the food presentation. He was so organized.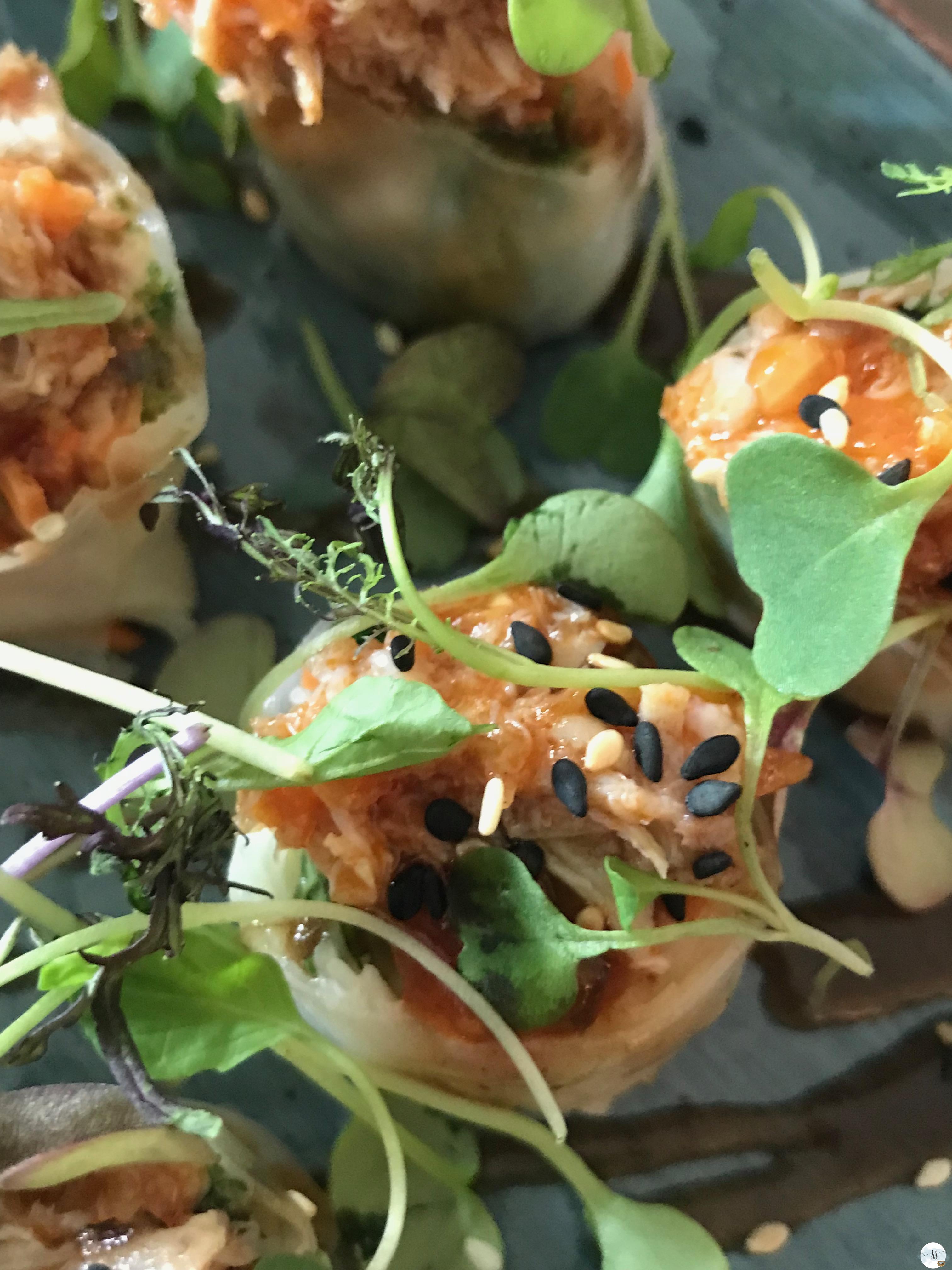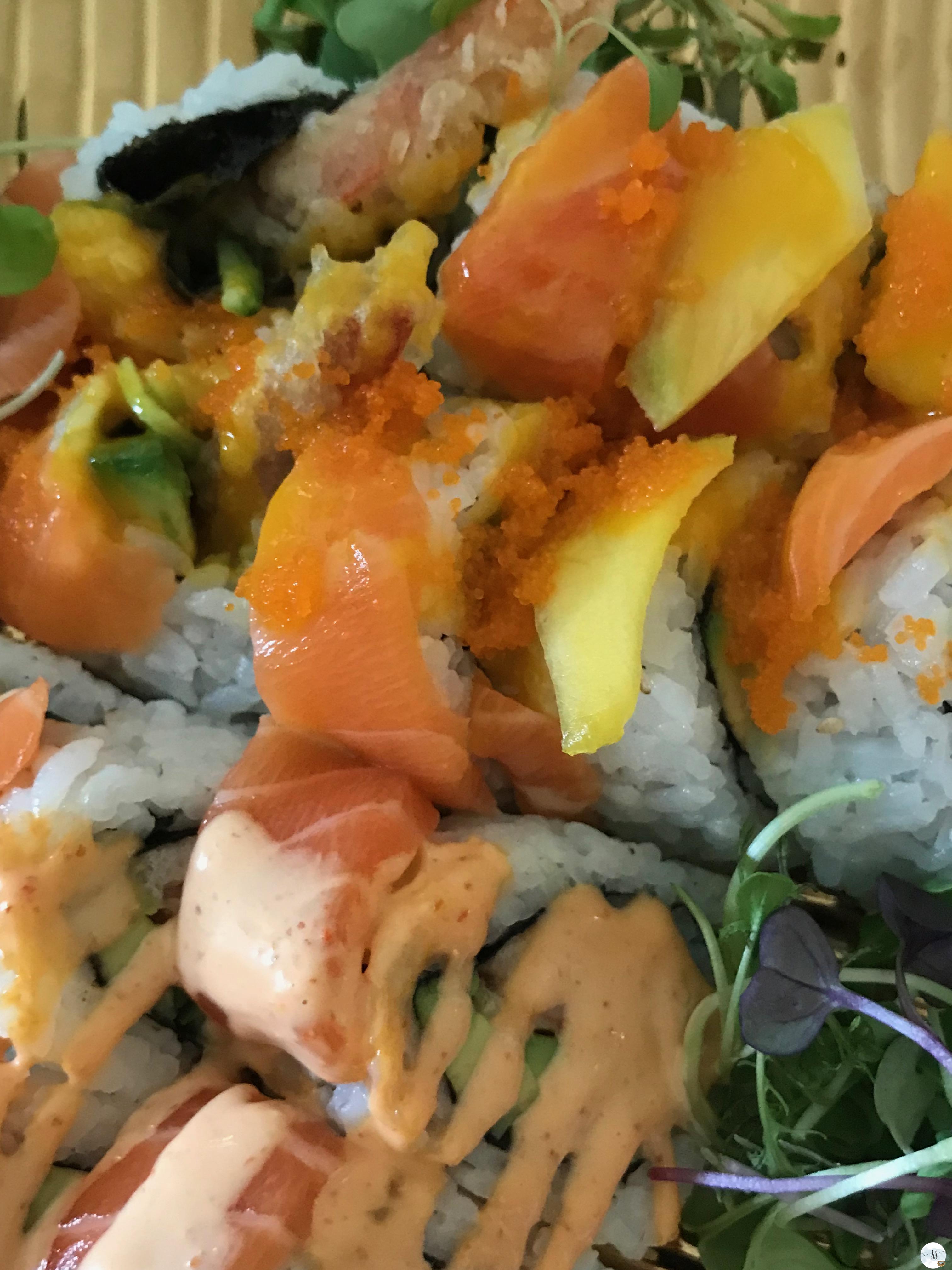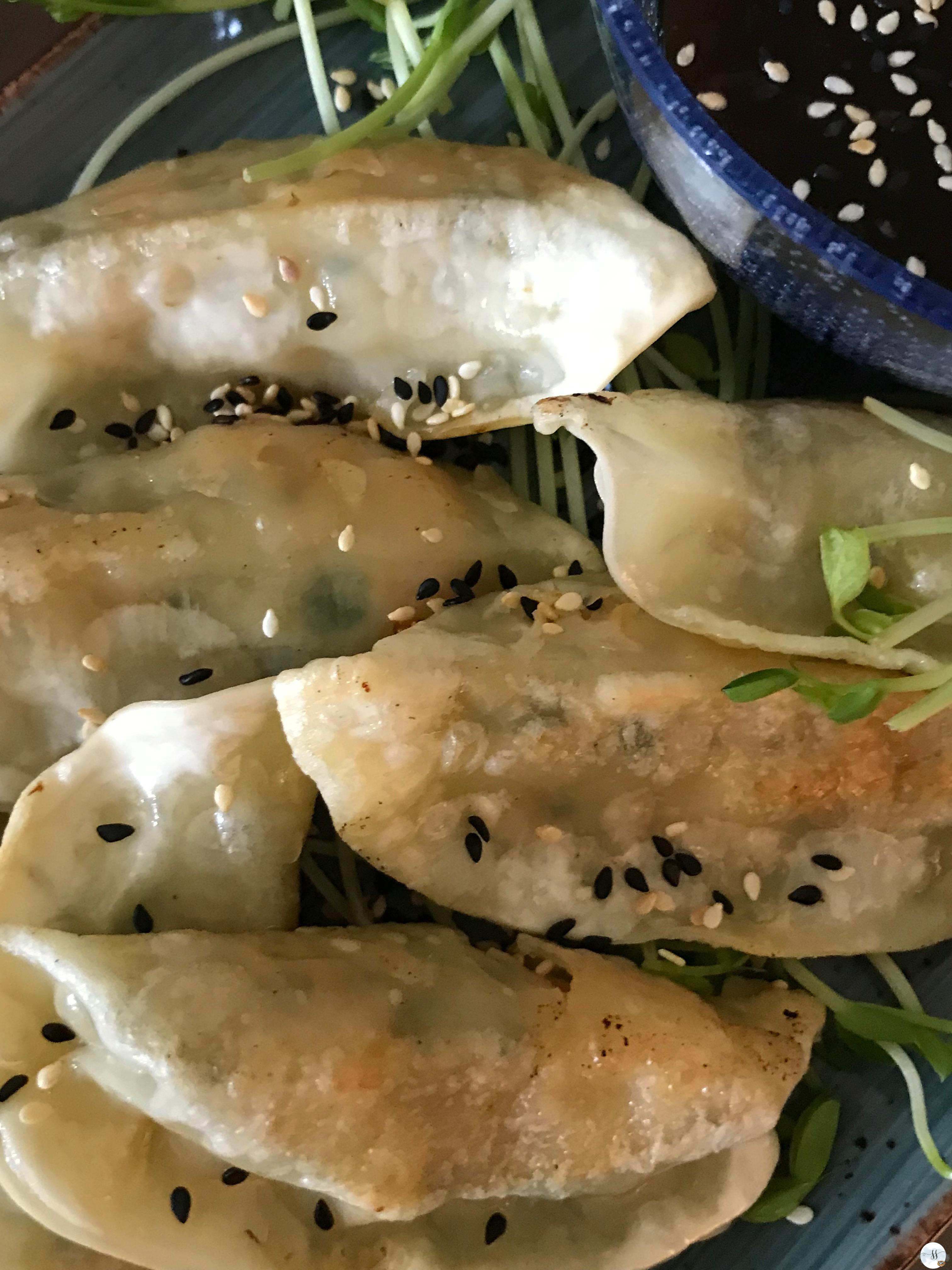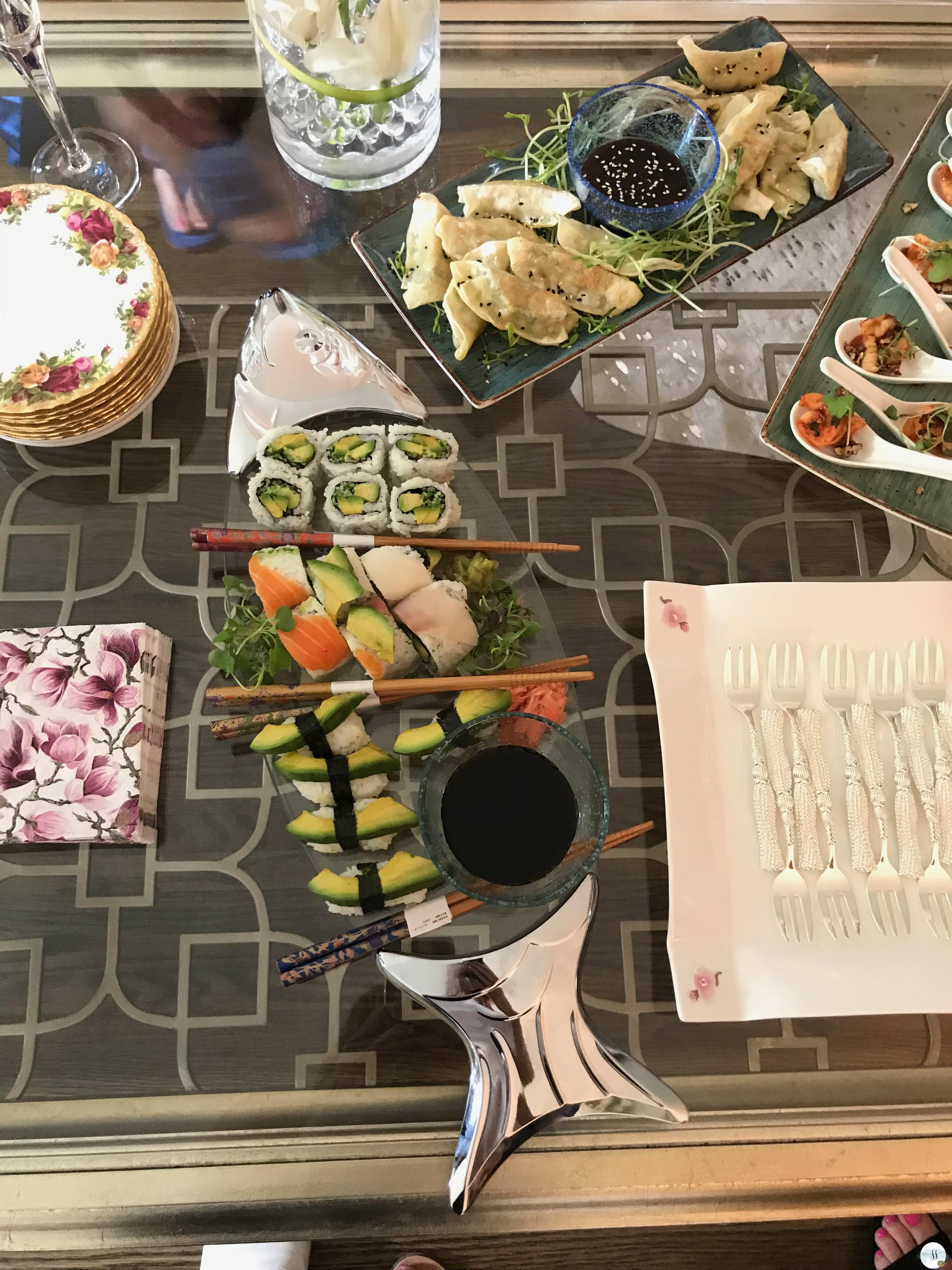 Love my new fish plate from Bowrings!
I cannot thank this smiling face enough!!! He went over and above my expectations!!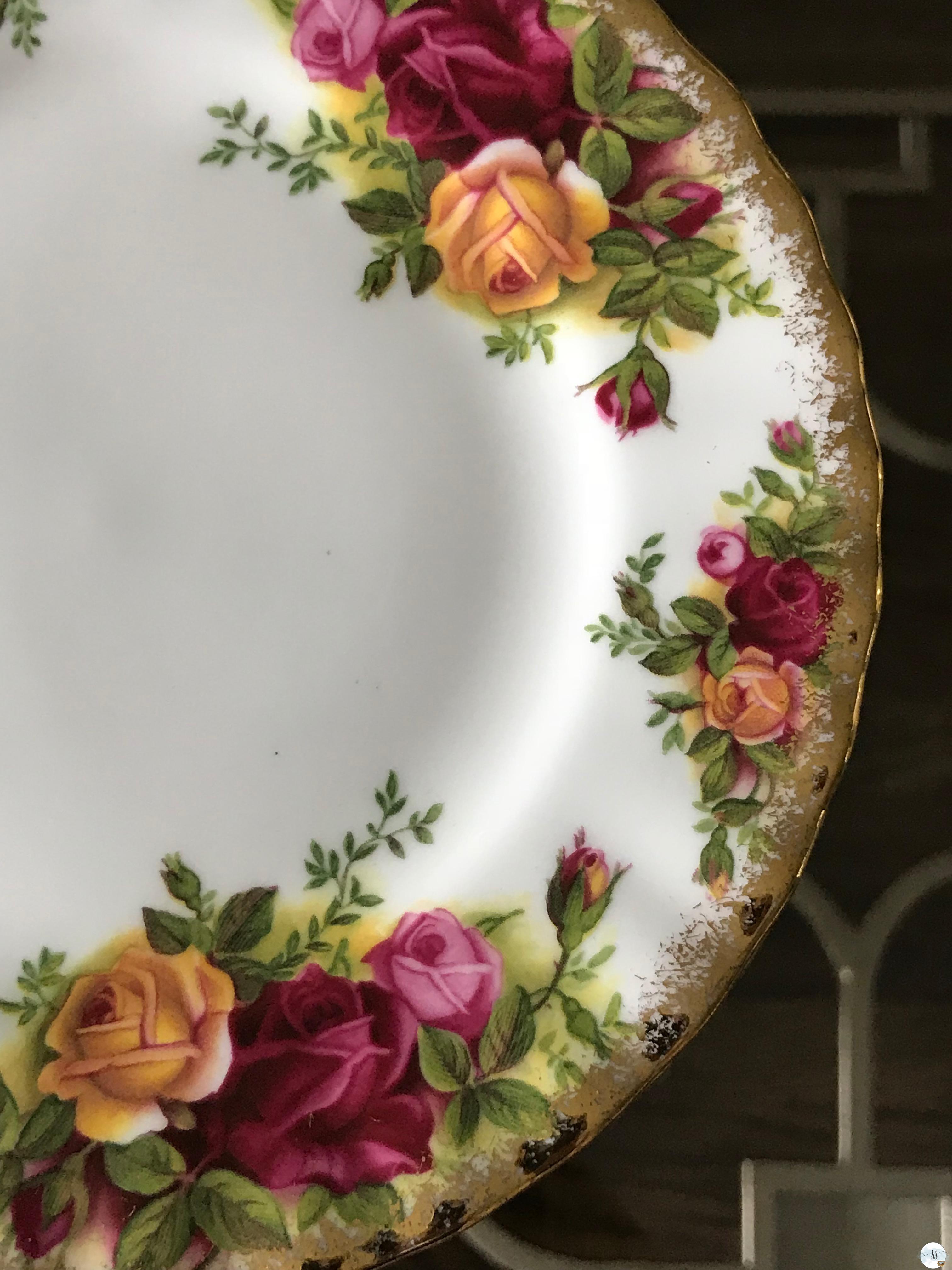 Sushi on Old Country Roses? Why not!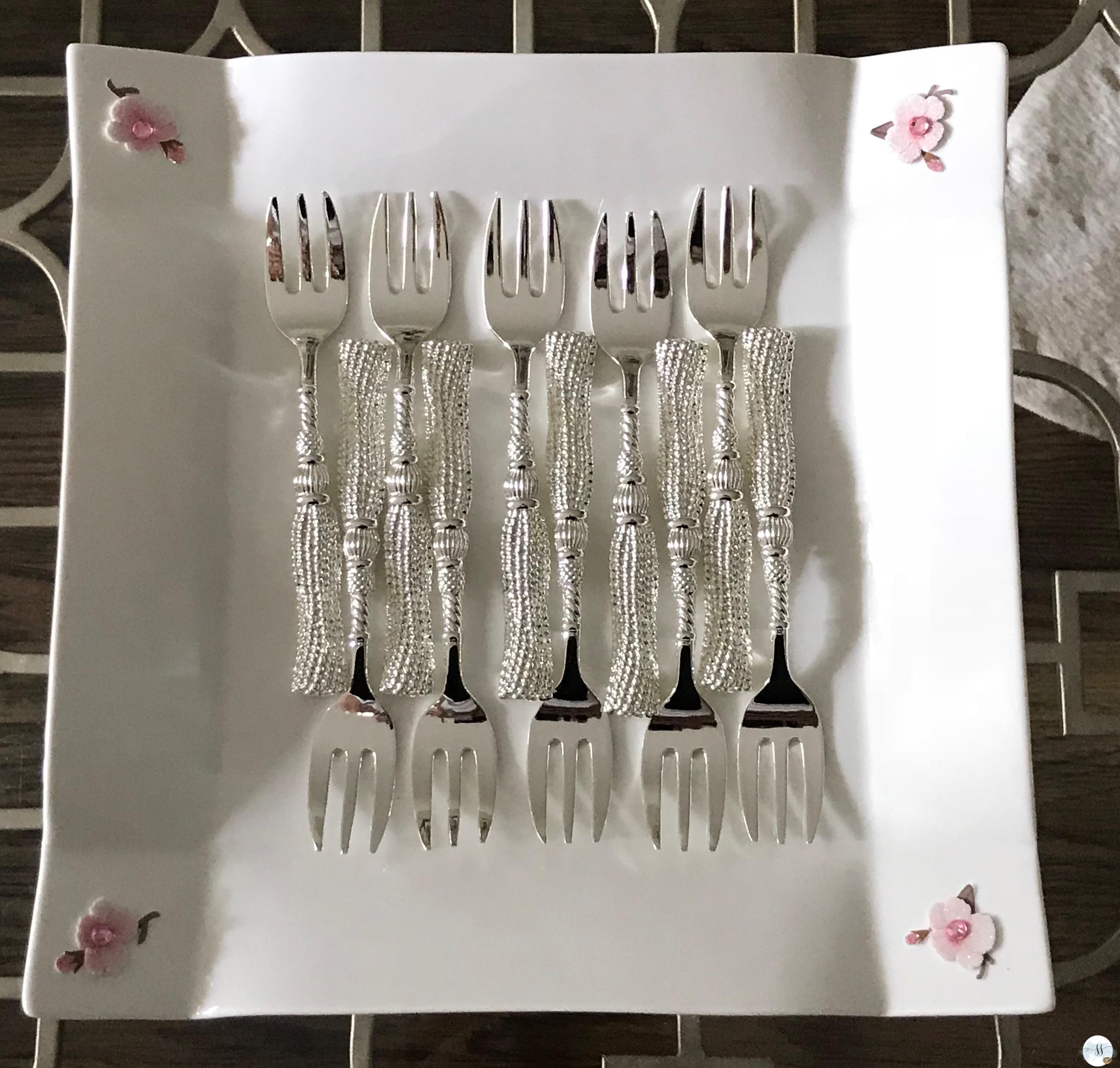 Because we were doing the Sushi apps in the living room and eating off our laps I opted out of chopsticks to make things easier for my guests (and I cannot for the life of me figure them out)! These little forks were perfect.
I dressed up this plate with little apple blossom stickers.
After our apps in the living room, we headed to the dining room for our meal.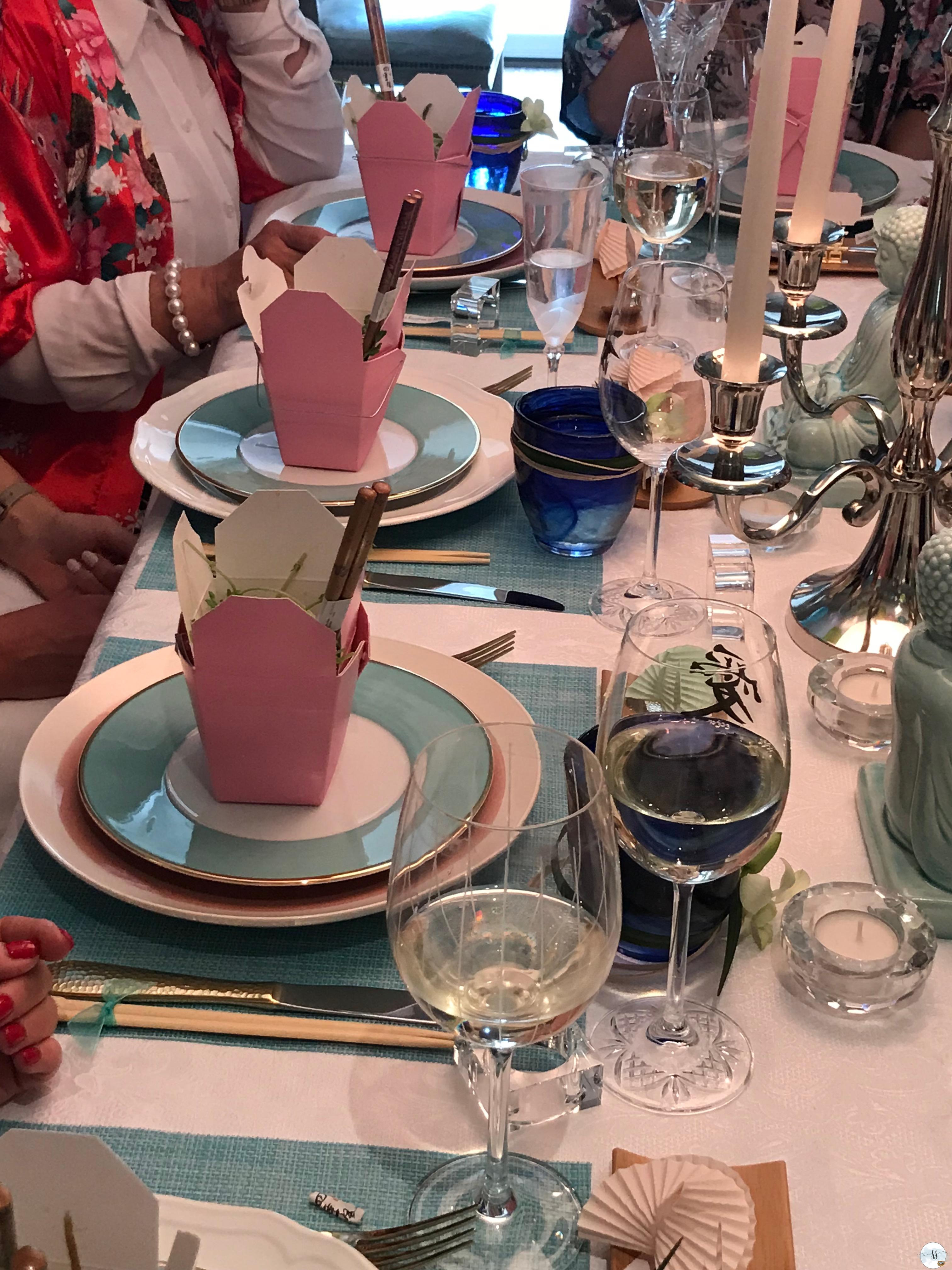 Mango and Vermicelli Salad, Steak, Asian Pears was served in pink takeout containers with chopsticks. I used cheater-chopsticks! They look like extra long clothes pegs and are so easy to use! LOL You can get a glimpse of them in the photo below.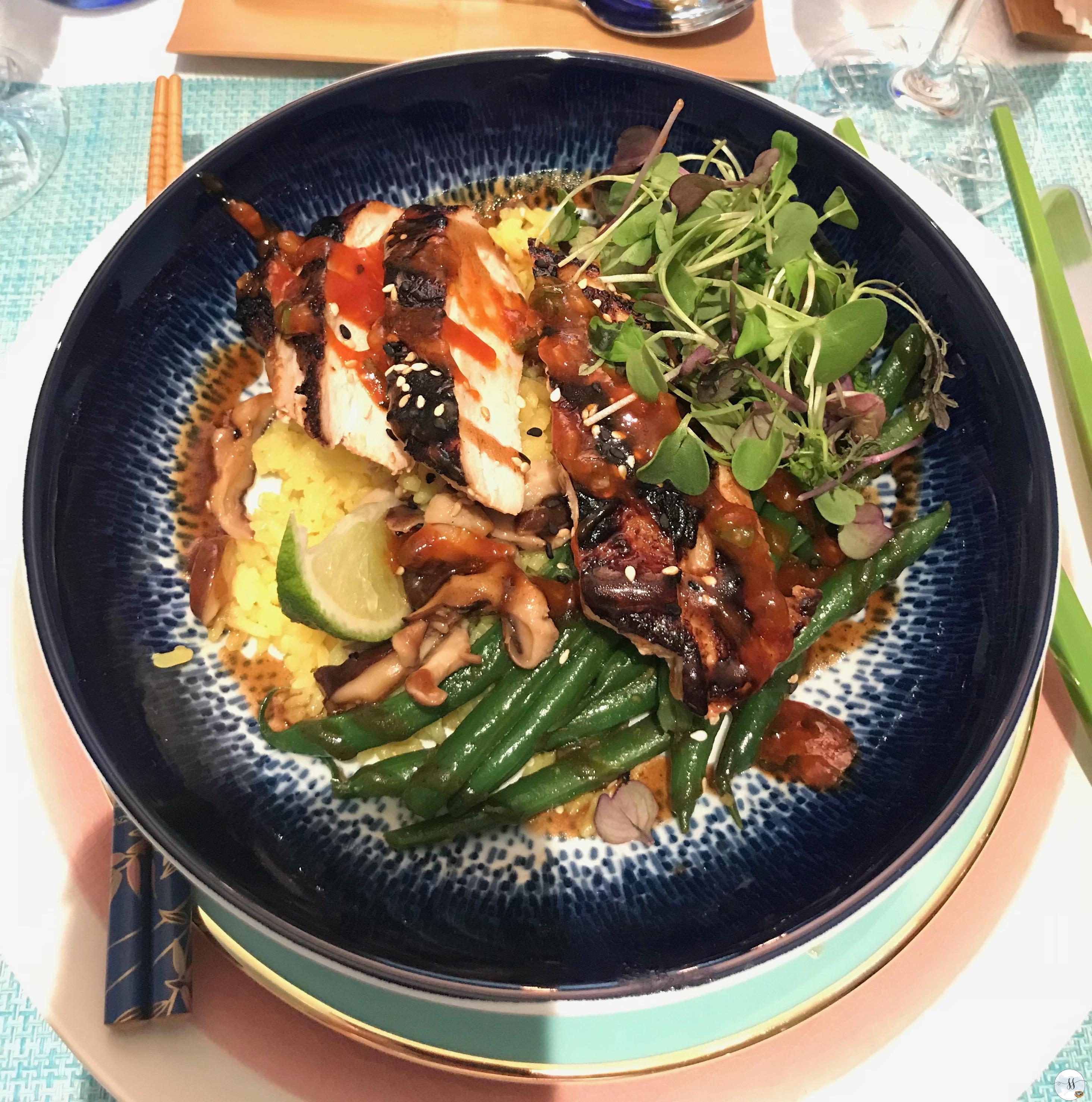 Roasted Chicken Breast, Coconut Rice, Green Beans and lime and Kumquat Dressing. This chicken was probably the best I have ever had! It was cooked to perfection and so moist!!!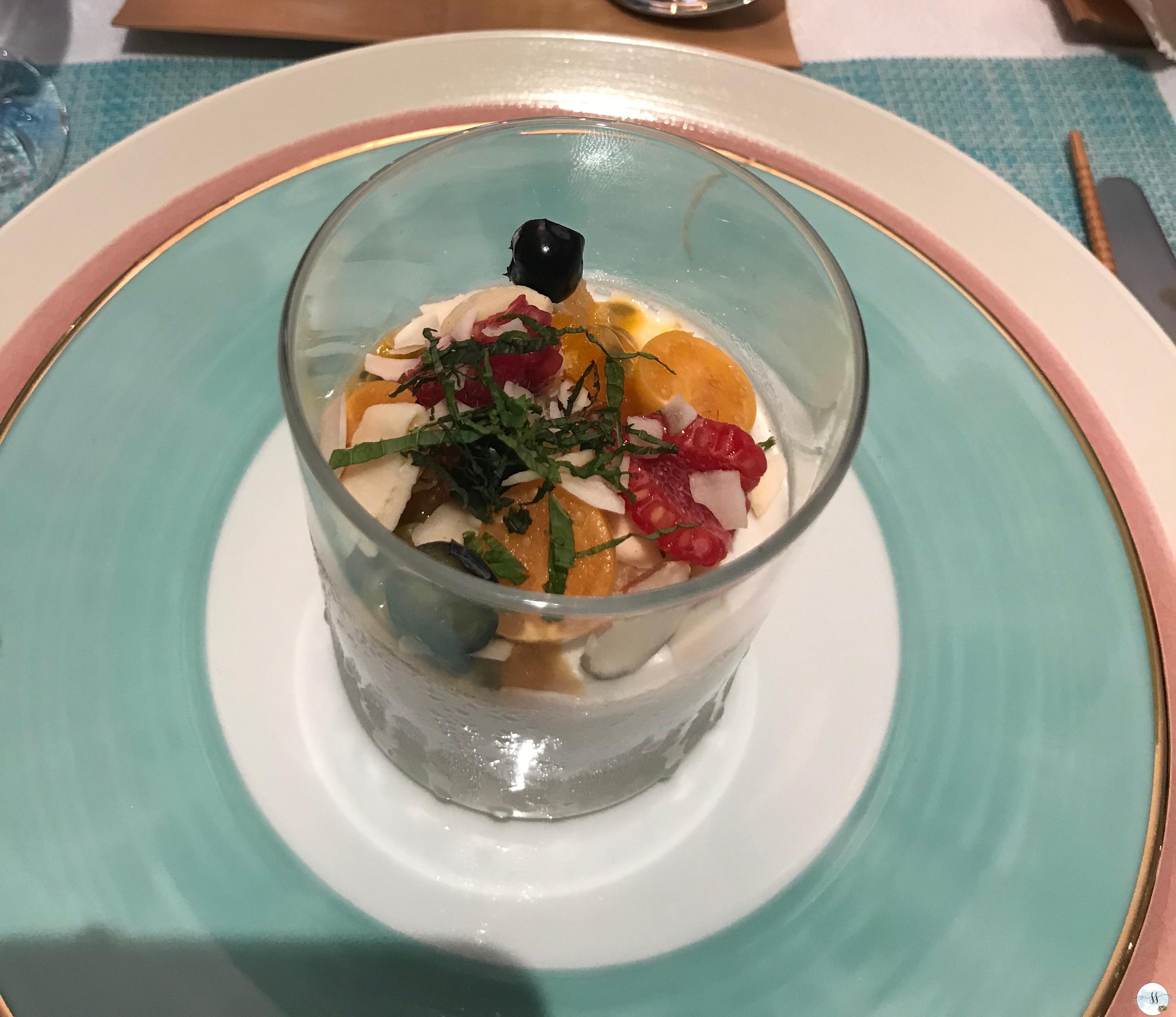 Our dessert was amazing. Not too rich and not too sweet. A cloud of Coconut Pannacotta with Exotic Fruit Salad. I actually had leftover rice and dessert for breakfast.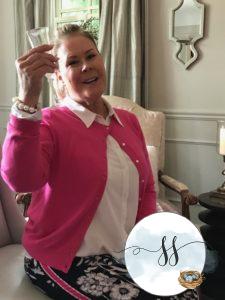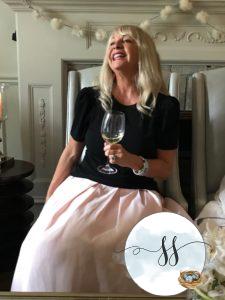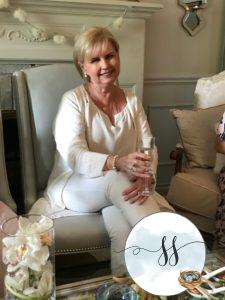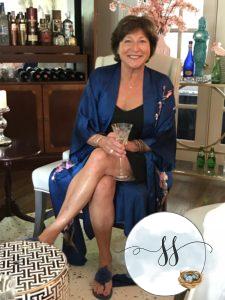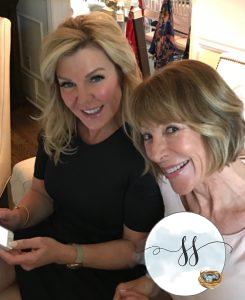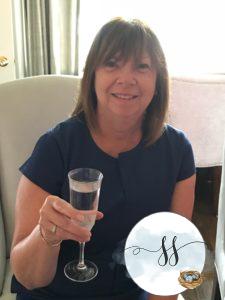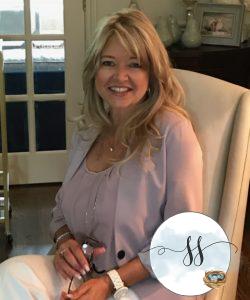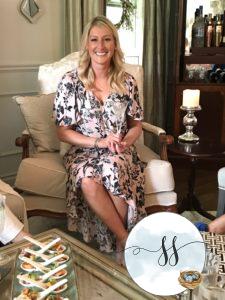 What a fun day with these ladies!!! Blessed to have you all in my life.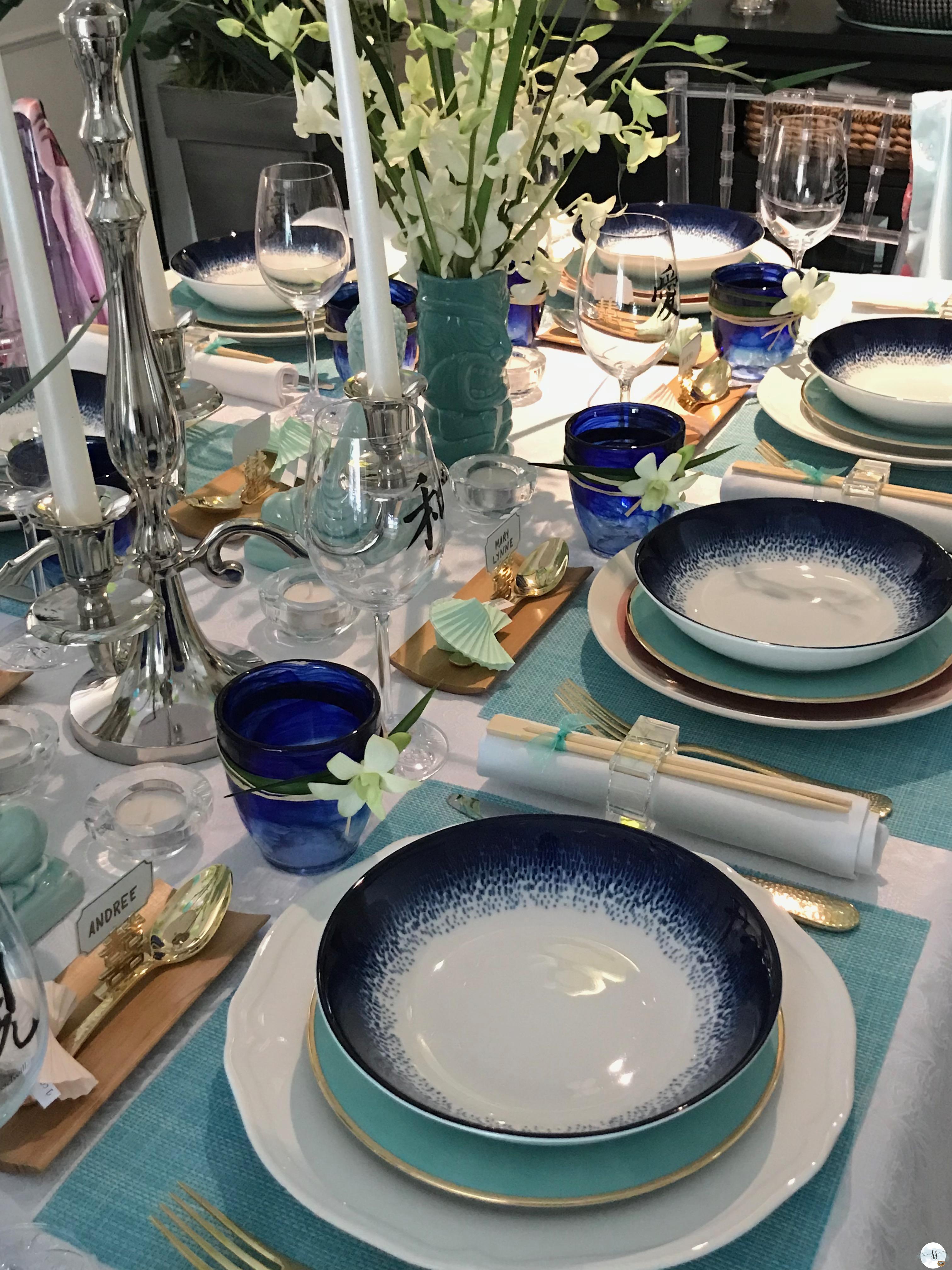 It is shower season for sure! We have three weddings this summer. I love weddings!
I would love to hear about the showers you have been to and would love to see some photos too. Email them to me at savvysnowbirds@gmail.com and I will add them to this post!