Valentines is just around the corner and I am going to share with you how to make a super simple Valentines wreath.  Not only is it simple it is very inexpensive. Honestly, who wants to spend a fortune decorating for Valentines? I feel that I am just getting over my Christmas spend 🙁
Nothing was easier than last years Valentines Wreaths. I made two of them. One in pink and one in red.  If you can't remember what they looked like and want to see exactly how simple they were to make you can have another peek HERE
For this year's wreath you will need:
A wire wreath form and pipe cleaners –  both available at Dollar Tree for $1.oo (if you are in Florida)  and some coloured mesh ribbon. I chose red and white deco mesh. I got them from Michaels for approx $5.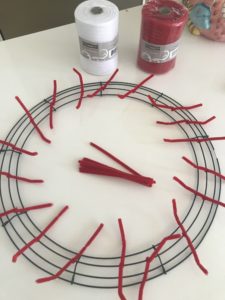 You can see in the photo that I cut the pipe cleaners in half and then wrapped them around the wreath a few inches apart. I ended up using 3 pieces per section of the wreath.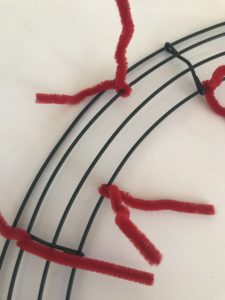 Be sure to stagger the pipe cleaners along the inside and outside of the wreath. I didn't do it in the first photo and had to correct it. If you don't stagger them you see too much of the wire wreath. You will see what I mean as you go along.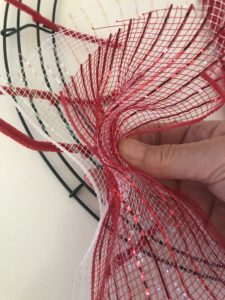 I simply laid one colour of mesh ribbon on top of the other. I would have preferred to use pink and red but they were out of the pink 🙁 I hope this doesn't look too Christmassy.
Pinch the two colours together and place on top of the first pipe cleaner.  Wrap the pipe cleaner around the mesh. There will be some pipe cleaner sticking out but don't worry as you will use these tails later. Plus I should mention you won't notice the raw edge of the mesh. In the end, it will be tucked away. Your other option is to turn it under before you pinch.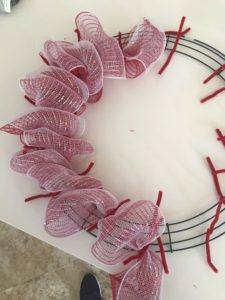 Keep moving around the wire wreath until it is completed.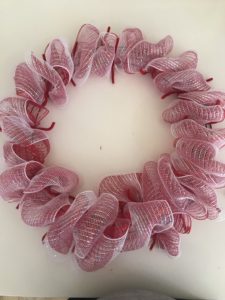 This is how it will look at the end. This photo shows that it is bigger around the bottom right, but it is just the way the photo was taken I guess…cause it was all even. If you decide that you like it like this you can add a big bow to it or maybe a red or white decoration hanging in the middle. If you stop here just tuck all the pipe cleaners underneath and hang it up with a piece of ribbon.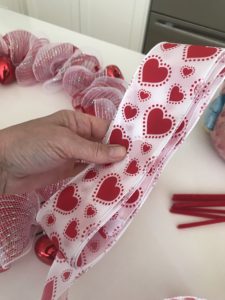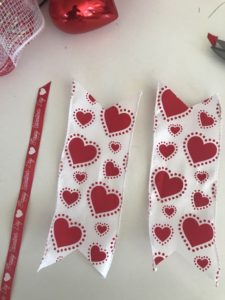 I wanted to add a bit more decor to mine. I cut some ribbons about 4″ long and cut the ends. You can use as many layers as you'd like…whatever you have on hand or whatever appeals to you. All I did was fold my ribbon over and over and cut them all at the same time at each end.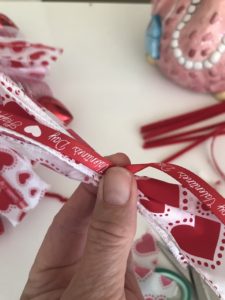 Layer them one on top of the other and pinch them in the middle. You can see I used various widths. Place them on one of the pipe cleaners and wrap them tightly.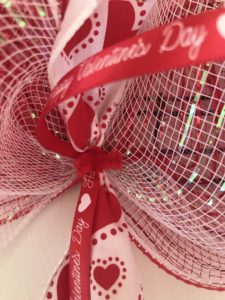 It's up to you how many of these you want going around your wreath…I placed mine evenly spaced out according to how many bundles I had. You can zip on down to the bottom of the post to see the finished wreath to get an idea as to what the heck I am talking about…lol…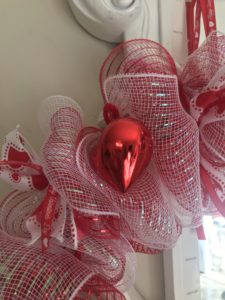 I found these heart decorations at Michaels and used them on the wreath as well.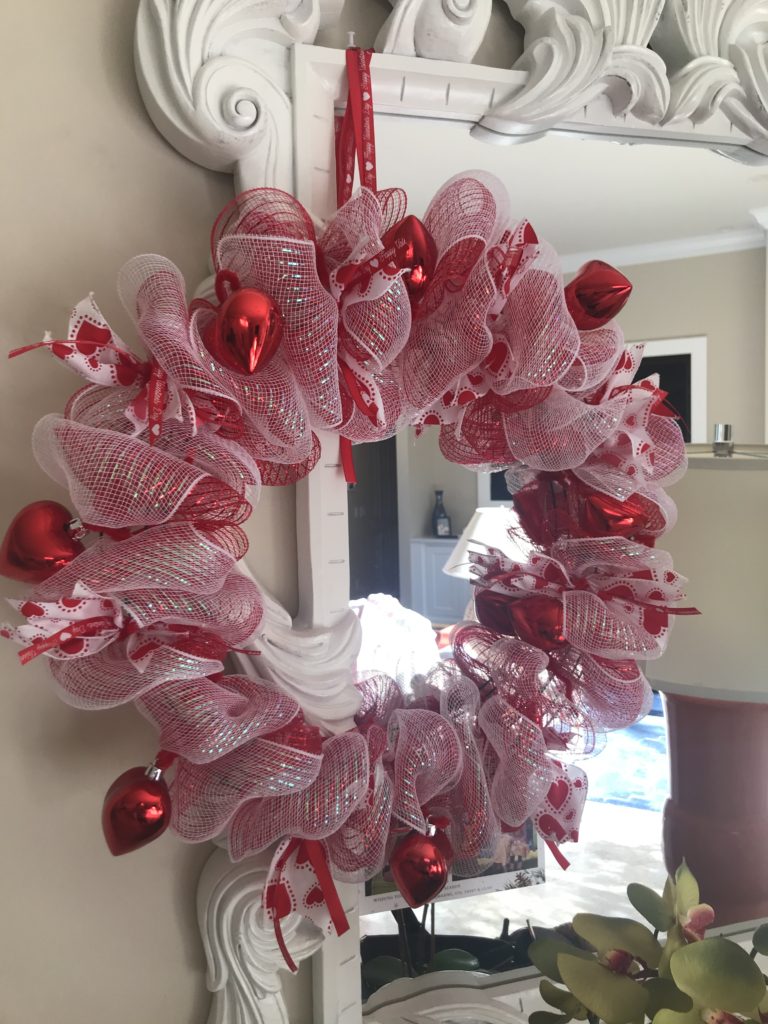 Once you are finished adding ribbons and any decorations you'd like; tuck the rest of the pipe cleaners underneath and fluff all the mesh ribbon. I pulled on the bottom colour (red) so that it would be a bit more visible.  That's it…Easy Peasy…ya really can't mess this one up…lol…I ran out of some ribbon so I have some stacks that are only in twos and the hearts are not evenly spread out…but it all comes together at the end.
This next little DIY Valentines Decoration is just as easy. Once you have the ribbon cut you can sit in front of the TV watching your favourite show doing it. I did it bing watching Shameless…seriously…does anyone else love Frank as much as I do? It is genius the way the writers and producers made the ultimate lowest form of a human being into such a loveable character…kind of. I am always ro0ting for him!
OK…back to the DIY. We are going to make a simple valentines banner.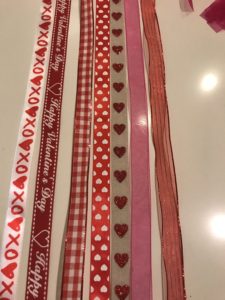 First thing is to gather up any unused ribbon you have laying around. It doesn't matter if they are solid colours, prints, mesh, satin or velvet. As long as you are happy with the colour palette you are good to go. I went to the local dollar store and bought a few rolls. They were very low on stock…I basically bought what they had available in their Valentines line.  Next, you will want to cut them all the same length. If you want your banner to be 5″ long you need to cut the ribbon in 10″ pieces, whatever length you want just double the length. I made mine about 12″-14″ I think I started out at 12″ and started winging it. Trust me, it won't make a bit of difference at the end.
You will need some co-ordinating string to use as the base of the banner. Be sure to measure the width of the area you want to hang your banner from and allow for some extra for the swag.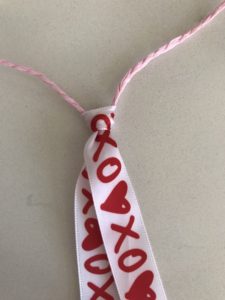 To attach the ribbon to the string it is a basic slip knot. This is where you get to sit in front of the telly and watch a favourite show. OMGOSH…I just watched the Notebook for the first time last night. Was it EVER good…a perfect Valentine's chick flick!!!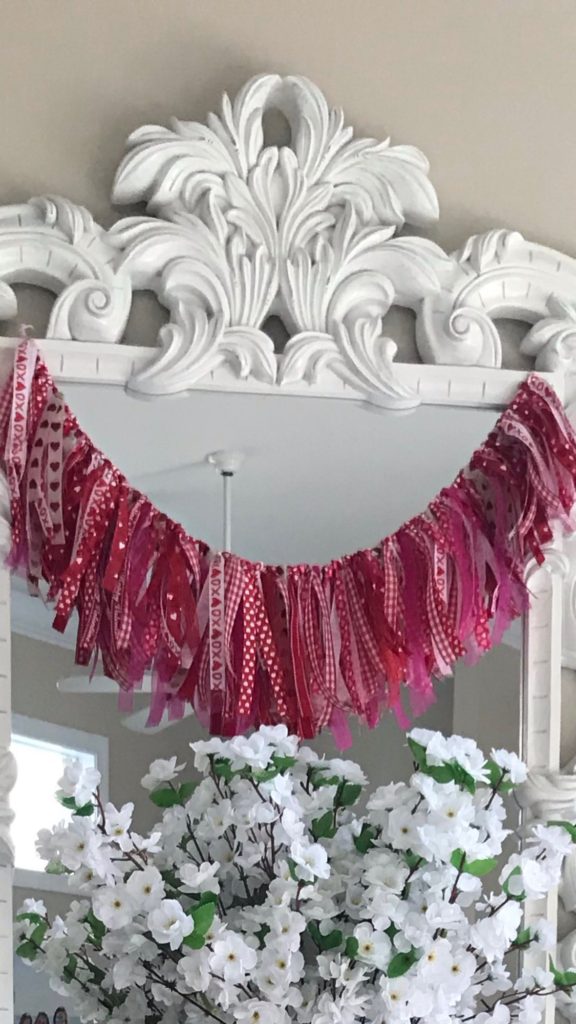 That's it! I will show you in my next post how I put it all together.
Have fun!