I was going through some photos and realized I did not share the 'after' of my bathroom that I had done while I was in Florida last winter. It isn't perfect yet. and not because I am waiting for anything structural or for anything to be completed. I am still sourcing a few decorating things. If you missed what it used to look like you can check it out HERE
Just as a recap real quick. I wanted a stackable washer/dryer in the upstairs linen closet. It looked like it was going to be the perfect place for them except the one small little-bitty situation with the plumbing. In order to get to the plumbing on the wall directly behind the closet we basically had to blow out an entire wall…and so the fun began. I am very happy to say though…I now have a washer and dryer upstairs. This is the one area where I still need to do a bit of cleaning up with the trim. Calking and paint to freshen it up and I am looking for an over the door wire storage thingy for detergent, etc.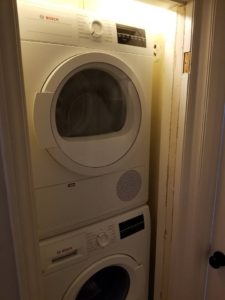 I bought a Bosch set. It's OK…just OK. The washer is perfect. It's the dryer that annoys me. It takes a long time to dry a load of clothes. Once the drying cycle is complete – depending what's in the dryer – I have to turn it on again.  It isn't a simple case of pressing start again. It gets too hot and automatically shuts itself off. I don't even bother doing towels upstairs. I lug them to the basement. This set is good for small, light loads. I am happy I did it…but I am sure there must be a better dryer out there. If anyone knows of one let me know…I'll happily sell this dryer and purchase something else.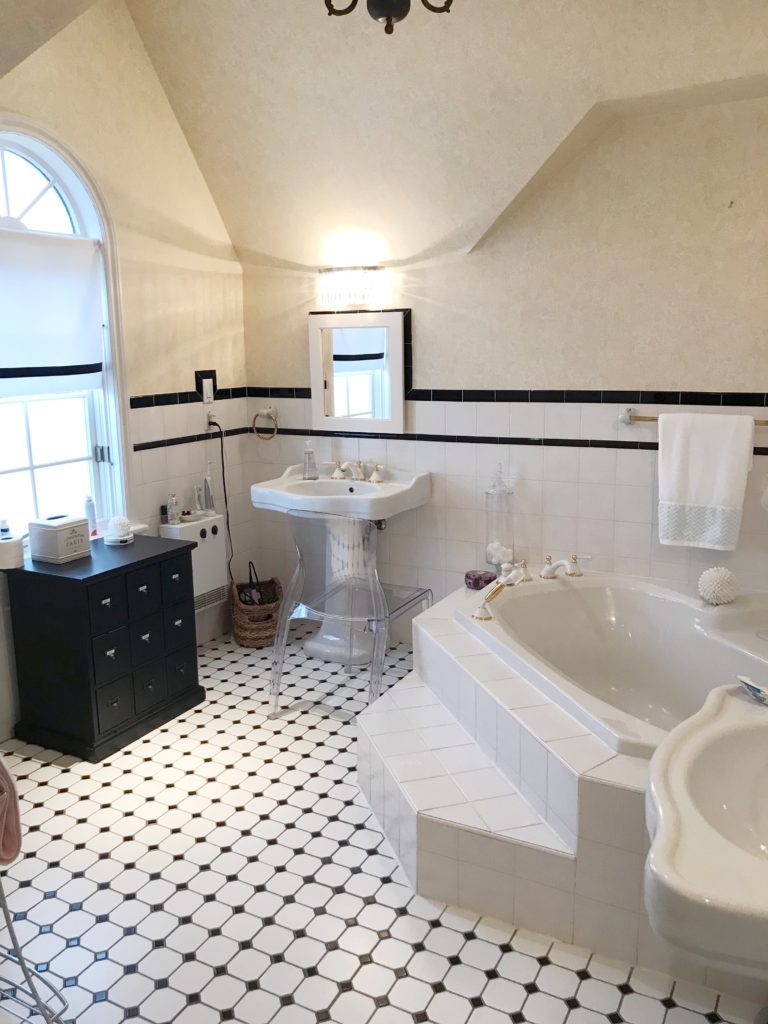 This is the before. The priorities were – storage, mirrors at the proper height (remember the last one? LOL Check it out HERE)  The old bathtub took up too much space, we had low/angled ceilings in the shower and uneven, cold floors. I didn't hate this bathroom, it reminded me of something you'd see in old New York or Paris movies.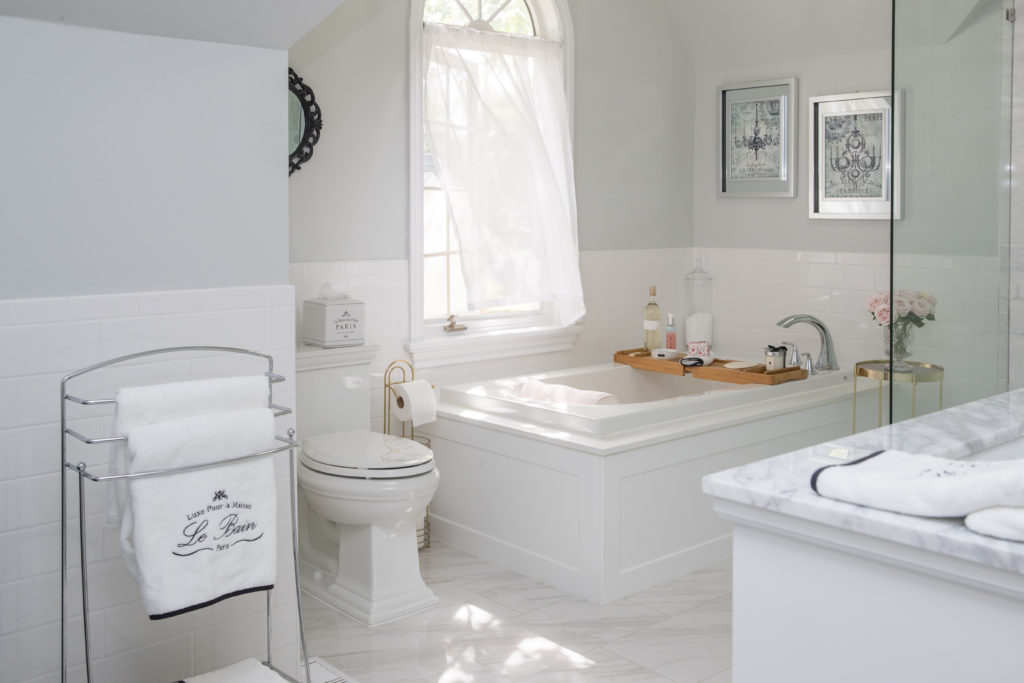 Ta daaaaaaa….this is the after. My old pedestal sink used to be where the tub is now and under the window was the small black storage unit. The toilet is in the same place we just put it against the outside wall so that it faces into the room. I love how fresh and airy it is.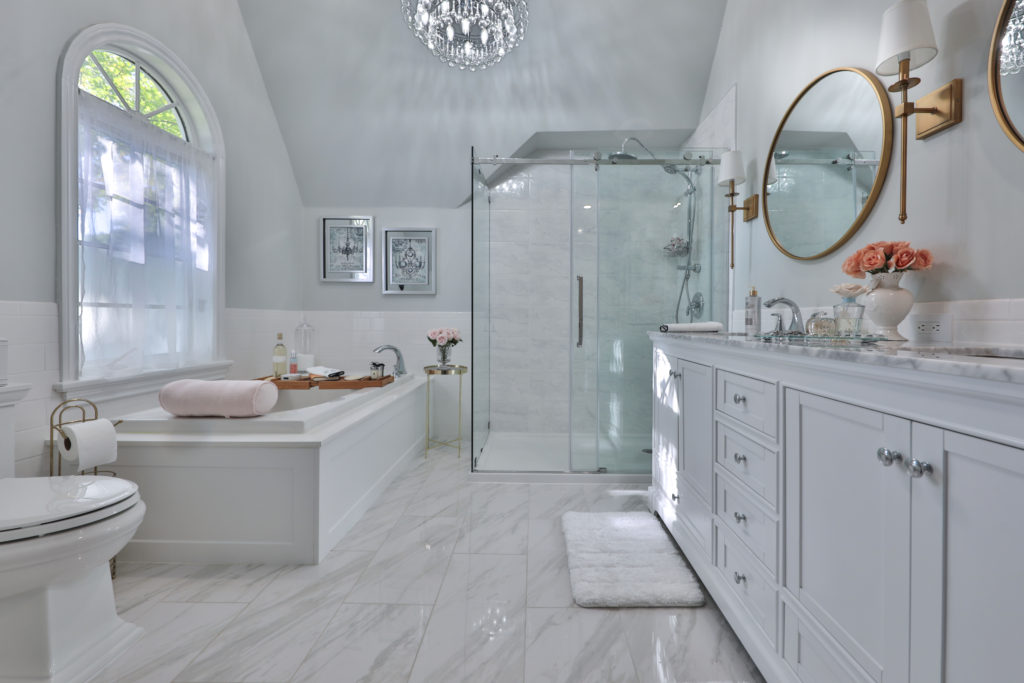 I love my heated floors! The shower stall is so much better than the previous one. There is no way Steve will bang his head in this one!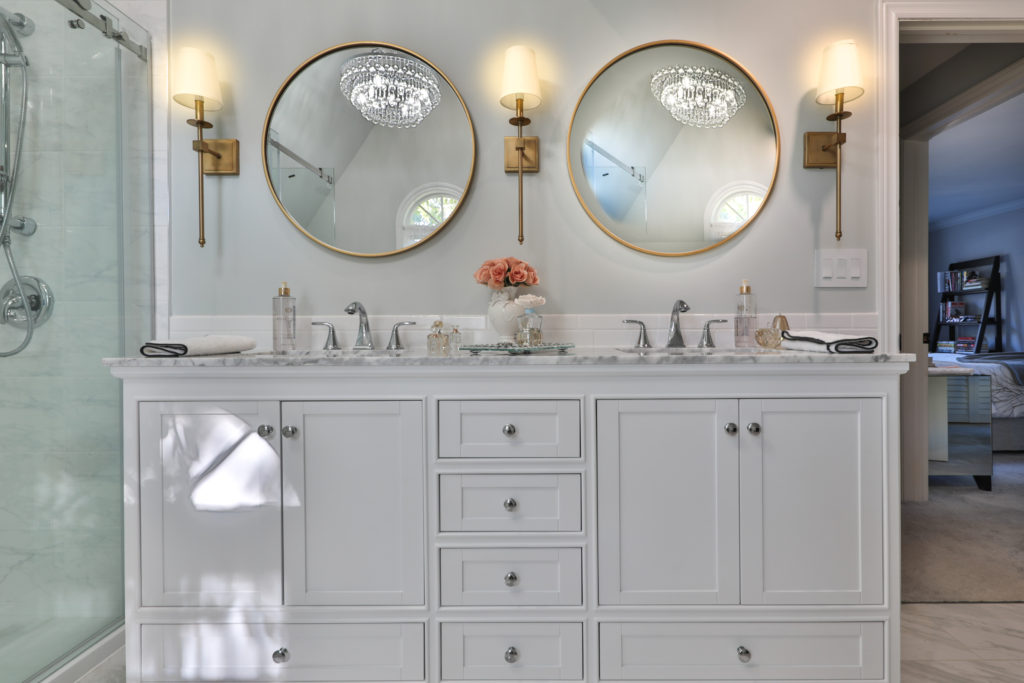 I don't know if you remember my inspiration photo or not (below)… I only had a short window to choose everything from floor tiles to mirrors.  I was not able to find a blue vanity…painting this one is not out of the question but it will have to be the right shade to go with the walls which are BM Wickham Grey. The mirrors and the sconces are from Wayfair. They are a great company to deal with. The vanity was from the Depot. You can see the chandelier reflection in the mirror that is also from Wayfair. The sconces were $175 each, compared to the $800 dollar sconces below made by Kate Spade.
I love this vanity! It has lots of storage for us and even the girls get their own drawer.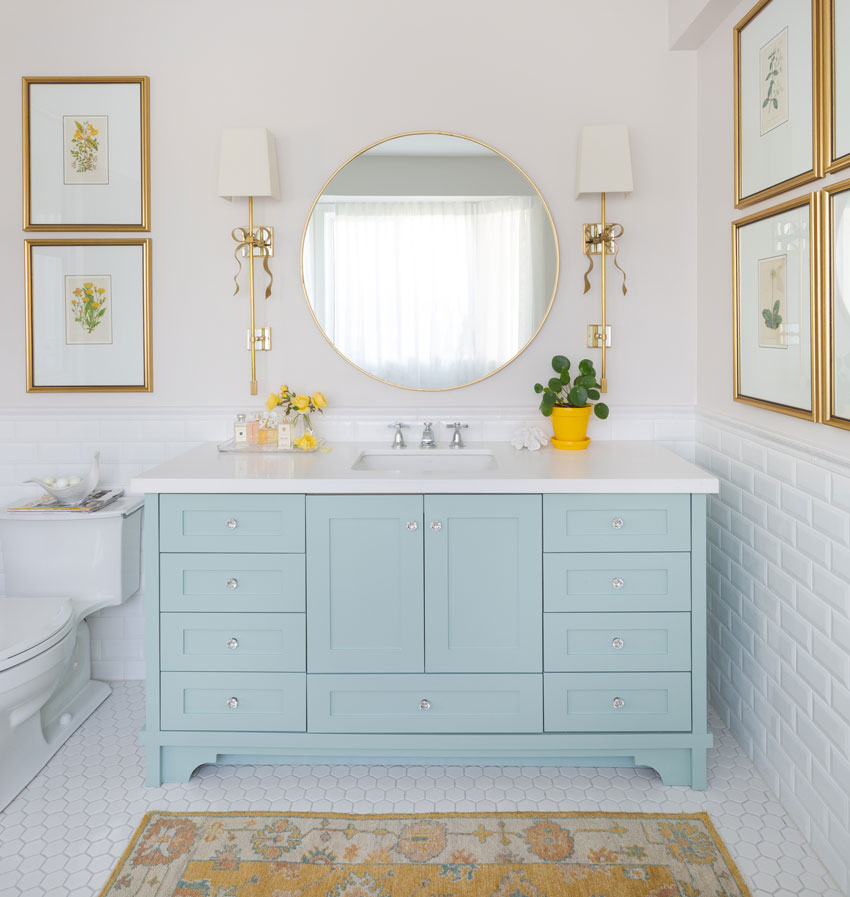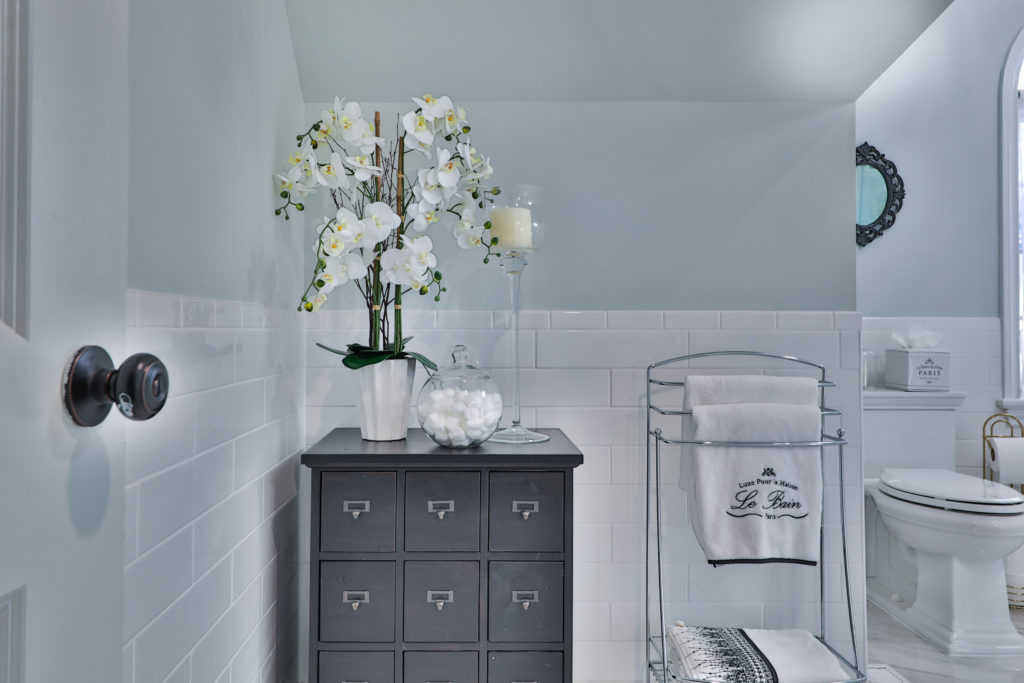 This is where our shower used to be. It is an area that I am working on. While these two pieces don't look terrible here, I'd love to have a dresser or cupboard of some sort to store towels.  I love the height of the small black unit so that I can continue to display tall items.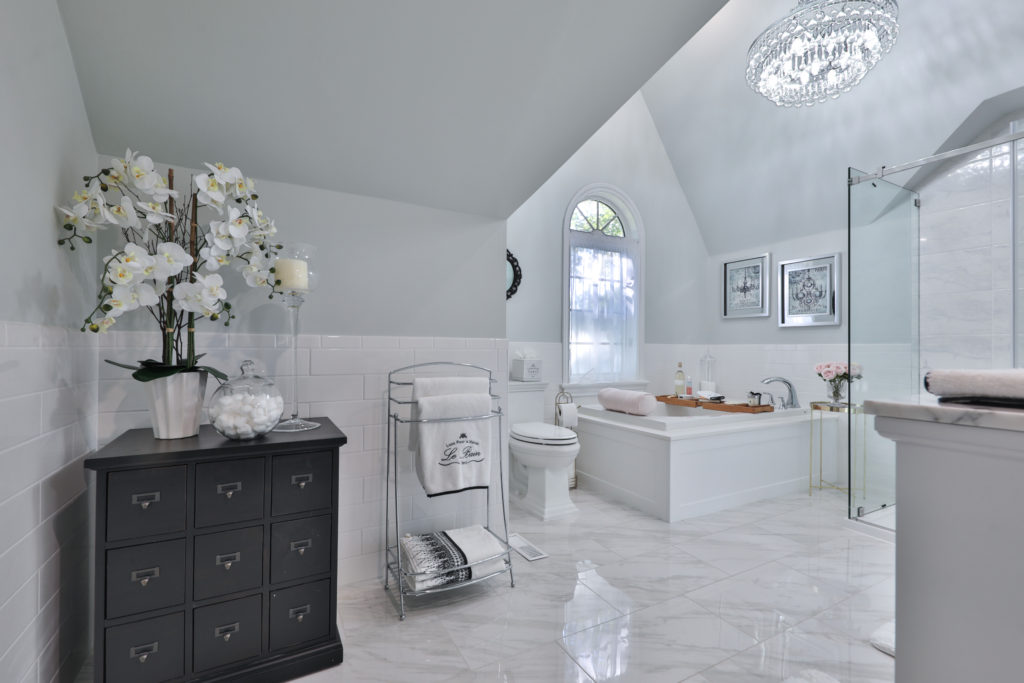 I love it!!! I am so proud to be able to tell people that my son did this for me. He is SO talented. His company is called Woodridge Renovations. You can check out some of his other jobs on his website here  www.woodridgerenovations.ca
Between the tub and the shower, you can see a small gold table. I purchased it from Target, it is perfect for a small bouquet of flowers or a scented candle.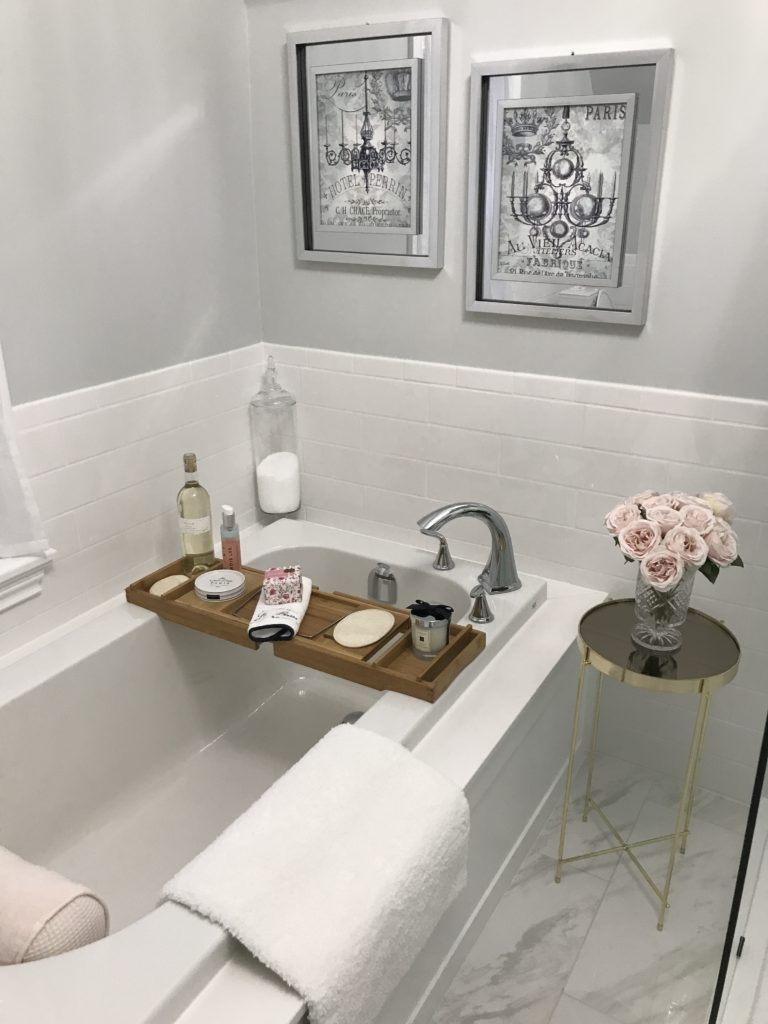 I love my bathtub caddy. I do use my tub a lot!!! There is nothing nicer (to me) than having a nice hot tub with a cup of tea and a good book or magazines. This caddy gives me somewhere to put all my stuff.
So what am I sourcing? I am looking for just the right botanical pictures and gold frames as the inspiration picture has. The pics I hung above the tub are only temporary.  As I said I am also looking for the perfect little storage unit to go where the old shower used to be. If I could get one with a couple of drawers across the top and some shelves behind doors at the bottom…that would be perfect. Once if find the perfect piece I will replace all the knobs on it and on my vanity with crystal knobs. So keep your eyes open ladies and let me know if you see anything that might work for me.