Christmas came, Christmas went…
WOW!! I cannot believe it's over. I know…your thinking WTH is she talking about? It's only Dec. 17th  20th (I got sidetracked) There is still one more week of chaos and stress. Well not for me. Christmas 2018 for us – happened yesterday Sunday…and what a day it was.
The girls are at the absolute perfect age for Christmas. They believe in all the magic the season has to offer. Steve and I had so much fun this month when they visited.
Elf on the shelf showed up in the silliest places and even came to a Toronto Raptors game with us!! For anyone that doesn't know about The Elf on the Shelf: Before the family wakes up each morning, the scout elf flies back from the North Pole and hides. … The Elf on the Shelf explains that scout elves get their magic by being named and being loved by a child. In the back of each book,  families have an opportunity to write their elf's name (ours is named Jingle) and the date that they adopted it.*Wikipedia …and boy do these kids believe in it. I wonder how they never notice that the store shelves are filled with Elves…and here I thought my girls were pretty bright! LOL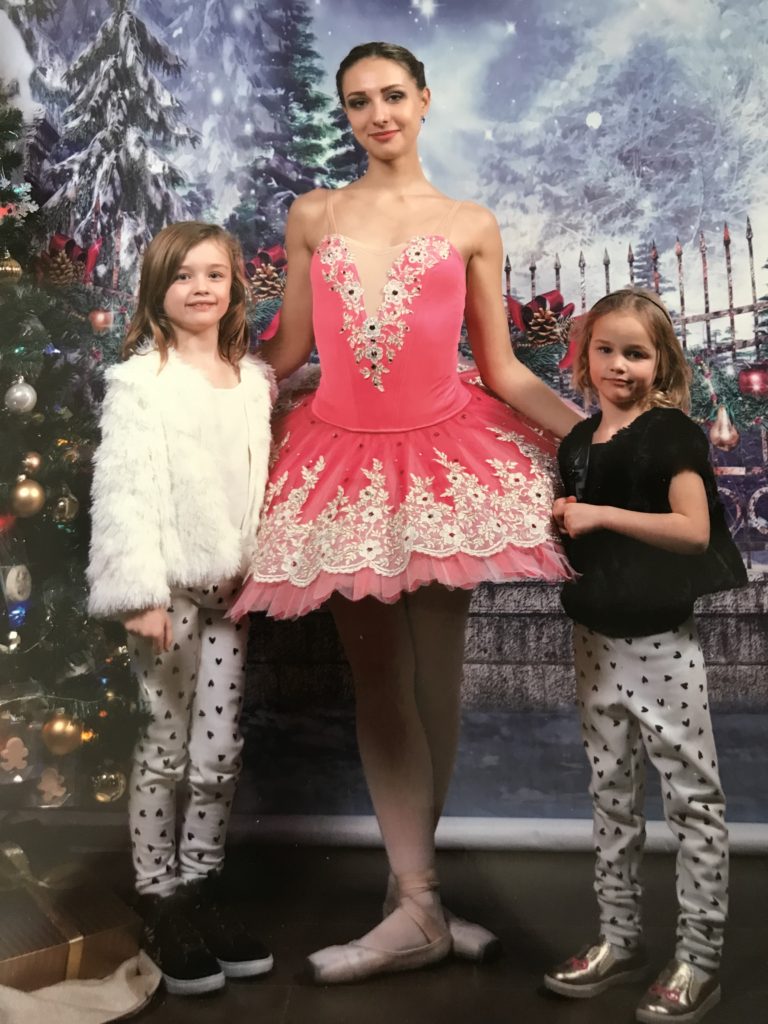 We took the girls to the Nutcracker Ballet. We assumed Savannah would like the ballet…maybe not love it but hopefully enjoy it. We were sure Lilah didn't stand a chance. I think Steve was counting on Lilah having ants in her pants so he would have to take her home with him…well hahahaha…didn't happen. In fact, it was Savannah that started to get restless halfway through the second half and Lilah loved it!!  The girls were able to get their photo taken with one of the ballerinas. Lilah was starry-eyed. (Even though in this photo she looks completely bored out of her skull)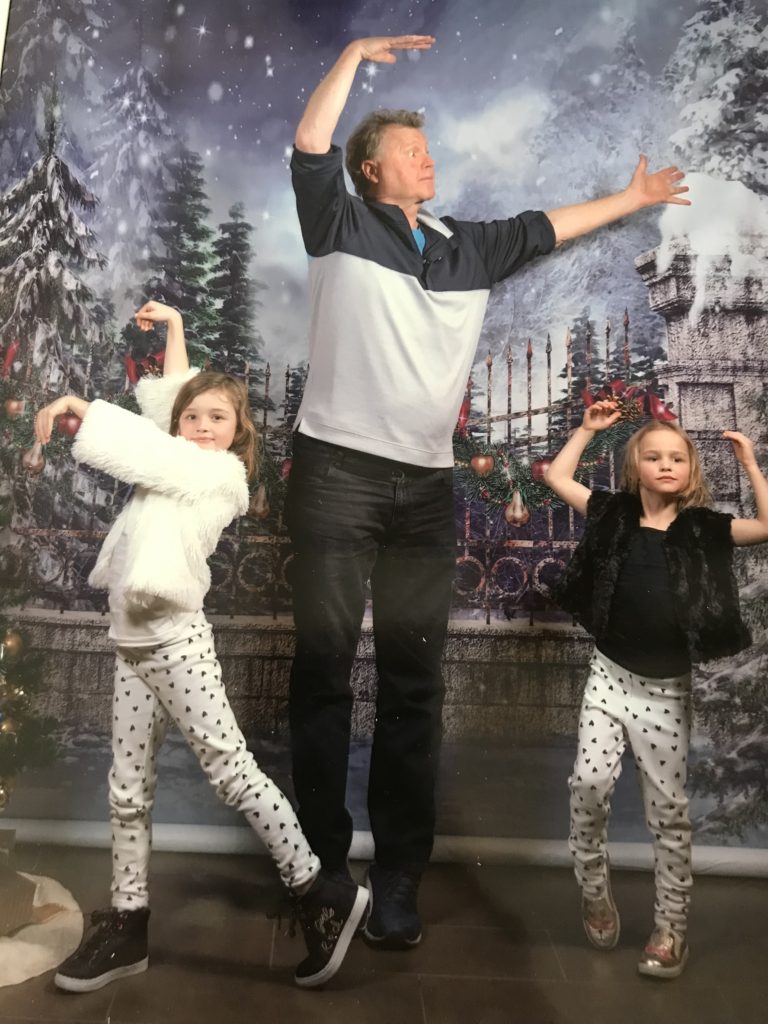 Even Steve – not one to be left out of the fun – got in on the action. You should probably make yourself a wee cuppa tea at this point…I may have over done it with the photos. 🙂
We made plenty of crafts including this oh so simple snowglobe! We simply hot glued dollar store Christmas trees and lamp posts (cause that's what came in the package) onto the lid of a soup jar. The girls put about 2 tablespoons of silver glitter into the jar, the other tablespoon went all over the counter and floor…and then we topped it up with water. Stuffing the tree in the opening was a bit tricky…take your time…it will go in. Screw on the lid and give it a shake. They are really pretty. I keep them on the kitchen window sill, when the sun hits the glitter it really is a little magical and makes me smile thinking of the girls.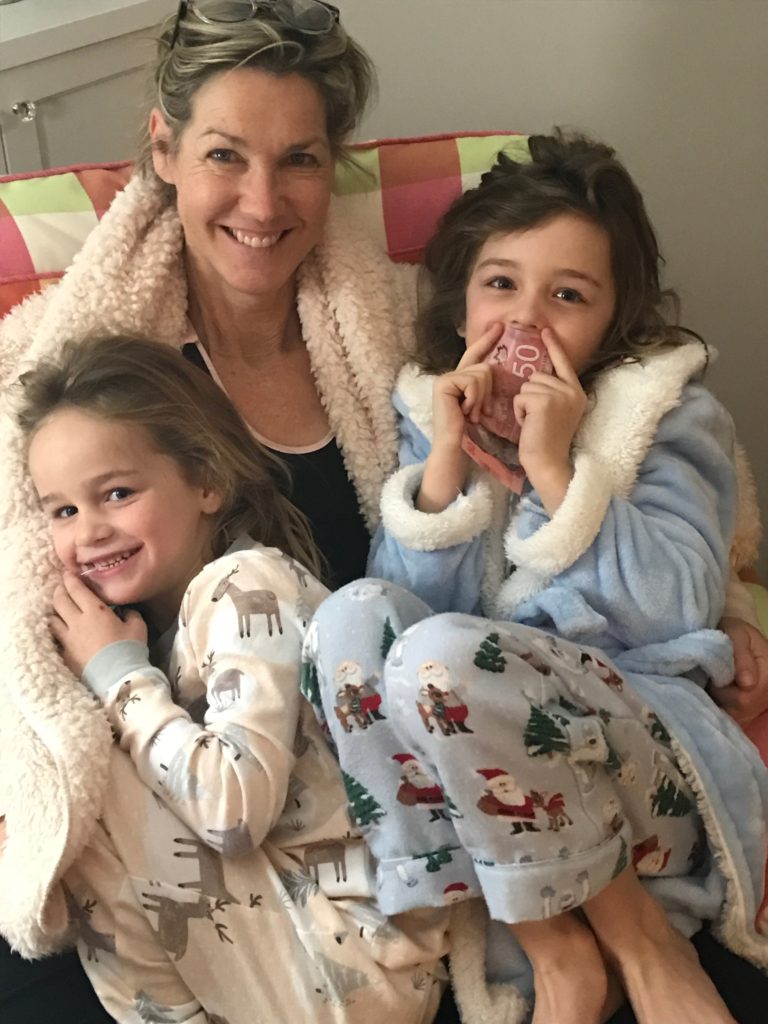 We had lots of snuggles while we watched Christmas movies. Elf and Home Alone were favourites….just noticed in this photo Savannah is sportin' a crisp $50!! WTH?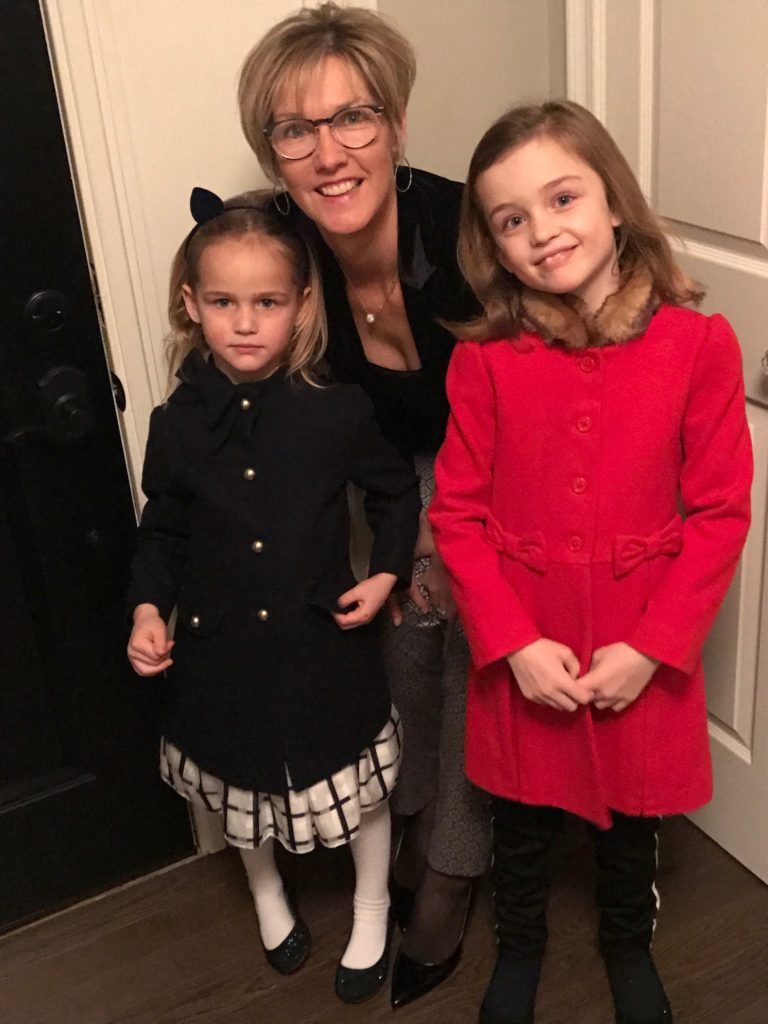 Two weeks ago we celebrated our Family & Friends annual Christmas dinner. The girls looked adorable all dressed up in their fancy frocks!! Well, actually Savannah is on a dress boycott right now. So she wore pants and a "pretty red top" so that she would still look "fancy", and she sure did.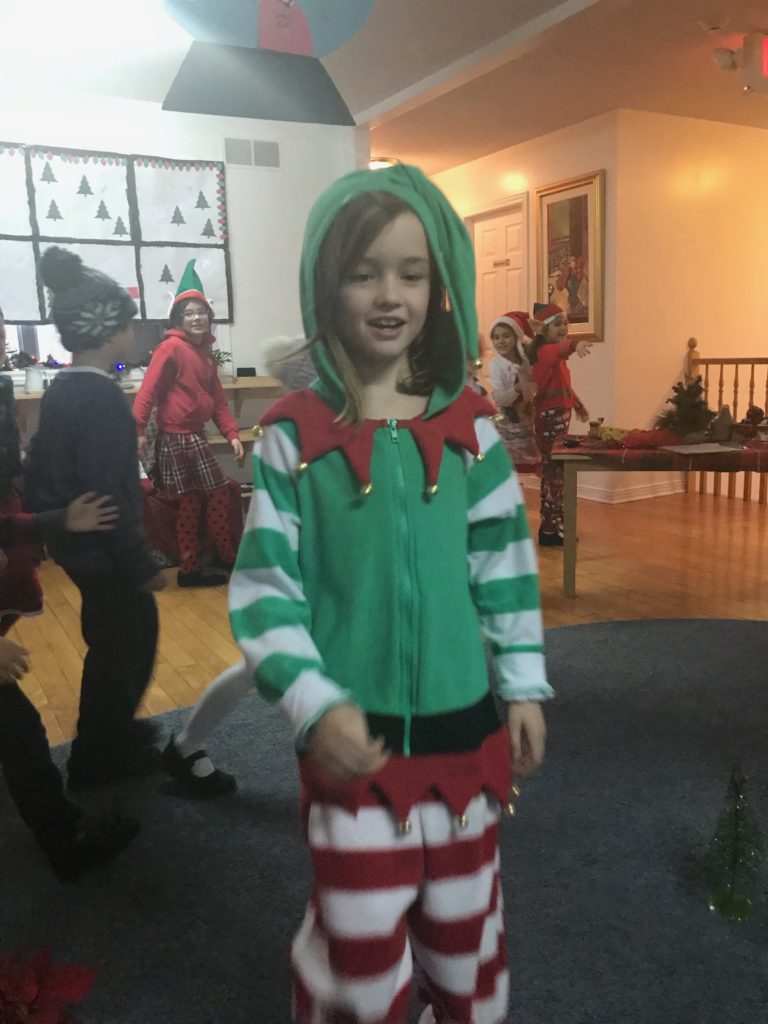 We watched Savannah's school play; The year Santa missed Christmas. Savannah was the lead female playing Jolly the Elf…and if I do say so myself she nailed all of her lines. I have the entire play videoed if anyone cares to see it. (LOL) We were sad to have to miss Lilah's…but I did see some videos and she 'stood out'….that's all I can say about that!!! LOL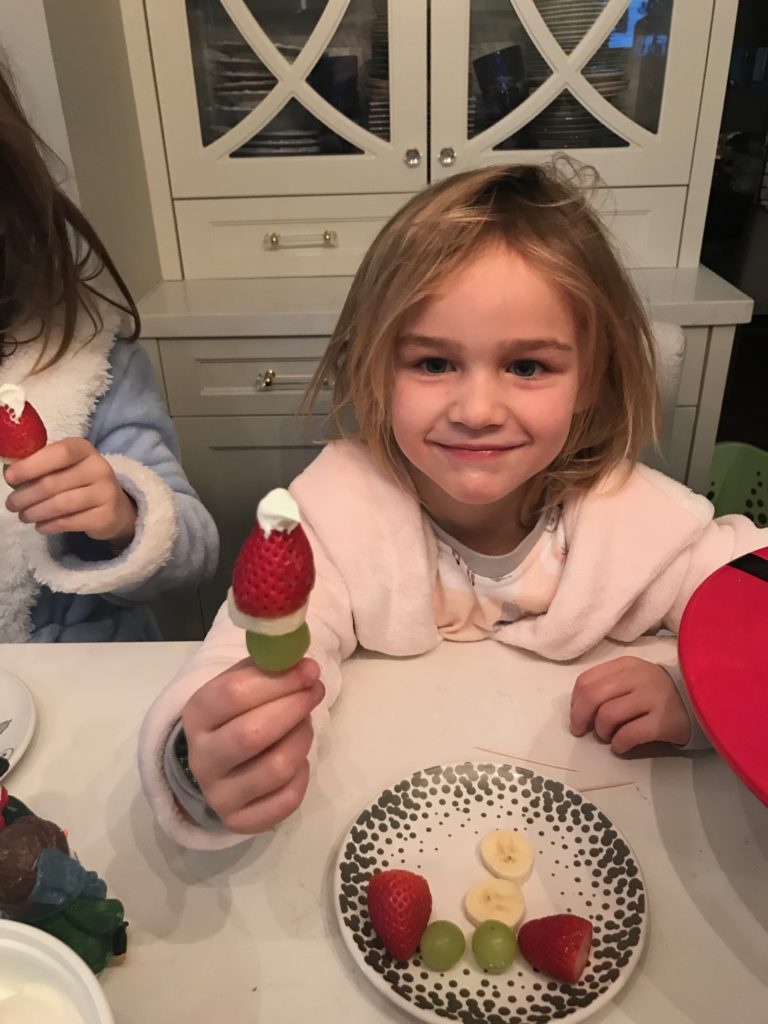 We did plenty of baking, gingerbread houses, cookies and made these fun little Santa Clauses out of fruit with a dollop of whipped cream on the hat. You can use miniature marshmallows too.
I hosted a ladies craft and dinner party last week.  I cannot wait to show you all of the photos. I had them professionally taken by Enzo Melana of Helicopix Inc. He did an amazing job and I cannot wait to use him again. (not that I have anything planned yet…but you know me!! I'll come up with something!)
Anyways, stay tuned for that upcoming blog post.
Ok…so on to some of my décor taken on my iPhone that I am still pretty much sucking at!! Trust me…when you see Enzo's photos on the next blog compared to these you are going to see a huge difference!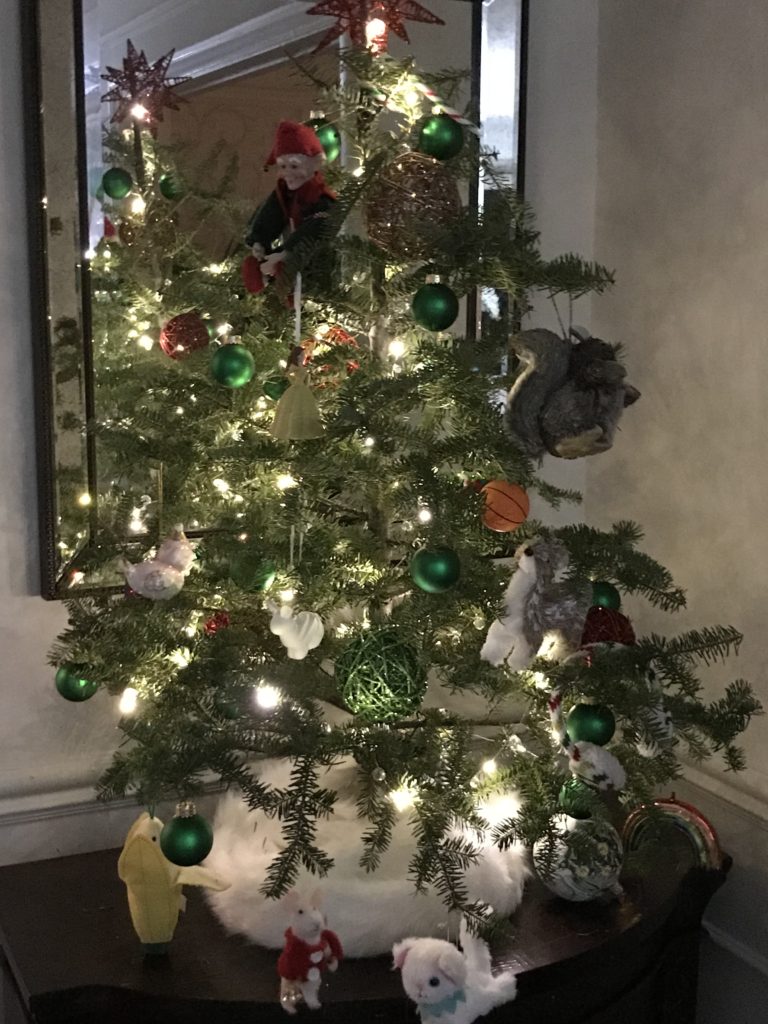 I haven't done a full-size tree for a few years. Once Christmas is over this SavvySnowbird pretty much flies south. The last time that I did actually put up a tree….well…it came down in May!! Imagine how much I wanted to come home THAT spring to clean up a Christmas mess! NOT!
Now a small table-top tree is all this family gets. When I am ready to leave it goes into the mulch pile. Easy-peasy-stress-free.
With Christmas comes traditions. When Savannah was born I started the tradition of buying her a tree decoration every year. Three years later I started a collection for my Little Lilah Bird as well. My hope is that one day when they are grown and put up their very own trees they will have a head start with some meaningful Christmas decorations from theri Nana. Other than the green balls the rest belong to the girls.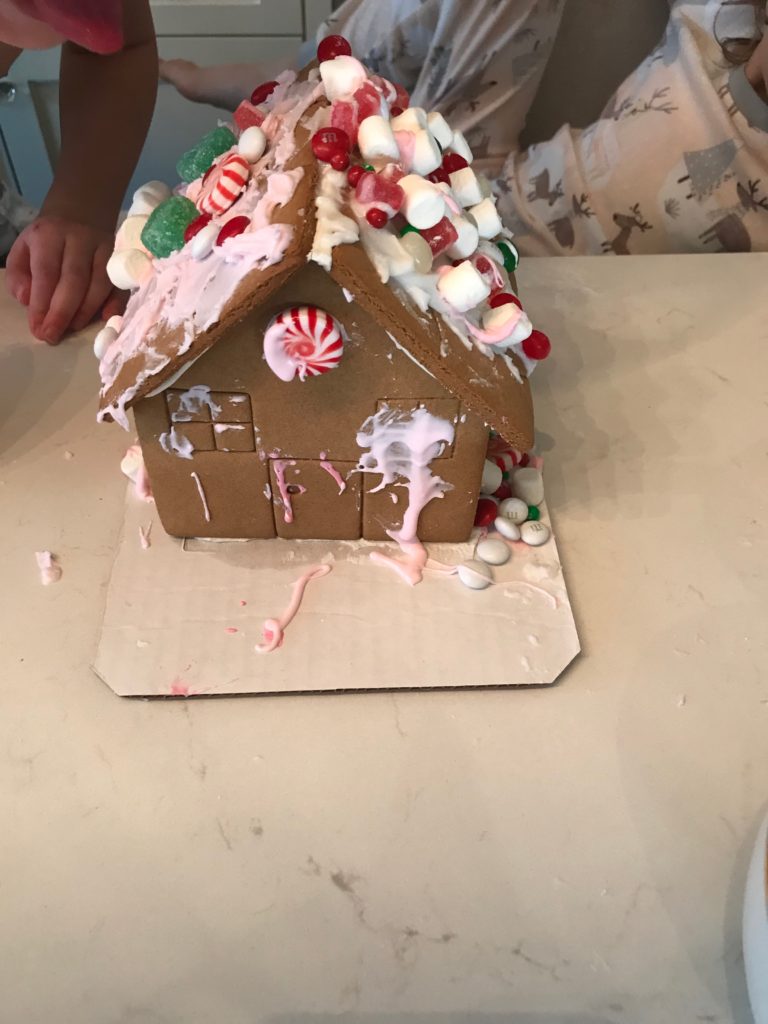 To kick off the season with them I bought them each a gingerbread house…I know, I know…I should be teaching them sharing and cooperation….pfff….there mom and dad can do that…I want peace and harmony!! LOL…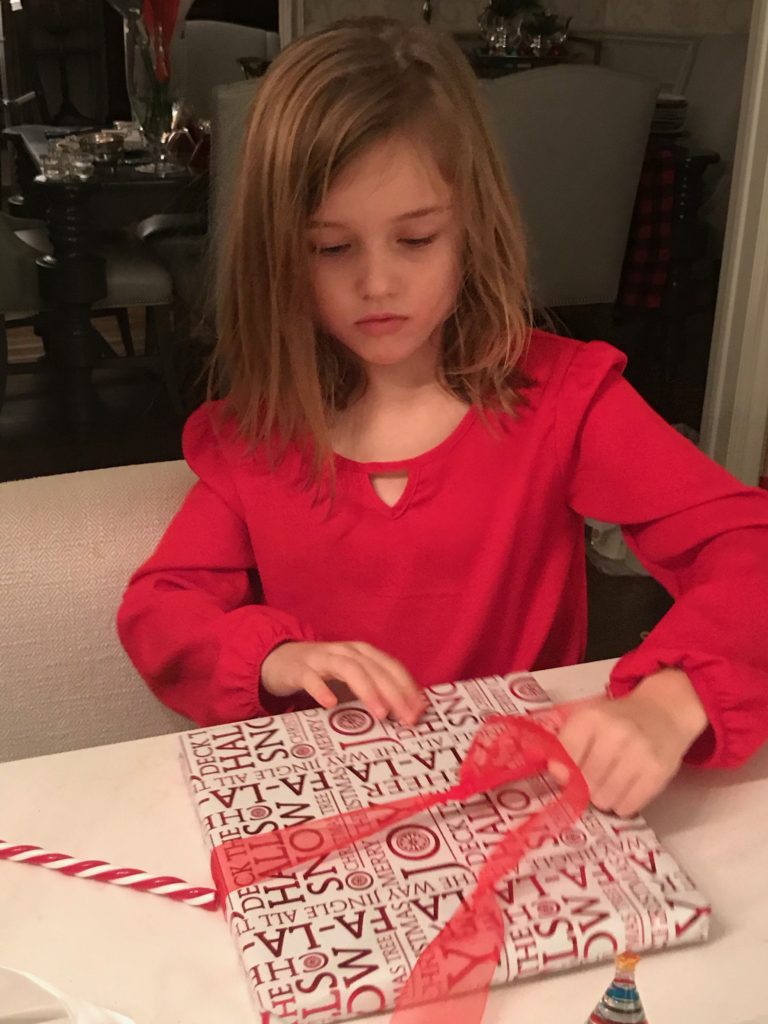 Bedtime stories are a big deal over here. Our day always ends with at least two. More if it is a weekend. I have many Christmas books that I have collected over the past 8 years. Every year I wrap them all and let them each pick one to unwrap at bedtime and that is what I'll read to them. They love it and I swear every year they think they are all new. Once Christmas is over all these books get put away with the decorations. Out of sight out of mind till next year.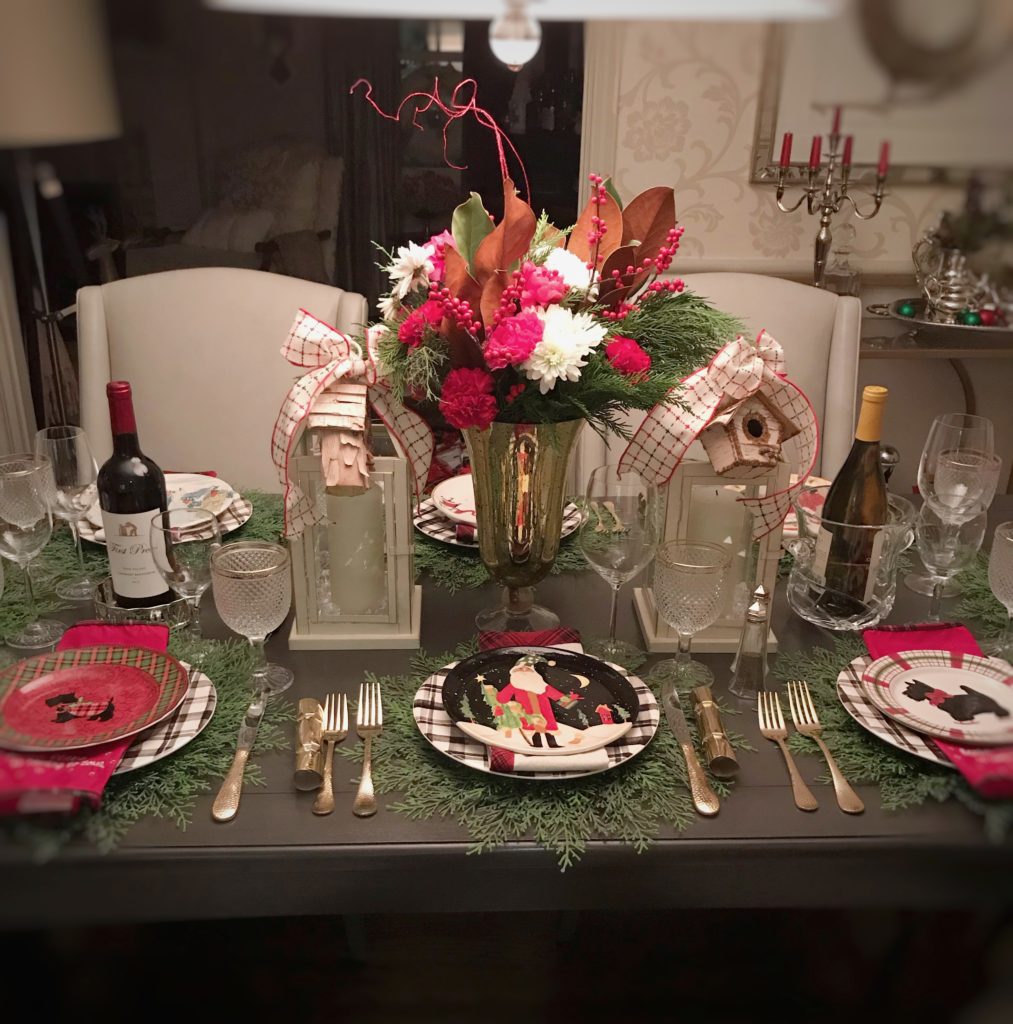 Our Christmas table this year was pretty traditional and a mish-mash of plates. For the center piece, I used two lanterns that I had outside in our backyard over the summer. I tied some ribbon and birdhouses to them for instant Christmas pizzaz. I love to use things that I already own…it really starts to add up when you have to buy everything new! The flowers were purchased from No Frills, simple pink, red and white Carnations. I had some greenery left over from another project and I put them all together instead of ordering a floral arrangement.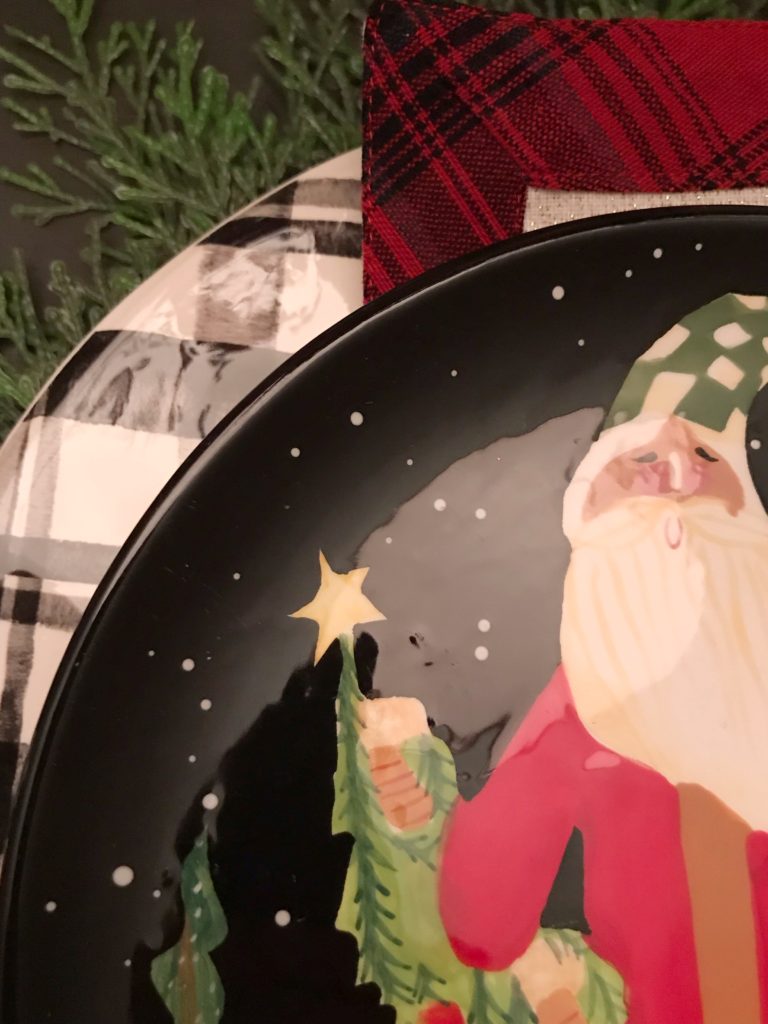 I have a collection of Christmas plates that I honestly don't remember even starting. I layered them on my black and white buffalo checkered dinner plates. I lied the napkins underneath the salad plates so the design of the plates could be enjoyed.
You will notice all of the salad plates are different. They all have Christmas or winter scene on them…so they worked perfectly. I think I used 3 different styles of napkins as well. Like I said, a bit of a mish-mash, but it worked.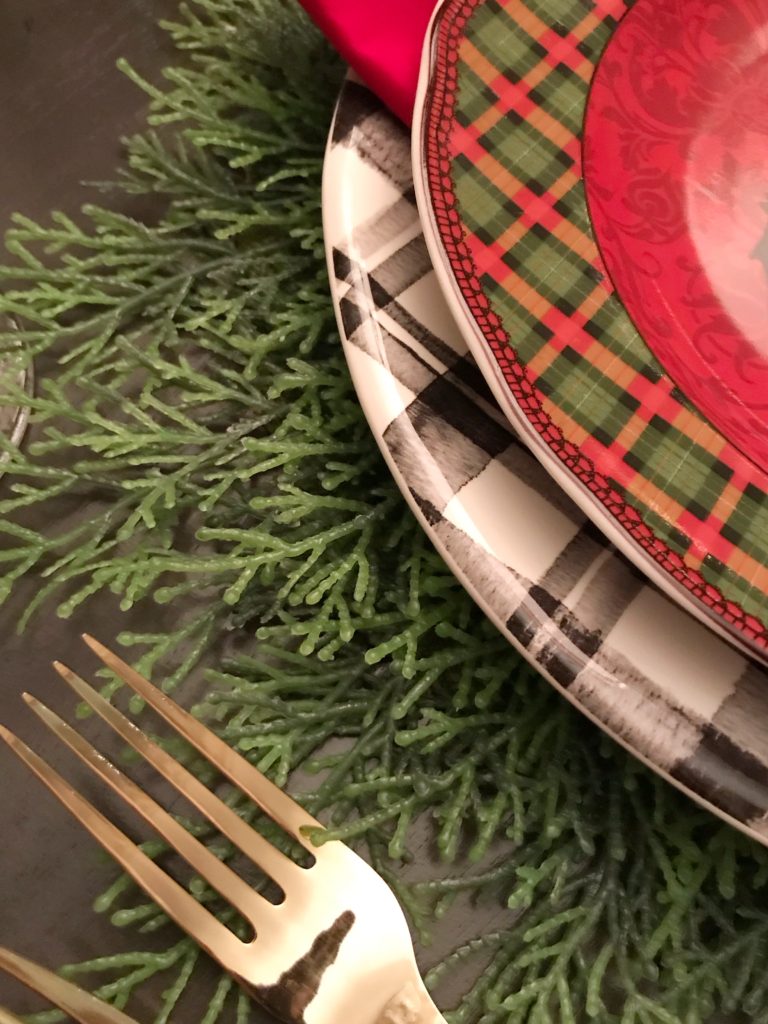 I did purchase the greenery placemats this year from Pier One. I waited for their Christmas stuff to go on sale and managed to get these at 30% off.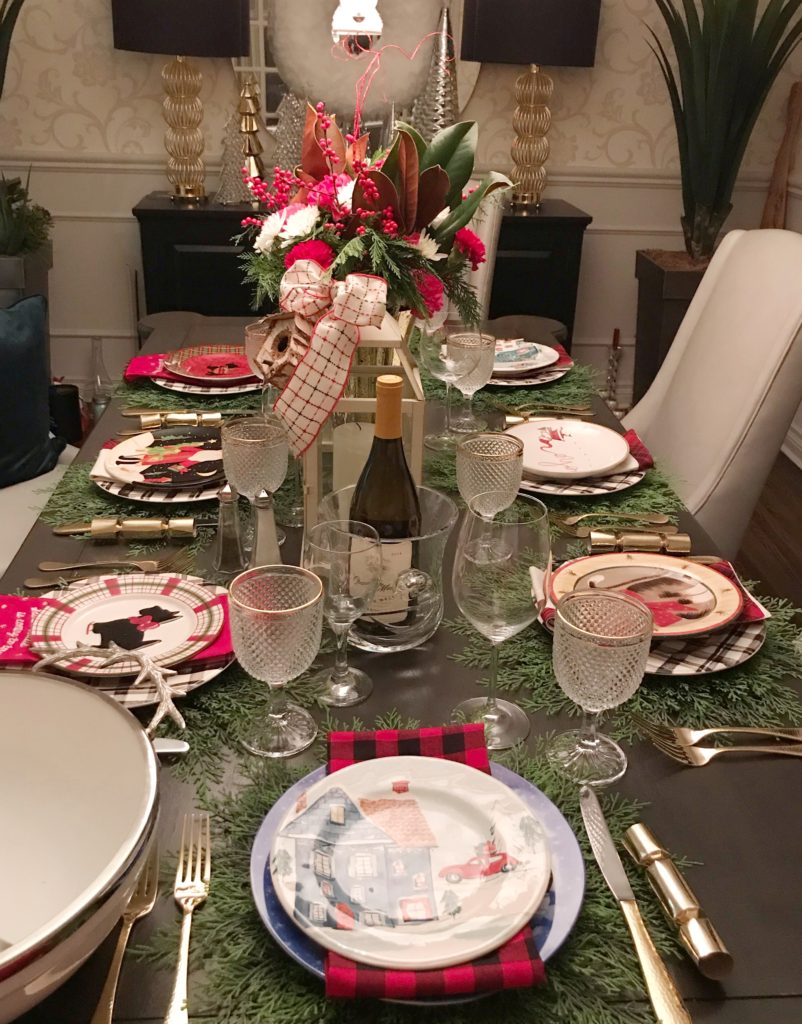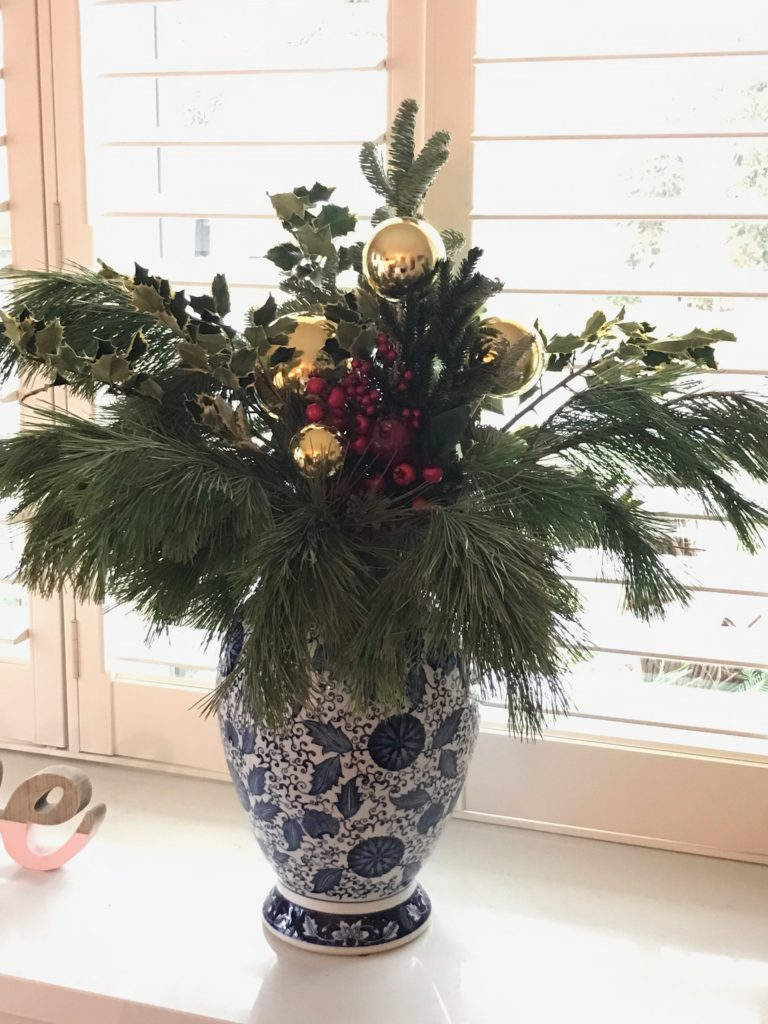 My decor this year was kept to a minimal. I used a lot of fresh greens and fresh wreaths that when done could easily be removed and taken outside.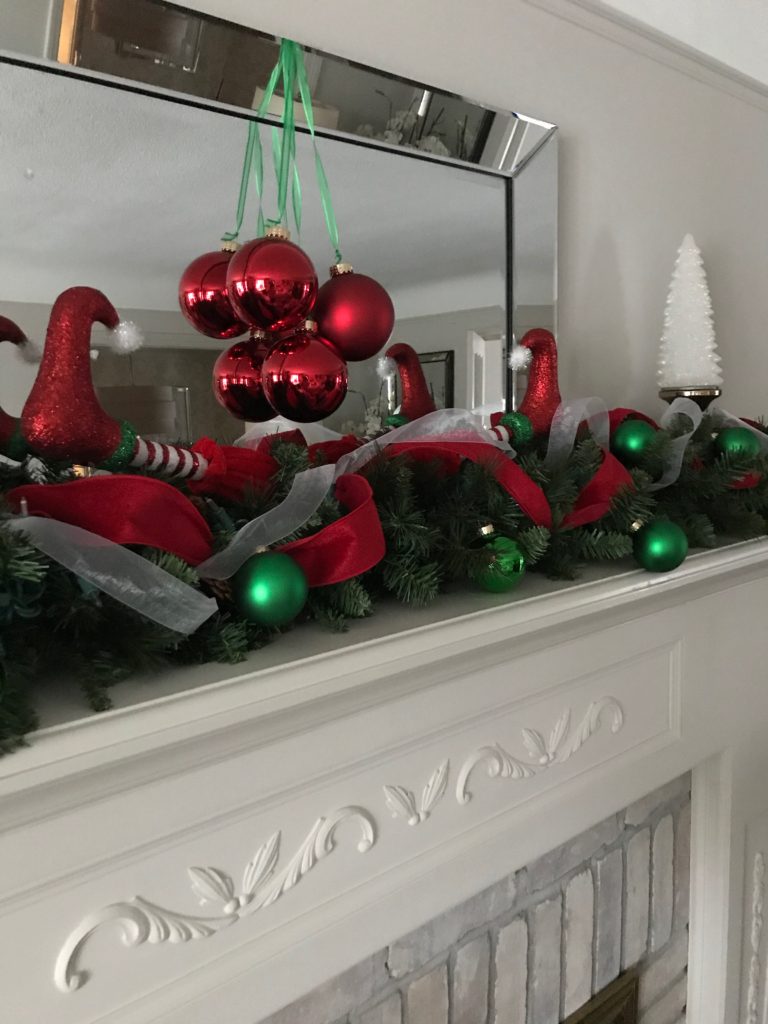 I started out with red and green in the living room. It didn't last long though… lol…I just couldn't get it all to come together very well. So I took this down and used all my reds and greens in the family room. It worked out well as the kids prefer the traditional colours and we spend much more time in the family room with them watching TV. I move stuff around a lot until I get the look I want…always a work in progress…Steve never knows what he is going to come home to. You will see the updated version of my fireplace in my next blog. Enzo really captured a gorgeous shot of it.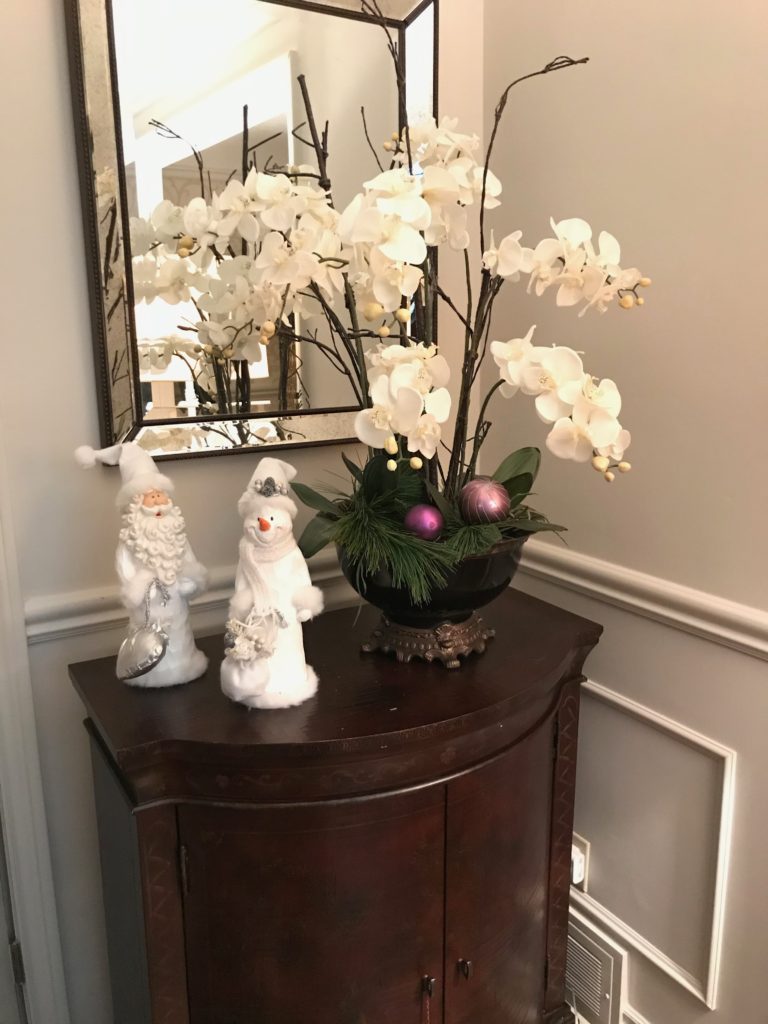 Adding some leftover greens and ornaments to my plant that is always in my living room was a great way to incorporate it into my Christmas decor. One less thing for me to remove for the season. Although this did end up getting moved somewhere else and the little tree came here.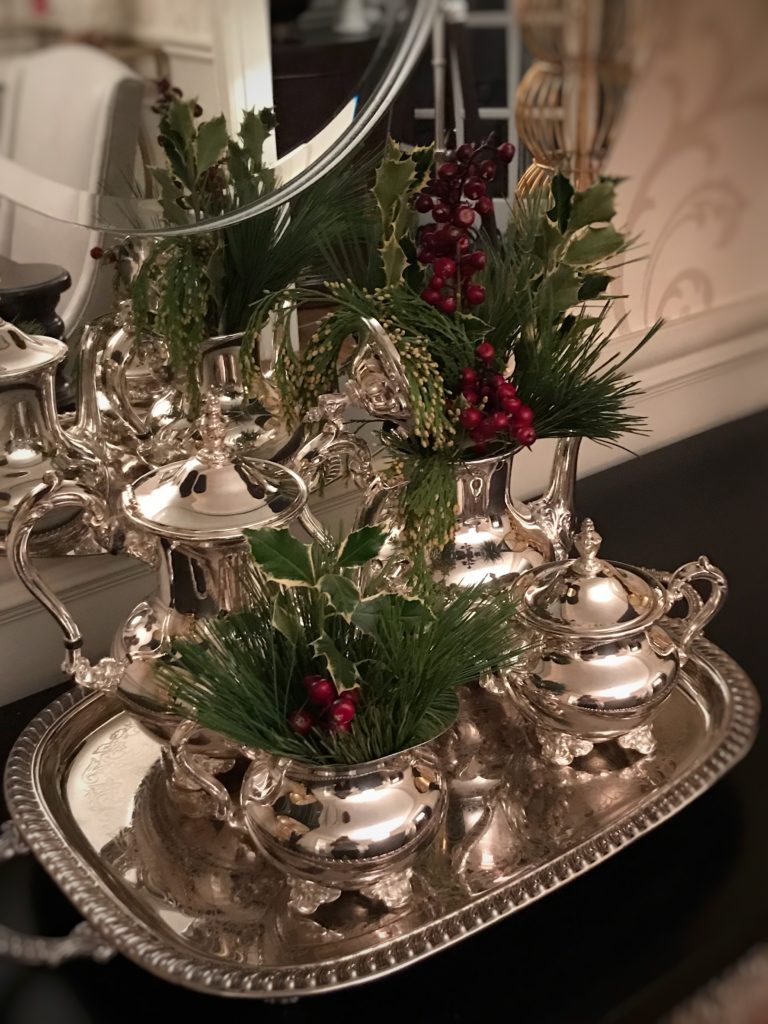 More simplicity…the addition of greens and berries added a nice touch of Christmas to my tea set. I saw this idea in a Christmas magazine last summer and save the photo. I put it in my Christmas binder and was glad to have kept it as a reminder. (you can still find all the printables on my home page)
So that's it. It is 3:18 AM and I think I have until 4:00 to make this blog happen tonight…I hope I didn't inundate you with too many photos.
What are your favourite traditions…do you have a magical Christmas story you can share….please comment below…I would LOVE to read all about it.
If you miss the next blog (it's a busy time) Have a beautiful and Merry Christmas. Thank you for your incredible support this past year. If you aren't already, I'd love for you to follow me on Instagram, Facebook and subscribe to my emails. If you missed the pop up you can sign up on the sidebar of the post to make sure you catch all the blogs and fun projects to come.
Blessings to you all- xoxo.