FELT A LIL' BIT LIKE A ROCK STAR!
So…the absolute best. I was at a party the other night and this very nice lady stops me as I enter the backyard and says "hi…you are Savvy Snowbird right?" we introduced ourselves to each other and she went on to tell me how much she enjoys my blog and that she sent it to some friends of hers too. Then she said "every time I read your blog the only thing I can think is AWESOME" well OMG!!! I felt so special. What a beautiful compliment.
Thank you Nancy M, you truly made my night!!!
SAVVY PRICED TABLESCAPE
We are hosting a dinner for some very good friends of ours. Being in the US right now means I get to still decorate for the fall season….even though the temps are in the high 80's and it feels nothing like fall at all. LOL…Regardless-onward!! I didn't really have much in the way of fall décor or table wear, so off to Home Goods, I went for the win!!!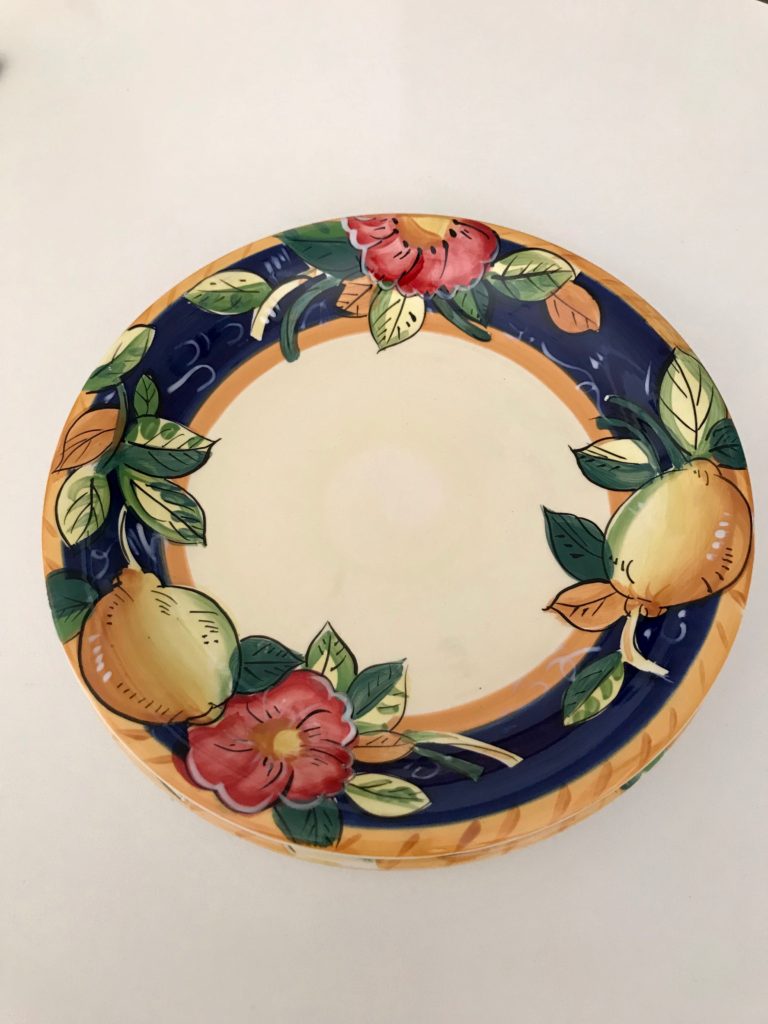 CHEAP, CHEAP, CHEAP
I got these plates for a buck a piece at Home Goods! I know you are thinking…well they don't look very fall-ish at all – but give me a chance would ya?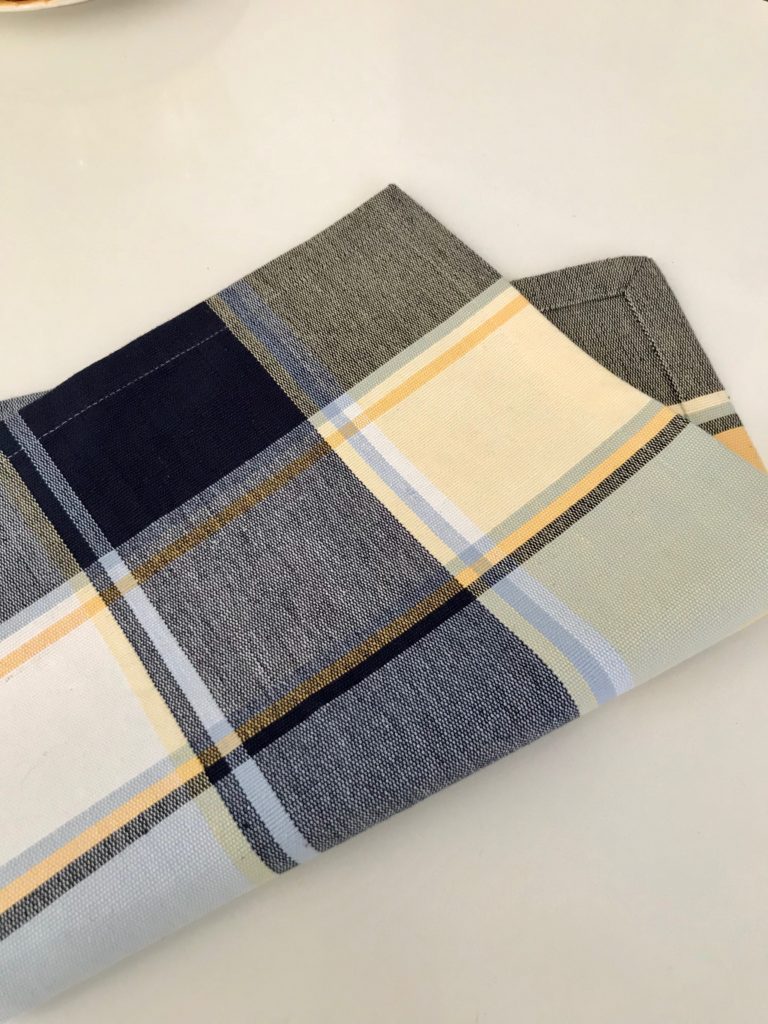 TALK ABOUT SOME SAVVY PRICES
…And these really pretty placemats were $8.00 for a set of four. I love them and can see using them often. My colour palette here at the Canadian Club is predominantly blue. I do have some orange highlights…that I actually now regret. I feel that if I had of stuck with everything being blue and white I could change things up a bit with pillows and throw blankets.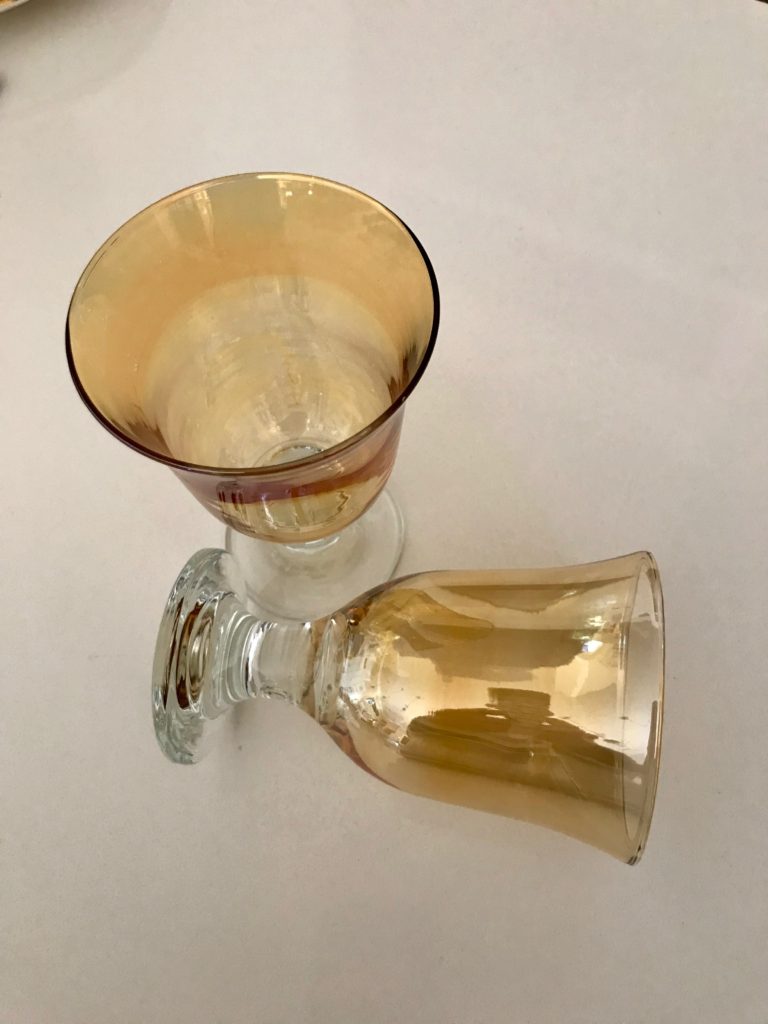 What do you think of the water goblets? $3.00 a piece. So what are we up to? Fifteen bucks ladies!!! SCORE!!! I could have gotten the matching wine glasses but since I was trying to save some money on this tablescape I passed on them. A little bit regretting it already!!!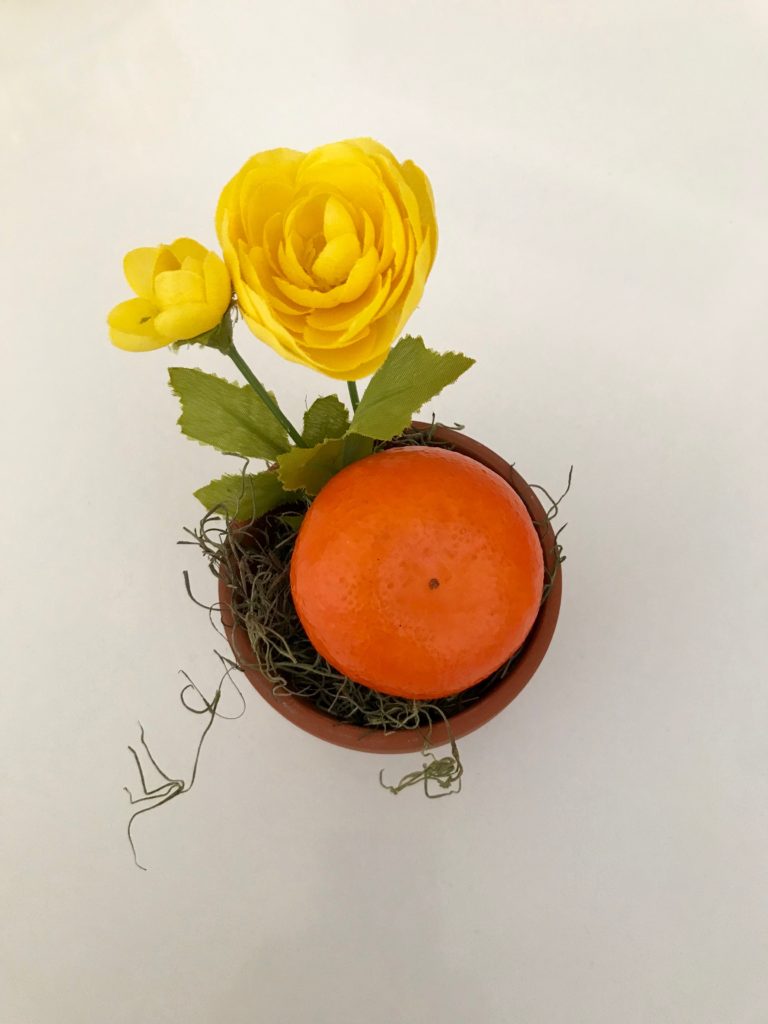 At Michaels craft store I purchased the flower pots and faux flowers all for $17
DIY – ALERT
This is probably the easiest DIY project I have ever done.
I purchased 4 small flower pots and a couple of stems of yellow flowers. I had the grass from Easter and the oranges are right from my kitchen fruit basket.
I used scrunched up paper towel to lay the grass on. I cut 2 flower heads off of a faux flower stem and put them down the side of the paper towel. I placed the mandarin on top and that was that. So simple, yet lots of colourful impact and best of all the entire thing came to $17 for all four of them. If you get your faux flowers from the dollar store you could probably do all four for around $10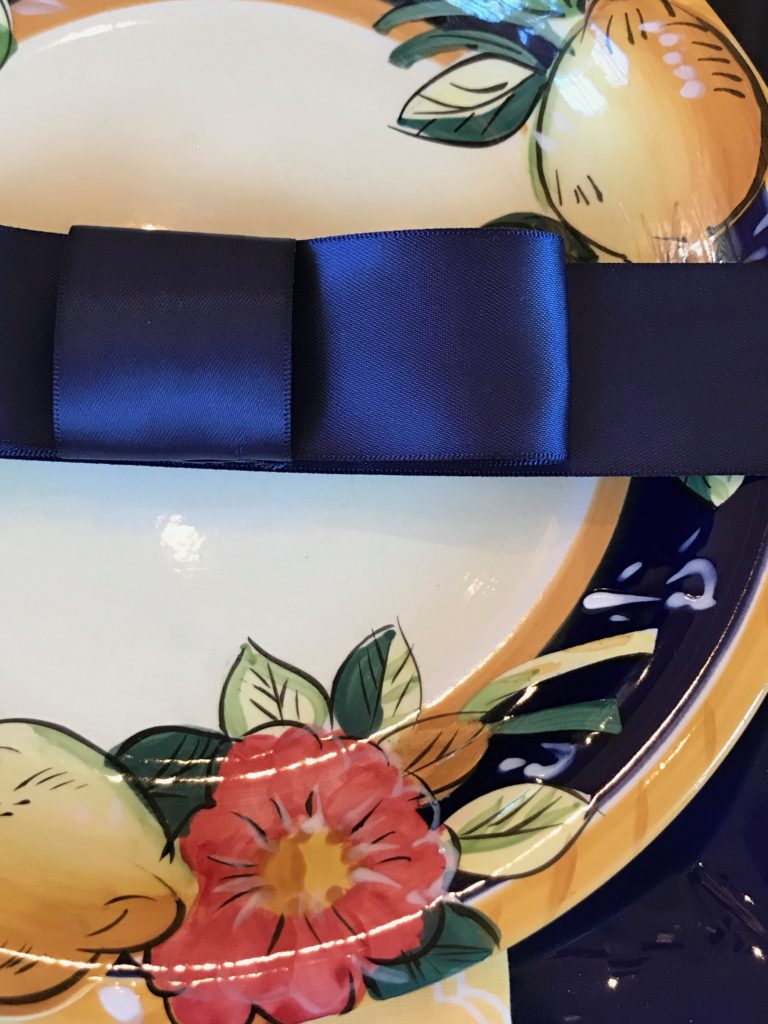 Ribbon – 2 spools @ $2 each
I wrapped each plate with cobalt blue ribbon. I think I will do this at Christmas as well. Each place setting looks like a wrapped present.
Now for the fun part. Putting it all together in the hopes that I can really bring a pretty fall/Thanksgiving table setting together using blues and yellows.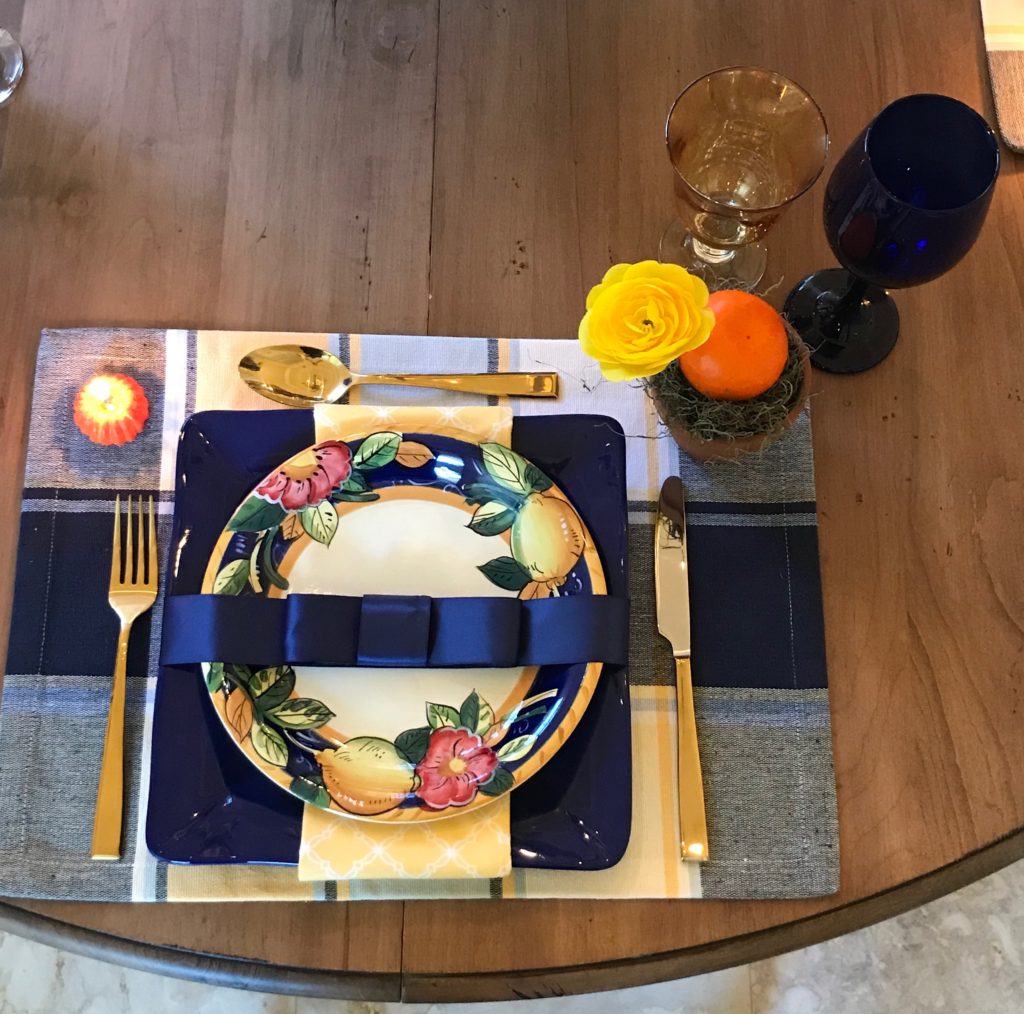 What do you think? Would you consider doing a tablescape with less than traditional colours?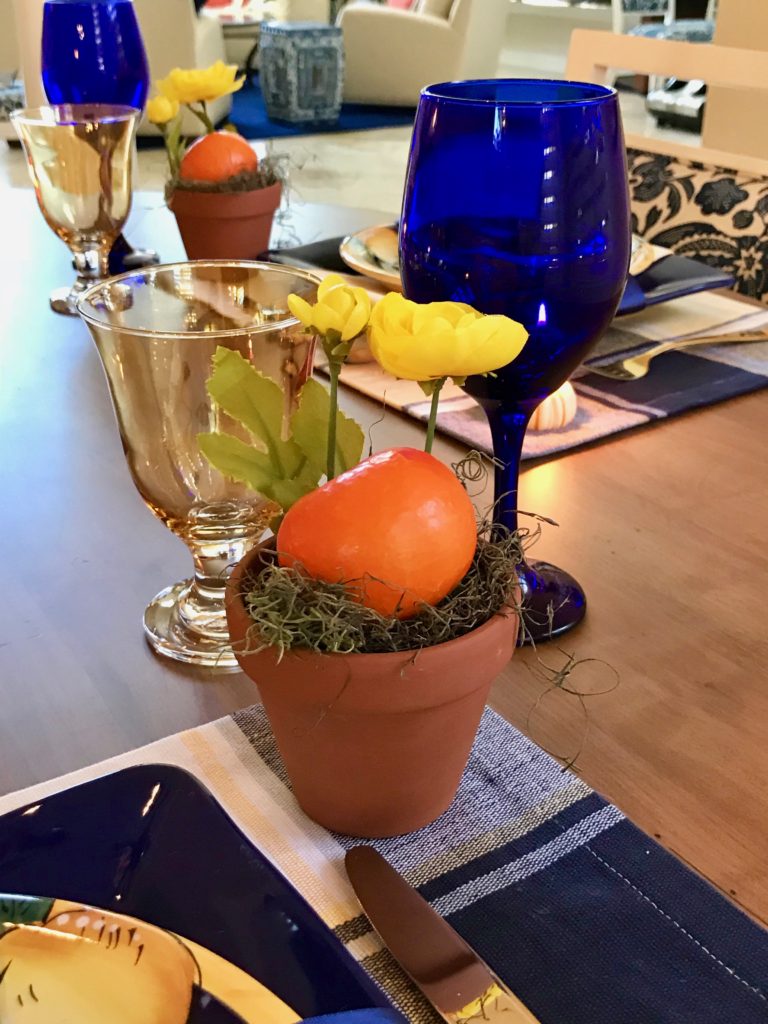 I love the brightness of the blue, yellow and orange palette.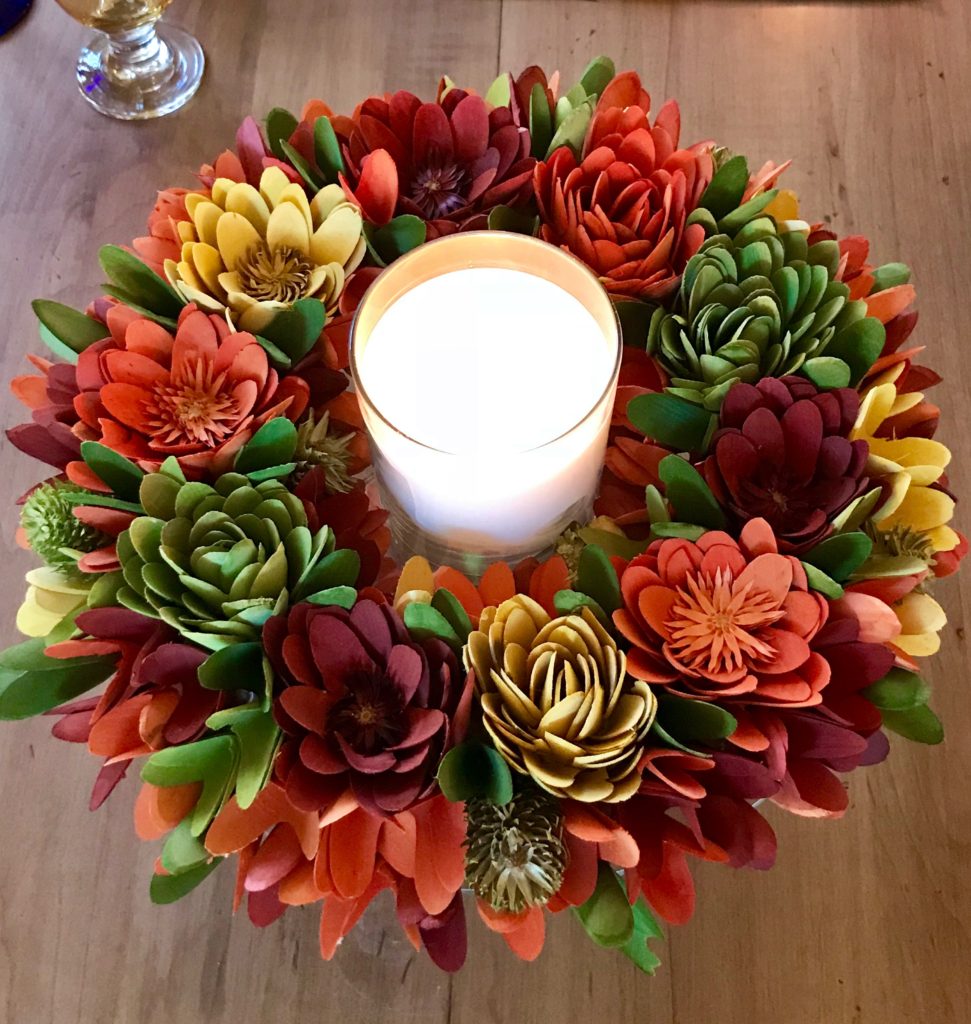 The wreath really brings the table altogether. It IS very fall looking. I set it on top of a raised cake plate to give the table some depth.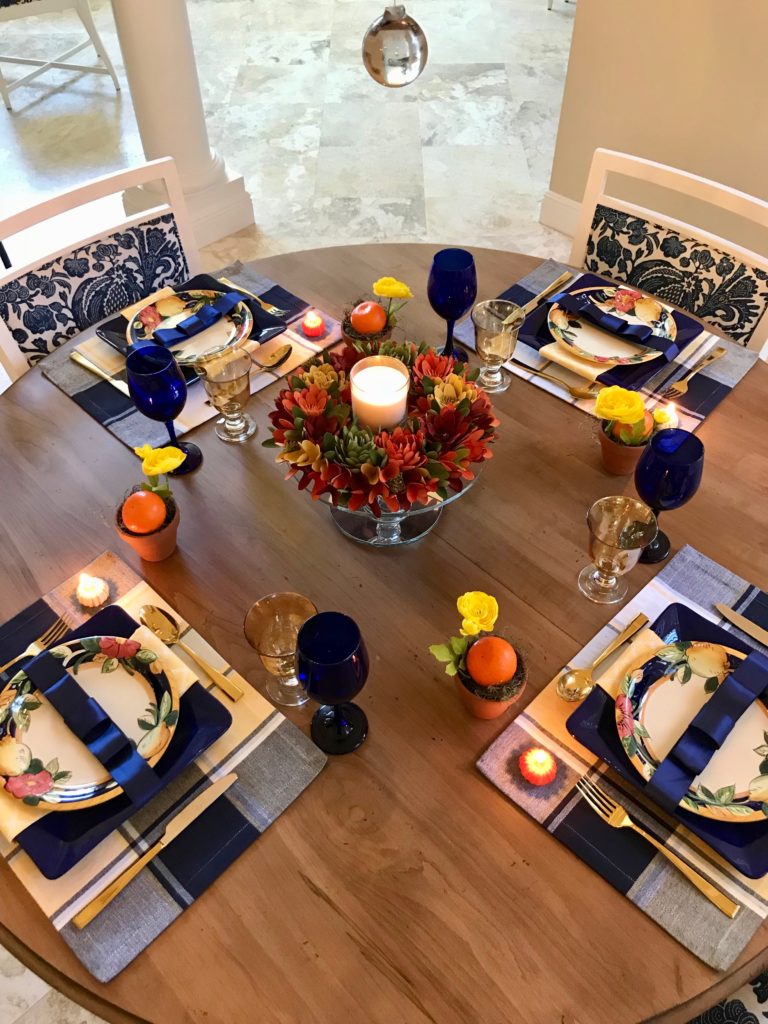 Very simple, very inexpensive and I think it turned out 'fall' enough.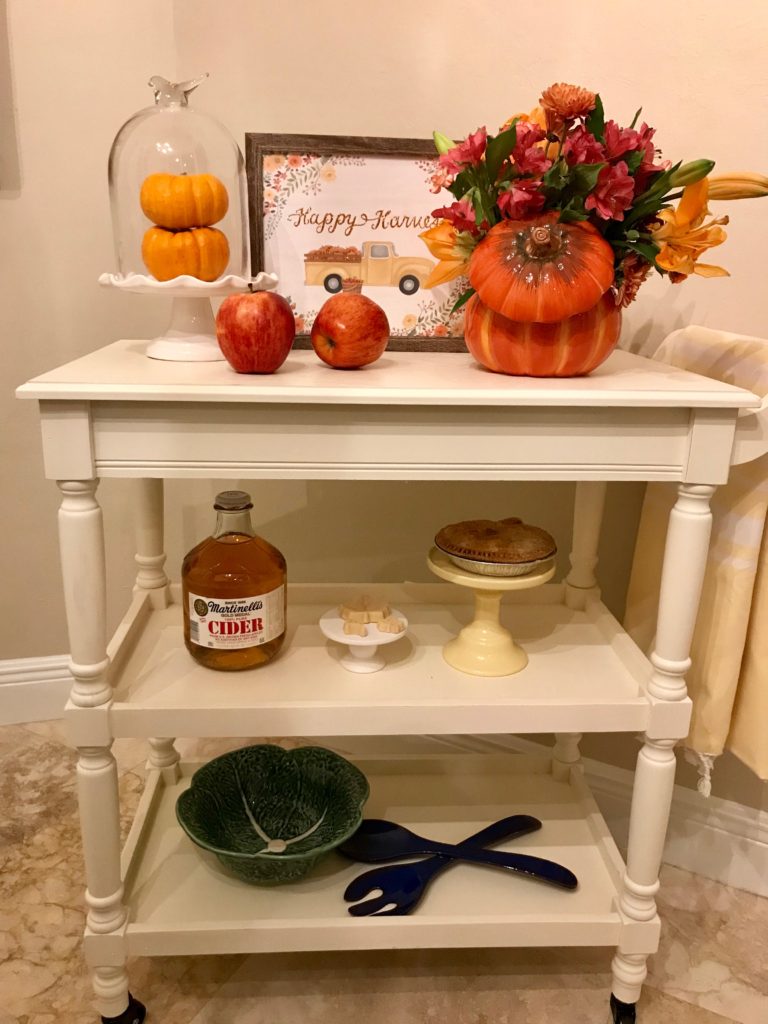 I tried my hand at floral arranging…I need some serious practice.  I turned it around so that you could see the lid of the pumpkin. I think it turned out OK for the first attempt. I love having a tea cart to serve desserts on and to hold oversized serving dishes. Once the salad goes around the table I like to have somewhere to place it out of the way…but close enough for seconds. After dinner, I will remove everything from the top shelf and put desserts and cider there instead. Of course, I will pretty it up a bit more:)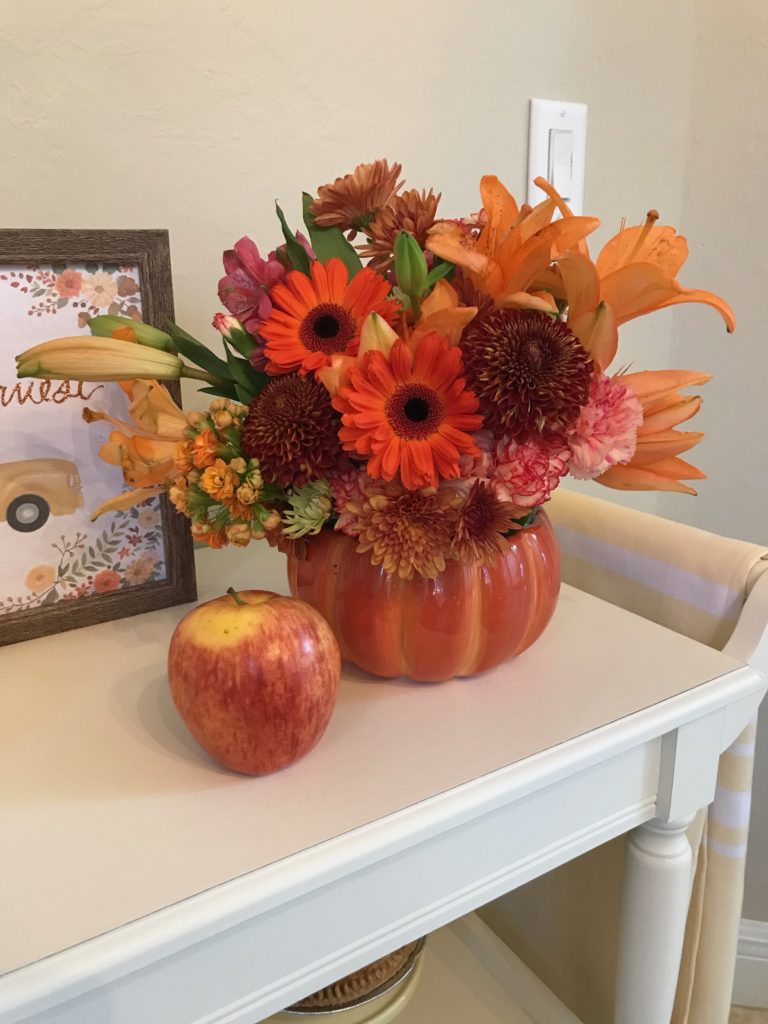 Here is the flower arrangement from the front. Use fresh apples on any fall table or tea cart. You can use them in flower arrangements as well.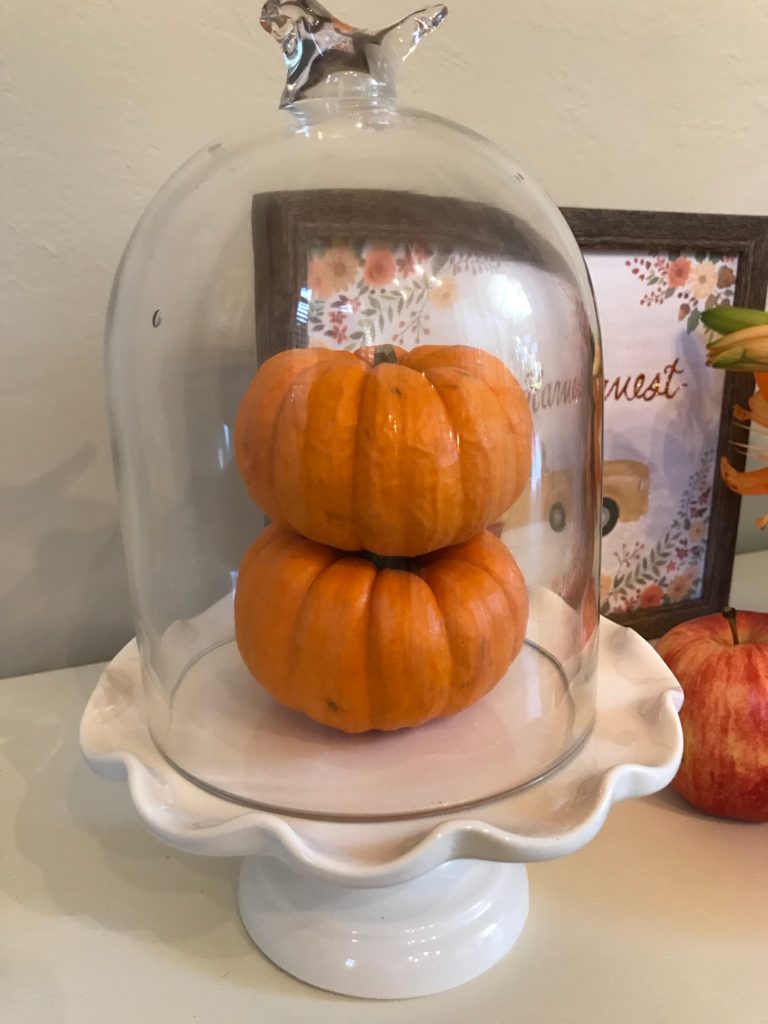 I had this cloche on my Easter table. I had teacups and a birds nest in it. So sweet. I picked up these little gem pumpkins from Publix for maybe $2
I added it all up and everything that I purchased came to $47  The plates were a steal ($1 ea) and I feel I did great on the placemats ($2 ea) and yellow water goblets. ($3 ea) The craft was the biggest single priced item at $4.25 each. These could have been made much cheaper by using dollar store flowers. I think my favourite part of this table setting was the addition of the ribbon wrapped plates. I for sure will be using this idea again at Christmas and birthdays too.  YAY ME!!!
This is probably my last post for fall decor. I hope you enjoyed the couple that I did.  What was  your favourite? Happy Fall ya'll, DIY Pumpkins, Gothic Celebration or Hallowe'en serving ideas?
Next up is Christmas. I am going to start my posts off with a free give-away. Stay tuned for that. You won't want to miss it.
Happy Thanksgiving everyone. Have a wonderful week celebrating with your friends and family….xo