Not sure if I mentioned this yet or not, our house is called The Canadian Club…yup, named after the Canadian Rye. CC & ginger all the way. We even named our boat Sea Sea and Pepsi (we've since switched to ginger, sold the boat and started a boat club called Sweetwater Lifestyles. More on that in a later post)
I thought since this is the introduction to the Canadian Club we should start at the entrance.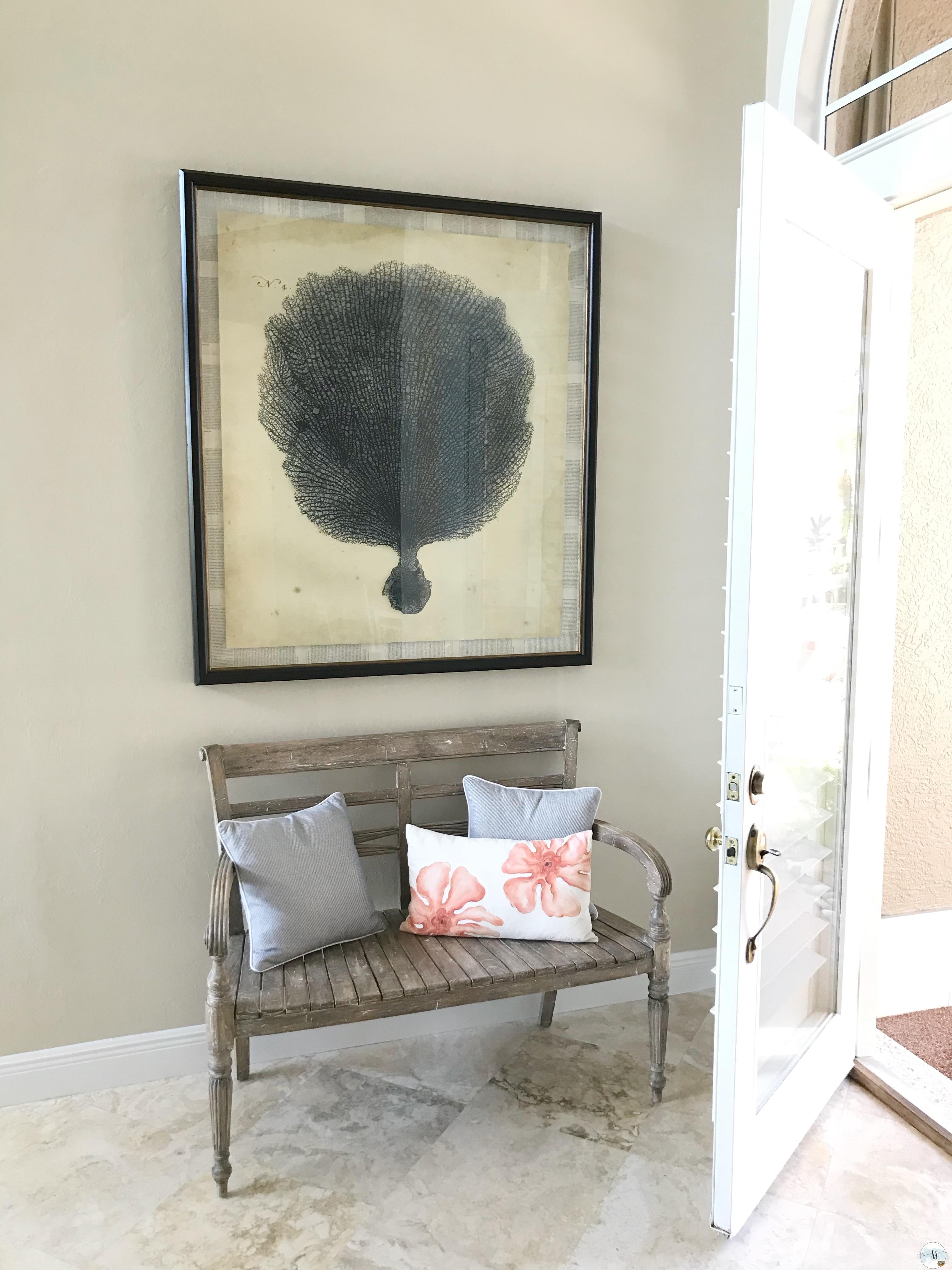 I thought the bench at the front door was a great idea when I purchased it. I loved the raw wood as it kept with the whole sand and sea theme I have going on. In hindsight, it was a mistake! You will notice that if it is centered under the large picture there is no way to open the door even close to it's fullest. Not sure if you remember in one of my past posts I suggested that you take photos of your decor as you go along. This is a perfect example. The picture is too large for this bench. Until I saw this photograph I had no idea!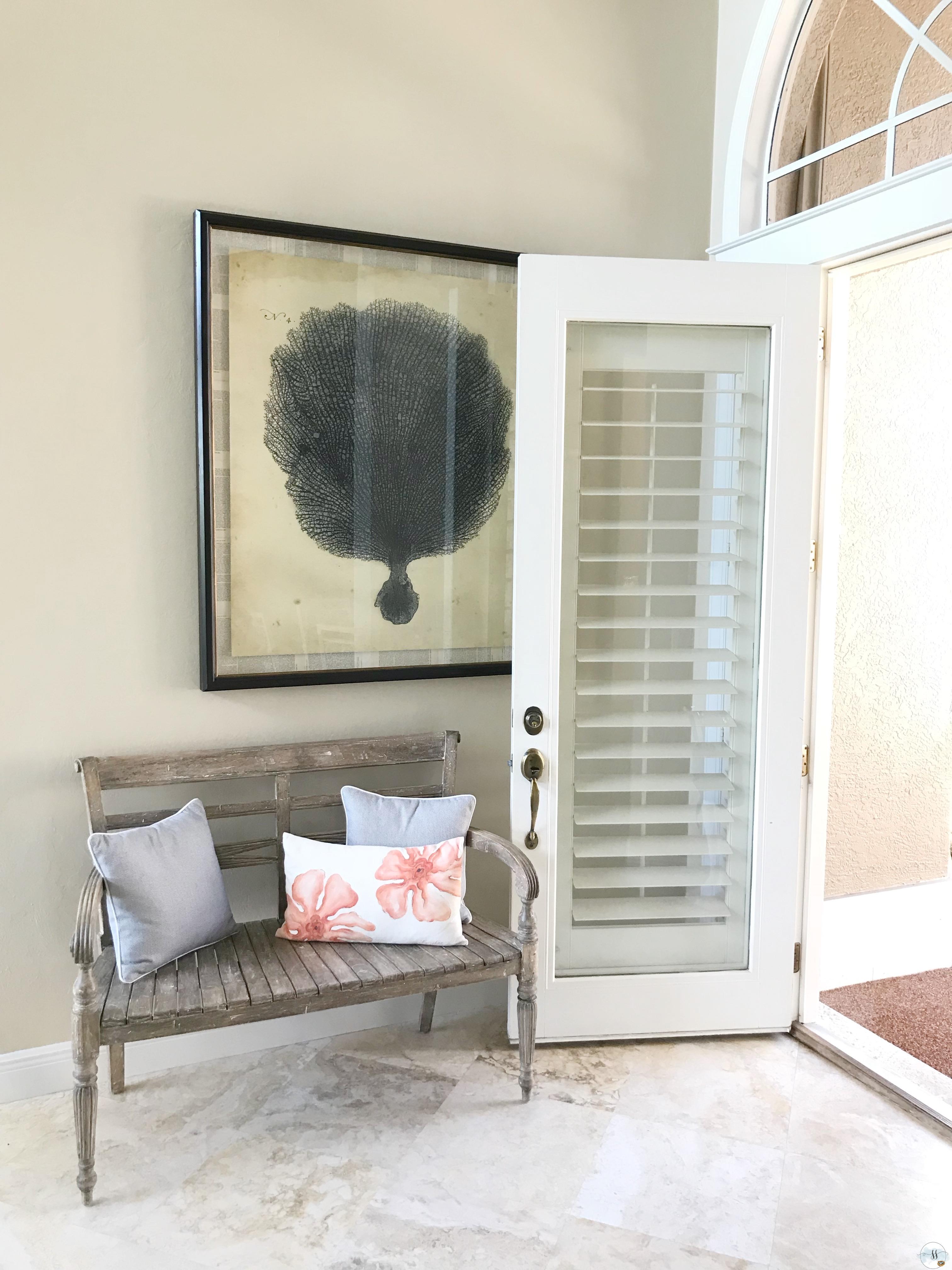 I usually have it pulled over to the left of the wall to make room for the door but then it isn't centered under the picture and it really bothers me.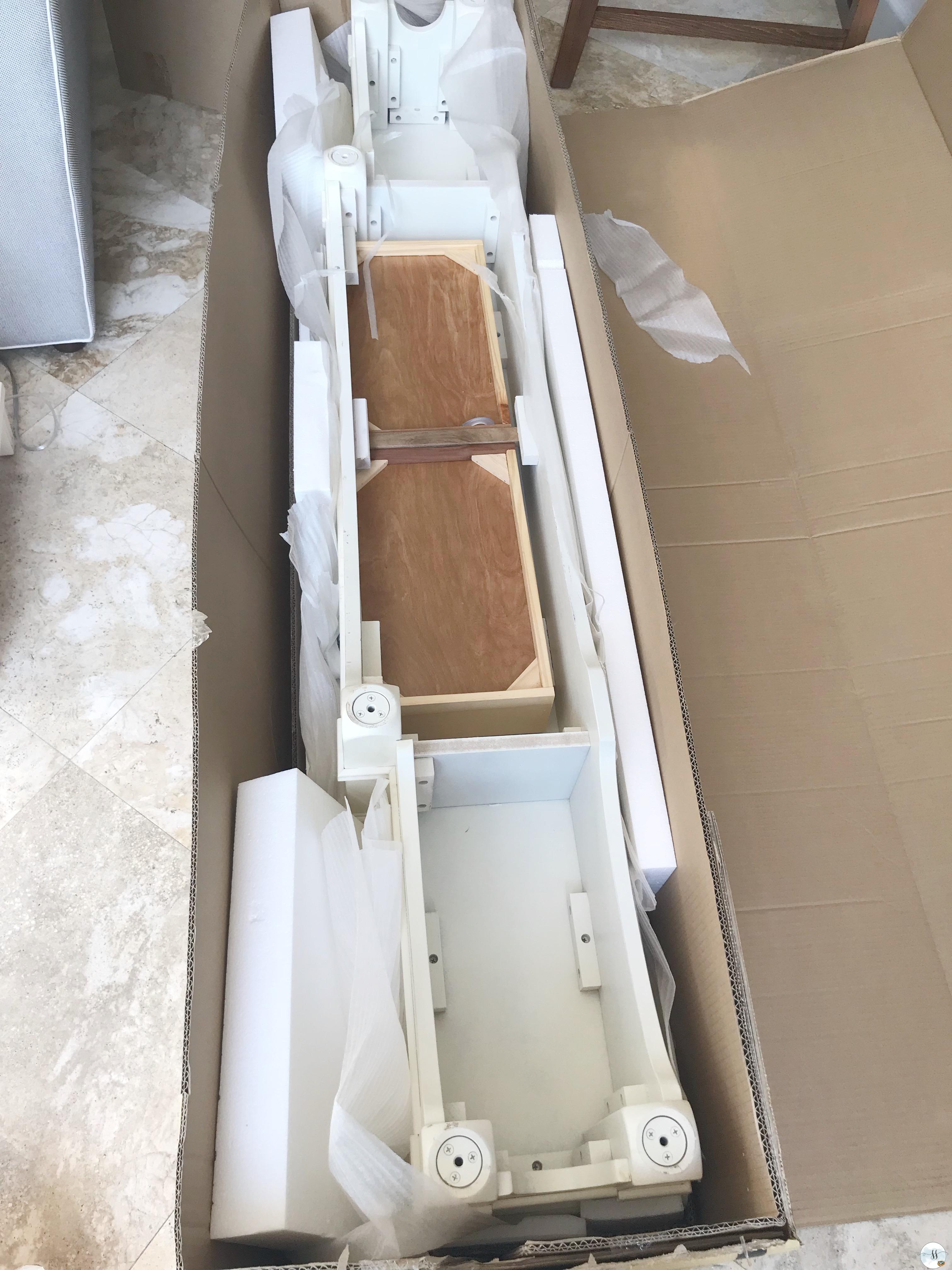 I found a great table at Wayfair. It is nice and long, has a drawer for storage and most important it is only 13″ deeps. This box weighed a ton. Opening the box turned out to be the hardest part. They really packed it will for shipping….eesh! I had put a couple of hours aside to assemble it. Little did I know I only had to screw the legs on and voila!!! It was done!! I might have time for a glass of wine now before making dinner! BONUS!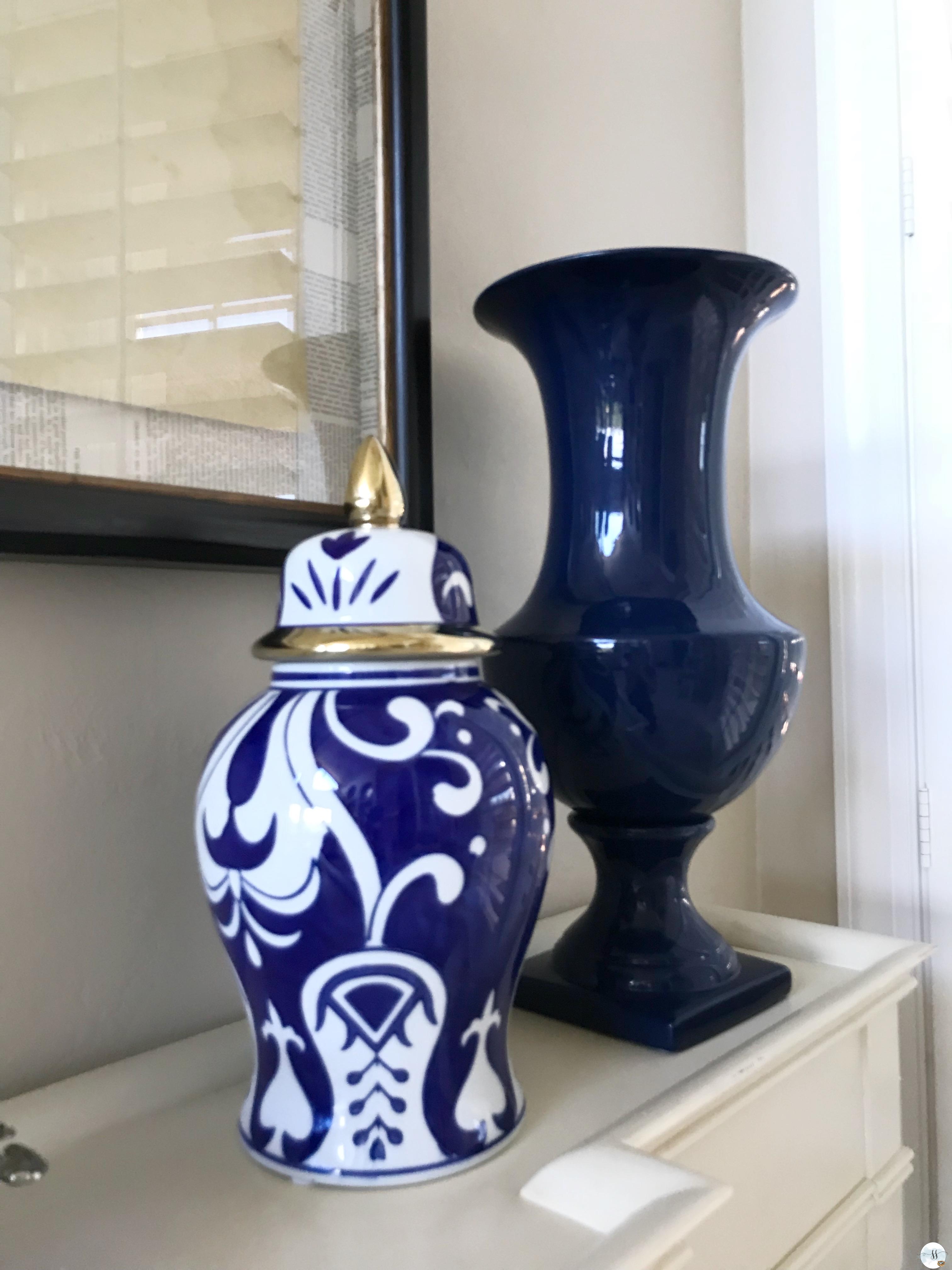 I love ginger jars and collect them in any shape or size. They are classic pieces and you will notice in future posts that they sure do get moved around a lot! A few of them grouped together makes a stunning ceterepiece on my kitchen island against the white Cambria countertops (I'll do a post on my new kitchen in December once my backsplash gets installed).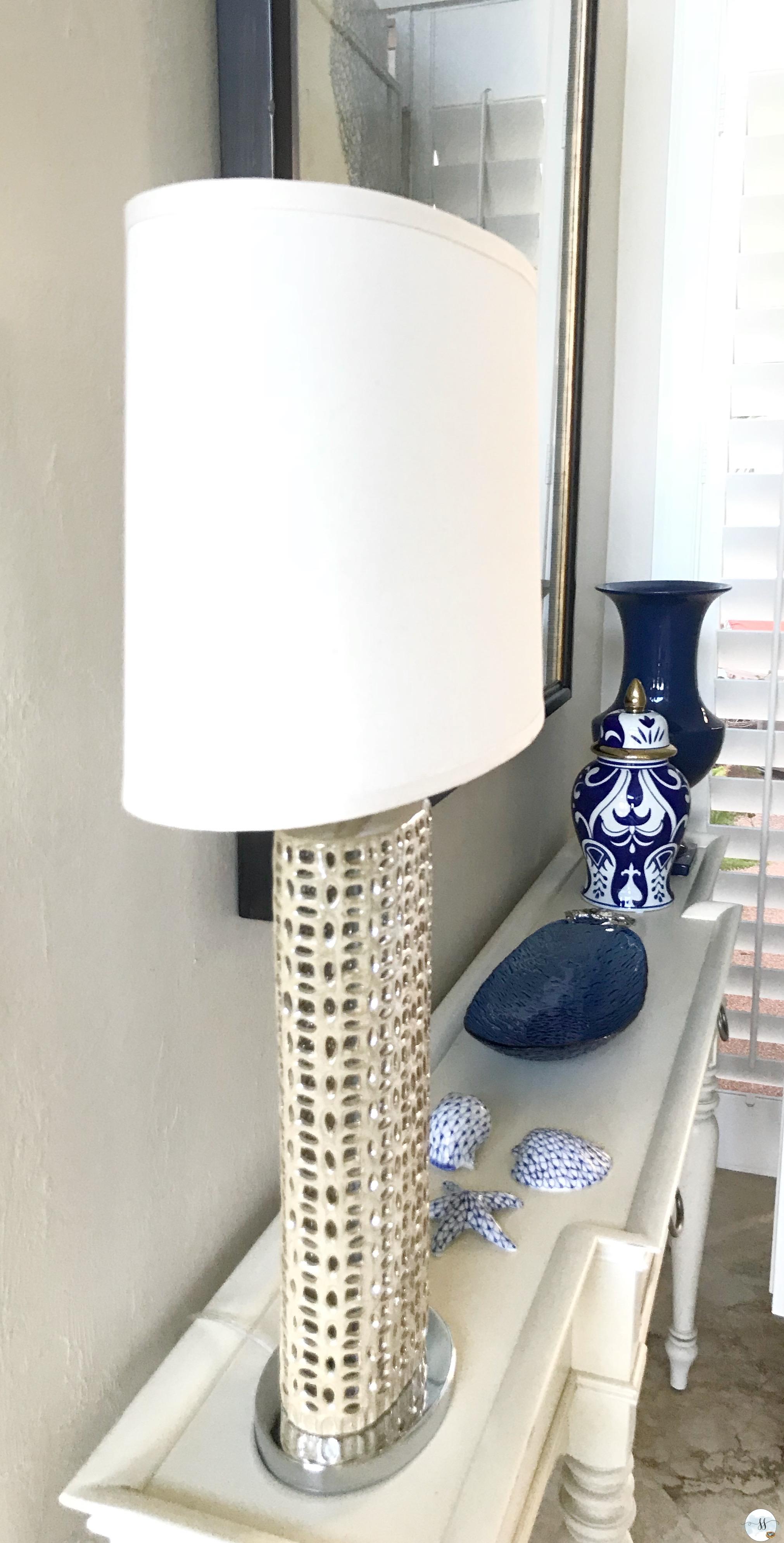 It was tricky finding just the right lamp. Given that the table is only 13″ deep I had to be careful not to get a lamp with a wide base or lampshade. It took some serious hunting around but I finally found one at Willford and Lee Home Accents.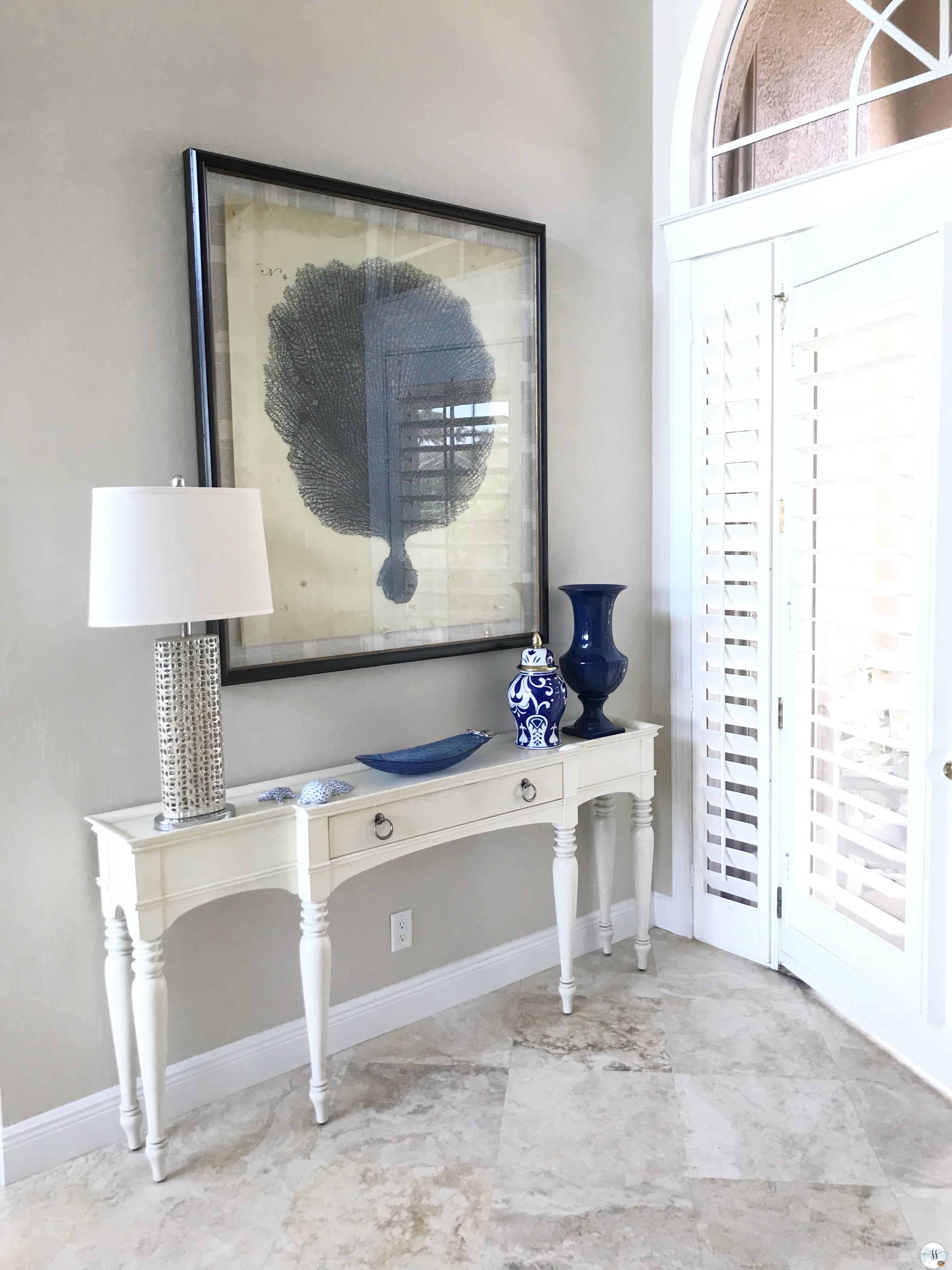 You can see how this all came together wonderfully and really fits this wall. The large picture looks so much better over the long table. It all looks quite balanced now. I am thrilled with it.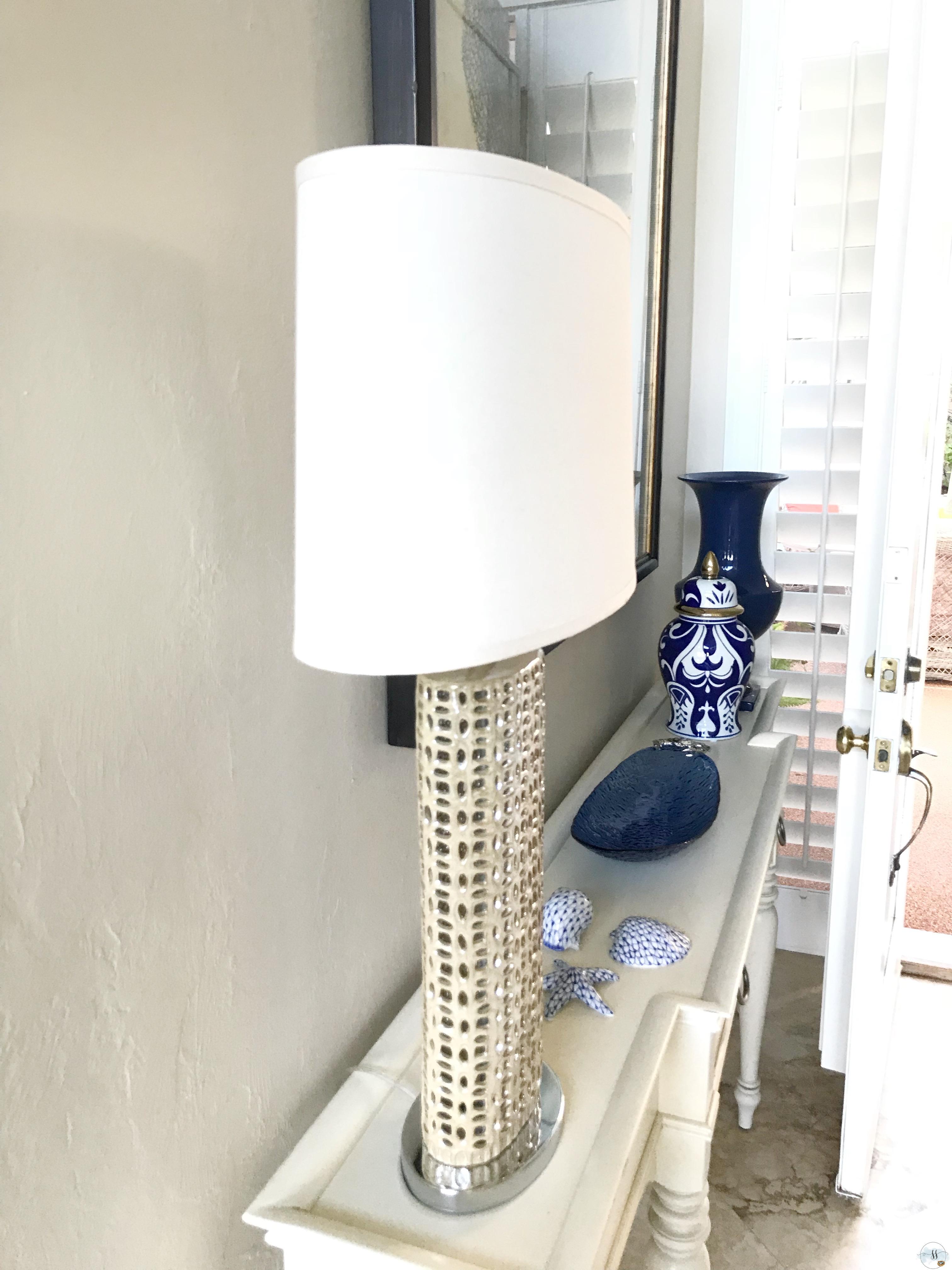 The door opens fully which is great when bringing larger parcels into the house. I no longer have to keep moving the bench around.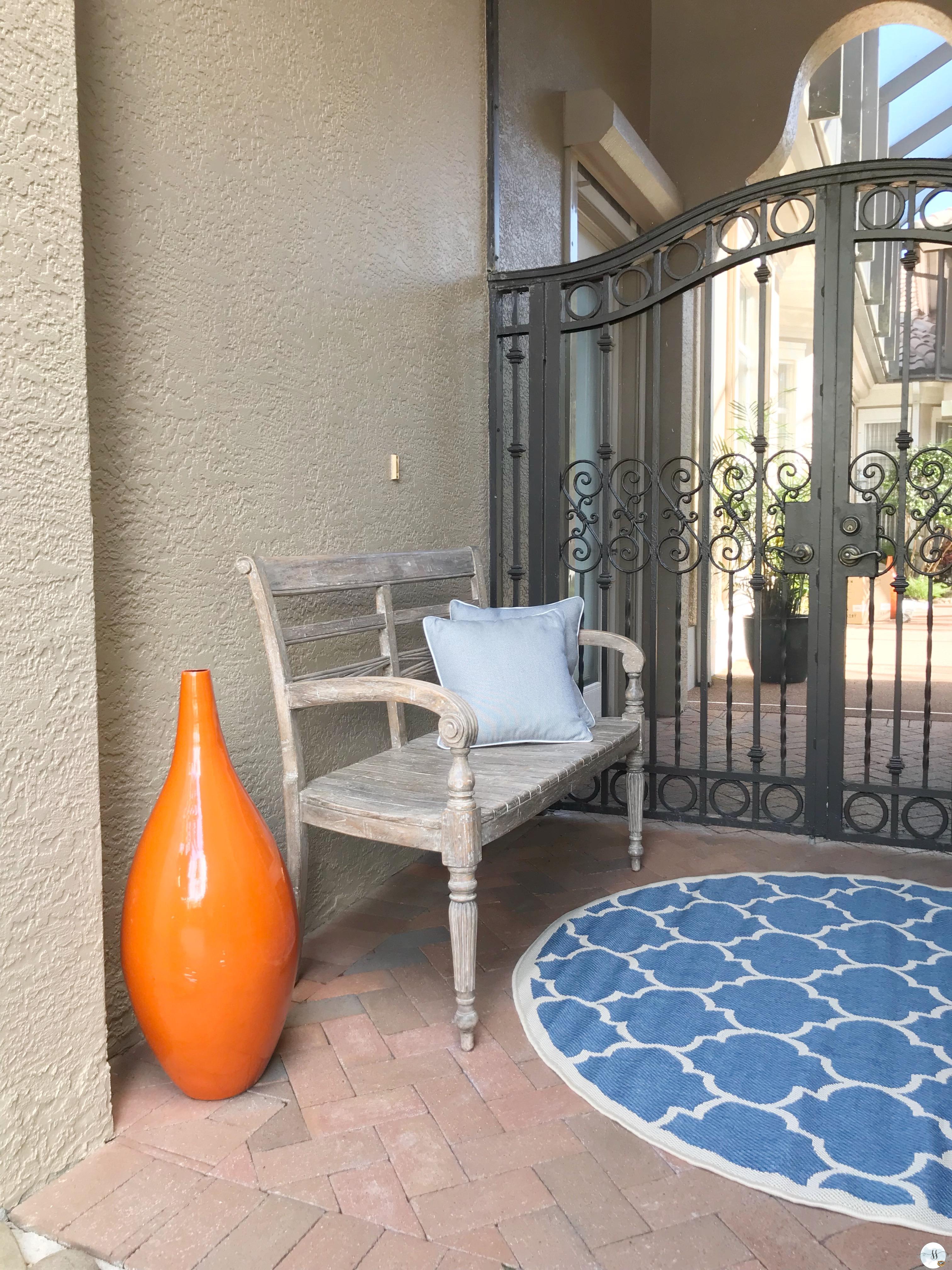 What did I do with the bench? Well, I am so glad you asked! I have a great little entryway to our pool lanai area. This is the main entrance to our home. The bench fits perfectly. I purchased the small blue and white rug from Target. Oh, how I LOVE, LOVE Target (I cannot believe they couldn't make it work in Canada. It was such a disappointment to me when they closed). Anyhow…here it is. I can see this little area as a future decor spot! Flower pots, cushions and maybe some wreaths on the gates that can all be changed seasonally. I do think I need a nice big piece of art to go above the bench and perhaps something funky on the wall directly across from it.
I love how this little update made such a huge difference to both of these spaces. Now if I can only get my husband to put his shoes away when he comes in and NOT kicked under the table!
Have a great weekend!