Hello again. I wonder how things turned out for this little lamby? I can't believe how much the girls have grown since this photo. 
With Easter just days away we really need to get moving. This is such a busy time for snowbirds! Packing up the car to go home, organizing the house and still entertaining guests all the while trying to keep up with our regular  household routines, fitness and hobbies.
Are you and hubby alone this year or are you able to celebrate with family or friends? This year we are on our own but we will definitely be celebrating Easter dinner with a group of friends at our club.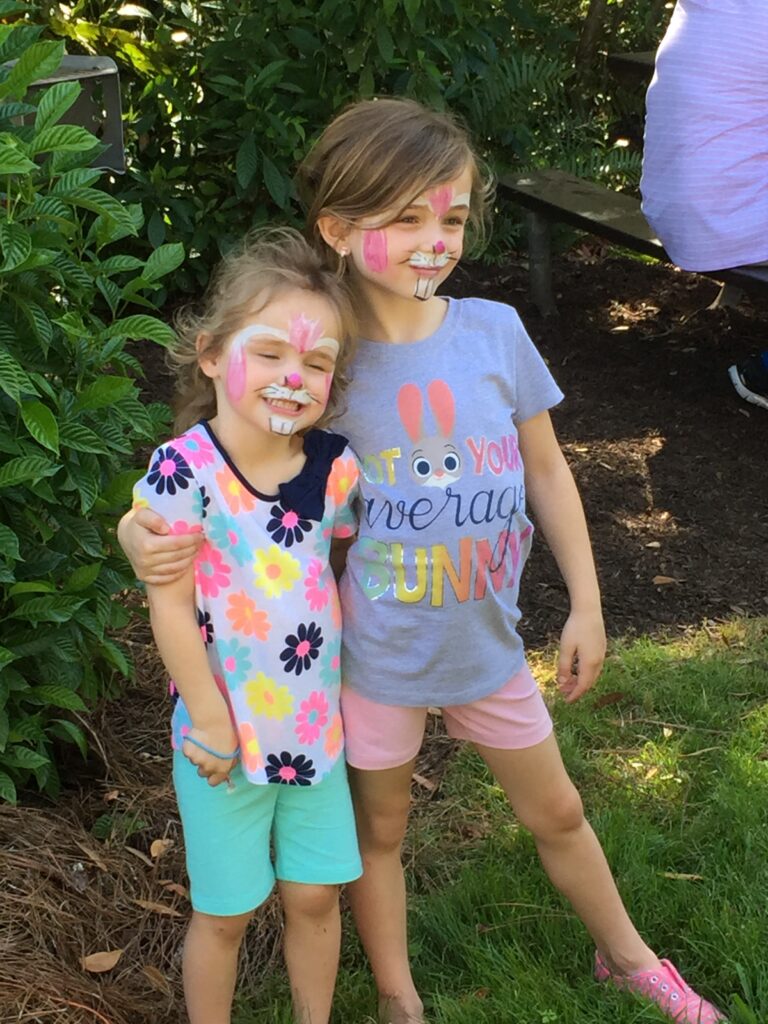 Easter here in Bonita Bay, is over the top as is everything they do for the members! They do our egg hunts on Saturday morning of the Easter weekend so as not to interfere with anyone going to church and personal celebrations. This is a pic of the girls from a few years ago enjoying one of the many activities that the club offers. Cutest little faces!!!
Feeding a crowd…what do you usually serve at Easter when you have a crowd? I have attached a couple of breakfast/brunch recipes below from friends with an emphasis on keeping it simple so that everyone gets to enjoy time with family. There is nothing worse than being stuck in the kitchen on your own trying to be super woman to get it all done.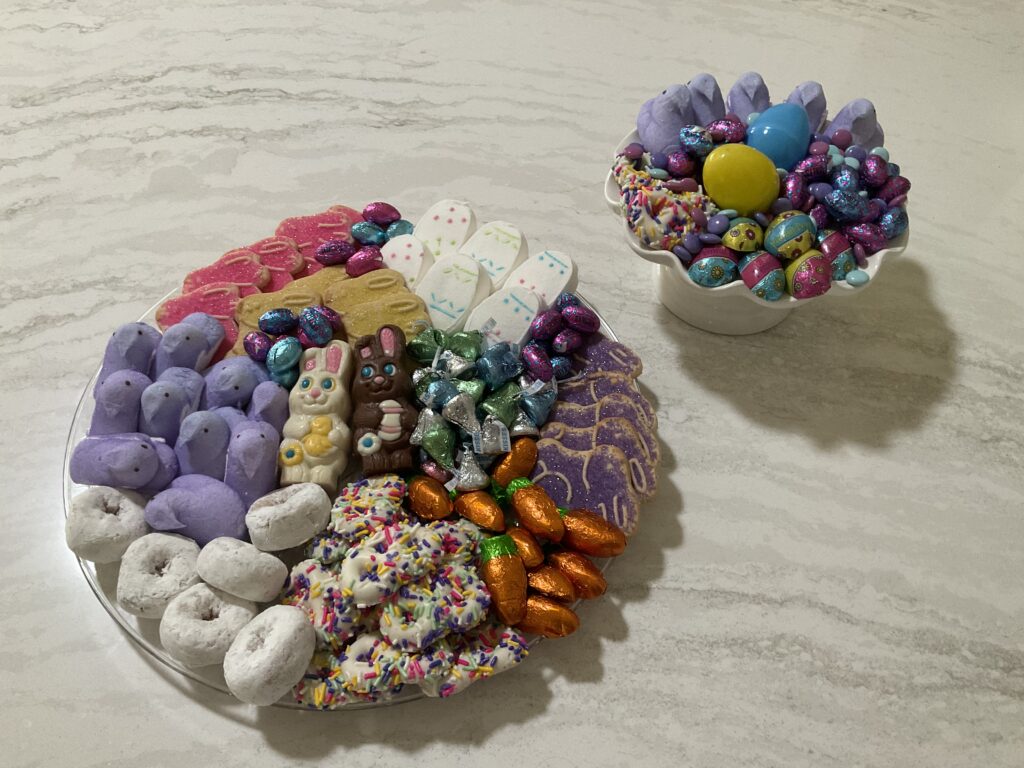 When we think of charcuterie boards we think of meat, cheese and crackers, etc. But what about this cute twist… a yummy dessert board…just in case the little ones didnt get their sugar quota throughout the day. Since I wont have my granddaughters here for Easter this year, I am making these for a couple of neighbours that are blessed to have their little ones visiting them.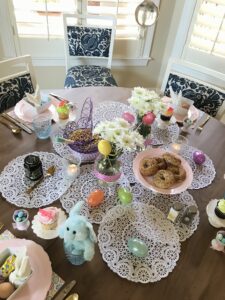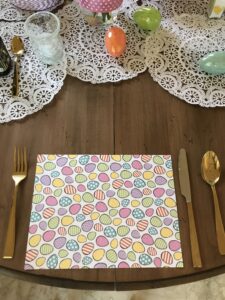 Not everyone has (or wants) table runners or placemats specifically for Easter…use gift wrapping paper instead. You will find the cutest papers at Target or Hallmark. I love to use six pieces. One down the center length wise and two going across width wise. Choose a paper that compliments your dinner dishes. Even if you have earthen ware in darker tones of taupe or green you can find really sweet paper with natural colours ….think bunnies in the forest….and take your inspiration from that and incorporate some natural elements like tiny bird nests. In the photo above I bought squares of paper from Michaels to use as placements and doilies for the center of the table. You can read about this entire Easter post HERE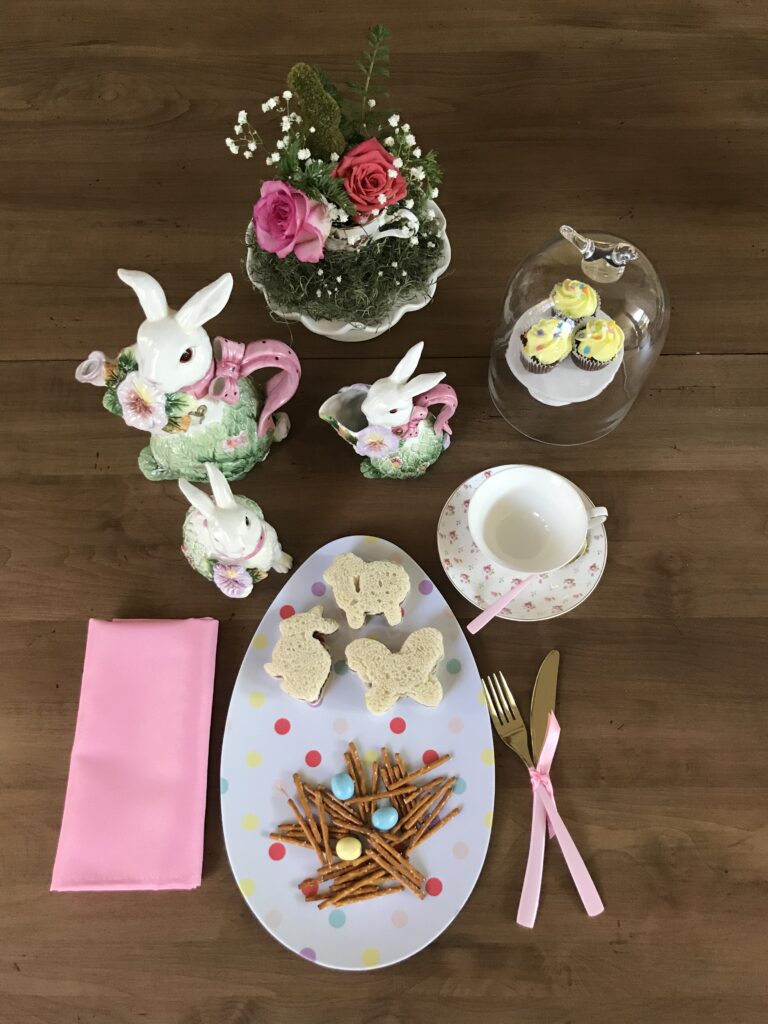 I loved these little nests made out of pretzels. You can do this at every place setting or just at the kids. This was a couple of years ago…an Easter tea party with the girls. The kids loved everything about this table setting.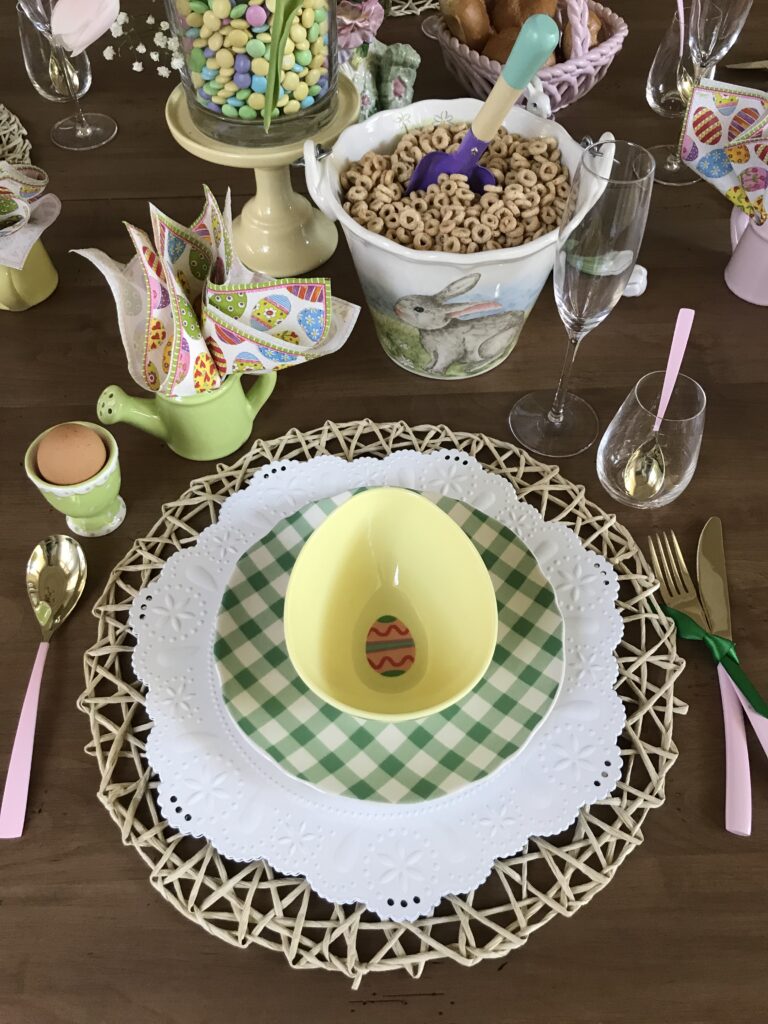 Fun breakfast idea….serve cereal out of a pail and into egg shaped bowls. Bowls are from the $1 area at Target. Pail was from Home Goods a few years ago.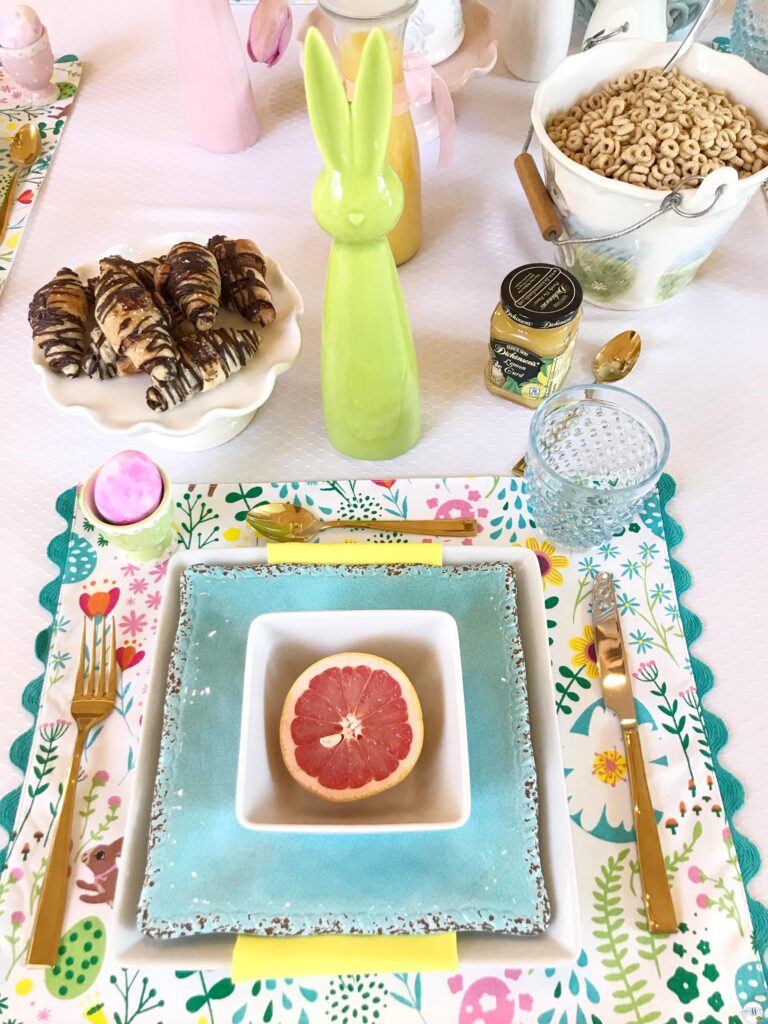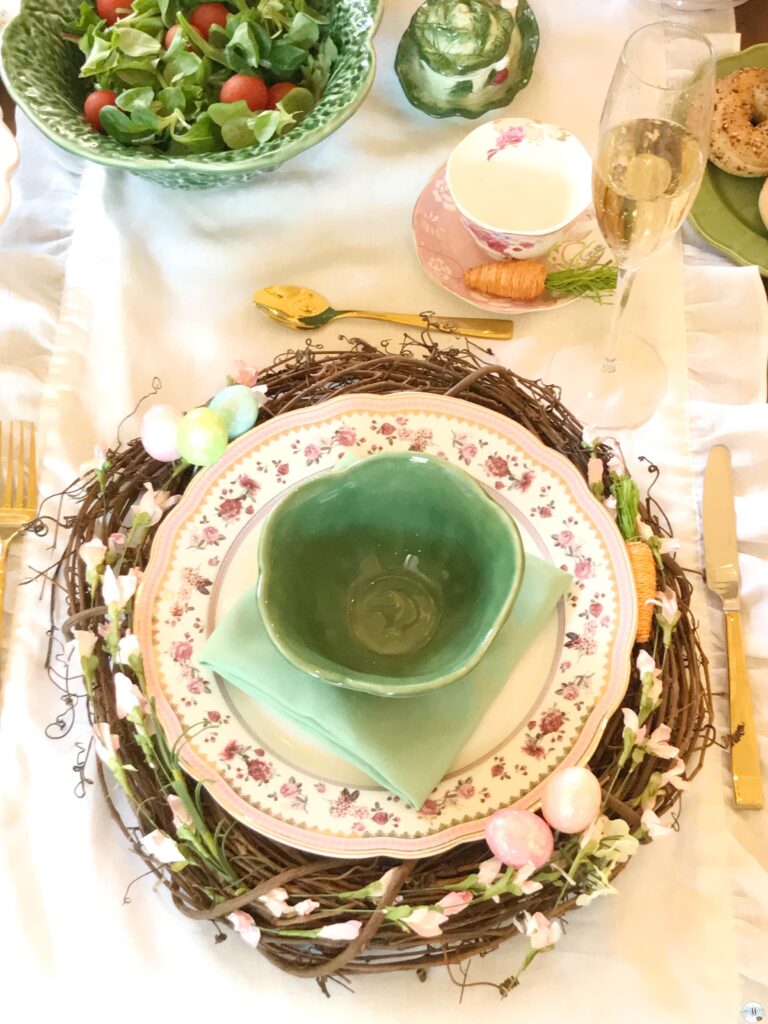 These place settings are from one of my favourite Easter posts HERE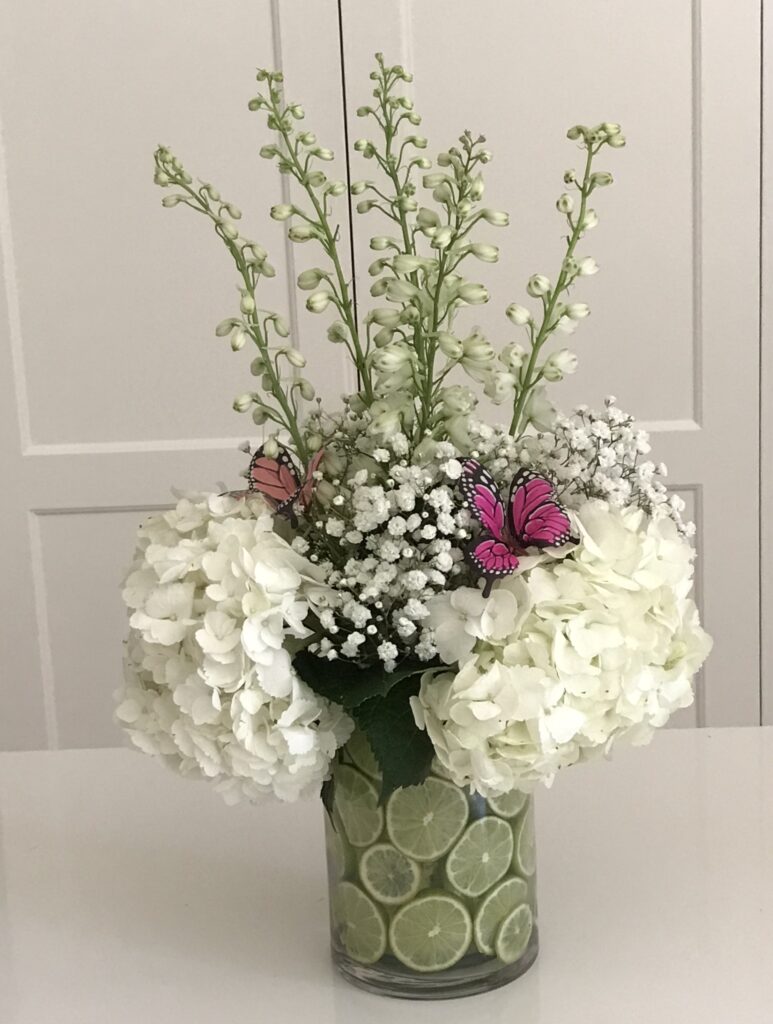 This is another really simple center piece I made. You could swap out the limes for lemons or grapefruit depending on your colour scheme. All you need to do is use two different sized vases. Put one inside the other and place the sliced fruit in between them.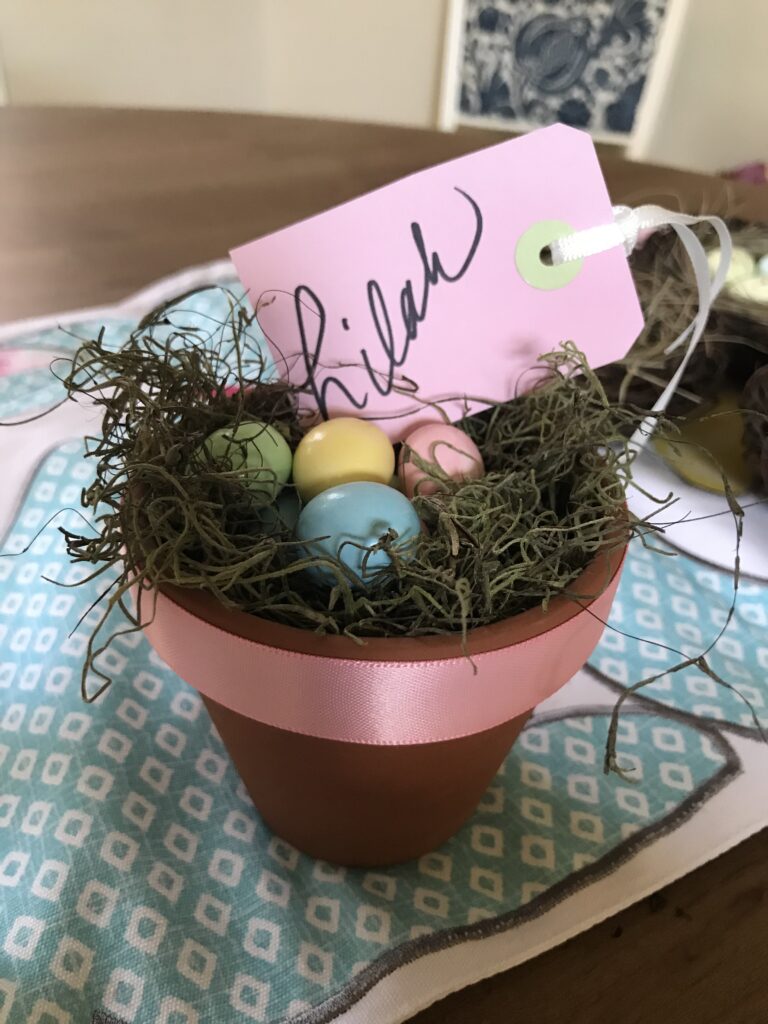 I like to to get creative with the place settings making them personal for each person. When I don't do it, Savannah reminds me and does it for me. She doesn't want "massive confusion nana" This little tag could be tied around a napkin or the sliver wear. A small stuffed bunny at each place setting with the name tag would be cute too for the little ones.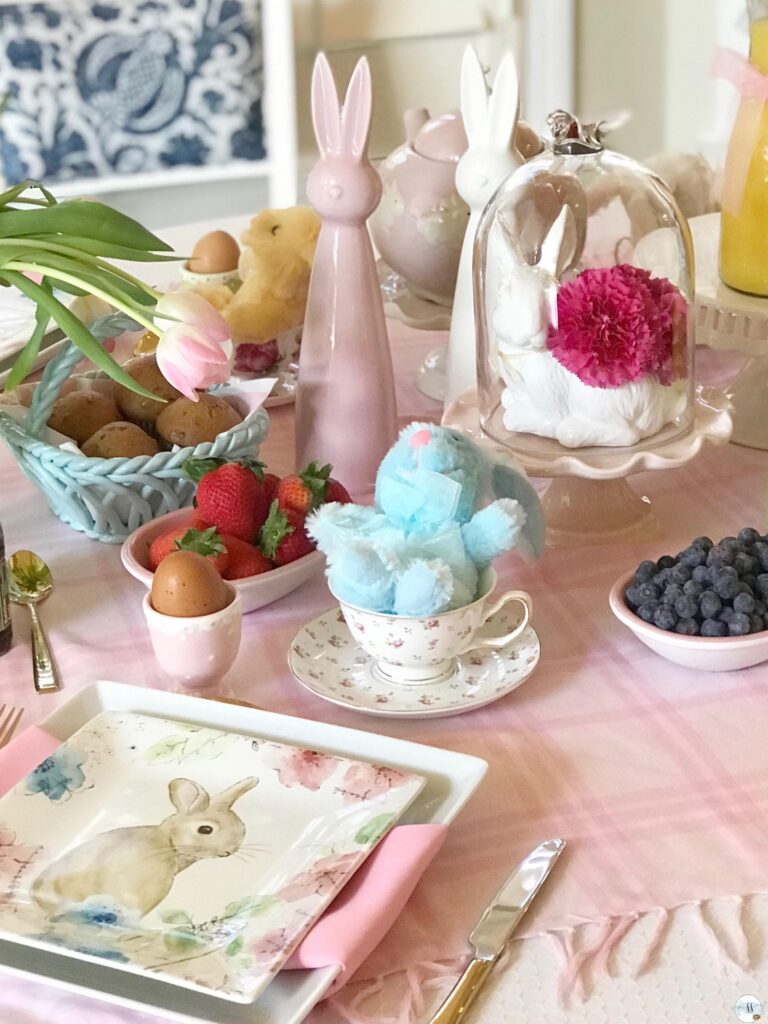 Whatever you do this Easter weekend try to keep things simple. It can be a breakfast as simple as the one pictured HERE
Or maybe try one of these fabulous make ahead breakfasts……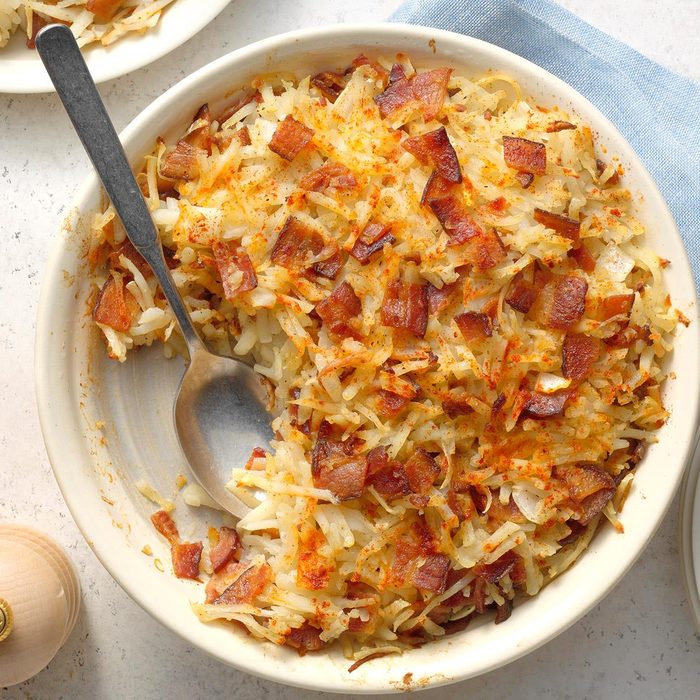 HASH BROWN BACON BAKE
Ingredients – preheat oven 350
4 cups refrigerated hash brown potatoes

1 package of bacon cooked and crumbled

1 1/2 cups of 2% or full fat milk

1/2 cup chopped onion

1/4 tsp garlic powder

1 tbsp melted butter

1/2 tsp paprika

S & P 
Directions
Combine the first 7 ingredients in a bowl. Transfer to a 9 inch greased pie plate. Drizzle with melted butter and sprinkle paprika, add salt and pepper. 
Bake for 35-45 minutes or until lightly browned on top. 
Serve this with a fruit salad and scrambled eggs. 
___________________________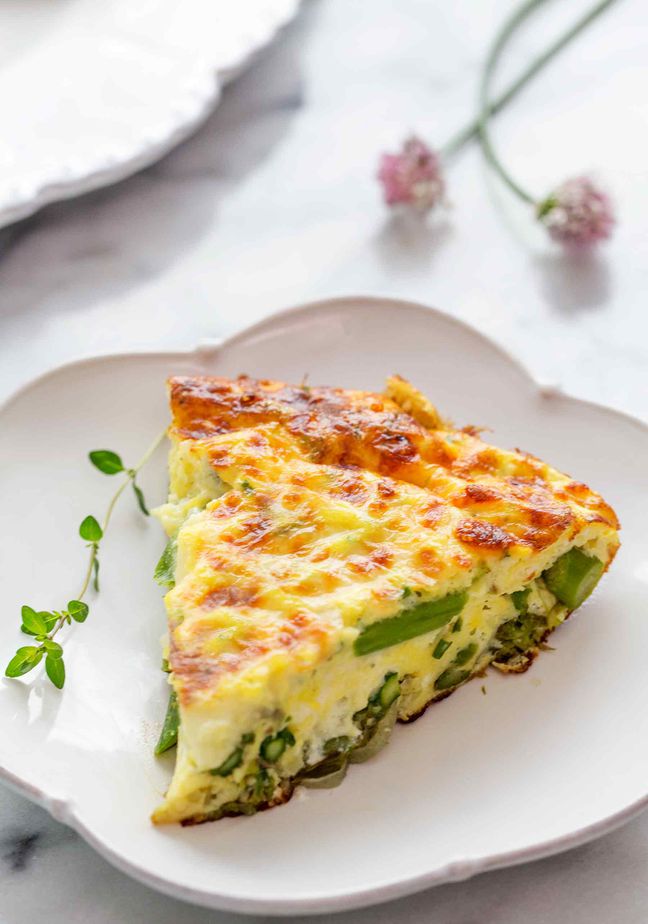 ASPARAGUS AND CHEESE FRITTATA
Ingredients…preheat broiler
5 eggs

1/2 cup grated Romano cheese

1/2 cup veggie broth

1/4 tsp salt

1/4 tsp pepper

2 slices Italian bread (1/2" thick") cubed

2 tbsp olive oil

1 1/2 – 2 cups asparagus cut into 1/4" – 1/2"  pieces

1 medium onion finely, chopped

1/2 cup shredded Gruyère cheese – makes everything better
Directions
Whisk first 5 ingredients together in a bowl. Stir in bread cubes
Heat oil in an 8" oven proof skillet over medium-high heat. Add asparagus and onion. Cook/stir until tender (approx 10 mins)
Reduce heat to medium low and pour in the egg mixture. Cook uncovered for 6-8 minutes until nearly set. Sprinkle with yummy Gruyère cheese.
Broil 3"-4" away from heat for approximately 7 minutes, or until cheese is melted and eggs are completely set.
Let stand for 5 minutes.
Serve with fruit salad a plate of greens.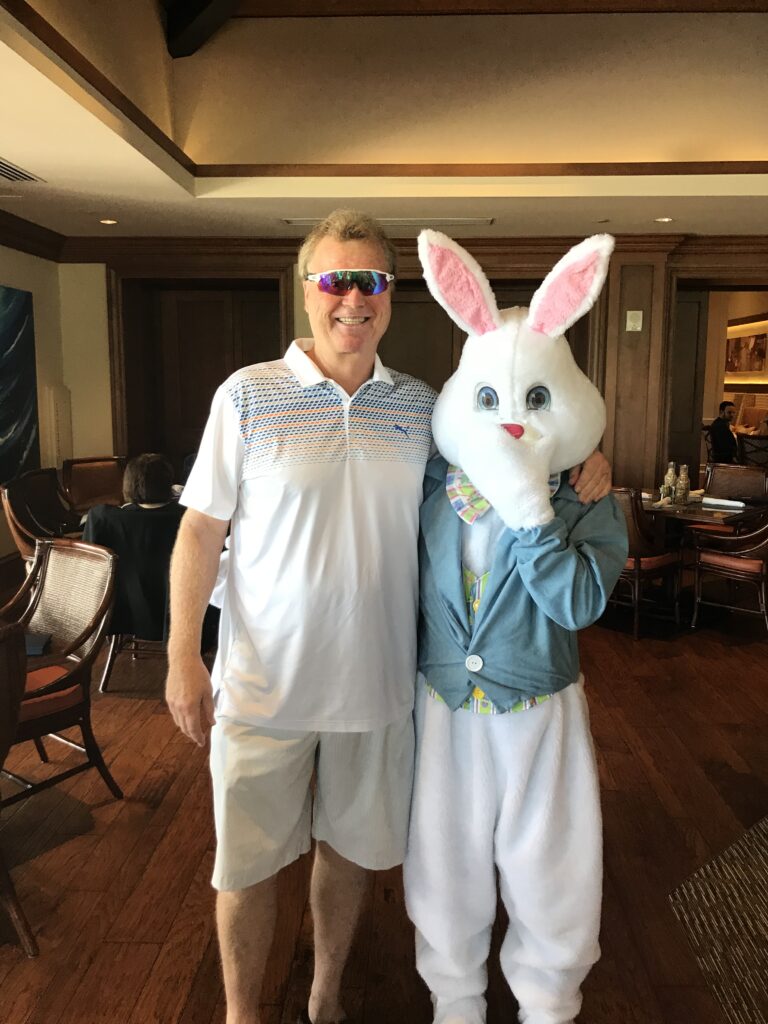 Wishing you all a happy and blessed Easter!
Love Steve, Marion and the Easter Bunny!