A friend of mine mentioned that she bought a pair of cropped pants in the summer and wanted to know if it was a faux pas to wear them throughout the fall and winter season.
My answer? "That depends". First of all, you will need to consider the type of material.  I would say no to cotton pants, chinos are a bit too summery as well and unless you are in the sunny south; linen is out!
However, jeans or other fabrics with a tight weave will work perfectly!!
Making this transition is dependant upon the footwear. All summer I wore crops with sandals or ballet flats. Picture Audrey Hepburn, (I wish I looked like this, she is my favourite style icon).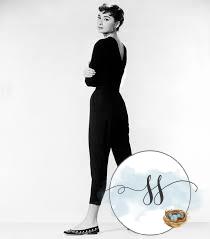 I think this has to be one of the most classic yet simple outfits in fashion history!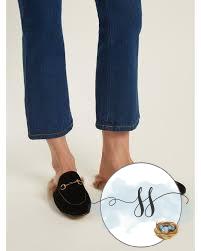 Typically I would have thought that wearing bare feet in the fall is a no-no but I am noticing more and more that it is completely acceptable. The fur lining in these mules definitely says cosy, warm, fall attire. These are so trendy this fall.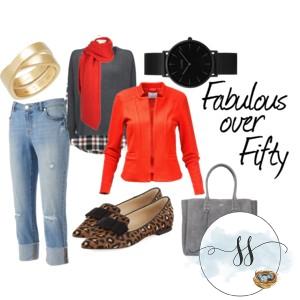 Flats are a great choice for running errands, just be sure that they have some weight to them as opposed to ballet flats which just seem a bit too light for the fall.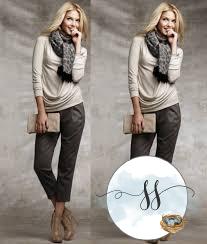 One of my personal favourites is a pair of trendy ankle boots that meet the hem of your pants. The addition of a chunky sweater, longer sweater or a scarf, clearly states that this is a fall wardrobe.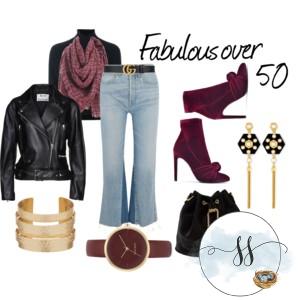 This is my creation on Polyvore. Fabulous over Fifty! I am in love with the burgundy or wine colour. These jeans sit a little bit higher on the waistline which is great for us 'mature' gals…let's keep the muffin tops in the kitchen where they belong. The black bomber is probably a staple in your closet. These boots might be a bit high for running around doing errands in which case you could opt out for the very in style block heel. However, this high boot is great for (what I call) 'a meet and greet' at lunch. Ya'll walk into the restaurant and immediately sit down! 🙂
PS –  I will figure out how to fix this sub logo (bottom right) eventually! In the small pictures it is too big and the big pictures it is too small. So much to learn!! LOL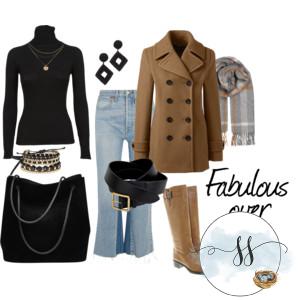 Moving into winter I'd wear my crops with a pair of knee boots. If the crops are slim fit they will easily tuck into a pair of knee-high boots. If the crops are wide leg as above your jeans will fall perfectly over the top of your boots. I would keep your coat to a bomber style or just above the knee. Anything lower than the knee will compete with the length of the crop which would create a lot going on visually.
What is your favourite piece to transition from summer to fall? Feel free to leave a comment below.