It's beginning to look a bit like Christmas here at the Corner House. This year is all about staying organized and stress-free! I hope you got a chance to look at the printables that you will find listed on my homepage. (the last tab on the right, save them to your computer then print)
I have been using mine religiously every day. Checking off my to-do list and I feel so on top of it all right now!! (With a little help – read on!)

While I was in Florida entertaining my Canadian friends Shack Shine  www.shackshine.com was busy putting up my Christmas lights…they did a little extra (not shown) this year for an event that I have coming up….stay tuned for that!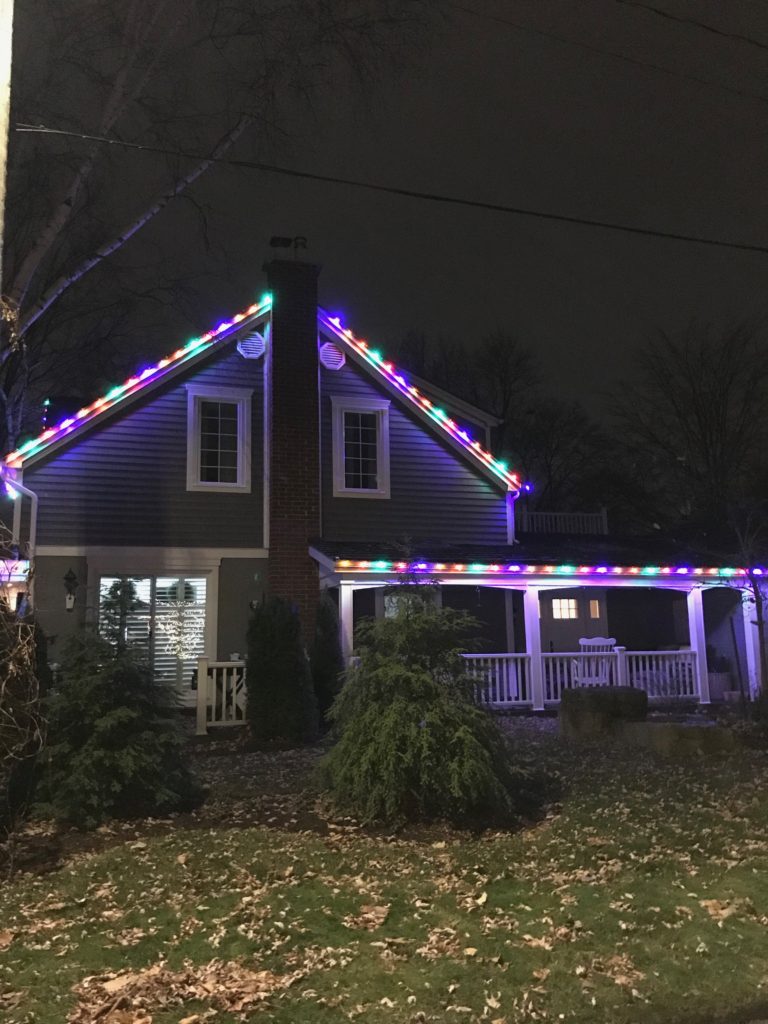 Do you know I have never met the guys from Shack Shine other than the one young man that came knocking at my door one day to introduce me to their service? Whoever they are they are very detailed :)…not a bulb out of place. I had a choice of the type and colour of lights I wanted. I let the girls choose between white and colour. Obviously, they went with colour and I am thrilled. Shack Shine purchased the lights, installed them and put them on timers. After Christmas, they come back, wrap them all up nice an neat and put them in a labelled bin for me and then put them in my shed till next year. Hanging lights just got really easy!!
Today I had my new handyman here working on some things needing to be done around the house…and NO!!! You cannot have his number. This one is all mine. Not because he looks like Brad Pitt (Mo's apparently does) but because they are so hard to come by and I am putting him on speed dial! LOL It was a very busy and productive day around the Corner House…and I didn't have to do a thing…lol…is that bad?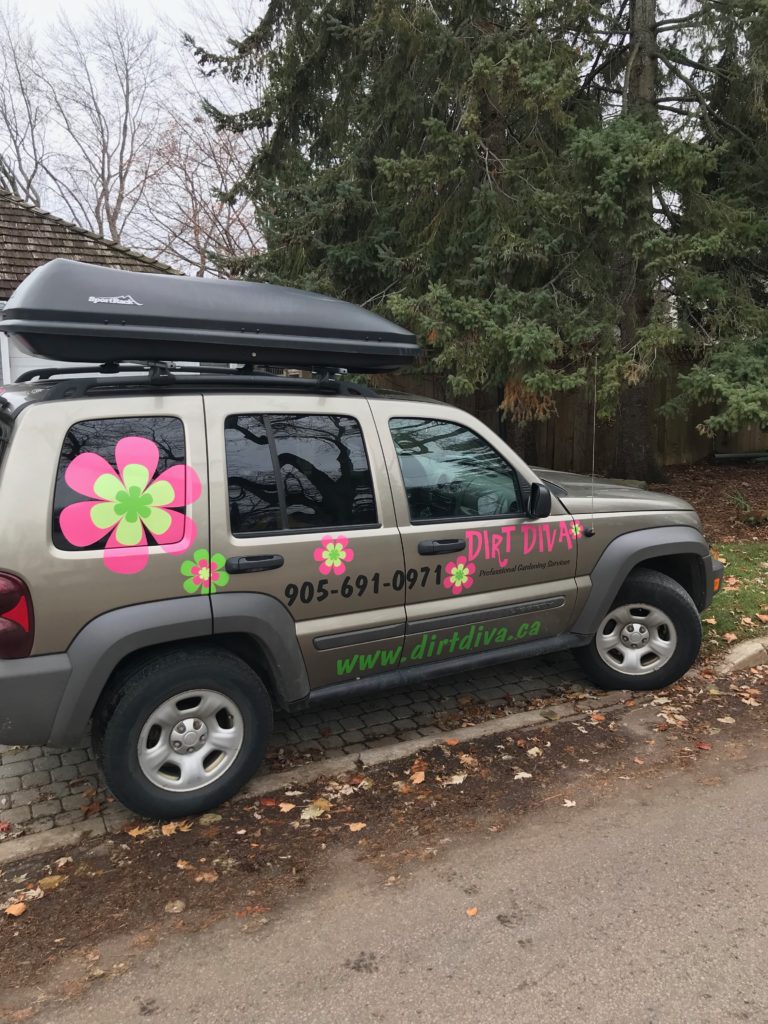 While my new guy was busy working I also had the Dirt Diva here! www.dirtdiva.ca  Christina does some fabulous work and claims 'she likes to do your dirty work'. You can also find her on FaceBook. I must admit…it was a bit hard asking her for help. Anyone that knows me, knows I like to be in control and I can never admit that someone can do anything better than me! HA….what a load!! This lady is truly the expert.
I took some pics along the way so that you can see how she created these beauts. There is no doubt in my mind that I will be calling on her in the spring to give me some gardening advice. I am already excited.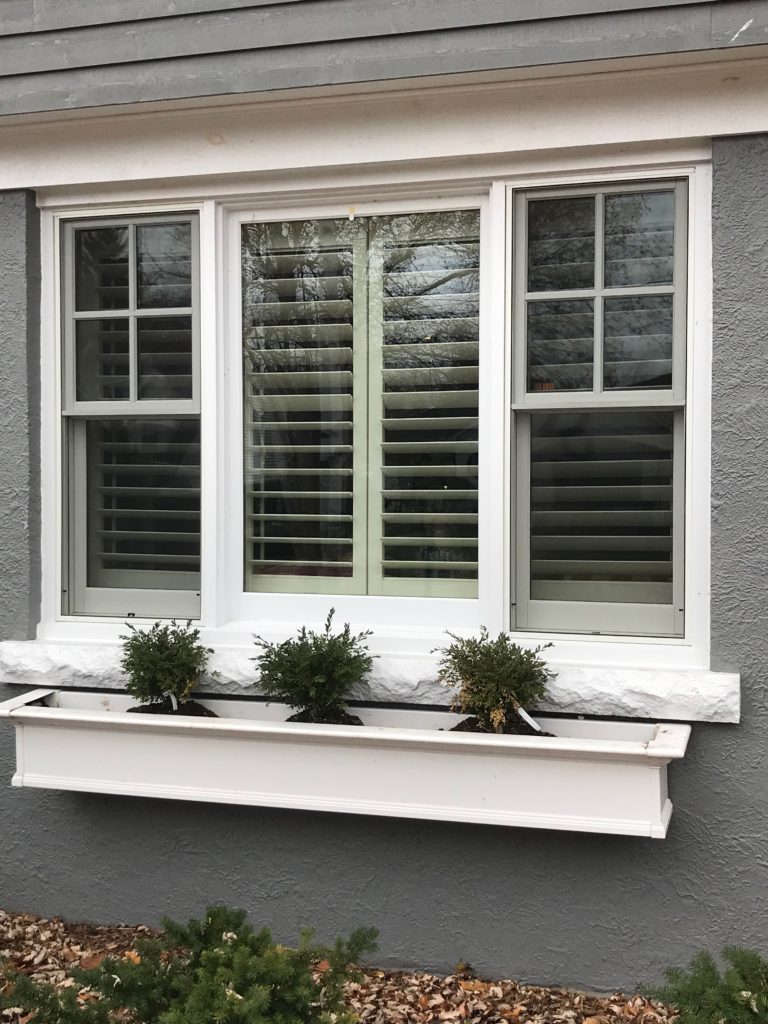 The first thing Christina did was completely clean out all my fall plantings. She added some extra dirt around the boxwoods to protect them over the winter.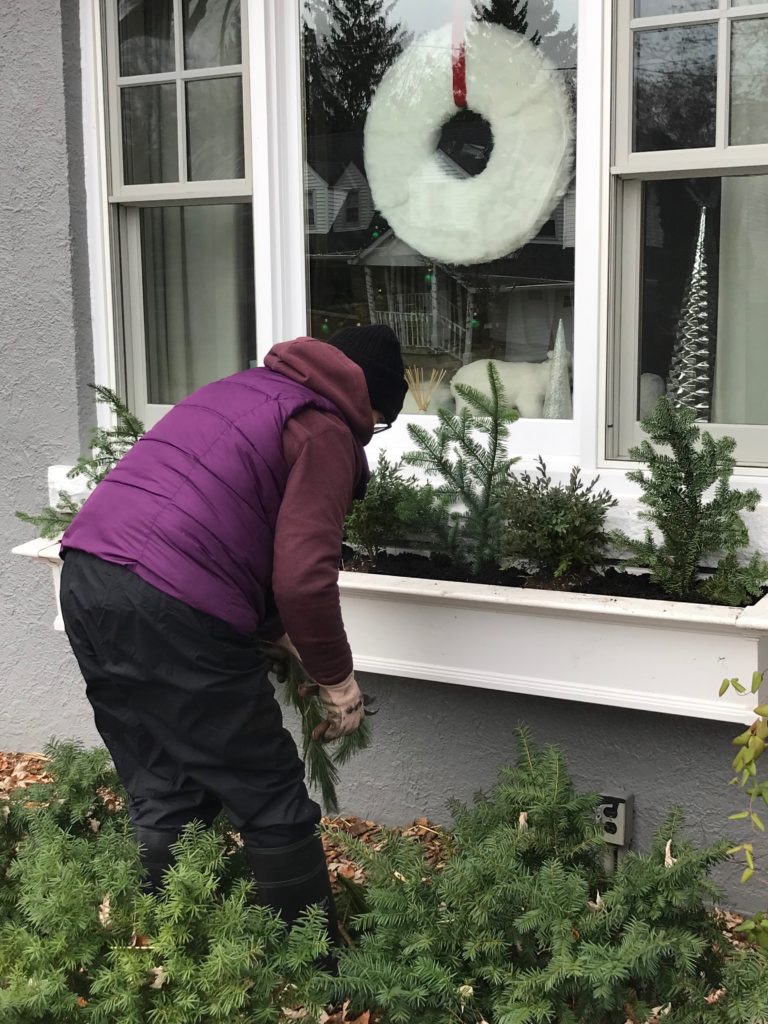 She added some fir branches along the back to give it some height. This is really nice from the inside of the house. The boxes are lower than the windows…with the height of these greens I can peek at it from my kitchen or living room.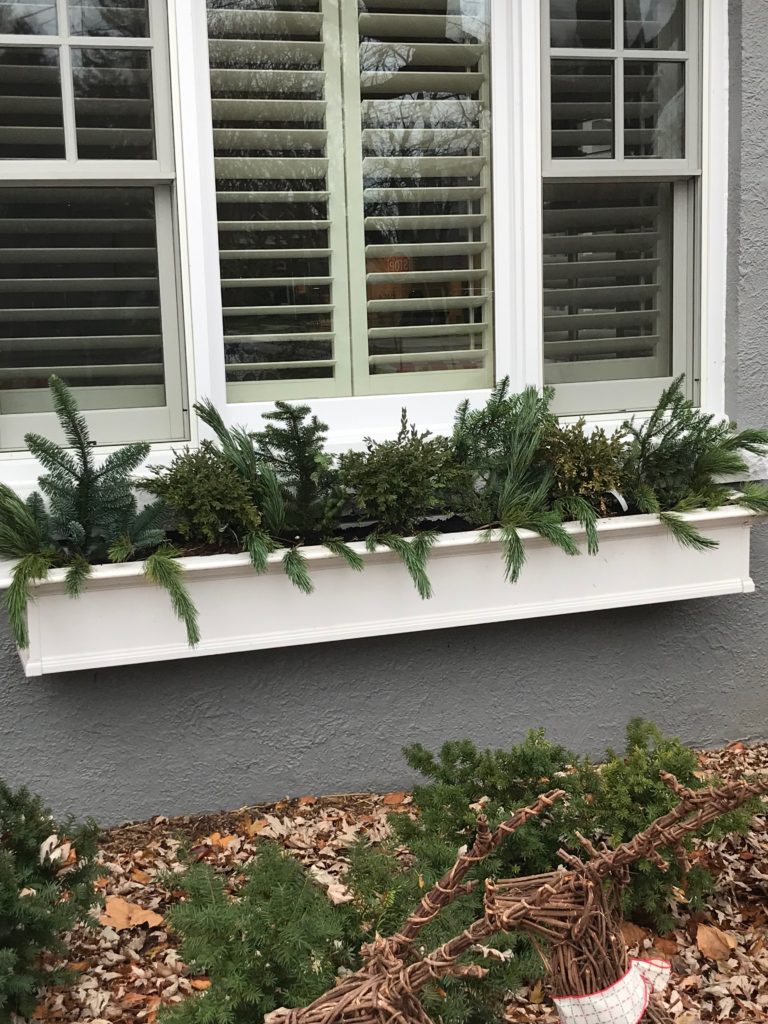 Not sure of my pines…lol..but I think Christina added some White Pine next as filler in between and in front of the Boxwood. It's already starting to take shape!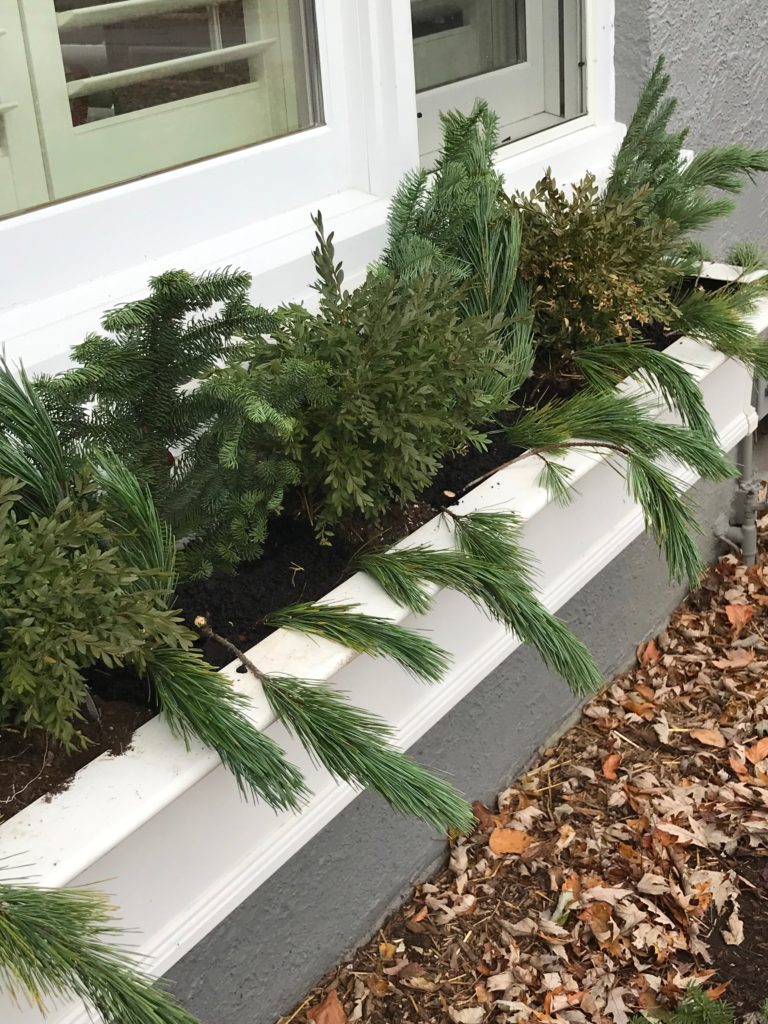 This photo really shows the angle in which she places the pine in order for them to have a draping effect over the front of the boxes.
She added some cedar and incorporated the sweet little reindeer that I have used for the past few years…this might be their last year as being the showpiece of the window boxes – just to change it up a bit. But for this year, I just love what she did.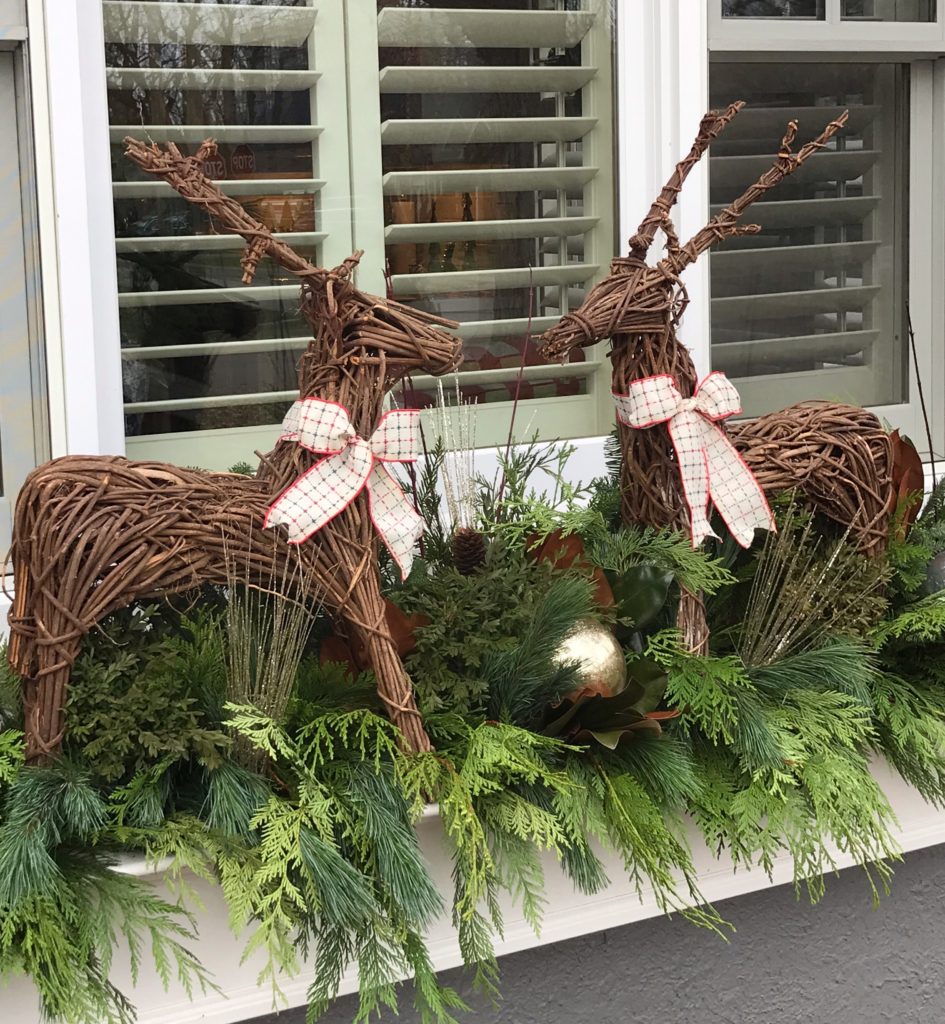 Next…Magnolia leaves, pine cones, gold balls and gold picks… they catch the sunlight beautifully! I say that like it was just simply thrown together. I can assure you Christina spent quite some time fussing around and rearranging to make sure everything was perfect. She has a real eye for detail.

….and boy did it pay off!! I couldn't be happier with the outcome. I could NEVER have done anything even close to this!! We have a lot of natural elements with a bit of glam placed in. I love it.
So there you have it…my very busy day with a lot of check marks on my 'daily to do list' available on my homepage.  Next up is my front and side porches this weekend. I haven't a clue yet on what I'll be doing…but I'll share with you in time for you to enjoy with your Monday morning tea.
Five pointers for being stress-free this Christmas….( well look at that…I just noticed I can add coloured font…duh)
1-Take advantage of outside services. It creates 'shopping locally'. It gives you time to do something else or even better enjoy some 'you' time and gives someone a chance to work and be appreciated.
2-Celebrate the reason for the season. No matter what religion you practice; if you are partaking in the holidays it is a time to celebrate family and friends. Embrace the magic of the season.
3-Give…so many charities out there need assistance. If you don't know who to call, try the Salvation Army. They always need sorters in the warehouse and all the food/toys being dropped off at fire-halls, grocery stores and etc. need to be picked up. When you give your time YOU reap the most reward…The Grinch and his heart that grows three times its size will have nothing on how full your heart feels.
4-Know when enough is enough. If you have company coming at 8:00 pm for some holiday cheer and you are still in the kitchen at 6:30…you are probably running on stress. Stop!! You have done all that you can do. Turn on your tree lights, crank up some Christmas tunes and pour yourself a glass of wine. Whatever hasn't been done at this point really doesn't need to be done at all. Obviously, this doesn't include putting the nibblies and ice out right before your guests arrive.
5-You Time…seriously ladies…let's face it. The majority of the celebrations, shopping, entertaining and etc. is on us. Book that after Christmas day – spa time. Go for a massage, a mani or pedi…or just meet some of your peeps for a glass of wine. The point is to relax and pat yourself on the back for a job well done (hmmm…I seem to mention wine a lot…why not?)
What do you do to make your Christmas season easier on you and a bit more stress-free? Leave a comment below and share with the rest of us. We can never have too many pointers…especially at this time of the year! Cheers everyone.