Simple Easter floral arrangements with Supermarket flowers.
I attended another floral arranging class here in our amazing community; Bonita Bay.
Peggy and Deb are the floral designers at Seed to Table. They gave us simple, step by step, instructions on how to create a really cute Easter arrangement using supermarket flowers. If you have never visited Seed to Table you must!! Music and cocktails while you shop…need I say more? Check it all out HERE
We used the following flowers and greens, all available at Seed to Table. I am sure you will find similar flowers in your own grocery store.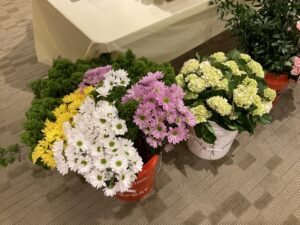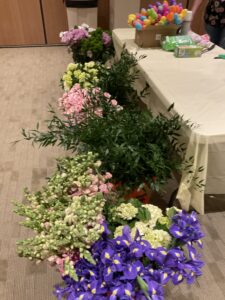 Mini green hydrangea…these minis actually grow larger and they turn white in your arrangement….thus a great choice for a longer lasting hydrangea.
Snapdragons
Purple Iris
Italian ruscus …(pictured in middle of bottom photo) is a long lasting green and very bendy! These can be shaped into your arrangements. 
Daisy….happy little flowers and long lasting too
Trachlium …(pictured in the bucket with Daisies) looks like small tree/bush
Spray roses.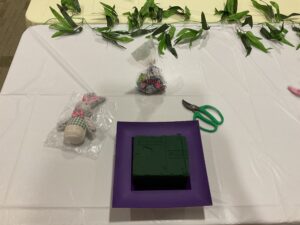 Peggy and Deb supplied us with everything we needed! They even gave us each a bag of chocolates to nibble on which challenged my willpower…Epic Fail…🤦‍♀️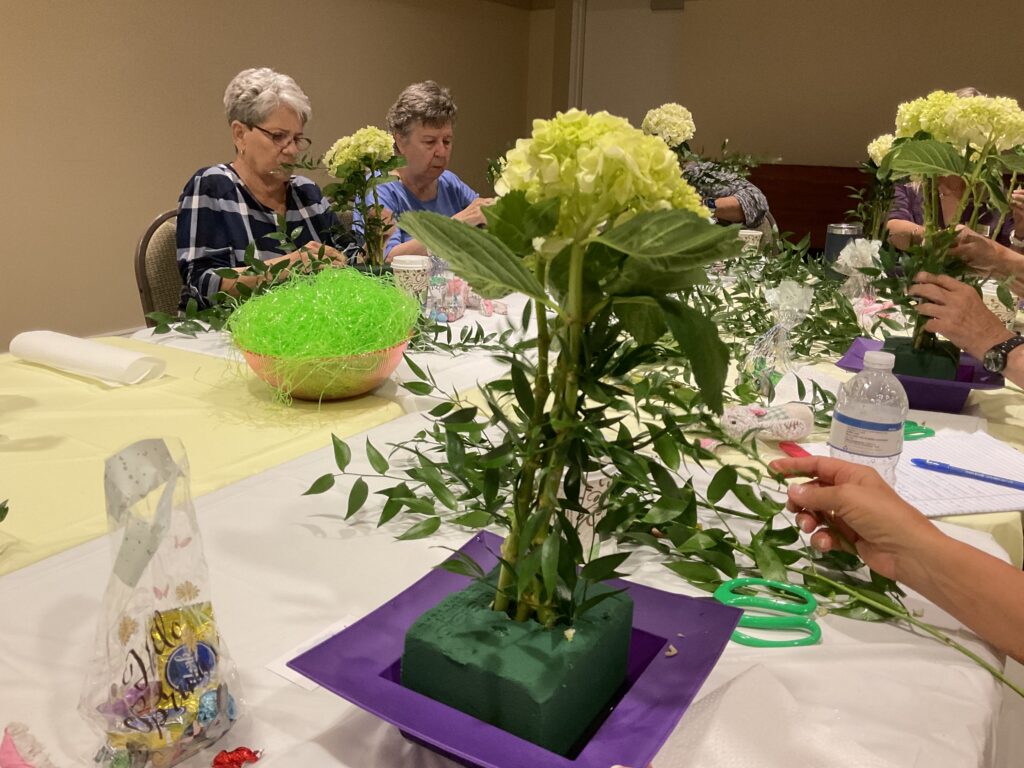 The first thing we did….AFTER eating some chocolate was insert 3 mini hydrangeas into a piece of 'Instant oasis' foam. This is the preferred piece of foam these florists use in their own arrangements at the store.
TIP👍 When usuing any type of hydrangea be sure to make a small snip up the centre of the stem. This gives a larger area for hydration. Spray the flower head often with water. 
We took a piece of Italian Ruscas and twisted it around the hydrangea stems. We then cut the Ruscas into smaller pieces and inserted them around the outside of the base and then the top of the base.  I was surprised at how much we used. It seemed to fill in a lot of space but the ladies assured us that we would have lots of room for the flowers.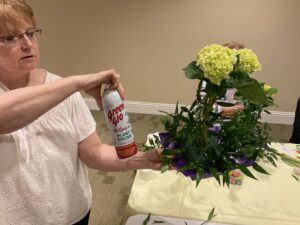 This product called Green Glo is amazing! Spray it on your greens for instant glossy leaves. 
Available HERE on Amazon for $16.
TIP👍 – use a lazy Susan when creating floral arrangements. It makes it so much easier to navigate your design.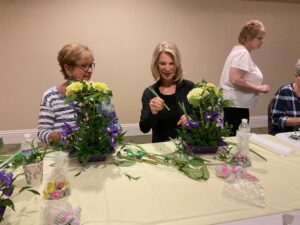 We were each given 3 purple irises. These were cut approximately 6". In the photo above you can see that Peggy also used the stems in the arrangements as fillers. These two lovelies sat across from me. They provided a lot of entertainment with their competitive personalities. 😉
Next, was snapdragons. We had 5 of these to use. After the snapdragons we used daises, trachlium and spray roses. Some of the ladies in class left the roses in tact. Others cut them into pieces and used them to fill in any bare spots. 
We used plastic Easter eggs glued onto skewers to surround the bunnies which secured the bunnies into place.
TIP👍 – Using odd numbers of flowers is visually more pleasing.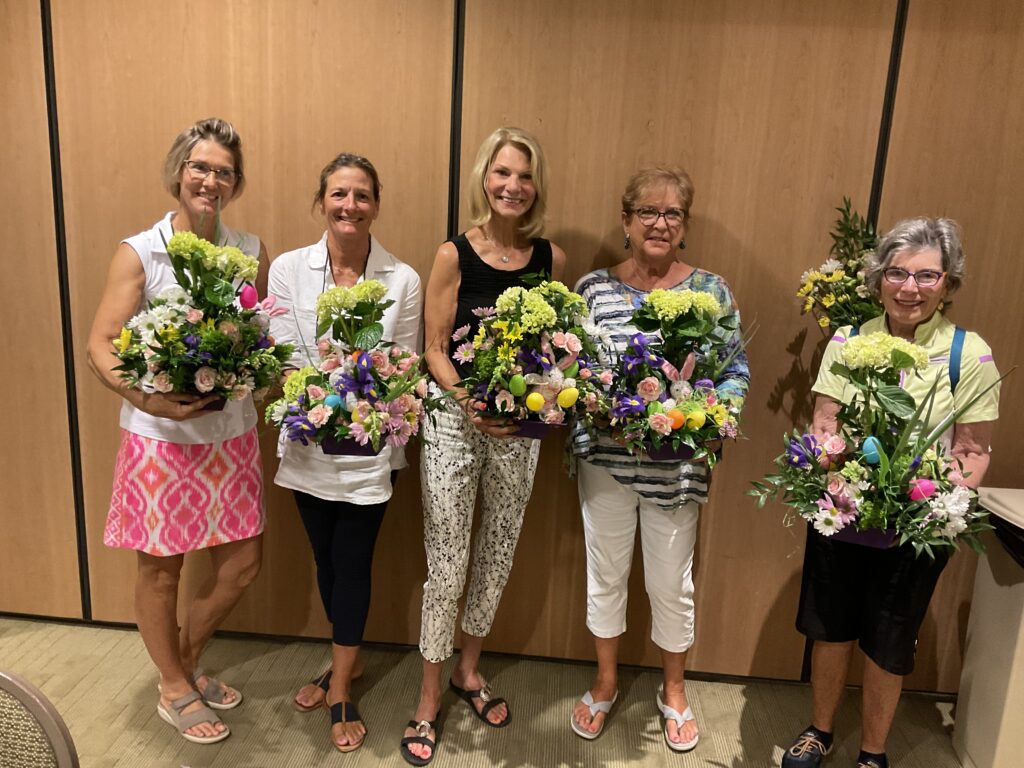 It's amazing that we were all given the same flowers and yet our arrangements were all so different.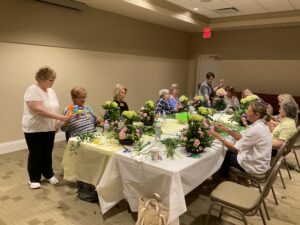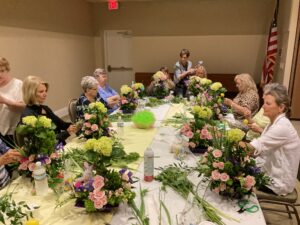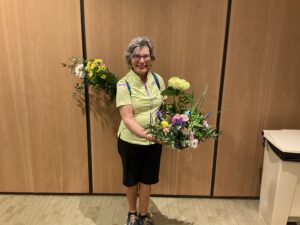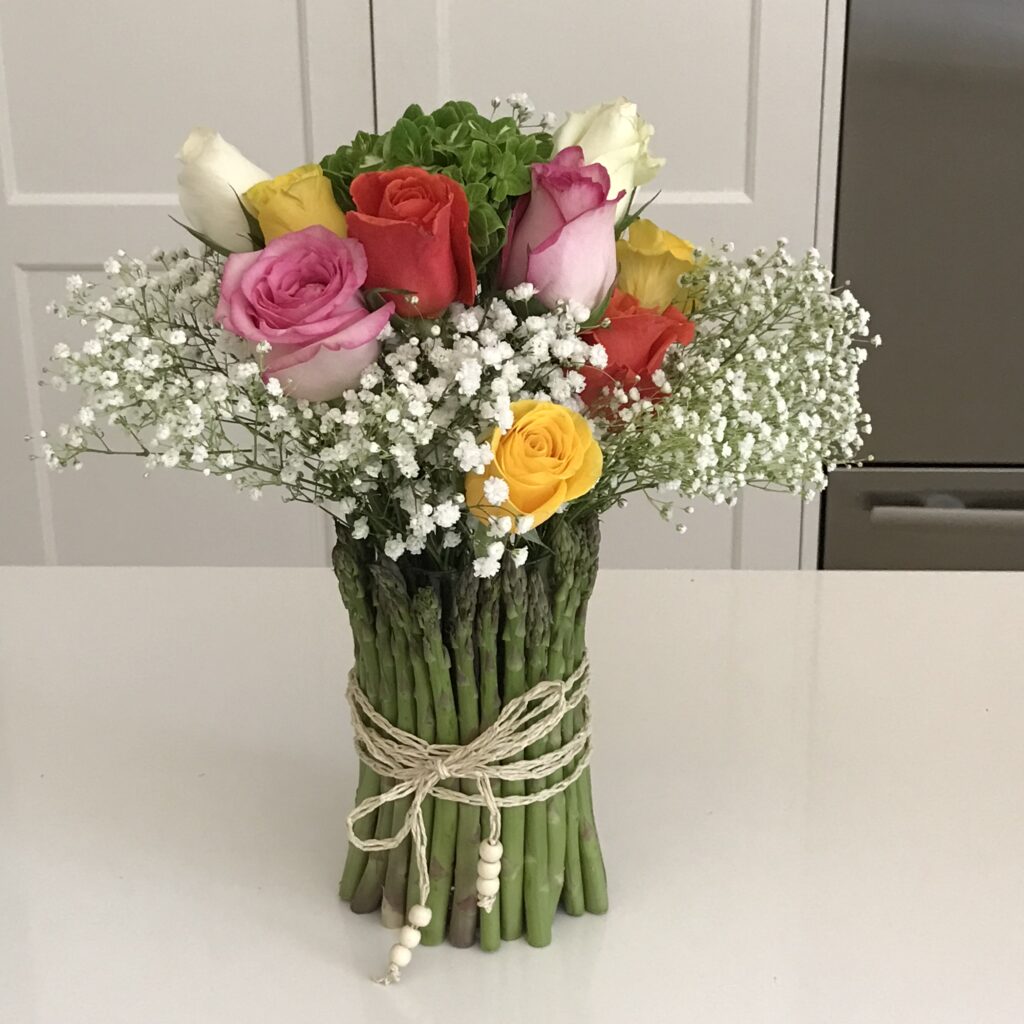 This is a photo of a past flower arrangement I created. I used a glass vase and tied fresh asparagus around the perimeter of it. I used simple grocery store flowers. Roses, baby's breath and a hydrangea in the middle. This is one of my favourite floral creations.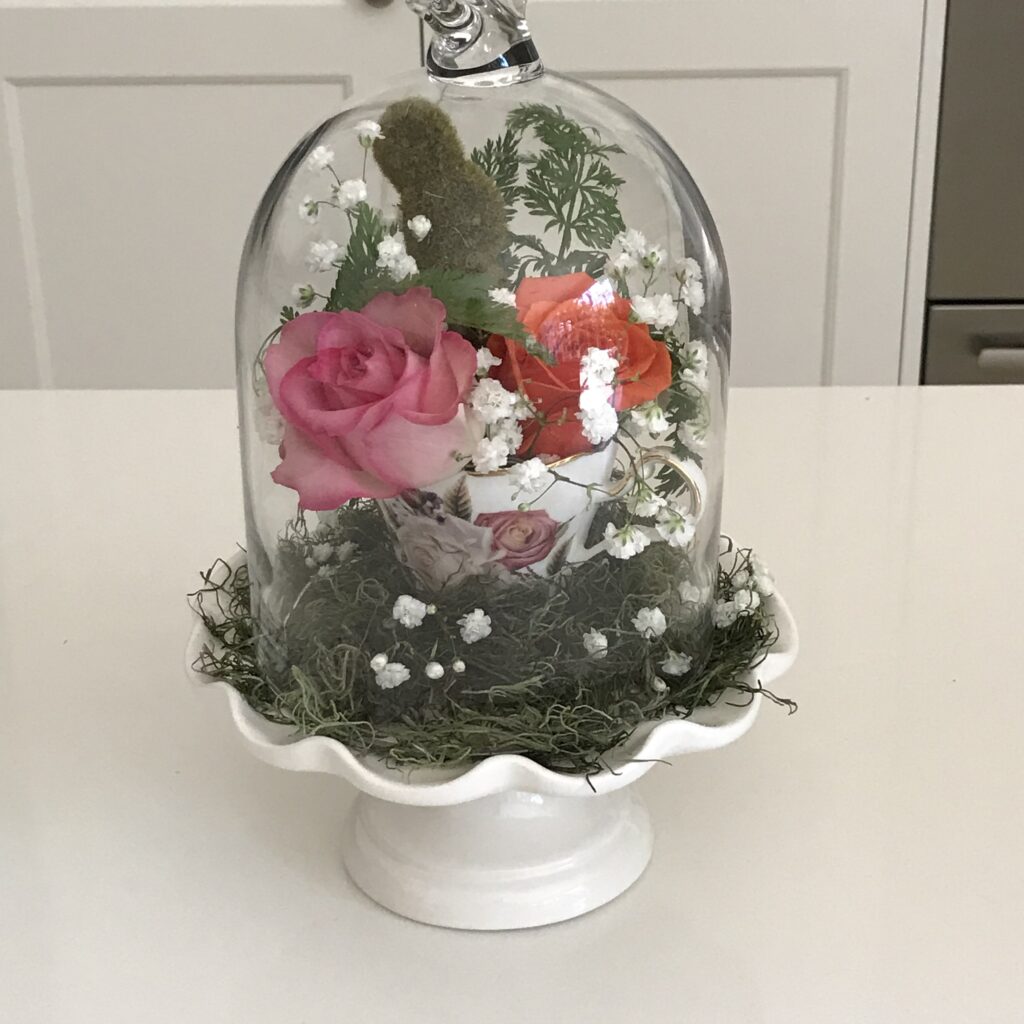 This was a simple arrangement to create. Using a small cake plate and cloche…I used a couple of snips from the above arrangement and filled a tea cup. I used this for Easter, but by removing the bunny you could use this at anytime of the year.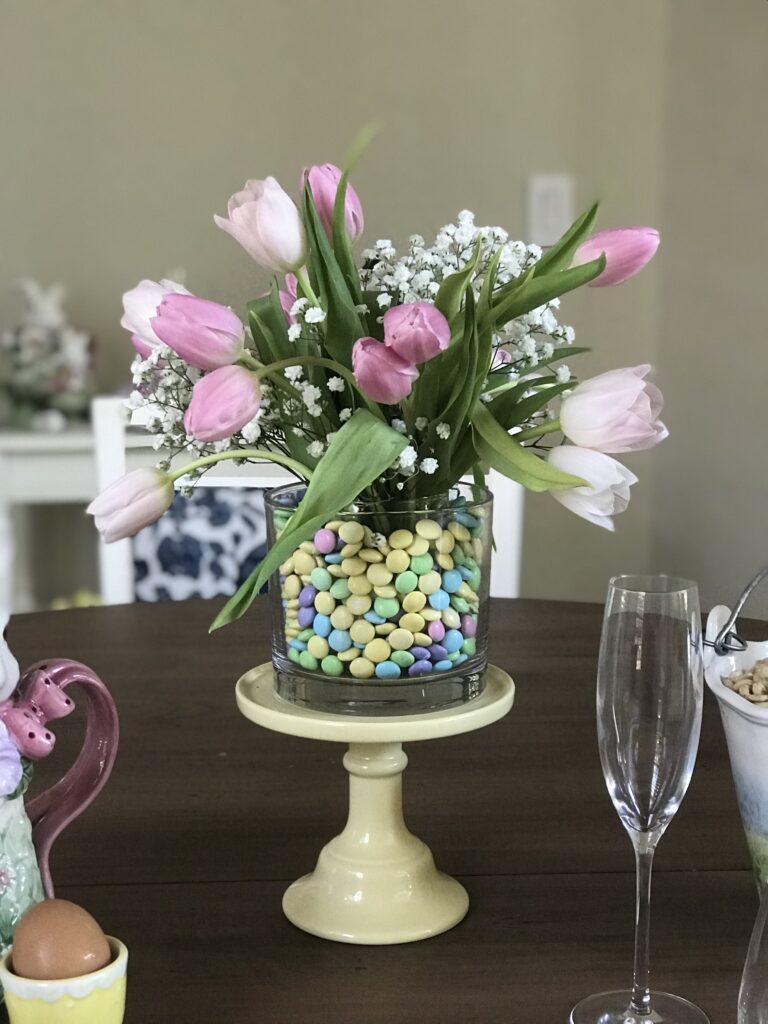 For this arrangement you need two vases. One to fit inside the other. The flowers go into the smaller inside vase and simply fill the space with Easter candies. You could do this for Valentine's Day with red heart candies. 
This is the other floral arranging class I did at Bonita Bay. HERE
I hope you are inspired to make your own floral Easter arrangement this year.
I'm hoping to get one more blog out before Easter….tablescapes, recipes and a fun Easter charcuterie. 
For those of you that follow me on a regular basis you know at the beginning of each month I have been doing a feature piece on strong women that have changed our world. I hope you enjoy this one!
APRIL, SPOTLIGHT ON STRONG WOMEN.
MAY WE KNOW THEM,
MAY WE BE THEM,
MAY WE RAISE THEM!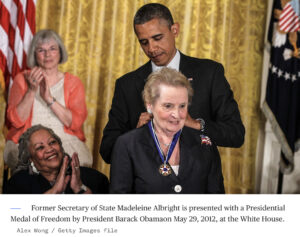 Our flags were flying at half mast in recognition of Madeleine Albright's passing on March 23rd. Born in Czechoslovakia to Jewish parents, Madeleine died of cancer at 84 years old.
Albright's family fled communism and Nazism in Europe and came to the US in the 1940's
When you hear 'Madame Secretary' you may think of Tea Leoni, and all the issues she faced on a daily basis in the show. I often wondered if the show was anything like the real life of a Secretary of State. 
After reading about Madeleine Albrights career nightlights, as with the fictional character Elizabeth McCord…these women lead crazy important lives, driving international diplomacy and negotiating world wide issues.
This very real Madame Secretary, was definitely a trailblazer in the field of public service for women. 💪 It must have felt like the weight of the world was on her shoulders!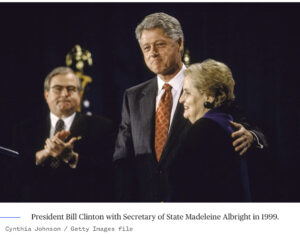 Former President Bill Clinton named Albright as the U.S. ambassador to the United Nations shortly after he was inaugurated in 1993. He nominated her as the secretary of state three years later. She was confirmed in 1997 by a vote of 99-0. At the time, she was the highest-ranking woman in the history of the U.S. government. 💪💪
As Secretary of state, Albright encouraged NATO intervention to end the ethnic cleansing of Albanians in Kosovo and she promoted the expansion of NATO.
In 1996 when Cuban military  shot down two unarmed civilian planes Madeleine famously said "This is not cojones. This is cowardice." The line endeared her to President Clinton, who said it was "probably the most effective one-liner in the whole administration's foreign policy".
Madeleine Albright did not come without controversy though. In 1996 Albright appeared on a segment of 60 Minutes in which Lesley Stahl asked her about the 500,000 children that were killed during Iraqi sanctions. She asked "is the price worth it?" and Albright replied "I think this is a very hard choice, but the price, we think the price is worth it." Albright wrote later that Saddam Hussein, not the sanctions, was to blame. She criticized Stahl's segment as "amounting to Iraqi propaganda" and said that the question was a loaded question. Albright wrote in her memoirs  "I had fallen into a trap and said something I did not mean." "I regretted coming across as cold-blooded and cruel". The 60 Minute segment won an Emmy Award. 
Albright said her "deepest regret" was when the Clinton administration failed to intervene to prevent ethnic violence in Bosnia and Rwanda which collectively left hundreds of thousand of people dead.
In 2012 President Obama awarded Madeleine Albright with the USA's highest civilian honour…the Medal of Freedom. 
President Biden called her a "champion of democracy and human rights." He remembers her as "a force for goodness, grace, and decency—and for freedom." She "defied convention and broke barriers again and again," Biden said in a statement.
Former Presidents offered their condolences as well. George W Bush mourned Albrights "love of country and public service" while Clinton called her "One of the finest Secretaries of State and an extraordinary human being." He said "She never lost her great sense of humor or her determination to go out with her boots on, supporting Ukraine in its fight to preserve freedom and democracy,"
"I never thought that I would have the kind of life I've had," Albright told Elle magazine in a 2020 interview. Asked about her best job experience, she said, "Being Secretary of State and sitting behind the sign that said the United States, especially since I wasn't born here, and I am a very grateful American."
What an extraordinary lady!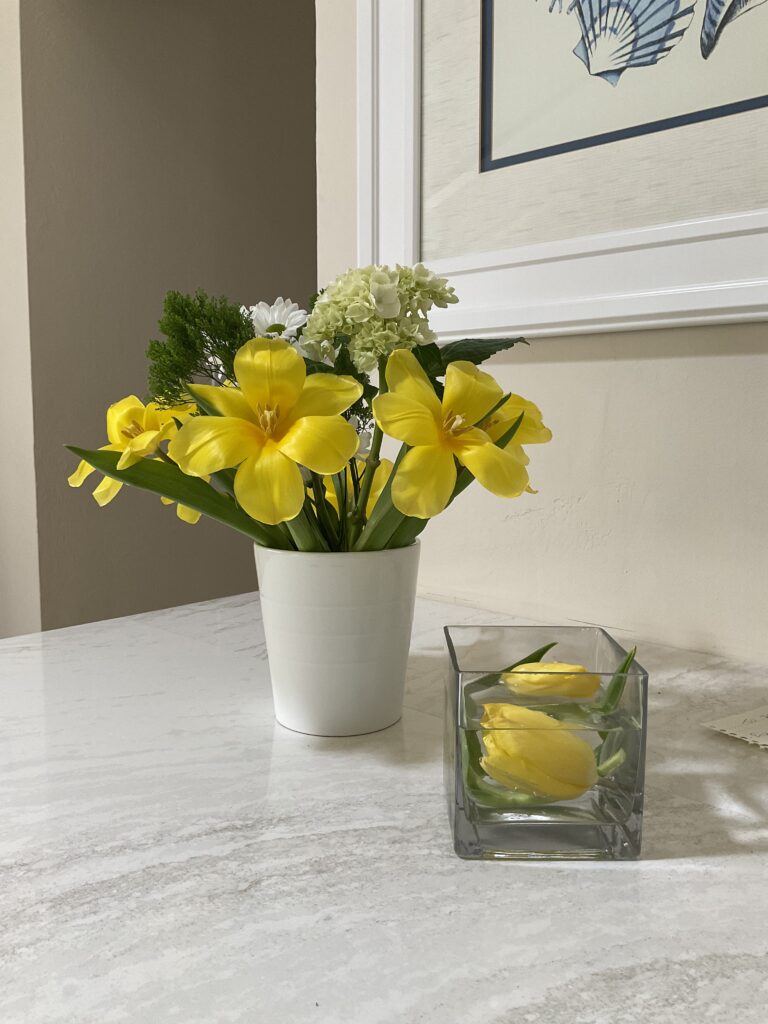 Tulips….I flipped the petals inside out. So pretty!