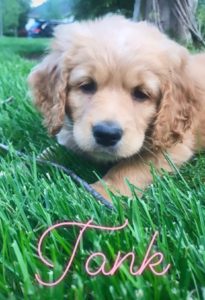 For those that follow me on Instagram or FB, you are well aware of our newest family addition. Meet Tank! Tank now has his own IG page where you can follow his antics. 'Tank_around_town'…yes I really am this pathetic! 🙂
Tank is a Country Retriever. He is a cross between a Golden Retriever and a Cocker Spaniel. He will have more of a Golden's appearance with hints of Cocker. I can already see the cocker wave in his ears. Completely adorable. He will grow to a medium sized dog at approximately 40-45lbs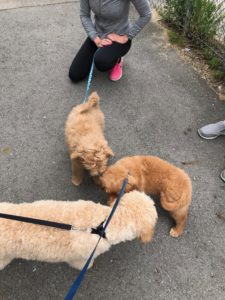 I already know Tank will be my BFF (until I'm about 70 – that's weird to imagine myself as 70 LOL) and my trusty little sidekick. I am looking forward to taking him for bike rides and jaunts in the park. It is incredible how many people and pups we have met since getting our little pup. He has become the 'socialite' of the neighbourhood!!
I always thought golf & sports were going to be the things to keep me active and social…but having back issues has proven that not to be the case. I just had another 4 injections in my back and 4 in my elbow last week with at least 4 more coming up. I am feeling like a pin cushion. Back and joint pain could be a whole other blog for me….
Anyway….for the past two winter seasons down south as a result of this, I have been stir crazy. All my friends down there golf and play pickleball, they work out at the gym…I started feeling bored, antsy, homesick and some days a bit sad. Not depressed…but just felt sorry for myself. Everyone was out and about every day with a sense of belonging, a sense of purpose. I was on top of the world when my kids and/or granddaughters were down visiting…they provided me with focus, I had to feed them, play with them and keep them entertained. I would wake up in the morning thrilled that they were there and ready to conquer my day. When they left for home, I was left with nothing but a very heavy heart. My reason for getting up was gone. Sounds a bit dramatic…I know…but there really is some truth to it. I wasn't ready to jump off a bridge, but I was ready to jump on a plane and just go home.
Steve is a pretty perceptive hubby and started to notice that I was out of sorts. The first thing he suggested was maybe working….LOLOLOLOL…whatever!!! Then he mentioned getting a dog. We have some beautiful dogs in our neighbourhood down south…one, in particular, is Alfie. Alfie is a gorgeous Golden Retriever weighing in at around 80lbs. Steve decided that he wanted an Alfie…once I stopped laughing about the whole job thing the hunt was on to find our perfect pup. After some Google searches, questions and talking to various breeders we ended up finding a place called Pets in the Country not far from us in Millgrove, Ontario. I reached out to the breeder and as fate would have it, she was having a litter on April 1st. It couldn't have worked out any more perfect…
I knew right away that I was 100% doing the right thing. I fell in love with Tank before I ever laid eyes on him….hahaha…..a job….??!!…really?
———————————————————————————————————-
We were at the girl's school graduation the other night. Lilah graduated from kindergarten and Savannah from grade three. It was bittersweet though…as proud of Savannah as we are that she has graduated from grade three…this is the end of this little Montessori school she has been attending. Next year she will be off to a different school. Savannah and Lilah have been blessed with the most amazing teachers in their short education so far. Lilah is a going concern and her teacher Mrs W is patiently there for her every step of the way giving her guidance and love. Savannah's teacher Mrs F has been an incredible source of inspiration for her. Savannah looks up to Mrs F and has great conversations with her. PLUS she is a Raptors fan…so there IS that!!
The owner of the girl's school; Mrs D, is very hands on with teaching and loved by all of the children. She has probably interviewed countless teachers over the years…but wow did she do a great job picking out some amazing teachers that work tirelessly to create a challenging, nurturing environment for their students. Great teaching seems to have less to do with knowledge and skills and more to do with attitude toward the students and work ethic.  These kids have been respected, given a community of belonging in the classroom all while learning how to be leaders and reaching the expectations placed upon them.
These teachers belong here. I couldn't imagine any of these women doing anything else.
——————————————————————————————-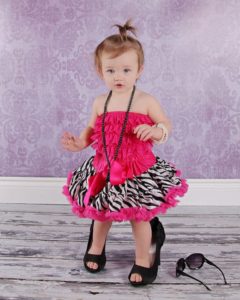 My daughter in law Maxine is an amazing photographer. In the beginning, Maxine started taking photographs with a simple iPhone. She had a natural talent of putting Savannah into buckets and pots and snapping photos… Max got better and better and upgraded to a 'real' camera…from there, as they say, the rest is history. Maxine has been voted amongst her peers both in Canada and the USA as one of the very best baby photographers there is. She knows what she likes, makes her plan and she sets out to do it. Maxine is so confident behind a camera, there is no other job she should be doing.
——————————————————————————————
You are probably wondering what these 3 random paragraphs all have in common…it's a sense of purpose. Do you have, or even know, what your sense of purpose is? Your sense of purpose is what gets you out of bed in the morning…whether it's a puppy waiting for his breakfast, a teacher making an impact in a child's life or being super creative like Maxine…
What is your sense of purpose?
I am an avid reader of the Blue Zone. You can do your own Purpose Check- Up HERE.  This questionnaire may help you if you are in doubt of yours.
A study was done that confirms purpose and meaning can add years to your life.  There are blue zone regions of the world, (you can read about it in a past post HERE Costa Ricans call your purpose 'plan de vida'  while the Okinawans call it 'ikigai'. It is said that having a strong purpose can lower stress, reduce inflammation which in turn lowers your chances of Alzheimers, arthritis and stroke.
Of the 73,000 Japanese men and women who were studied in 2009, it was found that those who had a strong connection to their sense of purpose ikigai tended to live longer than those who didn't. Additionally, in his study of "Blue Zones,"  Dan Buettner identified the factors that most centenarians share, one of them being a strong sense of purpose. In 2014, researchers used data that tracked adults over 14 years and found that "having a purpose in life appears to widely buffer against mortality risk across the adult years
There is ongoing research that supports the impact of a strong sense of purpose and longevity. The Journal of the American Medical Association has linked life purpose and a lower risk of mortality. The study followed 7000 adults over the age of 50. The participants of the study were given a questionnaire to rank their life purpose. They were followed for 5 years and the findings were quite incredible, favouring the adults that had a clear focus on what their life purpose was. It is pretty in-depth…but if you want to learn more about it you can read it HERE.
I don't think there are any rules suggesting that we cannot pivot when necessary. In fact, I think for some women, they can suddenly find themselves in their 50's and 60's retired with no children at home. At first, it was fun…there was an enormous amount of freedom but then ….not so much. Going to work and looking after their family…that WAS their purpose in life. Your life purpose should change at different points in your life. The more you learn about yourself and the world around you, I think it is only natural to feel, react, think and even behave differently…all the while you will be gaining necessary feedback on what is really meaningful to you. It's important though not to confuse your life's purpose with your goals. Goals are attainable or not attainable things…they are static and no matter how great your goals are they don't provide lasting fulfilment. I think what we are after with our purpose are ways that we can use our energy that enriches our internal and external growth.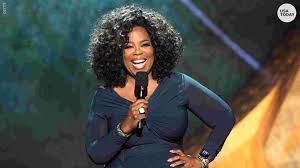 "There's no greater gift than to honour your life's calling. It's why you were born. And how you become most truly alive." OPRAH WINFREY
Oprah's guide to finding your sense of purpose. Read about it HERE 
Your sense of purpose can be found volunteering, gardening, creatively, family, church or sports…it makes zero difference to anyone…only you. The point is we all need that reason to get out of bed in the morning. People with a clear life purpose tend to live a more meaningful existence and live their days to the fullest.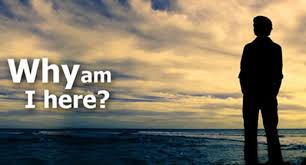 So if you are still looking for the purpose of your life, do something about it. Take an online course, stop by Indigo. There is a list of 5 books below to help you get started. Make it a priority, and you might soon find the peace and calmness that comes from leading a purpose-driven life.
Now that I have Tank, Steve keeps asking me if I even remember how to spell Savannah and Lilah…while those two little ones are my everything when I am with them…Tank is now with me 24/7  I wonder what I did before I had him. I am head over heels in love with him. I am completely gratified. I guess what they say is true for some of us…' it's the simple things in life.'
Your life's purpose doesn't have to be about changing the world, it should be about changing yourself…finding out what makes you happy and change yourself into your happiest version of you.
What is your sense of purpose? Drop me a line below and share your thoughts…one lucky person that comments will get a copy of 'The Happiness of Pursuit'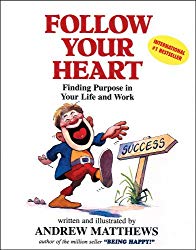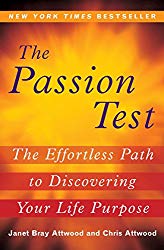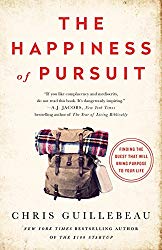 WHAT???? How did all of these get in here?