He's getting so big, isn't he? This is a photo of Tank at 8 weeks and 14 weeks. Look where the top of his head is against the back of the chair.  Sept 1 he will be 5 months!! He is starting to look like a dog now as opposed to a puppy. He definitely acts as a terrible two-year-old. He gets into everything!!! He eats anything that doesn't move…if it does move…it better be fast!!!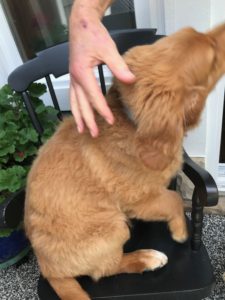 I tried to get another photo of him sitting on the chair…but his big ol' butt won't fit on it.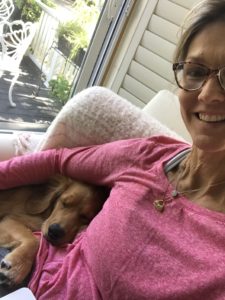 Tank is my assistant today as I write this blog…you can see he is very hands-on and opinionated!
I want to thank you, ladies, that have sent me messages through FB, IG and even email asking "when is your next blog coming out"? "I miss reading your blog at breakfast" It makes me feel good….and a bit guilty too! LOL You can imagine I've had a super busy summer with this new little addition of ours.
If you live in Southern Ontario…dont let this weather fool you!!! It IS still summer!!! Don't you just love August? The flowers (if you haven't killed them after July's heatwave) are bursting with colour and the farm fields are overflowing with what will be harvested in the fall….and one of my absolute obsessions…PEACH season is here!!!
Usually, at this point in the year, I daydream about owning a small piece of property in the country where I can have a wonderful big garden, enjoy a wide-open space with no distracting city noises, have big bonfires at night and watch the fireflies…and of course now that we have Tank…he'd love the freedom of roaming around a huge garden….but it's only a daydream. I love my Corner House and I love living in the city with all of its conveniences….now if I could get property close to the city…hmmmmm?
He melts my heart every single day…I would actually love to get another one next year! Steve thinks I am off my nut! Don't you think Tank would LOVE a friend to hang out with?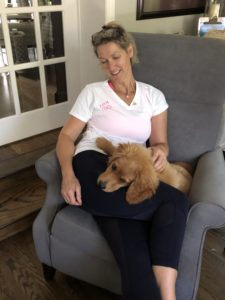 Me and my little boy wonder.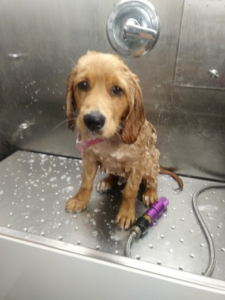 Tanks first visit from Mrs Paws. He doesn't look too thrilled with the whole bath thing.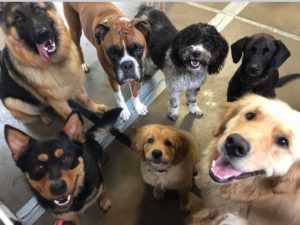 Tank and his peeps! He loves his friends at daycare. He goes every Wednesday and Friday so that I can get some housework and errands done. If anyone is in this neck of the woods and is looking for dog obedience classes I highly recommend researching Canine Balance. You have to be enrolled in classes in order to attend school. The owner and his staff are amazing with the dogs and are constantly engaging them and teaching them.
My last few weeks have been slammed with entertaining, going to parties, a super fun trip with some ladies for a quick little getaway and of course…Tank the wonder dog…..oh whoops…I forgot to mention the girls!! HAHA…how could I forget them? ….we are having a great summer with them. They have been with us for half the summer already and had a blast at Rock Climbing Camp and Horse Back Riding Camp.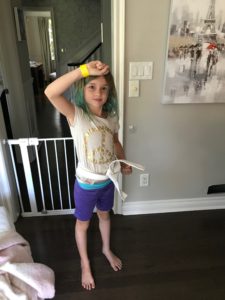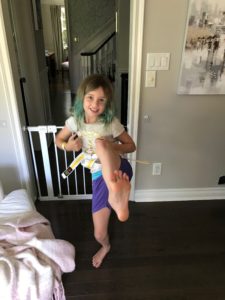 Savannah just graduated from a white belt to a white belt with a yellow stripe at Karate Camp and then next week is Basketball Camp. Then it's back to school…a new year!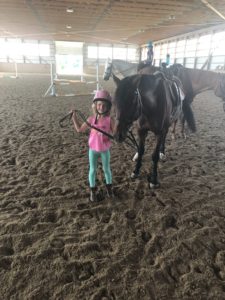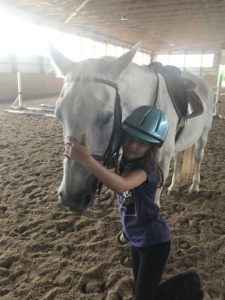 Girls loving horse camp.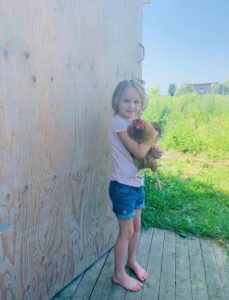 Did I mention that Savannah and Lilah have new pets? LOL…chickens and roosters are now running around their yards. These two girls are living the best country life!!!
I had a birthday somewhere in all of this and Steve got me front row seats to the Queen concert!!! Adam Lambert was over the top. He wasn't Freddie Mercury…whom I did see at Maple Leaf Gardens in 1977….but let me tell you ….he was over the top. Great costumes and so flamboyant!!!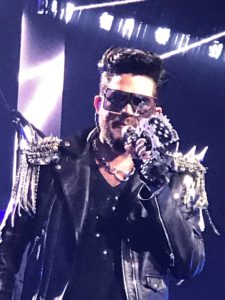 Being front row there was lots of eye contact…at some points it was like he was singing to us…plus we were on the jumbotron a number of times throughout the concert. Super fun night.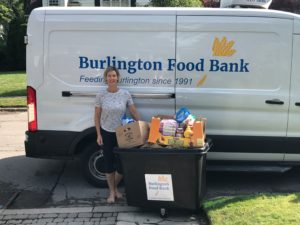 I've just wrapped up a food drive for our city. The outpouring of donations was heartwarming!!! Pictured here is one of the bins filled. Almost 1000 lbs of food was donated and $500 in donations/gift cards. As I am writing this, my phone literally just buzzed about another donation.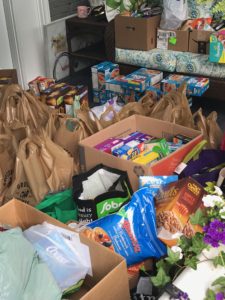 My porch looked like a grocery store!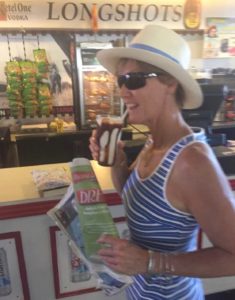 Saratoga NY is called the 'August place to be' and sadly we are not there this year.  (sigh) I'll give you one guess why not!! This photo was from last year. The first thing we all do when we get to the track is get our racing form and enjoy a Mudslide. I was planning on doing a full Saratoga blog…the shopping, restaurants, nightlife, hotels, hiking and race track…I could have filled pages!! Not to mention the homes with their massive wrap-around porches. In past years we have rented some amazing homes..including Bing Crosby's summer rental and also Dr Suess's god-daughters home. I asked Kate how she ended up with Dr Suess as her godfather, turns out her grandfather founded Random house. If you ever want to have a peek at some of the homes I suggest you follow 'Cupcake and Road Trips' on Instagram. She posts beautiful photos of the homes and the city itself. I was really hoping to meet her for a little sip of somthin' on Broadway….maybe next year.
A'll be bauck!! (Arnold's voice)
I am thinking I should be back to my blog really soon. I was up north last week and my girlfriend Janet let me snap some photos of her cottage bedrooms!! OMGOSH!!! If you ever wanted to know 'when is too many pillows too many'….just wait and see!!! I will be blogging about it!!! Just as a heads up….apparently you can NEVER have too many pillows!!!
I am going to be sharing a number of table settings, porch living, back yard fun, organization and some decorating how to's!
My girlfriend and I are going to try our hand at a video cooking show…just for my blog…LOL….if nothing else it will be a series of bloopers and it will probably involve wine! We have talked about doing this for a while…but life keeps getting in the way.
Lastly, I am hoping to do a few reviews on some items that I've purchased this summer. Do you ever see things on FB and IG and wonder about the quality of the item or whether it really is a great closet space-saver? Well, stay tuned…I have a few items you may interested in!
So, until then ladies I hope you are having a fabulous summer…I certainly am and I couldn't be happier.
In the last post ADD YEARS TO YOUR LIFE, I promised a book to someone that left a comment……drum roll please…..the winner is……TARA!!!!