How to Mix and Match your China
Remember way back when…setting a table with your good china meant five or six pieces of china perfectly matched? Probably from your wedding registry right, or maybe your grandmother passed them down to you? In any event like everything else, things change.  Today we tend to be a bit more flexible when we mix and match our china. Having said that, there is a bit of an art to it.  Choosing a colour palette, mixing contemporary and vintage, incorporating glassware and cutlery…your table settings are about to get a little more interesting…or just downright messed up.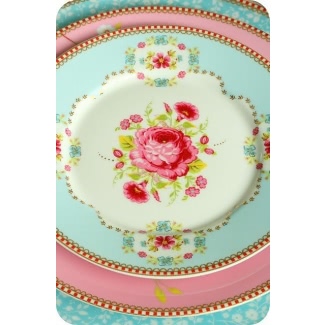 I started to note other china sets that we probably wouldn't use much because of how 'outdated' they are. This is obviously an older piece…this would be a pretty pattern for a lady's tea. I would add some pink or blue wine glasses. But thinking outside of the box I would LOVE to use this for a retro table setting. Retro anything is so 'in' these days.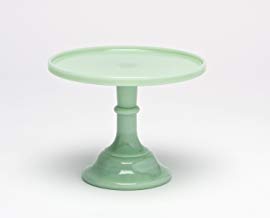 These vintage cake stands were available at Target when I left Florida in the spring. I only know because I bought one and forgot it there. LOL, Something like this would go perfect with the dish above at a tea party.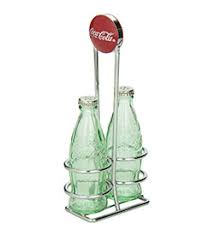 Add some florals to these old coke bottles and your table will take on a completely different look….a great retro/vintage look.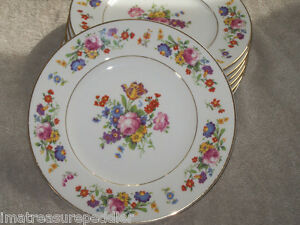 Here is another set of old plates I found online.  These could be layered with any number of plates. There are so many colours on this plate to choose from. Basic white would be great too. For a summer setting, I would maybe pick the light pink and do some sort of floral arrangement to compliment them and add simple white napkins with a piece of 1/4″ wide pink or blue, velvet ribbon tied around as a napkin ring. You could also purchase some pom-pom trim and use fabric glue to attach around the perimeter of a napkin…instant fun!  If using in the fall I would focus more on the orange and gold accents. This is a beautifully versatile piece of china.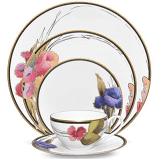 This looks like it is right out of the 1980s…but not the end of the world. Some of these pieces would look fabulous on an Asian inspired table setting. Again, I would not use all of the plates together. I would break up the set and add various sized Chinese take out boxes in colours to match the dish. Chopstix and finger bowls with lemon water would complete the look. Go to your local dollar store for lots of great Asian inspired items. If you missed my Asian themed shower you can check it out here for some creative ideas. This set would also work on an ultra-modern table. While most modern tables are monochromatic adding one bright piece at each place setting would not be off-limits.
Mix and Match Old Country Roses China
So this is it…Old Country Roses. It doesn't get much more old school than this….but it got me thinking. What could I do with this set to make it a bit more modern? Cause ladies…I got it all, right down to the gravy boat!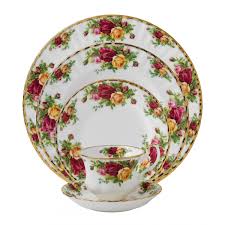 I am not sure who chose this pattern for me…My grandmother had a china shower for me when I first got married. (to Joe…the handy husband) Everyone pitched in and bought me a couple of place settings as well as a kitchen gadget. It turned out to be a lot of fun. I was pretty young and trying to guess what some of the gadgets were was quite entertaining!! LOL Anyway…long story short, Joe and I split up…he got the boat…I got all the china! Go figure!!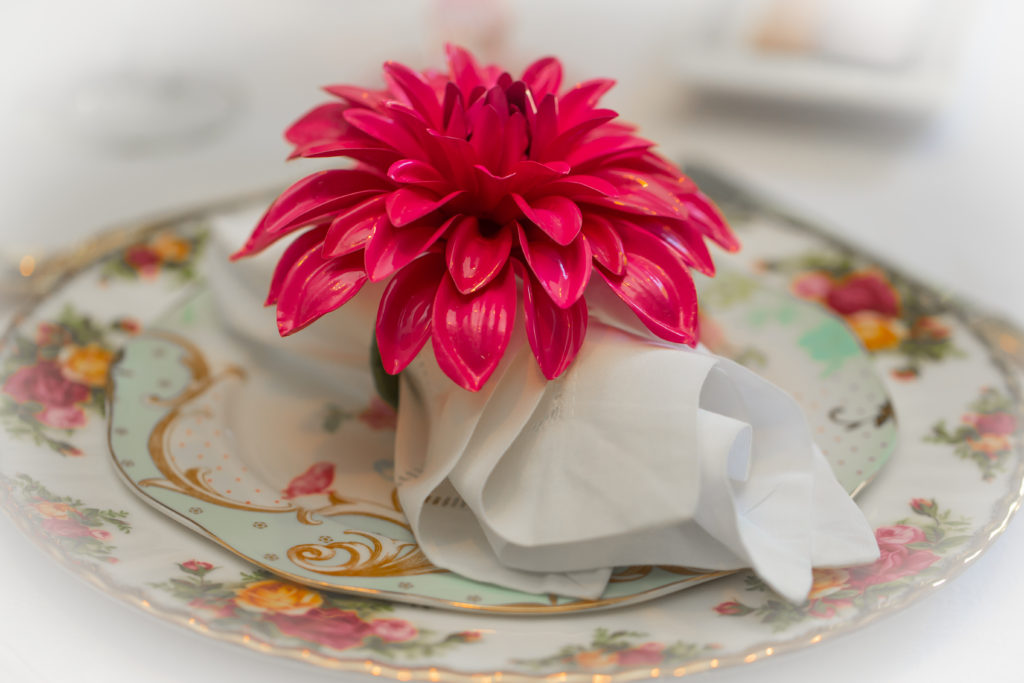 The first thing I did to add some pizzaz was to add these awesome napkin rings in an almost neon pink. It makes the roses on the dinner plate take on more of a pink hue as opposed to red. The smaller plates, although blue work perfectly fine as there is the commonality of gold and pink flowers as well as gold around the edge of the plate.
I have included some napkin etiquette at the bottom of the post for fun…and I've explained why.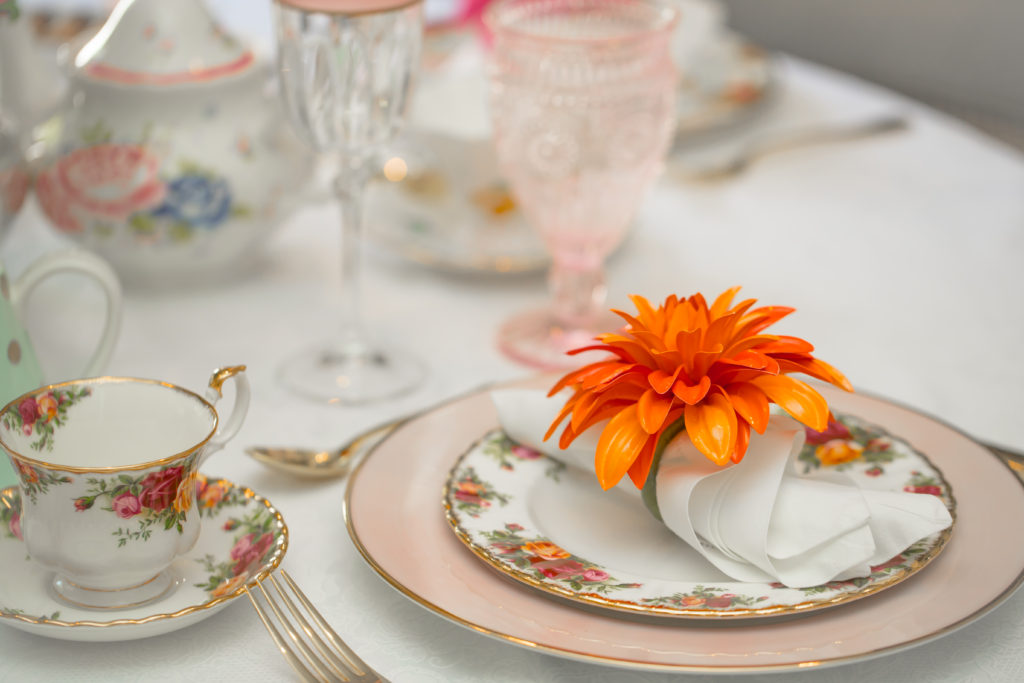 These napkin rings picked up on the orange of the smaller plate that I paired with a large pink plate. Both have the gold rim and work perfectly together. If you are just starting out with your dishes and you only have one set, a fun napkin ring such as these are a great way to give an extra bit of wow factor. BTW, these napkin rings are from Pier 1. I found them in their summer blow out bin. You could easily make something similar by using faux flowers available at Dollerama.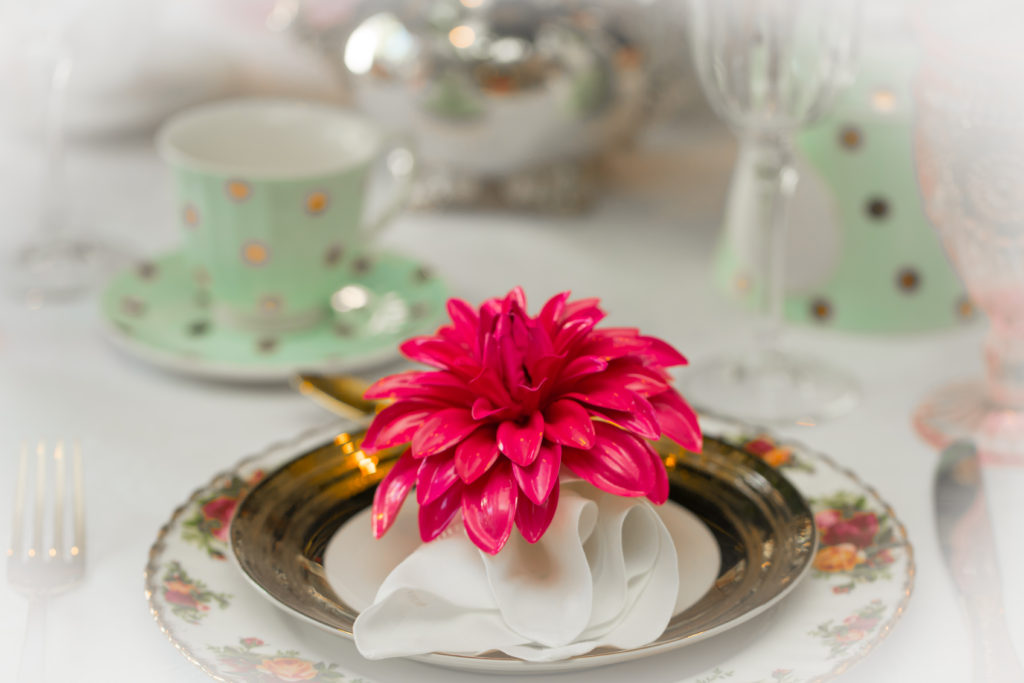 This was an easy choice.  You will notice in all of the photos where you can see the teacups that they are all different too. Because of the gold dots on this cup, they work perfectly fine with the china patterns.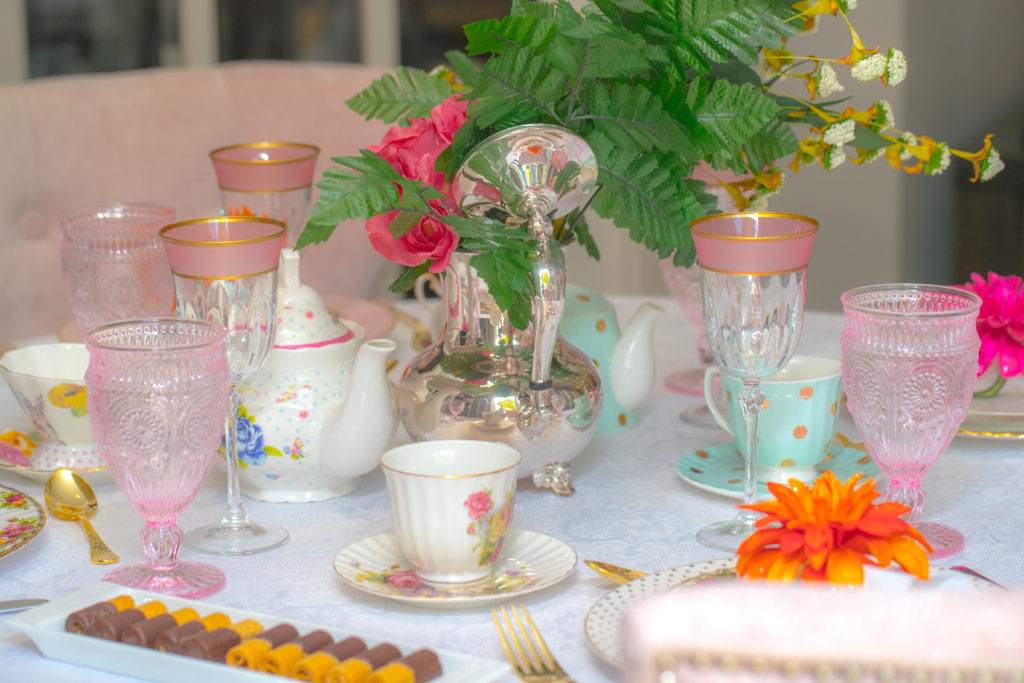 It was an entire mishmash of patterns. The one thing that they all had in common was gold and pink.
Tea Time
Everywhere I turn these days it's all about tea parties and we all know why right? Downton Abbey! I am so excited to be going to the movie tonight. I hope to get some easy inspiration for the inevitable…lol…another tea party.  For me, there is just something about tea parties in the spring and the fall. I suppose in the spring it's all about fresh spring flowers and lots of pinks and blues. In the fall it's all about a 'hot wee cuppa' as my mom says served with some meat pies and yummy tarts.
I grew up drinking tea with my mom and my Aunt Rose. Some of my fondest memories are the three of us having tea in my Aunts kitchen. She had a sign on her wall 'No matter where I serve my guests, it seems they like my kitchen best'. She was one hundred per cent right. There is just something special about sharing a tea at someones kitchen table.
So ladies and Steve…use what you have on hand when serving tea or setting your dinner table. I don't think there is such a thing as outdated china patterns any more. Don't be afraid to mix and match your china. I am sure you will be happily surprised at what you can come up with. Your china doesn't have to look like it was your grandmothers, even if it was.
Napkin Etiquette
Did you even know there was such a thing? Well…apparently the man at the restaurant I was at the other night had no clue!!!!
When you sit at a table and there is a host, wait for the host to place his/her napkin on their lap before doing so yourself. If you are at a restaurant you should wait until two or three people are seated before picking up your napkin and placing it across your lap. At some restaurants, the serving staff will place your napkin on your lap for you.
Place your napkin on your lap with it folded in half and have the fold towards your knees. This way when you pick up the napkin to dab your mouth you won't end up with crumbs on your clothes.
Do not blot your lipstick with your napkin. Under NO circumstances do you use your napkin as a handkerchief nor do you spit food into your napkin. This is what happened the other night. A man got up to use the restroom and left his napkin on the table. When the waiter picked it up to refold it for him a piece of ABC (Already Been Chewed) food landed on the table. There was no inconspicuous way to remove that piece of food. YUCK!
When you have to excuse yourself from the table, place your napkin, loosely folded, on the seat of your chair. The only time the napkin is returned to the table is when you are ready to leave, at which point gather it loosely and place it on the left side of your place. NEVER crumple your napkin up and NEVER put it on your plate. If your plate has already been removed you can put it on the table in front of you.
When you are standing having a cocktail or eating food you should always have a napkin in your hand. If the server doesn't give you one…ask for one.
Your napkin is not a bib. Do not tuck it into your shirt.
If you are using a paper napkin it should be completely unfolded across your lap.
Only use the napkin to blot your lips, it's not a full-on wipe of your mouth.