Is there such a thing as too many pillows on a bed? I am going to apologize right now! This blog post is going to be photo heavy. There are just so many beautiful photos. (because of the decor not because of my photography). I will post lots of extras at the end.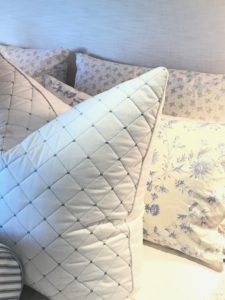 Steve hates pillows unless it's the one under his noggin! I – on the other hand, love pillows. I am not necessarily 'the more the merrier' but I love decorative pillows. I love switching them out seasonally. You can completely change the look of any room in your home with this one easy change.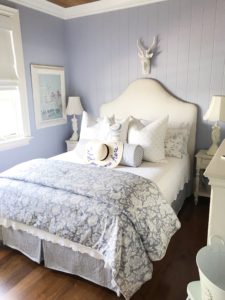 I have a friend that beyoooooond loves pillows. She is on a level never met by any other human being. I don't think Home Sense has as many pillows as her! Some of you know her as Janet – the hostess with the mostess…including the mostess pillows! Don't think for a moment that this bed is staged for this blog. On any given day this is how ALL of the beds are made at Janet's homes.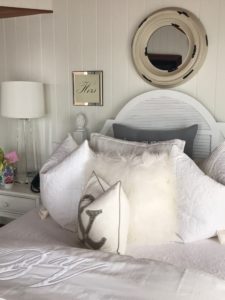 Janet is the pillow queen, pillow extraordinaire, pillow connoisseur, keeper of the pillows…It is rumoured that Janet has a 3rd son….she lost him under a pile of pillows and we have never met him.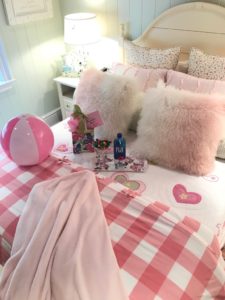 So….while Janet cannot give us an unbiased answer to the question 'Is there such a thing as too many pillows on a bed'? she can sure show us how to make a bed look stunning!!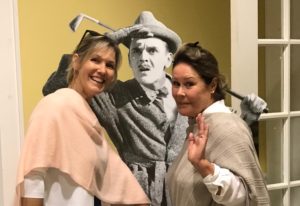 I am up in the Muskokas just so that I can write this blog…well…that's not the only reason…it's our annual girl's 'theme trip'. Stay tuned…I feel a whole other blog coming out on that…..anyways…back to pillows….the only thing comparable to Janet's pillow collection is her wine collection! Let's pour a glass and have a tour of her absolutely stunning rooms in her equally stunning cottage.. while we ponder the ridiculously unscientific look at a question that is less than pressing…Is there such a thing as too many pillows? ( I tried to find a photo of Janet and I sharing a glass of wine but could only find photos of us after too many glasses of wine…this one is quite tame)
SO LET'S GET STARTED…decorating with pillows!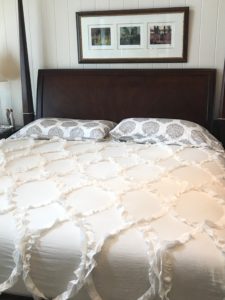 We are going to start at 2 pillows…cause everyone has at least 2 pillows right? One for his head and one for her head. TWO = B-O-R-I-N-G!! and when I say boring I just mean the pillow situation. There is nothing boring about this gorgeous comforter that Janet found at www.overstock.com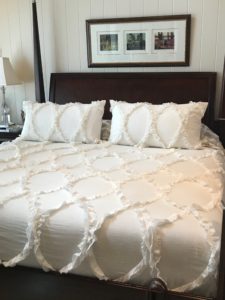 FOUR = Still pretty boring but for the 'less is more' person this might be your answer. Not gonna lie…when I am too lazy (which is often) to put out all the pillows this is what my beds look like day to day.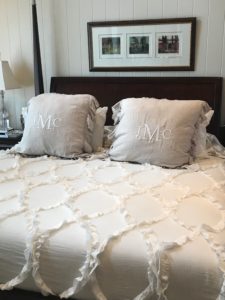 SIX – If you can do 6…you can do 8. So why stop here? These gorgeous linen monogrammed euros are from Pottery Barn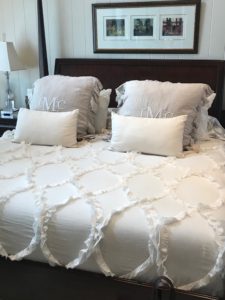 EIGHT- Janet is just getting started – things are starting to get interesting and still plenty of room for a couple of people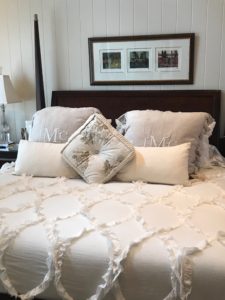 NINE – It is said that odd numbers in decorating are the best numbers and this looks beautiful as is….but seriously…we are talking the keeper of the pillows remember?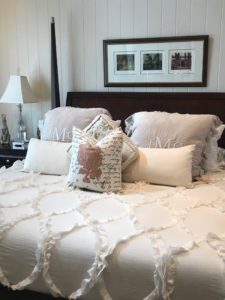 TEN- Janet's just starting to get ramped up.
TWELVE – Now we're talking – Pillow Talk – Doris Day and Rock Hudson eat your hearts out.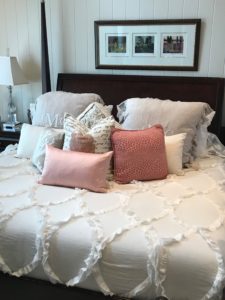 THIRTEEN – Geez… Things have officially gotten out of control!…maybe the whole pillow thing is an actual addiction and you should get help…maybe reign it in a bit?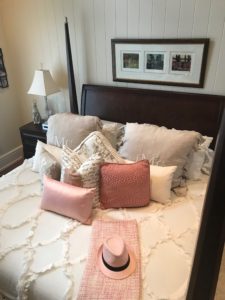 Why stop at pillows?…not even kidding here folks… On any given day you will find a little extra something on Janet's beds..whether it's a throw blanket, a hat, a purse or …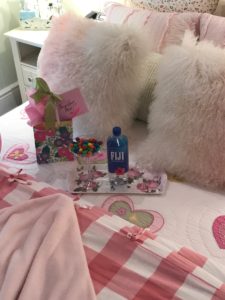 …as in the guest rooms; bottles of water, chocolates and for our girls weekend….Hangover kits…which were much needed AND appreciated!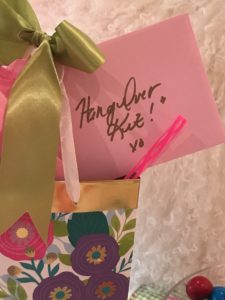 Anytime I come to Janets for a vacation I take a photo of the bed upon my arrival so that I know how to leave the pillows when I leave! If you don't do this….it's like a Rubiks Cube…impossible to get it back to the way it was.
I got to wondering if there is some actual history worthwhile knowing about these fluffy things we take for granted…turns out there is.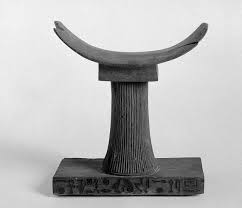 Pillows, also known as the comfy cosy things we lay our heads on for 8 hours a night while drooling and or snoring were first introduced around 7,000 BC in Mesopotamia.(ancient name for what is now Iraq…your welcome) They weren't used for comfort though, they were used to raise your head to keep the bugs outta your mouth, nose and ears!!  It's true…I Googled it!!! The more pillows you had the wealthier you were too…they were a complete status symbol!
You might not believe this but in ancient Egypt back in 2055-1985 BC pillows were made of wood and stone…OUCH!! That's probably the origin of headaches too! Oh wait…I should have read the rest of the sentence…my bad…these stone and wooden pillows were associated with mummies and tombs for placing under the heads of the deceased. (that makes a bit more sense)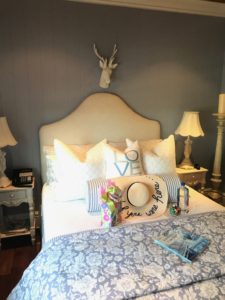 Janet's love for pillows and bedding, in general, started up here in Muskoka. She would visit her grandmother and admire how perfectly the beds were made. She would make the beds until they looked exactly like her grandmothers. Your grandmother must be looking down at you with a huge smile Janet.
I asked Janet if she ever just wants to skip making the beds for a day and she said absolutely not! She finds making beds is very therapeutic. She loves folding and fluffing until she reaches perfection. For Jan it's like a work of art. Trust me…I was listening in as she was making her bed…she had an entire conversation with herself about it!! It was hilarious…she came out of her room in a bit of a kerfuffle. There was something about the bed that just wasn't sitting right with her. I had taken photos of it previously. We looked and compared…it seemed perfect to me… but to Janet, there was just something off about it. Soooooo we poured some more wine and it was fine! Wine fixes everything.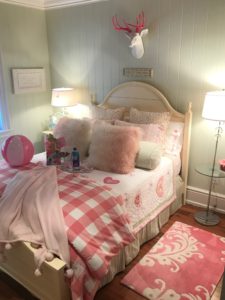 If you are a pillow newbie Janet does frequent Home Sense She says they always have great pillows. She doesn't stop there though…she always has her eyes open for something new and different whether high end or Ikea. These Mongolian throw pillows are from Urban Barn. They are always in stock in multiple colours for approximately $100 You can find much cheaper ones on Amazon. I believe the buffalo checked duvet might be from Ikea.
"Pillows just need to resonate with me…my style, my colours, sometimes it's just the feel of them, others I just love the look of them". when asked how she chooses her pillows. Comfort is a non-factor since they don't actually sleep on them. She only uses decorative pillows for exactly that….decor.  I actually noticed that she and her husband have hidden (ugly but sensible) pillows that they sleep on. You know the ones that are contoured for your neck.
What does Clement think of the pillows? He absolutely hates them!!! LOL, I was going to time her making a bed and I completely forgot. Hopefully, she leaves a comment below with an answer!
So how many pillows IS too many pillows? According to Janet "There is no such thing as too many pillows"! I counted the pillows in Janet's cottage. In our count we included the bedrooms, 2 living rooms and the laundry room….cause doesn't everyone have decorative pillows in their laundry room? …the grand total…..135!!!! That's a LOT of pillows.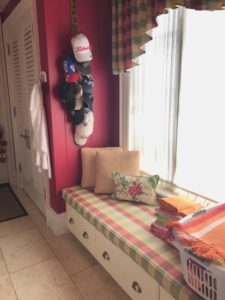 Probably the prettiest laundry room I have ever been in! Note the pillows and the colour of the wall. The walls are a beautiful cranberry red. The entire front entrance is done in this colour as well. One thing about Janet's cottage that you notice as soon as you walk in the door is the colours! There is nothing monochromatic about it. It takes on the homiest feeling as soon as you walk in the doors.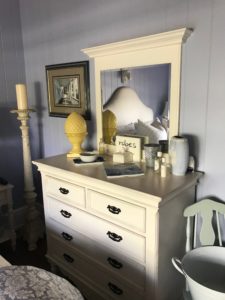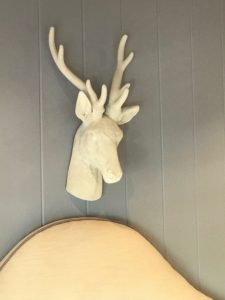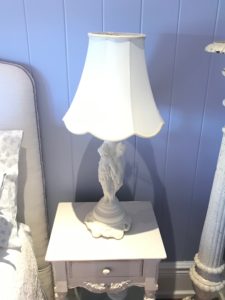 These 4 photos are all from the 'blue' room. It is the prettiest shade of blue. I adore everything about this room.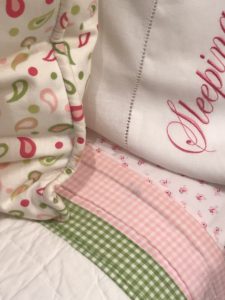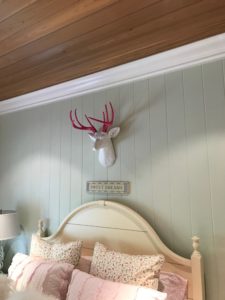 I love how many different fabric patterns are on this bed! It is Grandmas room and the room that I always get to sleep in when visiting Janet on our girl's trips. This room is perfection.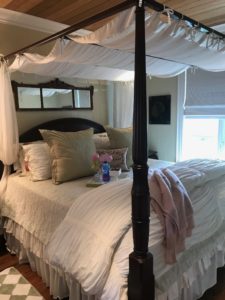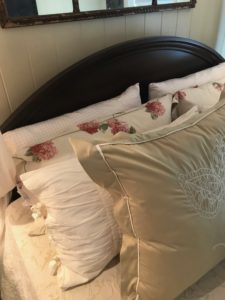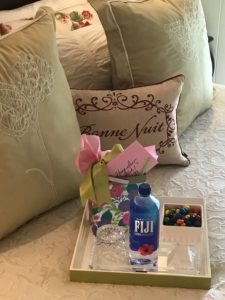 This room is beautiful and very calming. The canopy bed is stunning from the Bombay Store…is that still open?  You cannot help but feel a bit like a princess when you are sleeping in a canopy bed.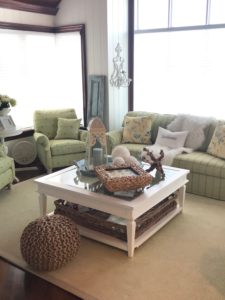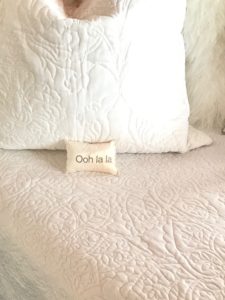 Often when Steve and I go up together we stay in the boathouse. We love the views and the breeze coming off the lake.  Note the smallest pillow in the cottage….ooh la la!!
I tried to hire a professional photographer to join me on this blog. Unfortunately, the ones that were recommended to me were not available on this day…sadly I have done no justice to how gorgeous these rooms are!!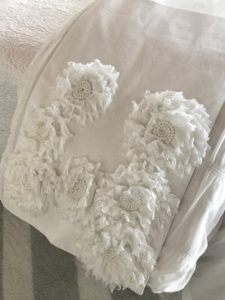 Check back in the next week to learn about this  'almost DIY' that I will be sharing in my next blog post…all about bedding care, tips and tricks to make your beds look as beautiful as Janets!! If you have any tips that you'd like to share private message me and I'll be sure to include them.
Thanks, Janet for letting me share your gorgeous rooms with all of us. I have a feeling Home Sense is going to see their sales go up a bit in the pillow department after the blog!!
How many pillows do you put on your bed? Do you have a pillow obsession? My average is 6 if I go all out…I'm feeling like I need to step up my game a bit…sorry Steve.