It used to be so easy! If you didn't want to compare yourself to Christie Brinkley or Cindy Crawford, you left the magazine on the table.
Now, it's not so easy and according to most of what I see on IG, I am not good enough. HA! 
I am 59 years old and I am intimidated by social media. My social media accounts are never kept up to date. If you look at my Savvy Snowbird IG account you will notice that I often use other people's pics!
As I look at the accounts that I follow (RG is one of my favs, check out that dog bath!) I can't help but compare my pics to all of theirs and I wonder how can I ever compete. My photos are not good enough. I question my blog topics.  I worry about my lack of knowledge. Who am I to write about nutrition, fashion or decor? Is everyone else really an 'expert'? Is it ok to just be me? 
If I, as a savvy aged adult feel this way what is it doing to our youngsters? How can they grow up feeling confident? How do they grow up with authenticity?
My friend (she's a shenanigan enthusiast) made a post of her snowmobiling trip on IG. She made winter look so good that I was actually envious. I wanted to go! Hahaha as if!! Winter and I are never in the same sentence.
I follow some decor bloggers. Their homes are immaculate! Is that their actual reality? Don't they have pots soaking in the sink from the night before? Do they seriously make their bed before they even get out of it? Is their toothbrush ever on the counter?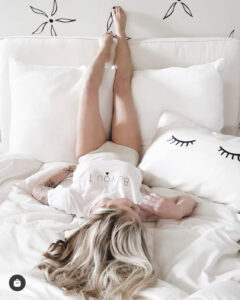 What about these fashion bloggers? They are magnificent creatures that wake up with nary a hair out of place! Makeup is on! Their outfit is complete with shoes and accessories…and if by chance we catch them in their PJs on a Saturday morning you can bet your sweet butt that their pyjamas look so soft, their fluffy robes match their slippers and their hair is in a perfect messy pony tail.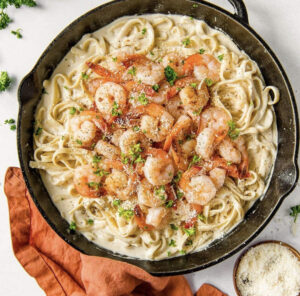 I love following food bloggers, don't you? Wow! Their pasta and shrimp come right out of the pan and is presented perfectly on a plate that happens to match the dish towel that was thrown carelessly on the counter and lands with perfect folds! Sometimes they are able to pick up roasting hot pans with their bare hands!!! Seriously incredible stuff! If you missed my super yummy recipe for pasta and shrimp you can read about it HERE
All of these images create a reality that is impossible for most of us to meet. Personally, it creates a reality that I have no desire to meet. I'd be exhausted.
It took me a while to realize that I will never be one of these creatures of perfection. If you see a photo of my home in perfect order you can bet your boots that I removed a pile of 'stuff' to make it happen.
These stats are from an article I found online in Huff Post written by Clarissa Silva. Scientist. Strategist. Relationship Expert "I did an in-depth interview on social media and its impact on men and women, ranging from ages 28-73, that are active social media users and found that"
60% of people using social media reported that it has impacted their self-esteem in a negative way

50% reported social media having negative effects on their relationships

80% reported that is easier to be deceived by others through their sharing on social media
So what can we do about this for our own well-being and for our loved ones too?
Stay busy. The more time you spend on social media, the more time you have to compare yourself and your surroundings to others.

Do unto others. The more we can do for other people the better we feel about ourselves.

Remember that Social media is no different than magazine stagings. The more popular lifestyle bloggers are often sent free products to feature in a post. They have assistants, some have professional photographers and designers helping them.

Fill your social media accounts with people that make you feel motivated and share positive vibes that coincide with your own thoughts and feelings.

Practise unconditional self-love and awareness. Be happy for other people while staying true to yourself.
As I look around my back lanai I can see Steve's towel draped over the back of the chair "drying".  Tank's blanket is scrunched up on the couch with some serious fraying. My shoes are parked on the floor by the door just waiting for me to trip over. There is a throw blanket on the ottoman that was yes …actually thrown there!  My tea cup is beside my coffee cup from this morning …
THIS is my reality. I am OK with it!