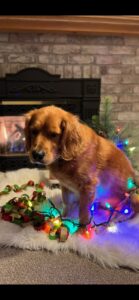 I've been in and out of trouble this Christmas season. No big deal…not really… I mean the tree fell on ME…it's not like I fell on the tree!!!
The chocolates I ate? Who knew it would mean a trip to the vet…seriously… maybe THEY shouldn't have left the box so close to the chair that enabled me to get up on the counter where the chocolates were supposed to be "outta my reach"….don't they know I'm an athlete?!
The stockings were hung by the chimney with care… oh please…they were one hop away! How was I to know that they were attached to heavy hooks that were also attached to the garland that was attached to the lights? I thought the tinsel hanging around my head was quite fetching! (Note the play on words there…fetching LOL…doggo humour right there)
… and honestly…do not open till Christmas it said on the box… HELLOOOOOO I'm a dog! I cannot read…anyways, Barbie seemed quite happy to get out of all that packaging.
This year I watched my human mum go to so much fuss at home wanting everything to be just right. The way she went to great lengths to decorate the house with holiday cheer.  "I just want it to be a perfect Christmas," she said to papa when he told her she was nuts.
Doesn't she realize it's not the colour of the ribbon or how much tinsel is on the tree? Everything she is looking for is right in front of her. I like to think it comes in the form of a ball of fluff with four paws and a tail that can clear a coffee table. But aside from me, she has a whole family of humans. They're around all year…not just at Christmas. They come together on Dec 25th each with a story of their own. They are looking for their own version of that perfect Christmas. Humans are crazy like that.
I have no idea how I landed this family…was it fate? As untrained as they are, they do love me unconditionally.
My family? They are perfectly imperfect. After all, they are only human and that's the best present I could ask for… well some treats too. 😉
Merry Christmas to all.🐾 💕 🐕 🎄