I wanted to do something fun for my blog – actually – I am submitting this blog for a magazine shoot. Fingers crossed that I may get chosen!!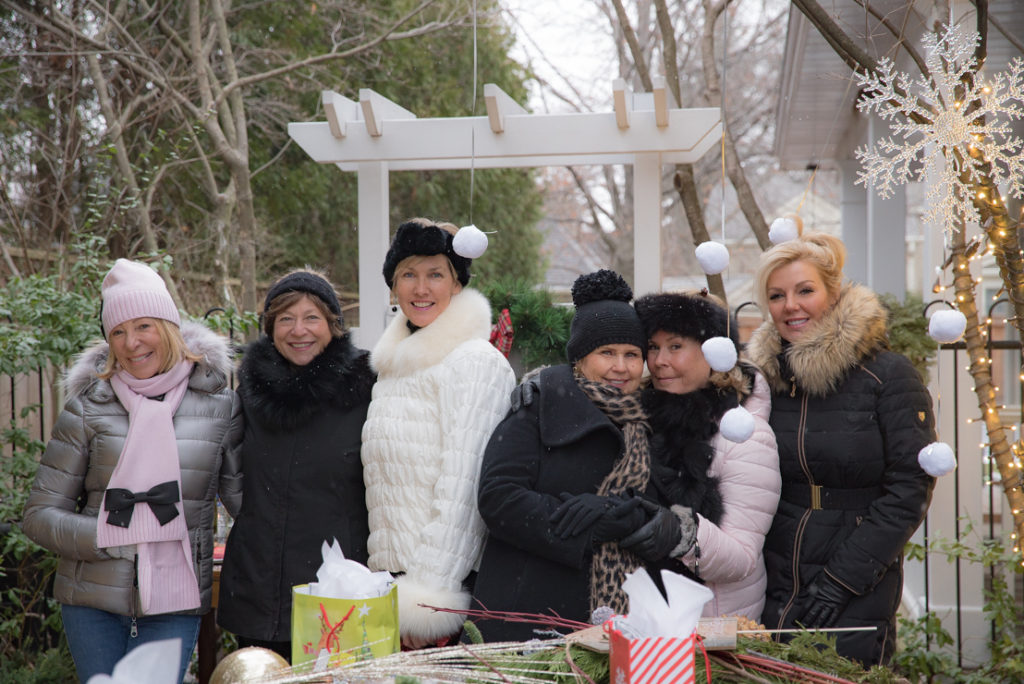 This group of ladies and I have been friends for a long time and I knew if my day bombed they would be fine with it…as long as I had wine. So they were chosen as my models for the day.
Given that I am away off and on throughout the winter and don't really get to see these ladies on a regular basis during these months, I thought it would be fun to create a little Winter Wonderland for us.
Canadian weather can NEVER be counted on. Not in the summer and not in the winter. I mean honestly…we could fluke out as on Dec 3rd 1982 our high was 19 degrees…conversely, Toronto's low on record for the same month was -30 in 1933.
Not leaving anything to chance I came up with my own ideas for a Winter Wonderland…sort of.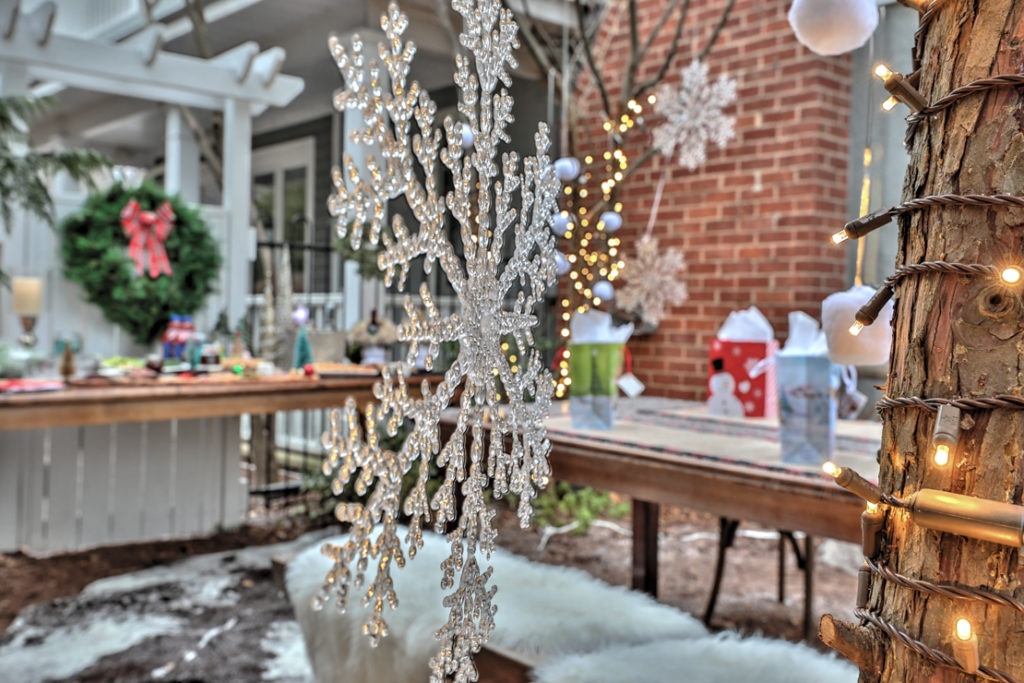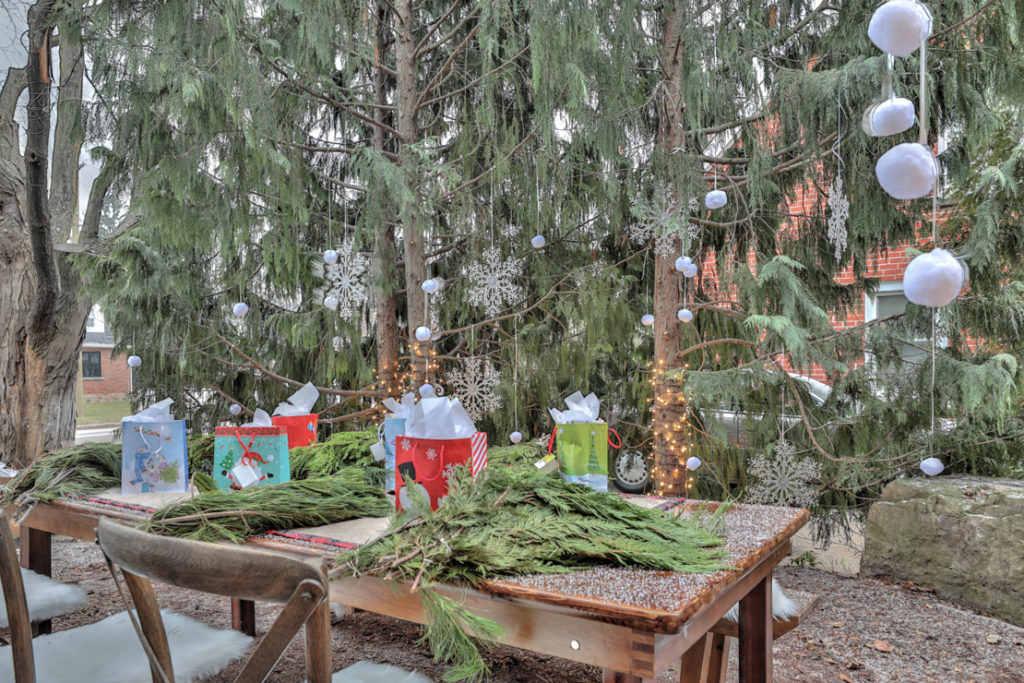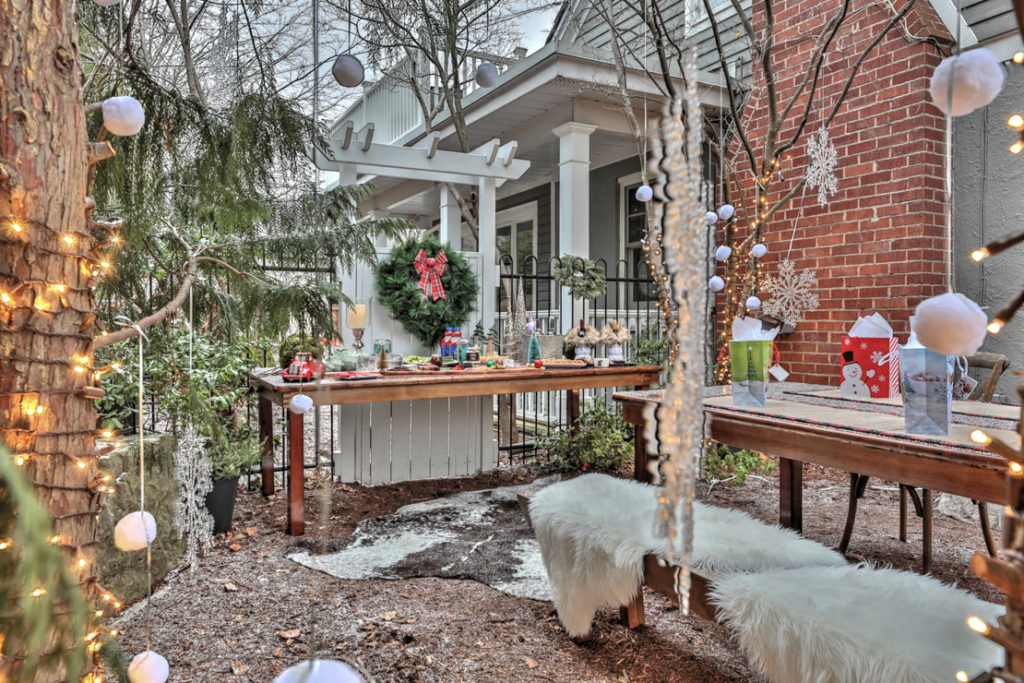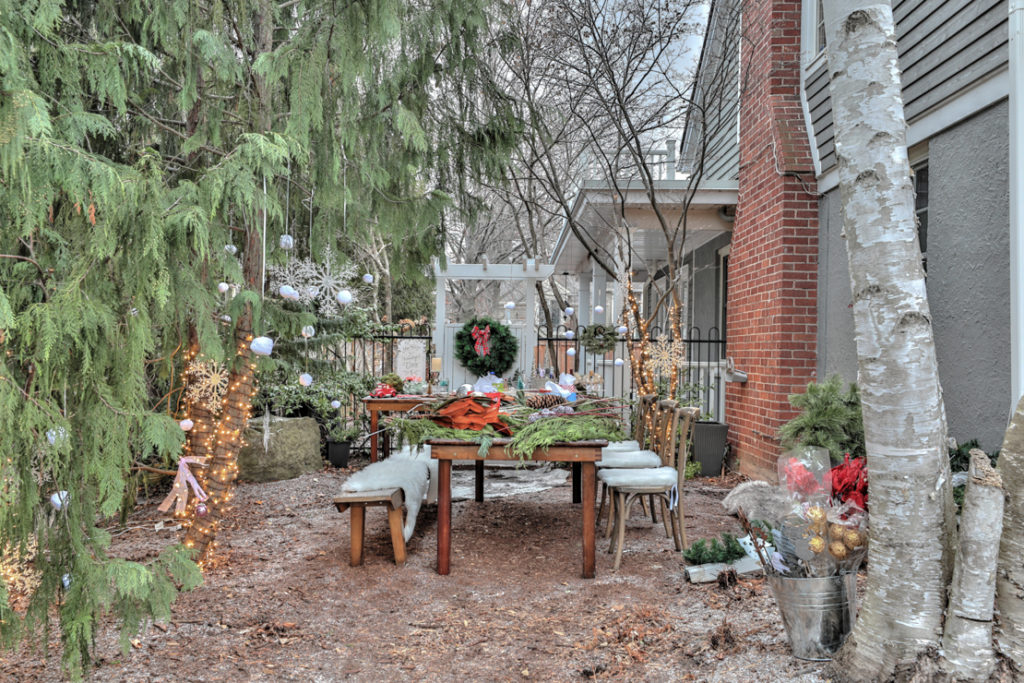 THE DETAILS
I hung some snowballs and snowflakes in my trees on my side property.  It never occurred to me to use this small piece of property but I had no option given that my backyard is partially dug up from a pool issue. (it's always something right?)
All the supplies for this project came from the dollar store …even the glue gun! All I did was hot glue some ribbon to the 'snowballs' and for the snowflakes, I simply tied a piece of ribbon around them and hung them among the evergreens.  I wrapped the bottoms of the trees in white lights to create a bit more ambience. This would be a really pretty idea for a winter wedding.
It was truly just the cosiest little spot. I am actually contemplating moving that gate further forward to maybe line up with the front of the house to make this little gem of an area more usable. What do you guys think? I literally just had that thought as I am writing this. 🙂
Anyways….moving on! From Complete Rentals, I ordered some farm tables,  wooden chairs and a long bench that I draped in small fur area rugs. I had some fur seat cushions that worked perfectly with the winter scene. Of course, all the fur came from Home Sense. I should have shares in that store!!
My initial thought was to surround the table with outdoor heaters and actually eat outside. Unfortunately or maybe, fortunately, I was unable to rent them.
Plan B – I had to come up with an idea now on what to actually do out there! LOL
You may have read HERE that I had the Dirt Diva come over to do my window boxes. Christina mentioned to me that her friend Samantha, the owner of Pocket of Posies and her also do Christmas planters. It was perfect!!!
I  set a date and time with them and these ladies provided us with everything we would need to create some beautiful arrangements. All I needed to do was come up with my invitation.
Dress quite warm, you sexy six
Birch and sticks….it's in the mix 
On Dec 11th…let's create.
Let's meet at 2:30… by the side gate
Dinner to follow… indoors where it's warm
We'll have dinner and cocktails…and be in fine form
 So mark your calendar….and set the date,
For some fun at Mare's, and please don't be late!
I knew I wanted to surprise my girlfriends. I sent this fun invitation to them along with an email outlining that we would be spending some time outside and they should dress appropriately…all while not giving too much away.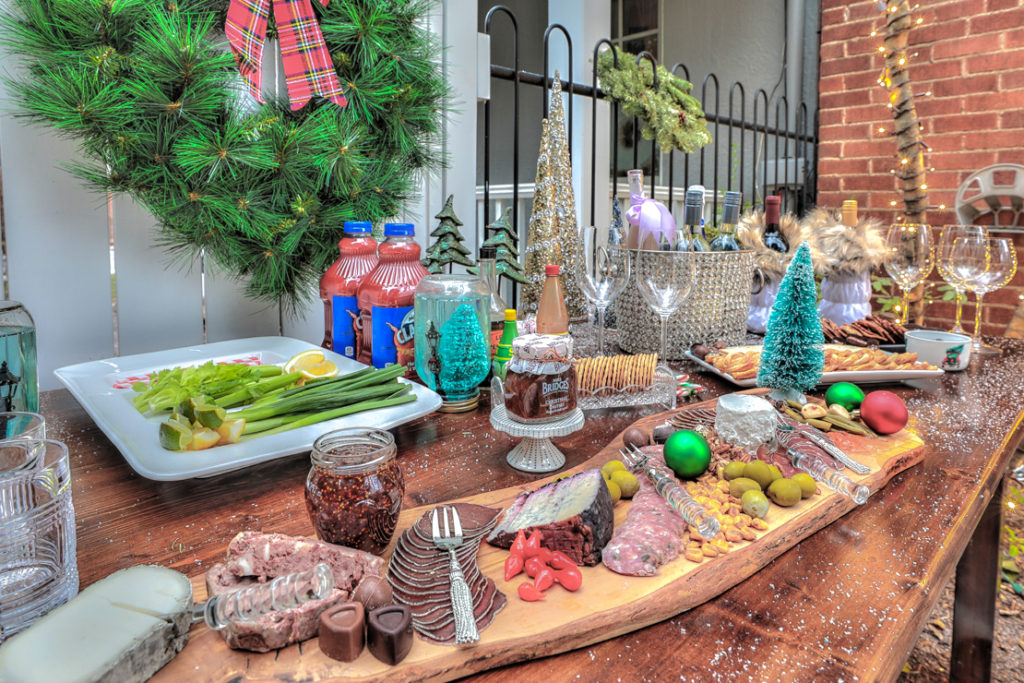 I love this charcuterie board that I bought…from where else? Homesense!! For less than a hundred bucks!! Another score since I have seen them being sold in town for $400 + Not even kidding. This kind of thing really excites me! I love the feel of a good deal.
COCKTAILS AND NIBBLIES
I wanted to keep the cocktails and nibblies simple so that my guests could help themselves as we moved through the afternoon.   I was anxious to use my board.  It was filled with an assortment of cheeses, meats and even chocolates…cause chocolates go with everything and as far as I am concerned a healthy part of a Christmas diet!! I decorated the table with extra decorations that I was not planning on using indoors.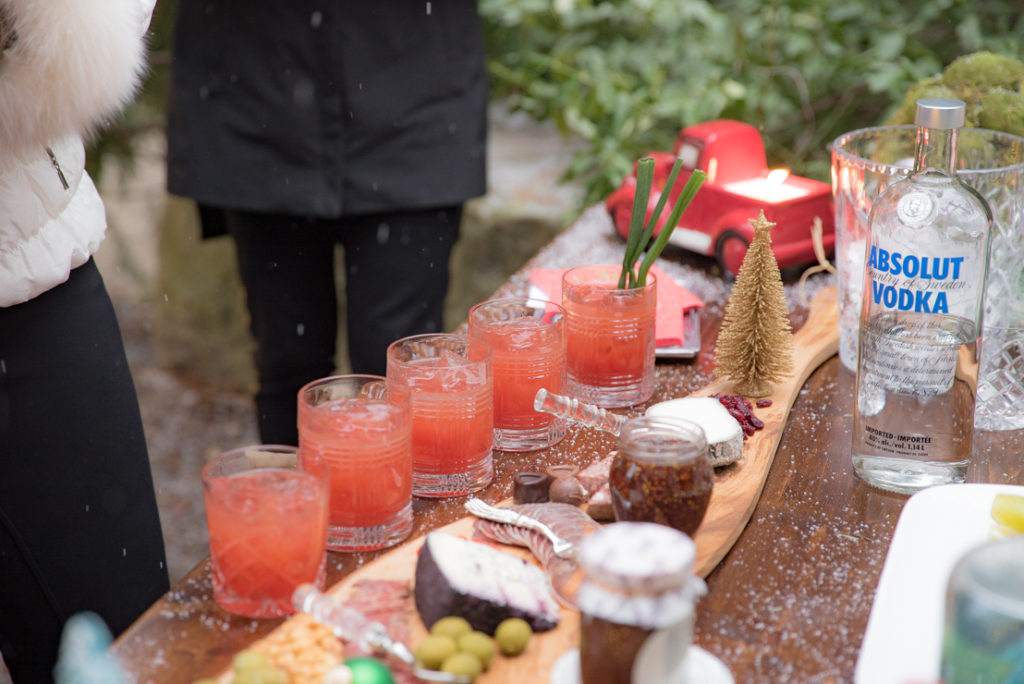 Well, low and behold it actually started to snow. It was absolutely perfect timing. The tables were sprinkled in snowflakes. I honestly couldn't have had a better picture painted for me. For warming drinks we had Ceasers. I was going to do a hot cider cocktail but I was honestly afraid that if I plugged in one more extension cord it was going to turn into a Griswald event.
OUR PLANTERS
We were all pretty excited about how pretty the planters turned out.
It was like we knew exactly what we were doing!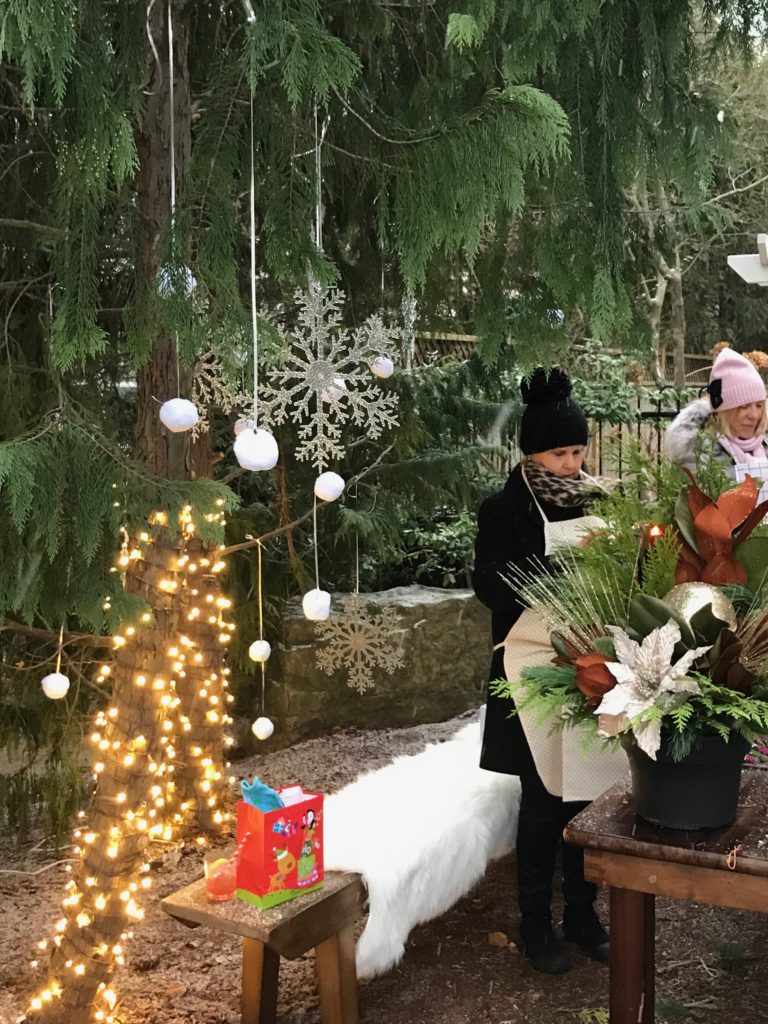 Such concentration ML!!!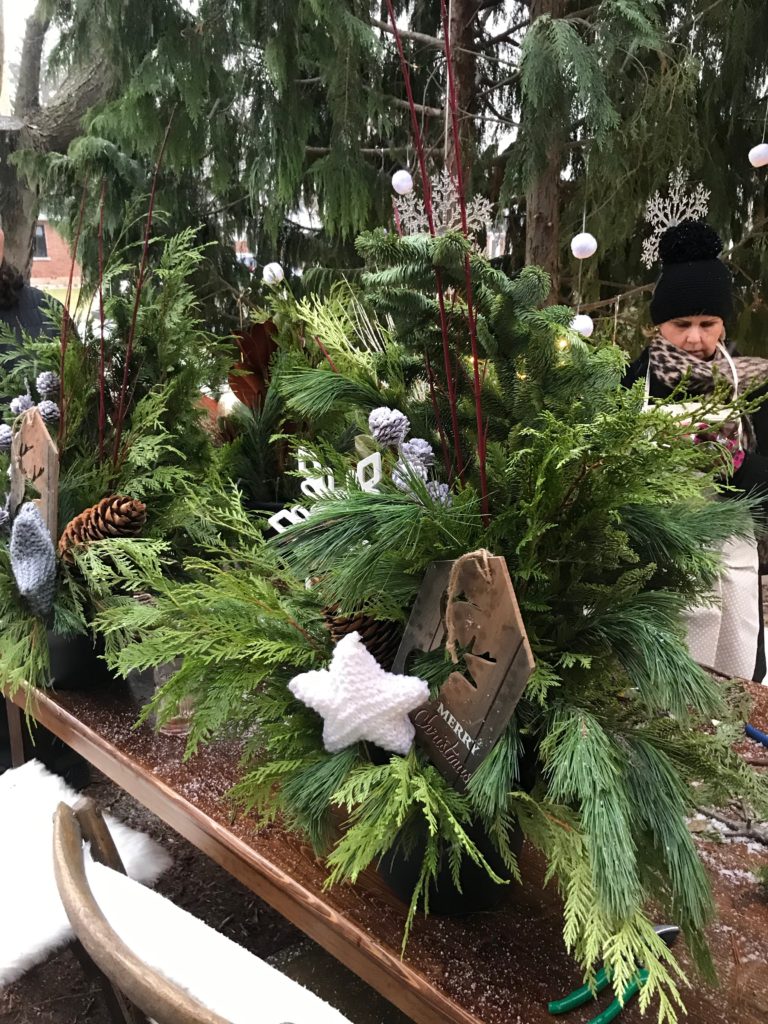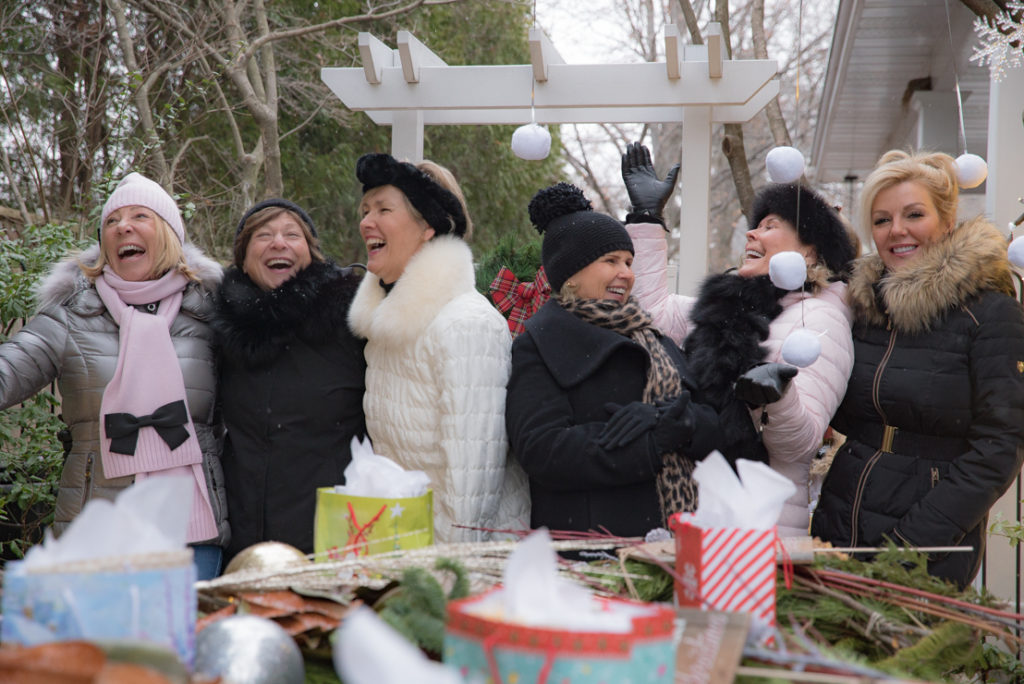 GIRLS JUST WANNA HAVE FUN!
Enzo Melana of Helicopix really captured the day don't you think? We had a lot of laughs throughout the afternoon. I will include Enzo's contact information at the end of the blog. I was thrilled to have him in my home taking these amazing photos. He sure did not disappoint!!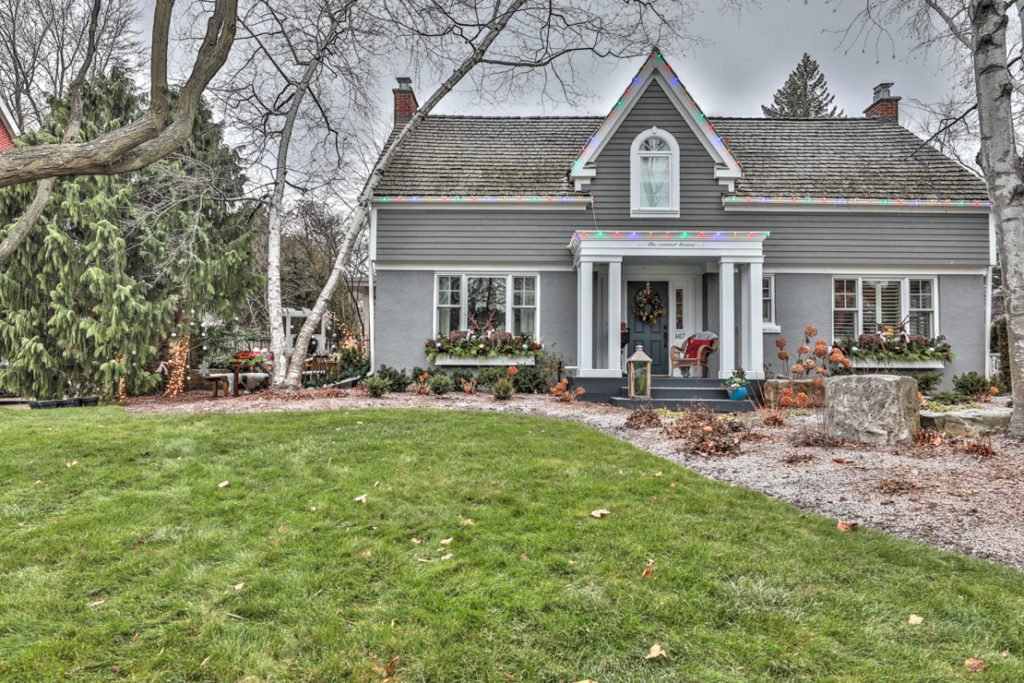 MY NEXT PROJECT (?)…POTENTIALLY, PROBABLY, MAYBE.
You can see the side area of my house where I set up…it really wasn't a big area…but big enough. I can't get my amazing idea 🙂 out of my head. Now I am anxious to get out there and see exactly how far forward I can move the fence and gate. On the other side of the gate is another little area similar to this…
oooohhhhh…the things I can do with that space!!!
Dirt Diva….yoo hoo…I hope you are reading this. We have some work to do!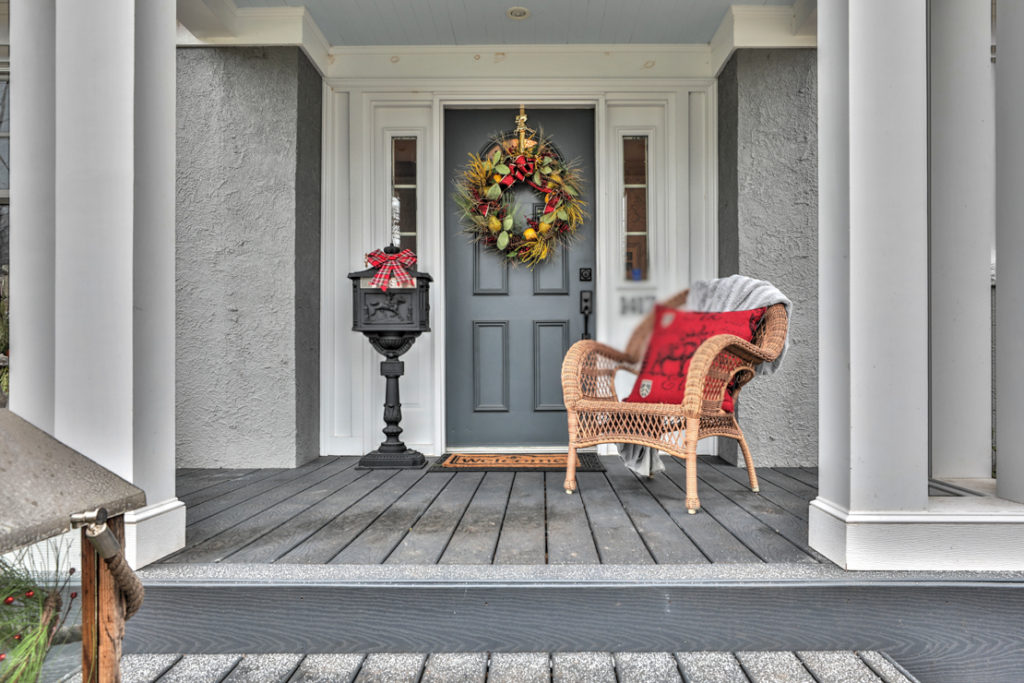 BABY, IT WAS COLD OUTSIDE.
Moving inside to get warm….. I had my sweet niece Beth over to give me an extra set of hands for the day. She was amazing. When we got inside she had the chilli simmering on the stove. The house smelled amazing. We served Ceasar salad and chilli in bread bowls. Of course, I didn't get any pictures of the bread bowls which is disappointing because I thought the presentation was really cute.
KITCHEN DECOR
My entire kitchen Christmas decor was kept minimal and basic. I hung fresh wreaths in front of the windows and added some Christmas trees to the counters throughout.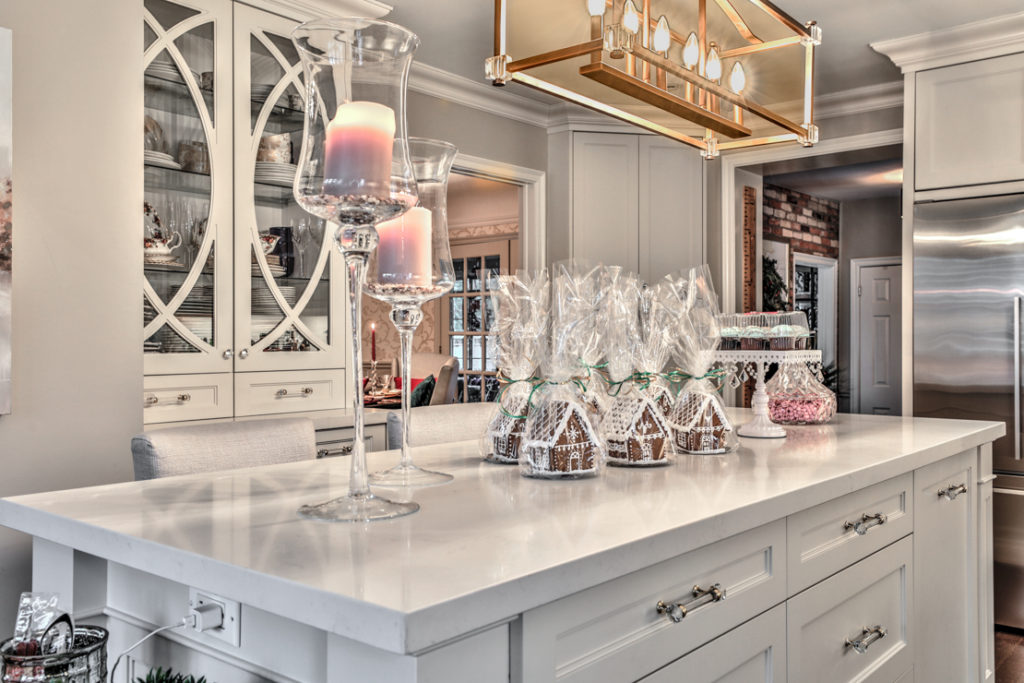 LIVING ROOM DECOR

You can see the fireplace mantel switch I talked about on my last blog HERE The green and red wasn't coming together for me. I think the other traditional Christmas colours suit this room so much better – silver and gold…and a bit of fur 🙂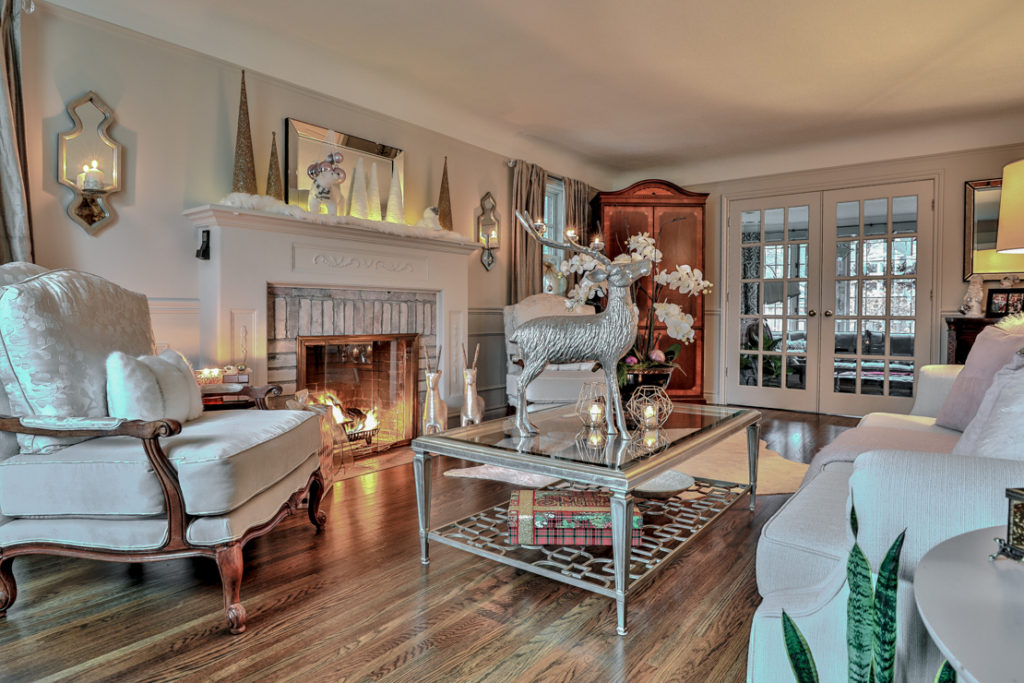 I love my newest decoration; Mr. Reindeer. Aptly named by the girls…cause "nana, what else would you call him?".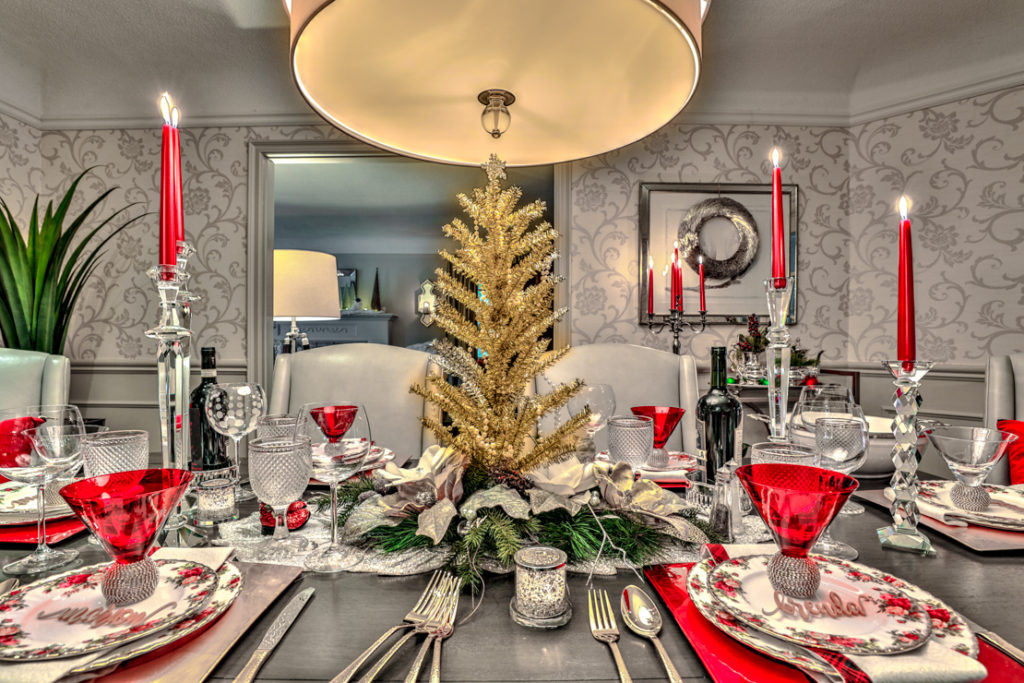 DINING ROOM DECOR
The dinner table was kept very elegant and very traditional. I am sure you recognize my Old Country Roses china set from past posts. My grandmother bought me this china set when I got married over 30 years ago. I used to hardly ever use it…I always saved it for 'special' occasions. Now I will use it for pizza!! LOL…I love to use the 'fancy' plates and my everyday stuff together. What is the point of having pretty things if you are going to hide them away in a cupboard?
The centrepiece is a very inexpensive gold Christmas tree that I got from Target for $8. I hung a couple of strands of faux pearls around it and used a broach for the star.
If you look close you will see I had all of our names scrolled by a lovely lady I met through Etsy from Bulgaria.  She is Iliana Bozhkova and her store is called FranJohnson House. It will be fun to use these over and over again for future parties. You can see them much more clearly in the video.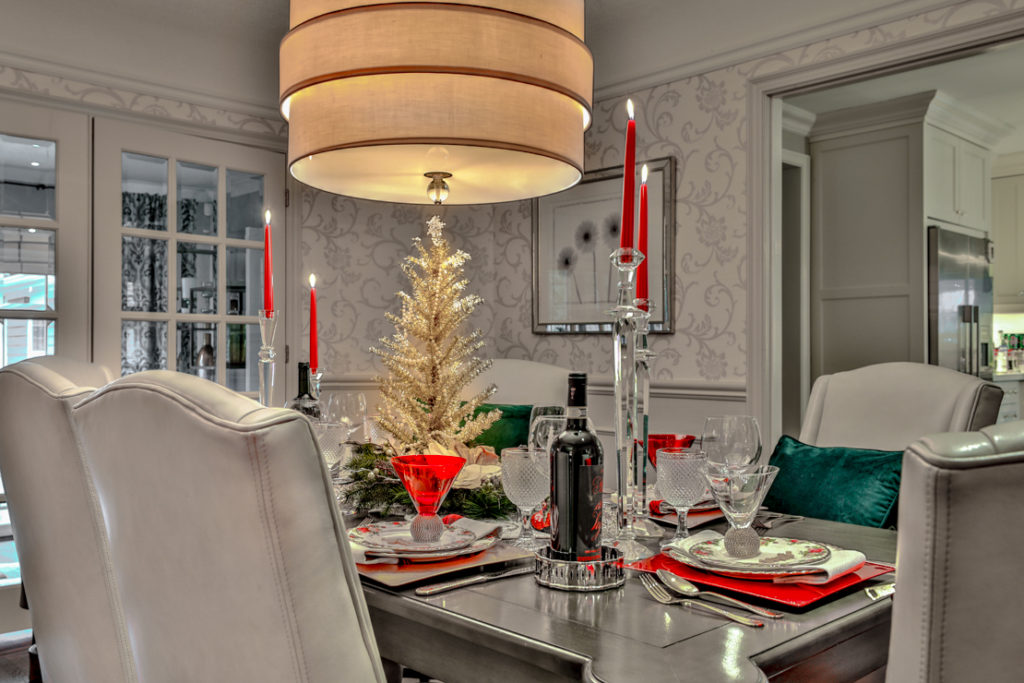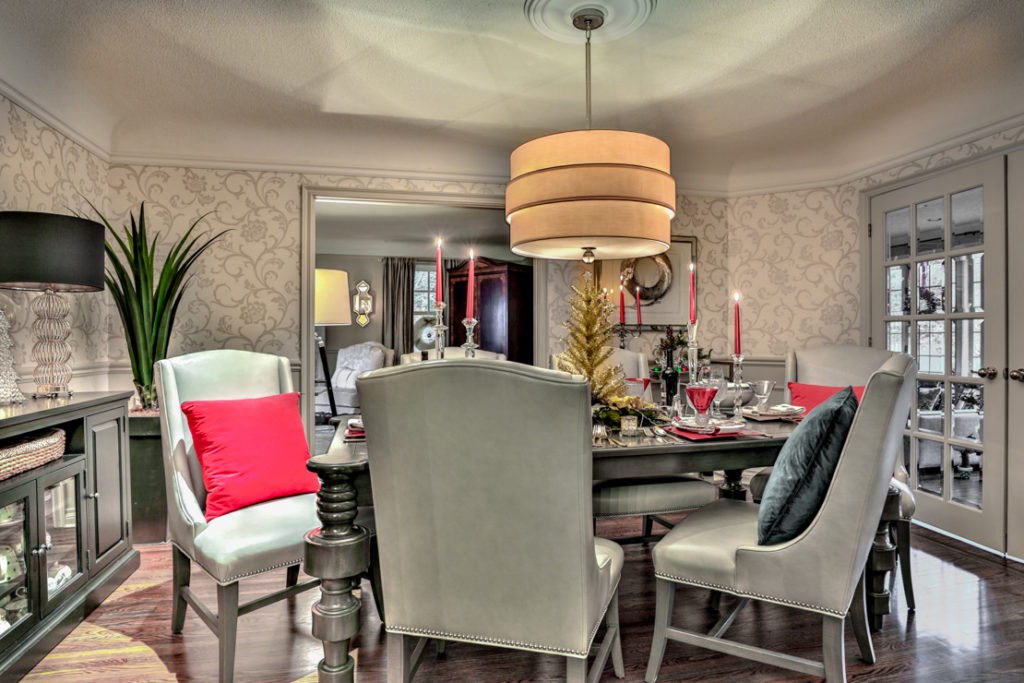 Whenever I am setting a table or decorating I always take a photo of it. In a photo, you can really see what is working and what is not working in your room or set up. This light fixture is just not working in this room. I love the size of it but it takes up too much visual space if that makes sense. I think I am going to replace it with something a little more blingy and glam that may take up the same area but at least you will be able to see through it.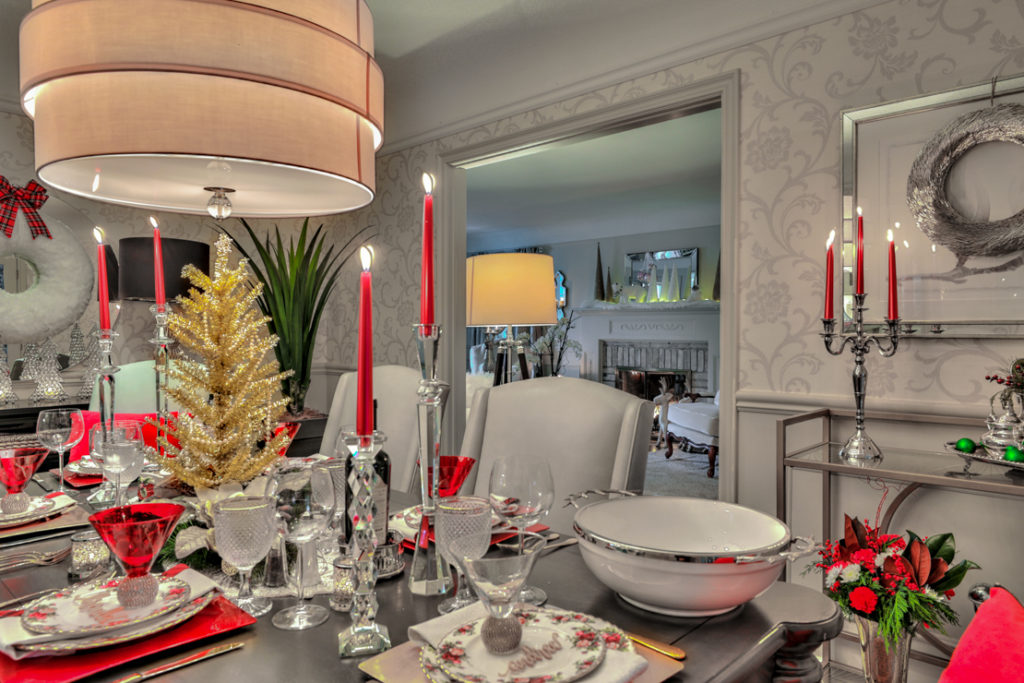 I love my new white bowl with the antler handles. Homesense for the win!!!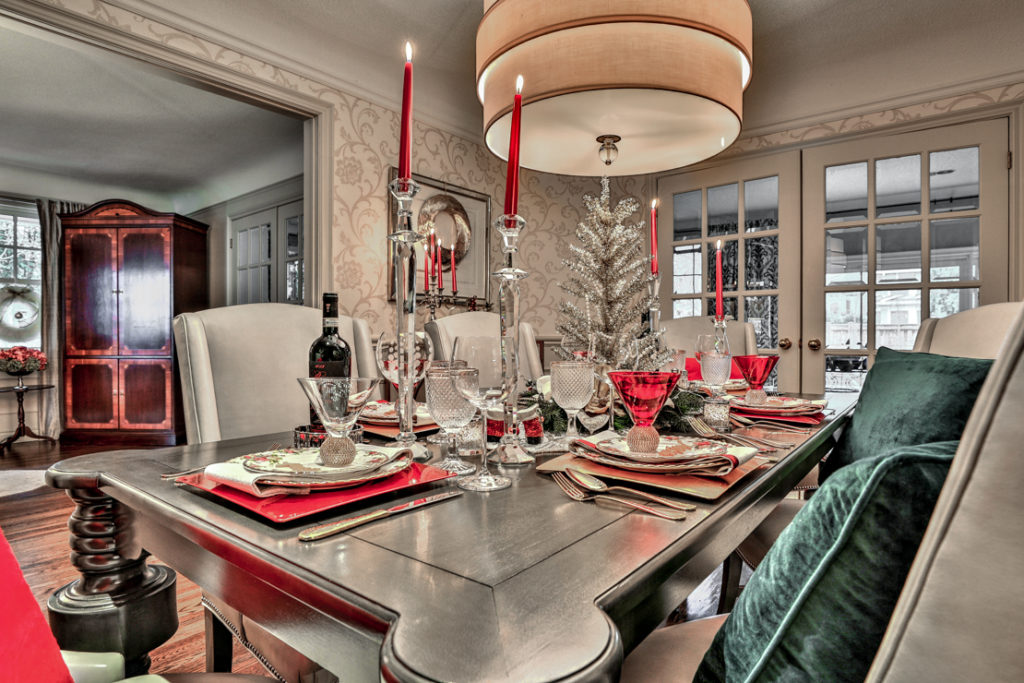 And don't you love the way Enzo made the red to stand out!!!
IN LOVE WITH MOLLY CAKES!
These two desert photos are back to my photography (eesh what a difference). The cupcakes were in the shape of Christmas balls that you would hang on your tree. The photos do them no justice what so ever and I am entirely sorry about that.  These desserts were so pretty we were all afraid to eat them!! Molly Cakes also made these individual gingerbread houses that each of my guests took home with them. I hope when they look at them they are reminded of what a fun afternoon we had together. Seriously folks…if you are ever entertaining and you want to amp up your desserts you need to go and visit the ladies at Molly Cakes. They can pretty much do anything!!!! Not to mention the macaroons and butter tarts that are a store staple and are scrumptious!! I am including their contact information below for your convenience if you live locally.
…AND THE OSCAR GOES TO……
What do you think of my video? My niece Beth made this for me using her iPhone. Pretty amazing eh? Back in the day when we wanted to make videos of our kids at Christmas, we rested the camcorder on our shoulders when it got too heavy!!! LOL…who would have thought? Anyways, Beth set me up with my own youtube channel…but I have no clue what it is actually called. I Googled 'youtubesavvysnowbirds' but it took me to the snowbirds/aircraft site! LOL…I'll get it all figured out eventually and share it with you! SO much to learn with all this!! 🙂
TIPS AND TRICKS FOR PLANTERS
If you are going to create your own  Christmas planters you will need a planting container which can be anything that is going to match your decor. An inexpensive plastic container placed inside a basket would be cute. You will need soil, garden snippers, 2-3 different types of greens (or more) and decorative picks. Once you start cutting into these branches they do produce some seriously sticky sap you will want to be sure to wear garden gloves and an apron.
Gather all of your supplies so that you are not running in and out of the house or garage.
Shop for your greens early in the season to get the best picks. If you are close to a forest area you could consider cutting your own greens…just don't get yourself in trouble!!
Use large decorations from the dollar store and glue them to long picks to tuck into your arrangement.
Water your planter when completed. The soil will freeze and hold everything in place.
If you want direction with this project call local florists or speciality shops to see if they offer classes or seminars. If you live local call The Dirt Diva and A Pocket of Posies. You won't regret it.
Look into your own garden for decorations. Dried hydrangeas could be wired to a pick and inserted. They would look beautiful.
If you have grandchildren helping you, you could make a super fun child-friendly planter by adding in some toys – a train, some bright blocks or even a book tucked into it if it is to stay under a porch.
Pomegranates, apples and pears would look great too.
Use your imagination. I think these would be beautiful gifts to create based on a person's hobby. Imagine giving one to a knitter with large balls of colourful wool and knitting needles in them?
Well, ladies and hubby (cause I know you read this too)…I hope you liked this blog. I had a great time planning this day and I had so much help from some new friends – all listed below. Keep your fingers crossed for me. I will be submitting my blog to Mingle Magazine in February.
A special thank you to:
Molly Cakes  (desserts)
361 Brant St, Burlington, ON L7R 2E7,
905-631-9647  You can even order through Skip the dishes!!! Which I just might do!
AND
Helicopix inc (photography and does videography)
Enzo Melana 416.994.1745
AND
The Dirt Diva ( Christina – window boxes and assisted with planters)
905-691-0971
AND
Pocket of Posies (Samantha – planters)
905-630-6285
I am not sure if you will hear from me again before Christmas. But never say never!! If not I truly hope you all have a very Merry Christmas and I wish you so much health and happiness in the new year….2019!! YIKES!!
PS. Please consider following me on other social media. Pinterest, Instagram, Facebook and of course sign up to have my blog delivered directly to your inbox so you won't miss a single thing.
I always love hearing from you….leave your comments below.