There is always something to do in Bonita Bay. Last week I had the opportunity to sign up for another flower arranging class. In case you missed my last one you can see it HERE. Admittedly this post is mostly for the women that were in the class with me.  I promised them I would blog about it and include the names of the flowers that we used in our tropical floral arrangement.
This class (for me) was a bit more challenging than other classes that I have attended. In previous classes, we were provided with a photo of the arrangement that we were going to make. We had a visual of where to place the flowers – how short/tall the stems should be cut. Not this time!!! It was all done on a wing and a prayer… mostly prayers for me.
The first thing I noticed when I walked into the classroom was the smell of pineapples. It was amazing. I am actually thinking I need to buy a pineapple scented candle. (PS…OMGOSH!!! Have ya'll heard about Gwenyth Paltrow's new candle scent? If not…please be sure you are sitting down….it smells like her vajayjay AND it's sold out!!! Ya can't make this stuff up!! Who the hell would buy that? Please!!…my friends… DO NOT buy me this as a hostess gift!)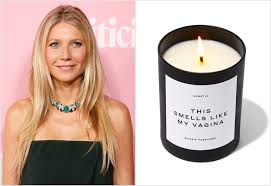 Anyway….back to the floral arrangement class…(I know right…hard to get it out of your mind now!)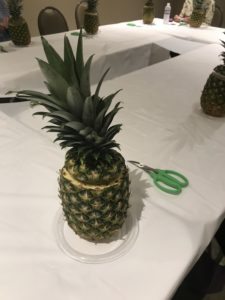 Our vase for our arrangement was actually a hollowed-out pineapple with a plastic glass inside.
These are the flowers and stems that we used.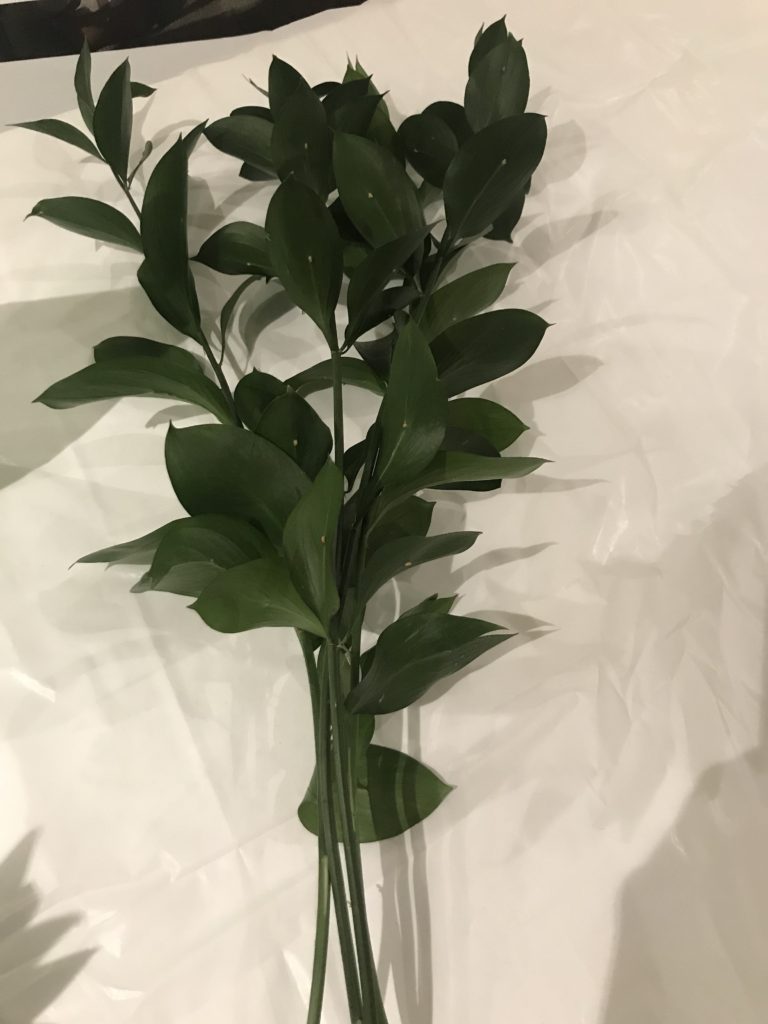 Ruscus. We each used at least two of these long stems cut in half.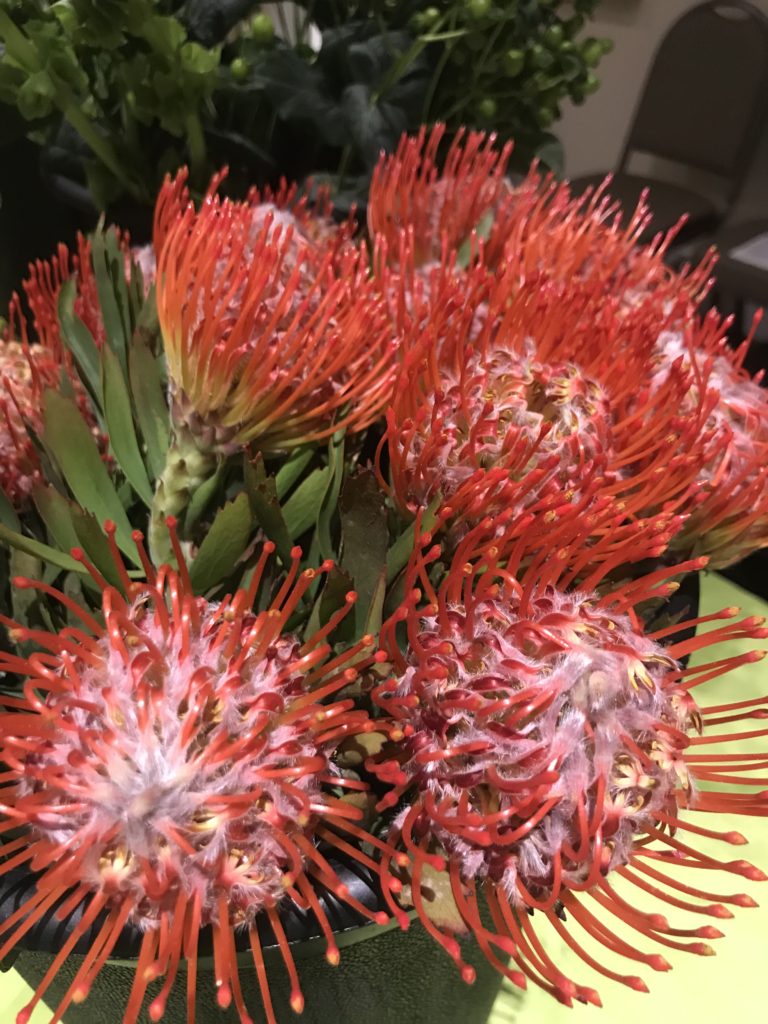 Pincushion protea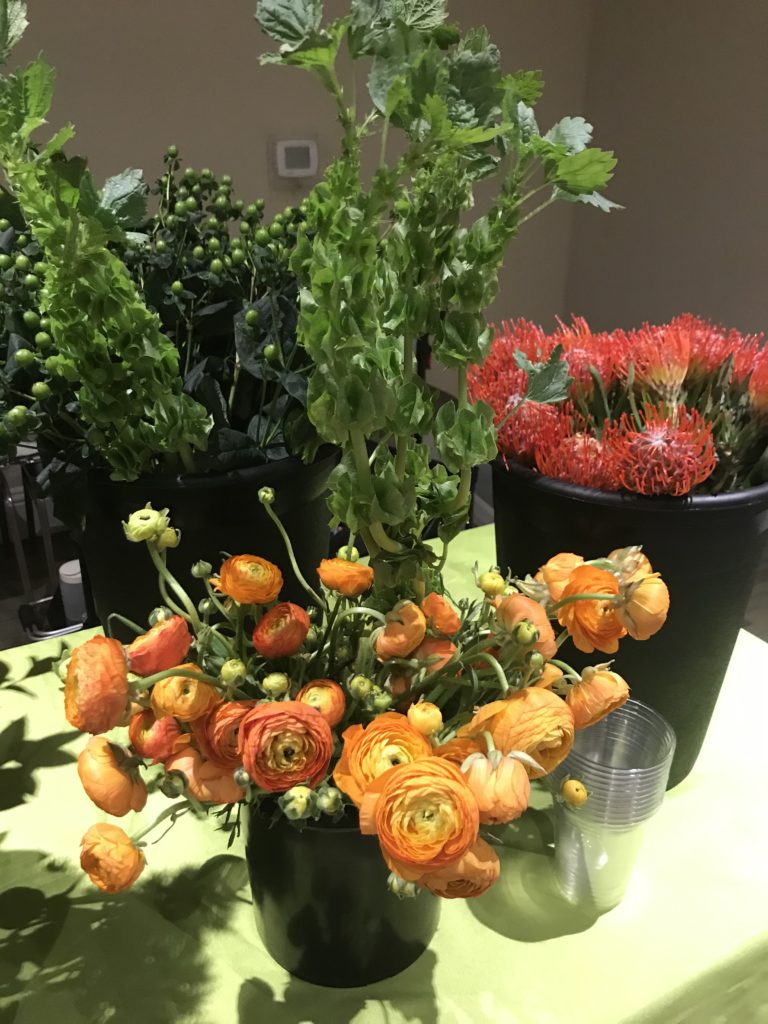 Orange ranunculus (forefront), Bells of Ireland (tall ones behind ranunculus)
Spray roses and trick dianthus (commonly just called trick)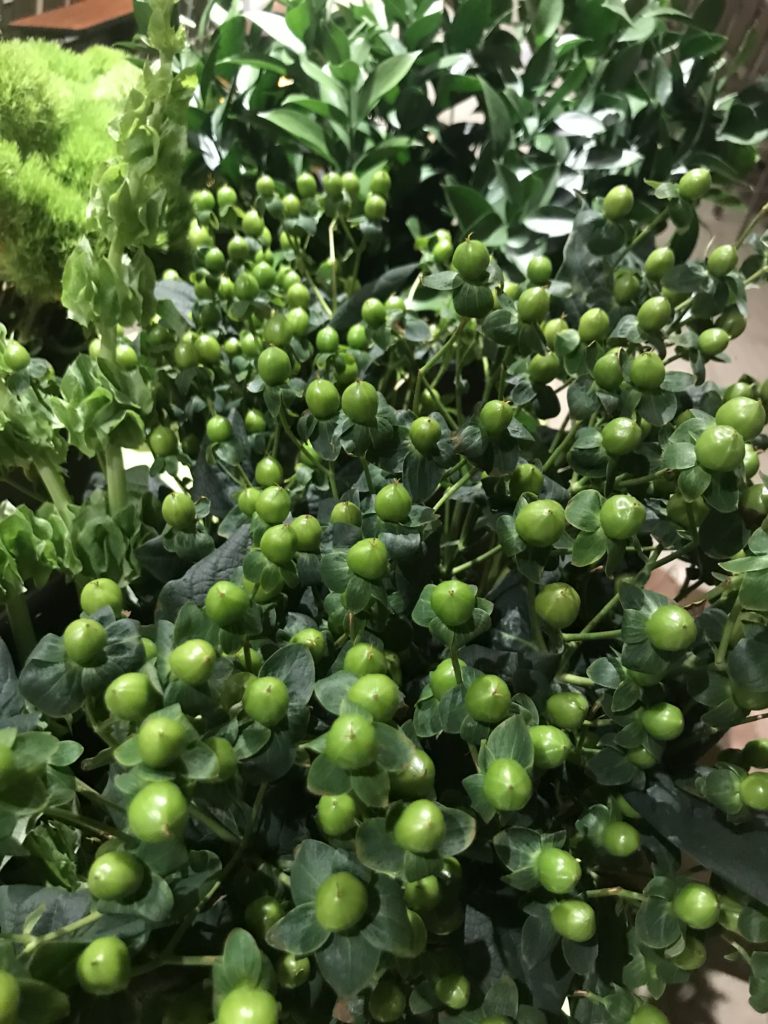 Hypericum berries
I've decided that flower arranging may look easy, but it's something that comes with a lot of practice – and a little know-how. Pinterest and online tutorials are a great introduction to the basics, but sometimes you really need a professional to show you the way. Bonita Bay hired Sandra Tilley who does floral design workshops. Hiring Sandra for an in-home tutorial would be a fantastic excuse to have some friends over and sip some champagne!
Learning about blooms is an integral part of any flower arranging class. If you are like me you may know the names of a few flowers that grow in your own garden…like Tulips! With so many varieties and colour combinations to choose from it can be daunting to get started on your own. When I practise making floral arrangments on my own it can be as simple as going to my local supermarket and buying a bouquet all ready to go or stopping in at a local florist and getting some professional help picking out flowers and greens that work together.
The following photos are our arrangements. I have tried to include a photo of each lady that was int the class as I promised them I would do a post on our new-found talent. Enjoy.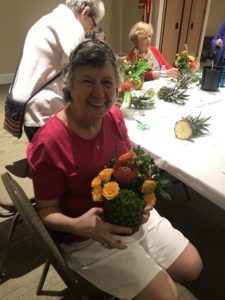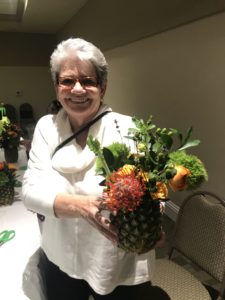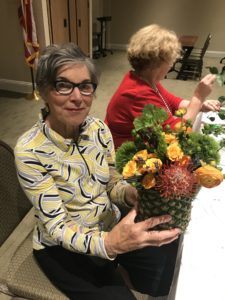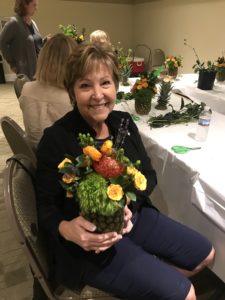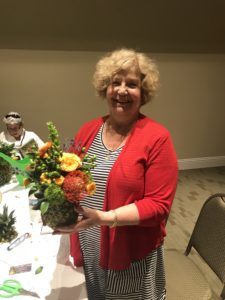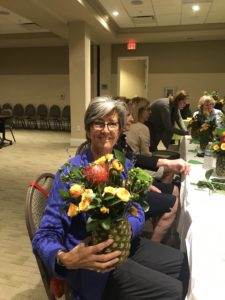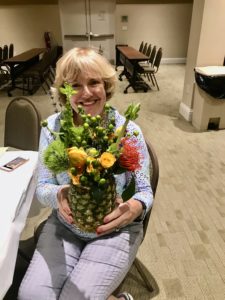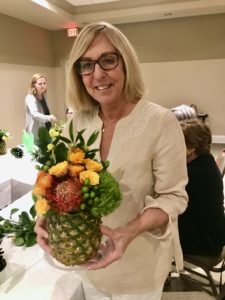 The great thing about taking a class is having the opportunity to make more complex arrangements using many types of flowers and greens that may not be readily available to you. I have found that if you stick to the same hues in your arrangement you cannot go wrong and you will look like a pro every time…you just need to roll up your sleeves and give it a go.
In no time you will elevate your grocery store dozen roses with foraged wildflowers and foliage 🙂
A few more of us hard at work.